17 minute read
How To Start A Direct To Consumer Business: 7 Tested DTC Models
Selling direct to consumer can be an effective way to avoid unnecessary costs and boost your profits. Learn the best practices and strategies to launch your DTC business.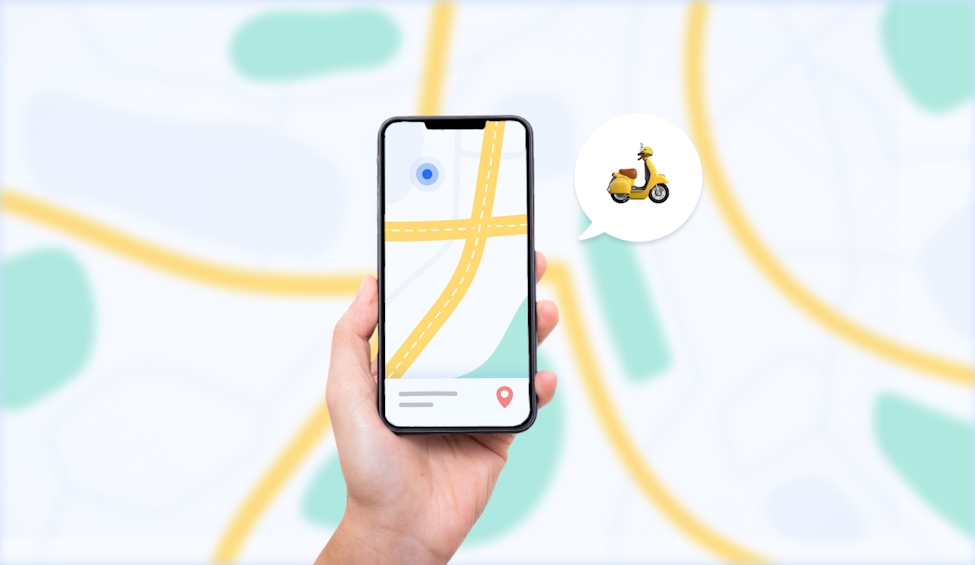 Key takeaways
Direct to consumer businesses offer more control, better margins, and access to customer data.
Challenges include infrastructure and initial investment costs.
Success is having a strong brand, data analysis, good customer service, and strategic partnerships.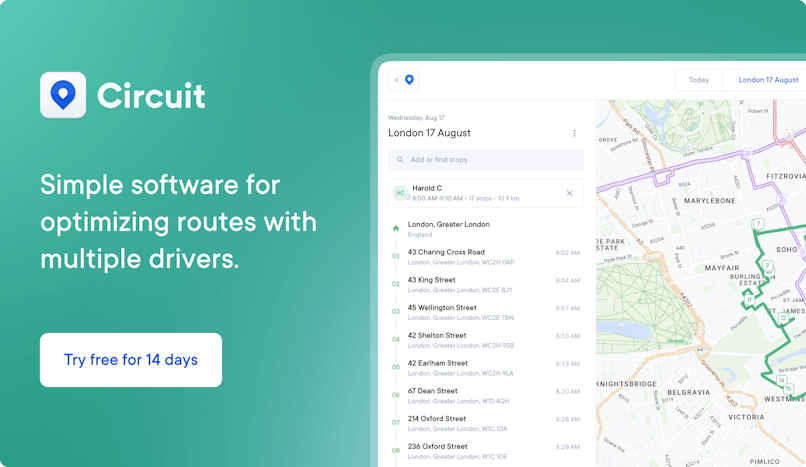 Direct to consumer (DTC) sales have a multitude of advantages, from eliminating overhead costs to cutting out middlemen like retailers.
Online sales can also broaden your reach and allow you to connect with a larger pool of potential customers. However, it's worth noting that there's no one-size-fits-all approach.
Despite the benefits, implementing a DTC model can come with its own set of challenges. Such as the need for a significant initial investment in technology and marketing to establish your online presence.
In this guide, I'll walk you through how to get started with a DTC business, then give you an analysis of seven tried-and-tested models with real examples to help you decide if direct to consumer is the right choice.
First, let's start with the basics.
What is direct to consumer?
Direct to consumer (DTC) is a sales model in which a business sells its products or services directly to the end consumer, bypassing any intermediaries such as retailers or wholesalers.
The reason why DTC businesses are so successful is that they have multiple ways to reach their customers, including through their own website, social media, or mobile apps — making them more flexible than traditional retail competitors.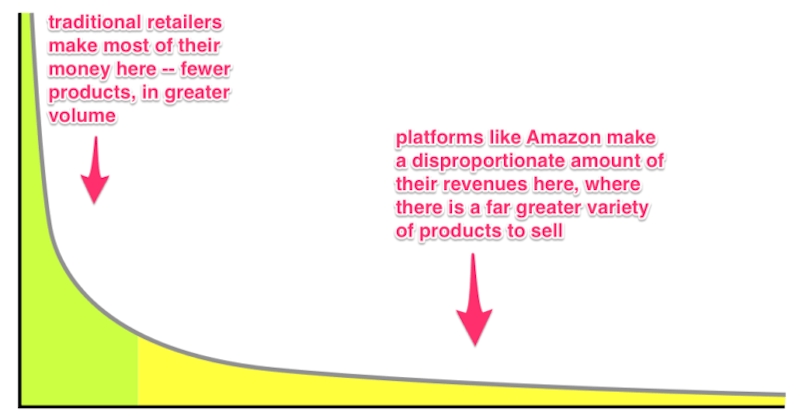 This level of control over the sales process also allows direct to consumer businesses to have more control over their brand, pricing, and customer experience.
With the ability to personalize their interactions, DTC businesses can connect with their customers in ways that were never possible before.
Why DTC?
Thanks to technological advancements and the growth of eCommerce, more companies are turning to DTC sales. With the ability to offer unique products and personalized experiences, it's no surprise that this model is gaining popularity!
In the past, there was one way for us to shop: at a store, whether that be the local grocery store, the mall, or a big-box store. Even when you perused a catalog or newspaper flier, you would have to head to the store to buy the desired product.
Enter the Internet.
Suddenly, just about anyone had access to the tools to start up a business, and scale its size. That led to the starting of a new landscape of businesses, from Warby Parker selling eyeglasses to Everlane selling clothing to Casper and its mattresses.
Suddenly, just about anyone had access to the tools to start up a business, and scale its size
These "first generation" of direct-to-consumer companies were defined by "borrowed supply chains, web-only retail, direct distribution, social media marketing, and a specific visual brand identity" that could be adapted to digital media. 
D2C vs. traditional retail models
Here's how direct to consumer compares to some other sales models:
Historic bricks and mortar stores: which is the traditional model of having products sold in fixed retail locations. Stores buy products from wholesalers, then customers go to the store, pick out what they want, and pay for it at the till.
A direct selling model: which is when a business sells its own products or services directly to customers, like in a door-to-door scenario. It can also involve a network of salespeople who sell directly to consumers. 
An affiliate model: which is when you partner with another company to sell its product or service. You get paid when someone buys the company's product.
The explosion of new direct-to-consumer companies has transformed how people shop. They are also changing consumer preferences and expectations.
From sending directly to consumers, to partnerships with physical retailers, to opening pop-up shops. That's because they don't need to rely on traditional retail stores for exposure.
Direct-to-consumer sales transactions are usually completed online, but direct to consumer retail can also include actual stores as well as an eCommerce platform. That's sometimes called a "clicks-and-mortar" business model.
According to Statistica, direct to consumer eCommerce sales in the United States surpassed $128 billion USD in 2021. That's expected to grow to $213 billion USD by 2023.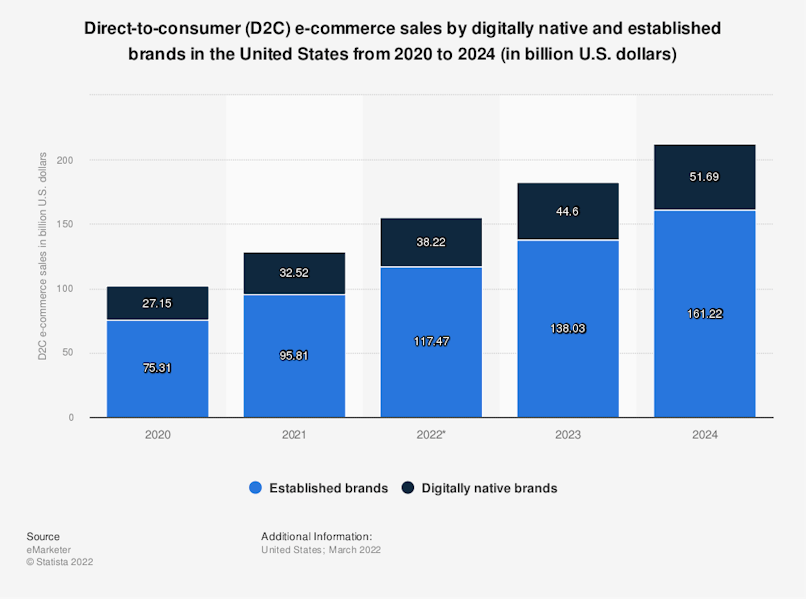 To understand direct to consumer, it helps to compare it to a more traditional business model.. Let's explore a little further what does direct to consumer mean by looking at actual examples. 
7 direct to consumer models to start a D2C brand
Unsure about how a direct-to-consumer brand might work for you?
Let's discuss seven specific DTC models with example businesses to help you make an informed decision. Including online direct sales and a combination of online and physical sales.
#1 The affiliate model
Affiliate marketing involves partnering with content creators who will help you get new customers.
If you're exploring direct to consumer to maximize profit and minimize costs, why would you choose an affiliate model, in which you have to pay a commission? Here's why and how.
You need to gain an audience first. 
You can generate new leads and sales.
You still control the selling of your product.
You can increase brand awareness at a lower cost than advertising.
The Performance Marketing Association reported that affiliate marketing investment reached $9.1 billion in 2021, which is a 47% increase over its previous report in 2018.
The affiliate model needs you to recruit influential content creators, like social media influencers, bloggers and YouTubers. These creators need to have audiences that match your target audience of customers.
In exchange for promoting your products on their blogs, YouTube channels or social media posts, and adding a link that directs their audience to your website, you reward them with a sales commission.
The link on their site is how you track the new customers they have sent your way. The money paid to affiliates for those customers is called cost per action.
An influencer is one example of an affiliate. For instance, Reese Witherspoon started recommending books she loved and turned it into Reese's Book Club, with books, films, television, audio, a website, and newsletter, along with a production house called Hello Sunshine. 
And just to confuse things, an influencer can be an affiliate, but not all affiliate marketers are influencers.
An influencer can be an affiliate, but not all affiliate marketers are influencers
An influencer like Witherspoon will use social media to promote the books she chose. Whereas, an affiliate may use other types of tools to promote their products, like writing a blog.
Shawn Collins is one example, the co-founder of what's called the Affiliate Summit. He has been in affiliate marketing since 1997 and advises young marketers to start a blog to begin their affiliate marketing. 
Pros of an affiliate model
Affiliate marketing can help your businesses increase revenue and expand its customer base, as:
You can build brand awareness easily and quickly. 
Your affiliates will give you access to an established audience.
Your affiliates give an "endorsement," and customers may be more willing to take buying advice from what they consider a trusted source. 
Customers will appreciate hearing why affiliates support your product in their own words, rather than your "advertising" words.  
Paying per action to an affiliate can be more cost-effective than other advertising or marketing methods. You only pay when something is actually bought 
Cons of an affiliate model
On the other hand, there are a few cons to affiliate marketing, too:
You have to be willing and prepared to pay for every sale. Most affiliates want money, not other rewards like discounted products.
You need to know if you're still making a profit after paying affiliates.
You need to find the right affiliates who will reach your target audience. 
You should find affiliates that have actually used your product, which isn't always easy. That genuine referral is more valuable to a potential customer.
#2 The dropshipping model
A traditional selling model means you must stock and store inventory, manage the supply chain and deliver the goods—in other words, deal with the customer fulfillment process from start to finish. 
But there's another way to sell goods online that you've likely heard of, and it's called dropshipping.
Using this direct to consumer method, you buy inventory only as needed, getting it from a wholesaler to fulfill an order when you get it.
You don't own inventory, stock it or store it. Instead, you become the middleman, and operate an online store that gets the products when the customer wants them.
You're probably saying: the explanation of what is direct to consumer sales included no middleman! But it's OK! It can still be a low cost operation.
 To accomplish it, you set up an online store, then use other suppliers to fulfill the customer order process.
Examples of the dropshipping model
Suppose you build a store on Shopify, then find one or more wholesalers that will serve as your suppliers, such as AliExpress.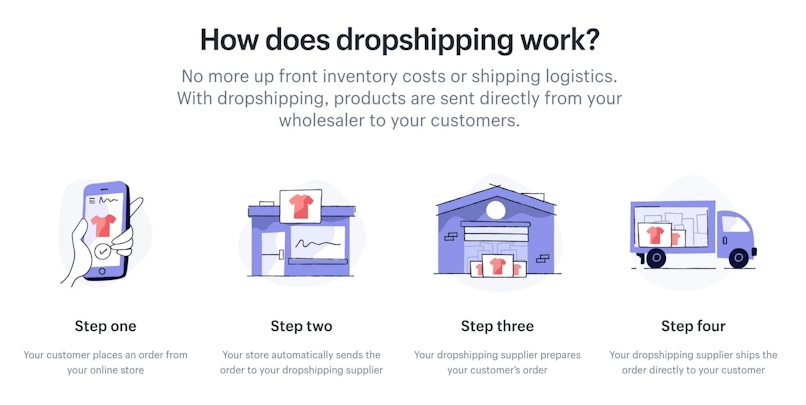 Or, you can use an app that connects you and your store to thousands of suppliers—Shopify has one of these too. 
Then you connect your Shopify store to the wholesaler, and when your customer orders a product, the wholesaler fulfills it. You get out of the hassles of delivery as the AliExpress supplier will ship directly to your customer.
Shopify cites Subtle Asian Treats as an example of a success story, a top  dropshipping company on Shopify founded by a Malaysian entrepreneur who jumped on the bubble tea trend. 
Another example is Fulfillment by Amazon, which the company claims offer more control over the brand and customer experience.
You don't have to sell products in Amazon stores, but Amazon is a selling channel worth considering. You then decide what products and quantities you want, and your products are stored in an Amazon fulfillment center.
As you get orders, Amazon picks, packs and sends the products on your behalf. Amazon also manages customer service and returns, and lets you know whenyou must re-stock.
You can also set up stores on eBay, or Etsy, or other eCommerce sites. You list your products and customers buy directly from you.
Pros of a dropshipping model
Low startup costs, since you can launch your store without buying inventory. 
Low risk, since you aren't in jeopardy of being stuck with excess inventory.
Easy to start, once you figure out your online selling method.
You can sell just about anything.
You can easily scale up as you have success.
Cons of a dropshipping model
Are you thinking of jumping into the exciting world of dropshipping? While it may seem like the perfect way to get your products directly to customers, there are a few hurdles you'll need to clear before you start raking in the profits.
Problems with inventory, if your supplier doesn't have enough products.
Shipping hassles, since you're not responsible for last mile delivery.
Low profit margins, since you're not the only business looking to save costs by operating a DTC business. Those low overhead costs mean your competition can easily set up a dropshipping store and sell products at low prices.
Supplier problems like sending the wrong product or making another mistake, which you have to fix.
Less control over your brand, since you aren't fulfilling the order.
Want to know how to set up a successful dropshipping business in 2023? Check out our ultimate dropshipping guide.
#3 The commission model
This model is similar to using affiliates. The commission model means just that: you pay a commission in exchange for sales. 
There are several different types of commission models, including cost per use  in which you pay a commission when a person clicks on an advertising banner or text link.
More beneficial to you is a cost per sale, which means you only pay a commission once a sale is made. That can be based on the percentage of the sales or a predetermined, fixed amount.
#4 The sponsored posting model
A sponsored posting model is the flipside to an affiliate or commission model. In this scenario, you are paid for promoting products on your website.
Instead of the content looking like an advertisement, it looks like it belongs on your site. 
To be successful in this model, you'll need to find businesses or advertisers that want to promote their products on your site, and negotiate a deal that's suitable for your business.
There are many different forms of sponsored content, including articles or blog posts, lists, videos, photos, infographics, and social media content on Twitter, Pinterest, Instagram, YouTube, Facebook and more.
One example is a sponsored ad on Facebook—like this one from D2C liquor store, Drizzly: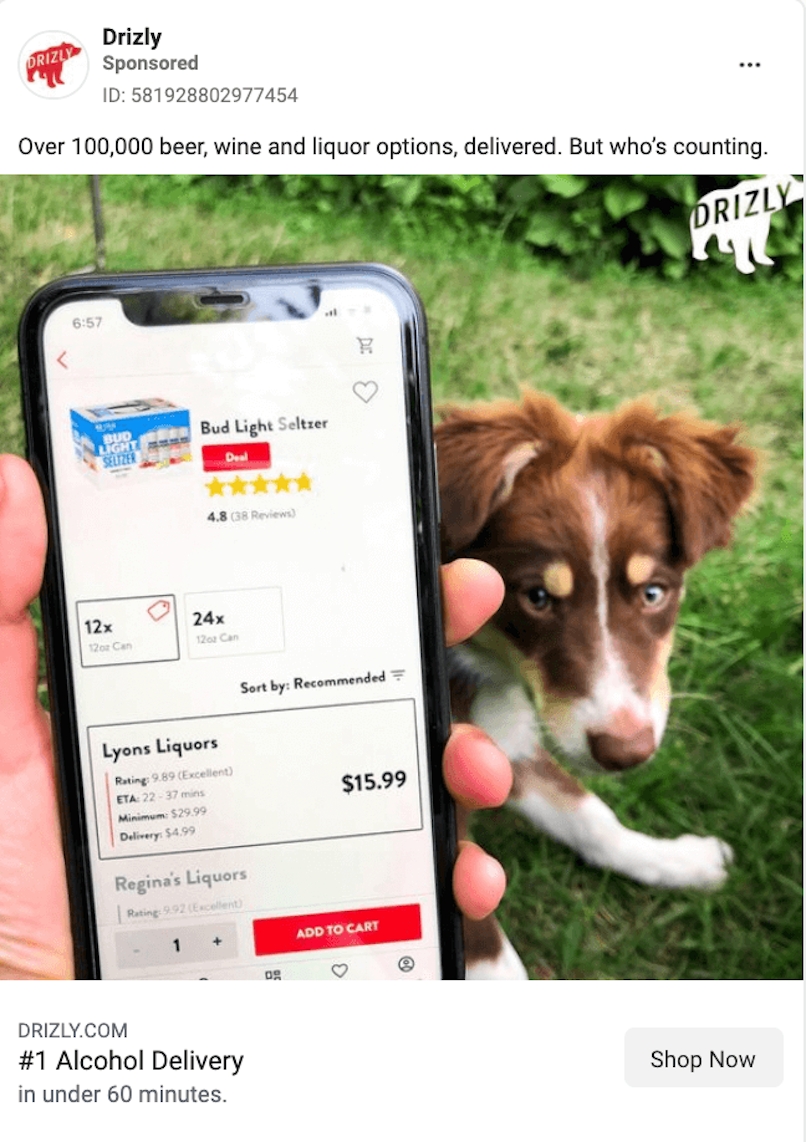 The content looks just like any other Facebook post in your feed, so it doesn't interrupt your scrolling and is placed with your regular content. 
To be successful with sponsored posting, you'll have to find a way to incorporate promotions that find like native content into your website.
#5 The membership site model
A membership model is another way to handle direct to consumer sales while producing a consistent revenue for your business.  With the membership model, you can turn a new customer into a repeat customer on the first buy.
MeUndies is one such example of a successful membership site — billing themselves as "The world's most comfortable underwear for men."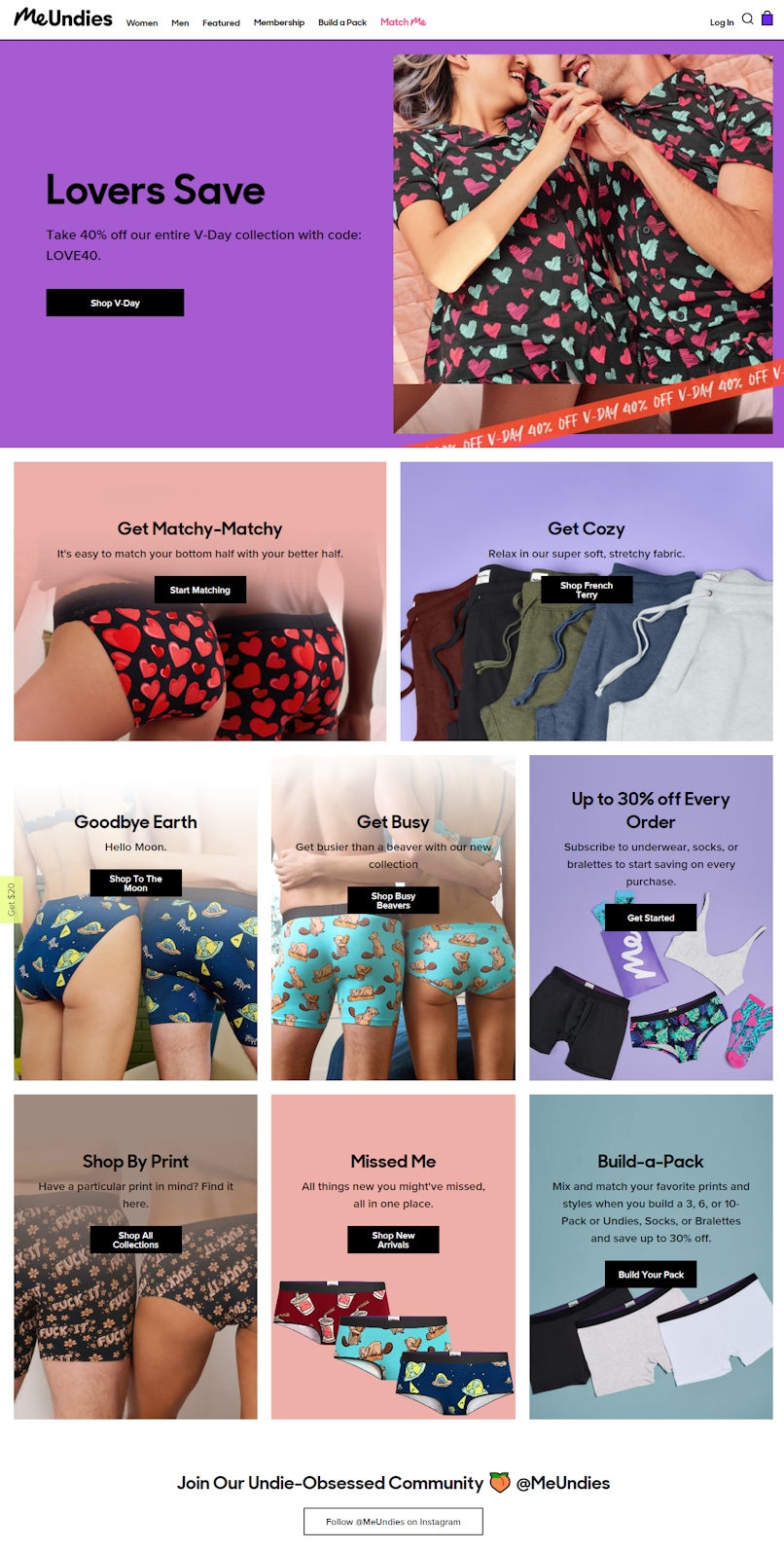 MeUndies commits customers to monthly underwear purchases at a discounted price. Then they get added benefits in the form of discounts on other products or access to limited edition items.
Like MeUndies, you can also give subscribers early access to new products—who reports that members account for 50 percent of overall business, and on average spend double the amount than non-members.
In this way, you will get continued revenue from those customers plus build loyalty to your brand.
Retaining customers is always less costly than finding new ones.
Be sure that you combine the subscription with a shopping cart on your site, so members can buy products outside of what they get with their membership benefits.
#6 The physical store direct selling model
When you're exploring what is direct sales, it isn't always a brand new online business.
With this sales model, the business expands on an existing retail store to add more customers and give convenience that many customers appreciate.
For instance, a local grocery store can add online shopping and delivery — or a florist can expand to deliver locally, like Tim Wall, the owner of Three Chimney Farm.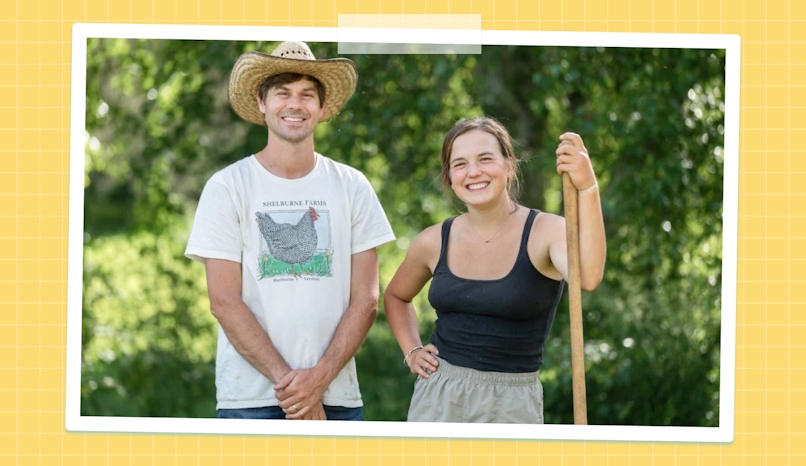 Tim changed his business model to focus on direct-to-customer (D2C) sales and suddenly went from zero to sixty deliveries per week.
In this way, retailers are adding direct to consumer options in the form of delivering goods that consumers are already purchasing. This saves the customer the hassle of coming to the store to buy something they know they need.
Cons of the physical store direct selling model
Being honest, store direct selling can add to your existing customer base, but also add some headaches for your business such as managing deliveries.
Because you'll be delivering directly to individual customers, your drivers will have to complete many stops to a diverse group of addresses.
That doesn't make this business expansion impossible.
It just means you will need a tool to plan the routes quickly and send your drivers on an optimized route so they can complete as many stops in a day as possible. Circuit for Teams is one such route optimization tool.
For example, a  bicycle courier service  delivering medication in a major city with Circuit for Teams scaled to 400 daily pharmacy deliveries with this DTC model.
Store direct model: a Circuit customer example
This bicycle courier company partners with with multiple local pharmacies to offer a unique third-party delivery service with same-day delivery for last-minute prescriptions and other essentials.
Here's how it works:
Each local pharmacist gives the order details to the courier company, which they import as a spreadsheet to  Circuit for Teams.
Circuit for Teams optimizes the rider delivery routes for efficiency and speed. In addition to picking up medication, the bicycle couriers also collect any last-minute filled scripts that need same-day delivery.
Circuit for Teams allows drivers to easily add these stops and re-optimize the routes.
Once the courier is ready to start their route, Circuit opens their preferred satellite navigation tool, and directs them to each location.
With Circuit for Teams, the bicycle courier company expanded from a two-man operation to ten drivers capable of making up to 400 deliveries per day!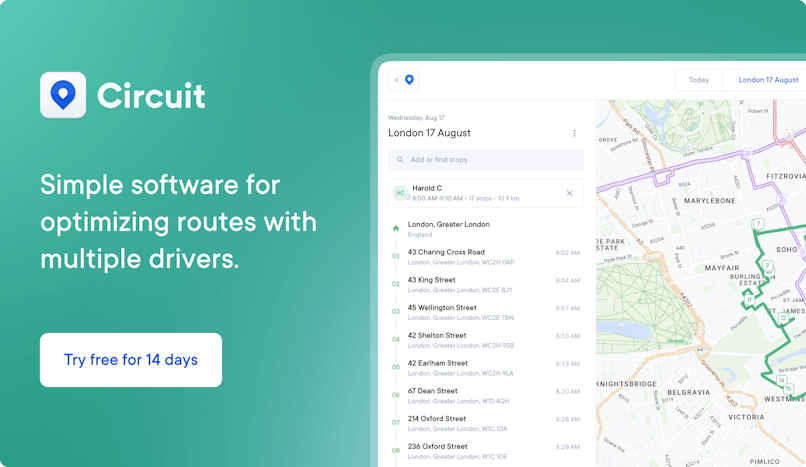 How store direct selling helped this backery with 4,000 deliveries a month
Another example is a business that already sells wholesale to restaurants and wants to expand to sell direct to individual customers.
Company Bakery, an award-winning sourdough bakery in Edinburgh is one such business. When the global pandemic closed restaurants and impacted their operation, Company Bakery added direct to consumer to their business model.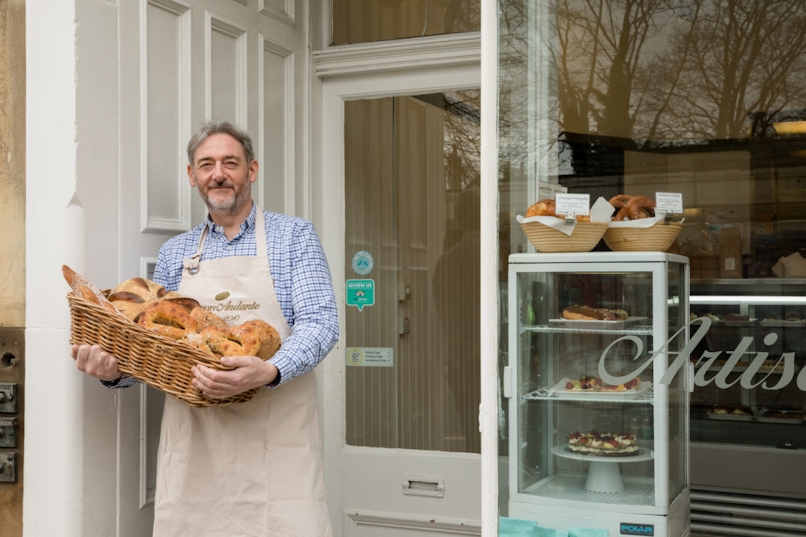 This also made their delivery process more complicated, with the addition of multiple customer stops instead of the same cafes every day. But a route optimization tool with delivery scheduling software helped smooth their expansion.
#7 The subscription direct selling model
Subscription sales is a variation on direct selling, in which businesses sell direct to the consumer on a recurring basis. Companies using a subscription model sell items to consumers on a monthly or yearly basis at a recurring price. 
Subscription boxes are another example, and one that is becoming more popular.
US subscribers say that they pay for subscription boxes because they like to try out new products, they like receiving items in the mail, and they find it easier than shopping.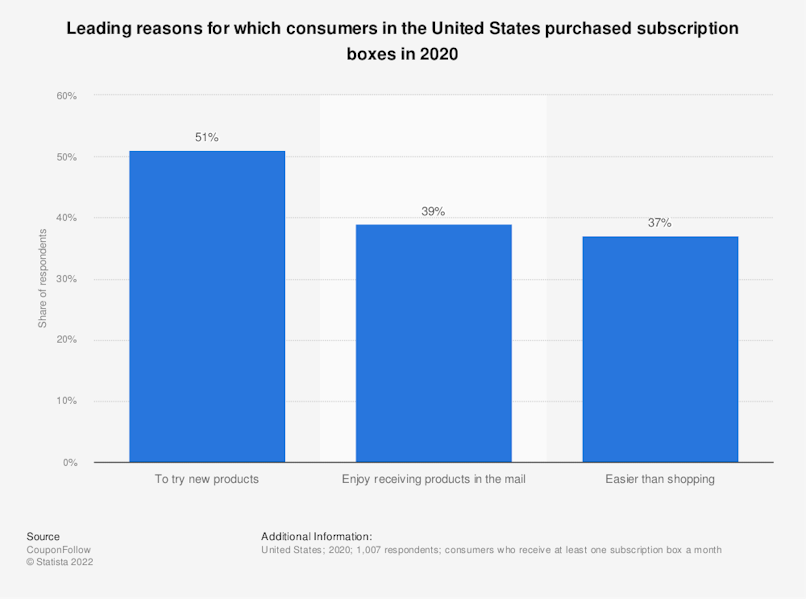 Plus, subscription boxes have grown in popularity, number and variety. 
Some of the best-known and most popular subscription services in the United States included Dollar Shave Club, Chewy, Barkbox, and HelloFresh.
Let's examine one of them in more detail.
Dollar Shave Club and the subscription model
Here's the skinny on Dollar Shave Club, a good example to explore in the world of direct to consumer subscription models.
This company was started by Michael Dubin and Mark Levine. Levine had  bought an assortment of consumer products, including razors and blades, and asked for Dubin's help to sell them.
Dubin, meanwhile, considered the high price of blades from market leaders like Gillette.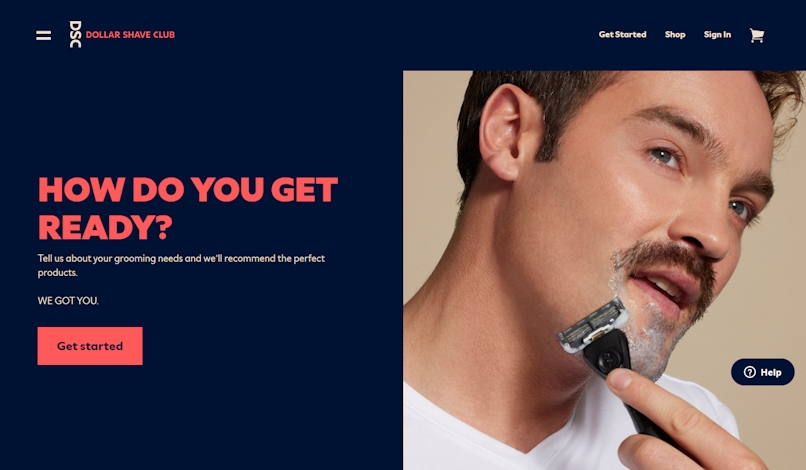 Rather than attract consumers who would buy their product once, Dubin wanted to test a subscription model that would help with the business's customer acquisition cost (or "CAC").
By tapping into younger men who didn't want to spend the money on expensive blades, his idea was the foundation for Dollar Shave Club's business model.
Their plan was:
ship high-quality razors to your door
charge a subscription of a dollar a month
 give a cheap shave with a quality razor and the convenience of doorstep delivery
The actual cost varied depending on the razor, but the price was still far below that of Gillette. A viral video that promised "price, quality, and convenience" got the ball rolling, and over 12,000 people subscribed in its first 72 hours.
The success of selling directly to the consumer without wholesalers and distributors made Dollar Shave Club one of the first members of the D2C revolution.
Their supply chain consisted of  razors procured from a Korean manufacturer, and customer fulfillment through third-party logistics.
They also built a loyal subscriber base to justify the low prices. In business terms, the lifetime value (LTV) of any subscriber was significantly higher than the cost of acquiring the subscriber (CAC).
A razor was an ideal product for a subscription direct to consumer distribution, since it's used frequently and needs to be replaced often.
A razor was an ideal product for a subscription direct to consumer distribution, since it's used frequently and needs to be replaced often
By automating the purchasing, Dollar Shave Club also eliminated the need for the consumer to run to the store on a regular basis. 
What makes for a successful direct to consumer product?
Once you understand what is DTC direct to consumer, and you're ready to embark on a model for your business, you're likely looking for some tips on how to be successful.
Here are a few expert ideas that help make for a successful direct to consumer product.  
1. Build your brand on something other than a comparison to your competitors
Using the Dollar Shave Club example, it built much of its brand identity by citing its expensive competitors. But it also targeted a younger audience on social media, offered a reasonable price, and gave convenience to customers.
As pointed out in Harvard Business Review, if your competitors manage to meet your lower costs, for instance, then you will no longer have that differentiating characteristic. So you need your own brand identity. 
2. Figure out what role direct to consumer will play for your business
How will DTC fit with your brand? Will it be for adding sales to an existing model, or will it give a different brand altogether?
Nike Direct is an example. Nike uses DTC as a way to further establish its brand. In 2020, Nike reported that one-third of its global sales were completed through Nike Direct.
3. Grow and evolve
You don't simply launch your DTC model and leave it. You need to monitor your strategies and evolve your business when necessary. That includes a focus on customer loyalty.
After all, one of the benefits of DTC is that the direct relationship with the customer allows you to gather data from every buy  Your customer will also appreciate the personal connection with your brand.
What are the challenges of setting up a D2C business? 
A DTC business is not without its challenges, however. For instance, it can add to some business costs, such as marketing and distribution, and it needs a digital-first mindset and a strong online presence. 
Be mindful of these other possible hurdles when you embark on direct to consumer:
1. Increased risk
This can include expanded liability risk, cyber risk and supply chain demands.
Some of the tasks that are usually handled by wholesalers and retailers, such as sending  labeling, and data privacy and cybersecurity, are now your responsibility.
You'll take on the supply chain process and be responsible for many individual customers, not distributors who handle that for you. Which leads us to the next challenge.
2. Navigating the delivery process
Whether you're expanding a wholesale business to include direct-to-consumer or you're adding DTC to your bricks and mortar store, successful and fast delivery is one facet of the businessyou must figure out.
A 2022 survey revealed that faster delivery was the top factor that shoppers globally would change about their online shopping experience. Convenient delivery was ranked third.
So to be successful in direct to consumer,you must be successful at onboarding and training new delivery drivers, managing and scheduling them, optimizing their routes to save time and money, and keeping track of them to meet customer expectations.
If you manage a team of drivers, Circuit for Teams is a simple, cost-effective way to keep track of them and make their routes more efficient.
3. Managing costs
It's important that your DTC isn't cutting into profits—or eliminating them. It's vital to track and manage all the elements of your online shopping to keep costs in check.
That includes pre buy costs like advertising and other media expenses; delivery costs; and post buy costs like customer retention, since it's less expensive to keep an existing customer than find a new one. 
Wrapping up: tips for your first D2C sale
Direct to consumer offer an exciting way for businesses to succeed, whether you choose DTC alone or combine it with other sales models.
What's more, there are a host of benefits to a business looking to sell direct to consumers, and some challenges as well. 
From figuring out whether you want to have a membership-based business and how you would handle your own retail deliveries, there are different options for every type of business.
Now that you understand the pros and cons, it's time to dive in to direct sales. Reduce your in-house delivery costs by 20% and try Circuit for Teams free.