10 minute read
8 Last-Mile Delivery Challenges & How To Control Them
Discover the top eight challenges facing last-mile delivery and effective strategies to overcome them. Improve your delivery service today.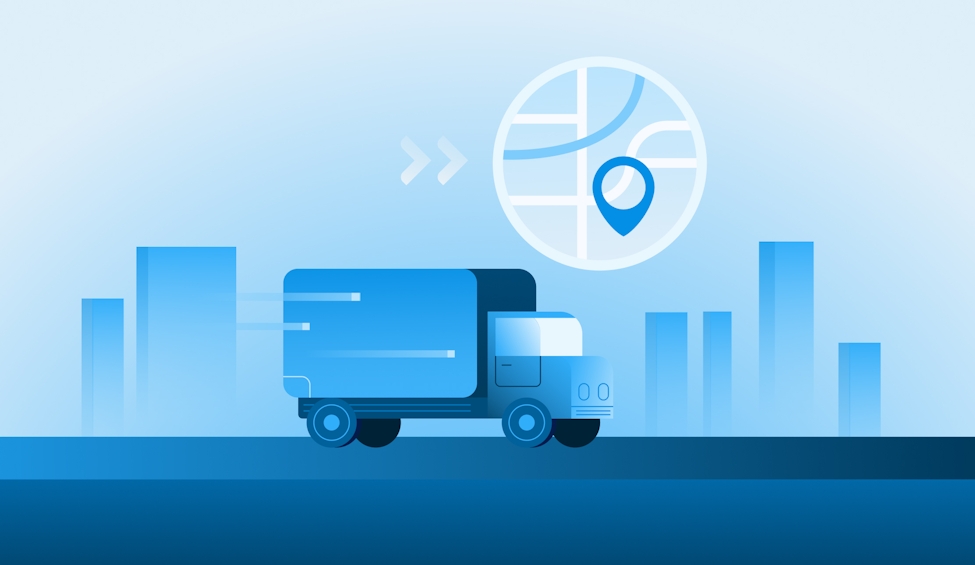 Get help conquering last-mile delivery challenges like delays with Circuit for Teams.
Key takeaways:
Last-mile delivery is the most expensive phase of the supply chain, making up 53% of total shipping costs.
Multistop route software like Circuit for Teams helps optimize delivery routes to reduce fuel, mileage, and vehicle maintenance costs while keeping delivery costs low.
Third-party delivery services can help increase capacity, but they create challenges regarding customer service.
Last-mile delivery is the final step in the supply chain process when a product finally reaches the customer.
Although it might seem straightforward, a lot can go wrong in this final stage.
For instance, a driver may get stuck in traffic, resulting in delays. Or the customer might not be home to sign for the package, leading to a failed delivery attempt.
The bottom-line? Extra time to resolve customer complaints, and extra costs for your business.
And these are just some examples of the last-mile delivery challenges you may face. Luckily, there's help available.
Below, I talk about some of the biggest issues that interfere with a streamlined delivery experience and offer solutions to tackle each.
1. Capacity constraints
Last-mile delivery management is about getting goods to customers as quickly as possible. You might deal with capacity constraints if you don't deliver packages on time.
For example, say you run an eCommerce shop with a small warehouse where you store inventory. If inventory doesn't reach customers, you'll have more to store — and the boxes may pile up.
Warehouse space is just one type of capacity constraint.
There's also the question of whether you have enough delivery drivers and vehicles to keep up with orders and customer demand.
If not, you may be unable to meet customer expectations — for example, you'll have delayed deliveries because you don't have enough drivers to get orders out.
Solution
Delivery companies or eCommerce shops struggling with capacity challenges can work with third-party logistics services.
For example, you can outsource your warehousing or partner with a crowd-sourced delivery platform.
By using third-party couriers or delivery services, you'll benefit from their expertise and increased capacity. This makes it easier to improve delivery speeds and scale up.
But here's the thing: Working with outside organizations gives you less control — for example, over customer service. 
Since you aren't handling your own deliveries, you can't answer customers' questions about when their packages may arrive.
This can be frustrating for you and your customers. If you're looking for a scalable in-house solution for deliveries, Circuit for Teams can help.
Circuit for Teams helps delivery managers optimize routes, saving time. 
It also has other perks to make your delivery team's lives easier — like proof of delivery (with photos) you can share with customers and fixed or flexible delivery time window notifications.
Learn more about third-party logistics. I also cover some third-party logistics companies.
2. Delivery times and speeds 
Customer expectations regarding delivery times are getting higher — with people increasingly demanding one-day, two-day, or even same-day delivery. 
We surveyed real-world consumers to understand what they're looking for in delivery services. 
Guess what? Sixty-six percent said they'd stop ordering from a company or delivery app if they got a delivery late.
Yikes! You really don't have any room to make mistakes.
However, last-mile delivery drivers face a lot of challenges when it comes to speedy delivery.
First, there's the question of figuring out the fastest route. 
Then, there's construction, traffic, one-way streets, and toll roads to consider — all of which can contribute to late deliveries.
These challenges can be especially significant in densely populated areas with a lot of traffic or remote locations with limited infrastructure.
Solution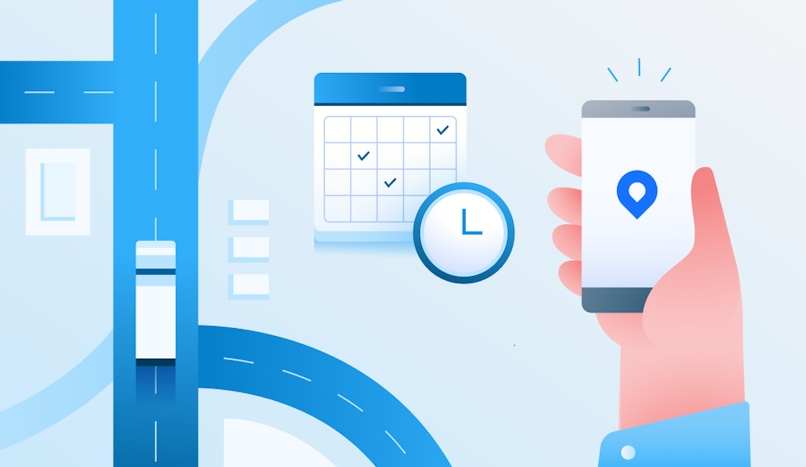 Route planning software like Circuit for Teams makes getting multiple driver routes done quickly and on-time deliveries easier. 
Dispatchers or team managers can designate which deliveries need to take priority. Meanwhile, drivers can get their routes through the Circuit for Teams companion app on their smartphones.
All you have to do is upload a list of stops, and the software maps out the fastest route.
Circuit for Teams takes into account real-time data like current traffic situations. Plus, you can update routes on the go, adding or deleting stops as needed.
Suppose a customer calls your team to say they're not going to be at home at the estimated time. With Circuit for Teams, you can quickly edit the stop on the live route, without stress for the dispatcher or driver.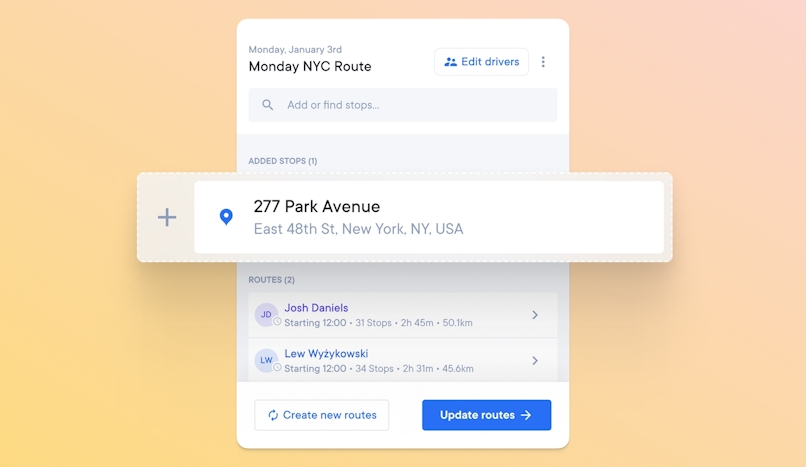 3. Delivery costs 
Unfortunately, last-mile logistics is one of the most expensive parts of the supply chain process.
Based on some estimates, the final step in the supply chain makes up more than half of total shipping costs — 53 percent.
Managing delivery costs while maintaining profitability can be tricky, especially as customer demands increase. 
But there's a flip side: Consumers are actually happy to pay more for premium delivery. 
Based on our research, 44 percent of Americans would pay over $10 for same-day delivery, while 64 percent would pay for guaranteed early or on-time delivery.
With consumers willing to pay more and cover expedited delivery costs, you can meet their demands — without breaking the bank.
Solution
Optimization of delivery routes with software like Circuit for Teams can help you keep delivery costs low and stay profitable. 
Circuit promotes cost-effective delivery operations in several ways.
First, when you create the fastest route possible, you save on fuel costs and avoid your team from having issues like doubling back to make missed deliveries.
Circuit also helps avoid other issues that waste time and cause delays, like idling in traffic jams.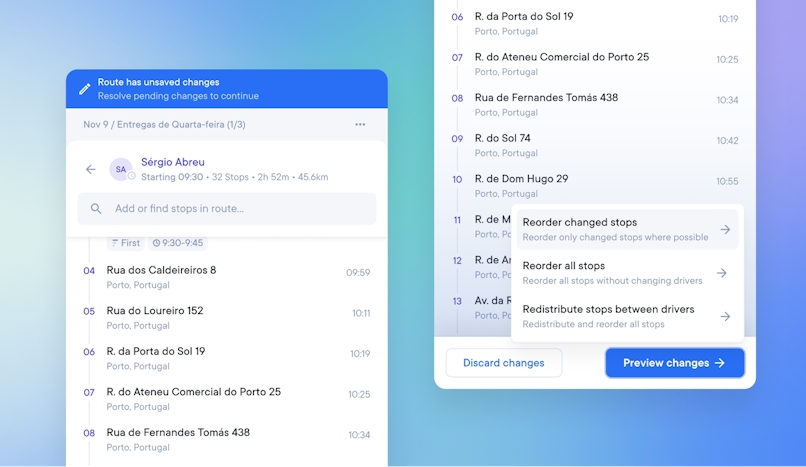 By giving drivers faster, more direct routes, a multiroute planner can reduce in-house delivery costs by 20 percent. 
You can see for yourself how much you can save using our route optimization ROI (return on investment) calculator tool.
Just add details like how many vehicles you have, how much you pay your drivers per hour, and the average cost of fuel in your area, and you'll see how much route optimization can save you. Try it out.
This ultimately reduces stress on drivers and delivery vehicles, and can help cut vehicle maintenance costs — another high cost for last-mile delivery services.
4. Customer communication and experience
I mentioned that third-party delivery services could help fill gaps and address issues like capacity limitations. 
But working with a third-party service creates challenges regarding customer service.
If you aren't handling deliveries directly, there's no way to communicate details like delivery time windows or estimated times of arrival (ETAs) to customers.
Even if you're handling deliveries yourself, keeping up this level of communication with customers can be challenging. 
Unless you have a tool taking care of it for you — more on that below — you have to track packages individually and send emails or SMS messages to customers separately.
Customers appreciate knowing when their packages will arrive — and it benefits you, preventing failed delivery attempts (especially if a customer needs to sign for a package). 
Giving a package directly to the customer can also reduce the risk of porch piracy, protecting your and your customer's interests.
Solution
A comprehensive last-mile delivery solution like Circuit for Teams doesn't just offer multistop route planning. 
Circuit also improves the customer experience by giving customers delivery time windows and ETAs.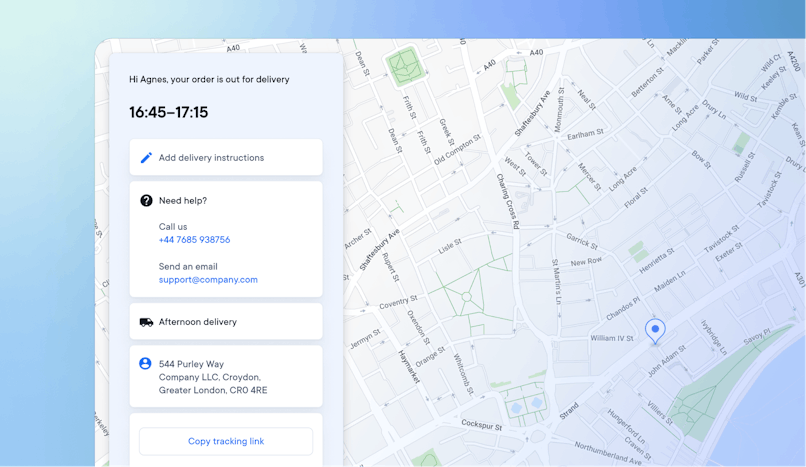 The software's real-time package tracking makes it easy to know when a package will arrive. 
Automated email or SMS notifications let customers know when to expect their packages. And this level of awareness can improve customer satisfaction.
All of this makes customers' lives easier — and drivers' lives easier too. With scheduled deliveries, there's less risk that a driver will arrive to find nobody there to sign for the package.
5. Real-time visibility 
What do you do if a customer asks where their package is and you have no clue? 
Real-time visibility is an asset for a logistics service — but getting it can be tricky.
Real-time visibility relies on your delivery company having updated, accurate information about each package's status and location. 
Is it in a warehouse? Is it in a delivery vehicle? If so, which delivery driver has it — and where are they?
There are a lot of factors. This makes it tricky to achieve real-time visibility in practice, especially if your delivery process involves multiple parties (for example, going from a warehouse to a driver).
Using unreliable or outdated technology to track packages can make the problem even worse.
Solution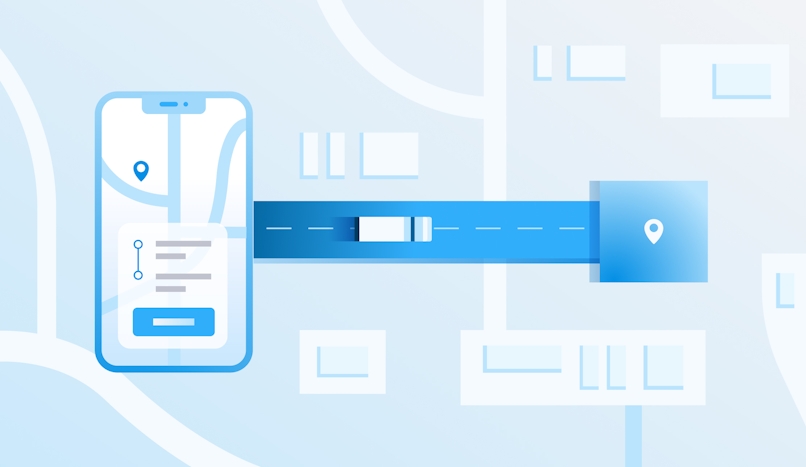 Modern technologies like Circuit for Teams make it easier to get real-time data. 
The software tracks delivery drivers through their phones, and delivery team managers can view where a driver is at any time.
With this real-time data, it's also possible to give customers up-to-date information on their package's whereabouts. 
For instance, you can send automated emails or SMS notifications when a package is out for delivery.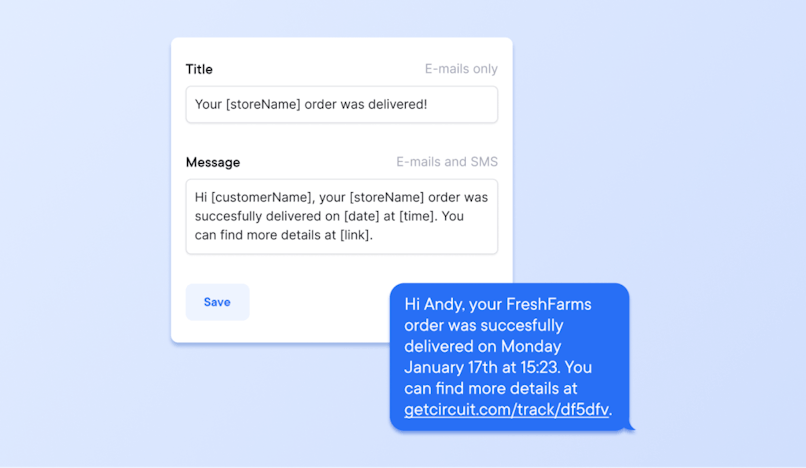 In case of delays, you can also update delivery timelines and ETAs. Everybody — from the team manager to the customer — is in the know.
6. Returns and reverse logistics
The last-mile delivery process also involves reverse logistics when a customer wants to return a product. It's the logistics process but in reverse. 
As of 2022, the average return rate was 16.5 percent, so reverse logistics can be demanding.
Reverse logistics adds to your business's administrative burden and costs, as you have to process returns and (assuming you offer free returns) potentially pay for shipping.
You also have to track the process to make sure products actually make it safely back to you, giving you the option of reselling them. 
Here's more about the challenges of reverse logistics.
Solution
Technology can help simplify reverse logistics in a few ways. 
For example, Circuit for Teams can help you plan faster pickups and allow for easy tracking, so you can monitor the returns process.
There are also warehouse and inventory management software that can optimize reverse logistics after you get a returned product.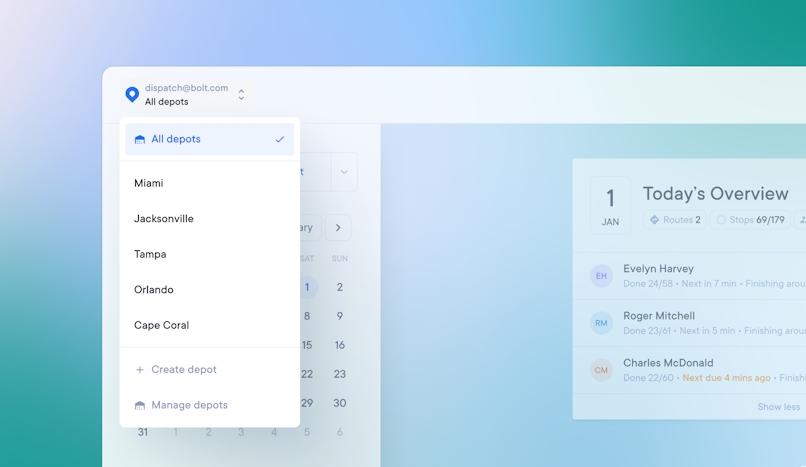 For example, you can scan a barcode when the returned items make it back to the warehouse.
This unique barcode can follow the product at every stage of movement through the warehouse. For example, when it comes off the truck to when it's with quality control (to learn if it's in good condition to resell) to when it's back on the shelves and awaiting a new order.
7. Security and safety
Unfortunately, the significant amount of time drivers spend on the road puts them at a greater risk of accidents. 
If delivery drivers get into accidents, they may hurt themselves or others. You might also be held liable as their employer.
Delivery drivers face other safety risks. Driving in bad weather can increase the risk of accidents, for example — or dogs protecting a customer's property can get aggressive and bite drivers.
Drivers may also get distracted by multitasking when making deliveries, which can result in distracted driving. 
For instance, if they're trying to check delivery stops or routes on their phone, their eyes may not be on the road.
Solution
Keeping your drivers safe starts with education. Teach your drivers important safety messages, like limiting in-vehicle distractions and practicing defensive driving.
Software like Circuit for Teams can also help drivers stay safe on the road by planning routes in advance. There's no need to check a digital map.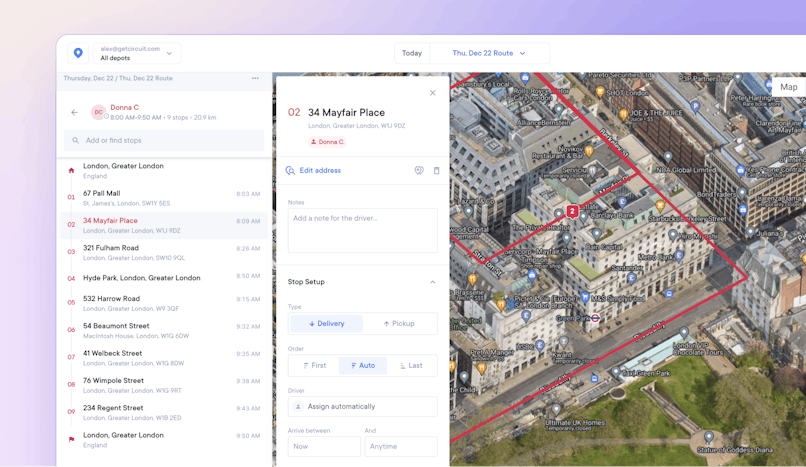 Plus, Circuit has an audio option, so drivers can get hands-free instructions while driving.
8. Environmental impact
Sustainability is becoming a growing concern in last-mile delivery as consumers demand services that minimize their carbon footprint. 
The environmental impact of gas-powered vehicles for deliveries can be problematic. 
You might consider switching to electric vehicles (EV) — which can also save on gas. Our free EV calculator tool tells you how much you can save on fuel if you go full EV.
That said, switching an entire team to EV isn't an overnight solution (not to mention, it's pricey). 
If you aren't ready to take this leap, there are other ways you can help minimize carbon emissions — like planning more efficient delivery routes.
If a driver gets stuck in traffic and is idling in their vehicle, they're burning gas. 
Similarly, if a driver is zig-zagging back and forth across town to get packages delivered — instead of delivering them in a straightforward way — they'll cover more miles and burn more fuel.
Unfortunately, shipping contributes up to 3 percent of global greenhouse gas emissions. But modern technologies can help tackle the issue.
Solution
Circuit for Teams makes it easier for last-mile delivery services to support green logistics by creating optimized routes. 
By avoiding doubling back or time-consuming hurdles like traffic jams, Circuit helps minimize how much fuel your drivers use.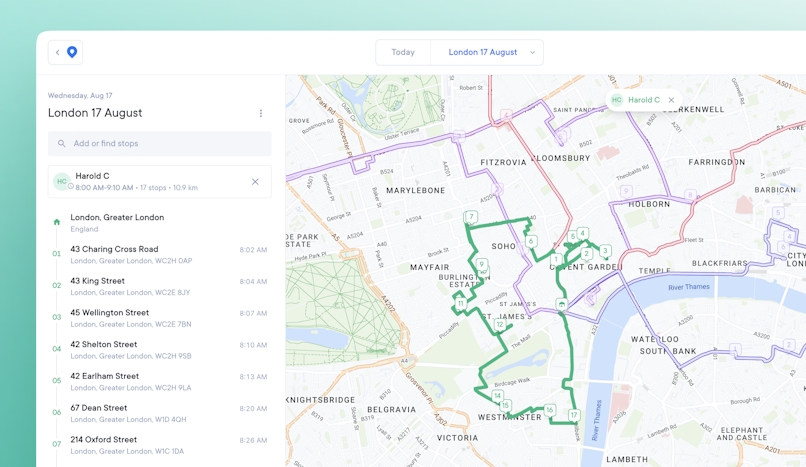 This helps make your business more sustainable. It can also help you save money on gas. Plus, eco-conscious consumers may appreciate your efforts to go green.
Learn more about green logistics.
Optimize your deliveries with Circuit for Teams
There are many challenges of last-mile delivery — from rising last-mile delivery costs to capacity issues. 
In the big picture, you want to avoid disruptions and make sure your end customer is satisfied.
Circuit for Teams delivery software can help you overcome last-mile delivery problems and reduce operational costs with fast route optimization. 
Circuit also addresses other challenges with functionality like real-time tracking and automated ETAs.
Find out how Circuit for Teams can simplify your delivery logistics.