7 minute read
A Guide to Click and Collect
Thinking of ways to offer your customers faster and more convenient pickup methods? Here's a guide to the click-and-collect option.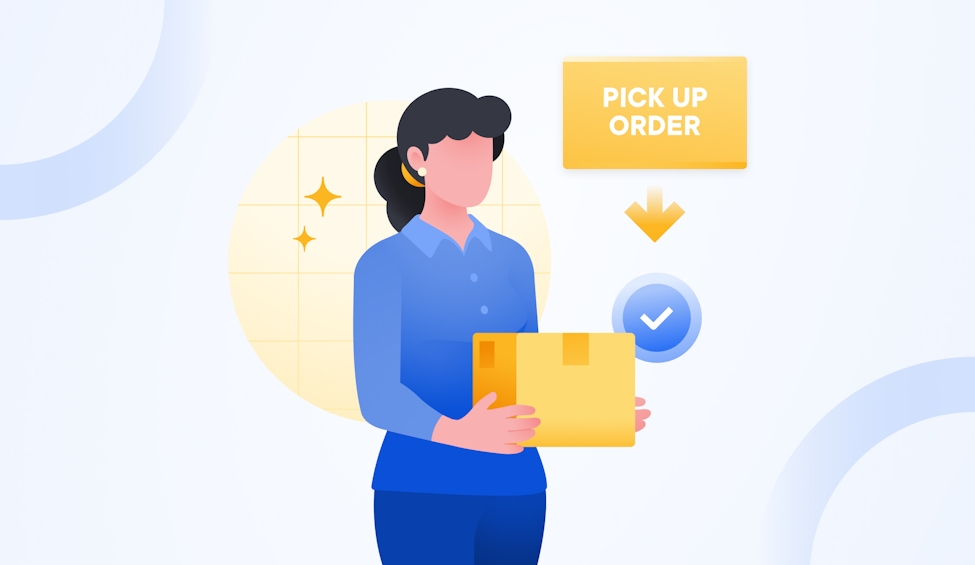 Need to optimize your delivery business? Consider offering click and collect. Want one more way? Use Circuit for Teams.
In the US, click-and-collect sales increased by more than 100% during the first year of the COVID-19 pandemic. 
And in 2022, click-and-collect sales in the country were expected to grow by 19.4% compared to 2021.
But what exactly is click and collect? And can it help you increase sales? 
Does it come with any specific challenges? Is it right for your business?
Click and collect is actually a pretty straightforward method of order fulfillment with several benefits.
If you aren't offering it yet, I'll explain why you might want to start.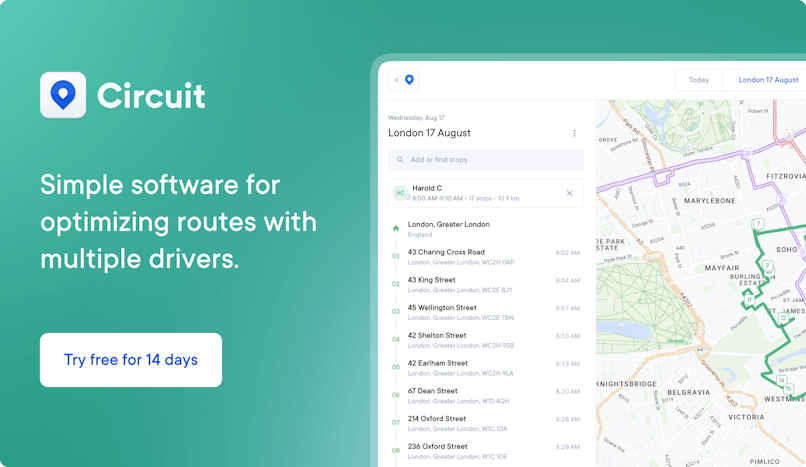 What is click and collect?
Click and collect (you'll also find it as "click & collect") is a hybrid eCommerce model where customers place their orders for items online and pick up these items from a collection location or pickup center.
So, instead of waiting for home delivery (as with usual delivery methods), customers collect their products from a store or centralized collection point after ordering them online.
Many businesses are already including click and collect in their order fulfillment strategy. 
From grocery stores to apparel brands, different kinds of retail stores give customers increased flexibility with click and collect.
For example, Stop & Shop offers click-and-collect services in collaboration with Peapod.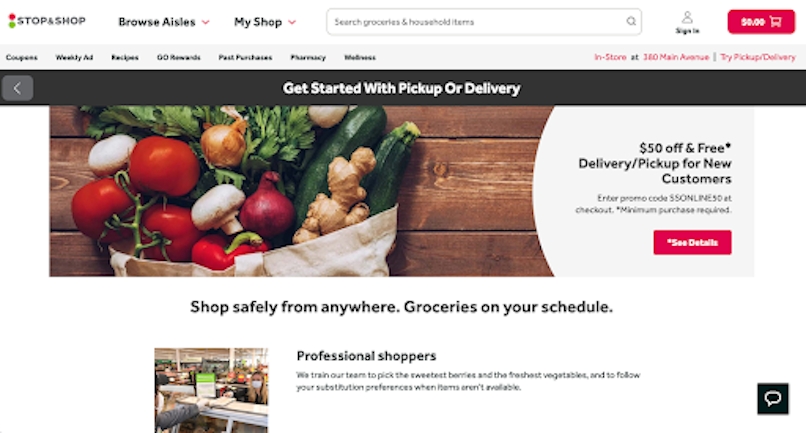 Customers can choose a pickup location when placing an order.
Once the order is ready, customers drive to the pickup point and store employees help load items into their cars. 
Walmart also offers click-and-collect services.

Since 2020, Walmart has used a robotic order picking technology called Alphabot. 
Simply place an order online and choose a time slot and pickup location. 
A store associate will pack your items in bags and notify you with a "Ready for Pickup" email.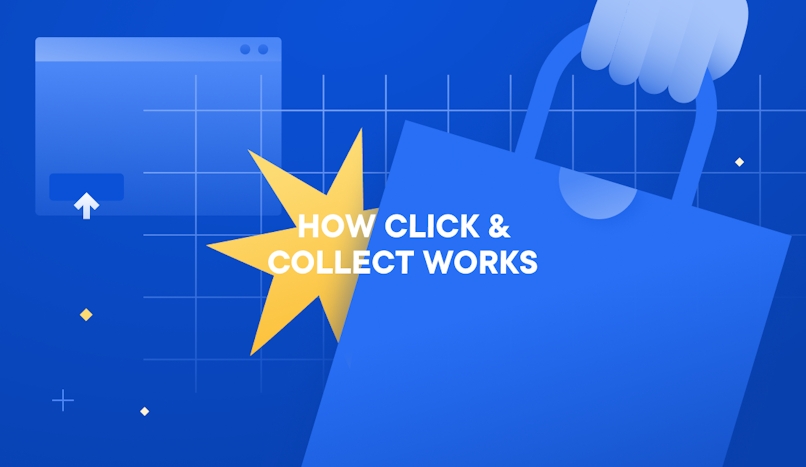 How does click and collect work?
A click-and-collect service combines the offline and online shopping experience.
You can browse through the store's website or mobile app, place orders online, and make a payment. 
You'll get an order confirmation after placing an online order.
Store employees then pack the items and prepare them for pickup. 
The store notifies you when the items are ready for pickup. 
You can go to the local store or collection point at your own convenience to collect your purchase. 
All you need to do is show them your confirmation email. 
When do you pay when using click and collect? 
With click and collect, you can pay at the checkout stage using an online payment option. 
The site will direct you to a secure online payment gateway after placing items in your cart and reaching the checkout stage. 
Here, you'll pay and complete the process of placing an order.
While most click-and-collect businesses expect you to pay at the checkout stage, some offer cash on delivery (COD).
The COD payment option lets you pay for goods at the time of pickup rather than using credit.
Are click and collect, BOPIS, and curbside pickup the same thing?
BOPIS ("buy online, pick up in store") and curbside pickup are different terms for the same type of order fulfillment: click and collect. 
Through both, you reserve a product by placing an order over the internet and picking it up from a nearby retail or warehouse location. 
Depending on the brand's tone, businesses might use any of these terms. 
But they generally mean the same thing.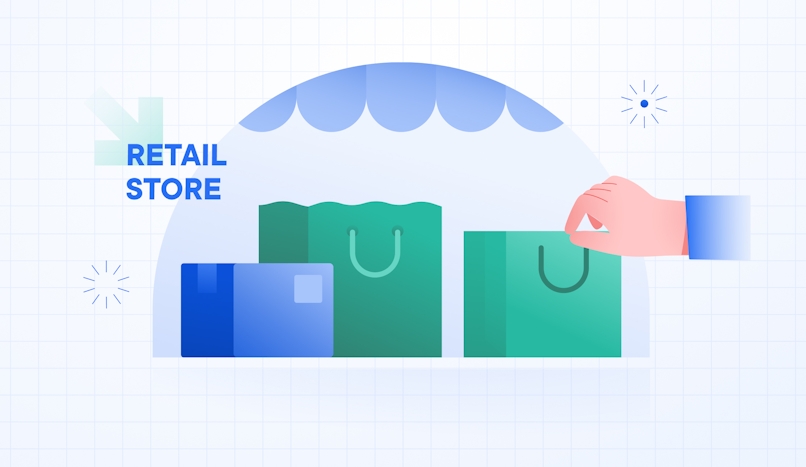 Benefits of offering click and collect for businesses
If you have a fulfillment business, you might be wondering if the click-and-collect model is worth it. Here are some of the benefits. 
Better customer satisfaction
With click and collect, your customers collect their packages from a collection point themselves. 
Since they'll be picking their package up at their convenience, it reduces the risk of disappointment because of delayed deliveries. 
There's no pressure on you to make sure that your delivery business runs smoothly. 
And you don't have to worry about your delivery drivers reaching customers' doorsteps in time.
With click and collect, fulfillment is more or less a sure thing. 
Customers order and pick up things on their own time.
Plus, your packages won't get damaged or lost in transit. 
So, there's no chance of your customers getting upset over a damaged or missing package. 
Faster order handling
The click-and-collect model makes handling orders easier.
Since customers visit the collection center to pick up their orders, you don't have to worry about last-mile delivery.
Since there are no outbound logistics (you're not shipping products to customers from the warehouse), click and collect allows you to fulfill customer orders faster. 
Take home delivery as an example. If you have to fulfill 100 customer orders in one day, delivering them might involve several steps: planning the deliveries, mapping out routes for multiple drivers, and making sure they complete all of the deliveries. 
(Of course, this is assuming you don't have the help of routing software like Circuit for Teams. 😉)
With click and collect, your customers can come to the pickup location to collect their purchases. 
You don't have to worry about delivery. 
You just have to give the right packages to the right customers.
Savings opportunities
Several resources can go into last-mile delivery, including investing in the right delivery vehicles, paying delivery drivers, and making sure they have the right tools.
By using click and collect to fulfill your orders, you can eliminate last-mile shipping costs.
Since customers come to the collection point themselves, you don't have to spend on delivery drivers or other delivery costs.
Reinforcement of the omnichannel approach 
Most modern customers expect an omnichannel experience. 
An omnichannel approach is a way to engage customers across multiple channels, devices, and platforms. 
Basically, this strategy allows you to interact with your customers at different points in their buying journey. 
For example, when customers shop online and collect orders from a nearby physical store, they'll interact with your business both online and offline on their own terms. 
As a result, you'll have two chances to really show your customers why they should stick to doing business with you and not your competitors. 
This is your chance to wow them with a great in-store experience.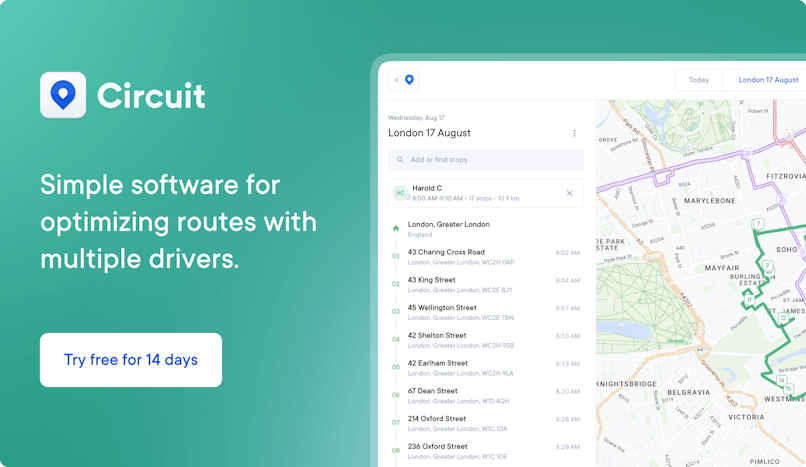 Challenges of offering click and collect for businesses
While click and collect has many pros, this fulfillment model comes with some challenges. 
Omnichannel management
An omnichannel strategy can help you interact with the customer in different ways and drive sales. 
But it can be difficult to put into practice.
First, your website needs to run smoothly at all times and be easy to navigate. 
You also need to make sure your product page reflects what's in stock. 
The last thing you want is for a customer to order something on backorder and come to the pickup location to find out it's not there. 
That wastes both their time and yours. 
Next, your collection center needs an efficient pickup process. 
This means customers should be able to pick up their orders without confusion or delay.
You definitely don't want a customer tapping their toes waiting while your employees are rushing around trying to find their order. 
Inventory monitoring
Inventory management is crucial to your business's growth for many reasons. 
It helps prevent the loss or theft of items, prepares you for sudden demand, and helps you create a better sales strategy.
Managing inventory can be particularly challenging in a click-and-collect business.
Your online inventory needs to reflect your in-store inventory. 
You also need to keep track of backorders.
If not, your customers may face long wait times when collecting their purchases or need to make multiple trips if the items aren't in store for a few days or weeks. 
Plus, you need to make sure that customers receive the right products. 
Investing in in-store resources
Having a click-and-collect model means you need to invest in in-store resources. 
Creating an accessible collection center for your customers to pick up their orders is a must. 
This includes having systems and employees in place to streamline pickups, manage inventory, and interact with customers.
Fortunately, a sound capacity planning strategy can help you decide which resources you need: 
How many workers do you need in the storage room? 
Do you need more parking spots? 
Do you need a customer help desk for returns?
Increased expectations
Customer expectations are evolving. 
Simply selling great products isn't enough. 
In fact, 80% of customers consider the experience a company offers as important as the products it sells. 
Customers want personalized communication and products that cater to their unique needs.
For instance, a customer may expect an immediate pickup window when placing an order. 
But if your business can't offer quick in-store pickup time frames, the customer may find it faster to order the item from a business that offers priority delivery services.
Grow your business with flexible fulfillment options
Offering your customers different fulfillment options makes them happy.
Going the click-and-collect route can save resources on last-mile delivery.
But you'll have to make sure that your business's inbound logistics (shipping of goods and products to the warehouse) run efficiently.
Why not consider offering customers maximum flexibility with a choice between last-mile delivery and click and collect? 
While you focus on getting your click-and-collect option off the ground, let Circuit for Teams focus on optimizing your last-mile delivery service. 
Our routing software can help you save hours planning your deliveries by optimizing delivery routes for multiple drivers that take real-time traffic conditions into account. 
Plus, you can keep track of where your delivery drivers are at all times and even send instant notifications to update customers on the driver's expected arrival time.