14 minute read
How Route Planner Apps Save Time and Money: A Guide to Understanding Efficiency in Route Planning
A route planner app can help delivery drivers and couriers improve efficiency and save cash. Find out how and discover top apps.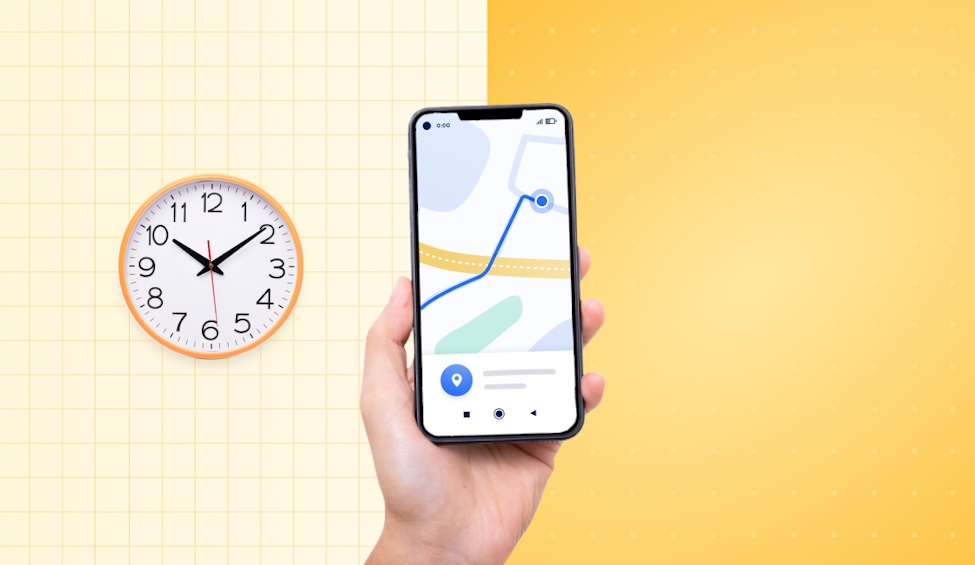 Picture this: You're a delivery driver on the road, making stops and dropping off packages. 
You only have three stops left for the day. Then, you hit a traffic jam. 
What could have taken 10 minutes ends up taking an hour.
Pissed off? Yeah, I don't blame you. I would be too. 
But I'm going to let you in on a little secret: You can avoid these kinds of nasty surprises with a route planner app, which can help you avoid annoying hurdles, like traffic jams and find the fastest sequence of stops. 
You probably already have tons of apps on your phone. Before you download yet another one, like a route planner app, you want to make sure it's worth it, right?
I've got you. In this guide, you'll learn how route planners can save you time and money as a delivery driver — and why it's worth downloading one (also, here's a roundup of other apps that can help you on the road).
I also cover some of the most popular driver apps on the market, so you can decide which one is best for you.
Why is efficiency especially important for drivers?
As a delivery driver or courier, there's a real need for speed. 
But why does it matter if you're fast or not?
Well, first off, the faster you finish the route, the faster you can get home to your couch for some binge-watching (or maybe a cold beer). 
Or even make more money because you actually have enough time to fit in more jobs.
(*cough* Circuit Route Planner can help you save an hour a day. *cough*)
Efficiency benefits delivery drivers in other ways, too.
Get to your delivery stops faster. A route planner comes up with optimized routes that get you to your delivery stops faster. If you regularly complete multi-stop routes, this can save you valuable time on the road.
A navigation app also helps you work faster in other ways — for example, you can use it to avoid things that slow you down, like construction sites or traffic jams.
When you get your deliveries done faster, you don't just get to finish your shift earlier. You reduce the risk of delayed deliveries (which can result in angry customers, yikes). You can also fit more deliveries into your day.
Increase earnings. By letting you get your routes done faster and make more deliveries in less time, route planners can help you make more money (Are you seeing dollar signs yet?).
This might apply if you work for a delivery app like Amazon Flex, where you set your own hours and pick up shifts to deliver X number of packages within Y hours. Finish one delivery block faster, and you can pick up another one sooner.
Since you get paid per block of deliveries, that means more earnings. (Learn how Flex works). Our case study shows how one driver used a route planner app to nearly double the number of deliveries he could make in a single day. That's nearly double the profits!
Use less fuel. A route planning software can help you complete your stops in the most efficient way. For example, it organizes stops that are close to one another. This helps you save gas since you don't have to double back or drive in circles to hit all your stops.
You can also save gas by avoiding things like traffic jams. Spending less money on gas means more money in your pocket at the end of the day. What's not to love about that? 
Avoid stress. Delivery driving can be a stressful job — let's get real! You've got to deal with barking dogs, the need for pee stops, traffic, and more. (psst — learn the problems you might face and how to avoid them for more). By helping you avoid some hurdles, like traffic jams, a route optimization app can help you avoid some of those annoyances. That makes your job more enjoyable.
From my experience, route optimization alone can save drivers up to an hour every day — I talk about this more in this post about how route planning apps save time.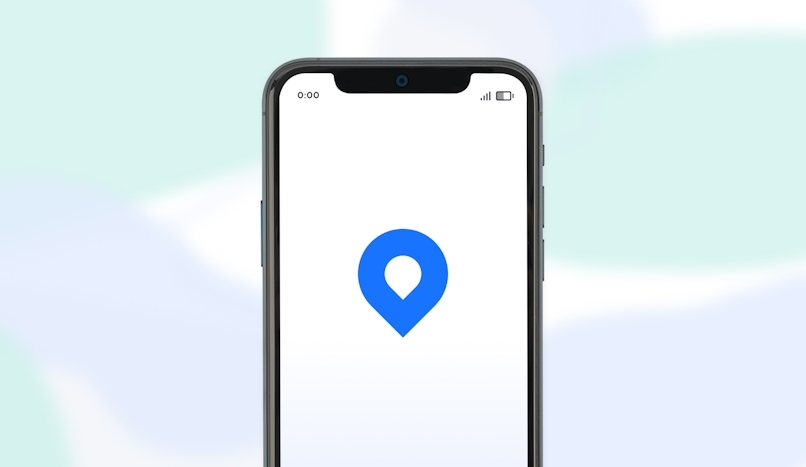 What is a route planner app?
A route planner app charts out the fastest sequence of delivery stops, giving step-by-step driving directions, including turn directions.
The route planner then connects with GPS and mapping technology to plan the fastest possible route. 
It can take into account details like traffic jams, street patterns (like one-way roads), and the location of each stop you have to make.
You can access your routes on a mobile app and see exactly where you need to go. 
Many route planners also come with real-time updates.
So, if you have to cancel a stop, you can remove it from your list of deliveries. 
The route planner then creates a new route that no longer includes that stop, keeping you on track and moving as fast as possible.
Some route planner apps also include other perks to make drivers' lives easier. 
Examples include a package finder feature, the ability to set delivery time windows and give customers ETAs (estimated times of arrival), and a proof-of-delivery functionality.
I'll talk about those features and how they can be useful in the next section.
Route planner app features to consider 
There are a lot of route planner apps to choose from — some better than others. Knowing what to look for in an app can help you narrow down your options.
Here are some of the most useful features delivery drivers and couriers should look for in a route planner app.
The option to make real-time updates. A great multi-stop route planner allows you to add and delete stops as you go.
For example, if a delivery order gets canceled, you can remove it from your route — and the delivery route planning tool will then give you a new route, minus that stop.
This saves you time and stress on the road. You don't have to fiddle around with creating a new route yourself or try to figure out how to adapt your route management to the change. The app takes care of it for you.
Voice commands. When you're driving, you want to focus on the road. You shouldn't be looking at your phone. Ideally, the route optimization software you choose will include the option of voice commands.
This lets you call up on the information you need without having to take your hands off the wheel or your eyes off the road. That makes for a safer workday for you — plus, it keeps others on the road safe too!
Proof of delivery. Modern delivery services can benefit from a proof-of-delivery feature. This could involve taking a photo of the delivered package and sending it to the customer — or capturing the customer's signature at drop-off.
This can bring customers peace of mind. It also can bring YOU peace of mind, protecting you from potential accusations that you didn't drop off a package when you actually did.
Package finder. Rummaging through your delivery vehicle to try to find a package is no fun (and a waste of your service time, to be honest)! Some multi-stop delivery route planners also include a package finder feature, which makes it easy to add and find the package you need for each stop.
The ability to send your customers alerts and set delivery time windows. If you're offering last-mile delivery field services, you may have packages that need a customer's signature at drop-off.
In this case, look for a route planner that also allows you to send customers notifications about their package's progress. You can also set delivery time windows, letting people know when they can expect their package — aka when they should be home to receive it.
This saves both you and your customers the frustration of failed delivery (which means you have to go back and try it again later, wasting time and gas — grr).
Unlimited stops. The number of stops is another point to consider. Some route planners offer unlimited stops, while others cap the number of stops you can add to get the fastest route.
Now, some individual drivers may only make a handful of stops per day. But if you're working full-time in delivery operations, you might have to handle hundreds of packages a day. Make sure the app you choose can handle it.
It should go without saying that before you download an app, you must make sure that it works with your phone (for example, Android versus iPhone iOS). Most apps have minimum specifications needed for a phone in the app store description in the Google Play or Apple Store.
Hint: Not sure if your phone is cut out for delivery driving? Check out this roundup of the best mobile devices for the job.
You also want to consider overall user-friendliness. For example, how can you input addresses into the app? 
Do you need to add them one by one? Or can you simply upload a spreadsheet of addresses, for example, with a CSV or Excel file (which would be faster and easier, right)?
User-friendliness also extends to how the app functions when you have your mobile phone in hand. 
Is the app interface clear and easy to navigate? 
You can often get this kind of feedback by reading reviews from real-world delivery drivers in the app stores.
How do route planner apps actually work to improve your efficiency?
Route planner apps improve efficiency in a few ways. 
First, they use mapping technology to simply figure out the fastest path between two points, point A and point B (or, if you've got multiple stops, between points A, B, C, D, and E — you get the picture).
What's more, route planners chart out the sequence of stops that make the most sense (aka, will get you finished with your route soonest).
So, the route planner won't send you from point A to point E all the way across town — and then back across town to point B, right next to point A.
The route planner will organize your route so that you hit points A and B in the same neighborhood and then head farther out to hit points C and beyond.
But route planners don't just look at a map. 
After all, you could chart out your own routes with a map. I mean, it would be pretty annoying and take a lot of time, but it would technically be possible!
Route planners go beyond just looking at the map. With integrations, they also link to tools — for example, Google Maps, MapQuest, or Waze — to offer real-time data about road conditions.
So, a route planner app can help you avoid the most common hazards that slow down your routes, like traffic jams, construction sites, and road hazards.
This helps you maintain a fast pace, letting you avoid hurdles that can slow you down.
Cost benefits of route planner apps 
Route planners don't just save you time. They can also save you money.
How? 
The main way they help you save is by helping you cut gas costs. You won't have to waste fuel because you get stuck idling in a traffic jam, for example.
By charting out efficient routes and helping you avoid doubling back to hit stops, a route planner app helps you avoid wasted fuel. Learn about more ways to reduce fuel costs.
More efficient routes also mean less time on the road, which can mean your delivery vehicle racks up less miles. This can help reduce wear and tear, which can otherwise mean pricey maintenance costs. 
No thanks!
PS: Wondering which vehicle type is best for delivery driving? Check out this guide.
As a delivery driver, gas costs can be a major overhead expense. 
The rising gas prices in 2022 are a testament to this fact. 
A route planner can help save fuel and cut costs.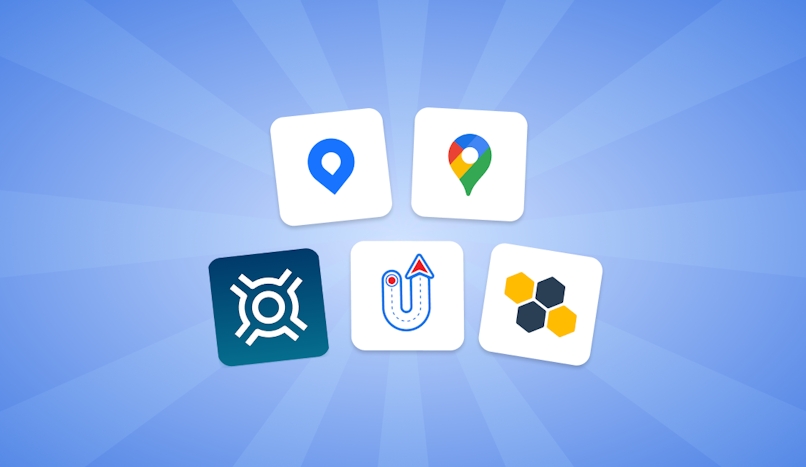 The 5 best route planner apps
Clearly, a route planner app can be a good investment. 
It can save delivery drivers and couriers time and money — so, it's worth clearing out some space on your mobile phone for one!
But there are a lot of driver apps to choose from. 
Route4Me, RoadWarrior, Speedy Route — these are just a few of the names you'll come across when searching for paid and free route planner apps.
Which one is right for you? Here's a roundup of some of the best delivery route planner apps.
#1 Circuit Route Planner—best for ease of use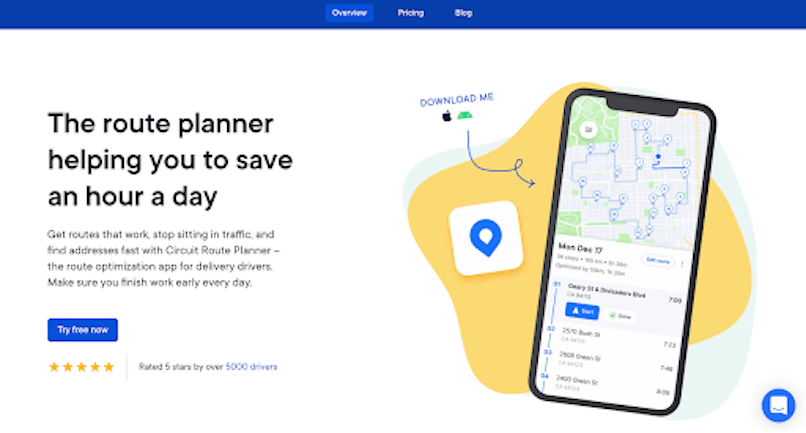 Perhaps it's no surprise that we'd put our app first. But for a delivery management app that ticks all the boxes described in "Route planner app features to consider" above, try Circuit Route Planner.
Circuit works with apps like Google Maps to offer real-time route planning. The app also offers GPS tracking, connecting delivery drivers to their managers.
On top of route optimization, the driver app offers proof of delivery and delivery time window functionality. 
The package finder is another notable perk that you won't find in similar apps. It lets you find packages in your crowded delivery vehicle quickly, saving you time and hassle.
You can also send customers notifications on when they can expect their packages.
It's the all-around solution you need for your route planning. 
You can even upload stops from a spreadsheet instead of having to add them manually — saving you more valuable time.
Plus, with the Circuit voice commands, you can keep your attention on the road, staying safe!
The driver reviews for Circuit testify to the app's all-round elite status. 
The app has more than 90,000 reviews from real drivers in the Google Play store, for example, with an average rating of 4.7 out of 5 stars.
Driver case studies give you a more in-depth look at how Circuit helps. Learn how Sagar Khatri uses Circuit to double the number of deliveries he makes every day.
Pros:
Includes a package finder
Unlimited stops possible with premium version
Lets you notify customers with delivery time windows
Cons:
Offline functionality limited
Free version only offers up to 10 stops
Spreadsheet importing only for Android
#2 Google Maps—best free route planner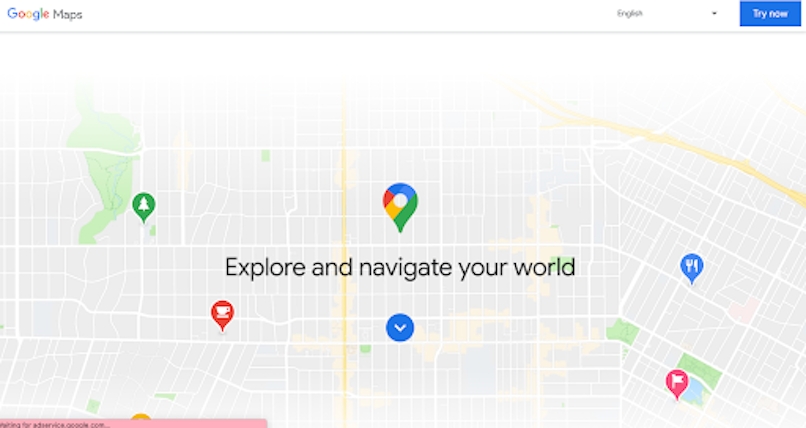 Google Maps offers simple route planning that takes into account real-time info like traffic jams and construction sites. 
You can also use Google Maps as a multi-stop route planner.
The good news is that this app is free. 
That said, Google Maps doesn't optimize your routes to help you find the fastest order of stops. It just plots points for you on a map and shows you how to get between them. Learn how to plot multiple stops with Google Maps.
While it's good enough for planning a simple road trip from point A to point B, this app doesn't meet the all-around needs of all delivery drivers.
This is obvious when you check out some of the reviews. The app only has 4.1 stars out of 5 in the Google Play store. It can get buggy when you're running multiple apps, and the offline navigation doesn't always work.
Pros:
Provides real-time data about traffic
Hands-free functionality (reads out directions for you)
Zero cost
Cons:
No route optimization
Location mapping for only up to 10 spots
No delivery driver extras like proof of delivery
#3 Upper Route Planner—best route planner for multiple drivers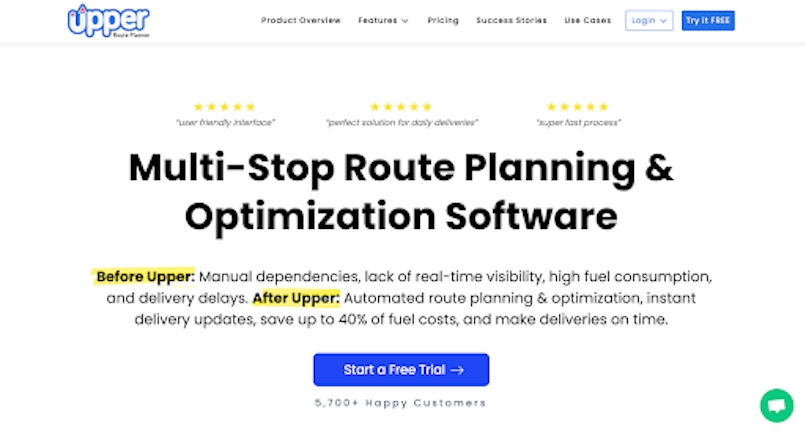 Upper Route Planner offers stress-free multi-stop route optimization. It automates route planning and provides real-time delivery updates.
You can also upload delivery addresses from an XLS or CSV file and add hundreds of stops. On top of that, you benefit from perks like proof of delivery, customer notifications, and ETAs.
That said, there are some drawbacks. 
For one thing, it's expensive. The Essentials package starts at $31.99 per driver per month. For comparison, Circuit Premium starts at $20 per month.
Plus, users report that you can't keep organized driver notes. The app also sometimes doesn't calculate the fastest route possible, but the route with the shortest distance — so be aware of that if you use it.
No surprise that this app only gets 3.9 out of 5 stars in the Google Play store.
Pros:
Spreadsheet uploading possible
One-click dispatch
Proof of delivery
Cons:
High price
Route planning isn't always optimized according to speed
Limited functionality offline
#4 OptimoRoute—best for low data usage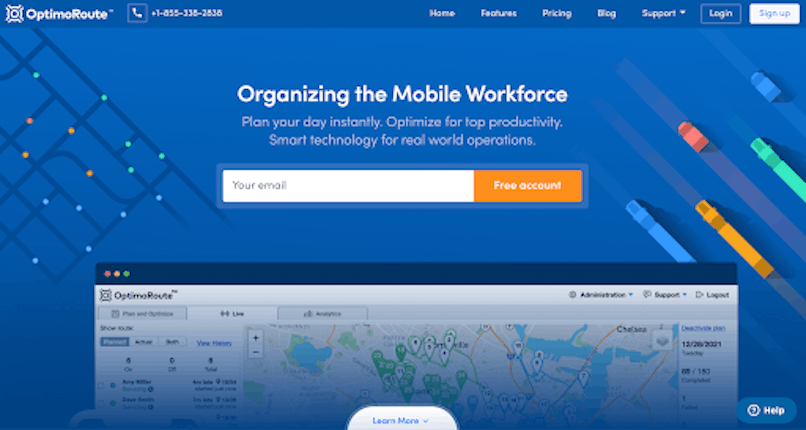 OptimoRoute offers all the features you need to simplify your delivery driving. 
You get real-time order tracking, automated route planning, and live time and ETA notifications. 
The mobile app for drivers is available on iOS and Android.
Drivers also benefit from proof of delivery and real-time route modification. And you get it all for low data usage, according to their website.
However,  according to customer reviews, the app doesn't work well in rural areas. The GPS tracking also isn't spot-on at all times. 
The app has less than 100 reviews in the Google Play store and an average rating of just 3.5. Ouch.
Pros:
Send customizable texts or emails to customers 
Prioritize urgent packages
Update orders on the go, including failed delivery attempts
Cons:
GPS errors
Not reliable in rural areas
Some users report poor IT support
#5 Routific—best for sales reps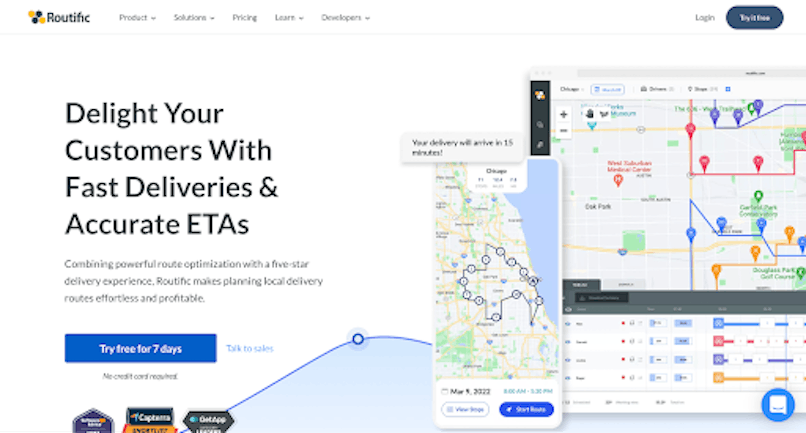 Routific is another delivery planning app with lots of great perks. Drivers can use route optimization to make their days go as fast as possible.
You can also offer customers delivery time windows and ETAs.
Unfortunately, Routific doesn't have stellar reviews from drivers. 
The app has 3 stars in the Google Play store, with a lot of complaints about bugs, the app quitting half-way through, and not being able to accurately update routes in real time.
Pros:
Free seven-day trial possible
Spreadsheet import
Ability to save customer profiles
Cons:
GPS can get tricky in rural areas
Can get buggy
Integrating with navigational apps like Waze can slow it down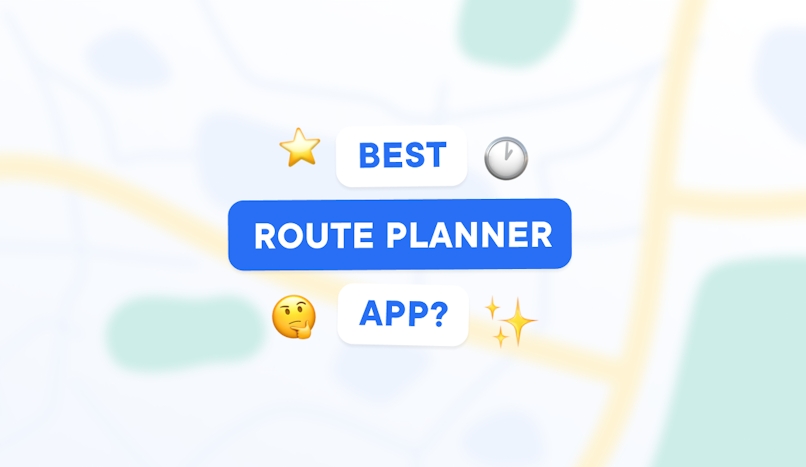 What's the best route planner app for you?
So, now that you've got an overview of some popular route planner apps, you might be wondering: Which one is the BEST?
Honestly, there's no one "best" app! The right app for you depends on your needs as a delivery driver or courier.
Before you download an app, decide what you want to use it for. 
Do you just need something for route optimization? Or would you like to get other advantages, like a proof-of-delivery feature or package finder?
There are also practical points to consider, like how many stops you need to include per delivery route. 
Some apps have limits on the number of delivery stops you can include or require you to pay for an upgraded version to add more stops.
I've included links to the different app options above, so you can do your research and check them out for yourself. Most also offer a free version, so you can try them out with zero financial risk before deciding which one is right for you.
It might also be helpful to refer back to the list above of route planner app features to consider (like voice commands, the ability to set time windows, and so on).
You can determine which features are important to you and let that guide your app selection.
Why so many choose the Circuit Route Planner app
The right route planning app can make your job as a courier or delivery driver easier in a lot of ways. 
You can save time on your routes by getting the most efficient sequence of delivery stops mapped out for you.
You can also save money — for example, on gas — by avoiding traffic jams, avoiding having to double back. That means you have less fuel expenses and can keep more of your earnings for fun stuff in life.
Every driver's needs differ, so there's no one "best" route planner out there for everyone. 
We covered some pros and cons of various route planner apps, letting you make the choice for yourself.
If you want an app that includes all the features to look for, Circuit Route Planner has you covered.
Our app offers route optimization as well as perks like a package finder, the ability to set delivery time window notifications, and a proof-of-delivery feature.
Plus, Circuit is user-friendly, offering a streamlined interface and voice command feature. 
With Circuit, you can update your routes in real time and send customers notifications, making their lives easier too.
Best of all, you can try Circuit for free.