14 minute read
What Is Route Planning and How Can It Work for You?
Route planning can help delivery professionals save time and stress, making work easier. Find out how route planning technology works and discover top products.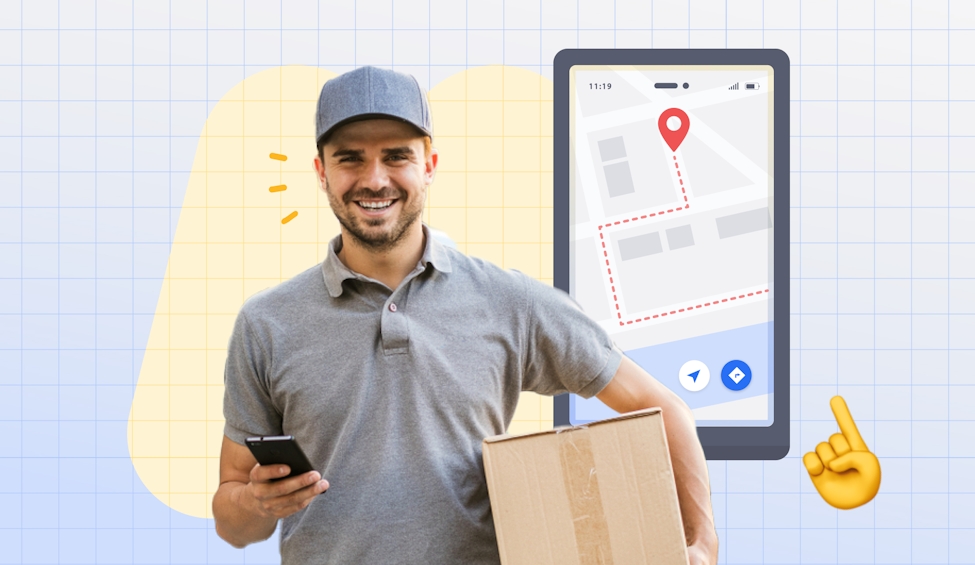 If you're in the delivery business, a route planner can help you save time and make your job easier. Circuit Route Planner checks all the boxes for a great route planner.
If you're a delivery driver, you know how important it is to hustle. 
Getting deliveries done fast keeps your customers satisfied and your bosses happy. Plus, it means you get to finish your workday and kick back on the couch — or pick up more jobs to make some extra money, depending on your preference!
Looking for a way to get through your days even faster?
Route planning is the answer. 
Delivery pros use this technology to figure out the fastest and easiest way of transporting goods. Good route planning focuses on delivering packages fast and in the most cost-effective way possible.
For example, you might plan routes based on location, putting stops that are in the same neighborhood together. 
This way, you can target all stops in one area at once — instead of having to complete stop No. 1 in neighborhood A, stop No. 2 in neighborhood B across town, and then stop No. 3 back across town in neighborhood A again!
This kind of route planning saves time since you're not backtracking. This means less wasted time, giving you more hours in the day to spend however you'd like.
It can also help save your hard-earned cash by cutting fuel expenses.
While route planning is definitely useful, it can be time-consuming. 
And it can be hard to adjust your routes in real time once you're on the road. Plus, you might not be aware of things like traffic jams or construction, which can lead to delays — keeping you working even later. 
Like pretty much everything else these days, there's an app to help. 
Smart delivery drivers rely on route planning software like Circuit Route Planner to figure out the most cost-efficient and fastest routes.
Route planning apps update routes based on real-world situations, like construction blocking a road. 
Plus, these apps often come with additional features like delivery time windows, proof of delivery, and driver tracking.
Best of all, a lot of route planning tools are free, so you can put the money you make as a delivery driver toward more fun things. 
This article explains what to look for in a route planning tool and highlights the best free and paid route planners.
The importance of effective route planning
Before we dive into the good stuff and start recommending apps, it's helpful to understand why you should bother with a route planning app as a delivery driver. 
After all, you probably have loads of apps cluttering your phone — do you really need one more?
Here are some advantages of effective route planning:
Save time: The main purpose of route planning is to map out a sequence of delivery stops that is both practical and fast. Route planning saves driving time, helping you avoid time-wasters like doubling back to make stops. Some route planners also link up to mapping tools like Google Maps to get up-to-date data on traffic conditions. This increases efficiency by helping you avoid hurdles like traffic jams.
Make more money: If you're paid on a per-delivery basis, being able to make your deliveries faster means you can make more in less time. This allows you to net more cash with each shift. Maximizing deliveries can also be valuable if you get cash tips for your work. More deliveries = more opportunities to get a tip!
Reduce expenses: Route planning can help you reduce overhead costs by creating faster delivery routes. For example, a route planner can help cut fuel costs by helping you avoid needless miles and roadblocks like traffic jams. Reducing vehicle mileage can also reduce wear and tear on your delivery vehicle in the long term, helping keep maintenance costs low. This is a big plus if you use your own car for deliveries.
Better customer experience: Route planners don't just make life easier for delivery drivers. They can also enhance the customer experience. For example, real-time tracking makes it possible to set delivery time windows and ETAs for package deliveries, so your customers know exactly when to expect their goods. This can boost customer satisfaction. If you're employed, your boss will be happy too!
What is a route planner?
A route planner organizes deliveries in a way that makes the most sense, prioritizing efficiency. 
But how does the technology work?
First, you have to download a route planning app. You then add the delivery addresses you need to hit.
The route planner then uses an algorithm and map data to organize the delivery addresses in a logical sequence, with the goal of saving time and effort. 
The best route planning tools allow you to add or delete stops as needed, and the technology then reoptimizes the route based on each stop addition or deletion.
That said, a route planner doesn't just consider delivery stop locations on a map. Route planning technology considers many factors to prioritize efficiency. 
Find out what they are below.
The science behind an effective route planner app 
You might think you can simply look at your delivery stops on a map and create your own fast routes based on geographic area. 
However, route planners take into account more than each stop's physical location.
Route planners also use current data regarding real-time traffic and road conditions, helping you avoid hurdles like traffic jams and construction. 
They don't just pick the shortest route based on distance alone.
A route planner takes into account details like speed limits, helping you avoid routes likely to slow you down. One-way streets are another possible time-waster that a route planner considers when charting a driving path.
Finally, you can prioritize stops according to special needs. 
For example, if a package needs to be delivered fast (for instance, within 24 hours), you can mark it as "priority" and the route planner will make sure to prioritize the stop.
Some route planners also have cool features like proof of delivery, a package finder, delivery notes, and delivery time windows.
Benefits of route planning apps for drivers
Above, we discussed how route planning can benefit you as a delivery driver. 
Here, we explain some key benefits of a route planning app like Circuit Route Planner. With this tool, you can:
Plan routes quickly: Creating routes manually using tools like GPS is really time-consuming. Route planning software speeds up the process, relying on algorithms to quickly map out the fastest order of stops. All you have to do is upload the delivery addresses that need to be covered.
Prioritize important deliveries: Sometimes, a package needs speedy delivery — for example, if a customer paid for overnight shipping. Route planners can mark priority packages and make sure they're placed first in the delivery lineup, reducing the risk of delays.
Add delivery time windows: Real-time tracking makes it easy to set delivery time windows, giving customers an estimated time of arrival (ETA) for their packages. This makes life more convenient for you and your customers. For example, if a package needs a customer's signature, it's helpful if they know when they should be home to sign.
Get proof of delivery: Some route planning apps offer proof of delivery. This could involve recording a customer's digital signature or taking a photo of the delivered package. Having proof protects your liability and can clarify any questions the customer has.
Send customers notifications: Customers appreciate transparency when it comes to their packages. Getting notifications about when they can expect their packages, potential delays, or a successful delivery can bring customers peace of mind, keeping them happy.
All of these perks add up to easier workdays that are less stressful and more streamlined. Plus, greater efficiency means less wasted time.
And isn't that what everybody wants? 
What to consider when choosing a good route planner app
There are many route planners on the market. 
Needless to say, they aren't all created equally. 
There is no one best route planner. The right route planner for you depends on your unique needs.
So, what should you consider when picking a route planner? 
First, there's capacity. How many packages do you deliver in a day?
Some tools only offer free route planning for a certain number of routes with a set number of stops. These free apps usually let you upgrade to include more drivers, routes, and stops.
Next, it's important to consider the purpose. 
Some route planners are created for specific industries. For example, a route planner that's targeted at long-haul truckers will consider things like highway tolls and bridge clearances when planning routes for big trucks. 
While this is essential for a trucker, it's not usually needed for last-mile delivery.
Beyond size and scope, it's up to you to determine your needs and wants. For example, you may want additional perks.
Do you want to protect your personal liability with an integrated proof-of-delivery function?
Do you want to save time digging for packages in your delivery vehicle with a package finder feature?
Is it important to be able to give customers real-time alerts and delivery time windows or ETAs?
Could you benefit from being able to market priority packages?
There are also technical points to consider, such as compatibility with your current mobile phone. 
Plus, you want to make sure that whatever tool you use is OKed by your employer. If they have their own route planning tool, they may not want you turning to a third-party app.
What are the best free route planning apps?
You don't have to pay big bucks to benefit from route planning. Here are some of the best free tools for mapping the quickest routes.
Circuit Route Planner – best for drivers who need a multi-purpose app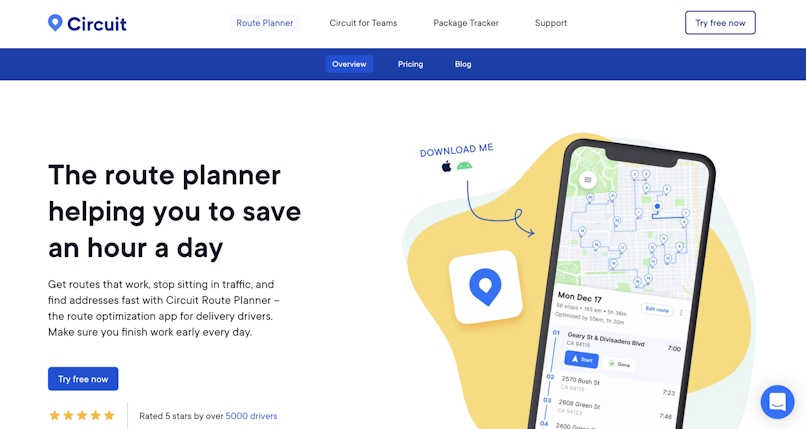 Our app, Circuit Route Planner, is a handy mobile app for iOS and Android that caters to the most important person in last-mile delivery: the driver (that's you!). 
It does this by optimizing for the shortest and fastest routes and even monitors your routes, so you can see everything at a glance. 
You can plan up to 10 stops for free.
Access optimized routes in the palm of your hands and get real-time data by using Circuit with popular mapping tools like Waze and Google Maps. 
And if you have an Android device, you can upload a CSV file to add your addresses all at once. 
There's also no tricky contract to deal with. 
We even offer a Premium plan if you need more stops (so there's really no limit to how many stops you can make). 
In fact, you can use the Circuit app to optimize up to 500 stops in minutes! Talk about a busy day. 
Plus, with features like a fast package finder (no more scrambling around your vehicle), delivery time windows, and proof of delivery, you'll be home before you know it.
You pay monthly (or pay annually to save money) and can cancel at any time. It's rated five stars by over 5,000 drivers.
Pros:
Hands-free functionality
Add and delete stops while on the go
Perks like proof of delivery, ETA, and a fast package finder
Cons:
Free version only allows you to optimize routes with up to 10 stops
Needs regular updates for best functionality
No master search bar option
Google Maps – best for A-to-B routing (not multi-stop)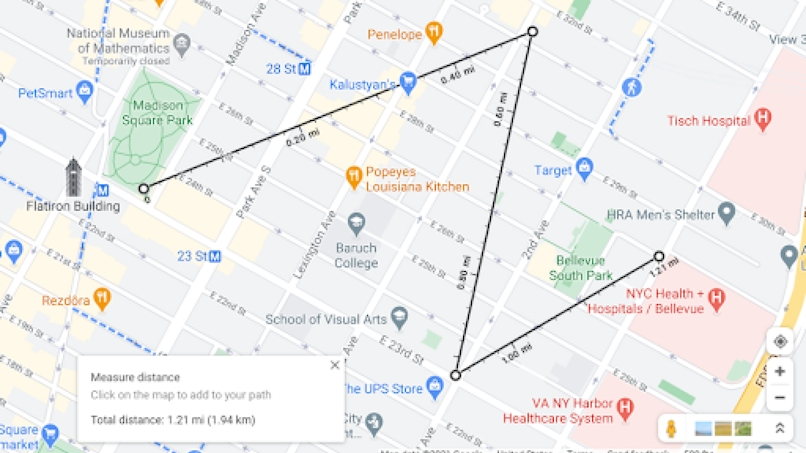 Google Maps is a basic mapping tool you can use to plan optimized routes, adding a starting point plus nine other waypoints for drop-offs. 
Street view can also be useful for those stops where you're just struggling to find an entry. (Who designed these streets anyway?)
However, Google Maps isn't a routing tool created with delivery driving in mind. It's better suited for simple tasks, like planning a road trip. 
You can use Google's My Maps if you need to add more stops, though the process can be pretty complicated. You'll also still have to plan the route yourself, and there's no guarantee that it will be the most efficient route. 
It also doesn't offer potential perks like a fast package finder to notify you where each package is in your vehicle before you get to the stop.
Pros:
Real-time map updates based on satellite and GPS details
Includes traffic issues like construction and traffic jams
Mobile app available
Cons:
Not made for delivery drivers
Limited offline functionality
Restricts the number of stops you can add
Speedy Route – best for small-scale delivery routes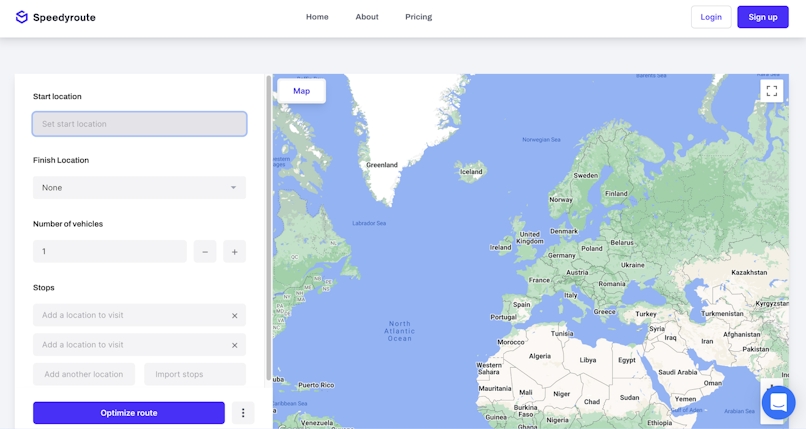 Speedy Route offers a free option that offers route optimization for up to 10 stops. The program guides you through each location and then takes you back to the start, showing you the shortest and quickest route. 
It also offers directions between stops. 
Although you can get more stops with the paid version, it doesn't have useful features like a package finder or proof-of-delivery capability. 
Speedy Route has a straightforward and simple interface but has some challenges with usability. For example, you have to add addresses manually.
And you'll get hit with the subscription service if you have more than 10 stops or are planning over three routes. 
Pros:
User-friendly interface
Multi-stop route optimization
Scalable model with varied pricing tiers
Cons:
Can be slow at peak hours (7-9 a.m. and 5-6 p.m.)
No option for upgrades like package finder
Have to enter addresses manually
What are the best paid route planning apps?
You'll get more advanced technology, additional routes, and extra features if you're willing to invest in a route planner. 
Here are some of the highlights.
*For the purposes of our comparison, we're highlighting features and pricing for individual drivers, not options for teams.
Upper – best for drivers using nontraditional vehicles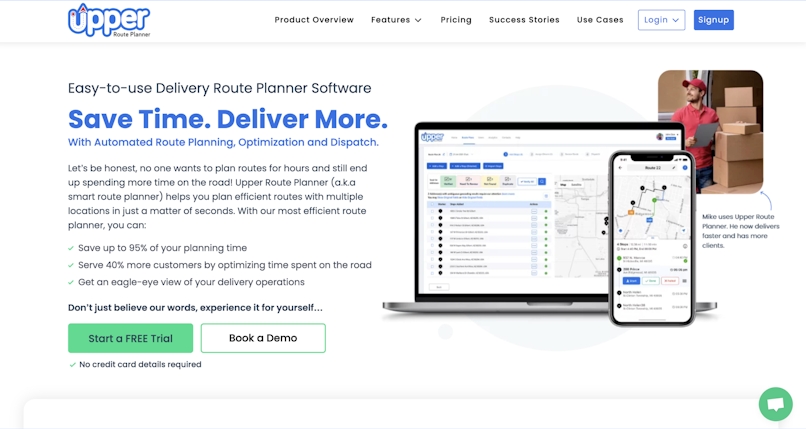 The Upper route planner is easy to use — just add your delivery addresses and the tool automates your route optimization. 
It also works with popular GPS apps like Google Maps.
You can even save regularly repeated routes, cutting down on time and effort in the future since you won't have to reenter stops. 
You can add multiple stops per route and even include special instructions (such as priority stops).
Upper also allows you to change settings like your driving preferences, service time, and vehicle type. If you use a nonstandard vehicle, like a large truck, being able to designate vehicle type is useful. 
For example, you'll be able to avoid routes that take you under bridges with low clearance.
Pros:
Straightforward to use
Multiple stops can be added
Faster than manual route planning
Cons:
Bugs can result in freezing and incorrect driving directions
Doesn't support route capacity or driver workload optimization 
Multiple plans can make it hard to choose
Route4Me – best for real-time tracking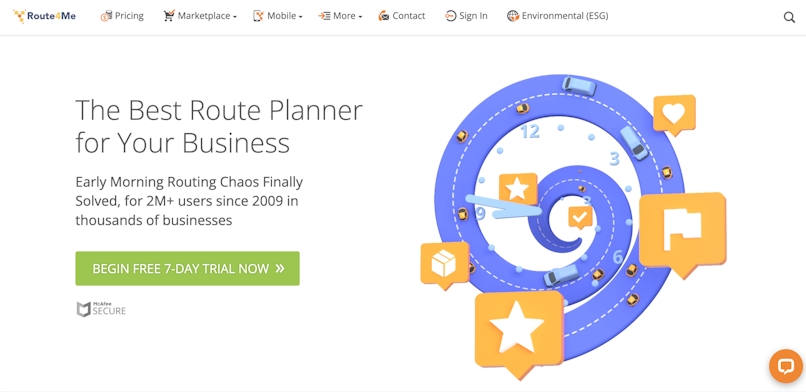 Route4Me is a comprehensive route planner that allows you to quickly create routes by uploading delivery addresses in bulk. 
You could hypothetically add thousands of stops and get an optimized route listing . 
It also offers an integrated platform for dispatchers to plan out routes for drivers. The platform has telematics integration, which means it can also be used to monitor vehicles in real time.
This makes it more ideal for businesses than individual drivers. 
You can also save routes with this tool, saving time in the future. 
Dynamic routing also makes it easy to change routes, adding and deleting stops as needed.
Pros:
Seamless integration with GPS apps
User-friendly and reliable
You can plan multiple routes
Cons:
Extracting large amounts of data for historical reviews is challenging
Seems to be buggy when used with Android devices
Bugs can result in missed stops
Road Warrior – best for use beyond the U.S.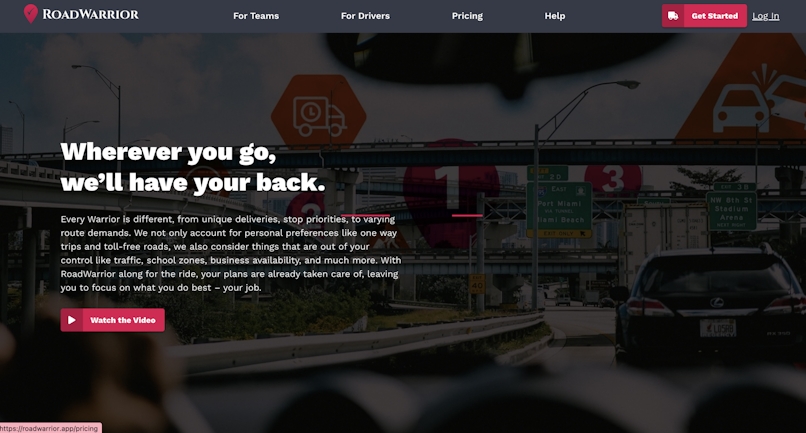 Road Warrior offers multi-stop route optimization that takes everything from speed limits to construction sites into account. 
The free version only offers up to eight stops, so you'll have to pay if you need more.
Routes are pretty flexible and can be adjusted based on personal preferences, like whether you want the fastest versus shortest route, want to avoid tolls, and more. 
And rather than proof of delivery, it has a "Check In" option that records when you arrive and marks that stop as complete. 
Route Warrior is available in several countries, like Italy, Sweden, and South Africa — making it ideal for international drivers. 
The app also has some great integrations, such as FedEx.
Pros:
Simple to set up
Versatile routing preferences
Useful integrations like FedEx (so you can import your FedEx manifests)
Cons:
Route optimization updates can be delayed
Adding notes to stops is time-consuming
Bugs include disappearing buttons
OptimoRoute – best for urban use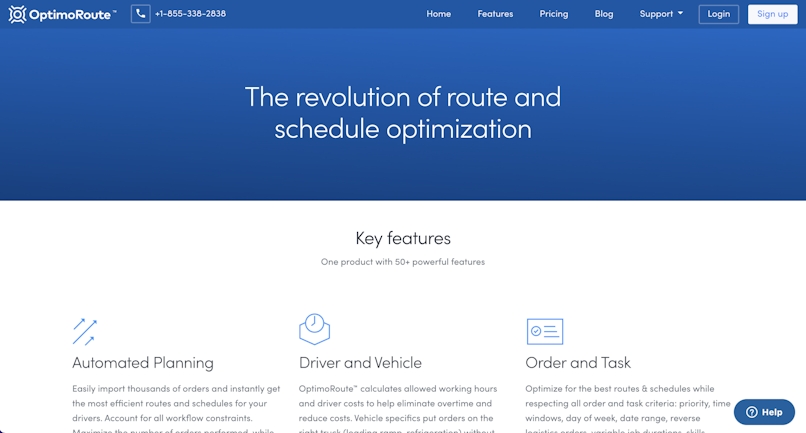 OptimoRoute is a driver tool that goes well beyond route planning. 
This tool also includes perks like real-time order tracking and route modification, ETA notifications, and proof of delivery. 
It's also possible to get feedback from customers. 
The all-in-one tool is also lightweight and doesn't need a lot of data, so you can use it even if you have a small data plan. 
Pros:
User-friendly app is fast to download and compatible with iOS and Android
Various API integrations available
Get analytics to improve your workflow
Cons:
Doesn't function well in rural areas
Mapping integration isn't always up to date, resulting in GPS flaws
Last-minute route changes experience lag time
RouteXL – best for printed directions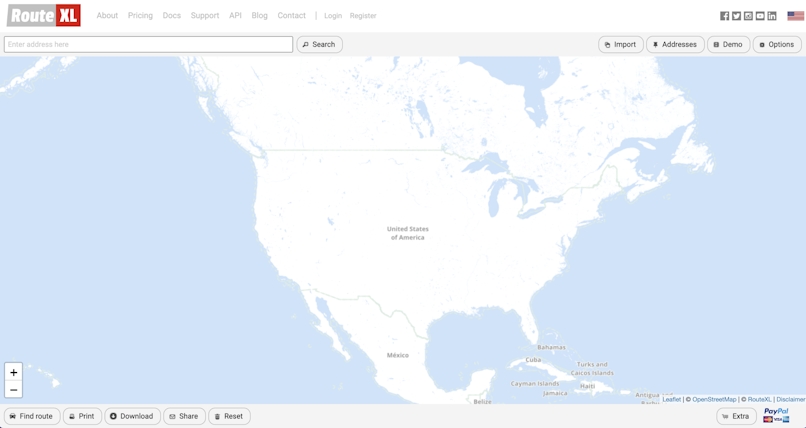 RouteXL is a straightforward and simple routing tool made for desktop use. 
To use it, just add an address, click the "Search" button, and plan your optimized routes. 
There is a free version, but you'll need to upgrade to a paid plan if you want more than 20 stops per route. 
RouteXL doesn't have an app, which is a real drawback. 
You have to optimize your routes on a computer and then print out the instructions to take on the road. 
And you can't update routes in real time meaning you're vulnerable to changes in traffic, or other hazards on the road causing delays. 
There are also no perks like proof of delivery.
Pros:
Clear interface and easy to use
Capable of accommodating multiple destinations
Easy to import many addresses with spreadsheets
Cons:
No app functionality
Lacks perks like proof of delivery and delivery windows
No real-time updates or tracking
Route planner FAQs
Still confused about route planners? These frequently asked questions can help clear things up.
Can Google Maps do route planning? 
Google Maps can be used for route planning, as you can use it to find the fastest driving directions when planning stops. 
However, Google Maps isn't made to be used for large volumes of stops — it quickly becomes complicated if you have more than three stops to make.
On top of that, Google Maps doesn't have the full functionality of an actual route mapping app or route planning software. 
It doesn't allow for real-time tracking of driver routes, for example, and lacks perks like being able to capture proof of delivery or set delivery time windows and ETAs.
Is it possible to manually plan a route? 
Yes, it's possible to plan routes yourself by looking at a map and checking current traffic conditions. 
But why would you want to do that? 
It's time-consuming and difficult! For example, traffic conditions are always changing — which is why route optimization tools like Circuit exist.
How do I install Circuit Route Planner? 
Ready to tap into the benefits of Circuit? If you're a delivery driver looking to make your day-to-day job less stressful, try Circuit Route Planner. 
You can download it directly to your mobile phone through the app store (Apple App Store or Google Play Store).
Try Circuit for planning routes
If you're a driver and want to use route planning to optimize your daily routes, take a look at Circuit Route Planner. 
This app gives you up-to-date route information in the palm of your hand. Plus, you'll benefit from perks like package finders and proof-of-delivery features, making your work life that much easier. 
Use route planning to save time and money
Route planning isn't just a "nice to have" for delivery drivers. 
If you want to keep up with the competition and improve your day-to-day workload, it's a must-have.
Optimizing your route planning saves time, hassle, and money. 
You can also improve your customer service. For example, perks like being able to set delivery time windows and updated delivery details (such as ETAs) are great for keeping customers happy.
The great news is that there's no need to pay huge sums for a fancy route planning tool. 
There are plenty of useful free models available. And if you want more advanced functionality, there are many paid models with cutting-edge tech. The above guide has some pointers to get you started.