9 minute read
Does Google Maps Have a Route Planner? Yes, And Here's 5 Reasons Why it Sucks
Read this article and find out if you can use Google Maps' GPS software for your delivery job.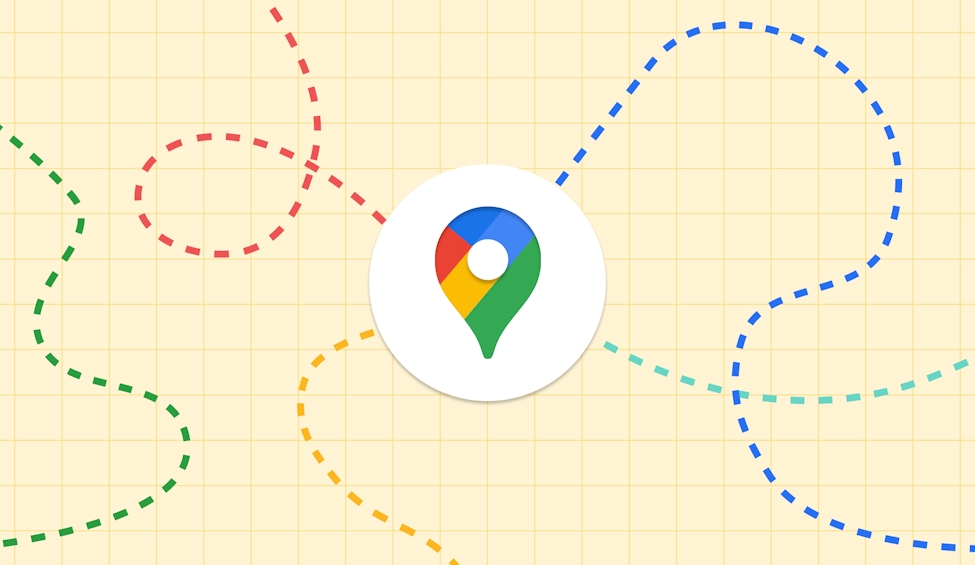 Did you know that Google Maps has 154.4 million monthly users? The survey revealed that in 2018, 67% of users who use a mapping app rely on Google Maps.
But does Google Maps have a route planner? The short answer is yes.
Google Maps can give you the direction from point A to point B. Even if it doesn't mean that it's the fastest route. People who use this software for road trips may enjoy the long drive. But it's completely different for delivery drivers. You want to get to your stops fast and complete your deliveries early.
Using Google Maps has its perks. But don't expect it to help you if you're planning for the shortest routes. Otherwise, you might only get disappointed. Some of the reasons why Google Maps sucks as a route planner include:
It accommodates a limited number of stops
The route you get is not always the shortest
You need to be familiar with the area
It has limited functionalities for delivery drivers
It's not that easy to use
Read further to understand the limitations of this excellent mapping tool. Finish the article, and you'll also discover how to make it work for your courier purposes.
Does Google Maps Have a Route Planner?
Google Maps has a route planning capability. You can even plan a route for many locations using Google Maps. It can serve a variety of purposes aside from driving, such as walking and biking.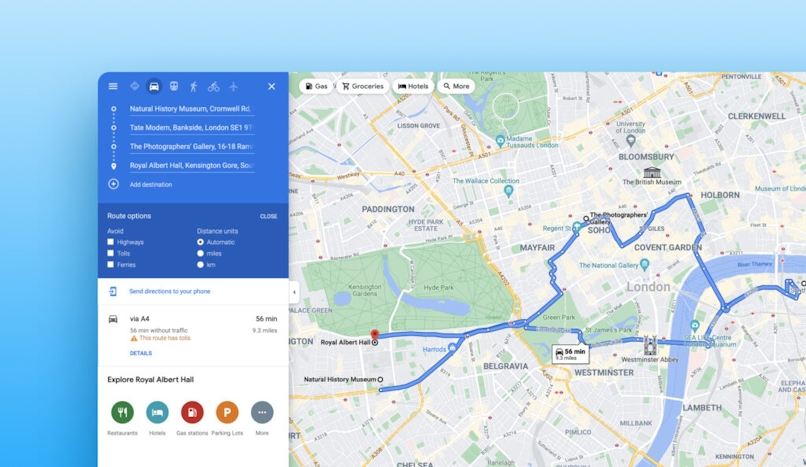 Here are some of the advantages that Google Maps gives its users:
The street view helps give you an idea about a location, especially if it's not part of your regular route.
Offline maps for navigating areas without cellular data connectivity
Hands-free navigation using voice directions
Completely free service
Unfortunately, the app has a few drawbacks that can impact a courier's performance. One of its disadvantages is a lack of optimization features. Another problem with the app is its inaccurate driving directions.
You can use either its web-based interface or mobile app. But whichever platform you choose, you can use its basic route planning features. And while the route you receive will help you get to your destination, it's not always the fastest.
As a result, it's been a cause of frustration for most courier and delivery services. You only have a small number of stops to add, and the route it provides is not always optimized.
Unless you know the area, it could be difficult for you to adjust the route and get into roads with less traffic. What if you have many packages to deliver? The effects of a delay in a single location can snowball and impact the succeeding stops.
Planning a Route in Google Maps: 5 Reasons Why it Sucks
No doubt, Google Maps' mapping capability is one of the best. But its functionalities are not enough to help couriers work better. Here are five reasons why you shouldn't plan your route in Google Maps:
#1 No more than nine stops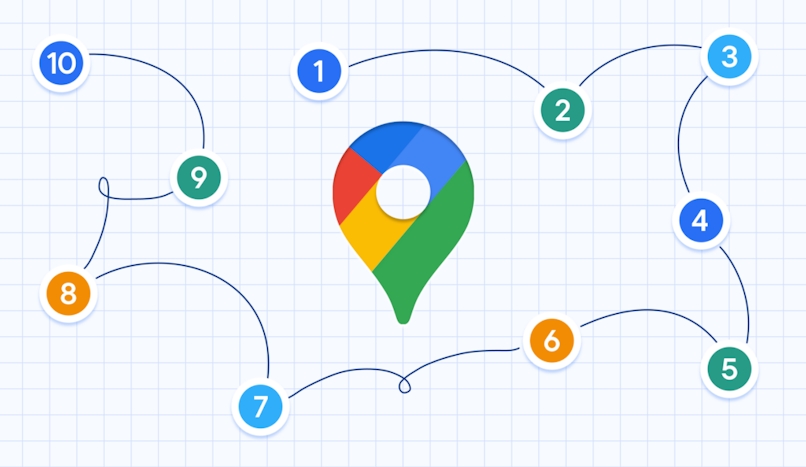 Google Maps allows its users to add stops between the start and end destinations. It has a simple interface that's easy to use. It enables you to add stops using either its mobile app or desktop browser. You can even reorder these stops anytime.
For a quick overview, below are the steps you can take to add stops in Google Maps:
Using a browser or a mobile app, enter your starting and ending destination.
Add stops by clicking the "+" button on the web browser. For mobile, tap the three dots and then "Add Stop."
You can enter up to nine addresses for your stops.
Casual drivers may find that nine stops are more than enough. But it's a different story for drivers providing courier services. Still, there's a simple way to get around this drawback. You can delete the stops you've already completed and create new ones. But it's a huge time-waster.
But what if you deliver about a hundred packages a day? You'll find the nine-stops limitation on Google Maps very crippling to your job.
#2 You don't know that it's the shortest route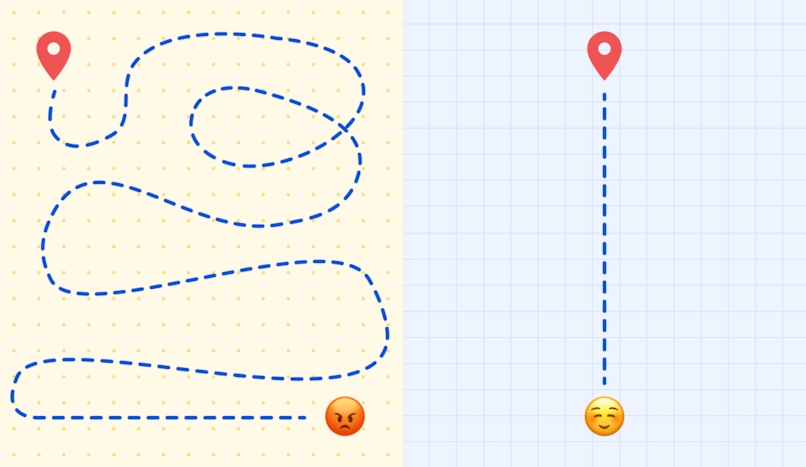 Google Maps can indeed get you to the destination address most of the time. The algorithm it uses when suggesting driving routes is very fundamental. This is understandable since Google did not design the application for delivery drivers.
In recent news, Google is even planning to change the default setting for Google Maps. Relevant data will calculate routes with lesser fuel consumption. They will be prioritizing the greenest course – which could translate to the slowest.
Relying on Google Maps to give you the shortest route to your stops is already a hit or miss. But with this change, it will more likely be a miss.
#3 You have to already know the area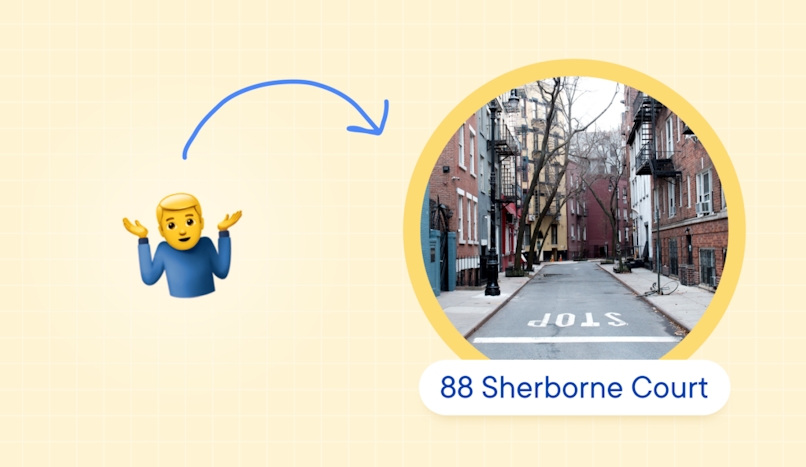 Are you familiar with the area where you're going to make your delivery stops? If this is the case, you can get around the limitation mentioned above. Knowing the place well can help in a big way. You can recognize if the route Google Maps is giving you is the shortest.
Let's say you're only delivering to 10 addresses, and you got it all set up in Google Maps. Before you head out, you can spend some time checking the driving routes. If you find some of them will slow you down, you can take a mental note and make adjustments as you drive later.
Yet, the planning itself can take a valuable amount of time. Plus, having to think about alternate routes can take a while. It will defeat the purpose of using an app to help you with your deliveries.
This issue can worsen if you don't know the area you're delivering to. You could end up backtracking most of the time, extending your driving hours.
#4 You can't add notes or set priority deliveries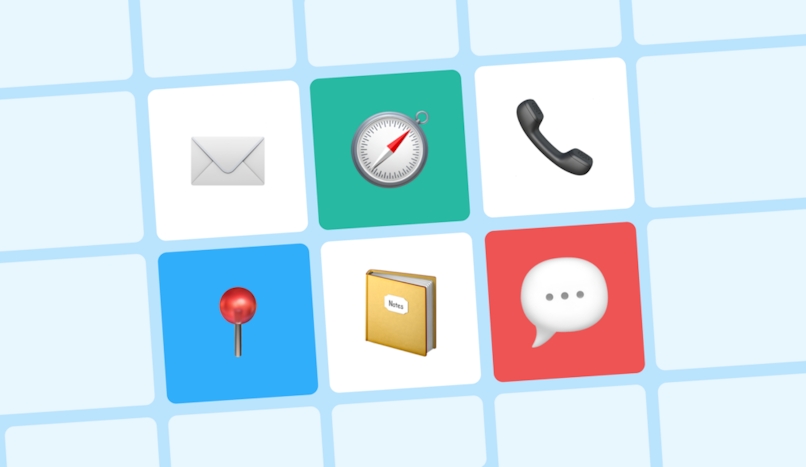 Google Maps doesn't have features to help you organize your deliveries. You already know how hard it is to keep track when you have more than a hundred stops to complete. So it's always best to keep tabs on specific packages that are time-sensitive.
You can use a marker to write a code on the packaging. Still, it's not as efficient as adding notes on the navigation app you're using. Going through these packages at the back of your van can waste a lot of time.
You can arrange the packages in order of delivery and place top priority packages at the front. While this may look good in theory, it's not always appropriate.
It's possible to drop off all packages in one go. Meaning, you can opt to deliver low-priority stops along the way to urgent ones. Still, it can be difficult when you're trying to keep track of all these while driving.
You need a way to add notes to the app you're using, helping you identify high-priority stops. This way, you're not burdening your mind with too much information. You can stay focused and concentrate on driving instead. This is something that Google Maps can't help you with.
#5 It can be tricky to use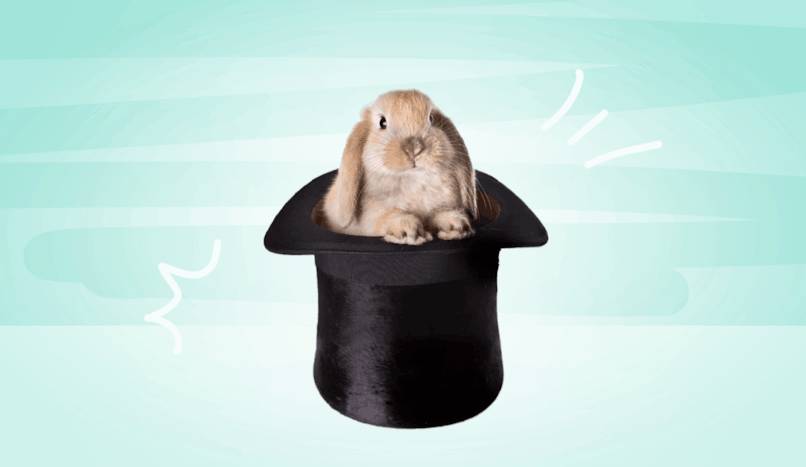 Most users love the simplicity of Google Maps, which works well for casual drivers. But those who need to run deliveries every day will find the app lacking or confusing to use.
A Reddit user, spackopatamus, who also works as a delivery driver, has a recommendation. He says that Google Maps is great for live traffic and satellite imagery. You can even use the app to see which entrance to use at a shipper/receiver. But he discourages you from using it for turn-by-turn directions in an unfamiliar area.
You may be planning to use the app to help with your route that only has seven stops. Yet, you'll still find using Google Maps quite cumbersome. While it provides you directions on how to reach each stop, it doesn't give you the delivery order. This unoptimized route planning can result in backtracking and late deliveries.
Even if you know the area well, you can still encounter some issues. You'll find it quite tedious to document your stops and provide proof of delivery. It's time-consuming to switch apps for taking electronic signatures or adding notes.
Why Map a Route in Google Maps?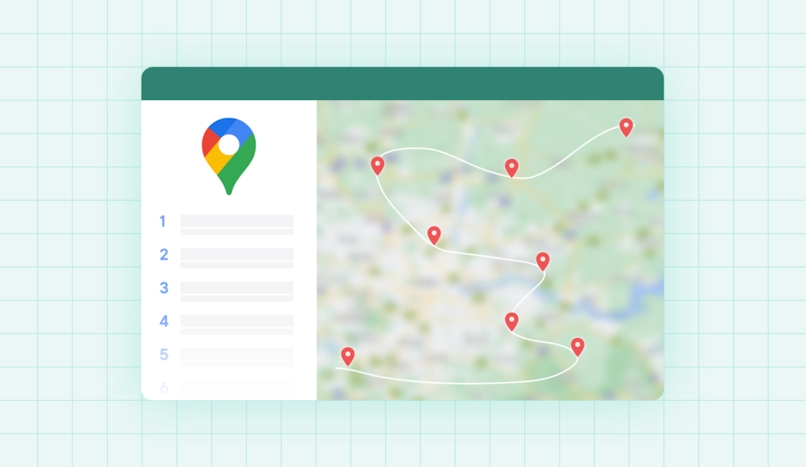 At this point, you now know how limiting Google's route planner can be. Yet, you can still use it for routes with minimal stops, such as:
Scenario 1: Simple road trip
If you're going to travel on a road trip that consists of only a few stops, then Google route planner can be perfect to use. Apart from the directions, it can provide you with information on points of interest.
Scenario 2: Sales agents with 9 or fewer clients to visit
Sales agents usually visit a dozen or more prospects daily. But on days when you want to take it easy and attend to only a few clients, then you can use Google Maps to plan your route. Plus, you can also use it to keep notes about specific customers.
Scenario 3: Running errands for your company
Google route planner can be an excellent fit for you if you run errands daily for your company. As long as the daily duty only has a few stops, you can add the addresses and get immediate directions to them.
Google Maps Free Route Planner: Pros and Cons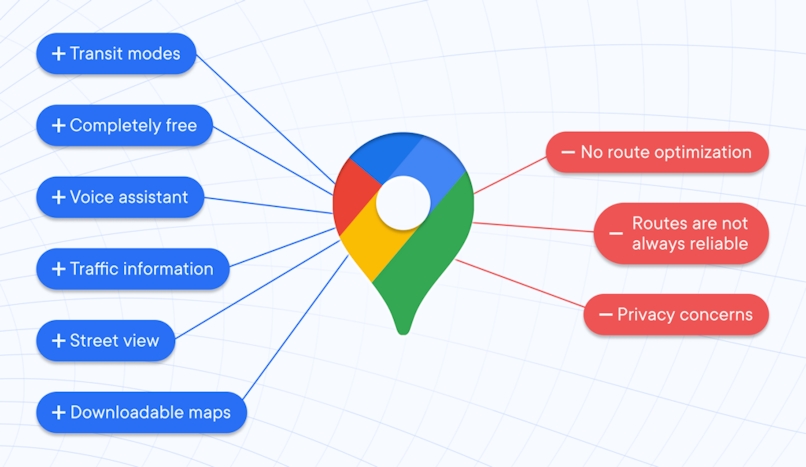 If Google route planner is free, there might be a catch, right? Well, it's not a catch per se. But as with most apps, it has its fair share of pros and cons.
The advantages worth mentioning are:
Many options for transit mode: The app can adapt depending on your preferences. It's flexible enough to base the search on different modes of transportation. You can also combine various transit options as needed.
Completely free: You won't need to shell out money to use this tool. Like other apps that make money from ads, Google also generates advertising revenue. This, in turn, helps in making the application free to use.
Voice assistant: Like Waze, you can choose to have a voice guide you to your destination. With this option, you don't have to hold your phone for turn-by-turn navigation. This feature allows you to focus on the road while driving.
Real-time traffic information: City roads used by commuters often get congested. You can add such information to your app so you'll know which paths to avoid.
Street view: One of the best features provided by Google, Street view is pretty useful. Using it, you can familiarize yourself with a place before you even drive to the location.
Downloadable maps: This is helpful if you're going to a location with no data access. After downloading the map and route to your phone, you'll be able to access them even when offline.
Will the pros be enough for you to turn a blind eye to the following disadvantages? Take a look:
No route optimization: Its algorithm can find the shortest path between two addresses. But it can't create an optimized route – especially for many stops.
Erroneous routes: Some users report times when Google Maps gives inaccurate directions.
Privacy concerns: Google can use its app to gather data from users. If you value your privacy, then using Google Maps can pose an issue for you.
There are, of course, many great alternatives to Google Maps, including our own Circuit Route Planner. We listed all of the pros and cons in this previous article.
Does Google Maps Have a Route Planner? Driving It Home
Google Maps is an excellent mapping app with a host of features like Street View. But it can't meet the demands of a courier job due to its restrictions, such as:
Limited stops that are up to nine only
No certainty that a route is the fastest
Not helpful for driving in unfamiliar areas
Inability to add notes or tag stops based on priority
Clunky interface not suitable for multi-stop route planning
How best to take advantage of Google Maps' excellent navigation capability? Choose the perfect route optimizer app that it can work with.
Circuit Route Planner for free today so you can integrate its route planner with Google Maps.