8 minute read
A Guide to International Tracking
International tracking allows you to monitor delivery progress for overseas shipments. Here's how it works.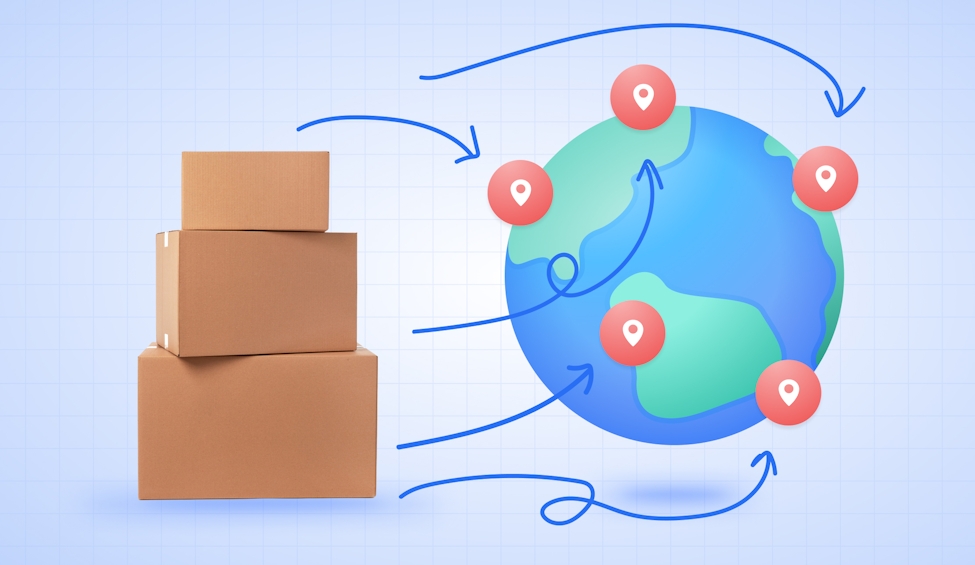 If you're sending packages abroad, you want to be able to track their progress from point A to point B.
Real-time package tracking makes it easy to know exactly where your package is (and when it is there). 
This increases transparency and gives both senders and recipients peace of mind.
For example, if you ship a package from New York to Berlin, Germany, a package tracker can tell you if your package: 
Is still in a New York harbor
Is on a ship making its way across the Atlantic Ocean
Is in a port in Hamburg
Has already left the Hamburg port and is on its way to Berlin on a delivery vehicle
This kind of overview of a package's journey can also help minimize the risk of losing it.
For example, let's say you find that your overseas package is held up in Hamburg. You can follow up. 
You might discover that a certain customs declaration form is missing! You can then address the issue and make sure the package gets on its way.
But just how does international tracking work, and how can you use it for your benefit? I'll explain below.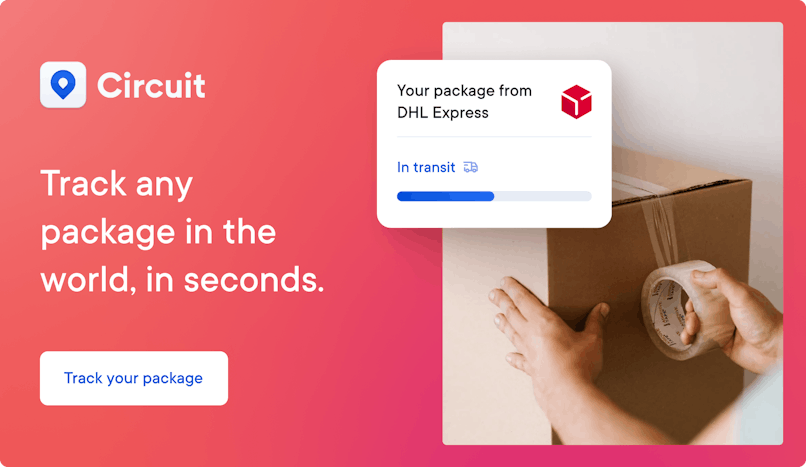 How to track international packages
You can track international packages online using a unique tracking code from the courier. Enter the code into the company's dedicated tracking page or into a comprehensive package tracker like Circuit Package Tracker.
Here are the courier-specific websites explaining how tracking works for each one and directing you to their international tracking tool:
The courier, logistics provider, or delivery company assigns international tracking codes. They usually have a string of letters and numbers.
Shipping services use these tracking numbers to monitor packages worldwide. 
This helps them reduce the risk of losses, since tracking codes make it easier to hunt down international mail that may have gotten "stuck" (for example, at customs).
Consumers can also use international tracking codes to track their packages.
An international tracking tool makes it easy to keep an eye out for packages. And several free tracking services are available.
Circuit Package Tracker is one tool that lets you find deliveries in seconds. Simply add your tracking number, and the app will auto-detect the carrier based on the unique code.
How to find your international tracking number 
The first step to using an international tracking tool is to know your tracking number. 
Delivery services, couriers, and logistics companies have unique identifiers for their international tracking codes.
For example, the United States Postal Service (USPS) commonly uses a 20-digit numerical code or a 13-digit code consisting of two letters followed by nine numbers, and ending with "US" (for instance, EA 111 111 111 US).
Meanwhile, FedEx usually has a 12- or 15-digit tracking number format.
You should get a tracking number from the courier when sending a package overseas.
If you drop your package off personally, the tracking number is usually printed on your receipt.
If you organize a shipment online, you may receive the packing number through an email or SMS confirmation (depending on what contact information you've given when completing the order).
When you drop off your package, specify that you want the courier to track it (this will cost extra — more details on that below).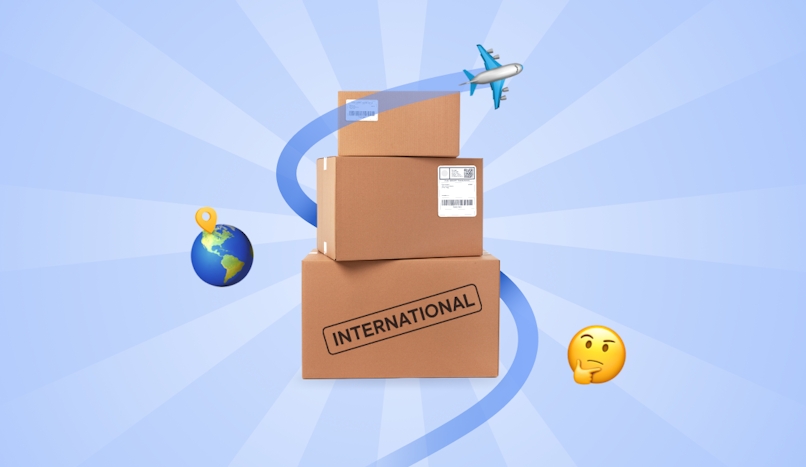 How does international package tracking work?
International package tracking relies on each package having a unique identifier. The courier assigns an alphanumeric or numeric code.
This might be coupled with a scannable barcode or QR code attached to the package.
You can follow along because the package is scanned at each point in its journey. 
You can then pull information from a database using an international package tracker.
A package is scanned at various stops as it makes its way through the delivery process.
For example, if you ship a package from New York to Berlin, Germany, the package might be scanned at these pivotal tracking events:
Package reaches the distribution center in New York
Package is loaded onto the ship in New York Harbor
Package arrives at Hamburg Harbor
Package is sorted at Hamburg Distribution Center
Package is loaded onto a delivery vehicle from Hamburg to Berlin
Package arrives at Berlin logistics center (where it's sorted for delivery)
Package is sent out for delivery from the Berlin logistics center to the final address in Berlin
Package arrives at its final destination in Berlin
Whew! Quite the journey, right?
Before international shipment tracking was a thing, you just had to send off your package and hope that it arrived. Now, you can check every step of the process.
Benefits of using a package tracker
Using a package tracker like Circuit Package Tracker has some unique advantages. 
Here's how to benefit from using this kind of tool.
Find your delivery in seconds 
Package trackers are fast and easy to use. Just enter the tracking code into the search bar and the tracker does the work for you.
You don't have to waste time trying to hunt down a package by contacting customer service through email (which, let's face it, often goes unanswered) or by waiting on a telephone hold line (arghhhh)!
Works for most courier services worldwide 
An international package tracker will cover a diversity of courier and parcel services around the world. 
For example, Circuit Package Tracker works with most parcel delivery services in the US, UK, Europe, Australia, Canada, and South America.
When you add the tracking number, the tracker will even identify the courier for you.
Know your package's exact location 
Real-time parcel tracking makes it easy to know where your package is at any given time. This can bring peace of mind.
For example, if a package hasn't arrived at its intended destination yet, you might be stressed that it's lost. 
But you can check its status on the package tracker and find that it's still on its way — great! There's no need to worry.
Plus, when you track packages in real time, it's also easy to know when a package will arrive.
If you're the recipient, this is convenient because you can make sure you're home to receive the package. 
You can even get delivery time window notifications.
This also makes delivery drivers' lives easier. 
For example, if a package requires a customer's signature and the customer isn't home when the driver comes by, the driver may have to make a second delivery attempt later (wasted time — ugh).
What you need to know about international delivery
You must keep a few extra considerations in mind when shipping packages abroad instead of within your country. 
Customs and duties: When shipping items overseas, either the sender or the recipient may have to pay customs tariffs. Always check the relevant website of the country receiving your shipment to check the requirements. For example, the German government has a website about the requirements when shipping to Germany from a non-EU country. The Canadian Border Services Agency has a similar website for people shipping goods to Canada, and Canada Post has customs forms you can download.
Time frame: International shipping can take longer than domestic shipping since packages have a longer way to go and delivery can be more complex as a result. For example, if you're shipping a package from Virginia to North Carolina, the delivery can likely be done by vehicle. If you're shipping to Malaysia or Thailand, though, the delivery not only might require multiple vehicles but also an airplane or ship. Exactly how long the delivery takes will depend on factors like shipment destination and requested service. Check the courier's website to find your options and get a time estimate. For example, FedEx International Shipping offers "ASAP," "1-, 2-, or 3-day delivery," and "Cost-effective 2- to 5-day delivery." 
undefined
Rates: International shipping rates also tend to be pricier than domestic shipping rates. The package uses more resources and fuel when it ships farther. Usually, the faster you opt to ship the package, the more it will cost. The package's size and weight will also affect shipping costs (the heavier and bigger it is, the more expensive). You'll also have to pay more if you opt for specialty services, such as shipping fragile goods or goods that need to remain refrigerated.
Do your due diligence when sending an international parcel. Check the points above with the given courier before sending.
Also, be aware that shipping overseas can mean rough conditions — for example, when packages are tossed into airplane freight carriers or onto boats.
Make sure any packaging is robust and will adequately protect the goods you're sending (bubble wrap for the win)!
This is especially important if you're shipping goods to customers — for example, if you're an online retailer or run an eCommerce platform. You don't want disappointed customers (and possibly bad reviews) because their items arrived broken.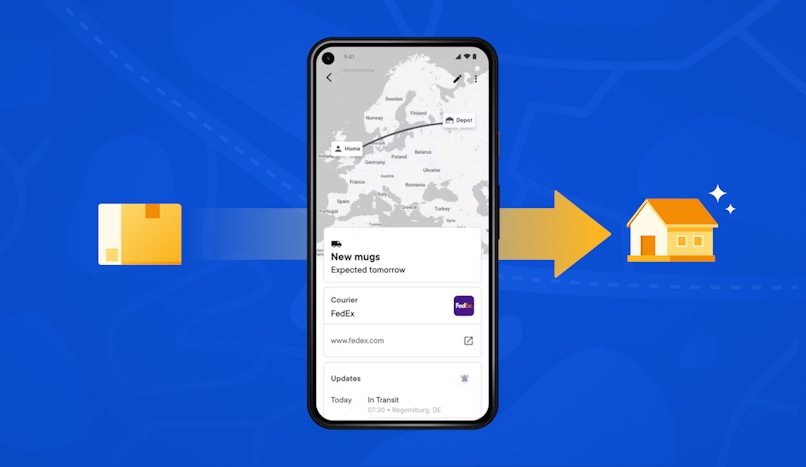 Best international tracking apps
Several international tracking information apps are available. Here are a few of our favorites.
Circuit Package Tracker — best for visual package tracking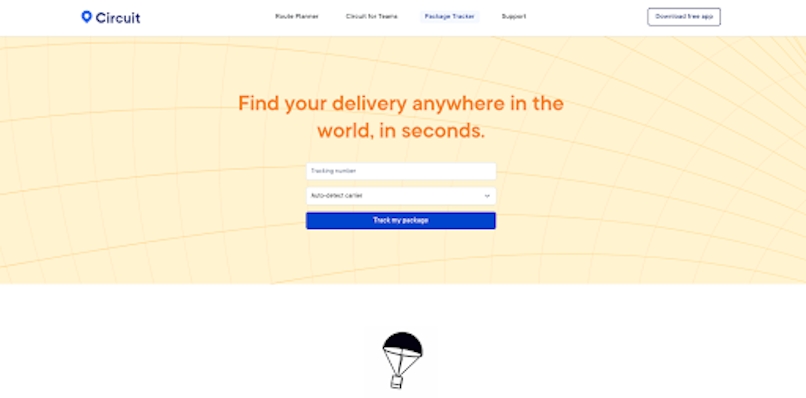 Circuit Package Tracker lets you find your delivery in seconds — and you only need the tracking code.
Simply add the unique identifier and Circuit Package Tracker auto-identifies the courier. 
Many global carriers are represented in the drop-down menu, from China Post to Yanwen, Yun Express, International EMS, and DPD.
You can find your package's full journey using a handy map view and even get notifications sent to you whenever there's a delivery status update.
Plus, you can download Circuit Package Tracker for iOS and Android to access delivery updates with ease.
Pros:
Works for most courier services worldwide, including US, UK, Europe, Australia, Canada, and South America
Mobile app sends automatic, personalized notifications
Map view shows your package's entire journey
Cons:
No offline functionality
Doesn't work for all geographies
Users complain that the map isn't available in full-screen view
17TRACK — best for eCommerce tracking

17TRACK supports more than 1,200 carriers worldwide, offering a broad overview of tracking options. It can also auto-detect the courier based on the tracking number.
The tracker also has API service with eCommerce platforms like Shopify, improving tracking data and enhancing customer service.
Plus, you can download it for iPhone or Android, giving you easy access to tracking data.
Pros:
API integration with eCommerce platforms
App available for iPhone and Android
More than 11 million global users
Cons:
AfterShip — best for analyzing tracking data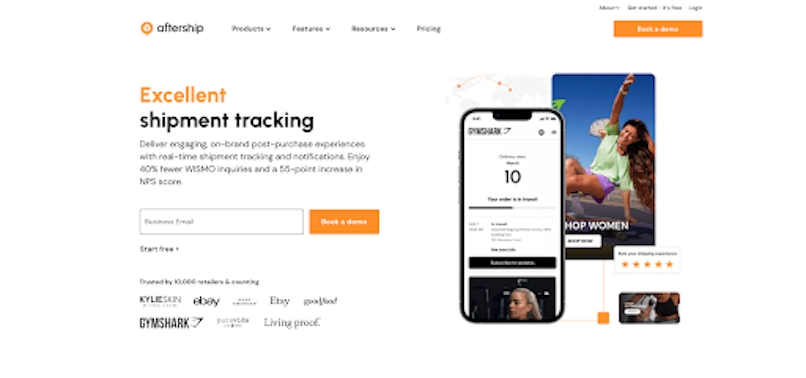 More than 10,000 retailers trust the tracking app AfterShip, including Etsy, eBay, and Good American. It gives companies a branded tracking page, making it great for business users.
The app keeps customers engaged with regular shipment notifications and connects with other apps like Shopify, Magento, and WooCommerce.
AfterShip also offers analytics into post-purchase customer experience and shipping performance.
Pros:
Analytics into shipping performance
Integrates with Magento, WooCommerce, and Shopify apps
Automated updates for customers
Cons:
Find your delivery anywhere in the world in seconds with Circuit Package Tracker
If you send items internationally, a package tracker can help you watch each delivery's progress.
This can help reduce the risk of holdups (for example, at customs). It also brings peace of mind.
You can find answers to more FAQs about package tracking.
For an easy-to-use tracking tool that works with most couriers, try Circuit Package Tracker.
The Circuit Package Tracker app sends notifications directly to your mobile phone, so you always know your package's location. 
Plus, you can visualize its journey with an easy map view.