14 minute read
How to Track a FedEx Package (In-depth Guide)
Tracking a FedEx package is easier than you think. Learn how in this complete guide.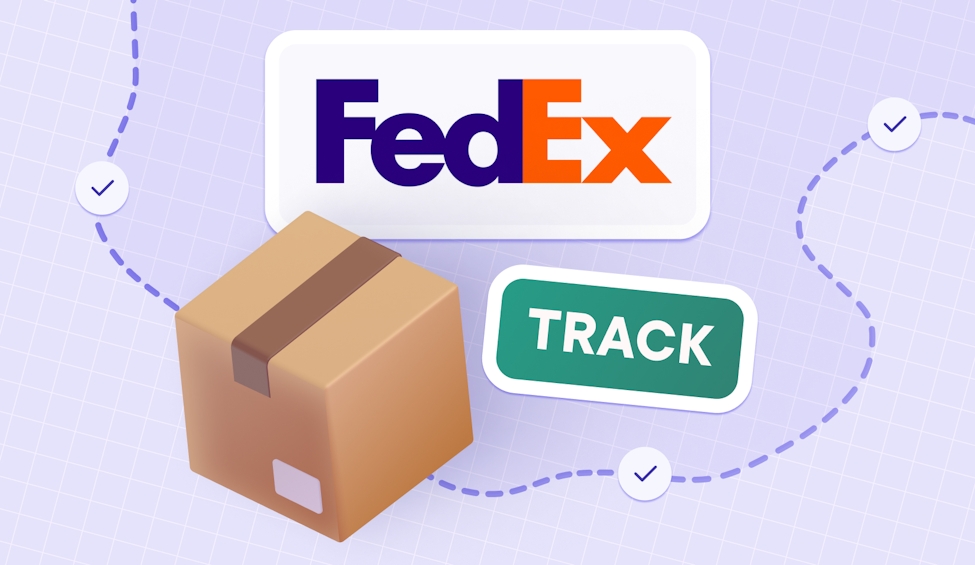 If you've ever used FedEx or any other shipping service, you'll know that finding where your package is and when it will arrive isn't always easy.
But more and more people have begun to send packages through the international company FedEx.
In fact, FedEx handles an average daily package volume of 16.5 million, with reported growth in revenues of $84 billion in 2021.
You likely recognize the blue and orange logo on the side of trucks, vans, and even planes.
Tracking a FedEx package is easier than you think. Here's my complete guide so you're never left in the lurch.
How to track FedEx packages online
FedEx deals with 600 million package-status tracking requests every day.
So if you've sent one of those 16 million daily packages with FedEx, you want to know where it is—and when it will arrive at your door or at the door of the friend or family member expecting your package.
There are different ways to track your package depending on how you shipped your goods.
The simplest way to check your package is by visiting the FedEx website and entering your tracking number.
You can enter up to 30 tracking numbers, door tags, or FedEx Office order numbers to check the status.
But what is a tracking number?
That's the unique code assigned to your package when it is shipped. These numbers take different forms depending on the shipping service.
FedEx numbers can be 12 or 20 digits, but other numbers include 10 and 15.
This number is the identification or ID attached to that package, allowing it to be singled out and traced. It is included on the package, often next to a bar code.
Your tracking code or number is scanned all along the package's journey: when the package is sent, while it is en route to its destination, and when it is delivered.
That's how the location of your package can be traced.
Your tracking number is also the best way to track a FedEx package or any other type of shipment. There are many services that FedEx gives you with this option:
Tracking a FedEx package for home delivery
You can use FedEx Ground tracking or FedEx Express tracking if you send individual packages. Both are made easier with a Delivery Manager account (more on that below). 
You can also use FedEx Express Saver which gives you three-day shipping to speed up your delivery. 
Tracking a FedEx package for business
Does your business ship goods regularly? FedEx offers tools to find your critical information, including imports and exports:
My Global Trade Data: a collection of useful online services that give you freight forwarding and customs brokerage information.
FedEx InSight: an app that lets you find the status of your inbound, outbound, and third-party shipments without a tracking number.
To use these FedEx tools, you must have an account number or company name and address.
FedEx also offers several international services for businesses, including:
FedEx International Ground: a service that delivers packages to one hundred percent of Canadian businesses and homes in two to seven business days. 
FedEx Freight: a service for large shipments of over 150 pounds.
What is FedEx Freight?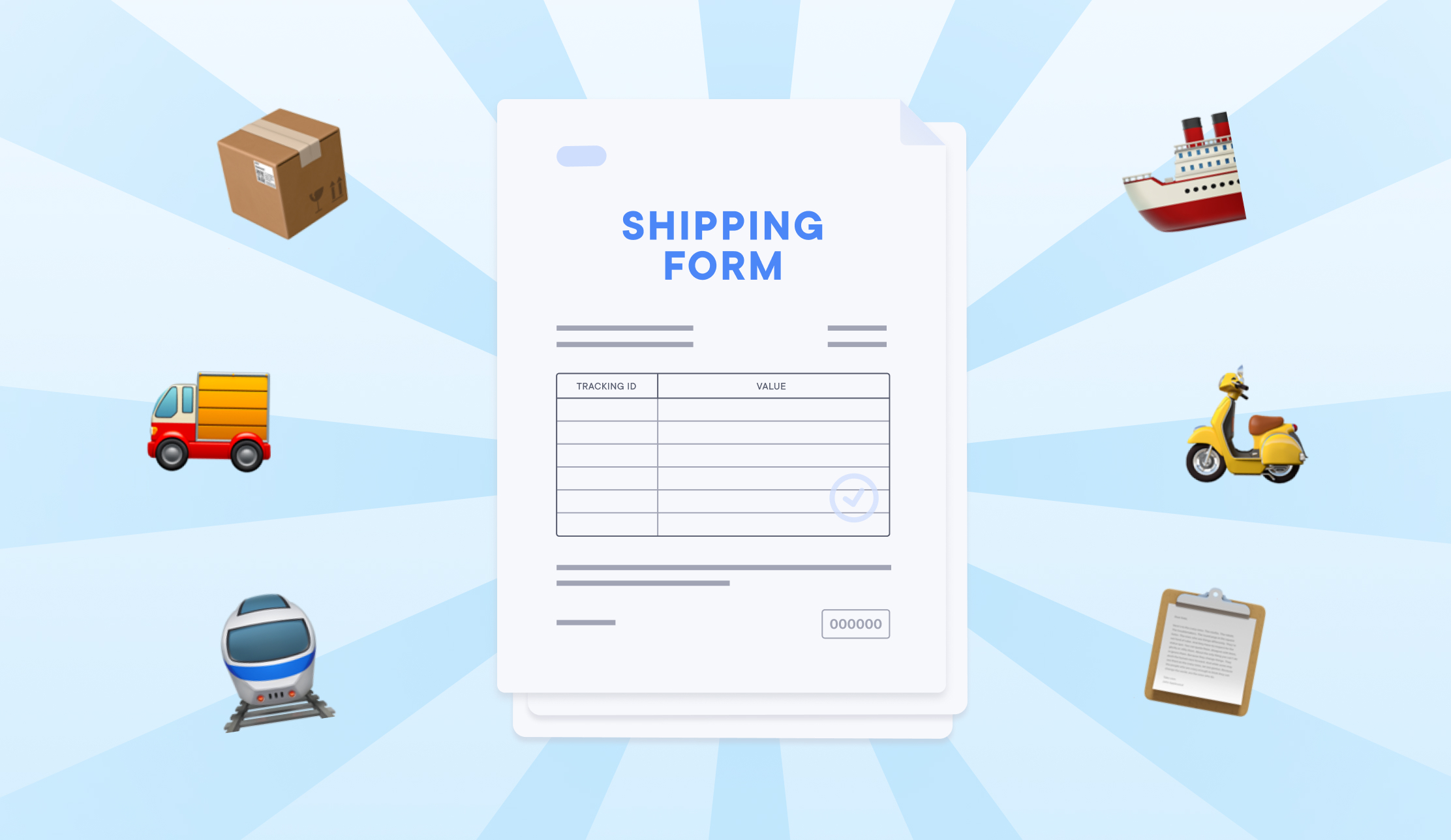 With FedEx Freight, your heavy cargo can be transported domestically or internationally by land, air, or sea.
Handily, FedEx Freight also offers "less-than-truckload" (LTL) shipping services for freight shipping, which is perfect for smaller businesses. 
This means you can easily create freight labels for domestic or express shipments. (For which, FedEx even allows you to use a paper Bill of Lading). Plus, you can schedule a one-time freight pickup at no cost to you.
Advanced tracking dashboard
Using FedEx Freight, you can also take advantage of the advanced tracking dashboard. The free tool helps you to customize, manage, and track every active shipment in one place – simply log in to your FedEx account.
From there, you can find up to 20,000 active FedEx Express, FedEx Ground, FedEx Home Delivery, and FedEx Freight shipments.
That includes tracking information for shipments tied to your account and login.
How to track a FedEx package with a door tag number
It's super frustrating when you aren't home and miss your delivery.
However, FedEx gives you a tracking number for all their deliveries, meaning you can relax and reschedule for a suitable time.
Here's how to track a FedEx package with a FedEx door tag:
Either enter your door tag number into the FedEx online tracking tool or use the Circuit Package Tracker.
Text "follow" and your door tag number to 48773.
Scan your door tag's barcode with the FedEx Mobile app on Android or the FedEx Mobile app on iOS (Apple).
Grab your package from a nearby FedEx location or retail partner (your door tag will have this information).
Finally, you can sign up for a Delivery Manager account for FedEx Express and FedEx Ground.
What is the FedEx Delivery Manager?
FedEx offers a neat service that helps you know exactly where your delivery is, where it's been, and get updates along the way. It's called FedEx Delivery Manager.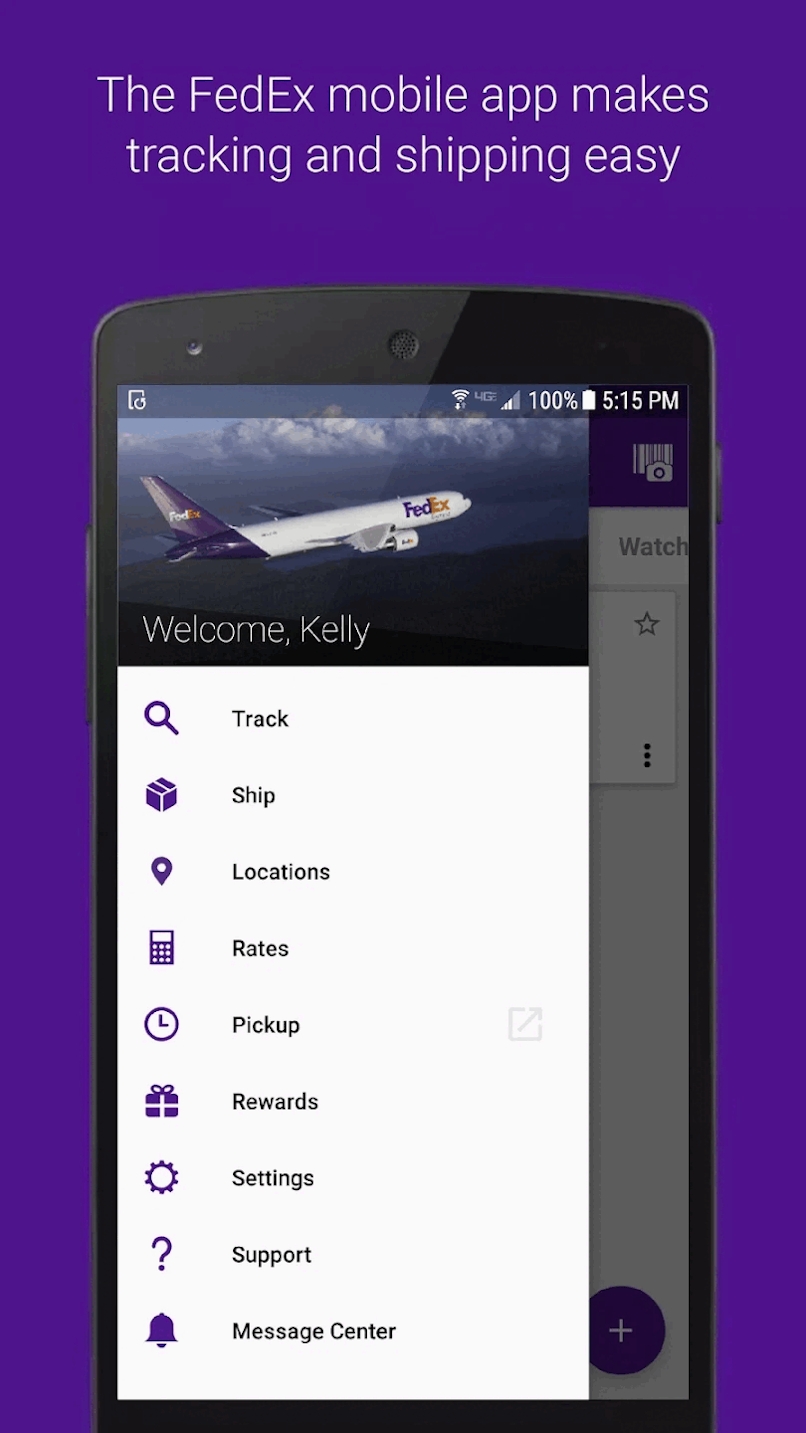 You can use the FedEx Delivery Manager online and on your cell phone (available to download as an app for iOS and Android).
Here's how to track a FedEx package with your account number, plus an overview of other helpful features you can use in the tool:
Choose when to get notified: you can set up customizable notifications throughout the delivery process by email, text, phone, or mobile app.
Avoid the fear of package theft: with the FedEx Delivery Manager app, you can get your package redirected for free to 60,000+ locations and pick it up on your schedule.
Easily have someone else pick up your package: you can choose to show a QR code when picking up your package at a FedEx location. This will make the process faster, and you can share the QR code with someone you trust to grab the package for you.
Virtually sign for a package. If you aren't home to collect your package, you can "sign" in advance. That authorizes the driver to leave your shipment at the door – however, you can't do this for packages that need an adult signature.
Give instructions to your delivery driver: leave a note in the Delivery Manager app, such as where you'd like the driver to leave your package. You can even save the instructions for every other delivery.
Place a hold on packages when you're away: you can hold your FedEx deliveries for up to two weeks at no cost. When you're back home, FedEx will resume making deliveries to your address.
Act on a FedEx door tag. A tag on your door tells you that the driver tried to deliver your package but couldn't. The FedEx Delivery Manager allows you to find out where your package is and whether to try delivery again, or redirect it. You can even reject the shipment.
Get a free ShopRunner account: as a bonus, FedEx Delivery Manager offers you free two-day shipping, free returns and members-only deals at dozens of merchants online.
FedEx Delivery Manager premium services
With FedEx Delivery Manager premium services, you get extra choices to help make your delivery easy. Such as scheduling a time convenient for you or letting the driver know what time to arrive with instructions.
Prices vary by location, but here are two US examples:
$5.55 per package to have it delivered between 5 pm and 8 pm on your scheduled delivery day.
$11.50 per package to choose a time within a two-hour window up to seven calendar days after the original delivery date.
You can also pay to have your package rerouted to a neighbor, family member, or friend. The farther the distance to re-route, the more expensive the fee.
For instance, to reroute more than 120 miles from the original destination, the fees range from $14.50 - $33.50 for each package.
Here are the easy steps on how to track a FedEx package you sent.
First, find your tracking number, reference number, transportation control number (TCN), FedEx Office order number, or the number on your door tag. Then choose one of these options on how to track a FedEx package:
Visit the FedEx tracking web application.
Download the FedEx® Mobile app and enter your tracking number or scan the barcode on your door tag.
Text "follow" and your door tag number to 48773. 
Call 1.800.GoFedEx (1.800.463.3339) and say "track my package," then follow the prompts.
In summary, here are the options for FedEx accounts that will help you track shipments:
Standard Tracking: Track up to 30 packages by entering individual tracking or reference numbers; find the estimated delivery time window; use the tool to manage some aspects of the delivery process, such as an address change.
FedEx Delivery Manager: Create an account to track a package status throughout the delivery process, with more visibility than with standard tracking; use it to request redirects, schedule a delivery time, or give delivery instructions.
Customized Tracking Dashboard: Businesses can manage up to 20,000 active shipments without entering individual tracking numbers; find the full list of estimated delivery time windows for all shipments; customize your dashboard finds and reports; access tracking documents and images, and send notifications to recipients by email.
What Exactly Is the difference between "in transit" versus "delivered"?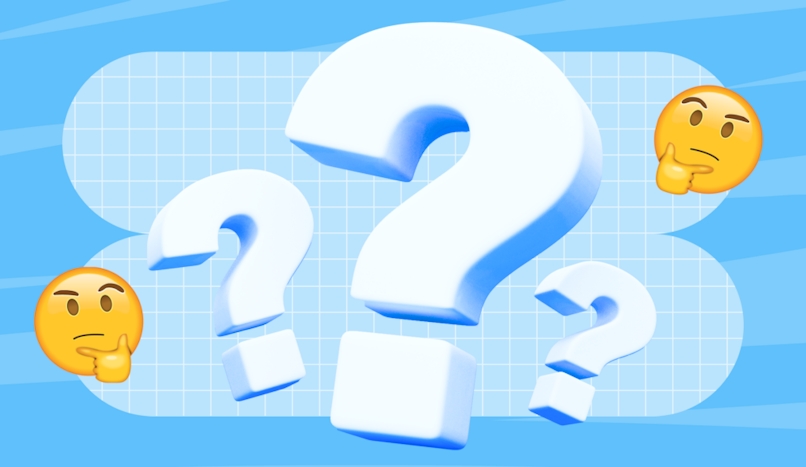 Tracking your package will give you information on its location or status.
For instance, you should find a scheduled delivery date with a near real-time status.
Some eligible FedEx packages will show an estimated delivery time window. It may not be available for your package if you don't find that. 
How long does it take to track a FedEx package?
That depends. You'll get different types of status information. "In transit" means your package is still on its way, while "delivered" means it has reached its final destination.
You may also find a notification that states "delivery pending." This means your package delivery date or time was changed based on a delay. 
But packages get scanned at various times between their drop-off and final delivery.
The frequency of scans varies, and it's not unusual for a shipment to go more than 24 hours without an update.
It may still be on its way to its final destination, but it may look like your package hasn't moved during long trips. It means it is in between scans, in transit to its next scanning or delivery location.
How to track a FedEx package without a tracking number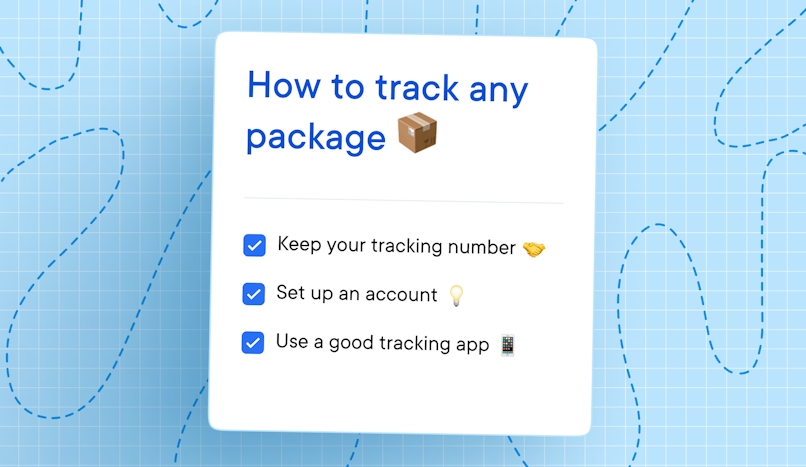 Wondering how to track a FedEx package without a tracking number?
Get a FedEx Delivery Manager account.
This allows you to track a package without a tracking number. You simply log in to check on any shipments, get notifications, and even control your delivery times.
You can even track your package with an address or name.
For businesses, you can also use the reference number associated with your shipment, a purchase order number, customer reference, invoice, bill of lading (BOL), part number, or Transportation Control Number (TCN).
Another way is with FedEx InSight.
If you're a business wanting to manage the supply chain and customer expectations, FedEx InSight is what you need.
It lets you monitor all your inbound and outbound, and third-party shipments billed to your account—and you don't need a tracking number.
You can also get automatic notifications giving you the status of your shipments, which comes in handy if, like most dispatchers, you struggle for time!
How to track a FedEx package with USPS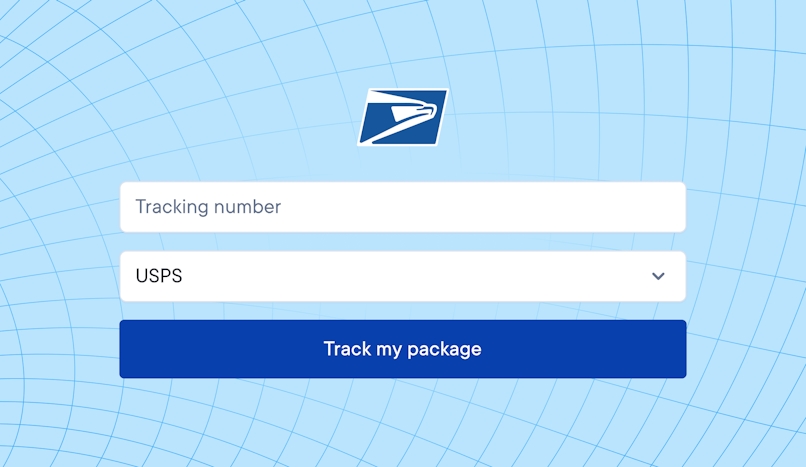 Sometimes, FedEx passes your package to the United States Postal Service (USPS). Such as when you use the FedEx Ground Economy service.
This option uses the extensive USPS mail network to offer a less expensive shipping service. But then you need to know how to track a FedEx package transferred to USPS.
Luckily, this is easy.
Your tracking number from FedEx is still the best way how to track a FedEx package through USPS.
You simply add a "92" to the start of the FedEx tracking number. This makes the 20-digit number into one that's compatible with the 22-digit USPS tracking system.
How to contact FedEx customer service
Even with all this information in hand, you may still have questions.
FedEx can answer your questions in three ways. Here's how:
Use their Frequently Asked Questions hub.
Go to the FedEx online support page and use the virtual assistant.
Text 29372 to get help directly to your phone messages.
If you can't get the information you're looking for on your own, you may need to call FedEx customer service. 
Follow these steps to talk to a person:
Call 1.800.GoFedEx (or 1.800.463.3339)
If you need US TDD services (telecommunications devices for the deaf), billing, or international support. Check the list of these other contact numbers. 
How to find the status of an international package with FedEx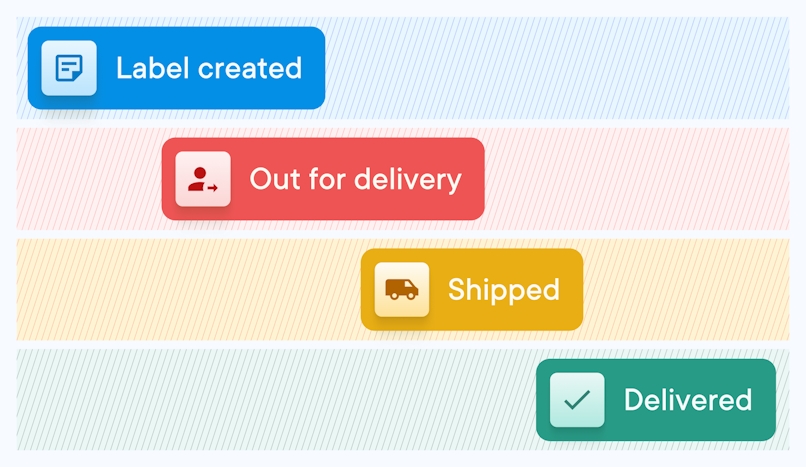 Depending on your service, your overseas package will have different delivery times.
FedEx International Next Flight, International First, International Priority, International Economy, and International Ground to Canada have different delivery windows.
Businesses also choose the FedEx International MailService to ship low-value, low-weight goods.
If you're shipping overseas regularly, you may want to consider using FedEx International Shipping Assist—a tool to help make the international shipping process easier. 
Here's what the Assist Tool can do:
Give you instant access to your important shipping information
Give you an estimated Harmonized Shipping (HS) code (including to save and re-use Harmonized System codes)
Calculate estimated duties and taxes for repeat shipments
Give you estimated shipping costs
Give you blank copies of your customs documentation
International shipments are easy to track too, using the FedEx global tracking software.
To do this, enter your tracking number on the FedEx website.
How to track a FedEx package FAQs
What time does FedEx stop delivering?
FedEx delivers goods from 8 am to 8 pm, Monday through Friday. Residential deliveries are also made 8 am to 8 pm on Saturday and Sunday.
That means if your notification tells you that FedEx will deliver your package by end of the day, it should arrive before 8 pm on the delivery date.
How long does FedEx take to deliver?
That depends on what service you choose when you ship your goods.
For instance, FedEx Home Delivery is a ground shipping service that delivers to residential areas and usually takes between one and five days to ship within the United States.
If you're shipping to another country, you can choose the faster service of between one and three business days or the more economical two to five days.
It depends on how quickly you need to send something and how much you're willing to pay.
Why is my FedEx package stuck in transit?
If you keep checking your package and it seems stuck in transit, it could be because it hasn't been scanned recently.
Packages are scanned at different points, not just when they are dropped off or delivered—and it can be a while between pickup and delivery or between locations where scanning occurs.
The frequency of scans varies depending on the location of your package.
It's not unusual for gaps of 24 hours or more without an update while packages are on the move, especially for long-distance shipments.
So while it looks like your package is stuck in transit, it may be in between scanning locations. 
What happens if FedEx doesn't deliver on time?
Depending on the service you choose to send your package, FedEx offers a money-back guarantee for every shipment in the United States.
So you can ask for a refund or a credit of shipping charges if FedEx missed your published delivery time.
FedEx says that this guarantee applies to all US commercial and residential shipments. There are limitations, so be sure to check their terms and conditions.
Can I speed up a FedEx delivery?
You can't change the service to speed up your delivery once you have chosen it.
One exception is the two-day shipping service. By picking this option, your package is delivered within two business days throughout the United States: either morning delivery on the second business day or by the end of the second business day.
If you're the shipper and you want your package to arrive faster than the two-day shipping time, you can sign in to your FedEx account or call FedEx to change your shipping speed. However, FedEX may increase your shipping cost.
If you want to change the delivery time of your package, you can use your FedEx Delivery Manager account to customize your delivery.
Can you pick up a FedEx package in transit?
FedEx has an option for you to pick up a package before it gets delivered.
To do that, you must choose to have FedEx hold the package at a location for pickup.
You don't have to wait for a delivery attempt, either.
Using your Delivery Manager account, you simply ask to have a package redirected for free and instead have the shipment delivered to any of 60,000+ retail network locations. Including Walgreens, Dollar General, or a FedEx Office. 
Is FedEx slower than USPS?
It depends. The shipping speed depends on your chosen service and where you're having your package delivered.
If you're willing to pay for faster service, FedEx may get your international shipment done more quickly than the United States Postal Service (USPS).
But there are instances when FedEx passes a package to USPS. For instance, the FedEx Ground Economy service uses the extensive USPS mail network to give you a less expensive shipping option.
Does FedEx deliver on Sundays?
FedEx does deliver on Sundays if you choose the FedEx Home Delivery service,  delivering to 95 percent of the US on that day.
In fact, the FedEx Home Delivery service delivers daily, including Saturdays and Sundays.
In addition, if you're a business with a large FedEx account, they will pick up shipments on Saturday and Sunday, allowing delivery as early as Sunday and Monday.
Circuit Package Tracker: an easier way to track a FedEx package
You don't have to use FedEx to track your package.
The easiest way to find any package is by downloading and using the Circuit Package Tracker app, which is available for Android or iOs. If you're wondering how to track a FedEx package in real-time, the answer is Circuit.
Our app has a handy map find that shows you exactly where your package is, or you can follow the package's full "journey" from shipping destination to arrival destination.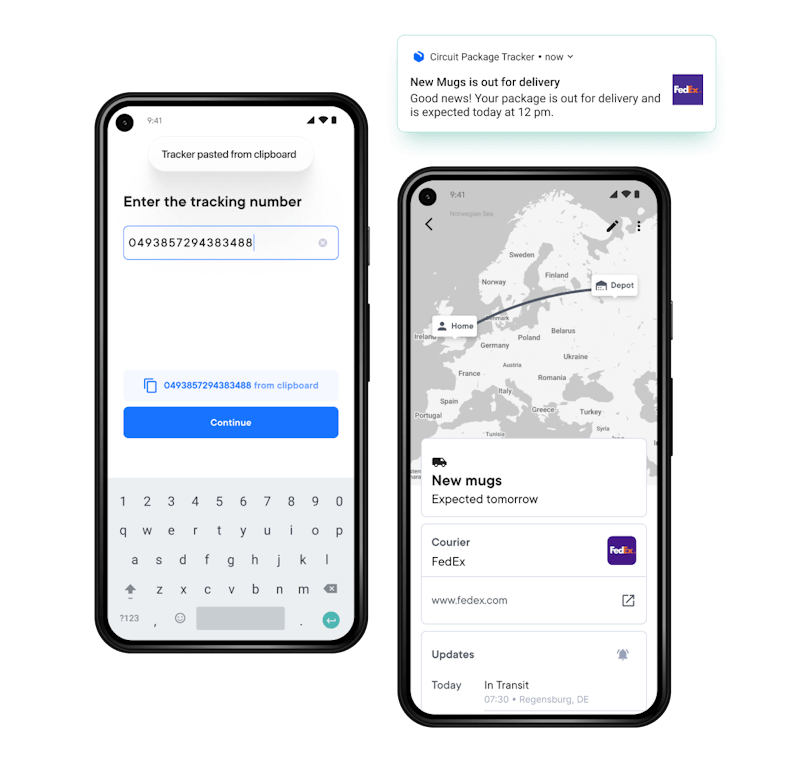 It's easy to figure out how to track a FedEx package live since the app will track packages from anywhere in the world. 
Fedex international tracking is possible, as the Circuit Package Tracker will find your shipment anywhere in the world, including FedEx tracking UK, USA, Europe, Australia, Canada, and South America.
That's helpful since FedEx ships mail to more than 220 countries worldwide.
You can also set up notifications, and Circuit Package Tracker will let you know instantly when there are any changes to your delivery.
Customize your alerts to get notifications for all updates or only the important changes you want to know about your delivery.
You can also get real-time information on your package, confirm it's moving, and get instant FedEx tracking reports.
It also works for more than FedEx, including UPS tracking, United States Postal Service (USPS), DHL, Royal Mail, and Canada Post. It can even auto-detect your shipping service if necessary.
How to track a FedEx package conclusion
Federal Express is s United States-based corporation that gives you shipping service to over 220 countries worldwide, serving over 650 airports.
That makes FedEx a good option for sending packages to loved ones or using it for your business shipping needs. But it also means you must know how to track a FedEx package.
With our in-depth guide, you'll find the answers to all your tracking questions, and you can use the Circuit package tracker to make it easy to track any package with any courier service.
Follow your FedEx package from the store to your door and download Circuit Package Tracker for free now.