19 minute read
Best Package Tracking App 2022: 19 Free Options
We've compiled a list of the best package tracking apps for you to try. From the top-rated to the most convenient, here's how to keep tabs on your online orders.
Have you ever ordered more than one item online—only to have zero clue when and how they would arrive?
eCommerce has exploded in popularity, and people are ordering more than ever—but with this increase, you might inevitably lose track of your orders. In fact:
Online shopping in the US increased by 10% from 2016 to 2021
That makes keeping track of those packages more important than ever.
Rather than trust the sender to keep you posted on your package, the best package tracking app can tell you everything you need to know.
If you're looking for the best package tracking app to help keep you organized, there are many options available; here's my look at the best package tracking app 2022, with 19 free options.
Why use a package tracking app? 
Online shopping continues to grow.
In fact, eCommerce sales in the United States in the first quarter of 2022 were $250 billion—an increase of 6.6 percent from the first quarter of 2021. 
Moreover, this has increased yearly—going from under six percent of sales in 2013 to over 14 percent in 2022!
That means we are all waiting for more packages to arrive on our doorstep. And we want to know when our order will arrive. The best package tracker can help. 
Here's why.
Maybe you're at work and worried about your package falling prey to a porch pirate. After all, 49 million Americans have had at least one package stolen in the past 12 months.
Or you're hoping your spouse doesn't get home before you and spoil the surprise birthday gift you bought.
(As it turns out, our study on financial infidelity revealed that almost eight out of ten Americans had hidden a purchase from a partner!)
Perhaps you don't even remember the carrier bringing your package or when it was scheduled to arrive. 
That's where a quality package tracking app can help everyone. From the convenience of tracking all your packages in one place to getting notifications to update you on your package's "journey," a package tracking app can make your life easier. 
But how do you choose the best tracking app for packages?  
The 3 basic features every good package tracking app should have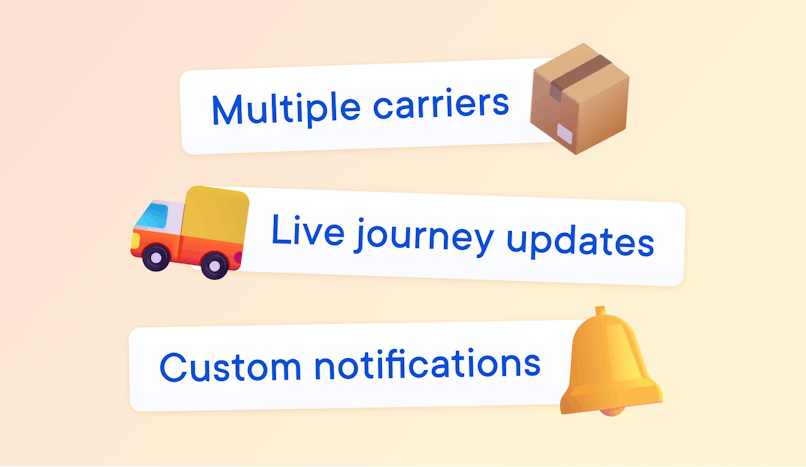 The best package tracking app will obviously tell you where your package is and when it should arrive. But there's more to it than that.
#1 Tracking for multiple carriers 
Let's say your mom sent you a package with the United States Postal Service.
To track a package with USPS, you generally use a tracking number and visit the USPS website.
But maybe you also ordered something from Amazon alongside a local store that uses FedEx. It can be confusing and time-consuming to figure out how to track a package from all those different carriers.
Instead, you want to know: Is there an app to track all packages?—To find the best package tracking website or app to track packages from multiple carriers.
In this case, you may want to check out our app, Circuit Package Tracker. With over 1000 package carriers available to track on the app or online.
Once you get the best package tracking app for iPhone or the best package tracking app for Android, you can track multiple packages from multiple carriers, all in one place.
#2 Live journey updates
What is an app that tracks shipping? One that tracks your packages wherever they are and gives you information - as close as possible - as to the package's actual location. 
Knowing that your package has left the sender's address is not enough. The best package tracking app will update the package's trip, giving you better insight into when it might arrive at your door.
#3 Custom alerts and notifications 
What is the most accurate package tracker? One that gives you the information you need. In other words, you don't have to visit the app morning and evening to check on your package. 
The best package tracking app will let you set up alerts and notifications customized to your needs. So you can stay on top of your package without opening the app or website and plugging in the tracking number every hour.
By getting those notifications, you'll know when to be home to collect the package or to ask your neighbor to watch for delivery and thwart would-be porch pirates.
Now you know what a package tracking app is, let's dig into our top 20 picks:
The 19 best free package trackers in the market today
It can be hard to know which package tracking service is the best for you. It depends on what's important to you and what you're looking for in a service.
To make things easier, here's my top 19 for you to try. From the best-rated to the most convenient, these apps will help you keep tabs on your online order.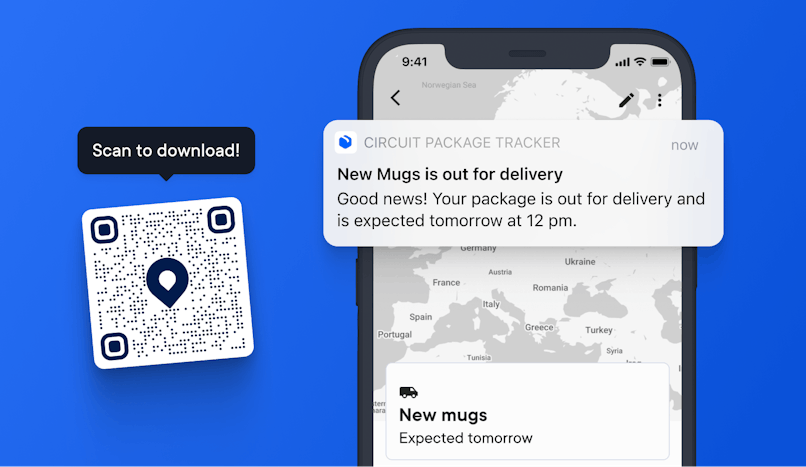 Prehaps unsurprisingly, I've placed our app, Circuit Package Tracker in the number one spot—and for good reason!
Circuit Package Tracker connects with over 1000 courier tracking systems to give you accurate tracking from the widest range of courier and postal services as possible—from FedEx to the United States Postal Service and UPS.
You can use the website or download the app on Google Play or the App Store, which can be used on iPhones or Android devices.
Circuit Package Tracker allows you to follow your package wherever it is, with a handy map view showing your package's most recently scanned location. Plus, with the app, you can customize your notifications—to get all the updates for your package—or only the important changes to your delivery.
Pros:
Free and works for most courier services worldwide, including the United States, UK, Europe, Australia, Canada, and South America.
It sends you notifications instantly when there are any changes to your delivery.
Cons:
The Google Play store has an overall rating for the app of 3.8 out of 5.
Some users find that it says packages are "expected today" and don't arrive. Others rate it the "Best package tracking app on the market."

#2 17TRACK — best for tracking accuracy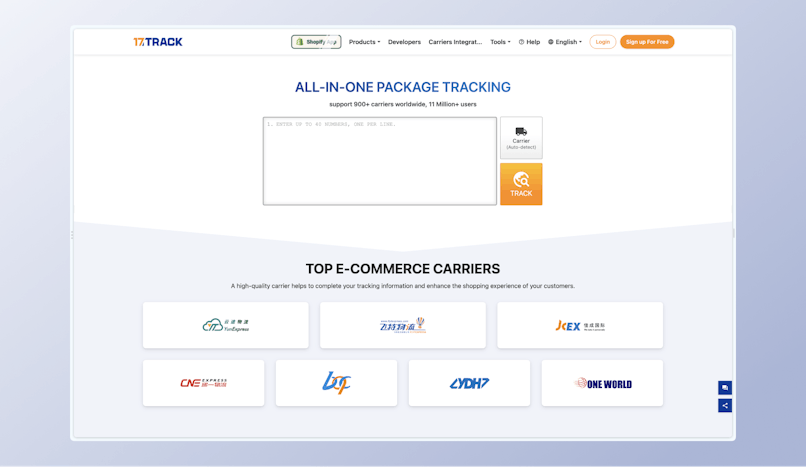 Another free tracking program claims to have 11 million users. It will auto-track your packages and notify you of any delivery updates. It partners with over 900 carriers worldwide, including DHL, UPS, FedEx, and USPS. 
It works on multiple platforms, including your desktop website and mobile devices. 17TRACK also allows you to track multiple carriers and batch package numbers together. You can also use a barcode or QR code scanner for package tracking numbers.
Pros: 
Will auto-recognize over 80% of carriers with your tracking number, eliminating the need to remember who's shipping your goods.
Claims a tracking accuracy up to 99.9%.
Cons:
Some users state that it doesn't update quickly.
According to some reviews on the Google Play store, notifications are up to a day late.

#3 Shop — best for eCommerce tracking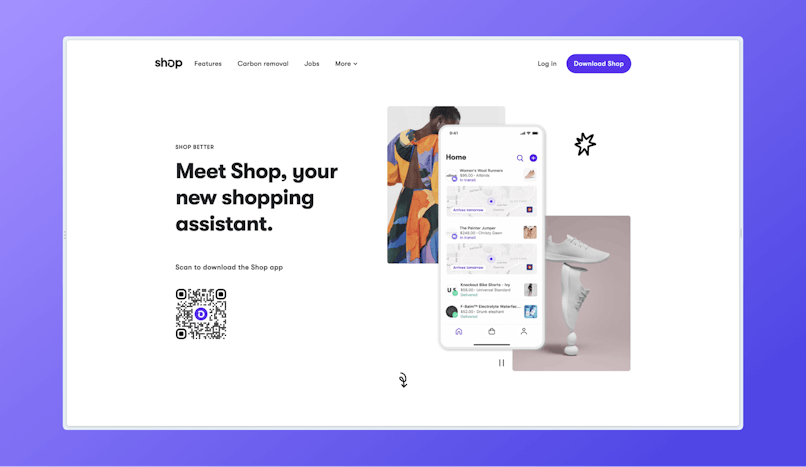 This shopping app also tracks the shipment of your purchases, with real-time delivery updates from the shopping cart to your home. "Pay better, track better, shop better" is their motto. 
Here's what you get:
Once you download the Shop app, you can let Shop know your favorite stores. Then you'll get a customized feed that shows any deals, trending items, and recommendations made especially for you. You can also use the local search feature to shop local and use their in-store pickup and delivery options.
When you pick an item, you use Shop Pay to make your purchase. You can choose to save your details, and they will be encrypted, and you can also pay in four installments at some online stores.
Now for the package tracking app details:
Shop gathers and tracks all your orders. You won't have to search by tracking numbers and copy or paste them into another program. You can also use Shop without auto-tracking.
Shop also has participating stores with the Shop Promise badge, which gives you fast and reliable delivery dates. Shop will organize all your previous orders and receipts too.
Pros:
Ideal for those who do a lot of online shopping.
One app for shopping, paying, and tracking.
Cons:
Created for those shopping and shipping.
Not available as a website or desktop app.

#4 aftership —best for Shopify retailers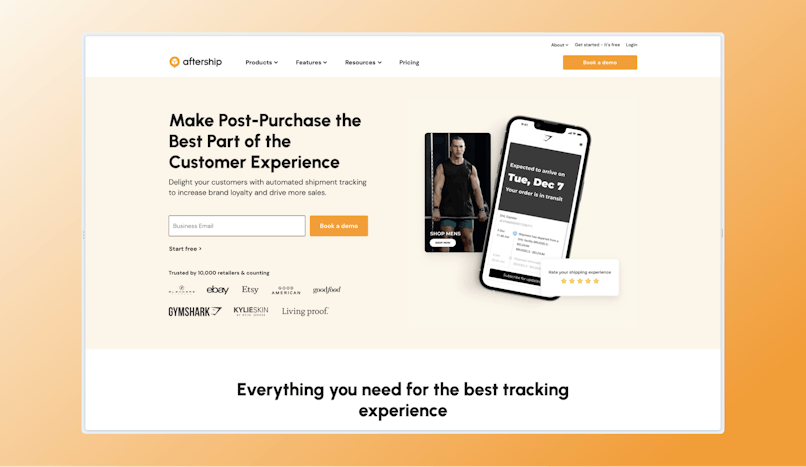 This is an automated tool that was designed for both retailers and shoppers.
Retailers can use it to track shipments and give tracking information to customers. 
Shoppers like you can use the package tracker to check the delivery status of your shipping order at any point in its route.
Aftership partners with and carries information on over 900 carriers, including FedEx, DHL, UPS, and USPS. You simply enter the tracking information, and it will auto-detect the carrier. It also syncs with your email to load information received that way.
The benefits of this app come from the fact that it gives retailers many tools. It has automated tools that allow Shopify retailers to build online stores, launch iOs and Android apps, and automate the shopping experience.
Using AfterShip, stores can automate marketing, dropshipping, reviews, and more. Overall reviews on the App Store are 4.7 out of 5.
Pros:
Available as an app on the App Store and Google Play.
Partners with many carriers for information.
Cons:
Intended more for online stores than consumers.
A less powerful tool for customers.

#5 Pkge.net — best for ease of use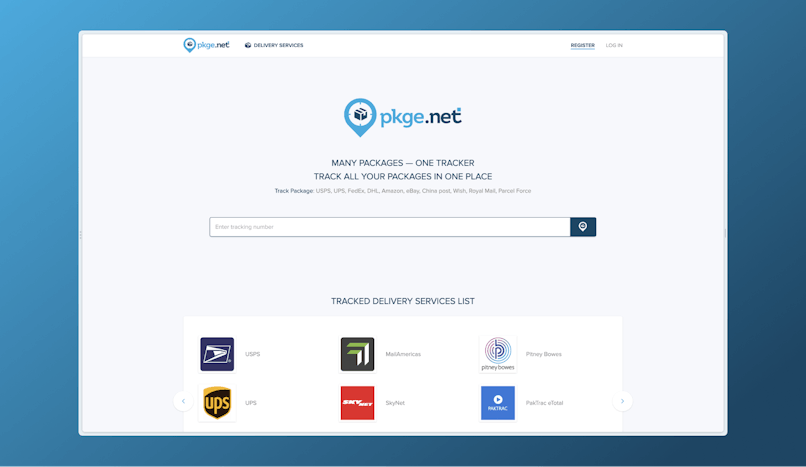 Pkge.net and Package Tracker are free tracking apps to track packages and more. Serving over 750 courier and postal companies across four continents, including UPS, USPS, FedEx, and more. 
To use them, enter your tracking number to get information on personal packages and packages transported by national postal services and commercial shipments. Use it to track packages, certified letters, and certified personal letters.
It's easy to use, and you can use an app from the App Store, Google Play, or a desktop computer at Pkge.net. Then you enter the tracking number in the search bar, click on the Search button, and view your package's history and status information.
Pros:
Easy to use.
Available for desktop or mobile use.
Cons:
You must have a tracking number.
You'll need to enter the number each time you check your package.

#6 TrackChecker — best for non-English speakers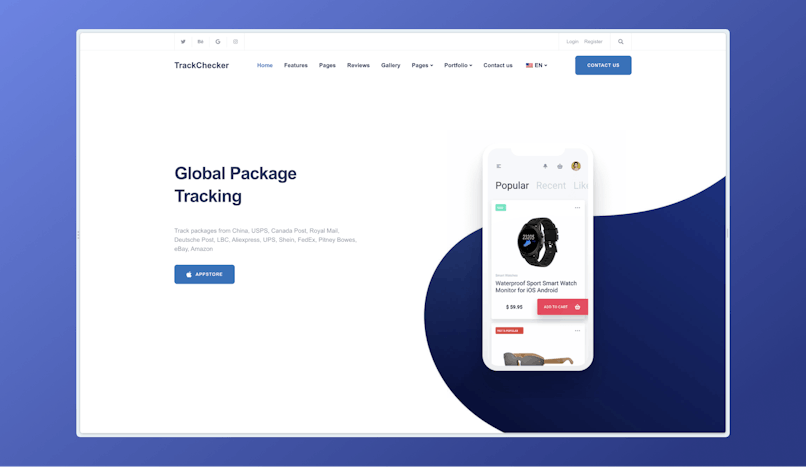 This global package tracking app is available for iOs. Use it to stay updated on the status of your shipment, delivery forecasts, and who accepted a package in your absence.
You can set up notifications depending on how closely you want to follow the progress of your shipment.
It also auto-detects the carrier, currently supporting over 600 carriers, relying on their websites to give you information. It will track online shops like Amazon and eBay. 
It also allows you to use a barcode scanner in place of entering a tracking number, and there's a Today widget that shows the last events.
There aren't currently a lot of ratings for the app, but it scores a decent 4.3 out of 5 overall.
Pros:
Has a multi-language user interface.
Gives you an automatic translation of events to your language.
Cons:
It appears to only be available for iOs.
Designed for use on an iPad.

#7 packagesapp —best for alternative ways to track your package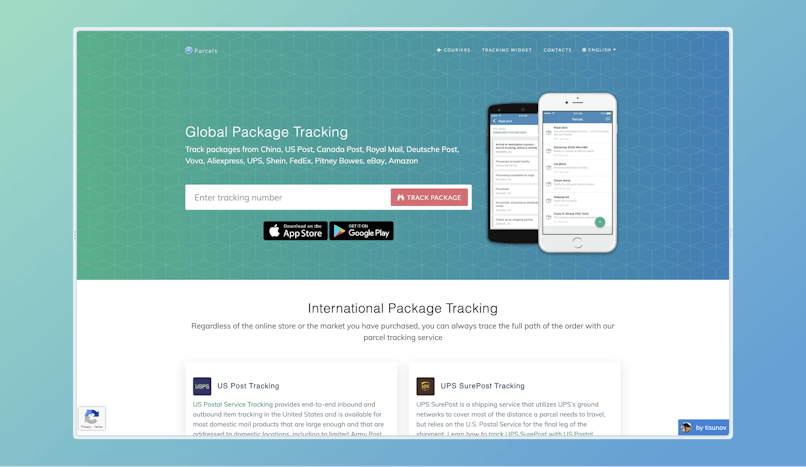 This app allows you to track from multiple carriers, including any national postal service. You can also track online purchases from Amazon, eBay, Wish, and more.
Use it to import packages directly from sellers like Aliexpress and track with the product's name instead of manually entering the tracking numbers.
You can also use it on a desktop by visiting the website and entering the tracking number in the search bar.
With the tracking number, the website or app will give you comprehensive tracking events history, delivery time estimate, current package status and location, and links to each official carrier's website.
On the App store, look for "Packages - Track Your packages" to find the app. On Google Play, it's called packages. Overall ratings vary. iOs users give it a 4.7 out of 5. Google Play users give it 3.8 out of 5. 
Pros:
Shoppers will appreciate loading info from sites like Aliexpress.
Easy to use.
Cons:
Different names on each app store can make it confusing to find
The reviews are varied.

#8 package Arrive — best for using multiple devices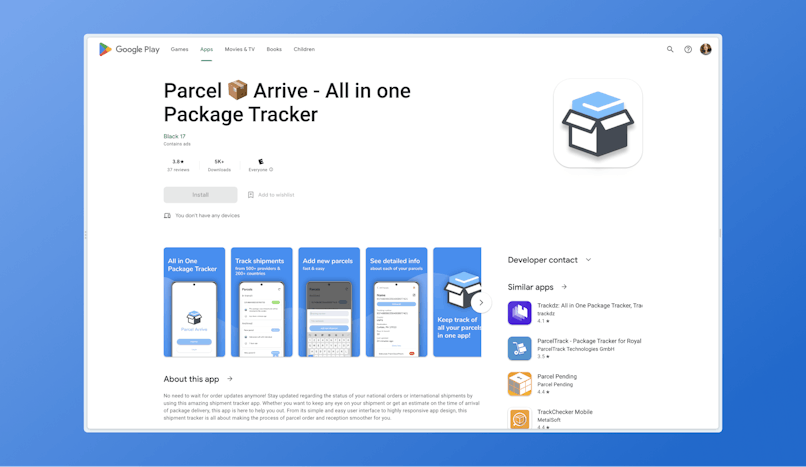 This app gives you information whether you have an Apple or Android device or want to check online on your computer.
Simply enter the tracking number on the website, or download the app to use your mobile device.
Then you can track international packages even when international delivery companies transfer packages to local postal carriers or couriers.
You'll get a detailed history of the tracking events related to your packages, such as forecasts of delivery times, the current state and location of packages, and links to and from official courier websites.
The free app tracks shipments for more than 500 different courier and shipment service providers, including UPS, FedEx, DHL, USPS, and more. It's also available in more than 200 countries worldwide.
8 package Arrive is also easy to use. You just copy and paste the tracking number and hit the track button to immediately get updates on your order status.
The app has automatic order detection, so you don't have to wait for any kind of third-party confirmation. You can allow push notifications to get package tracking updates and track multiple packages at a time.
Pros:
Use the app or the website.
Track multiple packages at once.
Cons:
You still need a tracking number.
Not many reviews so far to determine performance.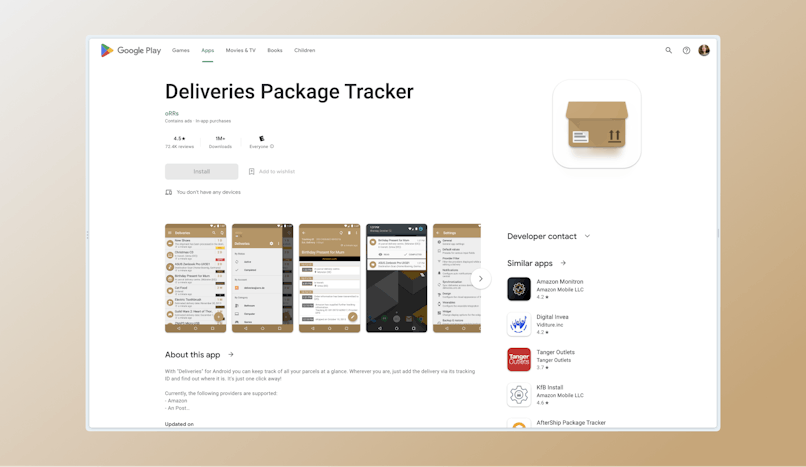 This app works with a huge number of carriers and offers users the chance to add more.
Whatsmore, if your carrier isn't supported, you can send them a tracking ID and URL by email, and the developers say they will work to support it.
You can also set your notifications to get an alert whenever there is an updated shipping status and synchronize deliveries across different devices.
Tracing the package with Google Maps is available for many partners working with the app. Plus, you can add widgets to your home screen for a quick overview without opening the app.
Many of the features are free, or you can buy the pro version to remove ads and get more options for customization options.
With the pro version of Deliveries Package Tracker, you can import Amazon and eBay orders and keep them synced, set a quiet mode for notifications, shake to refresh, and more.
Pros:
Apple users rate it 4.8 out of 5, and Android users 4.5 out of 5 overall.
Designed for the mobile experience.
Cons:
Need to pay to get the premium version.
Best for mobile devices, not computers.

#10 ordertracker — best for notification options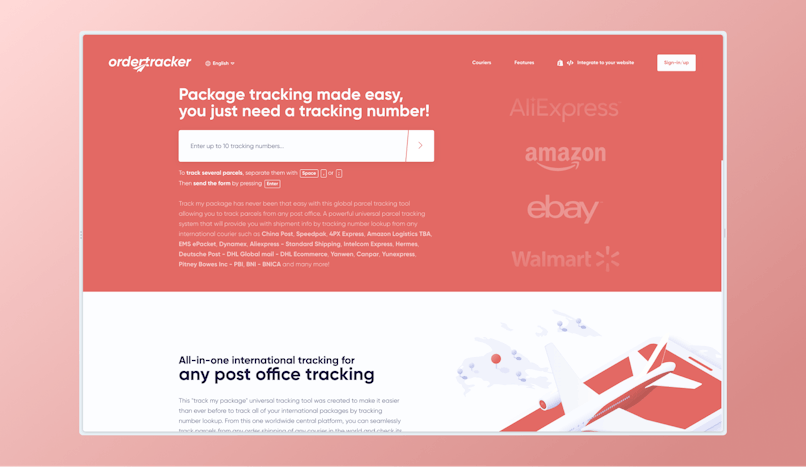 Use this service on its website or an app for Apple or Android devices.
With the website, you simply enter the tracking number on the search bar. The mobile app can get push notifications when your order progresses, or your package's location changes.
If you use the website, you can choose to get email notifications about your package.
You can use 11 ordertracker to track packages from over 200 countries covered by over 1200 couriers and eCommerce companies, such as Amazon, eBay, Etsy, and more.
You can also automatically detect the carrier currently in charge of your package or manually choose the courier from which you want to get information. 
Retailers can also use the service to add a custom tracking page to their website, using their own logo and brand identity.
Pros:
Use it on mobile or desktop devices.
Automatically detects the courier, or you can choose the carrier manually.
Cons:
Not just focused on individuals waiting for packages.
Need a tracking number.

#11 packagemonitor — best for desktop package tracking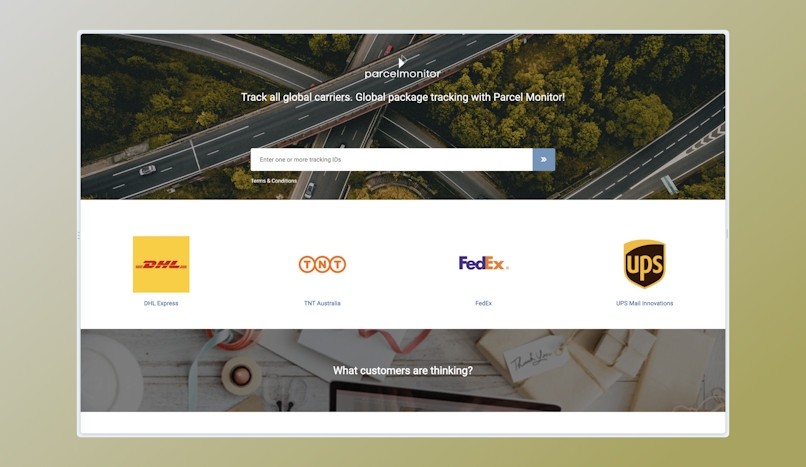 With 12 packagemonitor, you just need to visit the website and enter your tracking number to get information on your package. 
Here's what you'll get with this tracking service:
Global package tracking for all carriers.
It will auto-detect local and global logistics services.
It will track and trace your packages internationally and give you regular updates.
You can check the status of your online purchases, no matter what retailer you choose.
However, there's no mobile app with 12 packagemonitor
You can get regular email updates on your package and access a report related to your package delivery, which will show you all the shipping history and your package delivery status.  
Pros:
Works with over 900 carriers.
Sends you email updates.
Cons:
Only available on the website.
Mobile users will likely want to download another service.

#12 Packagetrackr — best for keeping an order history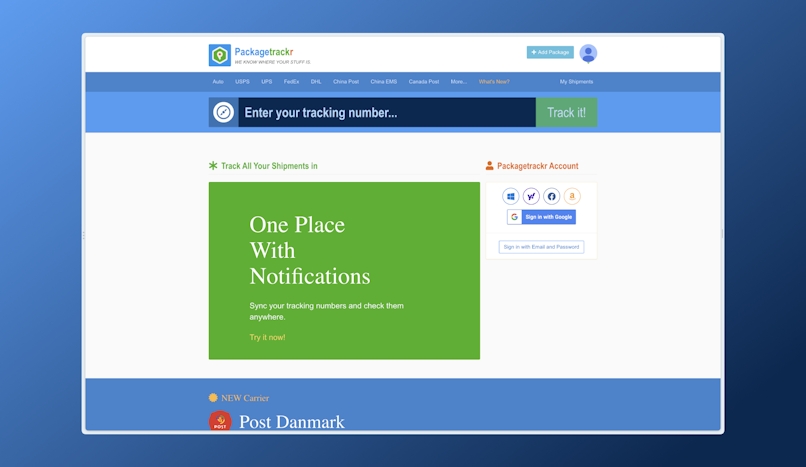 Sign up for an account with 13 Packagetrackr, and you can use this service as an all-in-one package tracking tool for all your shipments.
It remembers all of your tracking numbers and will find delivery status information from dozens of carriers.
The features include tracking shipments from 41 carriers from your browser or mobile device. 
Pros:
Mobile friendly but currently no app.
Promises to be adding features.
Cons:
Supports 41 carriers, fewer than our other options.
You have to sign up for an account.

#13 Ship24 — best for different couriers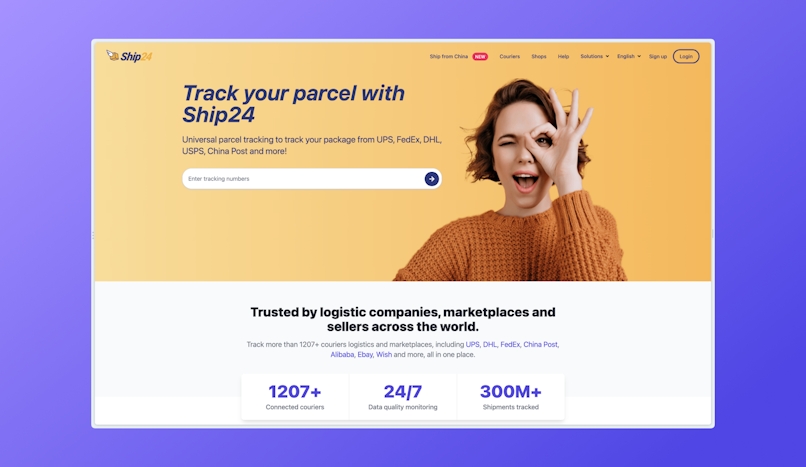 14 Ship24 is another service that's intended for individuals and retailers. It scans thousands of shops and logistics services at the same time—giving you the latest information on your package, wherever it is worldwide.
You just need to visit the website and enter your tracking number into the search bar. Then, you'll get real-time tracking information on all your packages and packages.
It works with over 1200 shippers. Get information on up to ten packages at a time for free. Businesses can try a free plan to test out the tool.
Pros:
Offers free order tracking for up to ten packages at the same time.
Works with many different shippers, including national postal services and eCommerce sites. 
Cons:
No app is available for cell phones.
Free for only ten packages at a time.

#14 package2Go — best for postcode searches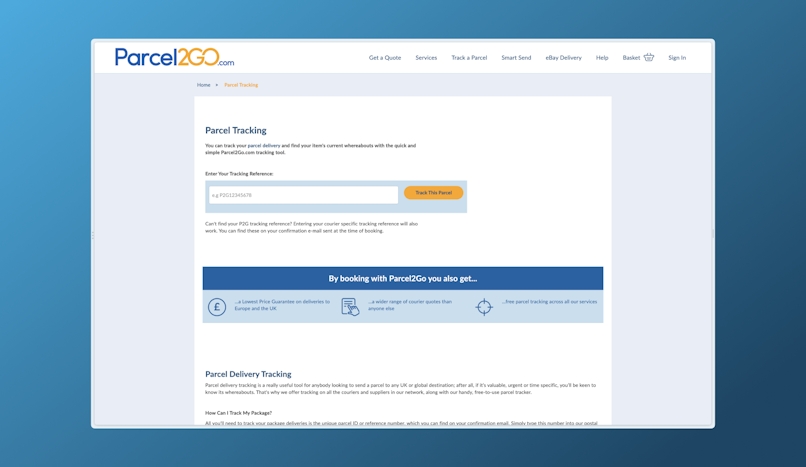 Use the package2Go web-based service to track your package delivery, including its current location. 
To use it, just paste your tracking number in the search bar and hit the button to 'Track This Parcel.' If you don't have your tracking number, you can use any courier-specific tracking reference—usually found in your confirmation email.
A bonus service is the postcode finder, which helps you know the correct postcode for your shipment
The app is available for iOs and Android and features your nearest drop-off location, opening times, and a wallet option for in-store label printing.
However, there are still a few things you can't do with the 15 package2Go app that you can do on the website.
Pros:
Available for packages shipped in the UK or internationally. 
Bonus service helps you locate the postcode for your outgoing shipments.
Cons:
The app still doesn't have all the website features.
You'll need to sign up for an account.

#15 Post Track — best for desktop applications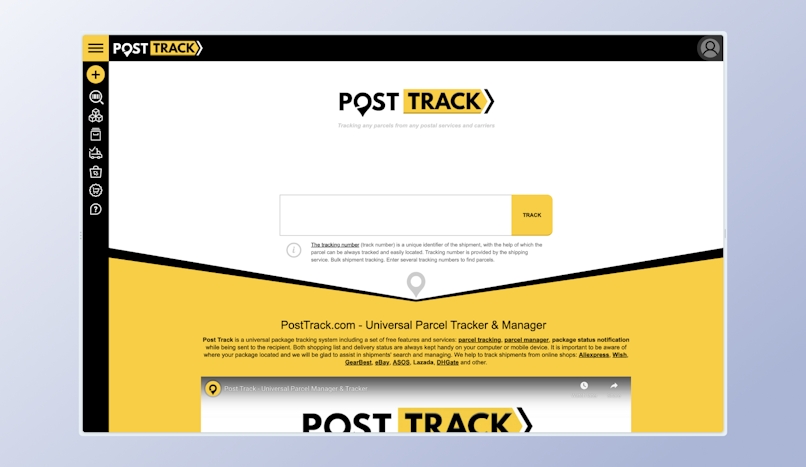 This service has apps for Apple and Android devices and the ability to add a widget to Firefox, Edge, and Chrome.
It connects to online retailers and international carriers, and postal services. The PostTrack system will find the courier using the package tracking number if you don't know the carrier. You can also use a barcode scanner instead of entering the number.
However, if you want to manage packages and get notifications of changes, you must register on the website.
If you choose not to have an account with 16 Post Track, here's what you get:
Free registration using Facebook, Google, or email. 
Track up to 40 packages using the tracking numbers.
Translation of package information into 24 languages. 
Registered users get more features:
Package management in package Manager, including adding, deleting, or editing packages.
Editing your profile.
Resetting your password.
Deleting your account.
Pros:
Auto detects the carrier.
Translation of information is available.
Cons:
Need to register to get all the features.
Very few reviews of the service so far.

#16 Route: Package Tracker — best for a seamless shopping experience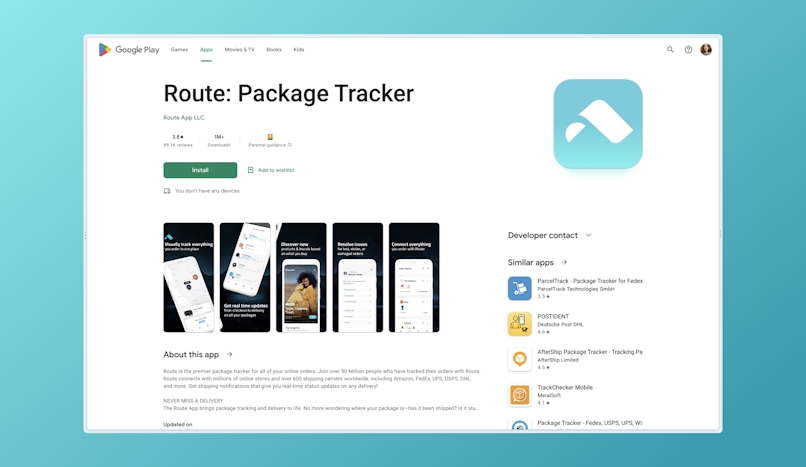 This is another app that's built for online shoppers.
Route: Package Tracker is a specific service for online retailers where they can add it as an option to their shop.
As a customer using a seller partnered with Route: Package Tracker, you can get notifications with real-time status updates on your package. You can also connect Route to your email account, and that information will appear in the app.
Here's how it works:
When you pay for your item online, you can purchase 1-Click Protect, which gives you package protection in case your order gets lost, damaged, or stolen in transit.
Pros:
Available for iOs or Android.
Good for consumers and retailers.
Cons:
Only available with an app on a mobile device.
No ability to use the website on your computer.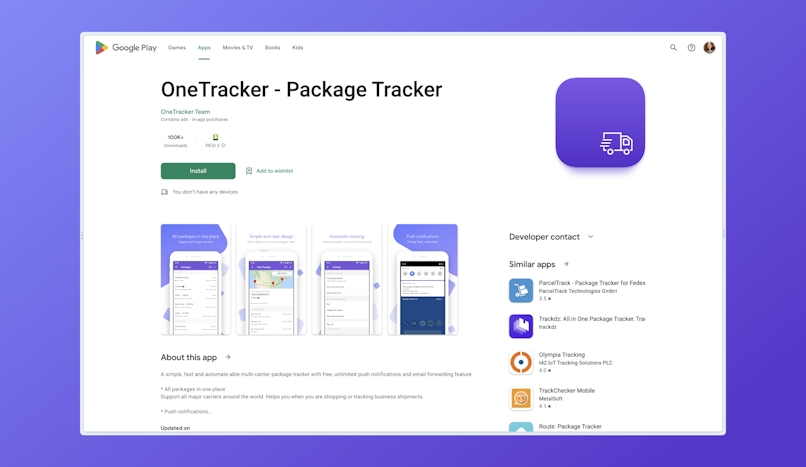 Download the OneTracker - Package Tracker app for Apple or Android, and you'll get tracking with free, unlimited push notifications. You can also choose the email forwarding feature.
This app supports major carriers worldwide, so you can track all your packages in one place.
The push notifications are free and unlimited and give you information about important tracking events for your package. You can then customize them the way you want.
You also get automatic tracking for free, but the process is somewhat different: you forward your order emails to a unique address the app generates for each account.
In addition, you can add packages manually with the help of a barcode scanner, there's a map view, and you can sync data across your devices.
Pros:
Can be downloaded for Apple or Android devices.
Doesn't scan your emails since you forward emails to a unique address for your account.
Cons:
Need to sign up for an account to get all the features.
A relatively new app, so not too many reviews.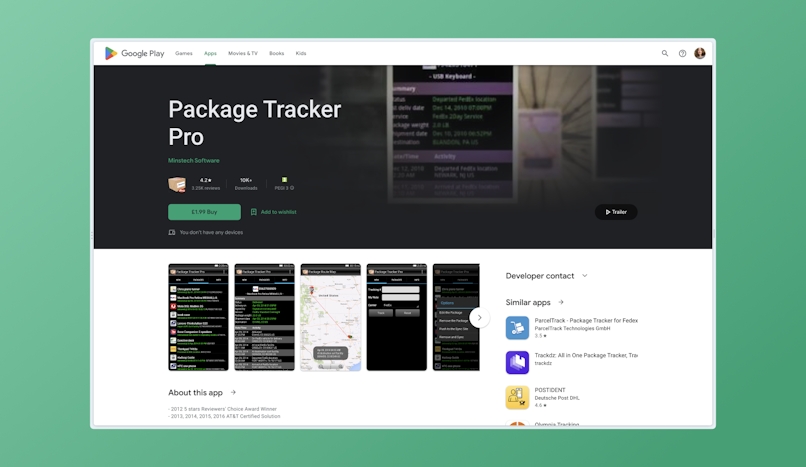 With Package Tracker Pro, you can get package tracking from many carriers, but this one will cost you—however, the Pro version of this app features:
Notifications and alerts using ringtones, LED, vibration and email.
A night quiet time to hush notifications between 11 pm and 6 am.
Sync the tracking number list between your PC and your phone without typing it on your phone. 
Push the tracking number to the sync site.
Display package route map if available.
Customize your carrier list.
And more.
Pros:
Available for Android and Apple devices.
It has good reviews, with Google Play users giving it an overall rating of 4.3 out of 5
Cons:
You need to pay for this one.
Users are complaining that it needs to be updated.

#19 TrackMyPack — best free package tracker for businesses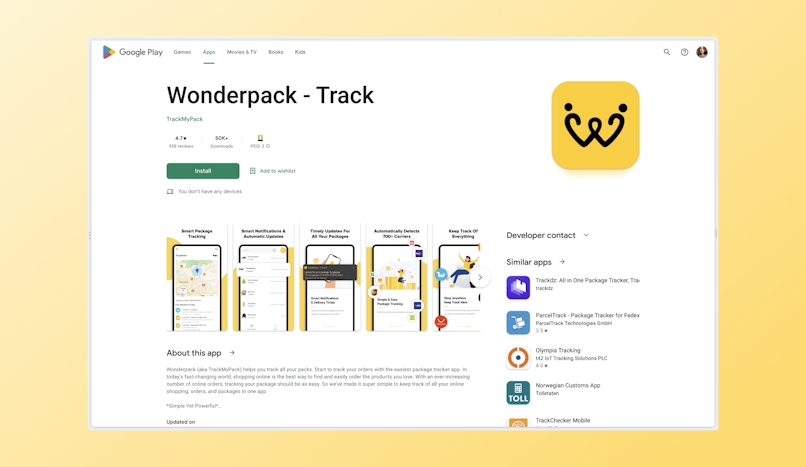 Enter your tracking number on the TrackMyPack website, or download the app for Apple or Android devices.
Also known as Wonderpack, you can use it for real-time tracking of all your packages in one place,
Once you add package tracking numbers, you can find their estimated delivery times, delays, and the latest locations on the map. Plus, get updates on your packages.
Wonderpack works with over 700 carriers, including FedEx, USPS, UPS, and more, and over 10,000 eCommerce stores. 
Pros:
Add packages from your email to your Wonderpack list without having to type, search, copy, and paste.
Businesses can add a free package tracking interface to their online store. 
Cons:
There aren't a lot of reviews available for the service.
Some users don't like the app accessing their emails.
Best package tracking app FAQs
What is the most accurate package tracker?
With so many products available, it's best to search for the best package tracking app that has the following features: real-time updates; the ability to customize notifications; a map view of your package; allows you to check on packages from multiple carriers; is available on a website as well as apps for Android and Apple users, and is free to download and use.
Is there an app to track all packages?
Many apps available will track all packages and give you real-time updates on the status of your packages. These apps will also give you information from carriers worldwide.
Our app, Circuit Package Tracker, is one example of this.
Best package tracking app: conclusion
There are many ways to track your packages, from the carrier you used to send them to the store where you ordered them.
But the best package tracking app lets you find multiple packages from multiple carriers and gives you live updates of your package's location with notifications, so you know when something has changed.
Most still need your tracking number, but the best package tracking apps will automatically detect your courier, making life a lot easier for you.
Most importantly, you don't need to break the bank to get a premium service—the best trackers have a mobile app and website, are easy to use, and are free!
It's time you found all those features and more with the Circuit package tracker app. Try it today.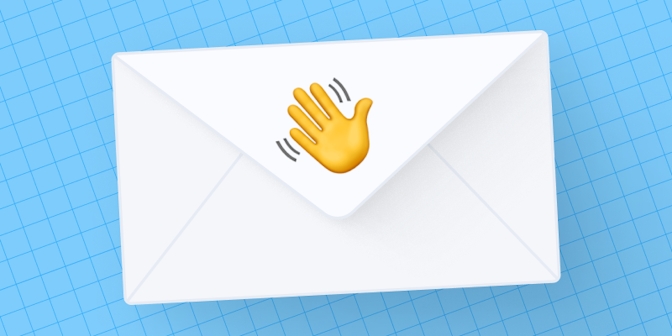 You made it this far!
Chances are you'll love our other stuff too. Get our newsletter for the latest on all things delivery.