7 minute read
A Guide to Carrier Shipping Times
Which major carrier has the fastest delivery times? Get info on the fastest shipping times from FedEx, DHL, UPS, and USPS.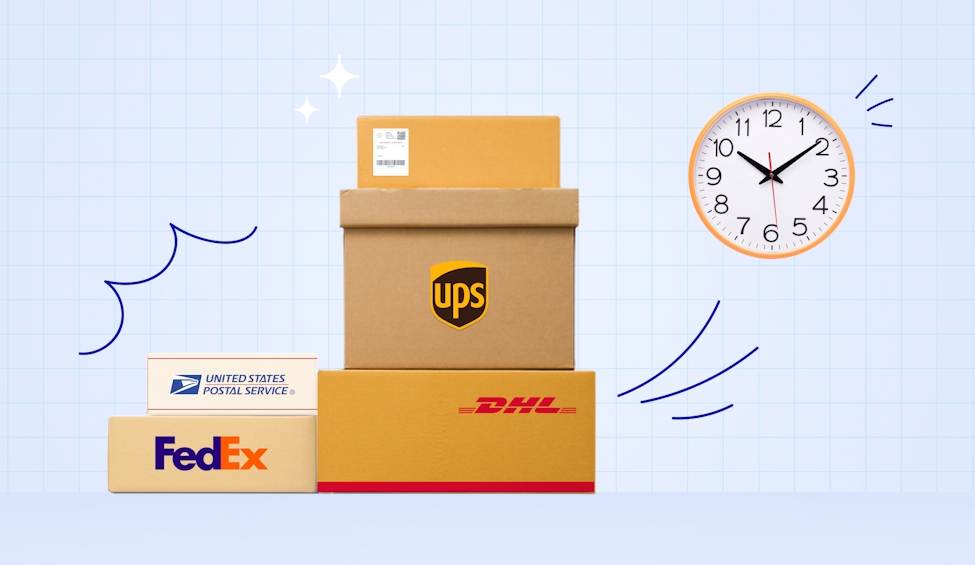 Need to track a package FAST? Circuit Package Tracker could be the solution you need. Find your package anywhere in the world in seconds.
As much as we appreciate Mr. McFeely, his "speedy delivery" tagline was total BS.
I mean, let's be honest, he spent way too much time sitting around chatting with Mr. Rogers.
If I shipped with his mail carrier, I'd feel like this.
When it comes to sending or receiving packages, you want to know how long it will take to get from point A to point B.
The answer? It depends on the carrier.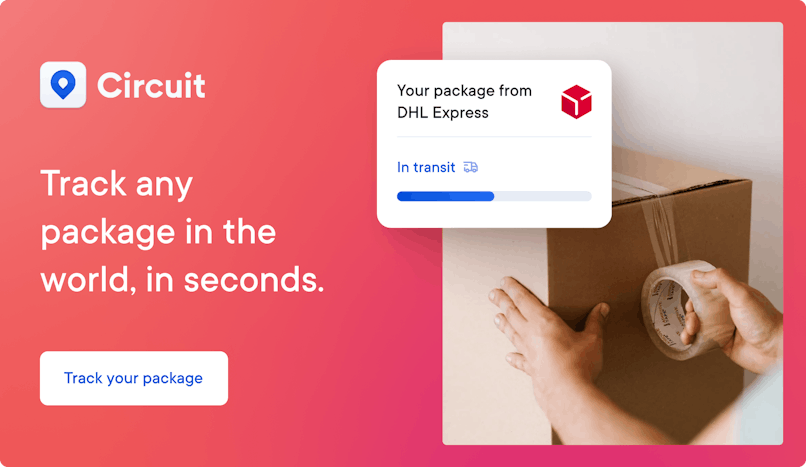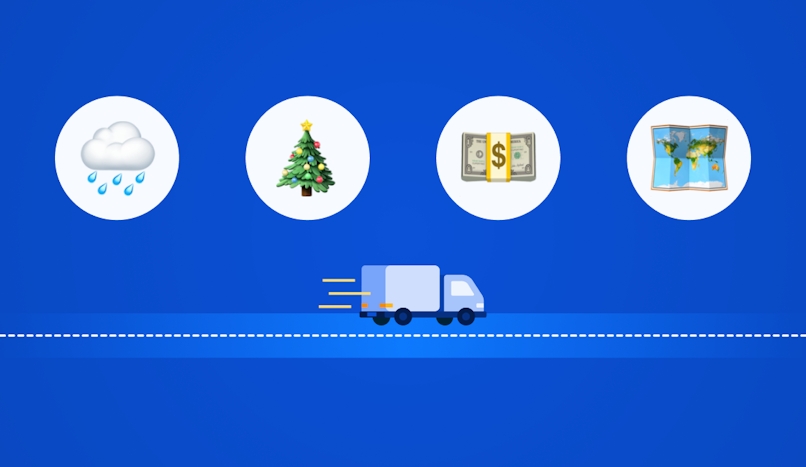 What affects shipping time?
Whether you're shipping with the United Parcel Service (UPS), the United States Postal Service (USPS), FedEx, or DHL, some factors can impact delivery time.
And no, it's not how long the delivery driver stops to chat with your quirky neighbor.
Well, then again...
Maybe it is.
Find out what can slow down your packages, stretch delivery times, and keep you waiting by the door.
Product characteristics
Weight, dimensions, and hazardous goods are all factors that could affect shipping time. 
Weight is important, as it can impact the cost of shipping and delivery time.
Heavy packages usually take longer to travel through the mail system and can be more expensive to ship. 
Dimensions are also important, as they can determine whether a package is too large to be sent through the mail or if it needs to be shipped in a special container.
The USPS, for instance, has a maximum weight limit of 70 pounds, and the maximum size for most mailpieces is 108 inches in combined length and girth.
Shipping heavy and large packages isn't very profitable because you can have a full truckload with hundreds of small parcels or a full truckload with a few large, heavy pieces that take up a lot of space.
Hazardous goods may also take longer to ship (and cost more) because they require extra care during shipping.
So, the best way to know if your package has characteristics that may affect shipping time is to ask your shipping carrier during pickup or dropoff. 
They should give you a delivery window based on the product's characteristics.
Location
This is probably the most important factor when it comes to shipping time. 
Your location will determine how far your package has to travel and how long it will take your shipping carrier to deliver it.
If you're in a remote area, they may take longer to deliver your package.
For example, the "shipping times by carrier" section below notes that Alaska and Hawaii take longer than the contiguous states when it comes to shipping. 
This is because they're located farther away from the rest of the country.
And, of course, international shipping will take even longer because your package has to travel even farther and get through US Customs.
Inclement weather
Almost 12% of truck delays in the 20 cities with the most truck traffic are due to weather. That sucks.
Extreme weather slows down shippers because freight plane carriers can't take off during serious weather conditions or land during hurricane-force winds, ships can't travel through rough seas, and truck drivers can't drive in blizzards.
Bad weather can definitely slow down your packages both domestically and internationally.
Be sure to consider this if you plan to send or receive a package in an area experiencing extreme weather conditions.
Of course, even with perfect planning, unexpected weather changes can and do happen.
Holidays and business holidays 
It's the most stressful time of the year.
During holidays like Christmas, people like to shop big online. 
This can lead to bigger shipment volumes, which can overwhelm couriers if they don't have a suitable delivery network infrastructure in place. 
This might result in shipping delays at a time when consumers most want their goods (and they want them now 😡).
The holiday season is the busiest time for shipping carriers like UPS, FedEx, and USPS. 
They all hire extra seasonal help to deal with the influx of packages, but delays still happen.
If you're buying gifts during the holidays, be sure to plan ahead and give yourself enough time. 
We recommend adding an extra day or two to your shipping time estimate just to be on the safe side.
UPS and FedEx don't consider Saturday a business day for general shipments, so if you ship on Friday with two-day shipping, your package will be delivered on Tuesday (hopefully). 
If you need your package to arrive on Monday, you'll have to choose one-day shipping (or Saturday shipping for an additional fee), which can get expensive.
Luckily, USPS considers Saturday a business day. This means your package will arrive on Monday if you ship on Friday using Priority Mail two-day shipping.
Delivery date requirements
It's all about C.R.E.A.M.
Cash rules everything around me, that is. If you've got the green, you can get things faster.
In non-hip-hop terms: It's often possible to reduce the total transit time if you're willing to pay for it.
For example, UPS offers a three-day select shipping service that gets a package to its destination in three days within the 48 contiguous US states, not including Alaska or Hawaii. 
But this service is more expensive than the regular UPS Ground shipping service.
Paying for expedited shipping also impacts the shipping time. 
For example, if you choose one-day (UPS Next-Day Air) shipping with UPS, your package will be delivered the next business day. 
However, this service is very expensive and not always available (boo).
Inaccurate shipping information
To quote another famous rap lyric, "Get it right, hit it tight."
Yes, that song was referencing booty rockin' everywhere, but here we're taking the message to a slightly less peachy topic: shipping.
If you give shippers the wrong info, your package probably won't arrive on time.
A misspelled or incorrect address can cause delays because the shipping carrier might not be able to deliver your package.
This can cause shipping delays or — much worse! — the package won't arrive at all. 
When a package gets returned, the delivery company will usually return it to the sender (like an online retailer). 
Then, the retailer will have to contact you to get the correct address, which takes time.
To avoid this problem, be sure to double-check the shipping information before sending a package or placing an online order.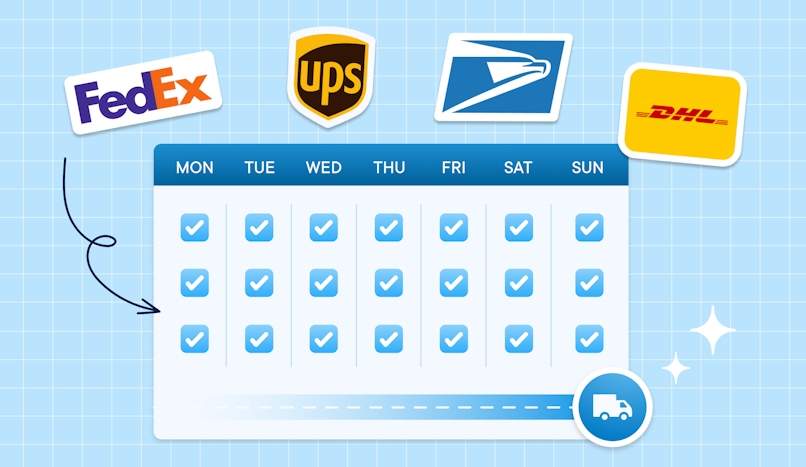 Shipping times by carrier
Do you need to overnight Grandma's birthday present, or will a five-day delivery time work?
How quickly you need your package to get over the river and through the woods to Grandma's house can be a deciding factor.
When deciding between major carriers, it helps to know the average shipping times.
Let's look at average delivery times from the top shipping carriers.
FedEx
FedEx Economy shipping (packages up to 70 pounds and 130 inches in length) is offered through FedEx Ground delivery services and includes tracking. 
You can use the FedEx shipping estimator tool to estimate your shipping costs. 
Typically, delivery takes two to seven business days.
Within the contiguous United States: One to five days
Alaska and Hawaii: Three to seven days
First-class and overnight shipping are faster shipping options, with overnight shipping providing next-business-day deliveries for packages and freight.
You can also ship to more than 200 countries and territories with FedEx International Economy. 
International shipping transit time is typically within two to five business days.
Waiting for a package from FedEx? Read our post on how to track a FedEx package. 
We've also got the inside scoop on how to find FedEx pickup/dropoff locations near you. 
UPS
The UPS economy shipping service (packages can be up to 150 pounds and 108 inches in length) is available with UPS Ground and includes package tracking.
UPS Flat Rate (now called Flat Rate) shipping rates depend on the package size.
Domestic shipping typically takes one to seven business days.
Within the contiguous United States: One to five days
Alaska and Hawaii: Three to seven days
UPS international economy (called Worldwide Economy) typically takes five to 12 business days.
You can get more details on shipping costs and rates.
If you need faster delivery options, UPS has express shipping options and Next-Day Air for supply chains and businesses. 
But the easiest way to see how soon your package can ship is to visit the Create a Shipment page, enter the information, and see what expedited service is available. 
You'll also find a transit time calculator and get an estimate on when your package will arrive.
USPS
Unlike private carrier services like FedEx and UPS, Saturday is a standard delivery day. 
This means USPS business days include Saturday.
USPS offers economy shipping for packages 70 pounds and under through Priority Mail, USPS's domestic delivery service.
The average delivery time through Priority Mail is one to three business days. 
But USPS extended this to up to four days during the COVID-19 pandemic.
First-Class Package service generally arrives in two to five days.
Priority Mail Express deliveries can be overnighted or scheduled for one to two days.
If you need international shipping, USPS Priority Mail ships to more than 190 countries with average times of six to 10 days.
DHL
DHL economy is offered through DHL SmartMail Parcel (up to 16 ounces) and Parcel Plus Ground (up to 25 pounds).
Domestic deliveries ship within three to eight average postal service days. 
You can get a shipping quote online.
DHL Parcel International Standard offers international shipping to the US, Europe, and Canada in four to eight business days, while it's eight to 14 business days for the rest of the world.
Which carrier delivers the fastest?
It's a simple question with a not-so-simple answer.
The truth is, when it comes to the fastest shipping carrier, it depends.
This is because a lot of factors go into determining which shipping carrier is the fastest. 
The size and weight of your shipment, your destination, and the time of year all play a role in how fast your package will move through the shipping process.
UPS offers perhaps the fastest shipping option, UPS Express Critical, while FedEx International Next Flight shipping allows you to send your package anywhere on the next available flight 24 hours a day, seven days a week.
However, it comes with a hefty price tag for urgent shipping.
If you're shipping domestically, USPS is a solid choice.
Not only do they offer domestic shipping at reasonable prices, but they also have a number of shipping options that let you choose the level of service that best meets your needs. 
For example, if you need your package to arrive in two days or less, you can choose USPS Priority Mail Express shipping.
When it comes to the fastest shipping carrier, it really depends on your specific shipping needs. 
Now the fun part: Waiting for your package to arrive
Is Grandma's birthday present over the river but not through the woods yet?
Will that wolf repellant spray make it to her on time?
Find out with Circuit Package Tracker, which lets you easily track your packages — no matter which major shipping carrier you choose.
With real-time updates, you'll know where your package is and when it'll arrive.
Circuit Package Tracker is easy to use and allows you to find your delivery anywhere in the world in seconds.