7 minute read
More Businesses Are Choosing To Ship Directly to Consumers
A look at Google search data and a survey of over 500 business leaders reveals that DTC shipping is trending. Learn more about the biggest benefits and challenges of making the switch.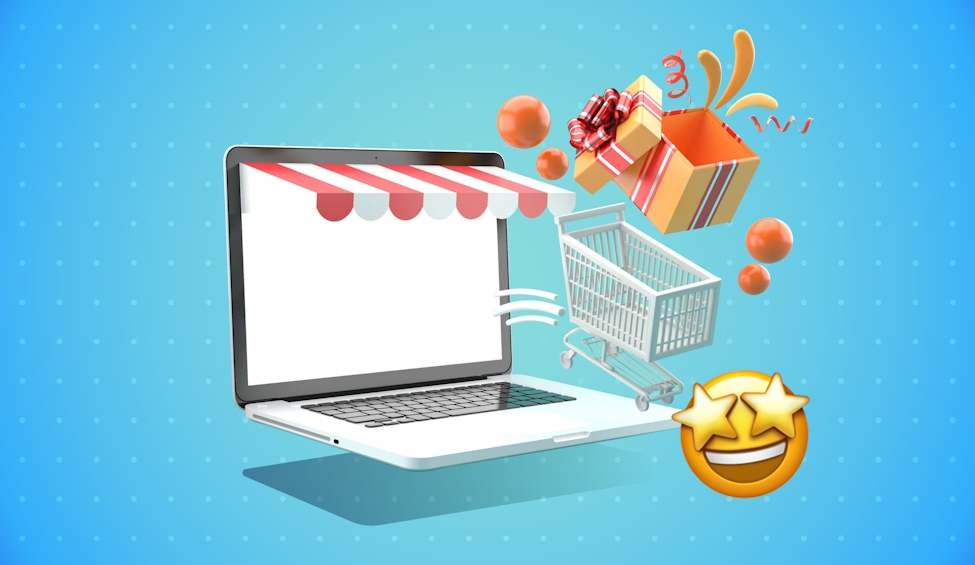 The demand for DTC products in 2023 will be at an all-time high, and consumers want their purchases delivered quickly and accurately.
Key takeaways
1 in 10 business leaders are planning to switch to a DTC model in 2023. 
Rugs, clothes and glasses are the Americans' most in-demand DTC products in 2023.
94% of tech leaders are interested in switching to DTC next year.
Removing the middleman
Getting rid of the middleman can result in stronger brand messaging and customer loyalty.
After all, a retailer selling hundreds of products won't spend the same time and effort promoting one product as the company that made it would.
The direct-to-consumer (DTC) business model creates an opportunity to develop a positive connection with consumers at every stage of the relationship, from advertising to post-sale customer service.
It also gives you direct access to customer data, allowing business owners to study consumer trends and interests, which is key to retaining customers and developing new products.
Having a good relationship with the end user of a product is also a great way to achieve word-of-mouth — one of the oldest and most effective forms of advertising. Friends don't let friends buy mediocre merchandise, and you can't rely on a third party to develop that kind of following for you.
It's easy to understand why more businesses are taking the DTC route.
But switching to a DTC model isn't always easy, and we wanted to find out the common motivations for taking this big step, as well as, the common pain points. To do this we talked to nearly 600 business leaders, to learn from their successes and failures to help future dispatchers and other adopters of a DTC model. Find out what this change might mean for you and your delivery team in 2023.
Consumer cravings
According to Google Trends data, consumer demand for DTC products is on the rise. We'll start by looking at which states are the most interested and which are lagging.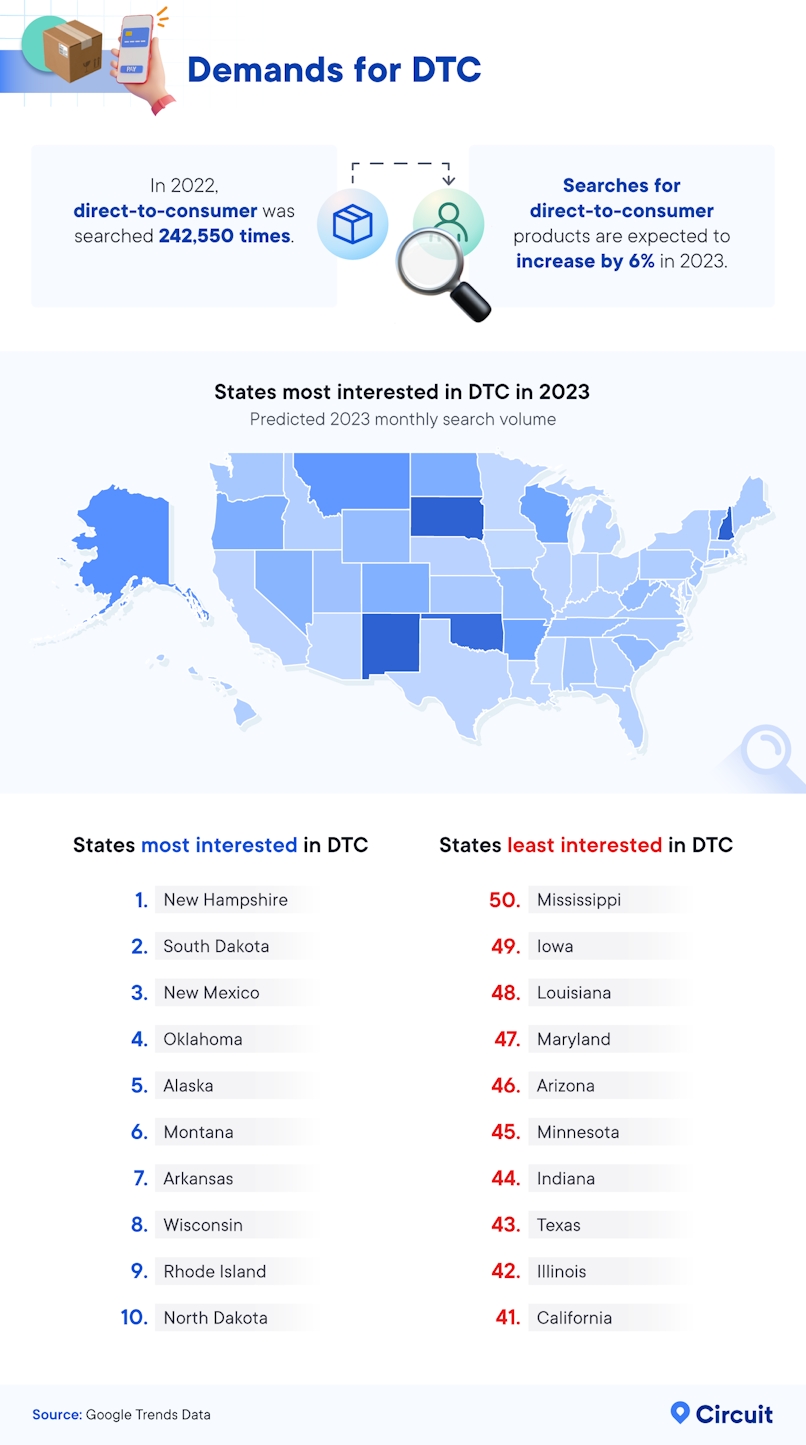 Compared to the average number of online searches nationwide (which totaled 242,550 in 2022), some states appeared more interested in DTC products than others.
Based on our analysis, it's projected that New Hampshire residents will be the most interested in buying directly from manufacturers in the coming year.
On the other hand, some states seemed far less interested than most — particularly Mississippi, whose residents made the least number of DTC searches compared to the national average.
Iowa and Louisiana were the other bottom three states and will likely be the least interested in DTC businesses going into 2023.
However, we expect that searches for DTC products will increase overall by 6% next year. So, no matter what state you're in, prepare to handle more DTC business soon!
Key takeaway: Residents most interested in DTC products in the coming year likely live in New Hampshire, South Dakota, New Mexico, Oklahoma and Alaska, so you may see an uptick in DTC shipping to these areas.
The most coveted DTC products
Now that we know where the most interested DTC customers are, what are they looking to buy? Next, we'll lay out which items shoppers will most likely seek in 2023.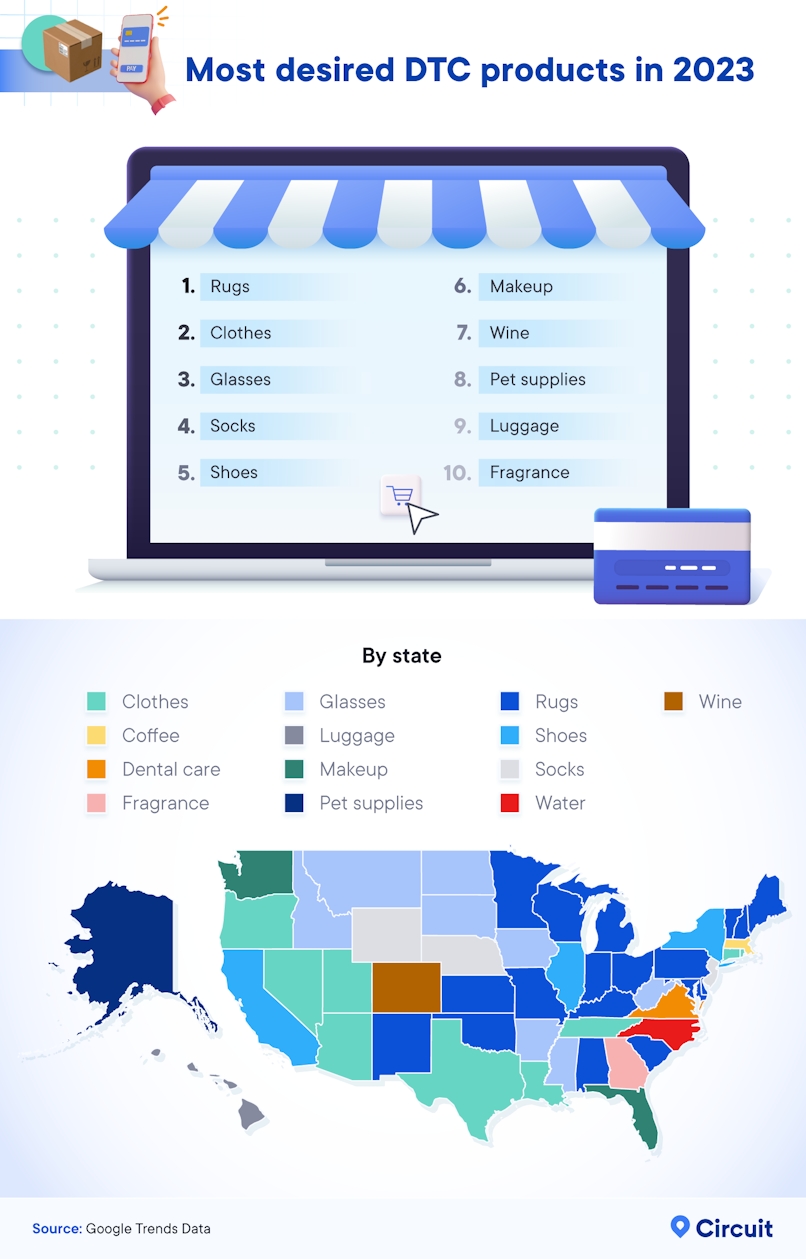 We used Google Trends data to figure out how many Americans have searched for DTC brands in 2022 and predict how many people will likely make the same search next year.
Rugs were the most popular items people wanted to buy from a DTC business.
Jeans and luggage were also popular searches, indicating many people are probably ready to change out of their pandemic PJs and get out in the world!
States in many US regions have been searching for DTC rugs lately, including Texas, Arizona, Nebraska, South Dakota, Indiana, West Virginia and Maryland. However, Washington, Nevada, Utah, and Missouri residents were more interested in jeans.
Meanwhile, luggage searches spanned every corner of the nation. This item was the top DTC search in Alaska, California, Colorado, North Carolina, and New Jersey. 
But while alcohol sales spiked during the pandemic, it was not among the top ten searches for DTC shopping this year. Still, businesses in this category may be keeping an ear to the ground next year for a golden opportunity, especially in Minnesota and Mississippi. 
Although certain states have laws limiting where you can ship alcohol, legislation has been introduced that might lower the barriers separating some alcohol producers from potential customers. If the bill passes, online DTC alcohol sales could see an uptick.
Key takeaway: Lots of rugs, jeans, and luggage will likely be shipped around the US in 2023, but alcohol deliveries might be close behind.
Side effects of switching
Many businesses have switched to DTC and are reaping the benefits of selling directly to the consumer. But they've seen some challenges, too.

The top benefit our respondents have enjoyed thanks to switching to DTC is having better relationships with their customers.
This benefit can also increase the lifetime value of a customer, meaning a business can get more out of those relationships throughout their duration.
The biggest challenge, however, was building a delivery fleet.
Luckily, businesses can focus on what they do best, like product development and marketing, by outsourcing delivery to the experts. 
In fact, more than a quarter of business leaders said they struggled to plan delivery routes after switching to DTC. Even more said that finding, scheduling and managing delivery drivers were challenging.
Delivery issues are a problem among some DTC companies, but especially for smaller ones: 51% of small businesses struggled with managing order fulfillment.
Key takeaway: DTC shipping has many benefits, but it's not without its challenges. Careful planning and the right tools can help companies reduce delivery issues and other challenges.
The future of DTC
Regardless of the challenges, the future of DTC is exciting.
Business leaders switching to this form of shipping shared their motivations for this with us.

Almost 100% of respondents not currently using a DTC model said they plan to switch to one in 2023.
Their motivations included reducing expenses, cutting out the middleman, and maintaining better control over marketing.
A third (or more) of businesses are also interested in creating more revenue, increasing customer loyalty, and having more control over the customer experience.
Reducing expenses was the top motivation for those in the business service and media, and entertainment industries. Those in health care want better control over their marketing, while those in technology wish to cut out the middleman.
Despite plans to switch to a DTC model, business owners had several concerns, such as quality assurance, shipping a high number of small packages, packaging, and high shipping costs.
Regardless of business size, reducing expenses is key, which involves cutting out the middleman for many DTC businesses.
A higher percentage of small businesses than large businesses are motivated by better control over marketing.
But nearly twice as many small businesses are motivated to increase customer loyalty. Large business owners may feel they can make up in volume what they lack in loyalty.
Quality assurance and shipping a high number of small packages were concerns for all businesses planning to switch to a DTC model. Packaging was more of a concern for small and medium businesses.
High shipping costs were the biggest concern for small businesses (57%), while large ones were less concerned (23%).
"Last-mile" problems were a concern for all businesses, although less of a concern for large businesses than small ones (22% vs. 29%, respectively).
Key takeaway: Reducing expenses, including shipping-related costs, is a motivation and a concern for all businesses.
To switch or not to switch
In business, the bottom line is the bottom line. So when deciding whether to switch, the impact of DTC on the bottom line is important.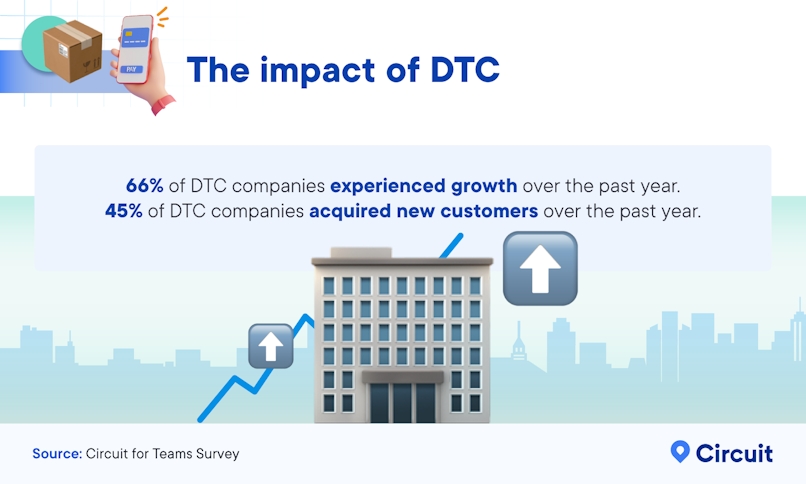 Despite concerns and challenges, many DTC companies did well in the past year. A good number experienced company growth (66%), while almost half gained new customers.
DTC businesses must get their products to their customers efficiently to build success. Reliable delivery is key to remaining competitive and profitable.
Key takeaway: If done correctly, switching to a DTC business model can lead to growth.
Shipping plans in 2023
The COVID-19 pandemic resulted in most shipping grinding, if not to a halt, then to a crawl.
Meanwhile, customers quarantined at home used online shopping and home delivery for essential (and some not-so-essential) goods.
In fact, online sales in the US reached an eye-popping $219 billion from 2020-2021.
With more businesses vying for customers now accustomed to goods arriving at their front doors, shipping has become critical to keeping customers happy.
Bad delivery experiences can impact sales, with most customers saying they wouldn't recommend a retailer with a poor delivery record.
Customers expect to know when a package will arrive and why it's late if it doesn't arrive.
Addressing these issues will be key to retaining customers for retailers and couriers in 2023. Some services such as Circuit for Teams can help alleviate some of this friction by offering options for notifications and proof of delivery for both dispatchers and customers. Expect to see the use of technology to reduce challenges and better manage shipping in a highly competitive market. 
Methodology
To complete this study, we surveyed 576 business leaders. Of our respondents, 85% were currently using direct-to-consumer (DTC) practices, 13% were planning to switch to it in 2023, and 2% were not considering switching.
Additionally, we analyzed Google search trends to find which states were the most interested in DTC brands and what specific products people wanted to buy DTC. We used November 2022 monthly search volume and trends to predict values for 2023. 
About Circuit for Teams
Circuit for Teams is route planning software helping dispatchers manage deliveries and reduce delivery costs. Create and distribute delivery routes, collect proof of delivery and send automatic customer notifications in one place.
Fair Use Statement
Know someone who owns a business and wants to switch to a DTC model? Feel free to share this information with them. Just be sure to include a link to this study and that your purposes are noncommercial.