9 minute read
The Top 4 Retail Delivery Software in 2024
Explore 2024's best retail delivery software! Streamline operations, boost efficiency, and elevate customer satisfaction with top 4 industry leaders.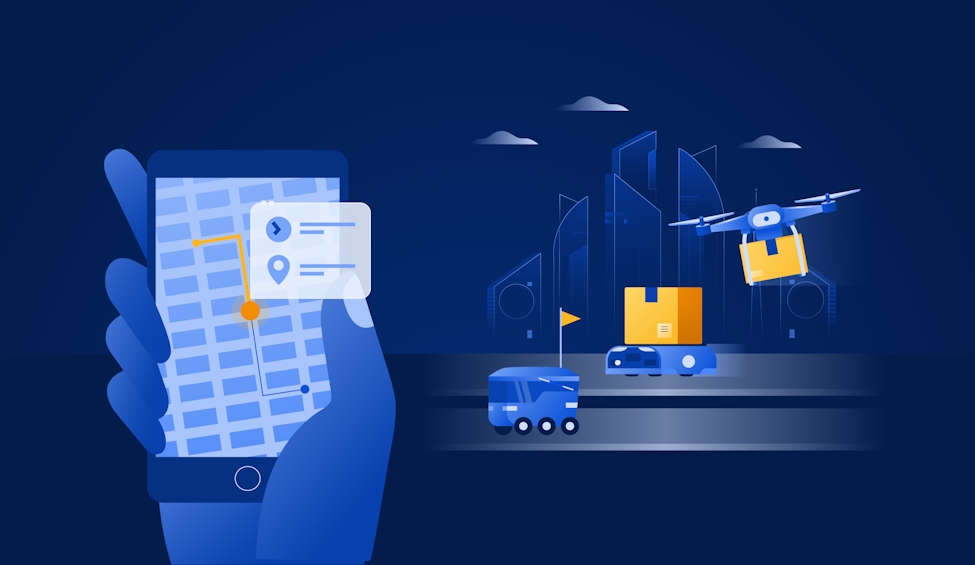 Elevate your delivery operations with Circuit for Teams and optimize every route for peak efficiency and customer satisfaction.
Navigating the bustling world of retail delivery software, we've rigorously researched and compared the leading options available in 2024. In this article, I'll offer unbiased insights and give you the clarity and confidence needed to choose the right solution for your business.
Key takeaways
Implement route optimization and real-time tracking to shorten delivery times and reduce fuel costs.
Select a delivery solution that can adapt to your business's growth and fluctuating delivery demands.
Prioritize delivery software with reliable real-time updates and communication features to maintain customer trust.
Choose a delivery software that seamlessly integrates with your existing systems, both online and offline, to streamline your logistics and enhance operational efficiency.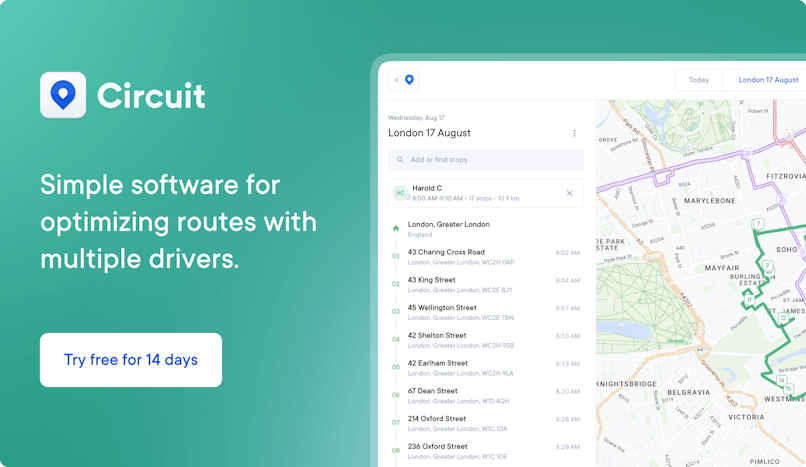 The 4 best retail delivery software
Circuit for Teams: Best for efficiency and seamless multi-stop route planning.
Onfleet: Best for reliability and comprehensive last-mile delivery.
Bringoz: Best for scalable delivery operations.
Cigo Tracker: Best for versatile and dynamic enterprise-level logistics.
What makes the best retail delivery software? 
The best retail delivery software transcends basic functionality to align closely with the unique demands of your business. It should offer robust route optimization solutions and confirm every delivery is executed in the most efficient manner possible, saving time and reducing fuel costs. 
Real-time GPS tracking and live updates enhance transparency, which boosts customer satisfaction. The ideal software should be cloud-based, offering seamless integration with existing systems through robust APIs. 
To facilitate on-the-go management for delivery drivers, user-friendly mobile apps for both iOS and Android are a must. Ultimately, the best software drives profitability by streamlining delivery operations, optimizing routes, and enhancing the overall customer experience.
The best retail delivery software at a glance 
The best retail delivery software for efficiency
In the bustling realm of retail delivery, efficiency isn't just a goal — it's the very foundation upon which successful operations are built. Circuit for Teams is engineered to be the cornerstone of this foundation. It simplifies the intricate web of retail delivery logistics into a streamlined, user-friendly process.
Circuit For Teams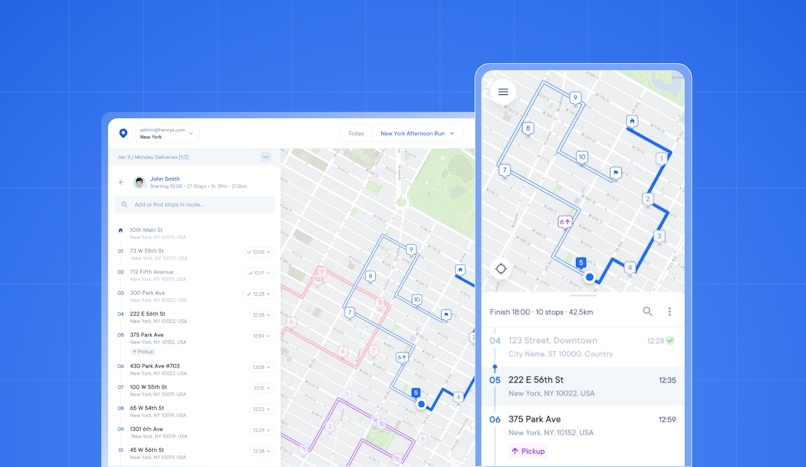 Circuit for Teams is a route optimization solution that stands out for its intelligent algorithm, which meticulously calculates the most efficient routes. It factors in real-time variables like traffic, delivery windows, and vehicle capacity, making sure your drivers spend less time on the road and more time fulfilling orders.
This software isn't just for large corporations. It's also a perfect fit for small businesses seeking to optimize their delivery operations without investing heavily in complex systems.
Circuit for Teams pros:
Time-saving. It drastically reduces the time required for planning and executing deliveries, directly boosting productivity.
Cost-efficient. By optimizing routes, it leads to significant savings on fuel costs.
Enhanced customer satisfaction. Real-time tracking and accurate ETAs keep customers informed, elevating their overall experience.
Intuitive interface. Its user-friendly design means it can be easily adopted by team members of varying tech proficiency.
Customer review:

Circuit for Teams cons:
Connectivity issues. There have been occasional reports of the app struggling with poor connectivity areas.
Learning curve. New users might require some time to fully acclimate to all the features offered.
Customer review:

Circuit for Teams pricing:
Circuit for Teams presents a trio of distinct pricing options tailored to accommodate teams of varying scopes and requirements:
Essentials Plan: $100 per month. Ideal for teams seeking fundamental route optimization and driver progress tracking capabilities. This plan incorporates services for the initial two drivers, with an added fee for each additional driver.
Key features:
Route creation and optimization
Real-time driver tracking
Standard Plan: $200 per month. This plan is suited for teams needing features like proof of delivery and customer notifications. It encompasses services for the first three drivers, with a supplementary fee for each extra driver. It builds upon the Essentials Plan with added functionalities.
Key features: 
Proof of delivery capture
Customer notifications
Pro Plan: $500 per month. This plan is crafted for teams focused on analyzing and enhancing their delivery efficacy. It covers services for the first six drivers, with an extra charge for each additional driver, and has all the features of the Standard Plan along with unlimited access to delivery history.
The additional driver costs for each plan are as follows:
Essentials: $40/driver
Standard: $60/driver
Pro: $80/driver​​
These tiers are meticulously designed to serve businesses of all sizes, from fledgling startups to expansive corporations, so a cost-efficient solution is available for everyone. 
Circuit for Teams empowers businesses to refine their delivery operations, fortify team synergy, and ultimately elevate their profitability. For the most up-to-date and pricing details, consult the Circuit for Teams Pricing.
The best retail delivery software for reliability
In the intricate tapestry of retail delivery, reliability is the thread holding everything together. Onfleet emerges as a robust strand in this fabric, providing a reliable backbone for delivery operations. 
This software is designed with precision to cater to businesses that prioritize consistent and dependable delivery services.
Onfleet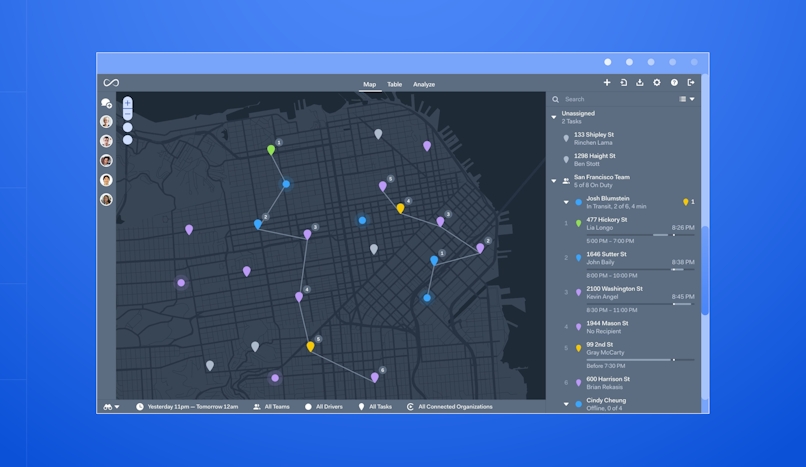 Onfleet simplifies the complexities of delivery management with its intuitive dashboard and comprehensive suite of features. From route optimization and auto-dispatch to real-time tracking and analytics, it offers a holistic solution for businesses of all sizes. 
What sets Onfleet apart is its unwavering commitment to reliability, ensuring deliveries are completed on time — every time.
Onfleet pros:
Dependable tracking. With real-time GPS tracking, businesses and customers alike can trust in the accuracy of delivery ETAs.
Streamlined communication. Automated notifications and a robust messaging system keep all stakeholders informed.
Scalability. Onfleet grows with your business, effortlessly handling increased delivery volumes.
Customer review:

Onfleet cons:
Interface learning curve. Some users find the interface initially overwhelming due to its extensive features.
Pricing structure. The cost can be a consideration for smaller businesses or those with tight budgets.
Customer review:

Onfleet pricing: 
LAUNCH Plan: Priced from $550 per month, this plan is crafted for budding and smaller teams. Its offerings include:
A quota of 2,000 delivery or pickup tasks
No cap on user numbers
Features for route optimization
Capture of photo and signature as proof of delivery
Notifications triggered by status and ETA
Analytics for the past 90 days
Support via email and scheduled phone calls
SCALE Plan: Starting from $1,265 per month, this tier is aimed at expanding delivery operations. It encompasses all features of the LAUNCH plan, with additions such as:
An increased task limit of 5,000 deliveries or pickups
Tools for barcode scanning and age verification
Enhanced notifications for ETAs
Customizable task completion features
Extended analytics covering a year
Standard assistance with onboarding
ENTERPRISE Plan: This plan is custom-priced to meet the needs of well-established delivery networks. It extends the SCALE plan with:
A flexible task allowance exceeding 5,000
Refined route optimization capabilities
Support for multiple brands or regions
Enterprise-grade Single Sign-On (SSO)
A customized tracking page for recipients
Unlimited access to historical analytics
Premium support for onboarding and implementation
Superior Service Level Agreements (SLAs)
OnFleet's tiered pricing makes sure that businesses from startups to large enterprises can find a plan aligning with their operational requirements and growth ambitions. For up-to-date pricing and more, check out Onfleet's pricing page. 
The best retail delivery software for scalability
Scalability is the lifeline of a growing business, and when it comes to retail delivery, Bringoz is a software that grows with you. It's a comprehensive delivery management platform that caters to businesses of all sizes by adapting to their evolving needs.
Bringoz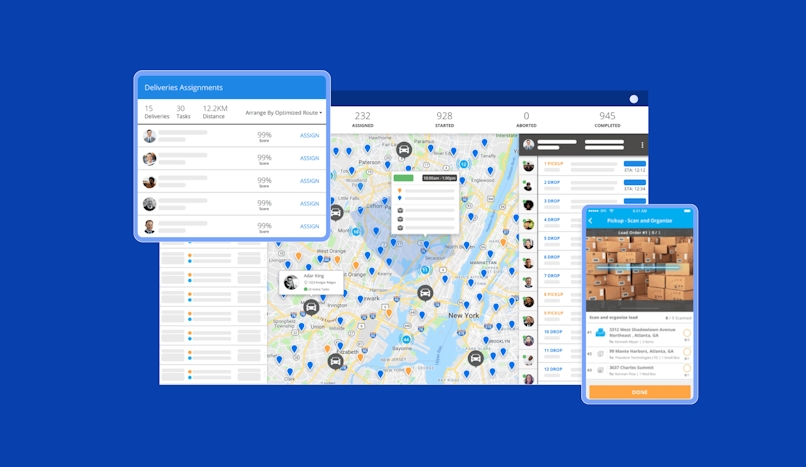 Bringoz streamlines the complex delivery process with its robust platform, facilitating everything from route planning to delivery execution. Its cloud-based infrastructure creates flexibility, allowing businesses to scale up or down based on demand. 
Designed for a diverse range of industries, Bringoz is especially adept at handling the dynamic requirements of retail delivery.
Bringoz pros:
Adaptability. Can easily accommodate fluctuating delivery volumes.
Customer-centric. Offers tools for enhanced customer communication and satisfaction.
Advanced features. Equipped with sophisticated analytics and reporting tools for informed decision-making.
Customer review:

Bringoz cons:
Complexity. The wide array of features may be overwhelming for smaller teams.
Integration. Some users report challenges in integrating Bringoz with existing systems.
Customer review:

Bringos pricing: 
Bringoz offers customized pricing based on the specific needs and size of your business. Their model is designed to be cost-effective, ensuring you pay for what you need without unnecessary expenditures.
The best retail delivery software for versatility
In the fast-evolving sector of retail delivery, versatility is a prized attribute. Cigo Tracker stands tall as a versatile retail delivery software equipped to handle the multifaceted challenges of modern delivery operations. 
This platform is engineered for businesses needing a flexible, all-encompassing solution to manage their delivery ecosystem.
Cigo Tracker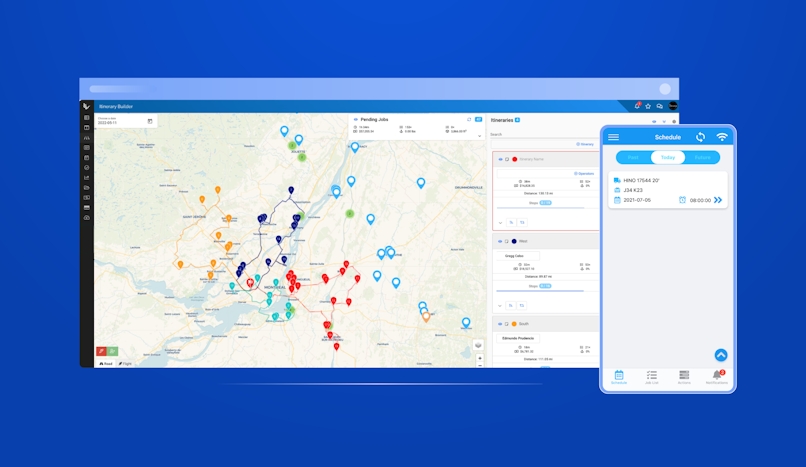 Cigo Tracker streamlines the delivery process from start to finish. It boasts features like real-time tracking, route optimization, and comprehensive incident management. Its ability to integrate seamlessly with eCommerce platforms makes it particularly suitable for businesses that operate both online and offline.
Cigo Tracker pros:
Comprehensive coverage. Manages every aspect of the delivery process, from order receipt to proof of delivery.
Customer engagement. Enhances customer satisfaction with real-time SMS and email updates.
ECommerce integration. Smoothly integrates with existing online platforms, providing a unified customer experience.
Customer review:

Cigo Tracker cons:
Complexity. The extensive range of features may require a learning curve for new users.
Pricing. The advanced capabilities come at a premium, which might be a consideration for smaller businesses.
Customer review:

Cigo Tracker pricing: 
Cigo Tracker offers tailored pricing plans based on the specific needs and scale of your operations. They focus on providing a cost-effective solution that aligns with your business requirements.
Which is the best retail delivery software overall?
In the ever-competitive landscape of the retail industry, Circuit for Teams emerges as the best retail delivery software overall. 
Its prowess lies in its ability to fuse real-time visibility with operational efficiency, crafting an unparalleled delivery experience. For retail businesses grappling with the complexities of the supply chain and back-office operations, Circuit for Teams offers a seamless delivery solution.
With Circuit for Teams, delivery scheduling becomes a breeze through enhanced delivery times and capabilities. The intuitive driver app equips delivery personnel with real-time updates and order status at their fingertips, fostering faster delivery execution. 
As a software solution, it does more than manage a fleet. Circuit for Teams redefines's the home delivery paradigm by slashing operational costs and elevating customer satisfaction.
Circuit for Teams isn't just a delivery app — it's a holistic delivery business partner that integrates effortlessly with existing systems, empowering retail businesses to navigate the challenging terrain of modern delivery demands.
Sign up with Circuit today
Circuit for Teams is a clear leader in retail delivery software solutions. It harmonizes real-time visibility with fleet management proficiency, ensuring your delivery business operates at peak efficiency. From the back-office to the front line of delivery, it streamlines every facet of the delivery process and gives a comprehensive delivery solution for retail businesses.
By harnessing the power of Circuit for Teams, your business can unlock faster delivery times, diminish operational costs, and offer an enhanced delivery experience that resonates with modern consumer expectations. Embrace the future of retail delivery with a software solution tailored for success in the fast-paced retail industry.
Don't let your business fall behind. Sign up with Circuit today and revolutionize your delivery operations with a solution designed for the present so you can be prepared for the future.