10 minute read
Onfleet Competitors: Comparing 5 Delivery Management Platforms
Introducing 5 of the best Onfleet competitors, including Circuit. We cover tools that offer route optimization alongside key delivery management features.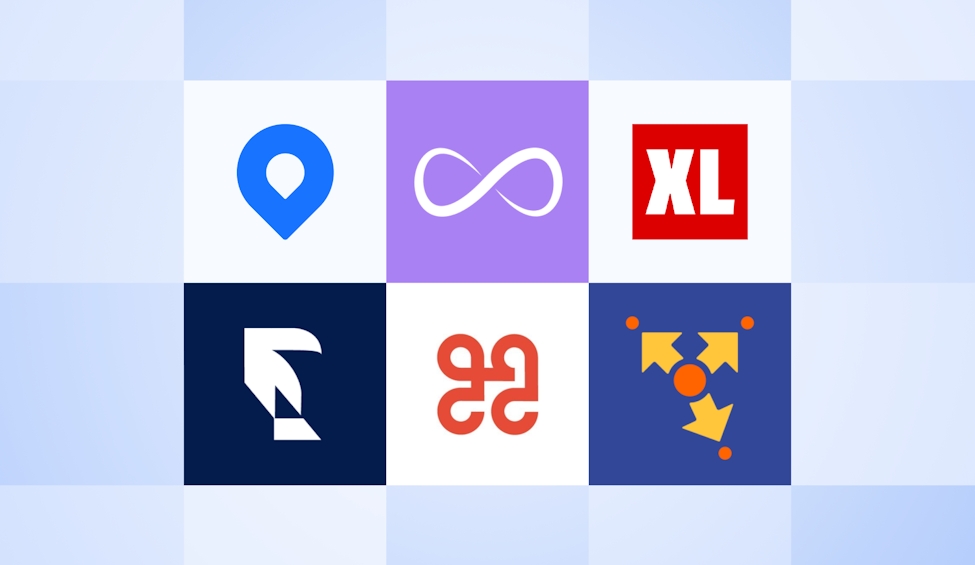 Onfleet is a popular delivery management software, but is it the right one for you? You may be searching for Onfleet competitors because of its pricing models, feature limitations, or maybe it just doesn't seem like the right fit for your business.
If you run a small or medium-sized business and you're looking to add local delivery to your operations, Onfleet can get expensive because of its flat pricing system ($349 per month for route optimization).
It becomes more economical if you have dozens of drivers — or more — doing your last-mile deliveries. And Onfleet also limits the number of pick-ups or stops each driver can make, which is an issue if your drivers are dealing with a high volume of deliveries.
If all of this means that Onfleet isn't right for your delivery business, what are the alternatives?
In this post, we'll introduce you to 5 Onfleet competitors, including Circuit. The list covers a range of tools that offer route optimization as a baseline functionality, but each contains features suited to specific types of delivery businesses.
Before diving into the other tools, we'll introduce our own delivery management software — Circuit for Teams.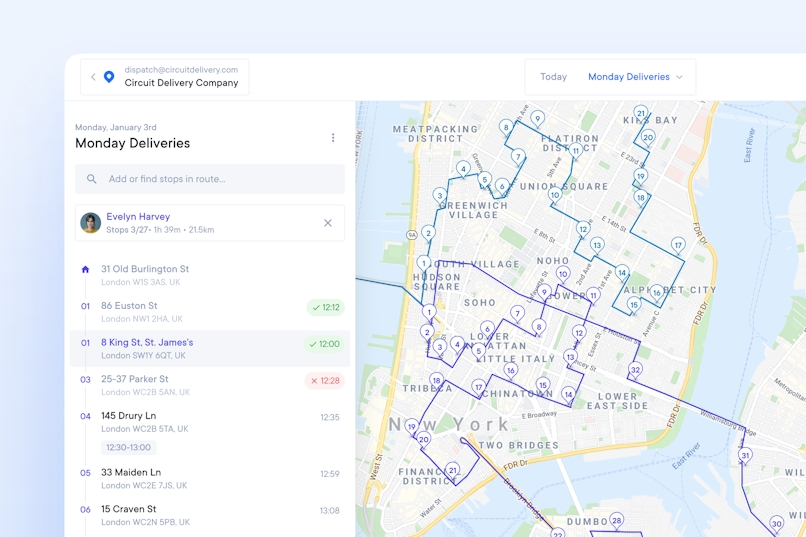 Circuit for Teams is our route optimization and delivery management software for businesses that are managing teams of delivery drivers. With Circuit for Teams, dispatchers and managers get an easy-to-use web app — while drivers access a free mobile app to handle their deliveries.
Using the web app, dispatchers can:
Import stops easily
Dispatchers can type in a list of delivery addresses — or import a spreadsheet in bulk — to create optimized delivery routes for multiple drivers within minutes. This automated process saves time and takes the guesswork out of route planning for a team of drivers.
👉 Real stories: One of our customers, Plant Shop in Seattle, saved five hours per week on route planning using the Circuit for Teams route optimization tool. And before using Circuit for Teams, beverage wholesaler OK! Kombucha spent an average of 7 minutes at each delivery stop. That's gone down to less than 3 minutes, saving 12.5 hours per week.
Add priority and time windows
Dispatchers can add priority time windows for specific deliveries when customers request theirs within a certain time slot. This is useful when customers pay for priority delivery, for example, or when products need to be delivered within a time frame to keep them fresh.
Monitor routes
Dispatchers can monitor and track routes in real-time, allowing dispatchers to check up on drivers without slowing them down by calling them. Circuit tracks each driver's progress in relation to every stop along the route, which means it can calculate accurate ETAs for each delivery — and keeps these updated as the route progresses.
Make changes
Dispatchers can also make changes to routes in progress, as needed throughout the day. If drivers need to make an extra stop or pick up a new package along their route, all the dispatcher needs to do is add it to that driver's list of stops. Circuit automatically updates and optimizes the route in real-time and the driver simply follows their new route instructions.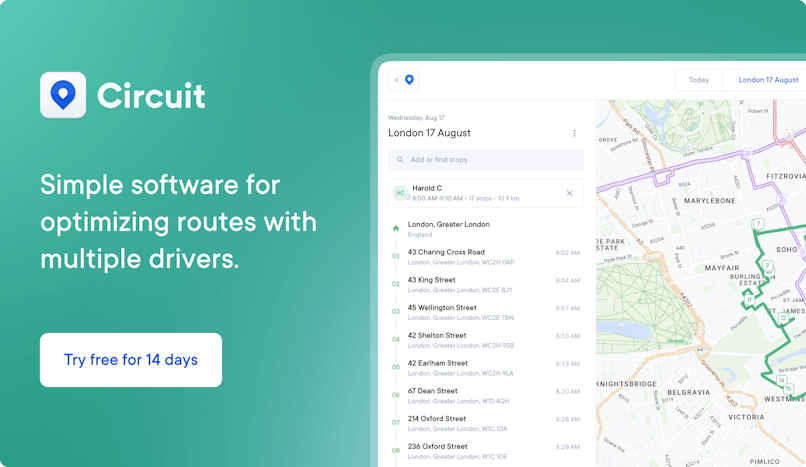 And that's not all! Using the Circuit mobile app, drivers can:
Use their favourite navigation app
Drivers receive their optimized delivery route on their iOS or Android smartphone — and follow it using their favourite maps app, including Google Maps, Waze, and Apple Maps. No need for any extra devices, or unfamiliar pieces of software.
Avoid traffic
Drivers get a constantly-updated optimized route based on traffic conditions. Circuit helps drivers avoid heavy traffic, and re-routes them so they can finish their delivery route as quickly (and safely) as they need to.
Get route updates
Drivers can also get notifications from dispatchers about route changes, or other messages and updates. There's no need to pull over to take a call from headquarters while out on a route.
Capture proof of delivery
Drivers can easily capture proof of delivery (PoD) through an electronic signature and/or a photo. This information is automatically sent to the cloud and stored for use in any potential customer queries or disputes.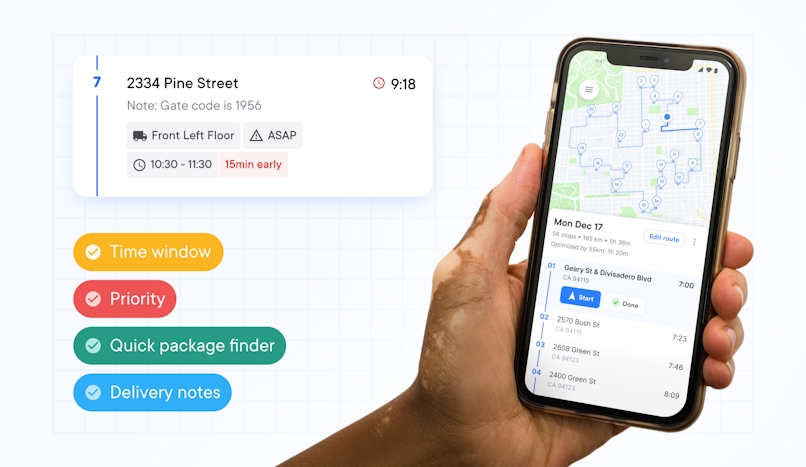 The benefits of Circuit for delivery recipients
Accurate delivery updates
Recipients get accurate ETAs sent directly by email or SMS, keeping them up to date with the progress of their delivery, and informing them of any delays. They don't need to be on a constant lookout for the delivery truck or stay at the location for longer than absolutely necessary. This improves customer satisfaction.
Proof of delivery notifications
Proof of delivery notifications offer peace of mind that orders are fulfilled and delivered to the correct recipient and address. If the delivery is not received, the electronic signature or photo capture can be checked for proof of who took the delivery and where.
Note: Circuit also offers a package tracker, which customers can use to track any package anywhere in the world. All they need is their tracking number.

Circuit for Teams pricing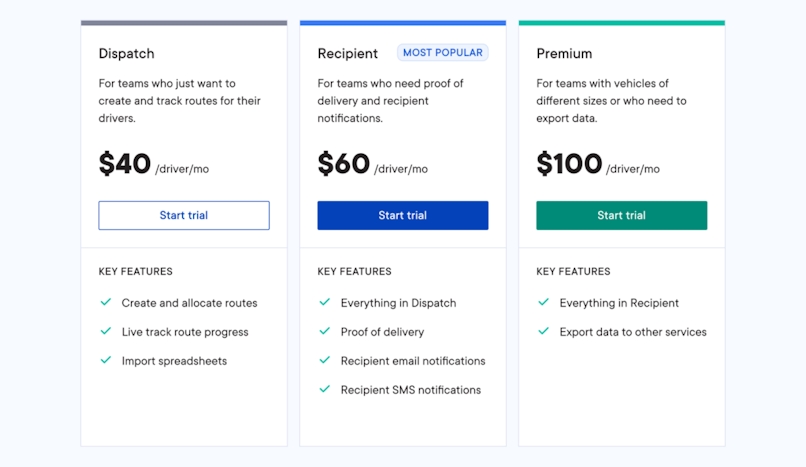 We offer three pricing tiers. The most popular is the Recipient Plan, which allows you to:
Create and allocate optimized routes
Track route progress in real-time
Import spreadsheets of addresses
Capture proof of delivery
Send recipient email and SMS notifications
The Circuit for Teams Recipient plan, our most popular option, is $60 per driver, per month. We don't tie you into a long contract, and you can scale your subscription up or down on a monthly, weekly, or even daily basis depending on your needs — e.g. whether it's a busy period or not.
In contrast, Onfleet's second-tier "Basic" level plan currently costs $349 per month, but it limits the number of stops or pickups made by the whole team to 2,500 per month. If your team goes over this amount of delivery stops in a given month, you'll be charged extra for each stop.
If you want to find out more about how Circuit compares with Onfleet in more detail, we took a deep dive in our article, Onfleet vs. Bringg vs. Circuit.
Need an efficient way to optimize your routes and manage a team of drivers making deliveries? Try the Circuit for Teams free trial.
The next Onfleet competitors we'll explore in this guide are:
Bringg
Tookan
RouteXL
Route4Me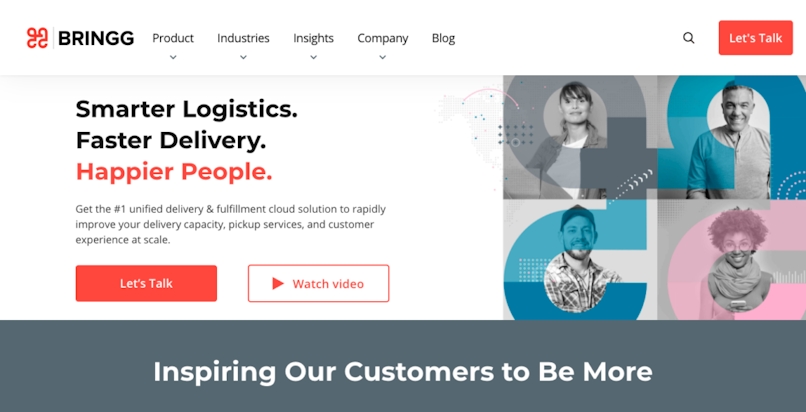 Bringg is an enterprise delivery management software, which is popular with large organizations and brands that need to manage both on-demand delivery and supply chain management.
Bringg deals with both the back-end operations involved in managing supply chains and inventory, as well as delivery operations. It is designed with both first mile delivery (from supplier to delivery warehouse) and last-mile delivery (warehouse to consumer) in mind and is not focused on the specific needs of small or medium-sized businesses.
Bringg's back-end operations features include:
Integration with some eCommerce platforms and fleet management platforms;
Inventory tracking using a barcode scanner, and;
Customizable pick-up and drop-off locations.
And their delivery management features include:
Route optimization;
Proof of delivery capture;
Automated dispatch for on-demand delivery;
Communication between drivers, and;
Driver analytics.
Bringg Pricing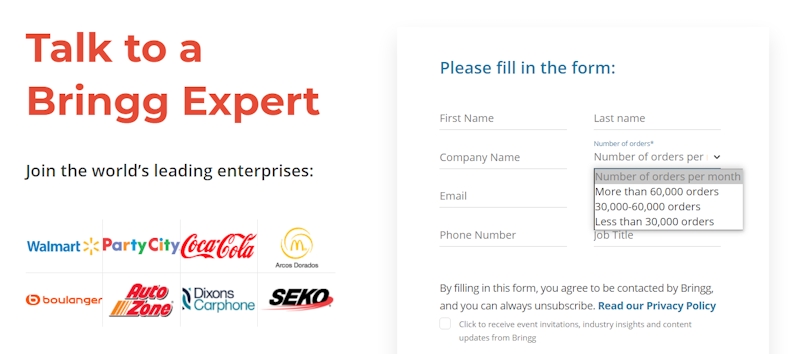 Because Bringg's pricing is tailored to each enterprise's specific needs, it doesn't publicly advertise prices and conditions for tiers. Its online form for requesting further information does, however, give a sense of the size of the businesses it focuses on. This form asks the user to specify a number of orders per month — beginning at "less than 30,000 orders."
Key takeaway: Bringg is a delivery management and supply chain management software, and it is designed primarily for enterprise organizations. It is best for large delivery teams, businesses who are handling orders through multiple channels, and a mixture of use cases: first-mile delivery, last-mile delivery, and on-demand delivery.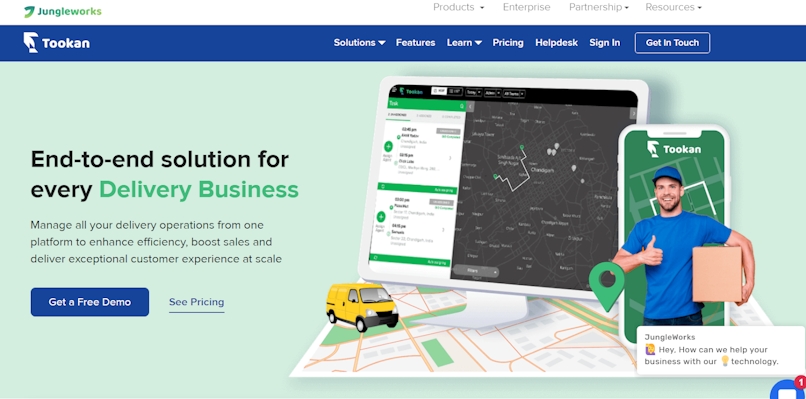 Like Bringg, Tookan is an enterprise delivery management system, designed for large organizations. It offers standard features such as route optimization and route tracking, while also offering services that are designed for on-demand delivery.
Tookan also offers:
Integration of eCommerce platforms;
Cash management functionality;
Barcode waybills (instructing couriers where to deliver a package);
Geofencing for specific drivers or teams;
An SDK (Software Development Kit) for brands to develop their own features
Fulfillment automation functionality;
Fleet analytics, and;
Customer rating and feedback tracking functionality.
Tookan pricing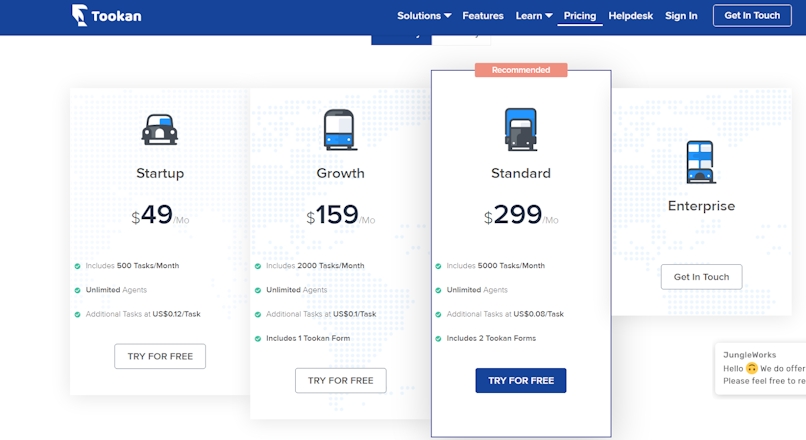 Tookan offers three pricing tiers, based on a flat fee per month (ranging from $49 to $299), plus a tailored enterprise solution. The fee pays for an unlimited number of couriers, but limits delivery teams to a certain number of pick-ups or drop-offs per month, with additional tasks costing between $0.08 and $0.12 per task.
Key takeaway: Tookan caters mostly to large enterprises, who are focused on on-demand deliveries, managing large teams of contractors (or clients). It also works for companies who want to adapt and customize the existing Tookan platform to their own complex needs.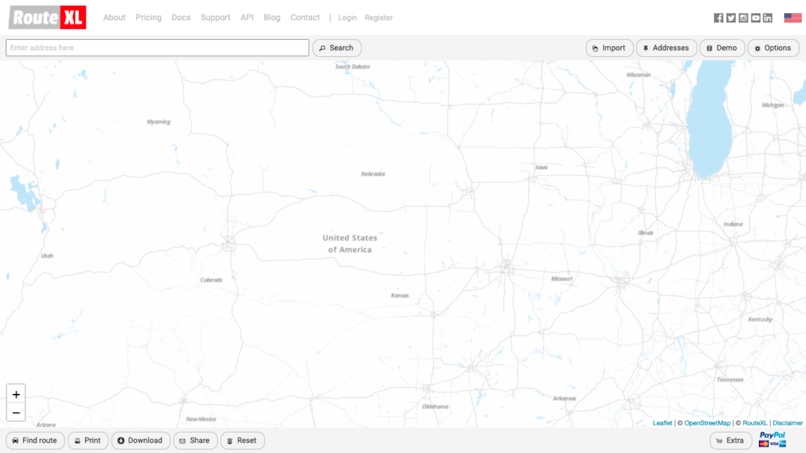 RouteXL is a simple routing tool for optimizing routes with multiple destinations. Like Circuit, it uses an algorithm to calculate the fastest and most efficient routes for deliveries, pickups, and other services.
RouteXL can be used for driving directions through sat nav systems such as Garmin and Tom Tom, and they offer an API — allowing users to bolt on RouteXL's routing functionality to other apps and software. But it has some limitations when compared with Circuit and the other Onfleet competitors we've featured. For example:
Route optimization is limited to an online interface (i.e. no mobile app);
Once routes have been calculated, they can't be easily changed;
Optimized routes can only be printed out, sent by email, or followed on sat nav systems;
Each driver's route must be calculated separately.
RouteXL pricing
Route XL has two paid pricing tiers, starting at €5 per day and ranging up to €70 per month. There's technically no limit on the number of routes that can be calculated, although this is capped by a "fair use" policy. It does limit the number of stops calculated per route to 20 on the free version, 100 on the RouteXL 100 plan, and 200 on the RouteXL 200 plan.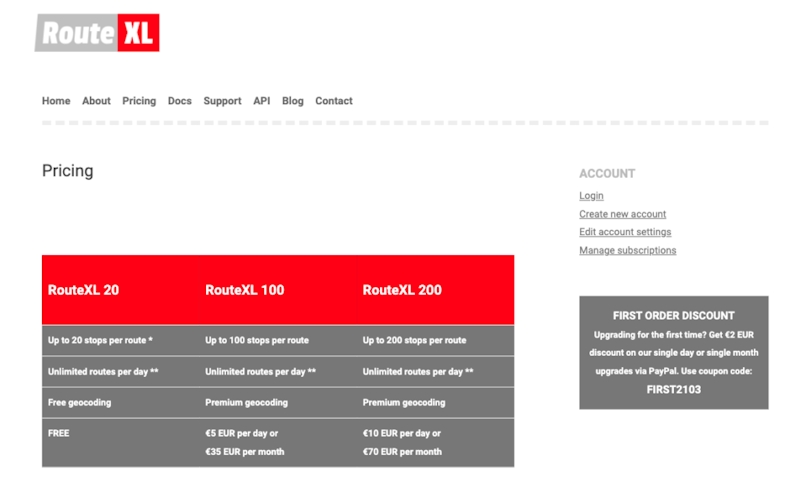 If you're interested in a more in-depth comparison of RouteXL and Circuit, read our post: RouteXL vs. Circuit: Do You Need Route Optimization Software or Delivery Planning Software?
Key takeaways: RouteXL is a straightforward route optimization tool. It's useful for individual couriers or really small teams who only do occasional deliveries. Unlike Circuit and other Onfleet alternatives in this list, RouteXL doesn't have a mobile app, and doesn't offer features such as proof of delivery, recipient notifications, or real-time driver tracking.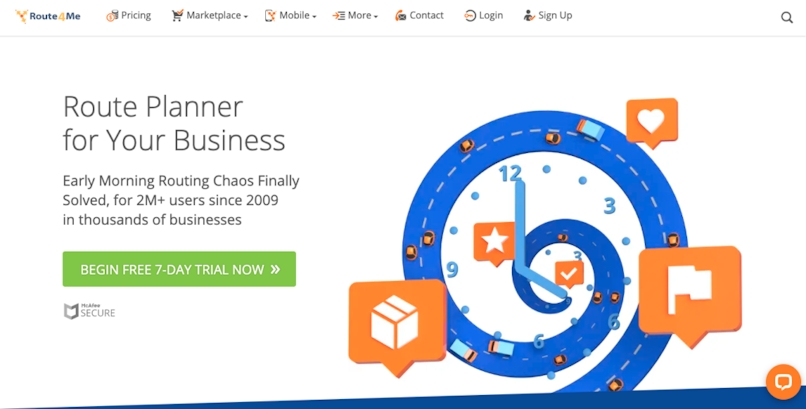 Like RouteXL, Route4Me is first and foremost a route optimization tool. Route4Me is designed for field service businesses in various different industries (it's not specialized for deliveries). So, if you employ sales reps or technicians who drive out to customers, Route4Me may be worth considering. It offers a lot of customization options, which makes it well-suited to fleets that need to do other tasks apart from delivering packages.
For example, with Route4Me, you can:
Monitor and analyze driver performance and behavior by tracking vehicle speed, unscheduled stops, and braking patterns;
Use a geofencing tool to notify customers the driver is in their area based on how far away the vehicle is from the locations or how long it will take the field rep to arrive;
Plan recurring routes for field reps who regularly travel to the same destinations.
Route4Me Pricing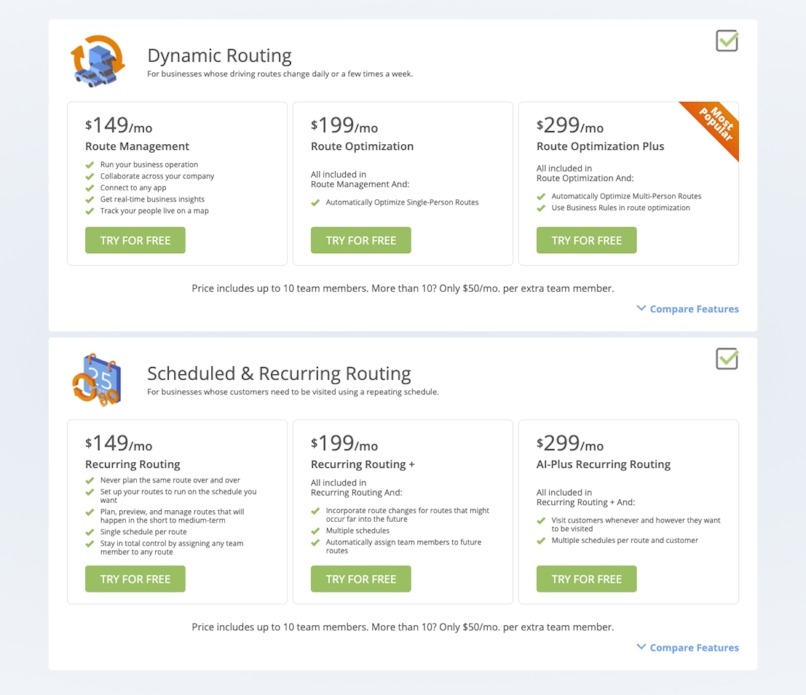 Route4Me charges a flat monthly fee ranging from $149 to $299 for up to 10 team members. Additional team members are charged at $50 per month each.
Key takeaways: Route4Me is a pure route optimization tool, suited to managing a team of employees in the field, analyzing fleet and driver performance, and planning routes that occur repeatedly and regularly. It is a robust route planner for sure, but falls short on some of the key delivery management functionality needed by dispatchers and delivery drivers.
Final thoughts: Which Onfleet competitor suits your business?
The Onfleet alternative that you'll opt for will depend on whether you're looking for route planning and delivery operations software for an enterprise organization, or something that covers the needs of a small to medium-sized delivery business.
When deciding on which to choose, you'll need to consider:
How many routes you need to optimize, and how often;
The size of your driver team;
Which devices your team uses for navigation;
Whether you need software for first-mile, last-mile, or on-demand deliveries;
If you are focused on deliveries or field services.
Circuit developed from its origins as a route optimization app for couriers to plan their multi-stop routes and has grown into a delivery management solution for mid-sized delivery teams. Our customers save time and resources and can grow their business easily with the help of advanced route planning, driver tracking, proof of delivery, recipient notifications, and more.
If you manage a team of drivers and you need route optimization and delivery management software, sign up for a free trial of Circuit for Teams.