9 minute read
RouteXL vs. Circuit: Do You Need Route Optimization Software or Delivery Planning Software?
In simplest terms, RouteXL is a route optimization software whereas Circuit is a delivery planning software offering route optimization, monitoring, and more.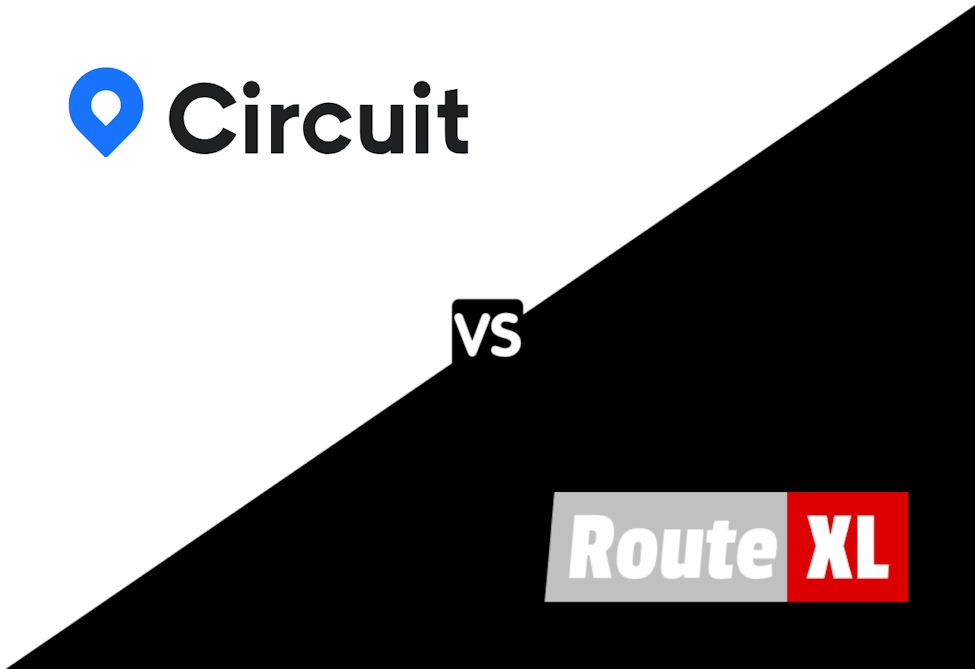 RouteXL and Circuit both can optimize a multi-stop route. But which one's right for your team depends on how complex your route planning needs are.
In simplest terms,
RouteXL is route optimization software.
Circuit is a delivery planning software offering route optimization, proof of delivery, customer shipping updates, route monitoring, and more.
In this post, we dissect their core features and pricing while showing you how each can help your delivery team. Ultimately, the two platforms are very different; after reading this article, you should be able to choose the tool that's right for your team.
Note: As you may have noticed by now, we're comparing our service, Circuit, with another. We're the first to admit we're biased, but we've done our best to give RouteXL's route planner a fair review. We've been working hard to turn Circuit into a tool any delivery driver or dispatcher would love to use, conducting continual research with our customers to improve their user experience and to add features that make their lives easier. We hope you'll give us a look.
If you manage a team of drivers and want a simple, cost-effective way to keep track of them while making their routes more efficient, sign up for a free trial of Circuit.
Circuit vs. RouteXL at a Glance

RouteXL vs. Circuit: Which Offers the Best Route Optimization?
While vastly different platforms, Circuit and RouteXL do overlap in route optimization — that means getting your team driving on the most optimal routes. Here's a look at how each tool tackles route planning.
How Delivery Teams Can Use Circuit to Optimize Their Routes
With Circuit for Teams, you can either import customer addresses via a CSV file or add them manually. You can also build out a route from the app on smartphone or desktop (Circuit works with both Mac and Windows operating systems).
If you're typing in addresses manually, you'll notice Circuit actually uses the same technology Google Maps uses for their auto-complete feature, making it quick and easy to enter addresses, even if you only have a partial address or only a business name.
Once you've added all addresses, Circuit finds the fastest route among all of your waypoints. If you're managing more than one delivery driver, you can optimize the routes across all drivers. If you want to add a few more stops for one driver (say someone needs to leave early), you can just add any stops needed to the driver's Circuit app.
With Circuit, there is also no limit on the number of stops in a route or the number of routes you optimize.
Plus you can refine your route by adding time slots, such as when a specific package needs to get delivered. Delivery teams will soon be able to add vehicle capacities; in other words, the algorithm considers how many packages a vehicle can carry and how many times that driver will need to head back to the warehouse to reload.
Once your drivers are ready to go, they click Start and are automatically taken to their preferred navigation app; Circuit works with popular apps such as Google Maps and Waze.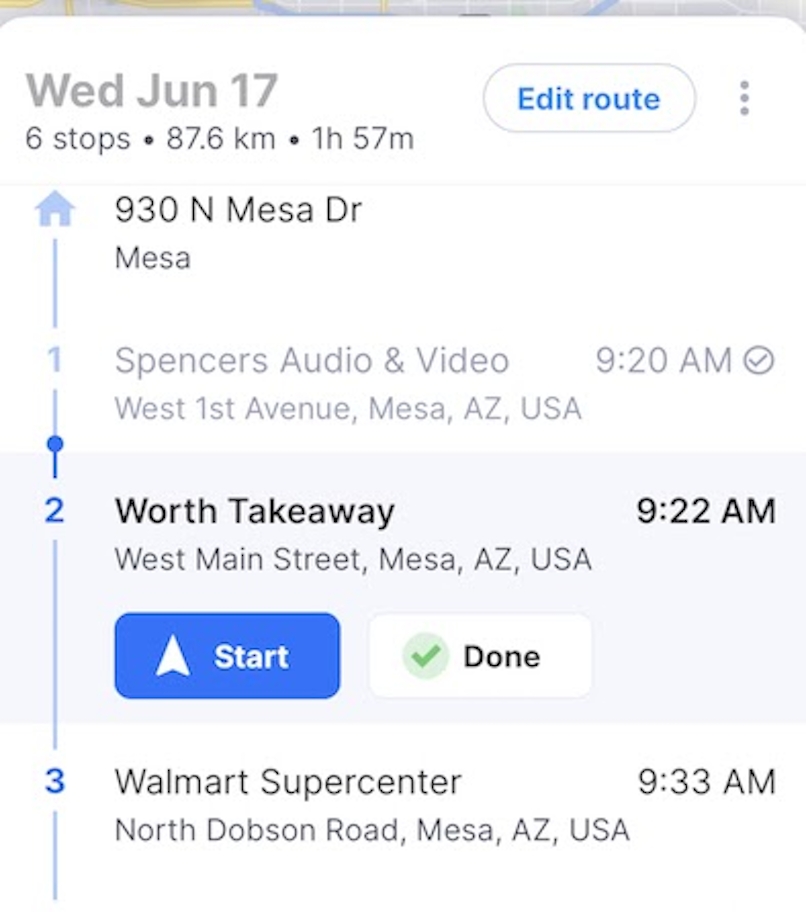 Once a driver finishes a stop, they toggle back to the Circuit app, click Done, and then start the process over again. Note: That's how it works for iPhone users. If you're an Android user, you don't have to leave your navigation app, as notifications will pop up when you complete a stop.
If something occurs on the route (such as a traffic delay or a customer calls to cancel delivery), the driver can edit the route in real-time, delete any unwanted stops or add any additional stops, and re-optimize the route in seconds.
How Delivery Teams Can Use RouteXL to Optimize Their Routes
RouteXL is a web-based route optimizer that lets you reduce travel time for free when planning 20 stops or less. If you need more than 20 stops per route, you get into RouteXL's paid pricing options. RouteXL's free route planning software is potentially a good fit for small delivery operations (where you have one driver) or even people planning a road trip.
Here's what it would look like to plan a route with RouteXL.
First, you plan routes on a computer (works with Mac or Windows) and save them to your RouteXL account. When you're entering addresses, you can add parameters such as time slots and different vehicle types.
Then you can either print the routes off and hand them to your drivers, or you can have your drivers log into your RouteXL account on their phone. While RouteXL doesn't have an official mobile app, its site works on a smartphone.
This can cause complications if you have multiple drivers logging into one account. First, you'd need to share your password with all your drivers. Second, drivers have access to all saved routes, not just their own, which may cause confusion. Because of this, it's safer to print the routes.
If you do share access to the route, your delivery drivers can download the saved route. Then they would toggle back and forth between Google Maps (or whatever navigation system they're using) and RouteXL.
A driver can skip stops and replan the route based on skipping the stop, but they can't add new stops on the route.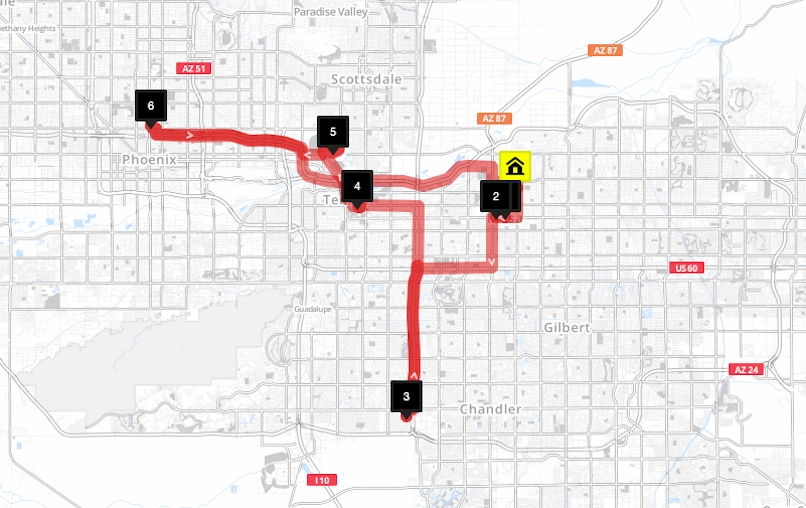 RouteXL does have one solution to having multiple users on the same account and to not being able to add stops mid-route. It allows WEBFLEET users (a third-party fleet management software system) to import their routes directly into TomTom navigation systems. This way, you can use RouteXL to optimize your routes and then WEBFLEET to export the routes directly into your delivery driver's TomTom. If real-time changes occur when a route's in progress, you can update the route.
You can also download your route into various file types, such as a GPX file. This file can be uploaded into Garmin, so if your delivery team uses Garmin, you can now drive along RouteXL's optimized route using the tools you already own.
When we entered a route into RouteXL's road route planner, we noticed some complications in trying to locate businesses without an exact address.

First, we put in five locations — by using their complete street address. All of these addresses were Arizona based, and RouteXL had no issue locating them. Then we typed in Spencer's Appliances, a popular appliance showroom in Arizona. RouteXL took us half way across the United States to Spencer, Iowa. But with a quick change to Spencer's Appliances – Mesa, Az, RouteXL found the location with no issue.
How Delivery Teams Can Use Circuit for More Than Route Optimization
We mentioned how you can optimize your routes via Circuit, but there are also other critical features available through our platform that turn our product into a full-fledged delivery planning solution.
There are multiple parties involved in delivery:
The delivery driver
The dispatcher
The customer.
Circuit works to create transparency between all three parties to help deliveries go smoothly.
First, There's Route Monitoring
Circuit's route monitoring features lets the dispatcher know where delivery drivers are within the context of the route. This is good for multiple reasons.
First, if a customer calls the warehouse or business and asks about their delivery, the dispatcher can just look at the route and let the customer know how long it'll be before their delivery.
Because changes can occur on a route, it doesn't do a dispatcher a lot of good to know what cross streets there are; what matters is what stop they just finished and what stops they have left (and when the driver is scheduled to complete them).
Second, if dispatch needs to add a stop after the route has started, they can check on their team's progress and see who is better suited for the extra stop.
Product Recipient Updates
Circuit lets delivery teams set up a product recipient info feature. This means you can notify customers on the status of their deliveries.
Once your driver starts a route, customers get a link via text or email to a site where they can track their order's progress.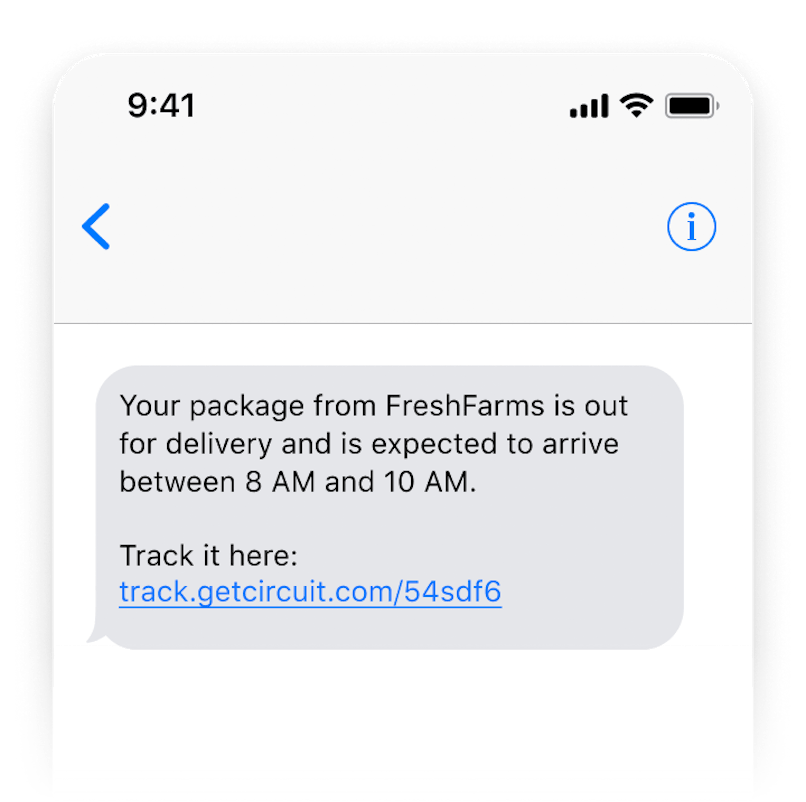 Plus the customer can actually add notes to that site, which the driver and dispatcher will see, such as specific delivery instructions or gate codes.
Proof of Delivery
To reduce the risk of miscommunication, lost products, or having to make another delivery attempt, Circuit offers proof of delivery features.
First, your delivery driver can use their smartphone to get a signature from the customer.
Second, if a customer isn't available to accept the package, the driver can take a photo with their smartphone of where they left the package and then upload the photo into the Circuit app. This photo is stored alongside the address and time of delivery.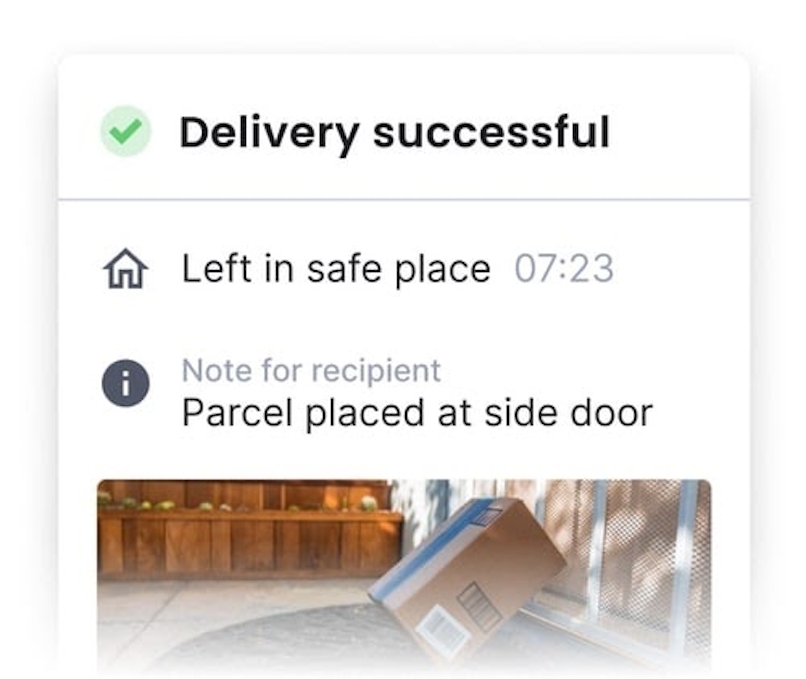 This way, if a customer calls and is unable to find their package, you can reference the route, pull up the photo, and let the customer know exactly where the package is. If they can't leave the package unattended, there's an option for marking the delivery as incomplete.
RouteXL vs. Circuit: Pricing
If we're just comparing route optimization features, here's the pricing breakdown between RouteXL and Circuit.
RouteXL lets you optimize routes on their website for free for routes of 20 stops or fewer. If you need more than 20 stops in a route, you'll pay about $40 per month. If you have a route that needs more than 100 stops, you'll pay almost $80 per month.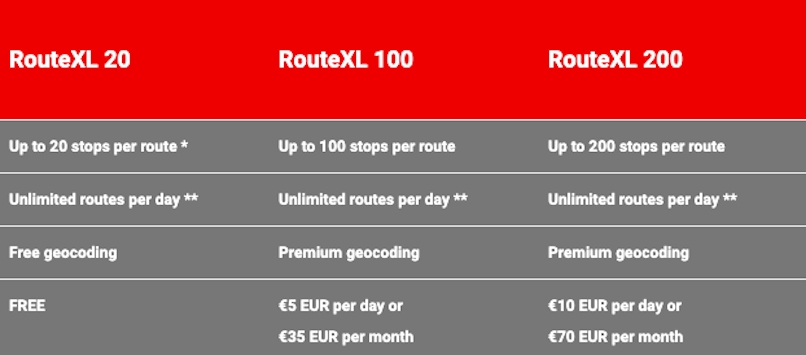 The three main differences between RouteXL and Circuit when it comes to route optimization is the ability to add stops and re-optimize mid route, the fact that Circuit has a mobile app for delivery drivers, and functionality when it comes to looking up locations without complete addresses.
If you're using Circuit only for route optimization and monitoringroute optimization and monitoring, you'll pay $40 per month per driver. This makes Circuit more cost efficient once you're completing routes with more than 20 stops per route. But if you only have a handful of stops today, RouteXL is the more affordable option.
Circuit for Teams Pricing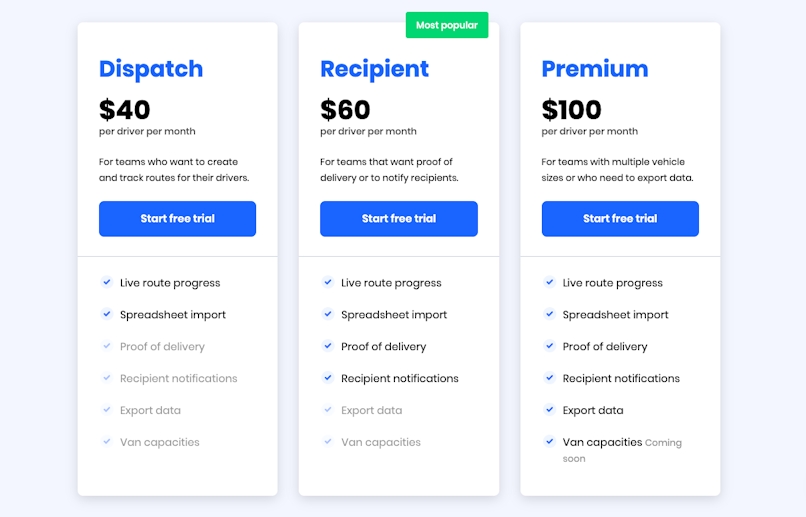 Team plans increase beyond $40 per month depending on which solutions you need for your team.
RouteXL Alternative for Delivery Teams
RouteXL and Circuit do overlap slightly, as both services offer route optimization, but that's really where the similarities end.
RouteXL is great for desktop use; Circuit does both desktop and mobile if you're using a Team plan. RouteXL lets you create free routes for 20 stops or fewer, whereas Circuit charges per driver and has no limit on how many stops or routes you make.
The differences become even more apparent when you try to use each service as part of a larger delivery team. Critical features such as route monitoring and proof of delivery are not available on RouteXL.
If you manage a team of drivers and want a simple, cost-effective way to keep track of them while making their routes more efficient, sign up for a free trial of Circuit.