9 minute read
10 Profitable Mobile Business Ideas
Mobile businesses can be profitable due to the low overhead and maintenance cost. Read on to learn more.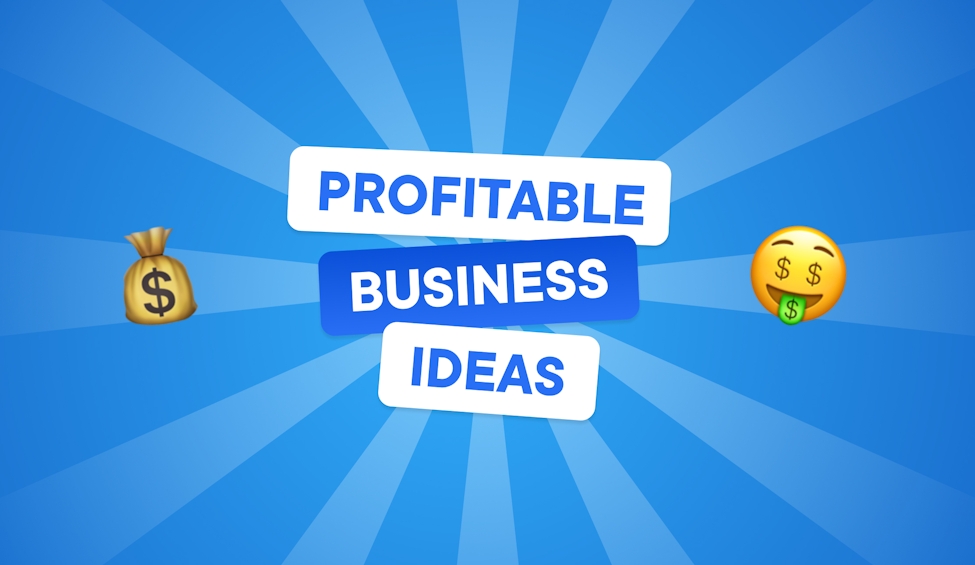 Managing deliveries and customer orders? Learn how Circuit for Teams can help businesses like yours.
The way businesses work has changed. Instead of operating from brick-and-mortar stores, many businesses are now moving on wheels. 
And despite global challenges, mobile businesses are booming. 
As a business owner, you don't necessarily have to work out of an office, workstation, or brick-and-mortar shop to run a lucrative business.
By starting and running a successful mobile business, you can take your business on the road (or some other place you find convenient).
Whether you're running a food truck, managing a mobile hair salon, or being a florist, you can take some business ventures mobile since customers can be serviced on the go.
Below, I discuss ten profitable mobile business ideas to help you get started on your entrepreneurship journey.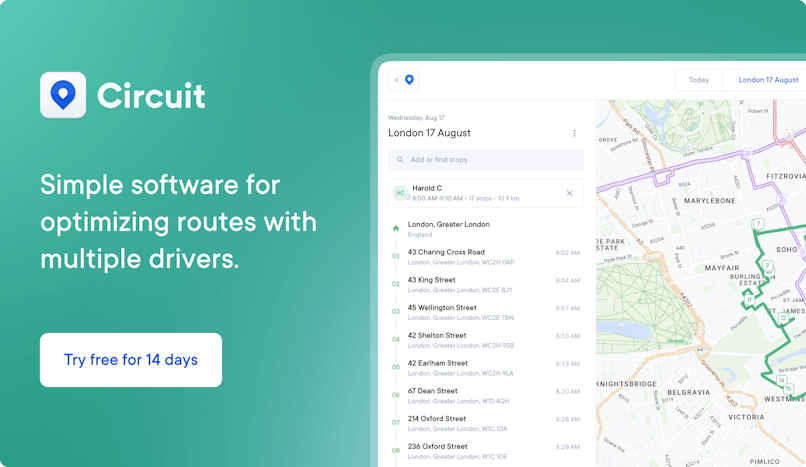 Why start a mobile service?
No matter the type of business or industry, running a mobile business has several benefits. 
Mobile businesses tend to have low startup costs compared to brick-and-mortar stores. 
Since mobile business owners don't need to pay for rent or utilities, they don't have to shell out money for these operational costs. 
Another advantage of having a mobile business is the opportunity to have access to a higher number of potential customers. 
If you run your business from a fixed location, your customer base will depend on those in the area. 
With a mobile business, you can change your service location and go where your customers are. 
You can serve in a big metro area one day and then move your business to a small town the next day.
Larger businesses might need larger inventory, which means spending more to buy the goods upfront. 
With a small mobile business, you only have to spend on things that you absolutely need. 
A mobile business model also offers flexibility in terms of timing. 
You can decide your operating hours and change them depending on your or your customers' schedules. 
For example, if your customers use your mobile food business for lunch, it might make sense to only go there during lunch hours when the customers are likely to be there.
10 most profitable mobile business ideas
If you're unsure about where to begin, here are 10 profitable mobile business ideas. You can use any of these options to start your new venture and make your dream of being an entrepreneur come true.
Mobile clothing store 
If you're interested in the fashion industry and having a clothing store has always been your dream, launching a mobile clothing boutique is a great way to get started. 
You can build your boutique in a truck or any other big vehicle that you can repurpose.
Once you replace the seats and other things inside the truck with racks, lights, and a few other things your boutique might need (like a cash register), you'll have your very own mobile boutique ready. 
A traditional clothing boutique needs you to account for rent, utilities, and bigger inventory because, well, you're running a bigger store. 
Mobile boutique stores, on the other hand, are smaller and need a smaller inventory and overhead (mostly only parking permits and fuel). 
All you have to do is finance a one-time cost for purchasing or repurposing your vehicle.
A mobile clothing store also allows you to keep flexible store timings. 
For example, you can keep your store open when shopping activity is at its peak. 
If your store is currently located by a beach, you can open it during the evening when most people come by for a walk.
Along with timing, a mobile boutique offers flexibility in terms of location. 
You can move your store every week or every month and go to your customers instead of waiting for customers to come to you.
Mobile salon 
If you're a cosmetologist, you can offer salon services like hair treatments, mani-pedis, and haircuts, on the go. 
A mobile salon allows you to set up shop in a truck or RV specially repurposed to serve salon customers in person. 
You can also go to customers' homes by having them book appointments with you.
Plus, you don't have to pay for rent or other utilities. You can set up your own mobile salon for as little as $62.
Once you get a cosmetology license, you'll just need salon supplies that you can carry with you wherever you go.
National Mobile Salon is a great example of a mobile salon. 
They offer many salon services and serve all states and several overseas territories, including Guam and Mariana Islands.
Mobile pet grooming 
The demand for pet groomers is increasing. 
As a successful pet grooming business owner, you can make $75,000 to $100,000 a year. 
If you love working with animals, this can be a purrfect career choice for you.
While your area may already have many pet salons, these places can be stressful for pet owners and easily scare pets.
 Offering in-home and on-demand pet grooming services can help you stand out.
You can get a van and equip it with all the supplies you need and drive to pet owners' homes to groom their pets.
To make the scheduling and payment processes easier, you can build a website for your small business.
For example, Eagle Mobile Pet Grooming offers mobile pet grooming services in San Francisco. 
Food truck or mobile catering 
If you want to make a living cooking, chances are you've dreamed of opening and running a restaurant in a town or city. 
However, setting up a restaurant is an expensive affair! 
From rent to interiors to equipment to labor, you need to pay for everything. 
The average cost to open a restaurant is between $95,000 and $2 million.
However, that doesn't mean you should give up on your dream career. 
If you're passionate about cooking for a living, running a food truck business might be the right move.
Getting a food truck venture up and running isn't as expensive as opening a full-fledged restaurant. 
On average, setting up a food truck can cost between $75,000 and $250,000.
But the average food truck revenue is anywhere between $20,000 and $42,000 per month, so you can make your money back pretty quickly. 
This involves taking already prepared food or food that can be heated in the truck on the go and deliver it to customers around the city.
So, if you're looking for a small business idea in the food industry, mobile catering is a great option. 
You can also offer food delivery options when you're ready to expand your business. 
If you decide to go this route, consider using Circuit. 
We've successfully helped Sanjhi Rasoi Tiffin Service save at least $3,500 each month on salaries through efficient planning.
Mobile farmers market 
If you're interested in opening a grocery or retail store but lack the budget for it, a mobile farmers market can be a great option for you. 
A mobile farmers market is a small, mobile store that sells fresh, locally produced fruits, vegetables, and dairy sourced directly from local farms. 
As a mobile farmers market owner, you can make anywhere from $25,000 to $100,000 a year. 
And, they're a great way to give back to small communities that could use help from budding entrepreneurs like you.
Plus, a mobile farmers market offers flexibility. You can sell your products whenever and wherever you want.
You can sell fresh fruits and vegetables, eggs and meat, or even baked goods. 
According to the National Agricultural Statistics Service (NASS), fruits and vegetables are the best-selling items at a farmers' market. 
So, if you're not sure about what to sell, you can start with fruits and vegetables.
If you want to extend your business plan, you can also offer delivery services and deliver products to your customer's doorsteps. 
To make the dispatch process more efficient, you can use software like Circuit for Teams to optimize delivery routes for your drivers.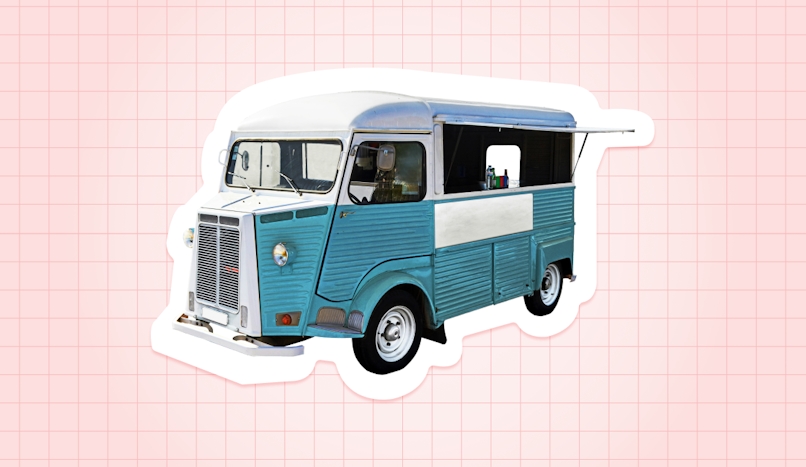 Mobile coffee or specialty drinks 
Starting a mobile coffee or specialty drinks kiosk can be a good option if you want to run a small business that's flexible and affordable. 
This could be a mobile business that serves coffee, fruit juices, smoothies, or even craft beer that your buddies say they'd buy off you in a heartbeat.
Entering the beverages business the traditional way, either by opening a coffee shop or small cafe, can be very costly — anywhere between $25,000 and $300,000 to start one. 
However, with a mobile business, you can reduce that cost. 
First, since you'll be starting small, you can work with a budget that's just enough to pay for your equipment, supplies, and other necessities.
Depending on your business, you'll need a relevant serving license and equipment like a French press, coffee machine, or a beer dispenser. 
In all, all of this could cost somewhere between $10,000 and $125,000. 
Second, since you can run your mobile coffee business based on your convenience, you don't have to give all of your time to it. 
You can start by running your coffee kiosk part-time (such as only on the weekends or at special events).
Once your business takes off and you're confident enough to turn it into a full-time venture, you can invest more money into it and have longer operating hours.
Not yet convinced? 
Read our case study on how we helped Bobcaygeon Brewing Co. save 8+ hours on route planning each week and make 10 to 20 percent more deliveries.
Mobile pop-up events 
Pop-up events are becoming increasingly popular, which makes them an excellent business opportunity.
So, if you're someone with a creative flair and an interest in event planning, organizing pop-up events might just be the right career move for you.
It's mobile, it's flexible, and it's fun.
As a mobile pop-up event host, you'll be traveling to different places to set up your events at popular festivals and bigger events where you can sell your merchandise. 
This can be anything from custom-printed T-shirts to that homemade jam you know will be a hit.
Depending on your bandwidth and preferences, you can also organize special events like music festivals and offer to sell T-shirts and other merchandise that you custom print.
You can keep changing your products based on the season and place you're in. 
For instance, if you're in New York on St. Patty's Day, a beer stall would do great business. 
Mobile photography 
If you're a professional photographer, you can run a profitable small business by offering mobile photography services. 
Mobile studios can earn you over $100,000 a year. 
Depending on your interests, you can cover events like weddings, engagement parties, baby showers, birthday parties, or corporate events.
You can also specialize and offer an exclusive type of photography service. 
This can be architectural photography, portrait photography, still life photography, fashion photography, or sports photography.
The best part about running a mobile photography business is that you don't have to invest in anything other than your camera equipment and your car. 
When starting your new business, you can create a website to showcase your portfolio to prospective clients and make the scheduling and payments process more efficient. 
Your clients can visit your website, book a session with you, and pay for it. 
You can also use social media marketing to drive traffic and get more customers.
Mobile auto repair 
If you offer auto repair services, adding mobile auto repair services can be a profitable venture if you know how to fix cars. 
As a trained auto repair mechanic, you can earn an average of $50,000 a year with your small business.
Customers don't like driving to auto repair garages to get minor repairs, especially when these garages are located far away from them.
As a mobile auto repair mechanic, you can offer on-demand services at clients' homes. 
As a small business owner, you can get to know your clients and develop closer, more fruitful relationships with them.
Along with repair services, you can also offer mobile car wash and auto detailing services.
Starting your mobile auto repair business can cost anywhere between $62 and $36,000. 
And all you'll need are a few basic tools and devices and your car for transportation.
Mobile laundry service 
Laundry businesses can be quite lucrative, with a few of them having annual revenues of around $300,000.
So, if you're looking for a small business idea, you can offer mobile dry cleaning and clothes cleaning services. 
The mobile aspect could make your laundry business especially profitable since you can offer your customers the convenience of pick-up and drop-off. 
You can even deliver their laundry to them using a small last-mile delivery team. 
You can streamline this process using automation and route optimization. 
While automation can help you keep track of your orders and what clients you need to deliver to, route optimization software like Circuit for Teams can help you make the pickup and delivery process more efficient.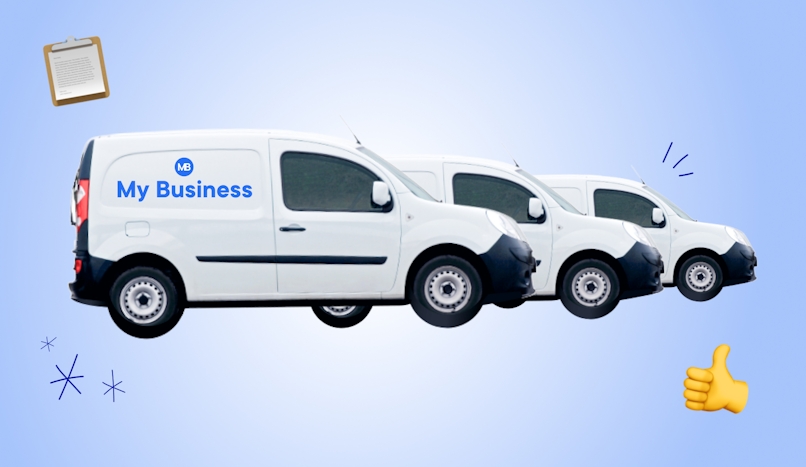 Circuit for Teams can help you grow your mobile business
A mobile business model is a great way to start and run your own business if you're new to entrepreneurship. 
With low overhead and maintenance costs, mobile businesses are relatively cheaper to start than brick-and-mortar shops. 
On average, it can cost between $2,000 and $5,000 to start your mobile business. 
And if your business offers pickup or delivery services, a route optimization tool can make the delivery process smoother.
Circuit for Teams can help you plan the most efficient routes for multiple drivers.
With our software, you can track your drivers, send automatic updates to customers, and collect proof of delivery.