10 minute read
How to Start a Pressure Washing Business in 6 Steps
Thinking of starting a pressure washing business but unsure about the next steps? Read on to find out.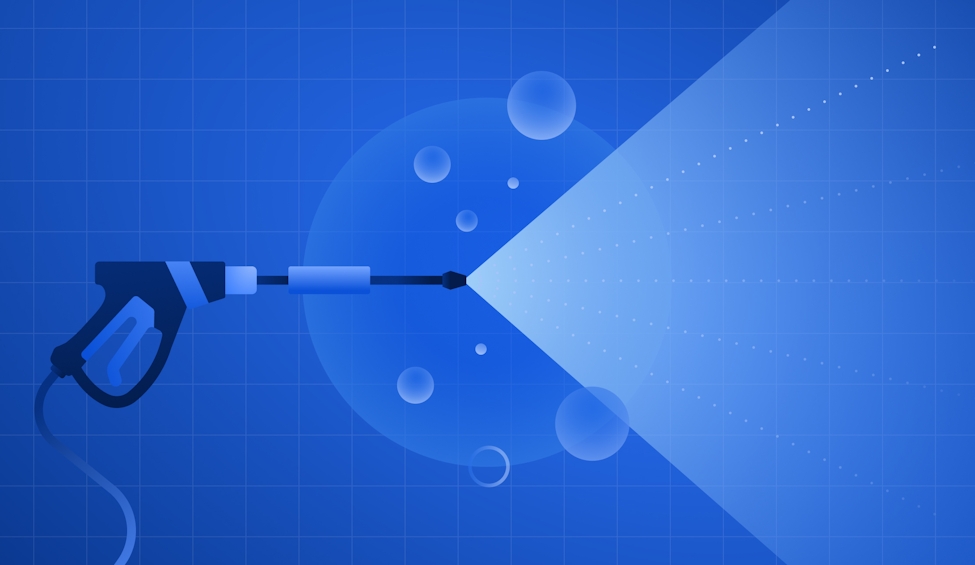 We can't help you set up your power washing business, but we can certainly help your team get to customers faster with Circuit for Teams.
Looking to start your own pressure washing business? That's a great idea! 
Starting your own pressure cleaning business can help you earn a sizable and stable income that will increase as your business grows over time. 
The average pressure washing business makes $50,000 in annual gross revenue. 
And the more successful ones make anywhere from $100,000 to $200,000 per year.
The first step in setting up your own pressure washing services is, well, knowing how to pressure wash, or at least knowing what it is and how it works. 
Other than that, it's worth spending time understanding the pressure washing industry.
Pressure washing or power washing is the process of using a high-powered jet spray to clean fading paint, mold, grime, dust, and dirt from surfaces like cars, driveways, doors, and building walls. 
The equipment needed to do this is a power washer, which comes with high-power jets fixed on a swivel that rotates as the water flows. This creates a uniform flow which helps clean surfaces evenly.
Are you a beginner in the entrepreneurial game? 
There are many challenges, like organizing financing to get your business off the ground, hiring the right talent, and finding customers. 
There's a lot to be done, and that's why I'm here to help. 
Learn how to start a power washing company in six steps.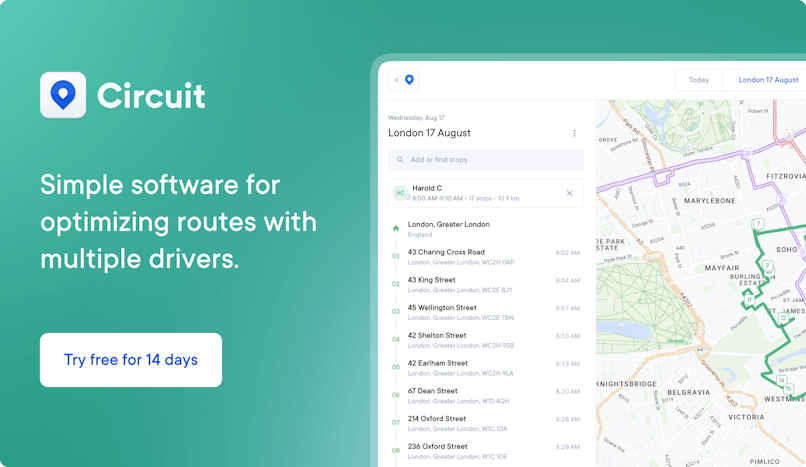 1. Create your business plan
The first thing you need is a business name. 
Try to keep the name short, easy to remember, and somewhat unique to other popular names.
Just make sure it's available for you to use by checking the United States Patent and Trademark Office (USPTO). 
And depending on your business structure and if you plan on doing business under another identity, you'll want to register your doing business as (DBA) name where your business is located.
Once you've got that sorted, the next step is coming up with a business plan. 
This is the detailed plan you'll present to collaborators and investors to get them on board with the idea. 
But why do you need one?
Because telling people you want to open a pressure washing business won't cut it. 
Especially if you're looking to get them to invest or lend you money. 
You'll need the ideas, logic, and numbers to back it up. 
These are some of the things you should include in your business plan. 
Executive summary
This is a summary of your game plan — an elevator pitch of sorts. 
An executive summary helps readers quickly understand who you are and what your plan for the business is. 
It includes: 
A brief company background — where you can mention why you want to start the company
Objectives — what you wish to achieve through it
Your unique selling point (USP) — what sets your company apart from the competition
Some strong research to project profits and cost estimates 
Market research
Pressure washing is a crowded marketplace that is likely to have several big and small players jockeying for a piece of the pie. 
So, to help your new business stand out, it's a good idea to do market research on your target audience.  
This includes looking at:
Demand
Market size
Location
Pricing
Figure out your company's unique selling proposition (USP) and how you plan to deliver it to customers. 
For instance, you might decide to focus exclusively on roofs, woodwork, or vehicles — something that you can use to differentiate your business from the competition.
Review customer feedback sites like Yelp or Trustpilot to find gaps in the pressure washing business in your area. 
You can also ask consumers directly what they want from a pressure washing business through things like surveys and questionnaires. 
Check out the US Small Business Administration's market research and competitive analysis guide for more information. 
Management plan
This section should include detailed information about how your business will be structured and who will run it.
Use it to decide the legal structure of your business, describing whether it'll be a corporation, a limited liability company (LLC), a partnership, or a sole proprietorship. 
(Find detailed descriptions of each business structure further down this article).
You'll also need to hire qualified employees who can help you kick-start your business and keep it going. 
Use a chart to describe your company's management hierarchy, with details about which person will be responsible for what role. 
Explain the unique experiences and skill sets each member of your team brings to the table and how that will contribute to your success. 
Feel free to include the resumes of key team members in this section.
Financial estimates
While the market research section focuses on the industry outlook and target market, this section deals with the financial outlook and projections for your business. 
Investors typically look for reports and charts that state how much money the business needs, what the business expenses are, and how much it's expected to earn. 
Lay out your projected financial outlook for the next three to five years in this section. 
Focus on your estimated budget and expected cash flow and income statements. 
It's best to use monthly or quarterly projections for the first year. 
Just make sure the math behind your projections can hold up to scrutiny.
2. Set up your business structure
Once you have your business plan and some funding ready, you'll need to set up a proper business structure. 
What's that?
Simply put, a business structure decides the ownership and legal liabilities of your business. 
For example, let's say there's an accident on a pressure washing job, and a team member blows someone's patio off while power washing it. 
Your business structure will determine your liabilities in that kind of situation.
Here are some business structures that can be suitable for small businesses like the one you're trying to set up. 
Sole proprietorship
This is the most straightforward business structure and also the easiest to form. 
This structure gives you complete control over your business. 
This effectively means there's no difference between your business assets and liabilities and your personal assets and liabilities. 
This means if you owe a vendor or customer money, for example, and your business can't pay them for some reason, you'll have to pay the debt out of pocket. 
You're automatically considered a sole proprietor if you're engaged in business activities but haven't registered as any other kind of business.
A sole proprietorship is generally a good idea for entrepreneurs with low-risk small businesses.
Limited liability company (LLC)
A limited liability company (LLC), as the name suggests, is a business structure where the owners only face limited legal liability. 
This means that you are only legally responsible in very few instances. 
So, in most cases, your personal assets and money will remain safe even if the company goes bankrupt. 
However, you can still be legally held responsible in a few cases as an LLC owner. These include: 
Not paying agreed-upon worker compensation and benefits 
Personally harming a person while conducting business 
Personally signing off on an order that the company can't pay for (in which case, your personal assets can be used to pay for them) 
Corporation
A corporation offers business owners the most legal protection, as it's considered a separate entity from its owners. 
Given their legal privileges, though, corporations also cost the most to register and come with extensive record-keeping and reporting. 
So, as a small business owner, it's probably wise for you to register your type of business as a sole proprietorship and then change the structure to an LLC and finally a C corp as and when it grows.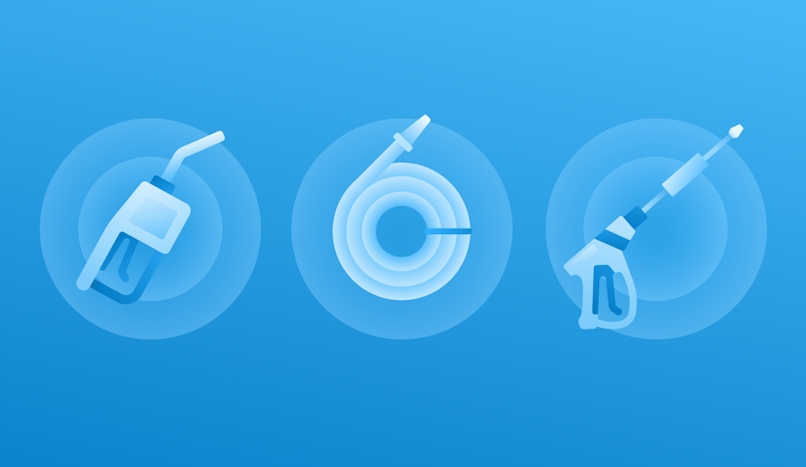 3. Get the right business licenses, permits, and insurance
You'll need to comply with all local, state, and federal laws to have a pressure washing business. 
If you don't, you might face hefty fines or even be forced to close your business. 
Each city and state has its own license and permit requirements. 
For example, your pressure washing business may need a wastewater discharge permit based on the 1972 Clean Water Act through the US Environmental Protection Agency (EPA).
Refer to the SBA's state license and permits page to learn more. 
Additionally, you'll need to get business and equipment insurance. 
The most common policy that small businesses need is general liability insurance. 
If you're going to hire employees, you'll also need workers' compensation insurance.  
4. Get an EIN and open a business bank account
Before you can hire employees and open a business bank account, you'll need to apply for an employer identification number (EIN).
It's basically your federal tax ID number. 
You can do this easily online through the Internal Revenue Service (IRS) website. 
And to pay state taxes, you'll need a state tax ID number. 
Check out the federal and state tax ID number guide on the SBA website for more information. 
Once you're set there, you can open a business bank account.
It's a good idea to separate your personal and business finances due to liability reasons.
It can also help make it easier to accept and spend money for business purposes.  
5. Buy equipment and supplies
Once you're done registering your business, the next thing you'll need to do is buy some pressure washing equipment and supplies. 
What you buy will depend on the type of clients you're planning on servicing. 
For example, if you're only looking to service homeowners looking to clean their porches, driveways, or personal vehicles, a smaller pressure washer might be enough for you. 
Clients with big offices and vehicles like trucks, on the other hand, may mean you need to use commercial pressure washers, which will cost you more. 
Here are some things you'll need to buy to get your business up and running: 
A gas pressure washer, which can cost anywhere between $300 and $600, or an electric pressure washer, which can cost between $100 and $400
Vehicles to get to your clients along with all your equipment (a truck or cargo van should do the job)
Small items like extra high-pressure hoses and nozzles for your power washer, chemicals, and surface cleaners to help clean all surfaces
6. Strategize your marketing plan
Now that you have everything you need to attend to clients, it's time to spread the word. 
You can start by putting up flyers in the neighborhood or in a local newspaper. 
Enlist friends and family to get some word-of-mouth advertising going in your favor.
Get your business online early to gain traction.
You can start by setting up Facebook and Google My Business pages, allowing customers to leave reviews. 
Online reviews help develop trust among new customers as they make your business seem more credible and established. 
You can even incentivize customers to leave reviews by offering discounts or free services in exchange. 
When your social media pages start getting some traction, you can upscale them by creating a website for your business. 
Why? 
Because dedicated websites help make your business look more professional. 
They also make it much easier for potential customers to get an overview of your services and book appointments with you. 
This means more customers for you and more convenience for them — a win-win!
Make use of social media posts, door-to-door pamphlets, and even emails or text messages to advertise your services and grow your customer base.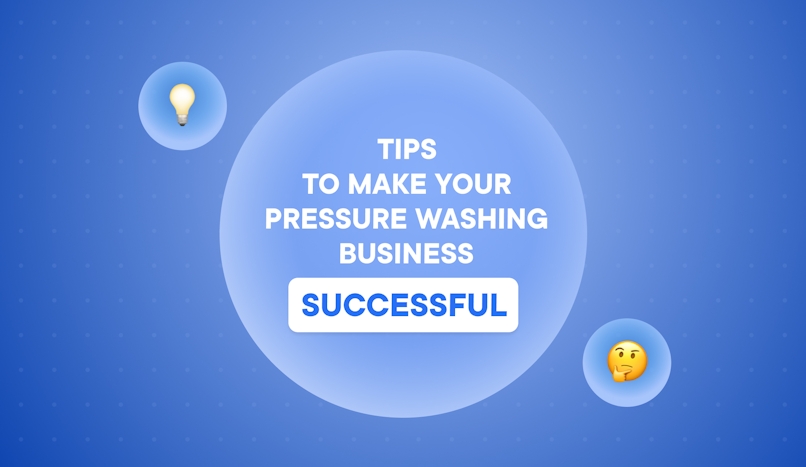 Tips to make your pressure washing business successful
Starting a pressure washer business is one thing, but making sure that it runs well is a whole other ballgame. 
Like any other business, a pressure washing business has several moving parts — collecting and analyzing customer feedback, making sure you get to them on time and managing your equipment and supply costs.
Here are a few tips to help you keep these processes efficient and run your business smoothly. 
Get experience with pressure washing
It's a good idea for you to get some experience with the job before starting a pressure washing business of your own. 
This will help you understand finer points like what's the safest way to pressure wash an object and how long a power wash takes on average. 
Power washing is also a job that involves workers following certain safety precautions given the high water pressure they deal with. 
Make sure both you and your workers have some job-site experience or at least formal training in power washing. 
Organizations like the Powerwash Academy offer training and certification courses both in-person and online. 
Scale your business
It's important to scale up your business at the right time because, well, nothing good can come out of being stuck in a rut. 
What exactly does that mean? 
Scaling up means expanding your business by taking on more customers or offering more services. 
You can start by offering your services to office spaces or factories around you at special discounted rates. 
Once you've proven your work, you can offer long-term services and ask for referrals. 
Remember that scaling up may mean you need to buy more equipment and hire more workers. 
So, it's not a good idea to take on new work without getting everything in place. 
For example, you might not currently have the right equipment (commercial power washers are a lot stronger and come with bigger hot water tanks, for example), or you may still need to train workers to handle the workload. 
Save time on your service route
Your workers should spend most of their valuable time working and not trying to figure out the best route to get to a customer.  
Besides, it could end up hurting your business if your workers take too long to get to clients after they're called for help. 
But traffic's traffic. 
What can you do about that? 
Intelligent software like Circuit for Teams can help here. 
Our routing software uses algorithms to consider route distance and order urgency to come up with the fastest, most efficient routes for each driver. 
Use Circuit for Teams to help your team get to your clients more quickly.
The faster your employees can get to customers, the more jobs you can take on. 
Not to mention, you'll keep customers happy since they'll spend less time waiting on services to arrive.
Ramp up marketing efforts
Don't be afraid to use an out-of-the-box marketing strategy or two to get customers for your cleaning business. 
As a new business, you need to get as many customers as possible, and that might mean you need to advertise through multiple channels. 
If you feel like you have some industry knowledge or expertise to share, for example, you can start your own podcast or YouTube channel where you discuss tips, tricks, and anecdotes related to the job. 
How profitable is a pressure washing business?
A successful pressure washer can make anywhere between $25,000 to over $60,000 per year on average. 
And with a team of four to five full-time pressure washers, you can expect to make four to five times that amount. 
All things considered, a reasonably sized pressure washing company can make $100,000 to $200,000 a year. 
Circuit for Teams can help you reach those figures by helping you get to your clients faster. 
Our unique routing software makes it easy to optimize routes for multiple drivers at the same time. 
All you need to do is add your list of drivers and the stops they need to make. 
Circuit for Teams will return optimized routes based on current traffic conditions in a matter of minutes. 
Your customers will also appreciate automatic updates that tell them exactly when to expect your crew.