12 minute read
How to Create a Delivery Route That Saves You Time and Money
There are several ways to create a delivery route, but not all of them will give you the same benefits. In this post, we explore your options.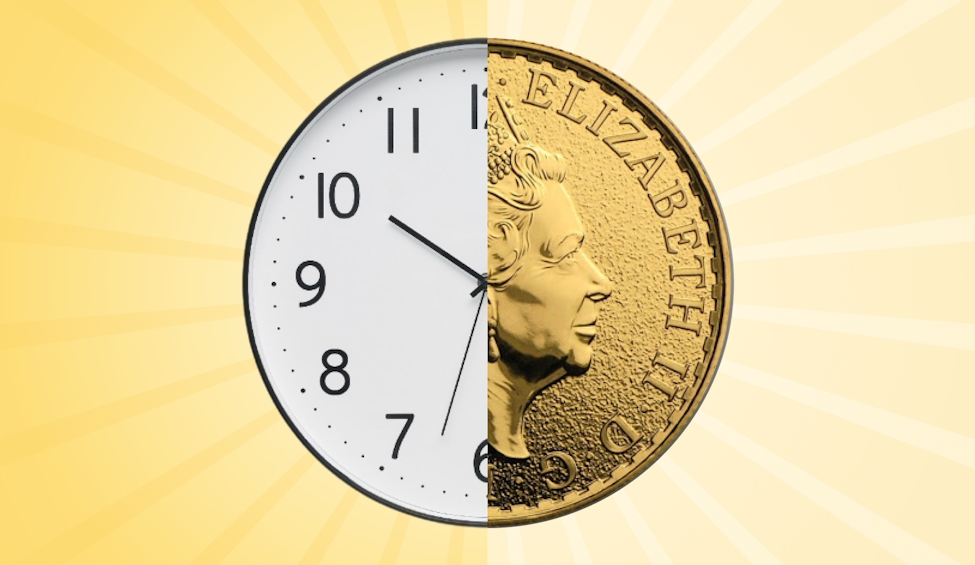 Ever wondered how to create a delivery route?
The efficiency and accuracy of your delivery routes will directly impact your staffing costs, fueling overheads, customer satisfaction levels, and the volume of daily deliveries your team can handle. This means planning and creating the best possible route is vitally important.
There are several ways to create a delivery route, but not all of them will give you the same benefits. For example:
You can create routes manually.

Usually manual processes are a combination of simply looking at a map and grouping stops by zip code — or putting them in a free tool like Google Maps and rearranging stops until you get the estimated travel time down.

Spoiler: This doesn't work out well in real life, and we go over why below.
You can use online route planners.

Online route planners take the guesswork out of whether or not a route is optimized for speed. They use an algorithm to create fast routes and save you time. But they also come with limitations — such as how many stops can be added to a route or how many routes you can plan in a day.

Plus, you often need to print out the routes or email them to your drivers, which means you can't change (or monitor) routes throughout the day. Whether these limitations are deal breakers for you depends on the size and scope of your delivery business.
You can find a delivery route planner app.

Online route planners generally aren't as sophisticated as route planning apps. Route planning apps allow for more stops, more route customization (such as adding time windows or setting a priority stop), and they also let you change your route on the go because the app can make route changes in real-time.

Further, because the app is on your driver's smartphone you can also find one that offers advanced features like driver tracking and delivery status updates.
In this post, we investigate each of the above methods for making the best route. And in our section about route planning apps, we'll introduce our own delivery management and route optimization platform, Circuit.
Circuit for Teams is used by thousands of delivery drivers and delivery teams, and on average it will save you one hour a day in route planning alone. Start your free trial.
How to Create a Delivery Route Manually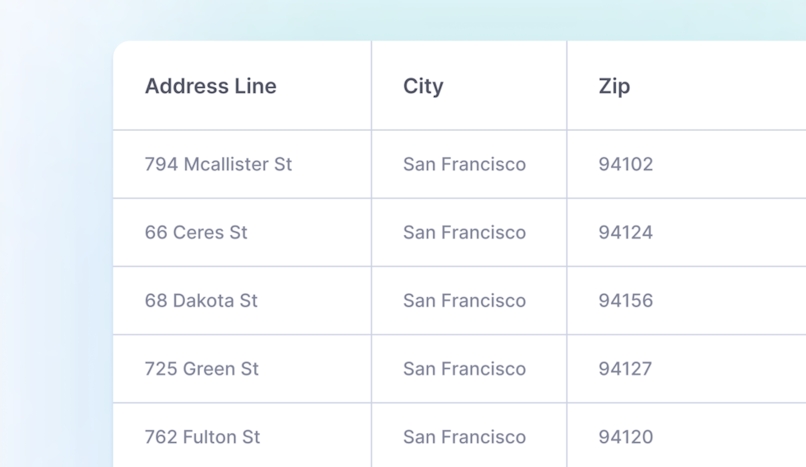 If you're manually creating delivery routes, you're going to need a map, pen and paper, and a large cup of coffee. This is because it's imprecise, inefficient, and extremely time-consuming.
Let's look at why.
If you're a small business that needs to make a handful of deliveries each day, your process might look like this.
You export your addresses out of your eCommerce platform (such as Shopify) into an Excel spreadsheet.

Then you look at where each location is on a map.

You group stops that are close together and make sure you end at a stop that brings you back closer to home.

If you're familiar with the delivery area, you may try to factor in well-known traffic patterns (avoiding rush hour, for example) or heavily congested streets.
But the problem is when you plan routes like this, you don't actually get the fastest route possible. It's all guesswork because there are too many factors to consider when creating a delivery route without any kind of route planning software.
Using Google Maps to Plan Routes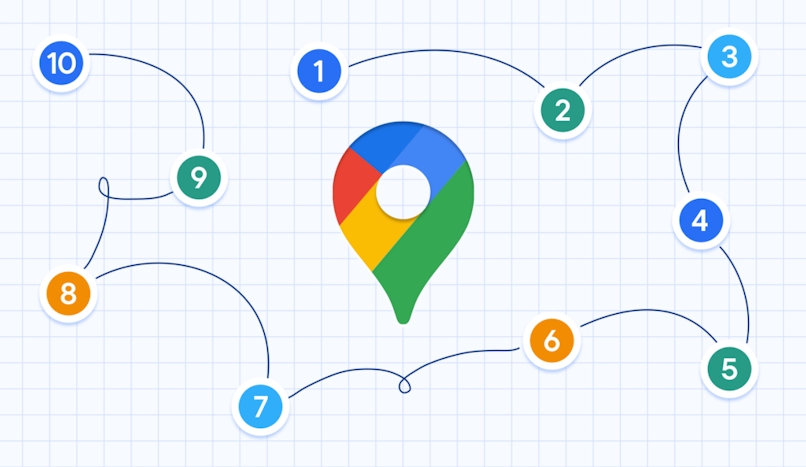 You might even use Google Maps to help you plan your multi-stop route. But Google Maps isn't helpful in this regard. While great for step-by-step GPS navigation, Google Maps is lacking several critical features for route planning.
For example, you can only add 10 stops at a time and Google Maps doesn't use an algorithm to find the fastest route for all ten stops (instead it focuses on the fastest route between point A and point B, not point A, B, C, D, and so on.).
Here's a real example from one of our clients that shows the limitations of creating delivery routes manually.
Before finding Circuit, the Woodbridge Emergency Response Group — a community response group that helped deliver prescription medication to its residents during the COVID-19 lockdowns — was spending nearly 6 hours a week on manually planning routes.
Keep in mind, even after those 6 hours of planning, there's no way to know if their drivers were driving on the fastest route possible.
To know that, you need to use an advanced route planning and route optimization algorithm, which Google Maps (or other GPS tools) don't have.
After switching to Circuit, what originally took over an hour each day now took a matter of minutes. Plus, their volunteer delivery drivers were now following optimized routes, which meant they were able to deliver more medications in a shorter amount of time.
There are other challenges to manual route planning as well.
What happens if you need to make a change mid-delivery?

Let's say a customer calls and cancels their order or calls and asks that delivery be pushed back to later in the evening. Now your route has changed and you don't have a way to re-plan the route you spent all morning planning.
How does your driver follow the route?

If you're building manual routes, that means you're going to print out the stops in the order they need to be completed. So, now your driver needs to manually input the stops into their Google Maps app. If your route is more than 10 stops that means they need to do this multiple times (remember Google Maps has a 10 stop limit).
Those little tasks can add up to hours wasted per week.
So, while creating manual routes is "free" — i.e. you're not paying for a service to do it — it's not cheap. You might be wasting hours every day in route planning, and because your drivers aren't given truly optimized routes they won't be able to deliver as many packages in a day.
How to Create a Route Using Online Route Planners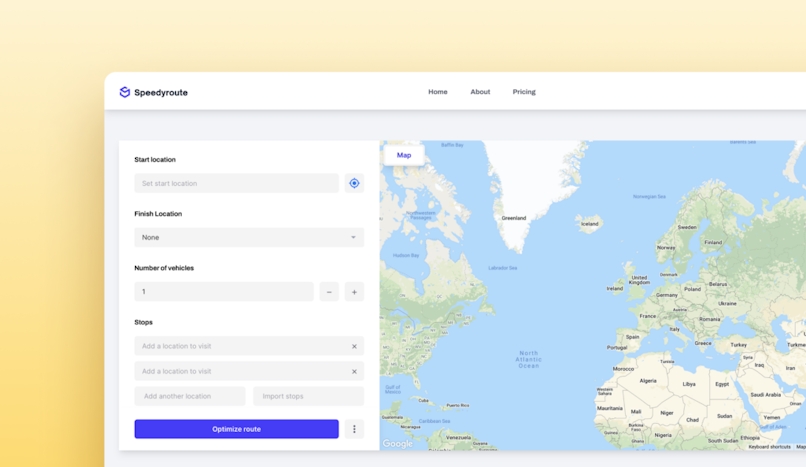 Online route planners will take your stops and put them in the fastest order, but they do have some limitations. They are a good fit for very small delivery teams (or single drivers) who only need to plan occasional short routes.
For example, if you run a local florist shop that only delivers 5-10 floral arrangements per week, then it'd probably be cost-effective for you to find an affordable online route planner.
Let's look at how SpeedyRoute, an online route planner, can be used by delivery drivers and small businesses with limited delivery service: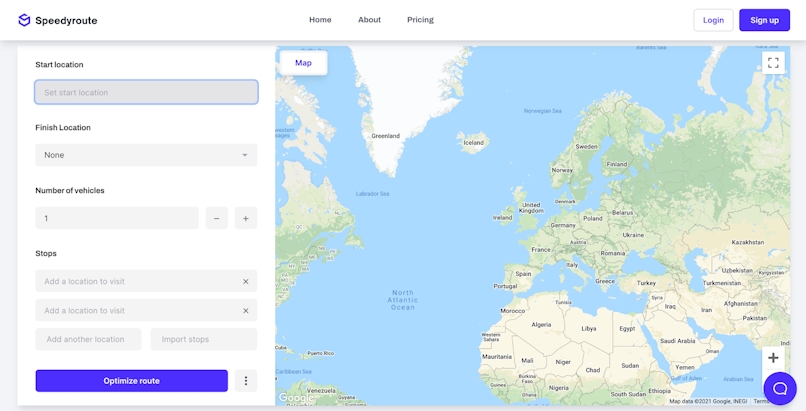 On the website, you'd enter where your driver is starting from and then add all the stops they need to make. You can do up to 10 stops for free (up to 3 times a day), but anything more than ten and you need to pay for SpeedyRoute's services.
(SpeedyRoute Pricing: You can make optimal routes for 1 driver with 100 stops per route for $39 a month, or you can create routes for up to 5 drivers with up to 500 stops total for $69 a month, or you can create routes for up to 10 drivers with an unlimited number of stops for $99 a month.)
SpeedyRoute is a big step up from planning your delivery route manually, but there's a major drawback that makes it an imperfect solution — there isn't a SpeedyRoute app.
This means you need to send the route to your driver by email or print it out and give it to them. Generally speaking, apps are easier to use, especially when you're using them alongside GPS navigational tools like Google Maps to find your stops.
Introducing Circuit: Creating Fast Delivery Routes for Individuals and Entire Teams
At Circuit, we offer two different tools for two different types of delivery businesses that need a better way to create and manage delivery routes.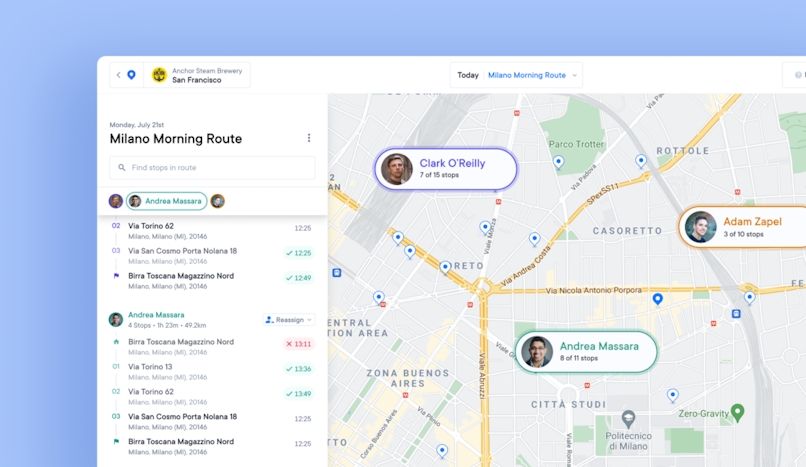 We have our Circuit route planner app for individual drivers, plus Circuit for Teams for delivery teams of two or more drivers. Many businesses will have multiple delivery drivers to help spread out the shifts and offer more delivery windows, so let's start by looking at Circuit for Teams.
Circuit for Teams: Everything a Delivery Team Needs to Plan and Execute Routes
In this section, we cover how Circuit for Teams lets you:
Plan, Optimize, and Customize Routes
First, you want to create your delivery route. You can do this by manually entering each stop into our web or mobile app, or you can import a spreadsheet directly into Circuit.

If you add addresses manually (which is something that usually only happens when you're on on-the-go and using our mobile app), we save you time by using the same auto-complete technology as Google Maps. This means when you're typing in an address, Circuit suggests the most likely destination based on your location and the other addresses in your route.
After your delivery stops are added to Circuit, you can add any parameters you need to your route. Specifically, you can set time windows and priority stops.
Setting a time window tells us when a package needs to be delivered. For example, if your delivery route has a mix of commercial and residential addresses, you may want to deliver commercial packages earlier in the day during office hours.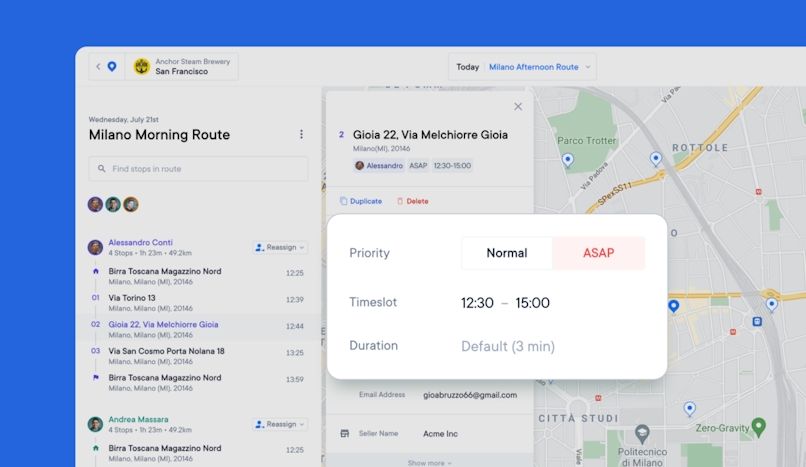 By setting a priority stop, you're telling Circuit which stop needs to happen first in the route. This lets you put rush orders to the head of the line.
Because you're using Circuit for Teams you can optimize the route for one driver or multiple drivers. Your drivers can access their route via their Circuit mobile app (available for both iPhone and Android users) and use it with any GPS navigation tool, like Google Maps or Waze.
Monitor Routes in Progress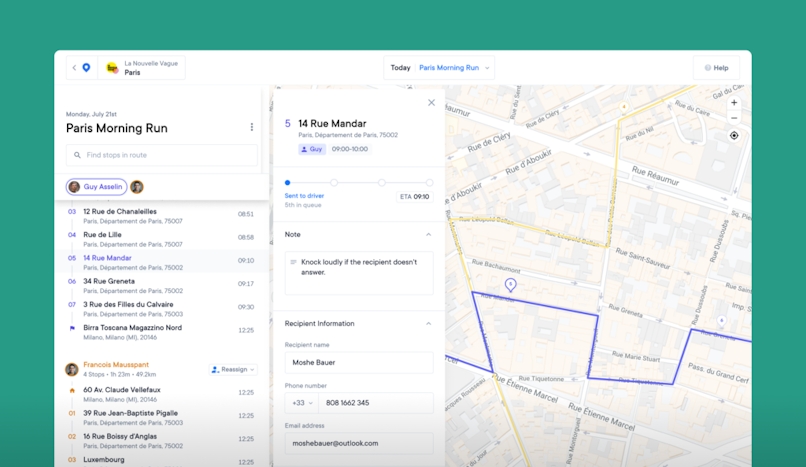 After you've done your route planning with Circuit, the route can still change through the day. Traffic accidents, vehicle issues, new or cancelled customer orders, and so on, can all affect a route. Routes are fluid and alive, which is why we let you monitor them from your web app.
Route monitoring lets you see where your delivery drivers are within the context of the route by providing you with their geographical location, along with which stop they just completed and where they're going next. This way you have access to accurate and updated in real-time ETAs.
If you need to make a change to you to a delivery route, simply make the change on the web app and the change is reflected for the driver on their mobile app.
Compare this to using an online delivery routing tool that doesn't offer route monitoring: If you have to make a change to a route without using a live app, then you'd need to physically call your driver, find out where they are, and then discuss any changes with them.
Send Out Delivery Tracking Information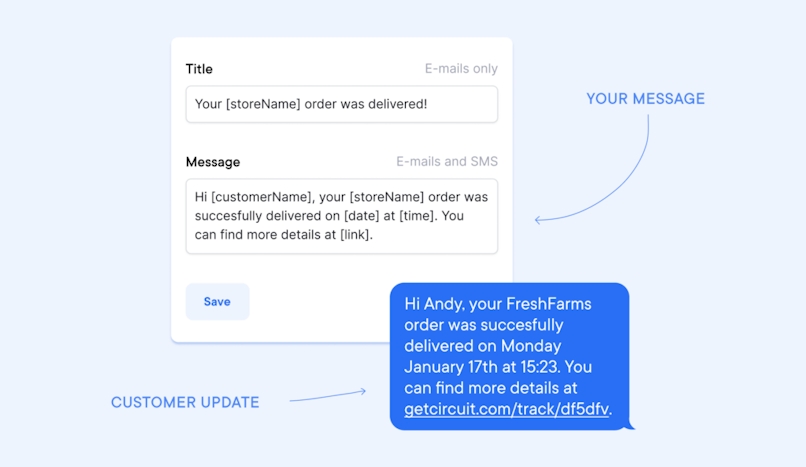 The other methods we discussed above (manually creating routes or using a web tool instead of a route planning app like Circuit) leave your customer in the dark as to the ETA of their package.
Some delivery teams will get around this by taking the time to actually email each customer once they have an ETA to share. But as we discussed above, routes change — which means ETAs change. Plus, the time it takes to individually email each customer their ETA at the start of the day is significant, and will only get worse as your business grows.
You can save time (and provide more accurate ETAs) by using recipient notifications.
Recipient notifications are an automated way to give your customers updates on their orders. Your customer gets a message with an ETA when your driver starts the route (the message can be an SMS, email, or both).
Your customer also gets a link that sends them to a dashboard where they can check on their route as it's in progress. When your driver gets closer to completing the stop, the customer gets another notification where they can message the driver directly to provide any additional information.
Collect Proof of Delivery
Finally, it's useful to have a way of officially declaring a stop as complete and successful — and for that, you can use Circuit to collect electronic proof of delivery.
Most parcels are delivered to a doorstep, so it's a best practice to offer peace of mind by sending out proof of delivery to your customers.
With Circuit, drivers can take a photo of where they left the customer's package and upload it to our app. A copy of the photo is sent to the customer, along with a timestamp of when the delivery was completed. If you do need to collect a signature, your driver simply uses their smartphone as a signature pad and the signature is stored in Circuit.
Combined, these four features are some of the core functionality of our delivery management platform, Circuit for Teams.
If you don't need an app for multiple drivers, and you're just looking for a quick and easy way to create the most efficient routes for yourself, then keep reading. Otherwise, start your free trial for delivery teams.
The Circuit Route Planner for Single Drivers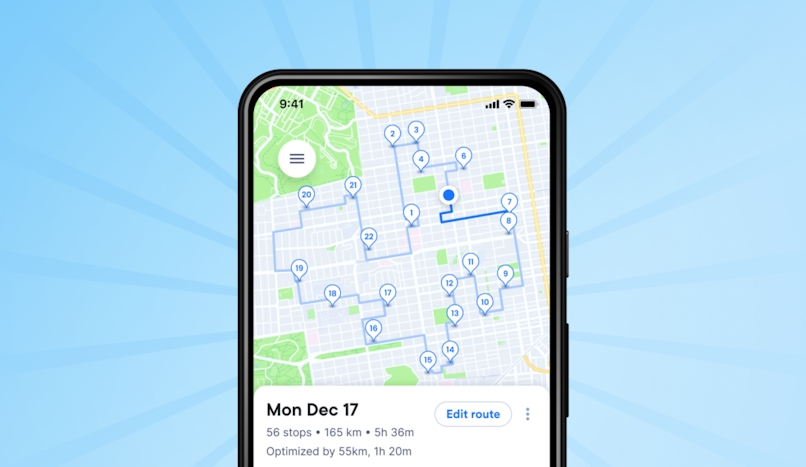 Circuit Route Planner is designed to help delivery drivers make their stops in less time. It works with all iOS and Android devices, and like Circuit for Teams, it can be used alongside mapping apps that provide driving directions, such as Google Maps, Apple Maps, and Waze.
It's very similar to what we discussed above, but without route monitoring, order tracking, or proof of delivery. Key features include route planning, optimization, and customization.
The Pro Subscription to the Circuit Route Planner is $20 a month, and you can make unlimited routes with 500 stops per route. Plus, you can still import spreadsheets for larger routes (currently for Android users only — iPhone will use manual entry).
One of our customers — a courier who works as an independent contractor for larger delivery companies — was actually able to double the amount of packages he could deliver in a day by using the Circuit Route Planner app.
Final Thoughts: Driving on an Optimized Delivery Route
We covered the three main ways delivery drivers and teams tend to create delivery routes:
While online route planners do provide you with efficient routes, they're not useful for the driver while they're completing their stops and managing delivery tasks. The key benefits of a route planning app are clear: you can create a route and manage it while it's in progress.
Circuit is used by thousands of delivery drivers and delivery teams, and on average it will save you one hour a day in route planning alone. Start your free trial.