7 minute read
Best Times to Drive in NYC for 6 Delivery Services
Delivery drivers can earn more money if they drive when the demand is high. Find out when the best times for driving are in NYC.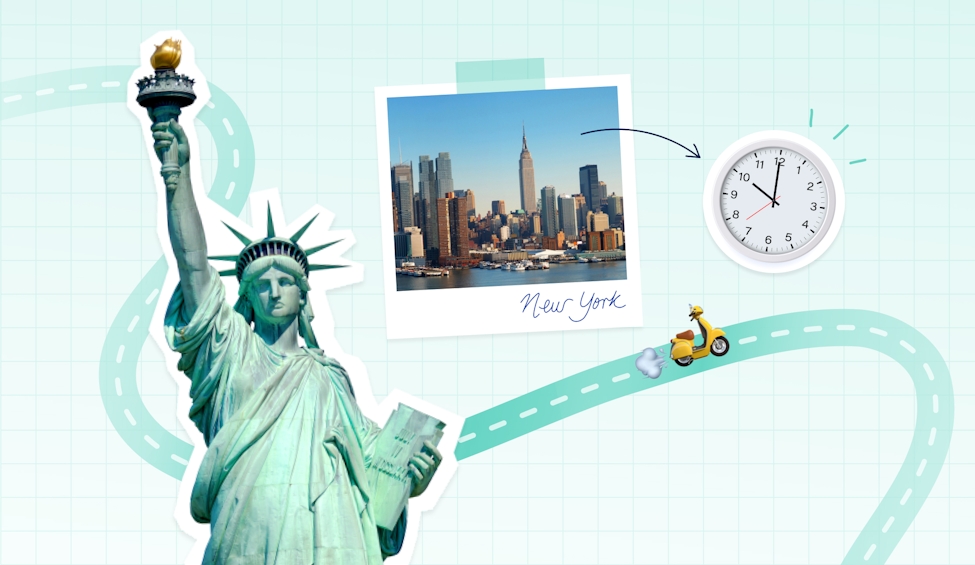 Want to beat the NYC traffic? Circuit Route Planner shows you the fastest routes for your package or food delivery driving.
With a population of more than 8.9 million, New York City has a lot of people who want delivered goods — from hot restaurant meals to packages. 
Unfortunately, NYC also has a lot of traffic. In fact, the city has the worst traffic of all US cities, earning the undesirable number one spot in terms of traffic congestion.
So, if you drive for a living (or as a side hustle) in NYC, it's a good idea to learn the city's traffic patterns. 
If you're like the drivers we talk to, you probably want to do your darndest to avoid the peak hours of traffic, skip overly complicated routes, and finish your delivery stops faster.
Here are some actionable tips about the best times to deliver in New York based on the type of deliveries you offer.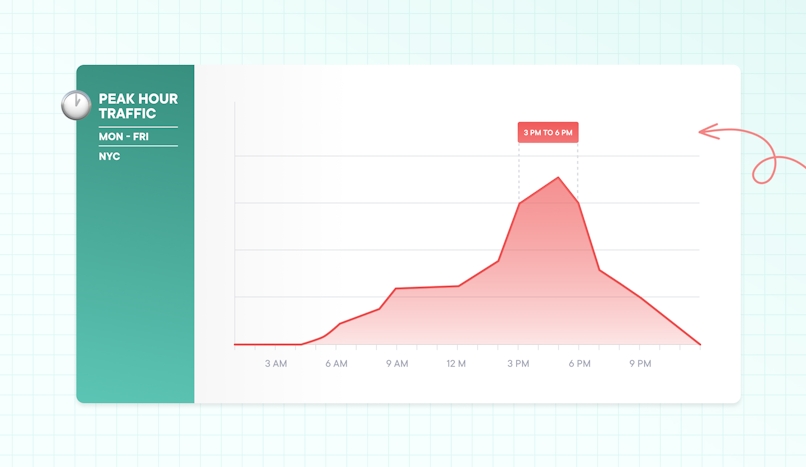 What time of day is traffic the busiest in NYC?
Based on TomTom's traffic index ranking, NYC ranks forty-third globally (out of 58 countries) in terms of traffic congestion.
But what does this mean for you specifically?
Well, traffic is the worst Monday through Friday from 3 pm to 6 pm — when New Yorkers are trying to get home from work. 
And there's a slight uptick in the mornings from Monday to Friday between 7 am and 9 am when people are heading to work. 
During morning rush hour, NYC has traffic congestion of 42 percent, while in the evenings, that number jumps to 64 percent.
What days are traffic the busiest in NYC? 
Friday is NYC's worst day for traffic, with peak hours being the "get me home!" rush of people leaving work (from 2 pm to 6 pm, starting a little earlier than other weekdays).
Like most people, New Yorkers can't wait to get the weekend started.
But Thursdays are a close second, with the get-home rush running from about 3 pm to 6 pm.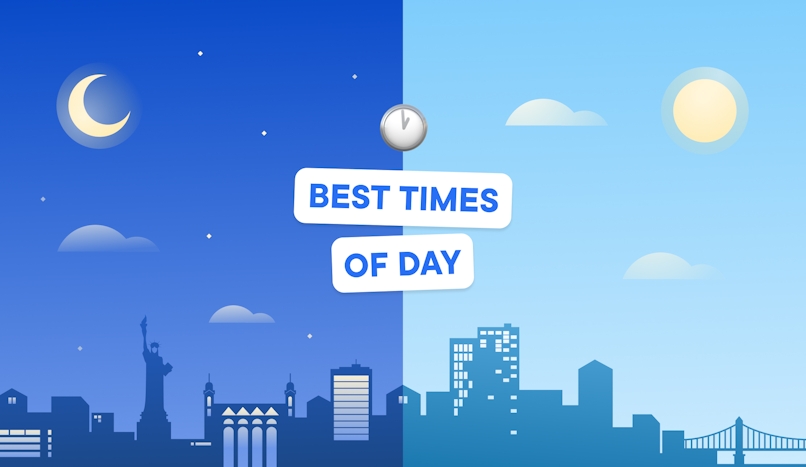 Best times of day for couriers to drive in NYC
Delivery drivers can choose from all kinds of driving jobs, from package delivery to rideshare services to food delivery apps. The best day and time to drive depends partly on your side hustle.
The best times for package delivery services may differ from the peak hours for food delivery, for example.
If you're a package delivery driver working for a courier service in NYC, here's what you need to know about planning your workday.
Best times for Amazon drivers in NYC 
Amazon is well-known for its consistent and fast package delivery, a reputation the eCommerce giant is building on with 15-minute delivery windows. 
With services like Amazon Prime, customers can get their goods even faster.
New York City's Amazon delivery drivers may end up hauling everything from athletic equipment to clothing, furniture, books, and more.
To avoid the worst NYC traffic times when delivering for Amazon, try to schedule your deliveries from 9 am to 3 pm when the least amount of people are on the road.
Hint: If you drive for Amazon Flex, you can set your own hours, making it easier to avoid the busiest times on the road. This flexibility is definitely worth it!
Best times for FedEx drivers in NYC 
FedEx hires both full-time and part-time drivers.
Some of their drivers handle larger vehicles and need to be approved by the Department of Transportation (DOT), but they also have non-DOT drivers who handle smaller vehicles (ideal for those twisting, turning, narrow NYC streets).
If you work for FedEx, you'll ideally drive during the middle of the day, so you can avoid the busy rush hours in the morning (7 am to 9 am) and afternoon (3 pm to 6 pm).
Another option is to drive on Saturdays and Sundays, which aren't as busy on the road. That said, with FedEx, you may be unable to pick your exact shifts.
Sound like something you'd want to do? Read our post on how to become a delivery driver for FedEx.
Best times for UPS drivers in NYC 
UPS trucks tend to be large, so if you're driving for this courier service, you really want to avoid bad traffic! 
Maneuvering a giant truck from Queens to Manhattan in bumper-to-bumper traffic? No thanks.
The company offers residential delivery every day of the week, while business services are available Monday through Saturday.
You can expect shifts to be slower on Sundays as a result. 
Plus, good news: Sunday is a slower traffic day for NYC drivers.
If possible, get your weekday driving done between 9 am and 3 pm (or on Fridays by 2 pm). 
This will let you avoid the worst traffic jams.
That said, like FedEx, UPS often hires drivers on a set shift basis, so you may be unable to avoid rush hours completely.
Interested in working for UPS? Check out our guide on how much UPS delivery drivers make.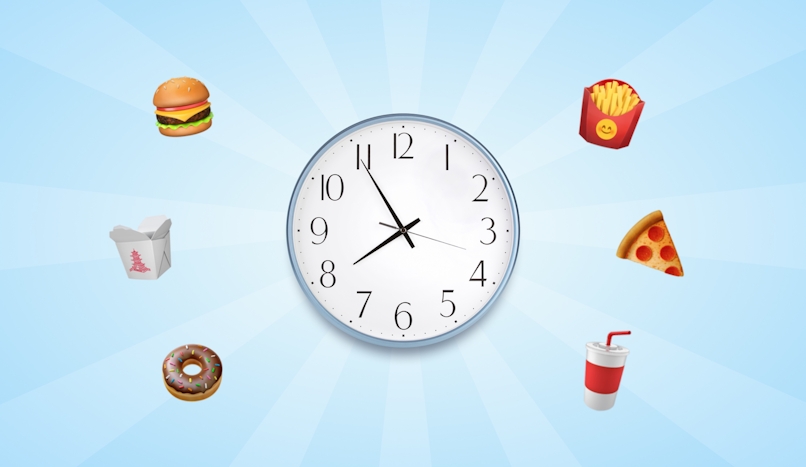 Best times of day for food delivery drivers to work in NYC
New York City restaurants offer everything from Vietnamese to ice cream (which definitely needs to be delivered fast)! 
There's no shortage of takeout and delivery options here.
If you're working as a food delivery driver in NYC, read on to discover the peak times for working while avoiding traffic.
Best times for Uber Eats drivers in NYC 
Uber Eats reveals that the highest demand for food delivery is during lunch and dinner, which the company says is from 11 am to 2 pm and from 5 pm to 9 pm. 
The early dinner rush will have you dealing with NYC traffic. However, you can still cater to the lunch rush and avoid the busiest times of the day.
Try to focus on serving hot spots with a high volume of restaurants, like downtown Manhattan and Brooklyn.
You can also learn more about driving for Uber Eats (and how to apply) by reading our guide on how much Uber Eats drivers make.
Best times for DoorDash drivers in NYC 
As an NYC Dasher, you can expect plenty of opportunities. The company has over 6,000 restaurant partners in the city.
Try to avoid the NYC rush hours by focusing your delivery times between 9 am and 3 pm.
You can also cater to people who eat dinner later and still avoid rush hour — since NYC peak traffic times usually taper off around 6 pm.
In a city that never sleeps, someone is always hungry.
If you want to earn more money, try participating in incentives like Dasher Challenges. 
Learn how much you can make as a Dasher. We also have a guide on how to become a DoorDash driver.
Best times for Grubhub drivers in NYC 
Grubhub made a splash with its aggressive NYC debut — offering a free lunch on Tuesdays (the offer overwhelmed restaurants and had to be canceled)!
Now, the food delivery giant is a popular option for hungry New Yorkers. 
If you drive for Grubhub, focus on the midday lunch rush to avoid the peak traffic congestion from 7 am to 9 am and 3 pm. to 6 pm.
If you prefer to drive in the evenings, you can still catch the dinner rush after 6 pm.
What's the fastest way to make deliveries in New York City?
Whether you work full-time for a package delivery company like UPS or are an independent contractor for a food delivery service like Grubhub, you want to get your stops done as quickly as possible. 
Here are a few hacks to help you make your NYC deliveries even faster.
Why the best delivery drivers use Circuit Route Planner
They say if you can make it in New York, you can make it anywhere. That's especially true for delivery driving. With the worst traffic congestion in the country, managing routes efficiently in the Big Apple isn't for the faint of heart.
Fortunately, understanding NYC traffic patterns can help you avoid the worst traffic so you can get your routes done more quickly.
Another helpful hack? Circuit Route Planner.
Our route optimization software connects to GPS tools like Google Maps to sketch out the fastest delivery routes, taking into consideration real-time data like construction sites and traffic jams.
With Circuit, hitting all your stops is faster, easier, and less stressful.