12 minute read
A Guide to Selling on Shopify in 2023
Learn how to set up and grow your own Shopify website and earn more money with this step-by-step guide.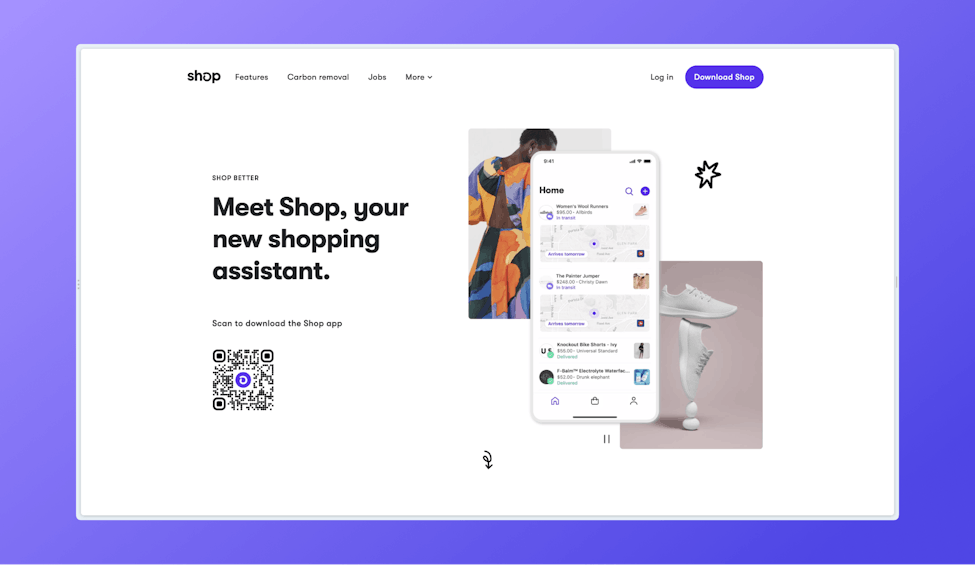 Want ways to boost your profit? Start using Shopify to increase revenue and Circuit for Teams to help decrease costs.
If you've spoken to a friend about launching an online store, chances are they've told you to check out Shopify.
Since its launch in 2006, Shopify has become the top platform for building eCommerce websites and has helped users make sales of over $543 billion. 
Around 1 in 3 online businesses in the US use Shopify to power their eCommerce stores.
The reason for Shopify's popularity? 
It's beginner-friendly compared to other eCommerce platforms like Amazon, WordPress, and eBay.
Shopify combines the easily editable templates of WordPress with the eCommerce functionality of eBay. 
Whether you're new to online selling or have a specific business idea in mind, Shopify could be the right platform for you.
In this step-by-step guide, I'll explain how to start selling on Shopify, describe the platform's functionality, and share tips on maximizing sales.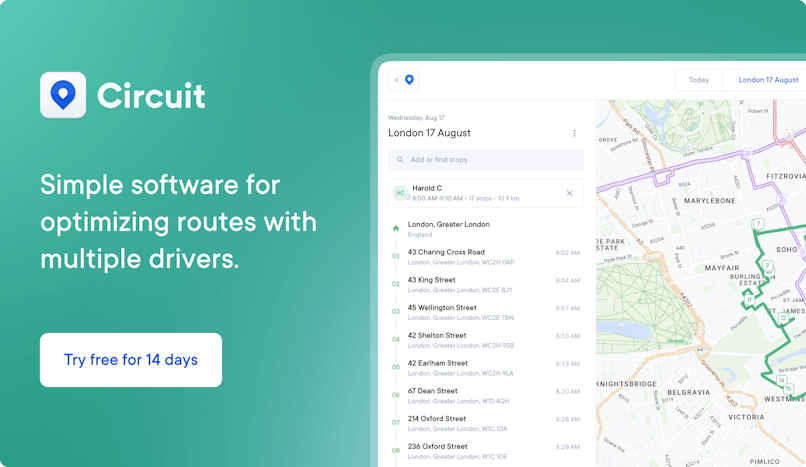 How to start selling on Shopify
Here are four steps to help you set up your Shopify store for success.
1. Determine your products and clients 
There are over a million eCommerce businesses on Shopify, so it's easy for a new store to get lost in the crowd. 
To succeed on this platform (or anywhere, really), you need a unique idea that helps you stand out.
Spend time researching market gaps and look at what's doing well on the platform. This can help you decide if your product is in demand and will sell well.
The US Small Business Administration (SBA) has a helpful guide to market research and competitive analysis. 
Take some time to determine your target audience. Knowing your ideal customer can help you design your new website to cater to their needs. 
Ask yourself what features your customers would like. How can the website offer a great user experience? 
Speak to individuals from your target group and use their feedback to build a better eCommerce website. 
You can do this by holding research interviews and focus groups open to anyone from your target demographic. 
You can also look for statistics online to figure out broad customer trends.
How you price your products can also affect your business. 
Customers are sensitive to price and want the most benefit for their time and money. 
If your price is too high, you may scare away potential customers. 
But if you price your products too low, you won't make enough profits.
Here's a simple method for finding a suitable product price:
Add up variable costs like packaging and transportation costs. These are directly related to making the product.
Add in your profit margin, which is the percentage of the sale that's profit. For example, if you want a 25 percent profit margin, you can work that into the calculation to determine a price. Use this formula: (total variable costs) / (1 - 0.25).
Factor in fixed costs (what you spend to keep your business running), like permits and salaries.
Test out the price and adjust it depending on your customers' response.
2. Set up your Shopify eCommerce store 
Start by purchasing a custom domain name for your website. 
While Shopify offers free domain names like yourshopifystore.shopify.com, they don't look very professional and are long and difficult to remember. 
Investing in a short and relevant domain name with ".com" at the end is best.
First-time Shopify users can get a risk-free, three-day free trial to test the platform. 
During these three days, you can access Shopify's features, launch your store, and sell products. 

If you're happy with how your website works, you can choose a paid plan and continue to scale your business.
Shopify has an easy-to-use quick-start wizard. It takes you through all the steps — from setting up sales channels to adding payment methods.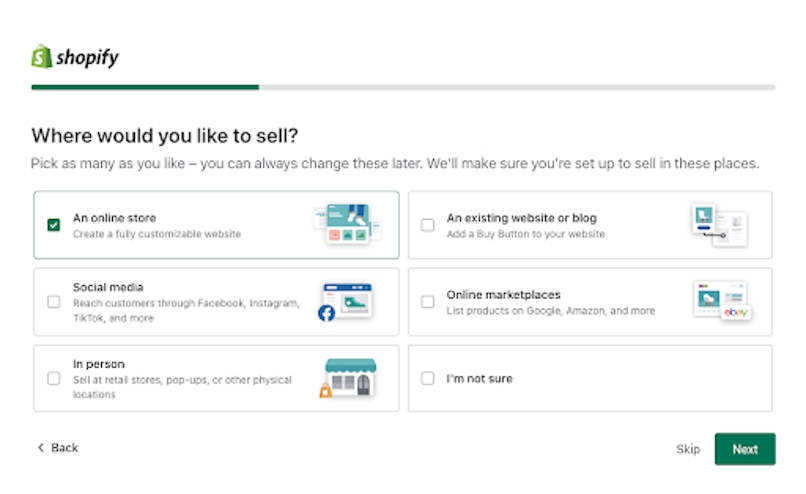 Setting up Shopify Payments is easy. 
You can choose to accept credit cards, debit cards, and in-person payment options, and pay a flat-rate processing fee. 
Shopify offers these point-of-sale (POS) methods:
Visa, Mastercard, American Express, Discover, JCB, Diners Club
Shop Pay
PayPal
Apple Pay
Amazon Pay
Google Pay
You can also connect your store to another credit card processor and pay a separate transaction fee.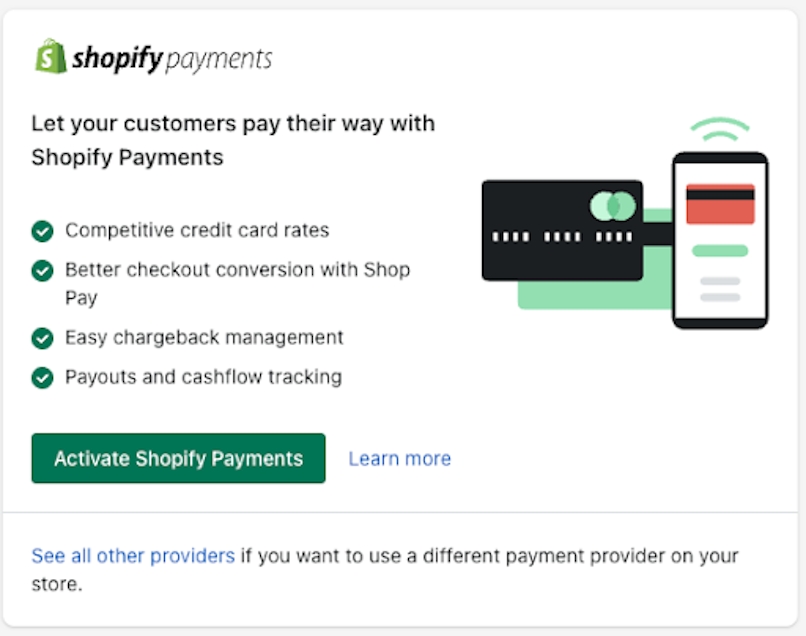 Adding and organizing your product listings is probably the most time-consuming part of setting up your Shopify store. 
But a well-organized store makes for a better user experience, so it's worth the effort. 
Follow these steps to add products to your store:
Go to the admin dashboard.
Click "Products" to open the products page.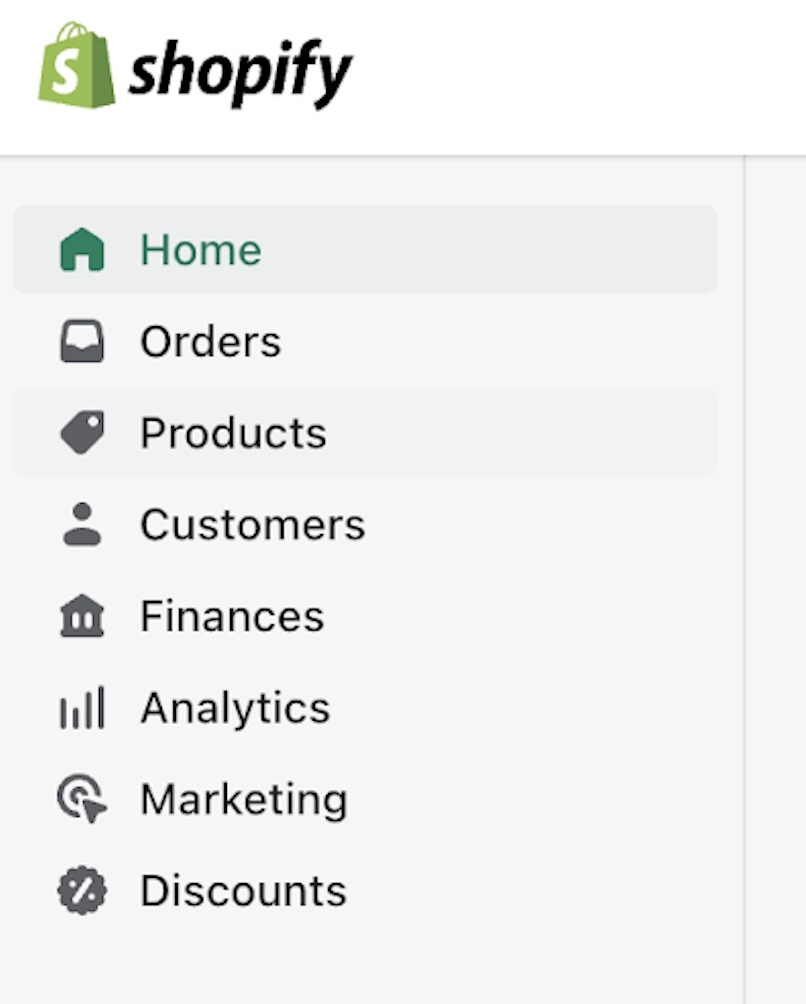 3. Click "Add product."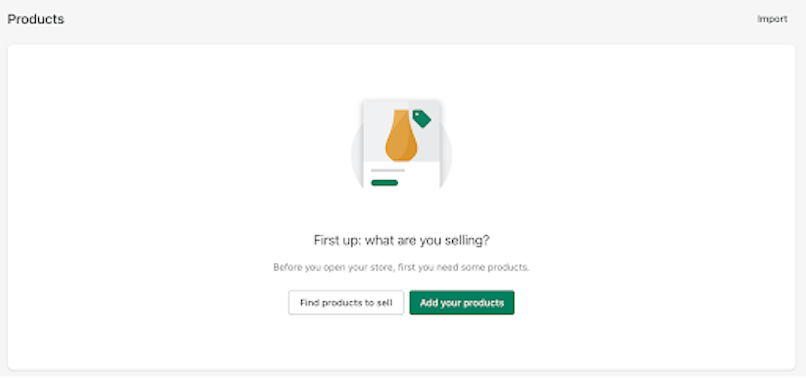 4. Enter the title and additional product details. These include the product description, shipping details, weight, and pricing.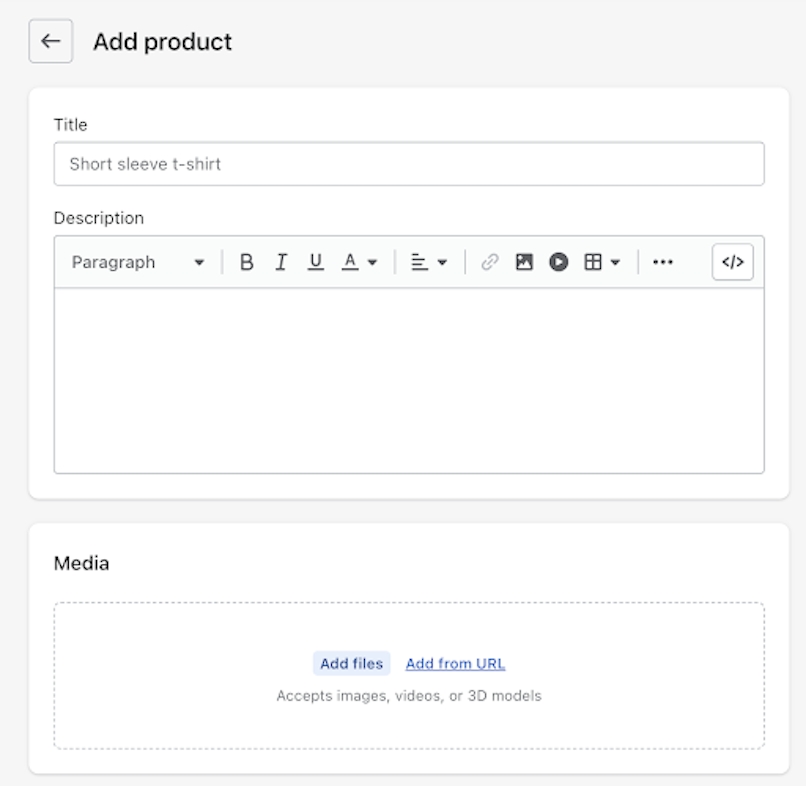 5. Click "Save."

While adding products, you'll need to choose the sales channel where you want to sell them.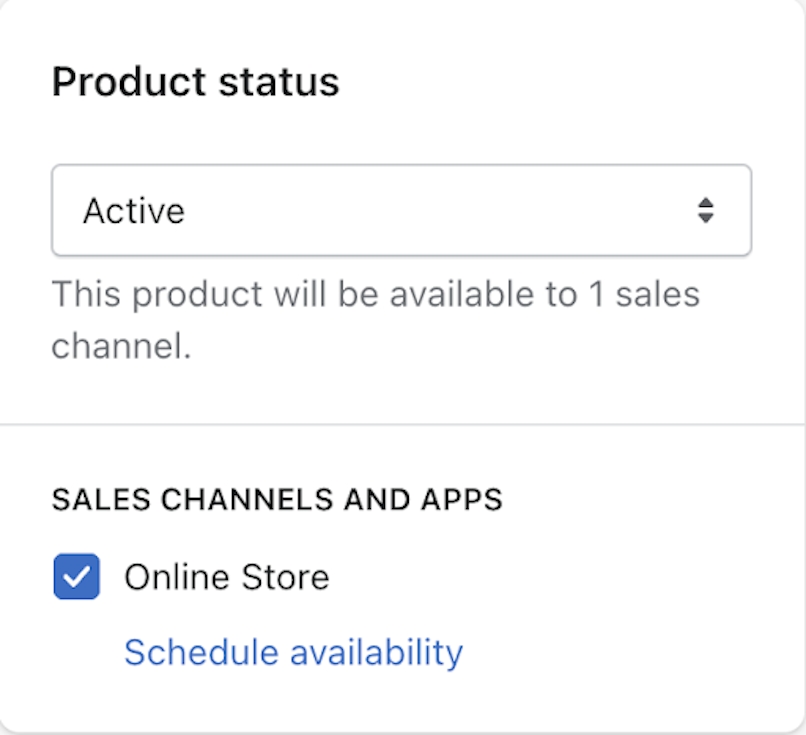 Did you know your Shopify online store is just one way to sell on the platform? 
You can also connect other sales channels (like TikTok, Pinterest, Messenger, and in-store sales) to your Shopify account. 
You can further organize these items by visiting the "Collections" tab.

Add products to different collections, but make sure each collection has a title and description. 
Examples of collection names include:
Men's or women's footwear
Discounted items
Items available in a specific color
Seasonal products (like Thanksgiving cards) 
Organizing your products into collections helps with search engine rankings and makes it easier for customers to browse products.
With your product pages in place, you can design your storefront. 
When building your Shopify website, you can choose from a wide range of paid and free themes and templates, or create a custom design. 
Once you find a Shopify theme you like, click "Try theme" to see how it looks before buying and adding it to your site.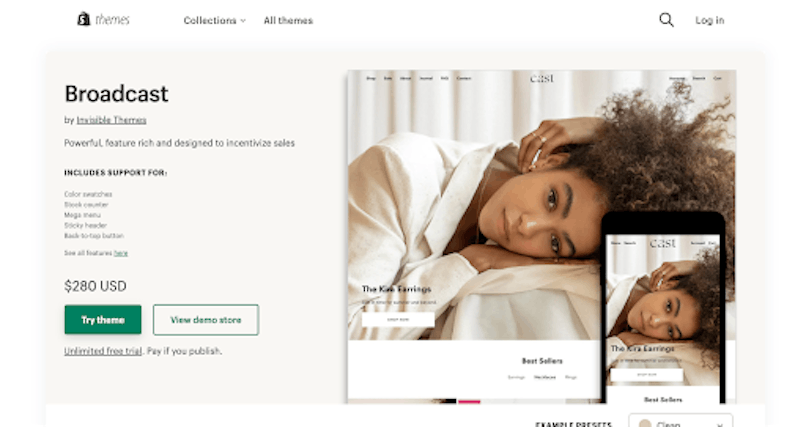 If you like how it looks, select "Buy theme" (or "Add theme" if it's free) to use it instantly.
Shopify allows you to personalize themes under the "Theme settings" tab. You can change the fonts and colors as per your preferences and branding.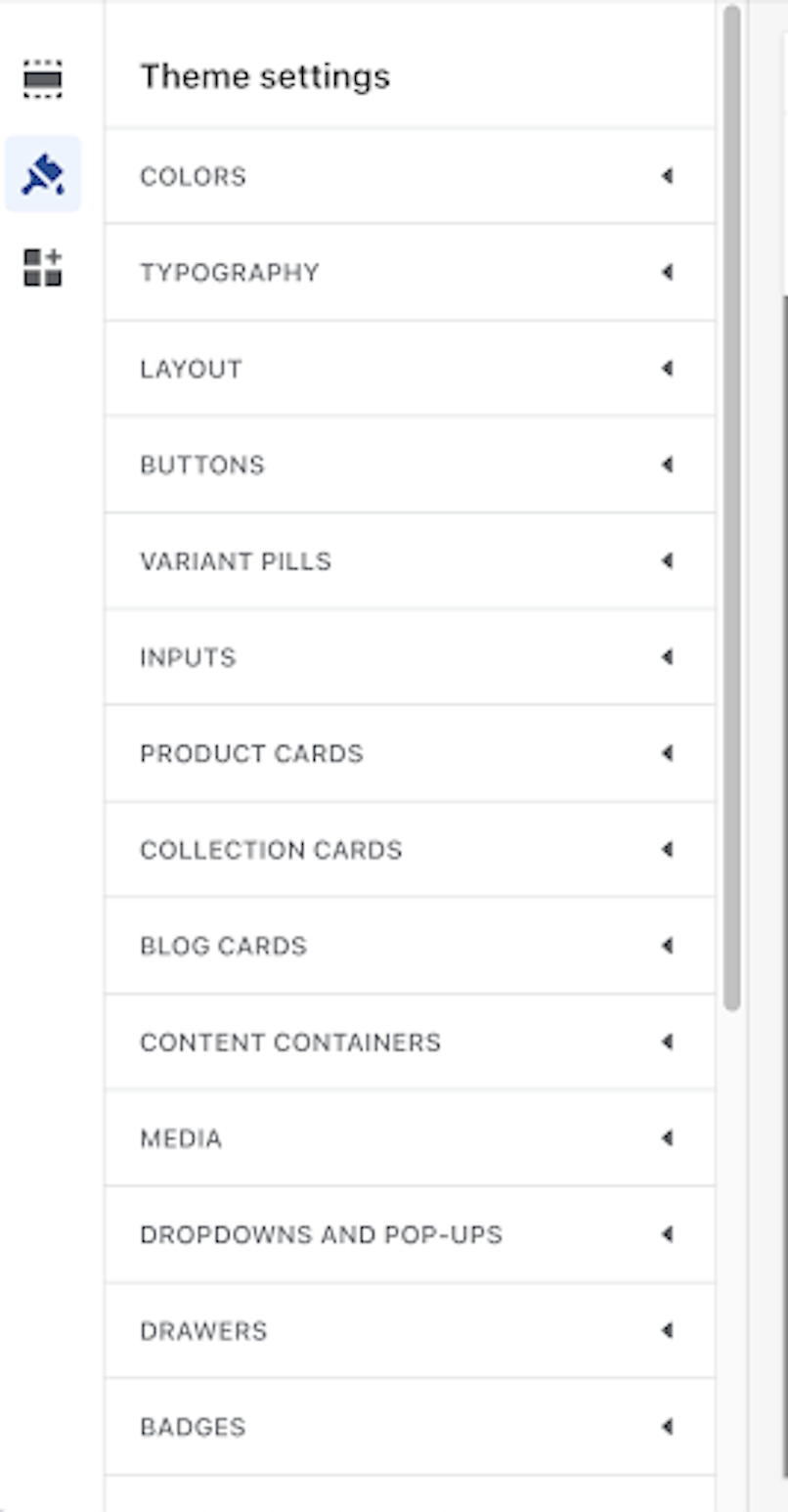 Under the "Header" tab, you can choose the content that appears at the top of every page and add your logo or store name.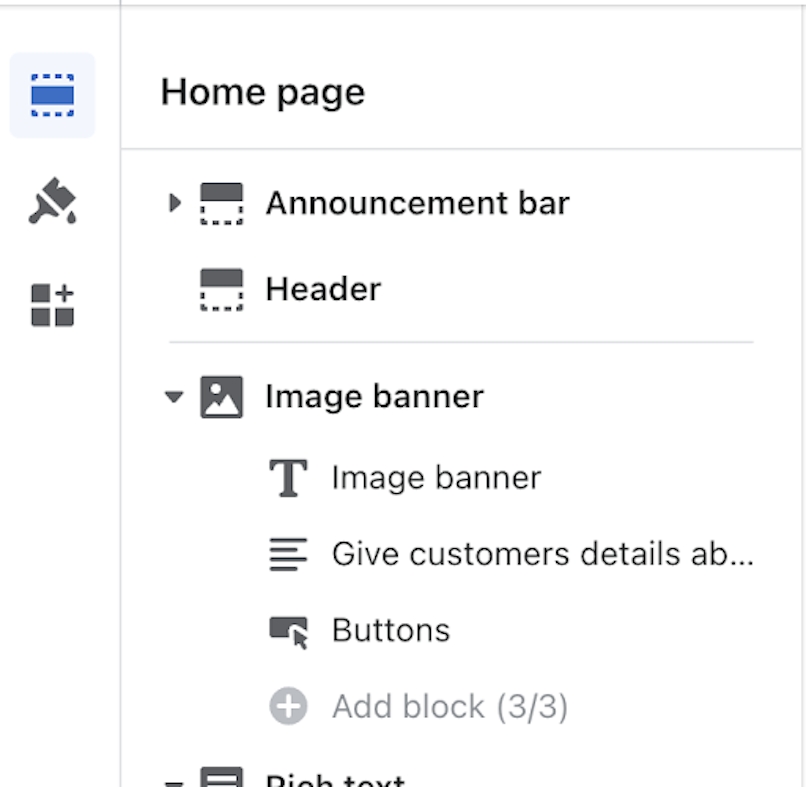 You also need to set up the footer (the text that appears at the bottom of each page). 
You can include your contact information, links to any policy pages, and an email sign-up list in this section.
Create the store menu by clicking the "Navigation" tab under "Online Store." This menu will help your customers explore your website.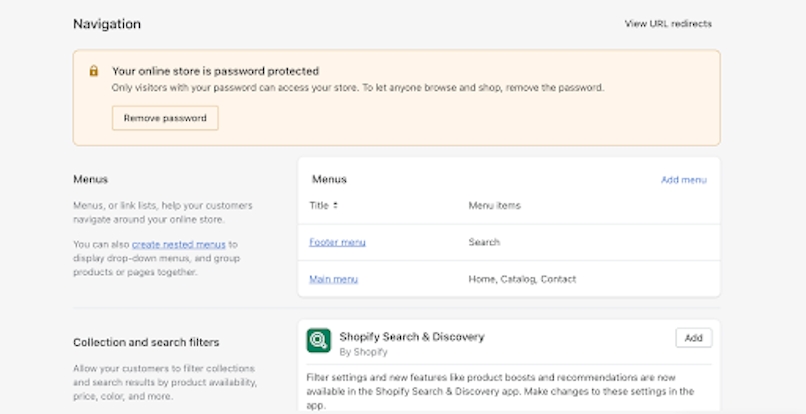 Click the name of the menu that you want to edit. Then, click "Add menu item."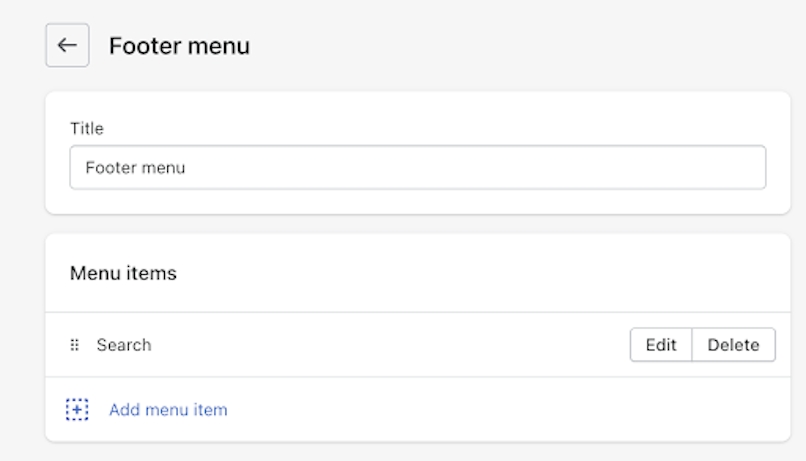 Now, you can enter the title of the link you want to add in the "Name" field.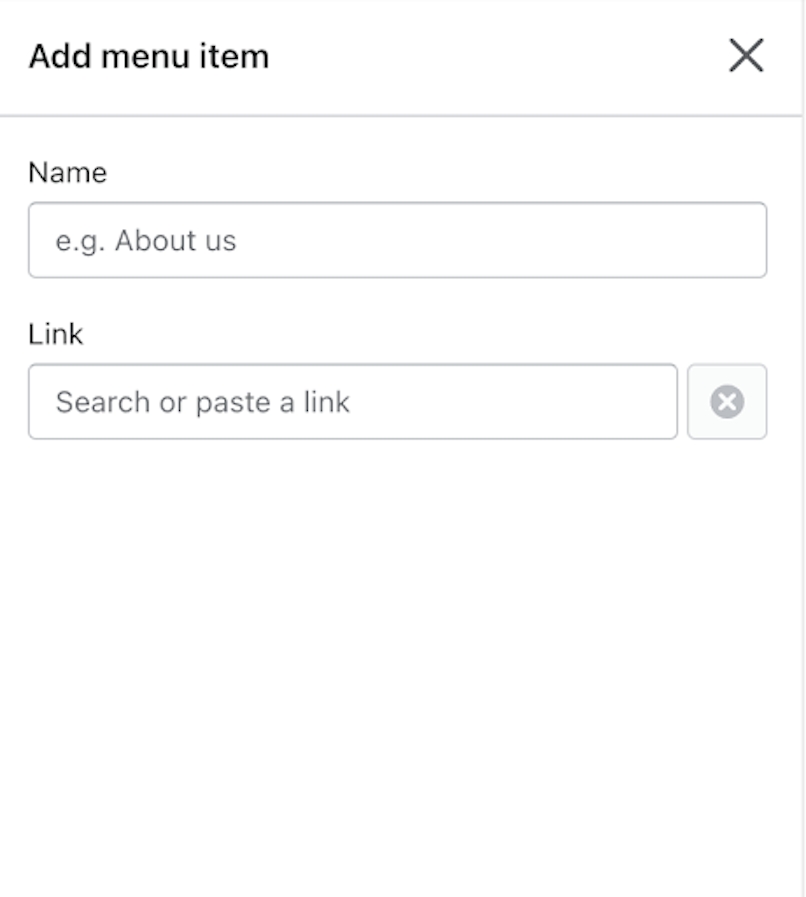 Some examples of link types you can insert are "homepage," "collection," "blog," "search page," and "web address."
Clear shipping, returns exchange, and privacy policies are essential for any eCommerce website. 
You can add these using the "Pages" tab. 
Add pages like "About us" to give your customers more information about your brand.
You can also customize your store's SEO title and meta tag. To do this, click "Preferences" under the "online store" tab.

3. Determine your shipping methods 
Before selling products, you need to know how to ship them to your customers. 
You can fulfill orders yourself or partner with a company that can handle the fulfillment process for you.
As a store owner, you can also offer multiple shipping options (depending on the location of the orders) and adjust your shipping rates.
White glove deliveries are better handled by your own business, whereas you can assign others to a third-party delivery business. 
As for the shipping strategy, you can choose from a variety of options (like free shipping or flat-rate shipping). 
Here's a Shopify guide to help you decide which strategy suits you best. 
If you decide to deliver orders in-house, Circuit for Teams can be a valuable tool. 
Our routing software makes optimizing routes for multiple drivers much easier. 
You can also update customers with live tracking links and get digital proof of delivery.
4. Grow your Shopify store 
To make your Shopify store the best it can be, don't be afraid to put a little sweat into it.
This means inventory management, reaching out to new audiences, and updating your storefront regularly. 
You can also connect Google Analytics to your Shopify store to track and analyze your website's performance.
Running ads on social media is a great way to get new people to your store. 
Facebook Ads (now called Meta for Business) allows you to promote your Shopify store on Facebook and Instagram. 
You can advertise to your target audience and include relevant demographics like location, age, gender, and interests.
Facebook's marketing tools allow you to target the audience of competitor pages to create more leads. 
You can also study competitors' content to determine what gets more engagement. 
Use these insights to help build and strengthen your marketing strategy.
Email marketing is another effective way to get your message across to current and potential customers. 
Around 64 percent of small businesses use email marketing for advertising their products and campaigns.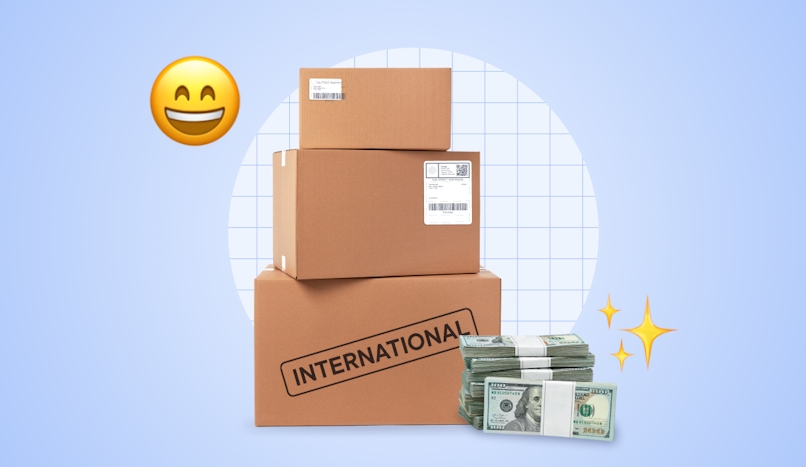 How to earn more as a Shopify seller
Making money on Shopify takes time and effort. 
If you're feeling stuck, try using these practices to drive more leads and convert them into paying customers:
Give clear and accurate product descriptions. It's essential to display and describe your products clearly. Add details like the size, color, material, variants, and any unique features that may encourage potential customers to press the buy button. Be sure to include high-quality images taken from multiple angles to give the user a clear picture of what you're selling.
Offer a positive customer service experience. Good customer service can translate into more sales. In fact, 89 percent of shoppers would make another purchase from a brand that offers good customer service. It's not always easy to deal with tough customers, but it's worth it in the long run. Good customer service includes making faster deliveries, allowing customers to choose their delivery urgency and estimated delivery date, and allowing them to leave feedback on the delivery platform. 
Listen to customer feedback. Adapting to customers' needs is important when running an eCommerce store. eCommerce is a very competitive field. If you don't service your customers well, they'll be quick to switch to another brand. Be open to feedback and changes if something isn't working right — whether it's pricing, your marketing strategy, or the product itself.
Shopify seller FAQs
Still have some questions about selling on Shopify? Here's a list of FAQs that can help.
How much does it cost to sell through Shopify? 
Shopify has five pricing plans.
Shopify Starter is $5 per month and lets you sell products through social media and messaging apps.
Shopify's Basic plan costs $29 per month and includes basic reports, two staff accounts, and four inventory locations. 
The Shopify plan costs $79 per month and comes with professional reporting, five staff accounts, and five inventory locations. 
The Advanced Shopify plan costs $299 per month and has custom reporting, low transaction fees, and 15 staff accounts. 
Check out the Shopify pricing page for more information.
Meanwhile, Shopify Plus starts at $2,000 per month and caters to high-volume businesses.
Can I sell anything on Shopify? 
Shopify allows you to tell any product or service that doesn't go against their Acceptable Use Policy. 
Here are some banned items: 
Anything that relates to child exploitation
Some products related to COVID-19
Hateful content
Illegal activities or items
Protected intellectual property
Advertising with malicious and deceptive practices
Anything with personal, confidential, and protected health information
Goods, services, or materials that promote self-harm
Goods or services that support terrorist organizations
Is selling on Shopify profitable? 
Selling on Shopify can be profitable. 
The global eCommerce market is expected to grow to $5.4 trillion in 2026, meaning there are still many opportunities for those entering this sector.
The average American Shopify store earns $72 per customer. 
While profits vary by store, there definitely seems to be enough room to make money on the platform. 
Even small entrepreneurs on Shopify have earned up to $10,000 in two months through dropshipping.
But not every Shopify business succeeds. It's important to keep experimenting and changing your business model until you find the right one for you.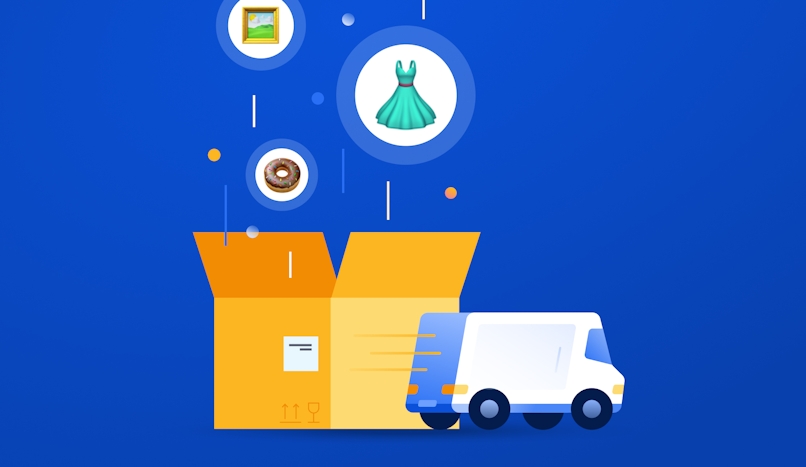 Handling deliveries yourself? Circuit for Teams can help
Congratulations! You're now ready to set up your own Shopify store. 
By selling on Shopify, your small business can reach a larger audience and connect customers with amazing products, all while earning that paycheck.
While owning a Shopify store is exciting, you still need to take care of a few things — like how you'll handle deliveries.
If you're catering to a local audience and plan to make deliveries through an in-house team, consider using Circuit for Teams. 
Circuit for Teams can help you create a driver schedule to make quicker and more efficient last-mile deliveries. 
Our route optimization software plans the fastest sequence of stops for your team of drivers — so they can make more stops in less time and deliver more orders daily.