6 minute read
DoorDash Business Model: How Does DoorDash Make Money?
DoorDash revolutionized food delivery service, but DoorDash revenue comes from more than just delivery fees. Learn more about how DoorDash makes money.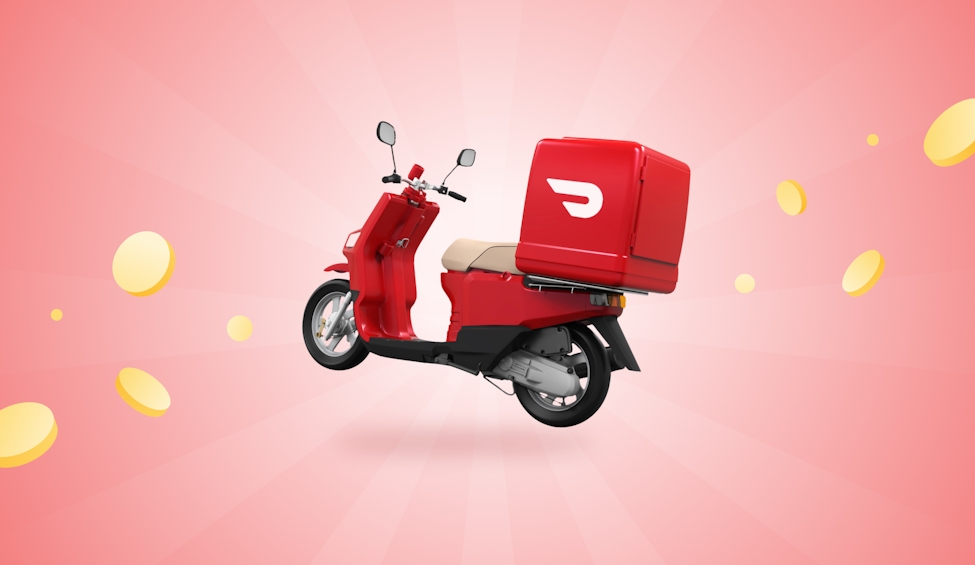 Take a page out of the DoorDash playbook and up your company's delivery game with Circuit for Teams.
DoorDash was a game-changer.
The company disrupted an entire industry with its on-demand food delivery services.
Founders Tony Xu, Andy Fang, Evan Moore, and Stanley Tang started DoorDash with a soft launch in the Bay Area under the name Palo Alto Delivery.
It was an instant hit.
In 2013, its first year of operation, the startup expanded to 70 restaurants in the San Francisco Bay Area and raised over $2 million in funding.
From there, it grew at an astounding rate of 20 percent every week!
Today, DoorDash is a multi-billion dollar business.
In the quarter ending June 30, 2022, the company's total revenue was around $1.7 billion, a 30.1 percent increase year over year.
The 12-month DoorDash revenue total was about $5.6 billion, a 35.5 percent increase over 2021's $4.9 billion (an amazing 69.4 percent increase from 2020).
And when DoorDash went public in 2020, its share price skyrocketed to $189 within days.
There's no doubt DoorDash has tapped into our growing hunger for convenience.
Of course, we know the delivery market became even more essential during the COVID-19 pandemic.
But how does DoorDash actually make money? I'll walk you through the DoorDash business model and how it works.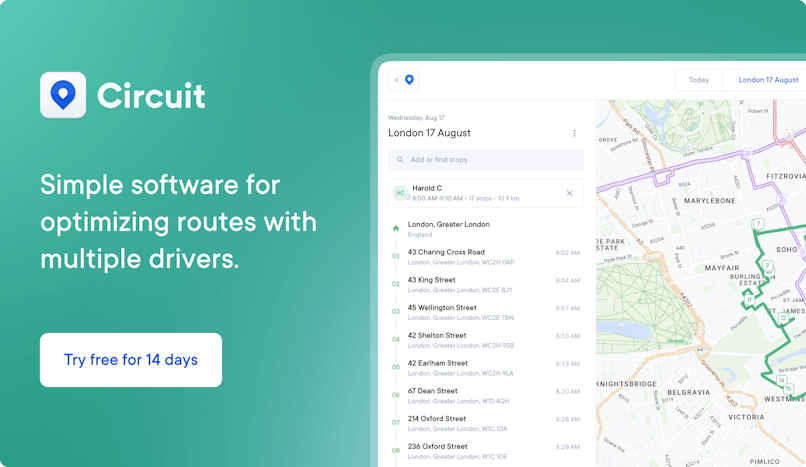 The DoorDash business model
DoorDash is an on-demand food delivery service.
Customers use the DoorDash app to order food from local restaurants.
Dashers — DoorDash's team of gig economy workers — pick up the food and deliver it to the customer.
In 2021, more than 1 million drivers helped over 450,000 restaurants reach over 20 million users.
DoorDash offers restaurants an easy way to manage delivery orders and extend their customer base without needing to hire delivery staff or use their own online ordering system.
Here's how it works:
Customers use the DoorDash app to place an order from a local restaurant.
The restaurant receives the order and begins preparing the food.
A Dasher is assigned to the order and goes to pick up the food.
Once the food is picked up, the Dasher delivers it to the customer using the Dasher app.
The customer pays for the food, plus a delivery fee and service fee, through the DoorDash app.
The restaurant pays a commission to DoorDash for each order, and DoorDash pays the Dasher a per-order fee.
Restaurant owners can also advertise on DoorDash to get more customers.
Dashers are free to set their own schedules and can choose which orders they want to deliver.
Dashers earn a base pay rate for each order, plus any promotions and 100 percent of customer tips.
And because independent contractors comprise the bulk of the company's workforce, DoorDash doesn't have as many traditional expenses associated with employee compensation.
This helps keep costs low and prices competitive.
Speaking of competition, DoorDash competitors like GrubHub, Uber Eats, and Postmates have similar business models.
DoorDash also owns Caviar, a more selective food delivery service that partners with popular or high-end restaurants.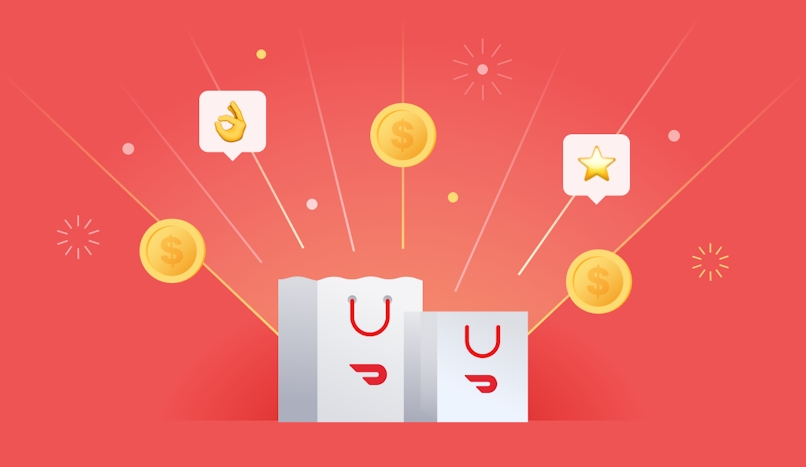 How does DoorDash actually make money?
Now that I've reviewed the DoorDash business model basics, let's get into the details.
How does DoorDash work, and what are its revenue streams?
You might be surprised by the many ways DoorDash earns revenue.
I'll break down the different ways DoorDash makes money.
Restaurant commissions
Restaurants pay a commission to DoorDash on every order.
DoorDash has a unique value proposition for restaurants.
DoorDash helps them increase sales by extending their reach to new customers and making it easy to manage delivery orders.
Restaurants also don't have to worry about the hassle and expense of hiring their own delivery team or creating their own online ordering system.
But this service comes at a price — a commission.
The latest restaurant commission plans launched in April 2021.
Previously, commissions were 20 percent, but the new model offers restaurant owners a few options.
DoorDash now offers Partnership Plans at different levels.
The plans cost 15 percent, 25 percent, and 30 percent, with each plan offering different perks and offerings.
DoorDash Basic (the 15 percent commission plan) doesn't include in-app marketing, decreases the restaurant's delivery footprint, and puts a higher portion of the delivery cost burden on the diner.
Higher delivery costs for customers could lead to fewer orders and less revenue for the restaurant.
The 25 percent DoorDash Plus and 30 percent Premier plans give the restaurants access to DashPass (DoorDash's subscription program), which offers customers free and discounted deliveries.
The DashPass loyalty program is a key part of DoorDash's revenue model, and we'll dive into that later.
The Premier plan offers the lowest diner fees and the largest delivery footprint.
It also includes in-app marketing (which helps restaurants reach new customers through DoorDash's app) and a Growth Guarantee.
The Growth Guarantee lets restaurateurs get a refund on their commission if they get below a certain number of deliveries.
If restaurants receive fewer than 20 orders per month, for instance, DoorDash will refund the entire commission at the end of the month.
Commission fees also cover credit card processing (customers can Fast Pay through the app) and 24/7 customer support for the restaurant, DoorDash customers, and Dashers.
Delivery fees
Customers who order food through the food delivery app pay a delivery fee.
According to DoorDash, service and delivery fees vary depending on the restaurant, time of day, and other factors.
Generally, the cost is $5 to $8 per order and covers delivery.
In 2020, DoorDash had 816 million orders.
That's billions of dollars in delivery fees alone.
DoorDash also has a small order fee of $2 for orders less than $8 to $10 depending on the market.
Restaurant ad revenue
The DoorDash delivery platform offers restaurants the ability to advertise on the app.
Restaurant owners can use the Merchant Suite to advertise for more visibility on the app.
Just like how fewer than 1 percent of Google searchers click on the second page of search results, pushing your restaurant to the top of the DoorDash app is key to getting more orders.
Restaurateurs can purchase search-page ads, banner placements, and featured listings.
This is just another way for DoorDash to grow its revenue and offer expanded services to its restaurant partners.
Subscription services
DoorDash offers a subscription service called DashPass to its customers.
For $9.99 a month or $96 a year, customers enjoy a $0 delivery fee on every order over $12.
Customers can also have eligible grocery orders of $25 or more delivered with no delivery fees.
It's a win-win. 
Not only does this save customers around $5 to $8 per order, but it also builds loyalty to DoorDash. 
Since customers have an ongoing subscription, they're less likely to switch to a competitor.
There were 5 million DashPass users in 2021, making this a major source of revenue for the company.
DoorDash catering services
DoorDash offers corporate catering services and event catering services, which can be scheduled in advance.
They also allow businesses to place large group orders, set a spending limit, and have the food individually packaged and delivered to their office or current location. 
This is great for events, meetings, and special occasions.
This allows DoorDash to tap into business-to-business (B2B) sales and expand its customer base to include corporate clients.
DoorDash Drive for restaurants
DoorDash Drive is the company's white glove delivery service for businesses.
Instead of having customers go through the DoorDash app, you can offer online ordering on your own system while still using DoorDash's delivery prowess — they handle on-demand deliveries for you.
DoorDash Drive charges a flat delivery fee on each order with no commission, subscription, or hidden fees.
Their logistics platform even integrates with many point-of-sale (POS) systems like Square, Toast, Olo, Bringg, Redcat, NCR, and 9Fold to ease the workflow.
This is another way DoorDash harnesses B2B sales to bring in revenue.
DashMart convenience store commissions
DashMart sells itself as a way to boost retail sales for convenience stores.
Essentially, it's a convenience store platform where convenience stores can offer retail products and household essentials delivered straight to customers' doorsteps.
Like the restaurant-facing model, convenience stores pay a commission for the service.
DashMart has more than 2,500 convenience stores in over 1,100 cities in the US, including Walgreens, CVS, and 7-Eleven.
It represents another way DoorDash uses its delivery powers and the large volume of Dashers to enter new markets and grow its revenue.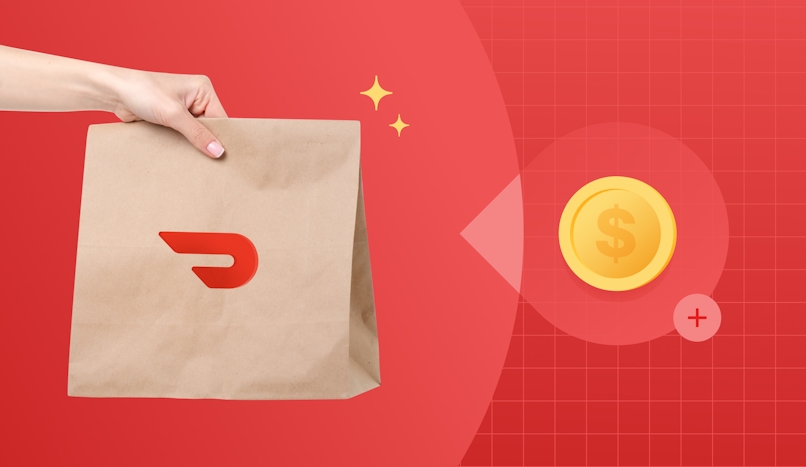 Delivering orders from your business? Circuit for Teams can help
Now that you know how DoorDash works, you can see the company has continually found new ways to grow its revenue and offer expanded services to its restaurant partners.
The food delivery business model has grown by leaps and bounds in recent years — and DoorDash is at the forefront of this growth.
If you're a business owner looking for a food delivery partner, DoorDash is a great option.
But what if you want to offer food delivery without using DoorDash?
Or what if you don't own a restaurant or convenience store and can't use DoorDash for your business?
This is where Circuit for Teams can help.
Circuit for Teams helps businesses that deliver their own orders grow and improve their business with optimized delivery routes, real-time delivery driver tracking, proof of delivery, and automatic updates for customers.
Check out how this events and catering business used Circuit for Teams to save 60 percent of their time on route planning every week.
Deliver faster and more efficiently with Circuit for Teams.