5 minute read
How This Catering and Events Business Saved Hours Planning Multiple Routes
By moving from manually planning their deliveries to automated route optimization, Roll This Way saves over 60% of their time on route planning every week.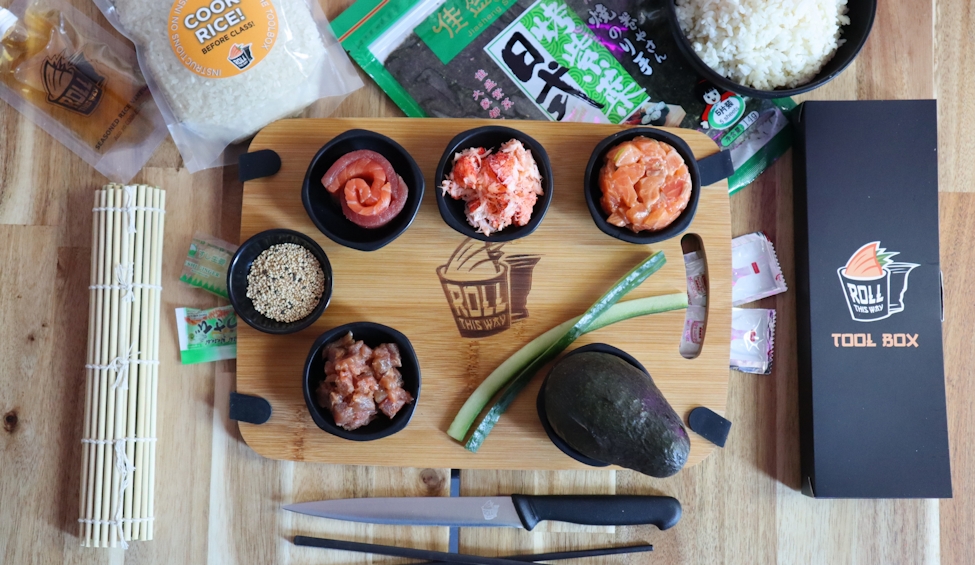 When the catering and events planning service, Roll This Way, started their virtual sushi-making lessons, they needed the fastest delivery routes to get fresh fish to participants on time—but struggled to manually do this. The process was time-consuming and didn't always produce the fastest routes. In order to save time and improve their efficiency, Roll This Way turned to Circuit for Teams.
The story of Roll This Way
When Roll This Way started over ten years ago, it offered custom sushi catering for corporate parties, birthdays, weddings, and private dinners.
But in the spring of 2020, they found themselves needing to rapidly change direction. As an answer to the COVID-19 pandemic, Roll This Way started offering online sushi-making lessons—where they will deliver to you a full kit with all the ingredients and tools needed to follow along, prepared fresh for same-delivery throughout Canada and the U.S.
As a result, Roll This Way found themselves managing a large number of logistics, such as arranging for their fleet of 3-5 drivers to transport their sushi kits to numerous participants within the Greater Toronto Area area in one day.
How the Roll This Way used to plan routes
As far as planning the most optimal driver routes went, "I would go onto MapQuest or Google Maps", says Marley Shoults, Events Coordinator for Roll This Way. "I would basically order out where the driver needs to go based on the route. So it could take me hours."
"I just needed to find something that would basically do that work for me."
It could take anywhere from 45 minutes to an hour and a half to map out just one driver's route. When Marley had a team of five drivers to manage, this could equate to over six hours on a heavy delivery day. Limiting the amount of time that Marley had to deal with other parts of her job and having some other tasks simply "fall by the wayside".
The number of deliveries Roll This Way must make each day also varies. "It's dependent on the size of the class and how many classes we have taking place that week." Explains Marley. "It can range from ten up to 100 kits per class." Which caused logistical headaches when planning for the number of drivers they needed each day.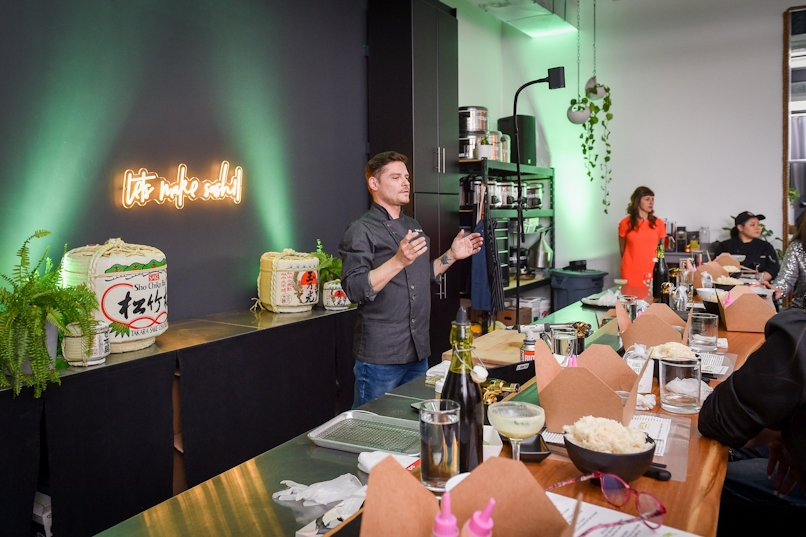 On top of this, with their multiple stops and drivers to juggle, Roll This Way found it difficult to know for sure that they'd planned the most efficient routes.
"It was really just an educated guessing game based on what I knew about that area, what time we were delivering at, and what the traffic could possibly be like", admits Marley.
Additionally, if one of Marley's drivers had to reroute due to an issue on the road or some other reason, then she or the driver would need to consult a map in order to figure out what made the most sense from a logistics standpoint—adding yet more unexpected time delays on both sides.
Lastly, Roll This Way was completely unable to monitor their driver's progress on the routes. "We basically would just get a text from them once they were complete", says Marley. This meant that if a driver ran into any issues along the way, she was completely in the dark.
"I realized that I needed to change the way that I was routing."
So when Marley started her search for a route planner, she had three key criteria in mind: ease of use, driver tracking, and the ability to plan multiple routes at once.
Why Roll This Way chose Circuit for Teams
"I was looking for something that was going to be easy enough for me to understand and also be able to do multiple drivers", says Marley. "Because if I can only do one driver at a time, then it's not really helping me."
That's when she found out about Circuit for Teams.
"It's really hard to map out all of these different routes. And so, with Circuit, what we do is we put in all of the addresses that we need to deliver to, and then it optimizes the route for us. So it'll tell us which driver needs to go where and what time they need to leave."
By comparison, MapQuest didn't offer the same ease of use, or route optimization. Marley would reorder stops based on the shortest instance or the shortest time. But found that sometimes it didn't make the most sense, so she would end up having to manually reorder the stops herself—wasting hours of time.
"It's made it a lot easier, though, honestly."
Marley came across Circuit for Teams by doing a Google search and finding the website. After evaluating the platform, she felt that it would be the perfect match for Roll This Way. "I looked at it and it looked great, so I tried it." Explains Marley.
How Roll This Way uses Circuit for Teams
Alongside using the platform to track and manage her drivers, Marley is thrilled with the template spreadsheet feature of Circuit for Teams. This lets her submit every stop and driver at once to create and optimize the most efficient routes at once. You can simply upload a list of locations and vehicles and let Circuit handle the rest.
"I'll just input all the information for our stops into that and then I'll upload it, which makes it really easy instead of putting information in step-by-step."
A better customer experience with notifications
In addition, Marley finds the notifications feature really helpful. Roll This Way can now communicate with its clients rapidly if a customer has to update their address or need a call on the route. Says Marley "We've used that information to our advantage after they send us the note."
The ability to send automatic notifications has also improved the efficiency of their delivery drivers, as not having to handle this on the road "makes it a lot easier for them".
Peace of mind with proof of delivery
Roll This Way appreciates the security offered by photo proof of delivery in the driver app. For example, drivers can take a photo of a sushi kit left in a secure location if the customer is unavailable. Marley's dispatcher platform is informed immediately, so when delivery occurs, she knows exactly what's going on in real-time.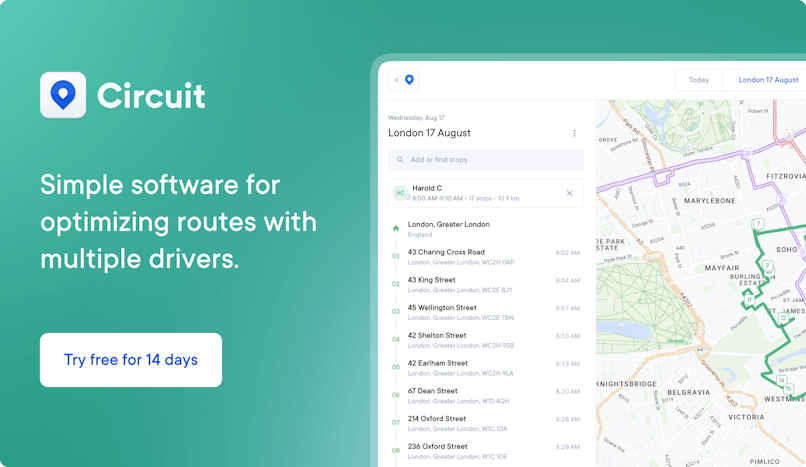 A more efficient delivery team
Circuit for Teams has been really beneficial for Marley's drivers, too. Giving them "the opportunity to look at everything in one place".
Plus, as Circuit integrates with popular GPS navigation systems (including Google Maps and Waze), this has completely removed the need to manually re-route on the road if an unexpected problem arises. Either because the GPS handles congestion automatically, or the driver can reorganize their route themselves in a couple of taps with the driver app.
60% time saved with Circuit for Teams
Using Circuit for Teams has helped Marley to "save a lot of time and a lot of headaches". In fact, she says up to eight hours every week.
"It's given me a lot of time to focus on other things, which has been really helpful."
Before using Circuit for Teams, if Marley had a class of 60 people it could take her up to five hours to plan the routes. "Now, I can get that done within two hours from beginning to end. Depending on how many classes we have, that's fairly significant," says Marley.
Conclusion
Roll This Way is a great example of how businesses can use Circuit for Teams to automate their routing and planning processes. By using our software, they were able to save 8 hours every week that they can now put back into growing their business. If you're looking for a way to optimize your routing and planning process, we'd love to chat with you about how Circuit for Teams could help.