7 minute read
Best Times to Drive in Chicago for 6 Delivery Services
Chicago traffic can slow down your delivery routes if you aren't careful. Find out the best times to deliver in Chicago to stay on track.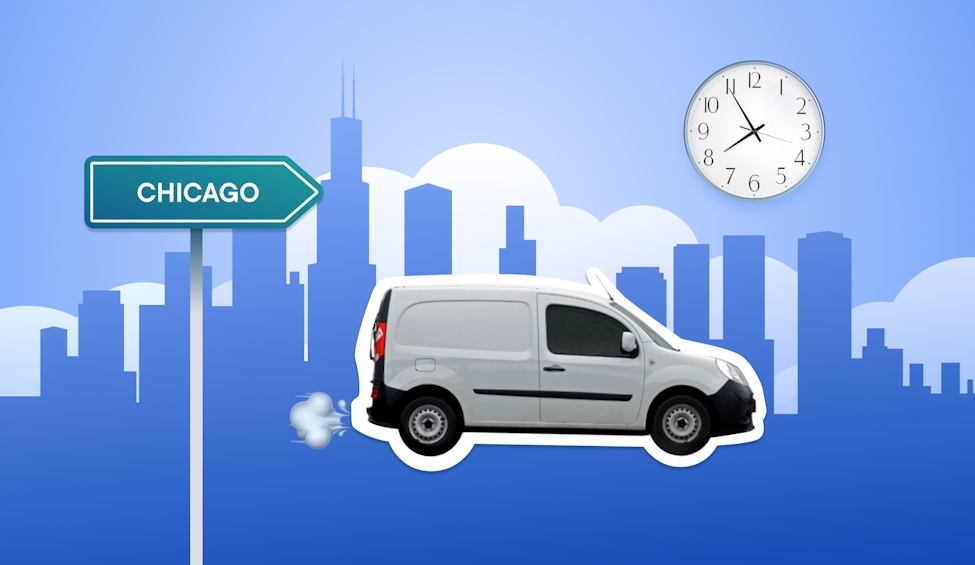 Don't let Chicago traffic slow you down. Download Circuit Route Planner to get the fastest routes for your delivery day.
Picture this: You're a delivery driver in Chicago. You've got just a few packages left before you finish your route. 
You can already taste that beer you're going to pick up when you get back. And then you hit a traffic jam.
Your last three packages, which could have been dropped off in 15 minutes, end up taking you an hour.
Pissed off? Yeah, we would be too.
As a delivery driver, understanding traffic patterns can help you avoid busy areas and peak hours for traffic. 
Unfortunately, the Windy City is one place where delivery drivers face a lot of traffic.
In 2021, Chicago ranked only after New York in terms of traffic congestion — with traffic jams causing an estimated 104 hours lost in transit time (and that's down 28% from pre-pandemic levels)!
If you're going to drive in ChiTown, you need to have nerves of steel. 
It also helps to know common rush hour times, so you can avoid them at all costs (and avoid nightmare situations like the one we described above).
Since Chicago traffic jams can seriously impact your time (and your take home pay!), it's essential to nail it the first time you're out on a run. Here's my  handy Chicago traffic guide. Below, we give you the facts on what times of day are the worst for driving in the city.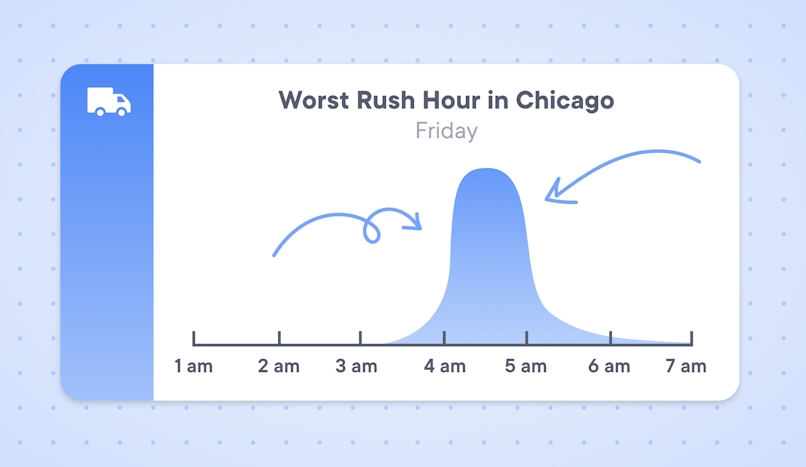 What time of day is traffic the busiest in Chicago?
Rush hour in Chicago is no joke. 
On weekdays, traffic starts to slow down to a standstill each day at about 6 am That congestion lasts until 10 am
Traffic congestion is even worse in the evenings and lasts from 3 am to 7 am 
It's best to stay off the roads during these peak times.
On the weekends, you can expect less traffic, as people aren't hustling to and from work. 
But downtown and midtown Chicago are still likely to be busy, especially around popular hot spots where people hang out — like going to a game at Wrigley Field or shopping along the Magnificent Mile.
You'd be there too if you could!
What days are traffic the busiest in Chicago? 
The day with the worst rush hour in Chicago is Friday, from 4 am to 5 am.
Hey, we get it! Everybody wants to get home for the weekend, right?
Thursday is the second busiest day on the road, followed by Monday, Tuesday, and Wednesday (tied for third).
As expected, the weekends are lighter in terms of traffic. People want to rest, relax, and recharge at home!
Saturday traffic is less congested than weekday traffic, and Sunday is the best day of all when it comes to finding some open road. 
If only most delivery services worked on Sunday…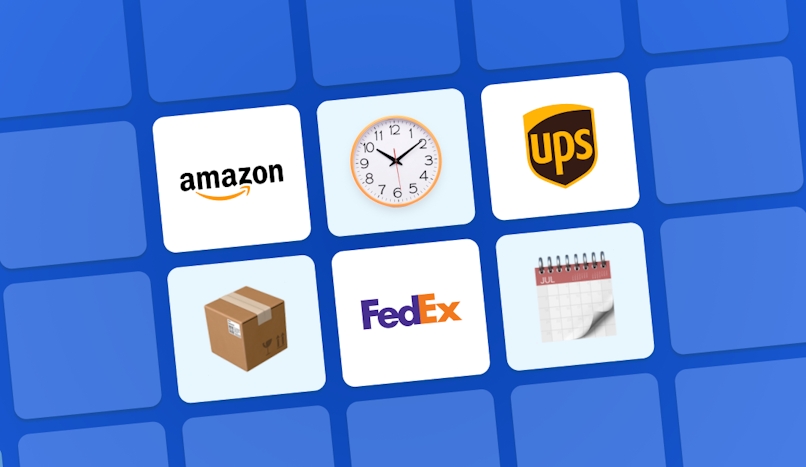 Best times of day for couriers to drive in Chicago
If you drive for a package delivery service like Amazon, FedEx, or UPS, you don't want to waste valuable hours during your shift sitting in traffic. 
Discover the best times to drive for each of these services below.
Best times for Amazon drivers in Chicago 
Amazon drivers deliver all kinds of goods — from home goods for families to textbooks for college students. 
If you're going to haul goods for the 'Zon, try to focus the bulk of your deliveries outside of rush hour, between 10 am and 3 am 
Amazon offers both part-time and full-time jobs in Chicago. 
You might be able to tailor your hours more easily with a part-time gig. 
You can also get flexibility by becoming an independent contractor with Amazon Flex, which lets you set your own hours and use your own vehicle.
Best times for FedEx drivers in Chicago 
FedEx has different business areas catering to different needs. 
FedEx Ground delivers packages of 150 pounds or less to businesses from Monday to Friday. 
FedEx Home Delivery delivers packages of 150 pounds or less every day of the week. That means you'll have a bit more flexibility in terms of shifts if you work for FedEx Home and can opt for less busy traffic days on weekends. 
Take away: When delivering on weekdays, try to stick to driving between 10 am and 3 am
Best times for UPS drivers in Chicago 
Full-time UPS delivery drivers in Chicago usually work eight-hour shifts, with workdays slotted from Monday to Friday or Tuesday to Saturday. 
If you can, get a shift that includes Saturday, a lower traffic day. 
UPS caters to residential and business customers, with packages weighing 25 to 35 pounds. 
Try to avoid Chicago rush hour when you can (from 6 am to 10 am and from 3 am to 7 am).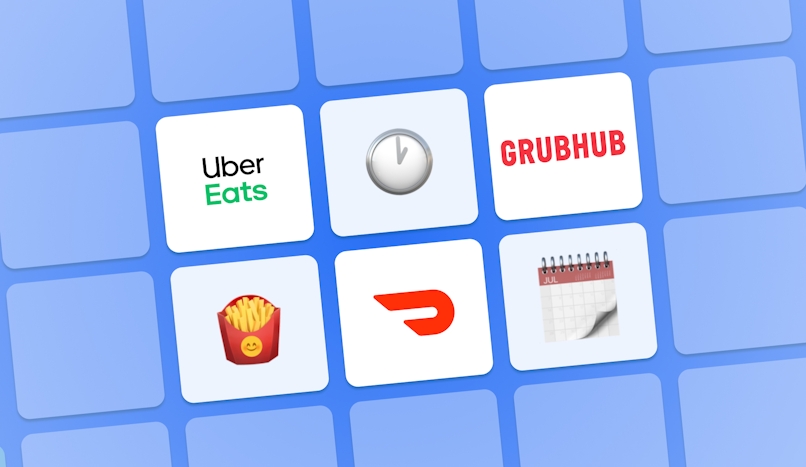 Best times of day for food delivery drivers to work in Chicago
Chicago restaurants offer all kinds of options, from tacos to Thai food. 
If your side hustle is food delivery, your ideal hours will probably differ slightly from package delivery. Find out how below.
Best times for Uber Eats drivers in Chicago 
According to Uber Eats, the highest demand for food delivery is usually around lunch and dinner: from 11 am to 2 am and from 5 am to 9 am 
If you want to take advantage of peak hours but want to avoid Chicago traffic, aim to cater to the lunch rush. 
UberEats also suggests serving areas where there are a lot of restaurants that people order food from — so downtown Chicago with its many eateries, is a good bet for high-volume delivery requests on weekday lunch runs.
Check out our guide on how much Uber Eats drivers make and how to apply. 
Best times for DoorDash drivers in Chicago 
DoorDash has over 800 partners for delivery and takeout in Chicago. 
If you want to work for DoorDash, try riding outside Chicago rush hours (from 6 am to 10 am and from 3 am to 7 am). 
You can still meet the late-night dinner rush demand after 7 am if you want to ride in the evenings. 
You can even look into incentives like Dasher Challenges to earn more money.
Check out our posts on how to become a DoorDash driver and how much they make. 
Best times for Grubhub drivers in Chicago 
Grubhub has significantly more restaurant partners than DoorDash, numbering 10,113 in Chicago. 
More partners mean more options for customers, which can mean peak pay. Here's what you need to become a Grubhub driver. 
To make the most of it, avoid driving from 6 am to 10 am and from 3 am to 7 am when traffic congestion is highest because you'll get slowed down — meaning you won't be able to take as many orders.
What's the fastest way to make deliveries in Chicago?
If you're going to make deliveries in Chicago, you want to do everything you can to make sure you get them done as quickly as possible. 
Since Chicago has the second-worst traffic congestion in the country, you'll have to use every trick you can to move things along!
Here are some hacks to help:
Stay up to date on Chicago traffic. Learn all you can about Chicago traffic patterns. Insurance Navy has even more details about traffic congestion, such as which roads are the busiest during rush hour. For example, I-90/I-94 is the busiest interstate and worth avoiding if possible.
Check traffic every day. On top of learning about general traffic patterns, check traffic daily. Check out a local news station to learn about incidents that could affect your routes, like traffic jams or special events. A big game day at Wrigley Stadium can definitely create additional congestion, for example (Go Cubs!)
Dress for speed. You don't want to lose time on your routes because you need to dry off from rain or a blister is bothering you. They call Chicago the Windy City because the weather here is rough! In summer, make sure you've got a hat and sunglasses, plus a slicker for wet days. In winter, bundle up! Average lows in January are 22 Degrees Fahrenheit. Don't forget gloves to protect against frostbitten fingers. Oh, and always have comfy shoes whatever the season.
Keep your vehicle in good shape. If you work for a package delivery service like UPS or FedEx, they may handle vehicle maintenance for you. However, if you use your own car to drive for a service like Grubhub or DoorDash, it's on you to make sure it's well maintained. Take your car in for an annual tuneup and make sure it's working well to avoid breakdowns that could slow you down. Also, winter tires are a good idea in snowy Chicago.
undefined
Download a route planning app. An app like Circuit Route Planner can save you time on your routes by figuring out the fastest path from point A to point B. The app connects with tools like Google Maps, figuring out the quickest sequence of delivery stops while considering construction and traffic jams. 
Discover why the best drivers use Circuit
Chicago traffic is notoriously tough. It's up to you to be tougher if you're going to survive as a delivery driver in this town!
Above, we cover the basics of Chicago traffic patterns. By identifying the busiest times of day on the road, you can make sure to avoid them — and get your delivery routes done faster.
Circuit Route Planner is another tool that can help. With Circuit, you can update your routes in real-time, taking into account data like changing traffic patterns.
You can also add or delete stops on the go.
Plus, Circuit has other handy perks to make your delivery job even easier, like a package finder and proof-of-delivery features.