6 minute read
What Is the Difference Between Shipped and Out for Delivery?
Do you know the difference between a package being shipped and out for delivery? Keep reading to find out.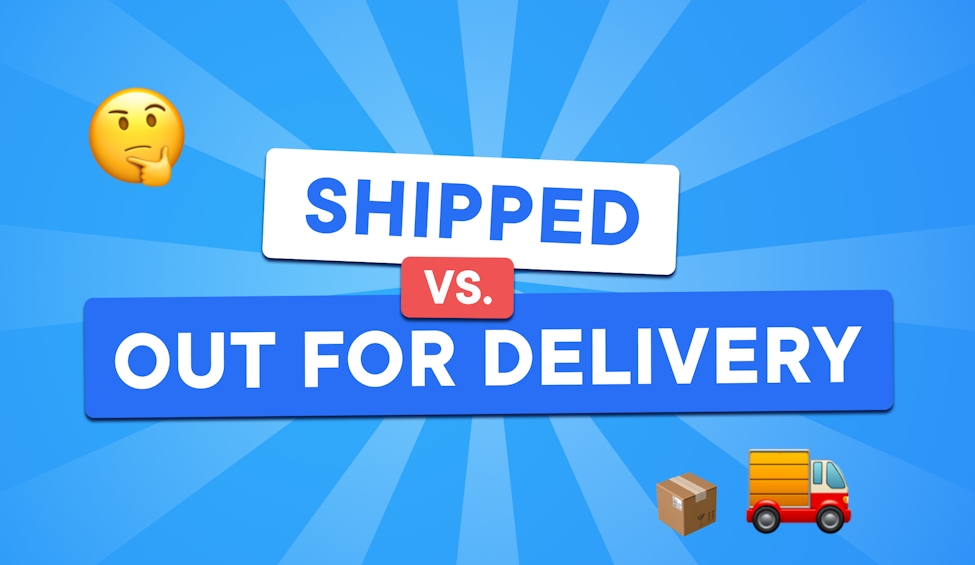 You've placed an order with your favorite online store and are eagerly waiting for your package to arrive. 
You get a text message saying, "Your order has been shipped," but the delivery date is in another two or three business days.
You're confused — don't "shipped" and "out for delivery" mean the same thing? Well, no. 
These statuses mean different things in the supply chain process.
So, what exactly does shipped mean? And what's the difference between an order that's shipped and one that's out for delivery?
When a package is shipped, it means that it has been packed and dispatched. The package could be anywhere between the location of origin and the final destination. 
When a package is out for delivery, it means that it has left the local distribution center and is en route to the final delivery place (usually a customer's doorstep). 
I'll go into more detail below.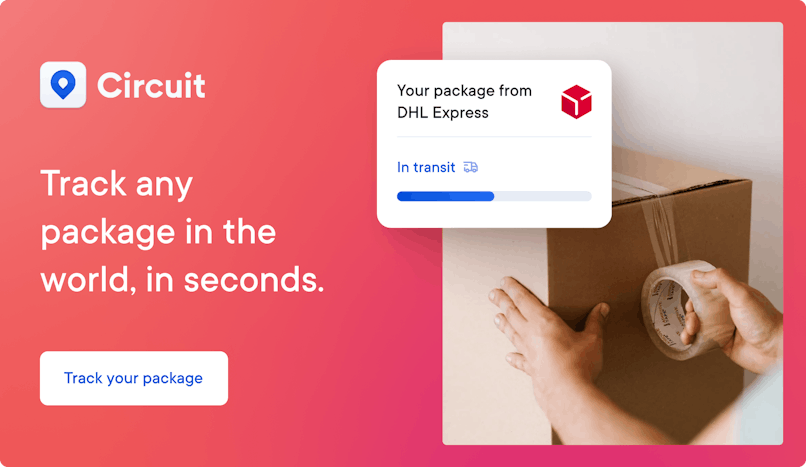 What does it mean when your order is shipped?
While you may think that your order is shipped immediately after placing it, that's not usually the case.
Shipping is typically the final step in the post-processing stage of the supply chain. 
In fact, eCommerce orders have lengthy logistics processes.
After your order is confirmed, the supply company begins order processing. 
This involves packing and labeling the item you've ordered.
If the item you've ordered isn't already manufactured, order processing covers the production process.
Once the order is ready to be transported to you, the supplier hands it over to a delivery company like USPS, DHL, or FedEx. 
However, the supply company might skip this step if it has its own courier service. 
For instance, Amazon orders are processed through Amazon Logistics — their own delivery service.
When the package leaves the supplier's warehouse, the shipping process begins.
Shipping refers to the process of getting the package from the seller (origin location) to the customer (final destination).
How long the shipping process takes depends on several factors, such as: 
Type of shipping you selected
Distance from the seller
Your location
Weather conditions
Items in the package
Size of the package 
For express or priority shipping, delivery time typically ranges from one to three days. For standard shipping, delivery time can range between two and eight days. 
And you'll have to pay more for express shipping.
Another factor that can determine the shipping process length is how your package is transported. 
For instance, a package that's shipped by air will likely get to you quicker than if it's shipped by ground.
If your package travels from another country, it'll also take longer to get to you due to processes like customs. 
(Check out our guide to international tracking.)
Large or heavy items may take longer to reach your destination due to special packing and transportation needs. 
Similarly, a package may take more time to get to you if it needs a cold chain or temperature-controlled packaging. 
The good news is that you can use a package-tracking app like Circuit Package Tracker to keep up with your delivery status and know how long the shipping process will take.
Does shipped mean delivered? 
No, "shipped" doesn't mean "delivered."
When you get a notification indicating that your package has been shipped, it means your package is making its way to your destination. 
The package is between the seller's location and the final delivery location (you).
If the tracking status shows that your package has been delivered, it means that the delivery driver dropped the package off at your place (hopefully!) and completed the order fulfillment process.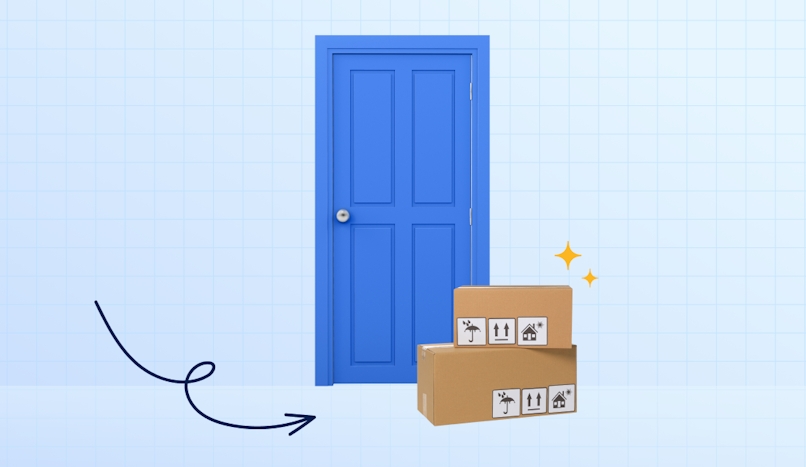 What does it mean when your order is out for delivery?
When the tracking status of your order gets updated to "out for delivery," it implies that the delivery driver will show up with your package soon. 
"Out for delivery" means that your package has left the final pickup point and is on its way to your doorstep. 
So, your package will be delivered either that same day or the next day.
Before the tracking status changes to "out for delivery," it'll show "in transit." These two are not the same. 
"In transit" means that your package is moving from one shipping point to another — usually from a national shipping center to a regional shipping center, or from a regional shipping center to a local delivery center.
When your package is out for delivery, it means that it has left the local fulfillment center to reach your delivery address.
Tracking terms for a typical delivery
Besides "shipped" and "out for delivery," you might notice other delivery phases associated with your order. 
The tracking status is updated each time someone scans your package. 
Here's a list of common tracking statuses.
Accepted by carrier: When your tracking status is "accepted by carrier," it means that the shipper has initiated the delivery process by handing your package to the delivery company. The company has accepted the package and will now fulfill the delivery.
Arrived at regional carrier facility: If the seller is shipping the package from Washington to Michigan, for example, the package will travel across regions. So, it'll arrive at the main regional carrier facility in the Midwest before arriving at your local facility. When you get this message, it means that your package has reached the regional fulfillment center.
Arrived at local carrier facility or post office: From the regional carrier facility, the package will be sent to a local distribution center or local post office closer to your delivery location. When your tracking status shows this, it indicates that your package will reach its destination soon.
In-transit: In-transit indicates that your package is moving. This could mean between different shipment centers or between the local delivery warehouse and the final destination, depending on when you get this tracking status.
Out for delivery: The last step of the order fulfillment process, out for delivery, implies that a delivery person has picked up your package and is on their way to deliver it to your doorstep. This part of the process is referred to as last-mile delivery.
Delivered: Once the delivery person delivers your package and gives proof of delivery, the tracking status changes to "Delivered" to indicate that the package delivery process is complete.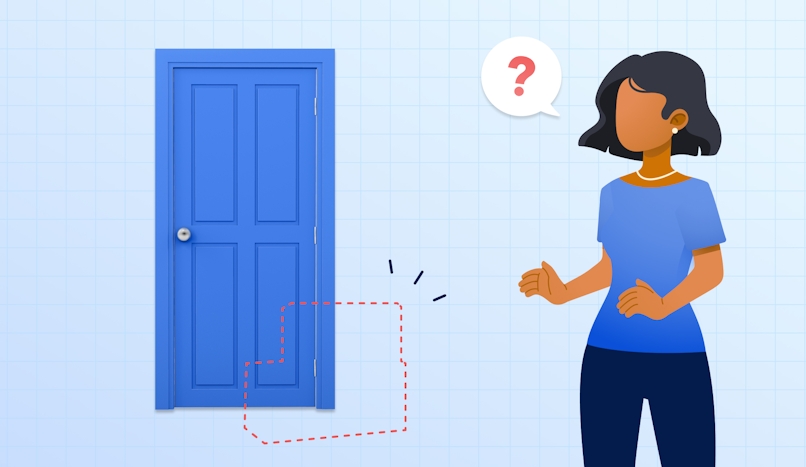 What to do if you think your package is lost
You're eagerly waiting for your package to arrive, but the tracking status says "delivery not successful."
So, what do you do if you think your package is misplaced? Here are five steps to resolve lost package disputes. 
Check if a driver attempted delivery. Most delivery companies will leave a notice or inform you through text or email to let you know that a delivery was unsuccessful. If you think your package is lost, check the tracking status to find if a delivery was attempted. 
Check if someone else accepted the package. This happens more often than you think! Maybe you were busy and your spouse picked it up but forgot to hand it over to you. Or maybe the package was dropped off at your door and your child brought it inside but forgot to tell you. If the tracking status says your package was delivered, ask if someone else accepted it on your behalf.
Ask around your neighborhood. Delivery drivers are only human and may misread addresses. If no one from your house has accepted the delivery, contact your neighbors to check if the package was delivered to their house instead.
Contact the delivery company. If these steps don't work and your delivery is still missing, contact the delivery company. You can either email or call them and explain the issue in detail. Maybe they've made a mistake with updating the tracking status, or perhaps your package is stuck at the warehouse or fulfillment center. Getting in touch with them might resolve the issue.
Get in touch with the seller. If the delivery company can't help you, your next best option is to contact the seller. Since they initialized the shipping process, they'll be able to help you. Maybe they made a mistake with your address or opted for a different type of shipping than what you selected. The seller can issue a refund or send out another shipment. 
How can you get detailed tracking info?
When an order is out for delivery, you'll probably get updates from the shipping service. 
However, for some shipping services, you may have to go to their website or app and enter the tracking number each time to know your delivery status.
If you're expecting many deliveries from different delivery companies, this may not be the most feasible way to keep up with the tracking information.
Instead of using different shipping websites or apps, use one app — Circuit Package Tracker — to track all of your deliveries with ease. 
Circuit Package Tracker works for most delivery companies across the globe, including those in the US, UK, Europe, Australia, Canada, and South America.
With Circuit Package Tracker, you can find your delivery anywhere in the world within seconds. 
Just type the tracking number on the search bar on our page and click "Track my package." 
You can also download the Circuit Package Tracker app for iOS or Android and follow your packages with our handy map view. 
Our app notifies you whenever there's a change in your delivery status. Plus, you can customize your alerts.