11 minute read
The Top 5 ECommerce Delivery Management Software in 2024
Discover 2024's best 5 eCommerce delivery management tools, optimized for efficiency and customer satisfaction. Streamline your shipping today!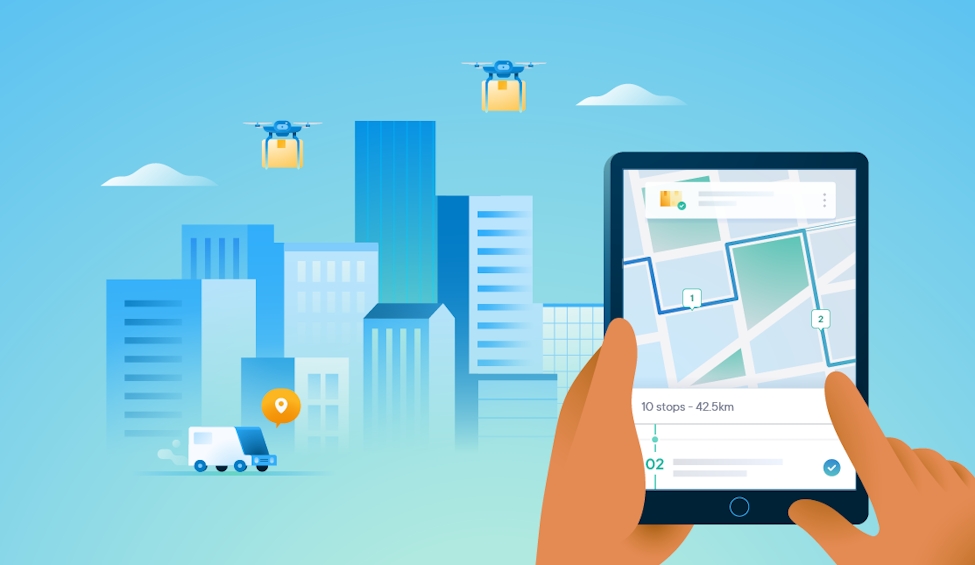 Harness the power of real-time delivery tracking and optimize your eCommerce operations with Circuit for Teams, a leader in streamlining delivery processes.
In a market flooded with options, we've meticulously researched various eCommerce delivery management software to bring you the most reliable and efficient solutions. Our rigorous evaluation of the latest eCommerce delivery management software gives you a trusted and impartial review of the best tools available in 2024. 
We've sifted through the myriad of options to showcase the solutions that truly excel in optimizing delivery routes, enhancing real-time tracking, and elevating the customer experience.
Key takeaways
Evaluate and integrate software that excels in route optimization and real-time tracking to boost delivery precision.
Prioritize security features in your delivery management software to protect operational data and maintain customer trust.
Choose software that scales with your business and seamlessly merges with your current systems for efficient growth management.
Implement systems with comprehensive GPS, inventory control, and customer communication for a streamlined post-purchase experience.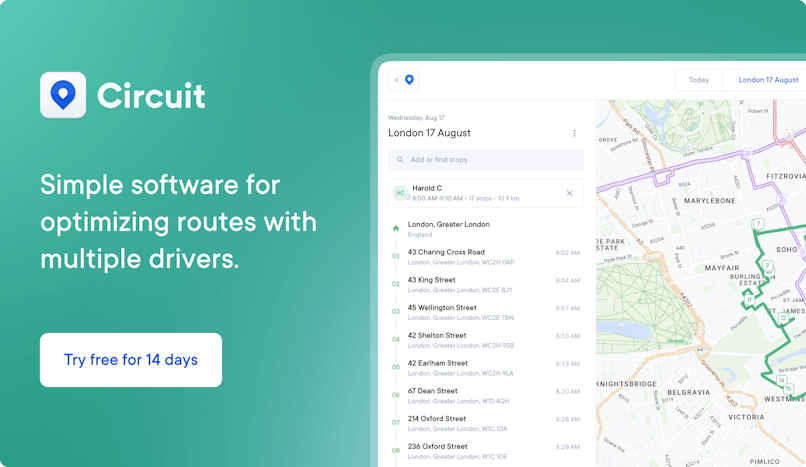 The 5 best eCommerce delivery management software
What makes the best eCommerce delivery management software?
The top-tier eCommerce delivery management software embodies efficiency with automated and optimized delivery routes for on-time results. It grants real-time visibility, enabling tracking of delivery status and ETAs, which is crucial for transparency. 
Adaptability is key, with customizable features that scale to fit any size of the delivery operation. Seamless integration with existing systems creates a synchronized order management system, enhancing the overall delivery experience. 
Exceptional customer experience is delivered through timely notifications and an intuitive interface. Lastly, reliable customer support is indispensable so that any issues are swiftly addressed, keeping the delivery process smooth and the customer satisfied.
The best eCommerce delivery management software at a glance 
The best eCommerce delivery management software for precision
The best eCommerce delivery management software for precision excels in route optimization for swift and efficient delivery. With real-time adjustments and accurate tracking, it streamlines delivery operations for reliability and enhancing the customer experience. This platform's sharp focus on precision elevates the delivery process to meet today's demanding eCommerce needs.
Circuit For Teams
Circuit For Teams is a route planner designed specifically for the fast-paced demands of eCommerce delivery management. It stands out by calculating the quickest delivery routes, saving drivers significant time daily, and integrating effortlessly with navigation apps to streamline the delivery process​​. It's tailored for businesses looking to enhance their delivery efficiency, improve driver experience, and boost customer satisfaction with real-time updates and accurate ETAs​.
Circuit for Teams pros:
Time-saving route planning and stop optimization
Delivery details and special instructions enhance the delivery experience
Navigation integration and schedule optimization for punctual deliveries
Customer review: 

Circuit for Teams cons:
Some users report routing inefficiencies in complex geographical areas​
Occasionally noted app glitches with location sharing and updating delivery completion​​
Customer review:

Circuit for Teams pricing: 
Circuit for Teams structures its pricing into three distinct packages, each suited to varying team sizes and demands:
Essentials Plan: This entry-level option is available at $100 monthly, perfect for small teams needing basic route planning and driver tracking, covering two drivers with an additional cost for extra drivers.
Standard Plan: For $200 monthly, medium teams gain access to delivery confirmations and customer alerts, starting with three drivers, plus a fee for more, including all Essentials features and more.
Pro Plan: Priced at $500 monthly, this comprehensive package suits larger teams looking for in-depth delivery analytics, starting with six drivers and an added cost for more.
Additional driver fees are tiered accordingly: Essentials at $40, Standard at $60, and Pro at $80 per driver. These scalable options aim to fit any business size, enhancing delivery workflows and cost-effectiveness. Check the Circuit for Teams pricing page for the latest figures.
The best eCommerce delivery management software for synergy
In the interconnected world of eCommerce, where every moving part must be in harmony, the leading delivery management software for synergy is designed to unify every aspect of the delivery process. 
This platform excels in bringing together route planning, order management, real-time tracking, and customer communications. It stands as a central hub that aligns all facets of delivery operations, from the warehouse shelf to the customer's doorstep, so that every element works in concert. 
For businesses seeking a solution that synchronizes their delivery ecosystem, enhancing overall performance and customer satisfaction, this software emerges as the best choice for synergy.
Trakop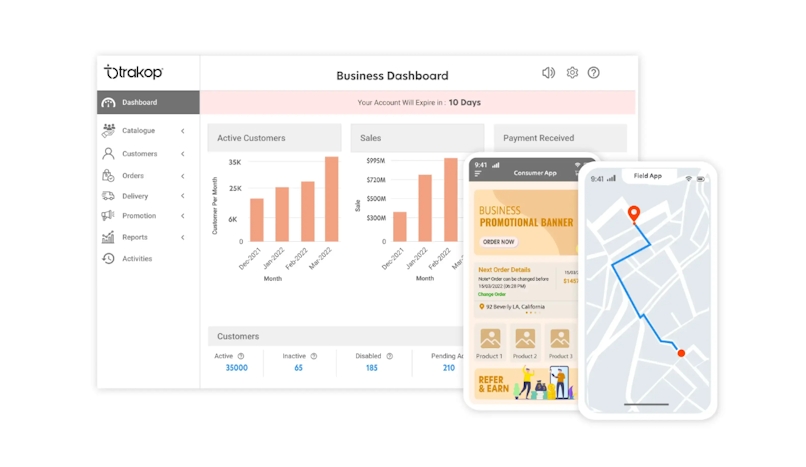 Trakop positions itself as an all-inclusive delivery management software, streamlining the delivery process efficiently. It integrates complete business data management — from sales and profits to driver and vehicle coordination — on a singular platform. 
Its suitability for eCommerce is evident in its support for real-time tracking, automated processes, and multi-payment options, enhancing customer convenience with a subscription-based ordering system. It's tailored for a range of eCommerce businesses, offering a customer ordering app and a driver app for iOS and Android to manage deliveries and update order details seamlessly.
Trakop pros:
Comprehensive automation of business processes
24/7 customer support and user-friendly interface
Subscription-based ordering for customer retention​​
Customer review: 

Trakop cons:
No free version 
The simplicity of use may vary across different business scales
Customer review: 

Trakop pricing: 
Pricing is not openly available on the site, but you can book a time to discuss pricing and learn more from a representative.
The best eCommerce delivery management software for security
The leading eCommerce delivery management software for security stands apart, with robust protections for both operational data and customer privacy. 
Every transaction and communication through the platform is safeguarded with state-of-the-art encryption and compliance with global data protection regulations. It is the cornerstone for businesses that prioritize the security of their delivery operations, offering peace of mind through secure data handling, meticulous driver vetting processes, and secure digital proof of delivery. 
This software is ideal for those who seek to establish and maintain trust through demonstrable security in their eCommerce delivery management.
Scalefusion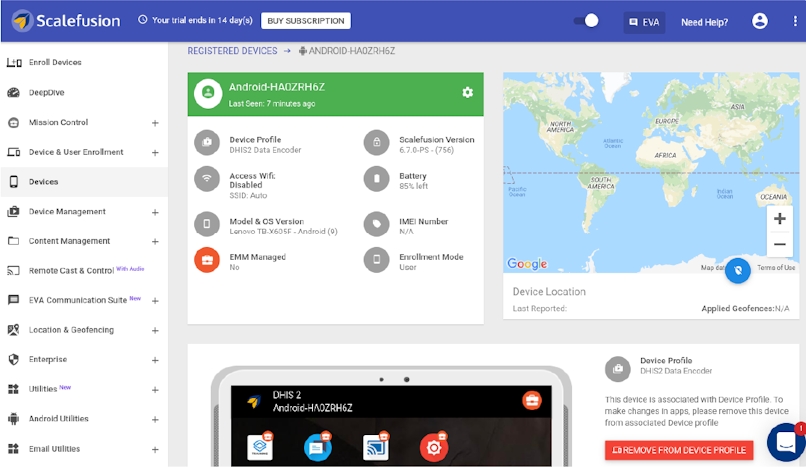 Scalefusion offers a comprehensive suite of features to secure and manage mobile delivery fleets so that last-mile deliveries are executed flawlessly. This solution is crafted for businesses that need real-time device management and wish to maintain high-security standards for their on-field devices. 
Its kiosk mode and remote support functionalities are particularly beneficial for managing a mobile workforce, contributing to on-time deliveries in the eCommerce sector.
Scalefusion pros:
Real-time tracking and fast device setup enhance last-mile delivery efficiency
Remote troubleshooting and information distribution capabilities bolster fleet management
A lockdown feature secures corporate information on devices, which is critical for protecting sensitive data during deliveries
Customer review: 

Scalefusion cons:
The range of advanced features may pose a learning curve for some users
The full suite of security features and device management options may not be necessary for smaller operations, potentially leading to an underutilization of the software
Customer review: 

Scalefusion pricing: 
Essentials: At $2 per device per month (billed annually), this plan is the entryway to effortless device management. It covers the basics:
Management for multiple OS: Android, iOS, macOS, Windows, Linux
Android Enterprise, Apple Business Manager, and Android Zero-touch Enrollments
Application and kiosk mode management
Basic branding, reports, and role-based access control
Multi-factor authentication for technicians and audit logs
Supports one technician/administrator
Growth: Priced at $3.50 per device per month (billed annually), this plan is aimed at advancing device management for growing organizations. It builds upon the Essentials plan with:
Advanced restrictions for Windows & macOS
BYOD and COPE options
Private enterprise app store with 200 MB storage
Enhanced content management and location tracking features
Circular geofence and advanced branding
Supports five technicians/administrators
Business: For $5 per device per month (billed annually), this plan is recommended for comprehensive unified endpoint management. It includes everything in the Growth plan plus:
Dynamic Groups, App Catalog, and Remote Cast & Control
OS update and patch management across platforms
1 GB of storage for both app store and content management
Polygonal geofence and advanced workflows
Supports ten technicians/administrators
Enterprise: At $6 per device per month (billed annually), the Enterprise plan is the pinnacle of Scalefusion's offerings for large organizations with complex needs. It encompasses all Business plan features, with additions like:
Sage AI and advanced remote command options
Enhanced certificate and historical report management
2 GB storage for app store and content management
Supports 25 technicians/administrators
Each tier is designed to match the scale of your operations, with a clear upgrade path as your business grows. Whether starting with the essentials or the sophisticated capabilities of the Enterprise plan, Scalefusion offers a tailored solution to match the demands of modern eCommerce delivery management. 
The best eCommerce delivery management software for post-purchase
The premier eCommerce delivery management software for post-purchase excellence goes beyond the delivery itself, enhancing the customer's experience even after the package is delivered. 
This software shines with its advanced tracking features, seamless return management, and proactive communication tools, which are pivotal for maintaining customer satisfaction and loyalty. It integrates with existing eCommerce platforms for a cohesive shopping experience so that customers are kept informed and engaged throughout the delivery process and beyond. 
For businesses that prioritize the complete customer journey, this solution stands out as the optimal choice for post-purchase optimization.
Outvio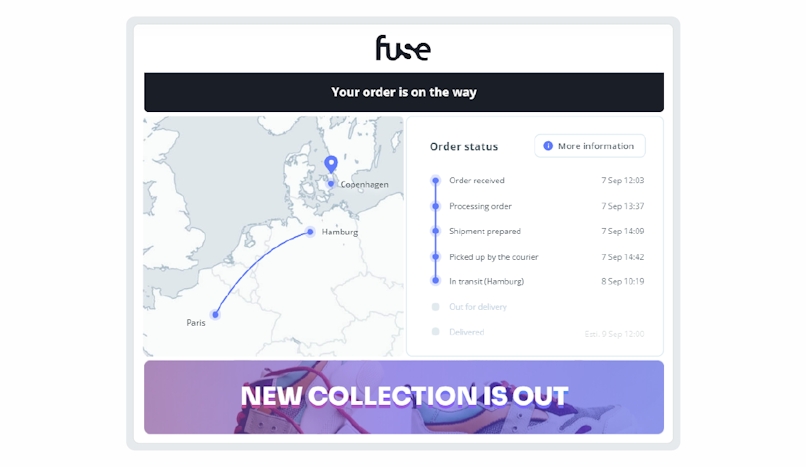 Outvio transforms eCommerce delivery management by automating shipping, streamlining returns, and personalizing customer communication. It's designed to enhance the post-purchase phase, turning fulfillment into a revenue stream. Suitable for businesses of all sizes, Outvio is ideal for those wanting to elevate their brand's post-checkout experience globally.
Outvio pros:
Expedited label printing and order shipping save valuable time​​
Flexibility to switch couriers based on various factors, customizable tracking pages, and a self-service returns portal enhance operations​​
Customer review: 

Outvio cons:
Time investment needed for integrating multiple couriers, though support is commended for responsiveness
Difficulty in managing the volume of notifications, which can hamper proactive incident resolution
Customer review:

Outvio pricing: 
Grow: At approximately $132 per month, this plan includes:
Customizable Returns/Exchanges portal and tracking pages
Smart shipping, returns, and exchanges rules
Branded delivery notifications across WhatsApp, SMS, and email
Integration with over 90 couriers
Conquer: Priced around $264 per month, offering all Grow features plus:
Advanced fulfillment system and smart order merging
Enhanced notification rules and analytics
Full API access and support for unlimited warehouses, couriers, and users
Enterprise: Custom pricing for high-volume brands, including all Conquer features with:
Dedicated support team, priority phone support, and over 99.98% uptime
Options for custom developments, SSO, and tailored analytics
(Pricing converted from EUR to USD at an approximate exchange rate as of the last update. Actual rates may vary.)
The best eCommerce delivery management software for route intelligence
The top eCommerce delivery management software for route intelligence is a game-changer for businesses looking to maximize efficiency in their logistics. 
This software leads the pack with its advanced algorithms that not only optimize delivery routes but also predict and adapt to real-time traffic conditions. Tailored for dynamic delivery operations, drivers get the smartest and most efficient paths, significantly reducing delivery times and costs. 
Ideal for eCommerce companies aiming to optimize their last-mile delivery, this solution is key to staying ahead in the competitive logistics landscape.
Route4Me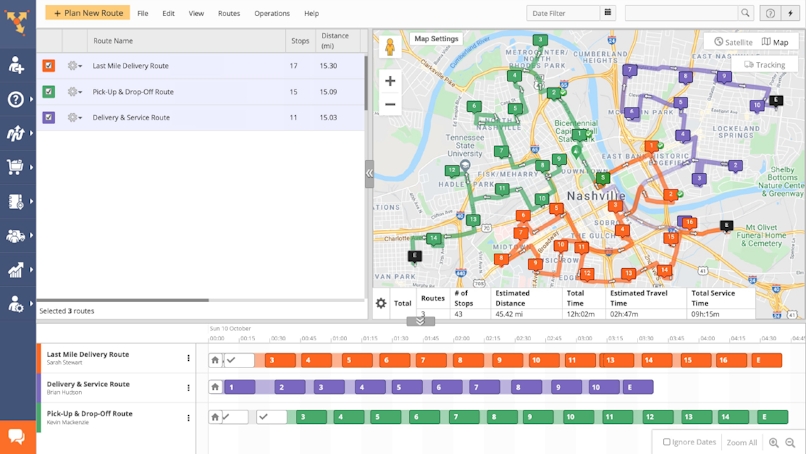 Route4Me specializes in route optimization and dynamic scheduling, adapting to daily, weekly, or seasonal changes in delivery routes​​. It's accessible across various devices without the need for installations, addressing compatibility concerns, and frequent updates​​. The software aims to minimize planning time, reduce operational costs, and enhance customer satisfaction through efficient route planning​​. 
With real-time tracking, you're always aware of your drivers' locations and activities​​, saving time for drivers and customers alike​​. With a promise of a 500% return on investment, Route4Me positions itself as a tool that boosts customer count by optimizing last-mile routing​. 
Route4Me pros:
Offers GPS-tracked service routing for precise delivery management​
Real-time synchronization across devices enhances route intelligence and delivery efficiency​
Comprehensive operational overview, allowing for quick adjustments and updates to drivers and customers​
Detailed analytics on mileage, cost savings, and route specifics support informed business decisions​
Supports media attachments and sign-on-glass eSignatures for proof of delivery​
Customer review: 

Route4Me cons:
Potential complexity in initial setup due to its comprehensive features
The multitude of features may be overwhelming for small businesses with simpler needs
Customer review: 

Route4Me pricing: 
Route4Me's pricing is structured across several levels to accommodate various organizational needs:
Route Management: $199/month
Centralized operational management
Enhanced teamwork and app integrations
Dynamic business analytics
Live mapping of team locations
Route Optimization: $249/month
Builds on the previous tier by adding automated routing for individuals
Route Optimization Plus: $349/month
Further includes optimization for teams and custom business rule applications in routing
Pricing covers up to 10 team members, with an additional charge of $69/month for each member beyond that.
For current pricing, reference the Route4Me Pricing page.
Which is the best eCommerce delivery management software overall?
Circuit for Teams stands out as the top delivery management solution for any delivery business, large or small. Its robust software solution is packed with key features such as advanced delivery dispatch, seamless integration with GPS tracking, and comprehensive inventory management. 
Circuit for Teams excels in real-time order status updates and possesses a user-friendly delivery management platform, which is crucial for efficient delivery service and order fulfillment.
Circuit for Teams has your back
Circuit for Teams offers an all-encompassing delivery tracking software that enhances the efficiency of delivery operations. It's the backbone of any eCommerce delivery business, offering a suite of tools designed to streamline every step of the delivery process. From the moment an order is placed to the final mile of delivery, every package is accounted for with precision and care with Circuit for Teams.
For those looking to elevate their delivery services, Circuit for Teams is the answer. Ready to transform your delivery operations? Sign up for Circuit for Teams today and experience unparalleled delivery management.