11 minute read
5 Best Fleet Management Software of 2024
Discover the top fleet management solutions of 2024. Compare features, streamline operations, and optimize your fleet's performance with these tools.
Enhance your fleet operations with the industry's top software, and discover how Circuit for Teams can streamline your team's communication.
In a rapidly evolving digital age, fleet management is more sophisticated than ever. On top of tracking vehicles, fleet management involves optimizing routes, facilitating driver safety, and using data to make strategic decisions. 
Businesses wanting to streamline their operations and increase efficiency need the right software. So, what are the top contenders in 2024?
This article offers an unbiased view of the top fleet management tools with a focus on functionality, efficiency, and user experience.
Key takeaways
User-friendliness is nonnegotiable. The best fleet management solution should be intuitive and easy to use.
Real-time updates are essential for dynamic fleet management operations to minimize risks and maximize opportunities.
Customizable workflows are crucial to tailor the software to fit unique fleet operational needs efficiently.
Proactive maintenance management can significantly reduce the risk of costly downtime.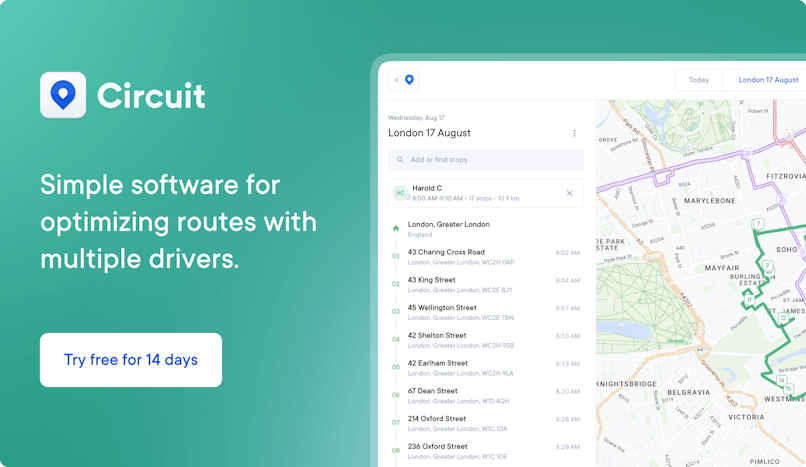 The 5 best fleet management software
What makes the best fleet management software?
The best fleet management software understands the real-world challenges fleet managers face and offers a software solution addressing those specific pain points. 
While many software solutions may excel in one or two areas, finding a comprehensive tool that balances multiple needs can be a challenge.
In my quest to identify the best fleet management tools, I sought software that balances these five essential components:
User-friendliness. In today's fast-paced environment, the learning curve for new software should be minimal. The best tools are intuitive and easy to navigate, even for those who aren't tech-savvy.
Real-time capabilities. Fleet management is dynamic. A delay in data can mean missed opportunities or, worse, safety risks. Real-time updates, especially in vehicle tracking and driver behavior, are critical.
Customizable workflows. Every fleet has its unique operational needs. Customizable workflows allow businesses to tailor the software to their specific processes, enhancing efficiency and productivity.
Maintenance management. Unexpected downtime can be costly. Proactive maintenance schedules, vehicle inspections, and timely alerts can reduce unwanted surprises.
Cost efficiency. While feature-rich software is excellent, it needs to be balanced with affordability to create a good return on investment.
For many fleet managers, a lack of customizability is often the missing piece in many solutions, while the absence of real-time updates can be an absolute deal breaker. 
The best fleet management software strikes a balance and makes surefleet operations run smoothly while maximizing profitability.
The best fleet management software at a glance
The best fleet management software for route optimization
In the world of fleet management, efficiency is king, and route optimization is the crown jewel. This is where Circuit for Teams enters the stage, providing a robust solution engineered for optimizing delivery routes.
Circuit for Teams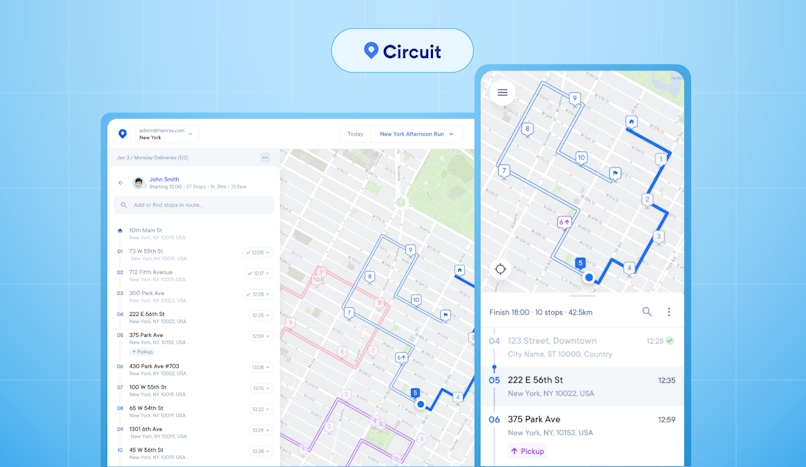 Circuit for Teams enhances route planning and delivery management with features like advanced route optimization​​. The software supports a two-way application programming interface (API) for integration with other systems, offering real-time data to automate processes​​. 
Analytical reports give insights into delivery and driver performance, and dispatchers can tailor delivery experiences by designating stops to specific drivers, improving overall efficiency​​.
Additional features aimed at improving the delivery process include flexible proof of delivery (POD) options, live stop status updates for proactive management, and detailed customer tracking information for enhanced service​. 
With its ability to prioritize stops and handle last-minute changes smoothly, Circuit for Teams makes sure deliveries are managed effectively, even when faced with unexpected challenges​​.
Circuit for Teams pros:
Enhanced collaboration with real-time driver tracking and notifications.
User-friendly interface suitable for teams of all sizes.
Comprehensive delivery management tools, including route planning, dynamic notifications, and POD.
One user says: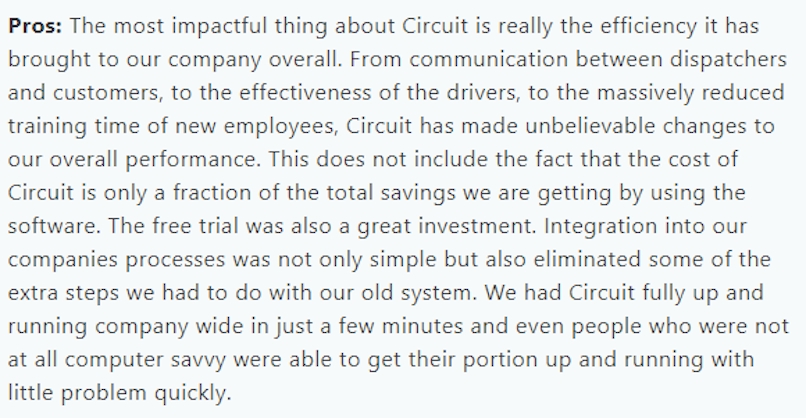 Circuit for Teams cons:
Might be a learning curve for those not familiar with digital tools.
Subscription costs might be a concern for very small businesses.
One user says:

Circuit for Teams pricing:
Essentials plan ($100 per month). Includes route optimization and real-time driver tracking.
Standard plan ($200 per month). Offers the same features as the Essentials plan plus proof of delivery and customer notifications. 
Pro plan ($500 per month). Offers the same features as the other plans but is geared toward teams wanting to analyze and improve their delivery efficiency.
The best fleet management software for vehicle maintenance
Preventative maintenance is key to minimizing costly downtimes and maintaining the longevity of a fleet. Fleetio stands out in the fleet management software category for its comprehensive approach to maintenance, which includes vehicle diagnostic features.
Fleetio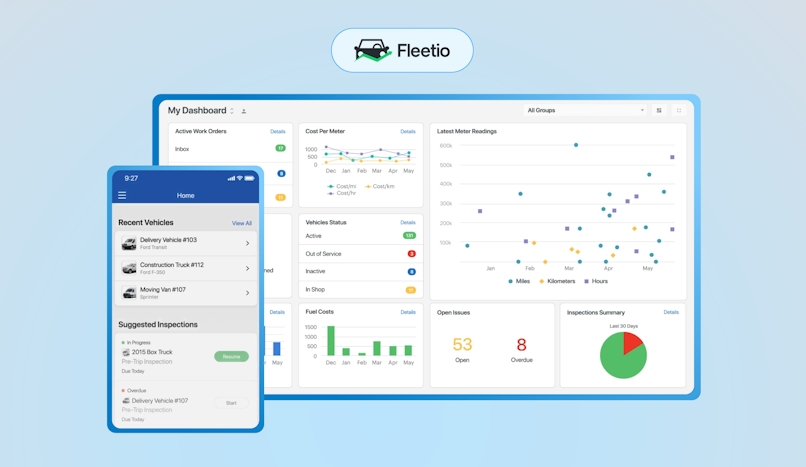 Fleetio is a cloud-based fleet management platform designed to streamline complex operations and improve the maintenance aspects of fleet management. It covers multiple aspects such as vehicle inventory management, fuel efficiency, safety reports, and document management. 
Particularly notable is its emphasis on fleet maintenance. Teams can integrate with repair shops, manage and approve repair orders electronically, and even automate data from repairs.
Fleetio pros:
Offers a wide range of features tailored to maintenance, making it easy to use​​.
Has a mobile app, Fleetio Go, which lets employees conduct vehicle inspections from company phones​​.
Cloud-based, ensuring data accessibility and real-time updates​​.
One user says: 

Fleetio cons:
There can be issues with fuel card integrations, especially concerning the accuracy of imported odometer readings.
Fleetio may not generate HOS reports on drivers' phones, which could limit its utility for CDL users.
One user says:

Fleetio pricing:
Starter ($4 per month per vehicle)​​. Focuses on foundational fleet management tools, such as vehicle inventory management, mobile inspection forms for swift DVIRs, automatic service reminders based on custom or OEM recommendations, maintenance activity tracking, and comprehensive reporting for understanding total cost of ownership and detailed vehicle insights.
Pro ($6 per month per vehicle). Expands on the Starter with outsourced maintenance features that automate approvals and consolidate bills. It includes fuel and telematics integrations for real-time data, vehicle assignment and scheduling tools, fault and recall management that triggers maintenance workflows, customization options for roles and data fields, and API access for integration with other software.
Advanced ($8 per month per vehicle)​​. Gives a holistic fleet management experience. It covers work order management from creation to completion, parts and inventory management tools for efficient stock tracking, purchase order generation and tracking, and webhook capabilities to push data based on Fleetio events to other systems and applications.
The best fleet management software for safety
Safety on the road is paramount. As fleets grow, monitoring every driver and vehicle becomes a challenge. The solution? A specialized fleet management software that prioritizes safety. 
Among the options available, Samsara blends technology with actionable safety insights.
Samsara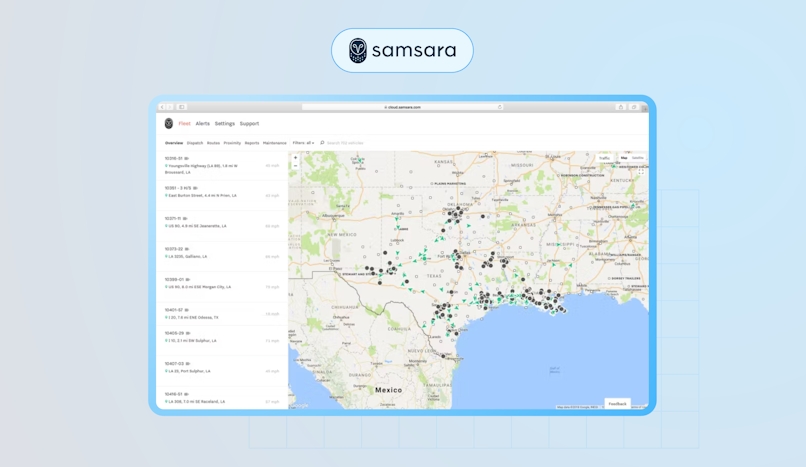 Samsara's fleet management platform is engineered to enhance safety through its comprehensive suite of features. The artificial intelligence (AI) safety program with AI-enabled cameras and personalized coaching aims to protect teams on the move​​. 
Real-time telematics organize fleet management from a single dashboard, allowing immediate response to safety alerts and efficient compliance management, including electronic logging device (ELD) mandates​​.
Additionally, the platform offers robust equipment monitoring and site visibility to confirm asset safety, while its maintenance features help maximize vehicle uptime and prevent costly breakdowns​.
Samsara pros:
Reports for idling, camera views, maintenance reports, and tracking are comprehensive and useful for fleet management.
The on-dash cameras give valuable insights and teaching moments for driver training.
Gives fleet managers customizable safety metrics and detailed reports.
One user says:

Samsara cons:
Customer service can be hard to reach and unresponsive to issues.
Lack of direct integration options with third-party vendors into the driver app​.
Occasional difficulties when pulling camera footage due to alignment issues with map points.
One user says: 

Samsara pricing:
Samsara's pricing isn't publicly disclosed, and the total cost varies based on fleet size, contract length, and selected features. Fill out a short questionnaire to get a custom quote. 
The best fleet management software for efficiency
Delivery businesses must juggle punctuality, accuracy, and customer satisfaction, all while managing costs and maintaining speed. 
With the right platform, companies can optimize every aspect of their delivery operations, from route planning to real-time tracking, and fulfill each order as efficiently as possible. Onfleet addresses these needs with its suite of tools.
Onfleet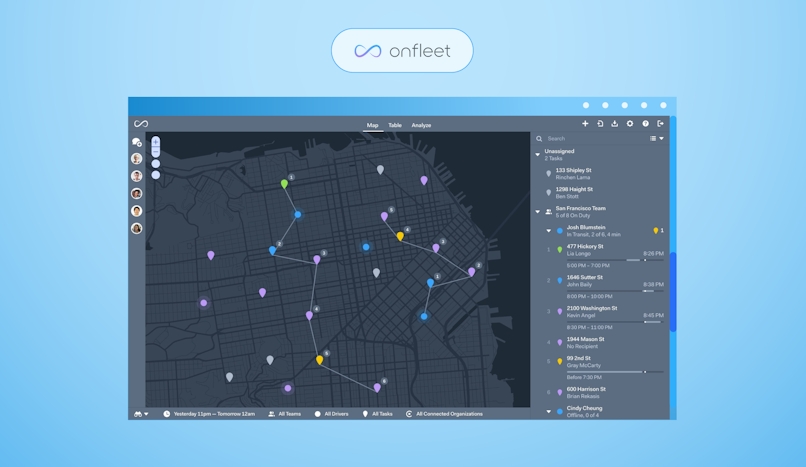 Onfleet stands out for its specific features for optimizing delivery operations. Key offerings include dynamic route optimization that accounts for time, capacity, and delivery windows, automated dispatch to reduce manual intervention, and predictive ETA for better customer service. 
The software also supports real-time driver tracking for in-the-moment rerouting, a web dashboard for centralized control, and a driver app designed for ease of use on the go.
Onfleet pros:
Auto-dispatch feature for minimizing manual sorting of delivery assignments.
Accurate real-time tracking and predictive ETAs for improved delivery predictability.
Direct communication tools for drivers and dispatchers to address issues promptly.
One user says:

Onfleet cons:
Lacks an offline mode for operations in areas with poor internet connectivity.
Error notifications in the file upload process might be delayed.
Mobile dispatcher features may not be as comprehensive as the desktop experience.
One user says:

Onfleet pricing: 
Onfleet's pricing is structured into three tiers catering to different sizes and needs of delivery operations.
Launch. Aimed at new and small teams, this plan starts at $550 per month and includes 2,000 delivery or pickup tasks​​.
Scale. Designed for growing delivery operations, this plan starts at $1,265 per month. It includes 5,000 delivery or pickup tasks​.
Enterprise. The Enterprise plan pricing is custom. It offers everything in the Scale plan plus advanced route optimization and more.
The best fleet management software for compliance
For businesses seeking a reliable solution in fleet management, particularly for compliance and fuel economy, Motive offers a focused suite of tools that simplify these critical areas.
Motive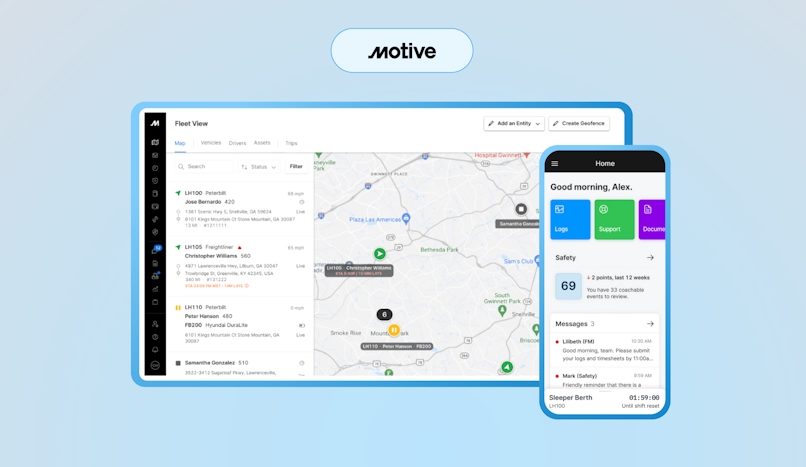 Motive includes the Motive Driver App, which streamlines ELD compliance and inspection reporting, reducing the risk of HOS violations. It also offers a centralized dashboard for monitoring fuel consumption, using AI to offer actionable insights that reduce costs and improve efficiency.
Motive's compliance features automate trip and driver matching, offer real-time notifications for potential violations, and simplify the assignment process with AI Trip Assignment. For safety, the AI dash cam and collision detection aim to mitigate risks on the road.
Motive pros:
Automated tools for managing ELD compliance.
Detailed analytics for fuel consumption and efficiency.
Motive Card integration for managing fuel expenses.
One user says: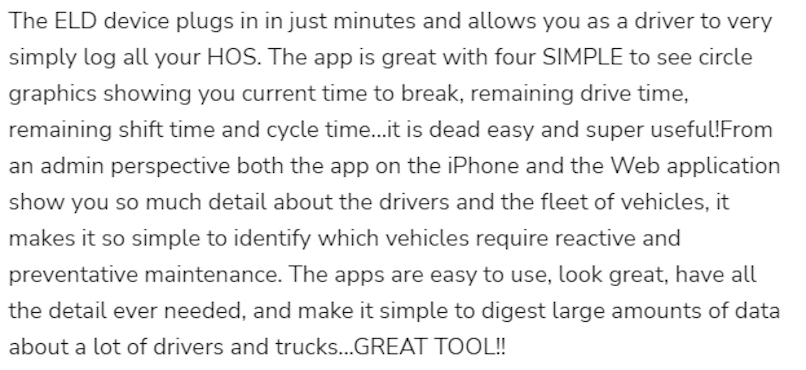 Motive cons:
Some users may find the feature set complex.
Certain ELD features are only available for Android devices, limiting cross-platform usability.
One user says:

Motive pricing:
Motive customizes its pricing based on the needs and scale of the fleet, with specific figures available upon request from their sales team.
Which is the best fleet management software overall?
Determining the best fleet management system overall depends on your business's specific needs. When considering a balance of features, usability, and customer feedback, Circuit for Teams stands out. 
It addresses a core challenge in the industry: route optimization. This is pivotal for any delivery-focused operation, as it impacts time management, fuel costs, and customer satisfaction.
Circuit for Teams stands out with its user-friendly mobile app that fosters effective communication within fleet operations. 
The app's advanced route optimization capabilities plan multiple routes with ease, taking into account factors like traffic, delivery windows, and driver breaks. This level of detail makes sure drivers are following the most efficient routes possible, which results in time and cost savings.
While other software like Fleetio, Samsara, Onfleet, and Motive offer strengths in maintenance, safety, efficiency, and compliance respectively, Circuit for Teams delivers a robust and well-rounded package. It not only excels at route optimization but also brings together essential elements of fleet management in a cohesive, accessible, and scalable manner. 
This combination makes Circuit for Teams the best overall choice for businesses aiming to enhance their delivery operations and achieve better results across the board.
Keep track of your fleet of vehicles with Circuit for Teams
Circuit for Teams is a solid choice for anyone who needs efficient fleet tracking. It simplifies route planning, helps your drivers stay in touch, and keeps deliveries organized. 
The software's standout feature is its route optimization that plans the quickest and most cost-effective routes. Get from point A to B while you save time and fuel and keep customers happy.
The Circuit for Teams mobile app means your drivers are always just a tap away from knowing where they need to be next. And for fleet managers, real-time tracking gives a clear picture of where all your vehicles are at any moment.
Staying current is key in fleet management, and Circuit for Teams has regular updates to keep your operation running smoothly. With its straightforward approach, you get a powerful tool without the complexity.
If you're ready to get a better handle on your fleet, make your drivers' jobs easier, and give your customers the service they expect, Circuit for Teams is ready to help.
Want to give it a go? Start your Circuit for Teams free trial and see the difference it can make for your business.