7 minute read
Do Food Delivery Apps Hire Someone With a Record?
As someone with a criminal record applying for a job, should you be concerned about the background check by food delivery apps? Read on to know more.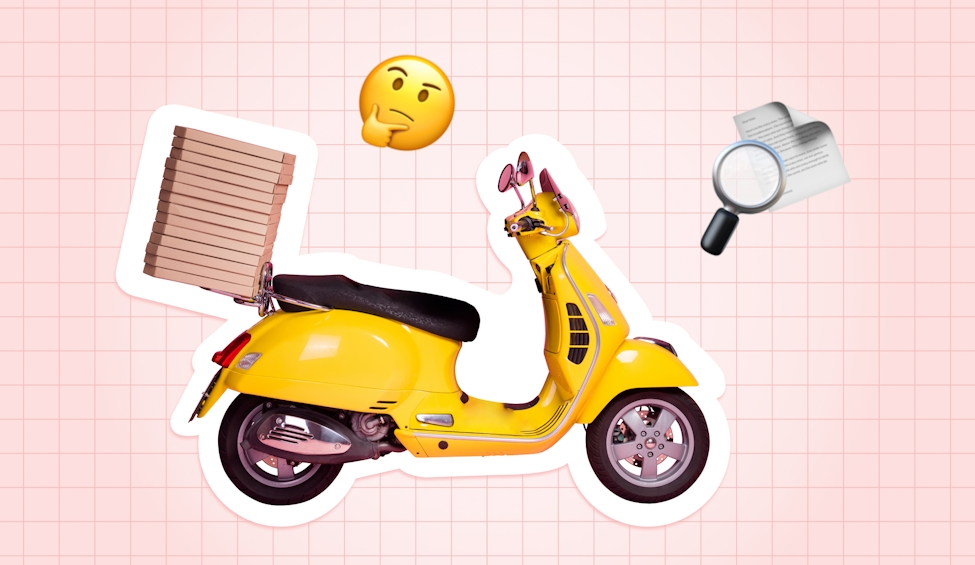 Thinking of becoming a delivery driver? The trick to completing more orders is optimizing your route. Circuit Route Planner can help.
Want the short answer? Yes, in some cases. No, in others. 
Life can be quite tough if you're looking to get back to work, especially if you have a criminal record. 
But food delivery apps could be a great way to get back on your feet if you're considering joining the gig economy for some extra cash.
One of the many gig economy jobs that you can do as an ex-felon or convict is working as a delivery driver for food delivery companies. 
But this isn't true for all delivery apps. 
While some services like Grubhub outright reject applications from anyone with a criminal record 😔, don't worry!

Because others like Postmates are more open to hire felons with minor offenses on their record.

This article explores each of these platforms and more and tells you which ones you can apply to!
Can felons work for food delivery apps?
Whether you can get a job as a food delivery driver depends on the delivery service you're applying to. 
It's a standard thing in the gig economy to run background checks on delivery drivers using automated tools like Checkr. 
The use of these tools might make it a bit more difficult for you to get a job as a food delivery driver, but that doesn't mean it's impossible.
Your chances of passing a background check will depend on the position you're applying for and the kind of offenses you have on your record. 
As a rule of thumb, people charged with serious violent or sexual offenses are disqualified from applying for a food delivery job with most food or grocery delivery services. 
You're also highly likely to get rejected if you don't have a clean driving record and offenses like: 
Driving under the influence (DUI)
Fleeing the scene of an accident 
Driving without a valid driver's license or with a suspended one 
Reckless driving 
Any accidents, including a hit and run 
Suspension of driving license for any reason
While people with misdemeanor charges on their record might still be able to apply for delivery jobs, a felony is — in some cases — considered enough to disqualify your job application (doesn't matter the nature of the crime). 
We go into more depth for some popular food apps below.
Uber Eats 
All of Uber's services, including Uber Eats, won't hire anyone with a felony on their record. 
Uber Eats drivers have to go through a Checkr background check, which automatically flags and disqualifies felons from the application process. 
You can only drive for Uber Eats if you have an eligible vehicle like a scooter or a car with no impending fines or dues, relevant driving experience, and don't have any of these things on your record: 
Any criminal charge other than minor misdemeanors 
Any traffic-related charges, including a DUI
Any serious violent crimes or sexual offenses
DoorDash 
DoorDash is one of the few food delivery services that allow convicted felons to work as delivery drivers. 
(Who even uses Uber nowadays? JK, plenty of people, but I digress.)
While all applicants have to go through mandatory third-party background checks, DoorDash evaluates each profile on a case-by-case basis. 
This means that you'll be evaluated based on both the nature and reason for your felony and whether you were convicted. 
Applicants who weren't convicted of a felony have an awesome chance of securing a job as a delivery driver with DoorDash. 
As for convicted felons, applicants whose convictions date back to seven years or more might be given a chance to make a case for themselves and prove to DoorDash that they're reformed. 
As with most services, DoorDash doesn't allow convicts with serious violent, sexual, or driving-related charges to apply. 
But you can still apply with a driving-related felony conviction on your record if the charges against you: 
Don't include any DUIs
Aren't more than three within the past three years 
Grubhub
Grubhub "reserves the right to disqualify employment applications based on its discretion." 
This means that while there are no set criteria that Grubhub goes by, it can disqualify applicants based on their past criminal records. 
As a rule of thumb, it might be OK to have some minor violations on your criminal or driving records as long as they date back seven or more years. 
Felons with serious offenses on their record will most likely be disqualified from applying to Grubhub. 
Definitely take a chance and apply either way. It doesn't cost much EXCEPT your valuable time.
Instacart 
Instacart prides itself on being an equal opportunity employer and looks at each applicant based on their merit and ability to do the job. 
As for delivery drivers, everyone is evaluated on a person-to-person basis. 
As long as you're an adult with a Social Security number (SSN) and can prove that you are physically fit to be a delivery driver, Instacart will consider your application. 
Felons with sexual or violent convictions, of course, are rarely picked. 
It's also difficult for felons with driving-related convictions to get a job as a delivery driver with Instacart. 
If you're applying to work with Instacart in San Francisco, Philadelphia, or Los Angeles, your application will be evaluated according to applicable Fair Chance ordinances. 
All applicants must: 
Be 18 years or older
Eligible to work in the United States
Have regular access to a recent smartphone (iPhone 6s/Android 5.0 or newer)
Be able to lift 50 lbs with or without accommodation
Our recommendation? Start doing pushups two weeks before applying …
Postmates 
Postmates doesn't allow delivery drivers with felony convictions on their record — it doesn't matter the nature and time of the conviction. 
While the company's hiring policy doesn't explicitly state that it doesn't hire ex-felons, Postmates runs a comprehensive background check on applicants and will — in all probability — prevent anyone with a convicted felony from appearing for in-person interviews. 
It's required for the employer to get your written permission before running a background check.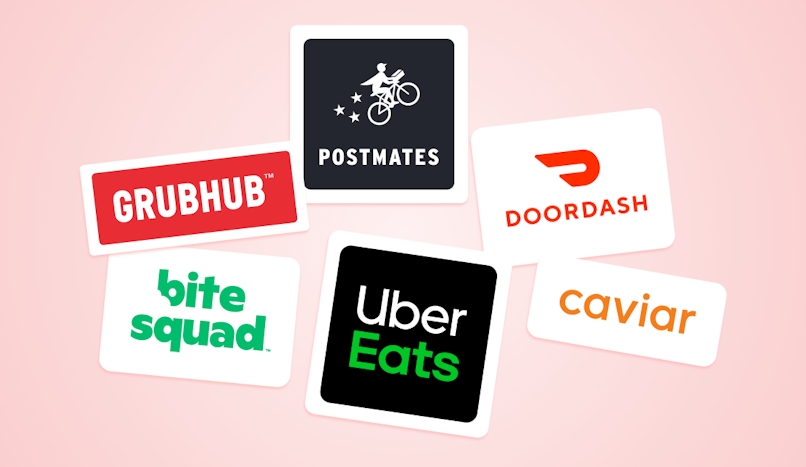 What food delivery apps hire people with a criminal record?
Every food delivery service we've mentioned so far — except for Grubhub — allows people with a criminal record to work for them. 
Your chances of being able to get a job just depend on the nature of the offense and whether you were convicted.
If you were charged and arrested for an offense but never convicted, for example, all delivery services, including Uber Eats and Postmates (the services with the most stringent background checks), allow you to make a case for yourself during interviews. 
Applicants convicted of minor fender benders or misdemeanors can be hired by most food delivery services if they can prove that they're reformed. 
Here's a detailed look at the hiring policies for each food delivery service. 
Grubhub 
Grubhub is one of the few food delivery services that don't hire anyone with a criminal record. All applicants are required to go through a mandatory background check where all offenses are flagged by the system. 
Postmates
Postmates only considers applicants with a record that's seven years or older and doesn't include any violent, sexual, or driving-related offenses. 
Everyone meeting the criteria (including felons) is given a chance to apply to be a delivery driver and is evaluated on a case-by-case basis. 
If the person proves that they're reformed, and their record won't affect their ability to perform their job in any way, they're allowed to work as a delivery driver with Postmates. 
Uber Eats
Uber Eats doesn't allow ex-felons to deliver for it. 
But those with a less serious criminal history might have a chance to work for the service depending on the nature and history of their crimes. 
Like most other services, Uber Eats allows people with a criminal record dating back seven years or more to work for them. 
This includes people charged with minor fender benders and nonsexual, nontraffic-related misdemeanors. 
DoorDash
DoorDash allows everyone with a criminal record, including ex-felons, to deliver for them. All background checks conducted by the service are evaluated on a case-by-case basis, and applicants are given a chance to prove that their criminal history doesn't affect their ability to do the job. 
As a general rule of thumb, applicants with major violent or sexual offenses are rejected by DoorDash. 
Instacart
Instacart's eligibility criteria are identical to that of DoorDash's, with the exception that Instacart drivers are expected to have no recent criminal record (at least in the past seven years) and are required to undergo a mandatory vehicle check. 
Do food delivery apps do a background check?
Yep, all food delivery apps mentioned so far run a background check on applicants. 
It's a pretty standard practice in the gig economy to conduct thorough background checks on independent contractors. 
This is because all businesses hiring third-party contractors become directly liable for them and need to make sure that all their workers are capable of performing their jobs as expected. 
Uber Eats and Instacart require additional physical and vehicular checks as a part of their comprehensive background check. 
Applicants should be able to lift 50 lbs of weight to work for Instacart and need to have ready access to a working vehicle that will be used for making deliveries. 
Check out our roundup of the best vehicles for delivery to find the best car for your needs.
Do food delivery apps drug test? 
Most food delivery services hire drivers who are third-party contractors. 
This means they're not considered full-time workers but independent contractors who get paid based on the services they do. 
So, these services can't ask any applicants to do mandatory drug tests without explicitly stating it (along with a reason) on the job application. 
However, if you land your job as a delivery driver through a temp or employment agency, you might be required to undergo a drug test done by the agency. 
You could refuse to take the test if you weren't explicitly informed of it at the time of enrollment.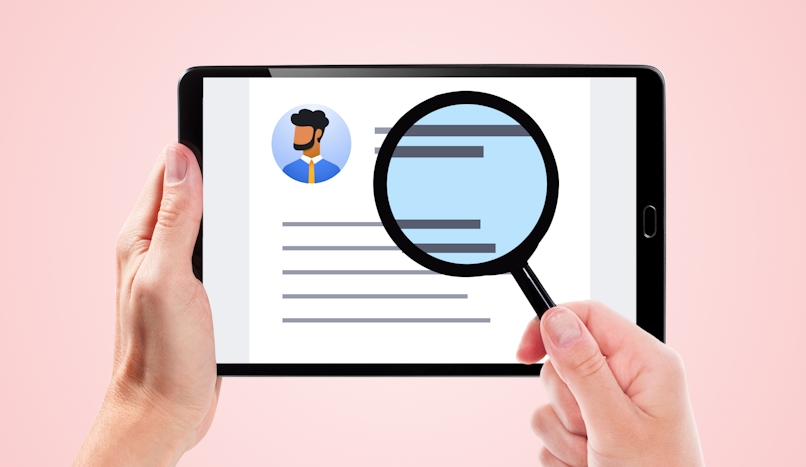 Can you dispute a failed background check with delivery apps?
Both Uber Eats and DoorDash allow applicants to appeal against a failed background check. Applicants are allowed to do so within a month of receiving the rejection notification. 
You can dispute your rejection on the grounds of unfair/biased treatment during the hiring process, including disqualification based on a criminal record that wasn't explicitly flagged during the background check. 
DoorDash often does routine checks on its drivers for compliance and productivity. 
If you're one of the unlucky ones to fall short on the compliance angle, don't worry because you can file an appeal. 
Don't let your record define you
If you have a record, we get it.
It can be a bit intimidating getting back into the workforce, but, well, you've got to start somewhere, right? Food delivery apps can be an awesome way to build your confidence and start earning.
Just make sure you're completely honest and upfront about your background. Most food delivery apps understand that you're only human and may still hire you even with a smudge on your record. 
Good luck!