7 minute read
What Is Telematics?
Learn about the different types of telematics systems and how you can implement your own telematics solutions.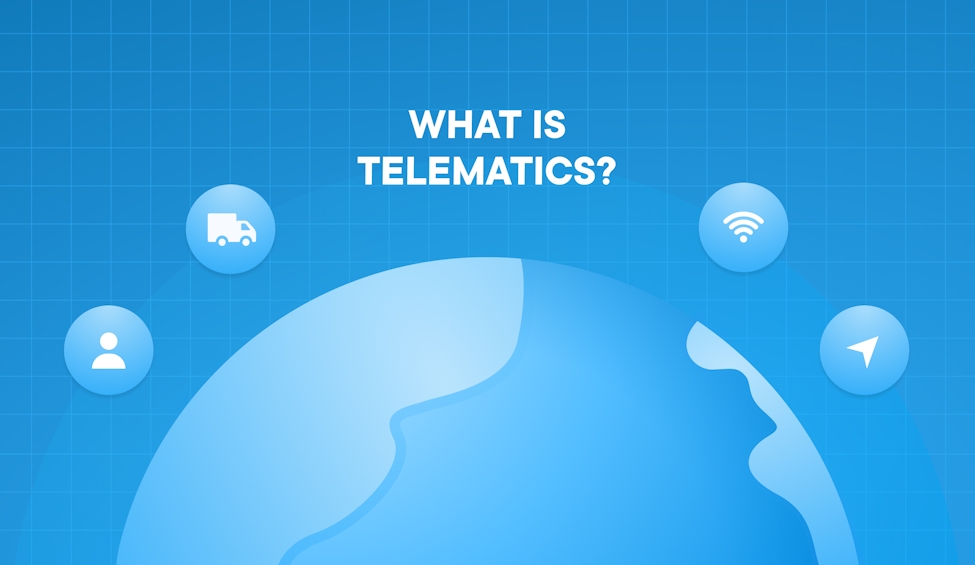 Try using telematics without making a big commitment by tracking your vehicles with Circuit for Teams.
Telematics, in the most basic sense, is a computerized system that businesses use to monitor their fleet of vehicles and drivers. 
It involves using GPS or onboard diagnostics (OBD) within vehicles to track real-time conditions, like location, speed, fuel efficiency, and maintenance issues.
Data from the vehicle is sent through a wireless network to the fleet manager's portal.
These insights can help you cut down vehicle maintenance and fuel costs, enforce driver safety standards, improve customer service, and make more money in the long term.
So, if you manage multiple commercial vehicles and are wondering how to best make use of telematics to get results like those, I can help.
I'll explain the different types of telematics systems and how they work, so you can make sure you're using the ideal telematics solutions for your needs.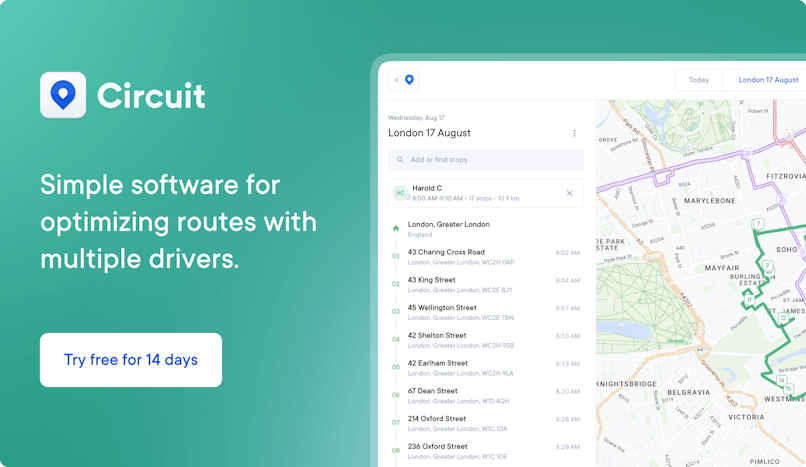 How does fleet telematics work?
I picture a black box as sort of the face of telematics. 
You know, that tracking device made popular in airplanes as flight recorders.
A black box can also refer to the device in many vehicles, called an event data recorder (EDR), that records vehicle data in the event of a crash.
Getting the data from your vehicle's black box is just one way to use telematics. 
Other telematics technology include smartphone apps or aftermarket Internet of Things (IoT) equipment.
Businesses with an entire fleet to keep track of often use telematics to monitor drivers and optimize their daily workloads.
Without vehicle telematics, fleet managers can't see what drivers are doing or collect monitoring data on their vehicles. 
This lack of visibility can lead to a huge opportunity loss for optimizing fleet operations and maximizing profits.
The proof is in the data.
Take the 2022 Fleet Technology Trends Report.
Researchers surveyed over 500 US fleet managers, executives, and "other mobile-business professionals" about their experiences with GPS fleet tracking. 
Their findings? Even basic GPS telematics are totally worth it.
According to the report, new adopters saw an average: 
10% decrease in fuel costs
14% decrease in accident costs
10% decrease in labor costs
A telematics system has five parts:
Manufacturer's black box and connected sensors in the vehicle
Telecommunications modem used to wirelessly transmit vehicle data
Cellular network, satellite, or general packet radio service (GPRS) device that receives and transmits data
Servers at the telematics company that receive vehicle data
Account portal that displays data
The vehicle's black box collects data from sensors throughout the vehicle's engine and other components. 
That data is then transmitted to computer servers using old-school GPRS, cellular networks, or a satellite connection. 
You can see this real-time data in your fleet management software and perform different actions — from seeing an overview of your team to setting up vehicle alerts and more.
Vehicle data collected from your telematics system could include:
Vehicle GPS location
Ignition status
Current speed
GPS direction
Trip mileage or time
Seat belt status
Fuel usage
Idling time
Hard braking or acceleration
Harsh driving
Vehicle faults
Power voltage
Charge level (for electric vehicles)
You can use that telematics data to see where the company is wasting money — whether on fuel costs, maintenance problems, or something else. 
Then you can make moves to save time, plug cash leaks, and earn greater profits.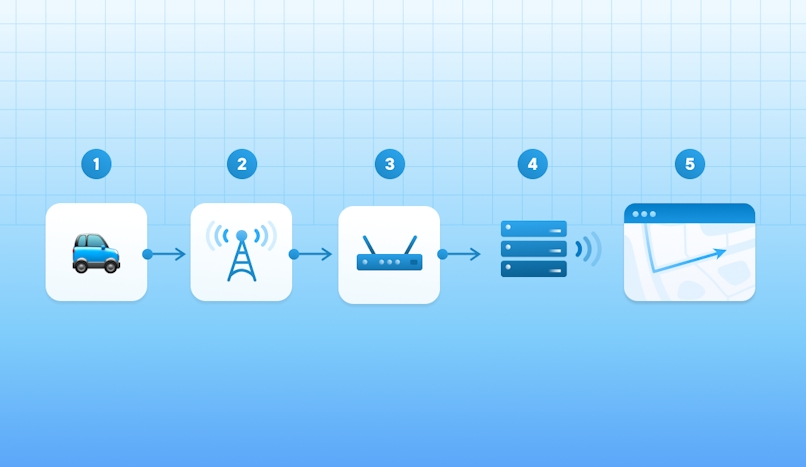 Examples of telematics 
A famous example of telematics is the way Formula 1 (F1) racing cars are tracked using some of the most advanced telemetry in the world.
Marelli supplies the telematics system in every Formula 1 car. 
The Marelli modem is powerful enough to collect huge amounts of data from a whopping 300 sensors in the car.
Different F1 teams use their own preferred telematics software to analyze all of that data. 
For example, the McLaren team uses Splunk software. 
F1 teams often use the data to change everything from tire choices to the racing line their drivers take during a Grand Prix.
Delivery managers and dispatchers can use telematics in similar ways.
The co-owners of Bennett St. and Blair St. Dairies were managing a cookie delivery business but struggled to schedule deliveries and keep customers happy. 
They decided to try a telematics app that offers vehicle location tracking and proof of delivery.
By using Circuit for Teams routing software as their telematics solution, the company could optimize their drivers' routes and improve customer satisfaction.
Another benefit they found in using Circuit for Teams for telematics?
"James loves having real-time knowledge of where his drivers are so he can check on how long it takes for each batch of cookie dough to get to its destination. This is important because the dough is perishable and needs to be delivered within a specific time window."
What are the benefits of telematics?
Let's get into how telematics can benefit different businesses, including yours.
Track driver locations: With real-time GPS tracking for each vehicle, you can optimize routes, reroute drivers, and more.
Reduce transportation costs: By using data to optimize routes and improve driver habits, you can minimize fuel consumption and stop times.
Comply with laws: Telematics makes it easier to follow electronic logging device (ELD) laws and hours of service (HOS) regulations so you can avoid Department of Transportation (DOT) inspections and violations.
Arrange immediate repairs: When your telematics system detects an issue with one of your vehicles, you can get on top of that right away to prevent breakdowns on the road.
Monitor driving behavior: Telematics data can help you correct unsafe or inefficient driving habits, like harsh braking, an unbuckled seat belt, or speeding.
Send driver notifications: Any time your telematics system alerts you about emergency issues, such as low tire pressure, you can make sure your driver is aware of the problem by sending them a note directly through your telematics account.
Offer accurate ETAs: Because telematics allows you to track your drivers' locations throughout their routes, you can give your customers accurate ETAs for their deliveries or service appointments.
Strengthen security: With reliable GPS tracking and geofencing features, telematics systems give you better control over your fleet. If a vehicle gets lost, there's a good chance you'll be able to find it using your telematics system.
Get lower insurance premiums: Many auto insurance companies offer discounts to customers who share their telematics data with them. This could be another opportunity for your business to save money on your fleet operations.
How to implement telematics in your company
These are the three main ways your business can use a telematics system if you have a fleet of vehicles:
GPS location tracking: This is the most basic telematics option. Seeing where your vehicles are located can benefit you in multiple ways. Accurate customer ETAs, for example, are big benefits of real-time vehicle location tracking. That leads to happier customers, better business, and greater earnings.
Engine diagnostics: If your telematics system reads data from your vehicle's black box, you'll see data on a wide range of conditions related to the engine and other critical parts. This data helps alert you to small issues before breakdowns happen, so you can reduce maintenance costs and downtime.
Driver supervision: Many telematics systems have features that allow you to monitor driver behavior. Whether you notice speeding, harsh braking, distracted driving, or any other bad habits, you can coach drivers to improve their driving and reduce the risk of accidents, saving you money in the long run.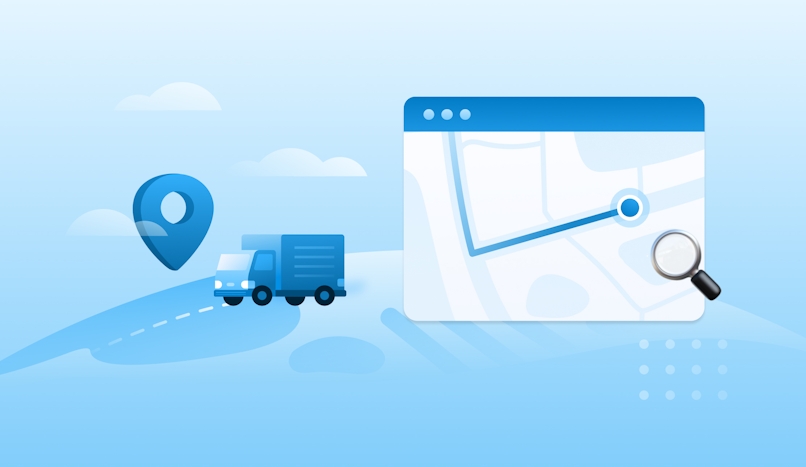 Which vehicles can use telematics? 
Telematics systems can be used in most commercial and consumer vehicles, including small cargo vans, large freight trucks, regular pickup trucks, and SUVs. 
If your vehicle has built-in telematics, simply sign up for the manufacturer's telematics service and follow their instructions for activation. You may hear built-in telematics called "OEM telematics" when talking to a dealership. This is just fancy language that means the telematics equipment was installed by the "original equipment manufacturer" or OEM (like Ford or GM).
If you need to add telematics to your vehicle, you can either use a mobile device app or an aftermarket telematics system (which typically uses a plug-in modem rather than an integrated OEM modem).
Adding a plug-in telematics modem to your vehicle
An aftermarket telematics modem plugs into a vehicle's OBD-II port to give you permanent access to the vehicle's black box data. 
It's mandatory for new vehicles sold in the US (since 1996) and Europe (since 2003) to have a built-in onboard diagnostics (OBD) system and port that follows the OBD-II standard.
That means any vehicle with an OBD-II port, including both consumer cars and commercial vehicles, can be equipped with an aftermarket OBD-II telematics device. 
Just make sure the product is compatible with your type of OBD port — older vehicles with OBD-I ports aren't compatible with OBD-II products.
How much does a telematics system cost? 
Three costs typically go into using a telematics system:
Upfront hardware and installation fees
Subscription fees for data and/or software services
Management expenses to take advantage of the system
If you're purchasing a new commercial vehicle, you might get basic telematics for free. Any new vehicle will most likely come with a built-in telematics modem that works with various telematics services, which are either free or require annual paid subscriptions.
Circuit for Teams helps you manage your delivery team
You don't have to splurge on new hardware or vehicles to get a feel for how telematics can help you keep better tabs on your team and find new ways to save money.
Ready to dip that toe?
Getting started with a simple app can be an awesome way to get accurate vehicle tracking and other solutions for your growing business.
Circuit for Teams doesn't require you to install any hardware on the vehicle — just download the app to each driver's smartphone.
Your manager account dashboard makes it easy for you to track all of your drivers and record their app's data — giving you the power of optimization in the palm of your hand. 
Plus, the Circuit for Teams app has special features like driver availability information, route optimization, automatic ETAs, proof of delivery, and more.
Try Circuit for Teams for free and see what basic telematics can do for you.