9 minute read
What Is Click-and-Mortar and How Can It Help Your Business?
Learn how to create the perfect balance of brick-and-mortar and eCommerce online shopping with the click-and-mortar business model.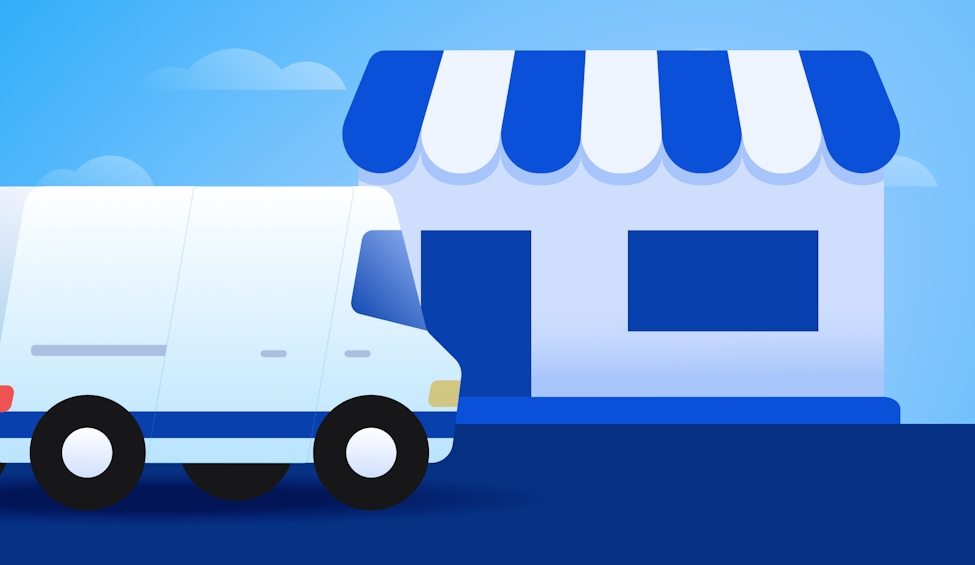 Get your click-and-mortar customer orders where they need to go faster with Circuit for Teams.
The click-and-mortar business model is becoming increasingly popular — with 2020 marking a huge spike in click-and-collect demand. 
In fact, in-store pickup increased by more than 554 percent year over year in May 2020!
And the click-and-mortar model — a combo of online and brick-and-mortar shopping — outperforms the brick-and-mortar model by over 140 percent.
It's the perfect marriage of online shopping convenience and face-to-face retailer interactions.
Which is why major corporations using this model include Best Buy, Walmart, and Nordstrom.
But, harmony between your online and in-store channels is crucial for your small businesses to succeed.
Below, I'll explain what you need to know about the click-and-mortar business model, the pitfalls to avoid, and how to make it work for your business.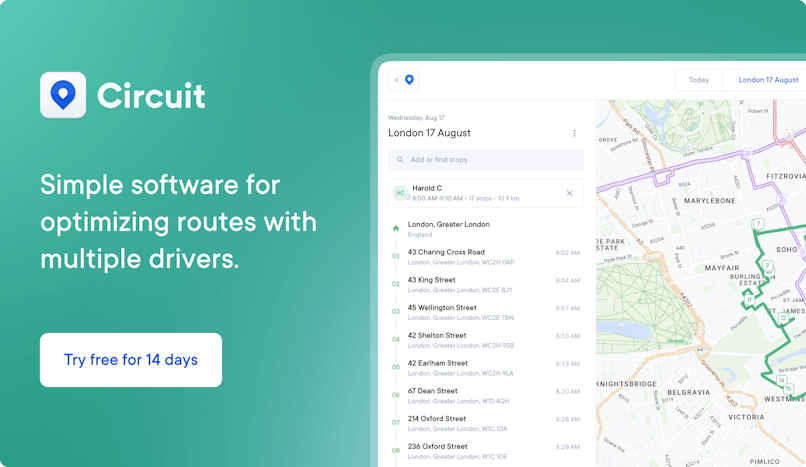 What is click-and-mortar?
Under the click-and-mortar model, businesses have both a physical and an online presence.
Customers can shop in-store or online and pick up their purchases at the brick-and-mortar location — or have you deliver them to their homes.
The goal is a seamless shopping experience for the customer — whether they're shopping in-person or online — and increased revenue for businesses.
Click-and-mortar — also called omnichannel selling, clicks to bricks, or buy online, pick up in-store (BOPIS) — is a business model with an online and offline presence.
(Omnichannel basically means you're selling products in more than one place. )
True to its name, click-and-mortar gives your customers a choice over how and where they want to shop.  Whether it's face-to-face service at brick-and-mortar store locations, or the convenience of quick online shopping.
It works like this:
Customers shop your online store on their mobile phone or desktop.
They can choose the delivery or pickup option that works for them.
Customers check out and pay for their order.
Depending on the option they picked, the order will be delivered to them or they can pick it up in person at the brick-and-mortar location.
As a business, you benefit from increased website traffic and store footfall, and sales from both online and offline shoppers (more on this later).
The difference between brick-and-mortar and click-and-mortar
Brick-and-mortar businesses are those with physical stores customers can visit in person.
On the other hand, online businesses don't have any physical storefronts.
But click-and-mortar retailers are a combination of both.
The key difference is that brick-and-mortar businesses rely solely on in-person shoppers, while click-and-mortar businesses have an online presence plus their brick-and-mortar locations.
Traditional brick-and-mortar businesses rely on customers coming into the store, picking their merchandise, and paying there.
Meanwhile, click-and-mortar is an omnichannel (multichannel) approach that allows customers the flexibility to shop how they want.
Click-and-mortar businesses can sell products offline (in store) or online and offer customers different delivery pickup options.
Customers can opt for traditional shipping so packages show up at their door, or they can "buy online, pick up in store" (BOPIS).
This may involve using in-store inventory to fulfill orders or shipping products to the store for pickup.
You could also use your brick-and-mortar location as a fulfillment center for online orders — shipping products to customers from a closer location so you save on shipping and customers get their orders faster.
Online shopping isn't going anywhere, so it only makes sense for your businesses to have an online presence.
Revenue from retail eCommerce in the US reached about $905 billion in 2022.
The click-and-mortar business model allows your businesses to take advantage of this growing trend and reach more customers.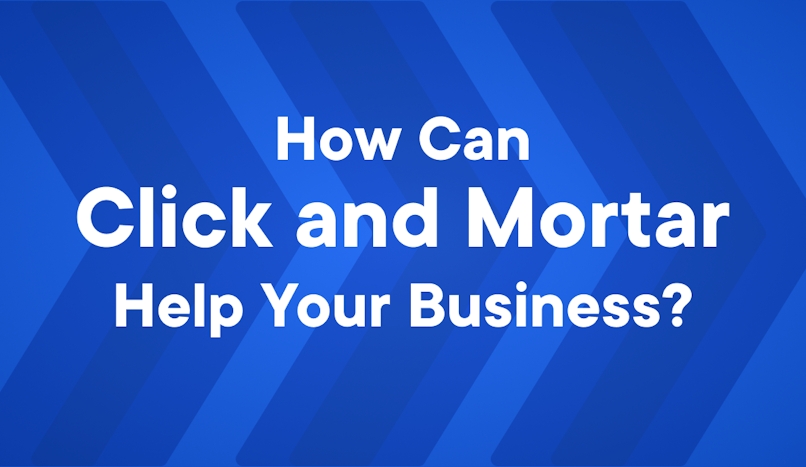 How can click-and-mortar help your business?
Is the click-and-mortar strategy a good fit for your business?
In this section, we'll explore some of the benefits of having both physical retail locations and an online store.
Reach more customers
The click-and-mortar strategy can help you reach more customers, whether they're shopping online or in person.
According to a study by the Harvard Business Review, 73 percent of shoppers use multiple channels when making a purchase.
This model takes customer experience into account.
Customers can shop online and pick up their purchases in-store.
They're not limited to one method of shopping.
Basically, the click-and-mortar strategy gives your customers the convenience they crave while still offering the personal interaction they desire.
Seventy percent of customers are willing to pay more if the experience is more convenient.
Convenience is king.
For example, online grocery sales skyrocketed 103 percent in 2020.
Why waste time spending hours browsing in the grocery store every week when your orders can show up at your door?
Here's another thing to consider: Only having a physical location means your business can only reach nearby customers. 
But by adding an online store, you can reach customers anywhere in the world.
Your physical retail store also probably has specific operating hours.
You're not making any sales when the doors are closed and the lights are off.
But with an eCommerce business, you can continue selling 24/7 — even when your physical location is closed.
This gives you the potential to make more sales and reach a larger customer base.
Stay competitive
Retail has completely changed since Amazon hit the scene.
They call it the "Amazon Effect," and it's disrupted physical retail locations and caused a shift in how consumers shop.
Online sales in the US in 2020 accounted for 13.6 percent of retail sales compared to 10.7 percent just one year before.
That's why if your business wants to stay competitive, you need to think about having a click-and-mortar strategy.
Some forward-thinking brick-and-mortar companies have already done this.
For example, Walmart has an online presence and offers customers the option to pick up their orders in-store or have them delivered to their homes.
And small-business owners can do this, too.
Adding an online store to your traditional brick-and-mortar business allows you to stay competitive in today's market and take advantage of online purchases that could go elsewhere if you don't offer online ordering.
Build brand recognition
As you can imagine, brand recognition is important for any business, but it can be especially beneficial for brick-and-mortar businesses.
A physical presence is great, but you only get so much foot traffic through your doors — so it can be difficult to get your name out there.
Adding an online store can increase brand recognition and reach more people.
You can even use online marketing strategies and your social media presence to drive traffic — eliminating some shipping costs at the same time.
Understanding customer behavior and getting an accurate gauge of marketing return on investment (ROI) are other benefits of online sales.
While foot traffic is great, tracking the movements of customers in your store and understanding their in-person shopping behavior can be tedious and complex.
Selling online gives you plenty of big data and metrics to improve your online store and marketing efforts and grow your business.
For example, you'll be able to see hot spots on your website, cart abandonment rates, current shopping trends, and more.
One way to build customer loyalty is by making the buying process easy, flexible, and convenient.
Look at Target, for example. They have some of the most loyal customers (and the TikToks to prove it.)
One of the reasons for this loyalty is that Target makes it easy for its customers to shop however they want.
Target invested $7 billion in just three years to invest in digital and expand its omnichannel approach.
Target stores basically act as showrooms for customers to browse, see products in person, and make impulse purchases, but the website also allows for easy ordering and shipping to homes or stores.
And in the UK, fashion retailer Primark launched click-and-mortar ordering, and the website crashed from massive demand.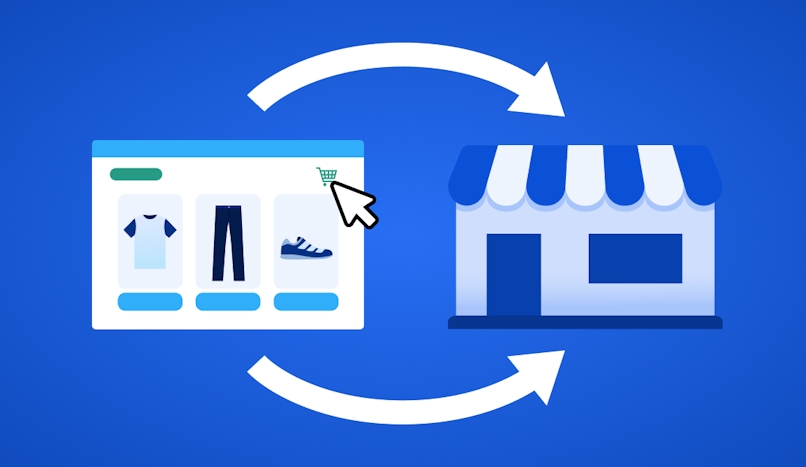 How to implement a click-and-mortar business model
The click-and-mortar strategy sounds great, right?
Well, the benefits are apparent. But how do you actually create and action a click-and-mortar business model?
Here are the tips and tricks that you need to know:
Prepare your inventory system
If you want to offer in-store pickup or shipping from your physical location, you'll first need a system for tracking inventory.
After all, you don't want to oversell a product and not have it available for pickup. 
Then, you've got to deal with managing backorders. 
You also don't want to sell a product online and not have it in stock at your physical location.
That could lead to pissed-off customers.
If you're savvy with your inventory management, customers can rest assured that they won't waste time going to the store for an item that's out of stock. 
Having a system that can track inventory in both locations and update customers in real-time is important — it means they're 100 percent guaranteed to receive their expected order.
Want to know more? We've got some tips for tracking inventory to help make the process easier.
Establish your brand's online presence
It should go without saying; if you sell online, you first need to establish an online presence.
This means having an online website or mobile app where customers can order products and active social media accounts.
Pro tip: Most customers have a mobile device and may appreciate purchase options through an app. This way, they can get immediate shipping confirmation through email or push notifications, too.
If people sign up on your website, you can know their browsing habits or purchase history and then make them personalized deals.
So make sure you optimize your website for eCommerce, with clear product descriptions, photos, and a user-friendly checkout process to avoid cart abandonment (more on that below).
(Here's a handy guide on optimizing your eCommerce site to drive sales.) 
Give a better customer experience.
Make sure your website or app is easy to navigate and offers a good user experience.
Cart abandonment is another thing you need to consider, as roughly seven out of every ten shoppers won't complete their transaction.
The good news is that you can do a few things to prevent this:
Set up a simple checkout process. No one wants to jump through hoops to enter their credit card info.
Offer discounts and promo codes. Everyone loves a good deal. If you offer discounts, promo codes, or free shipping, you're more likely to convert a shopper into a customer.
Avoid long delivery times. We're spoiled and want what we want when we want it. Long delivery times can make your customers close the tab.
Make sure your website is mobile-friendly. Nearly 80 percent of smartphone users have made an online purchase using their mobile devices in the last six months. Optimizing your website so customers can make purchases on their phones is important.
You've got your online store all set up and running smooth like buttah. Now it's time for marketing.
You need to tell people about your online store and get them to visit it.
Some ways you can do this include the following:
Determine a shipping service (or ship yourself)
If you're going to sell online, you'll need a shipping strategy.
You can either use a shipping service like FedEx or UPS or ship the orders yourself.
Learn about the different types of order fulfillment and see which one makes the most sense for your business.
There are a few things to consider when choosing a courier for your small business, like:
How much does it cost? You need to factor in shipping costs when setting product prices.
How fast do you need it? If you're selling time-sensitive products, you need to choose a courier that can get your product to your customer fast.
How far are you shipping? If you're only shipping within the US, you have more options than if you're shipping internationally.
Check out our guide on third-party logistics (3PL) to learn if working with a 3PL partner could be right for you. 
You can also consider shipping orders yourself.
Last-mile delivery is the final step of shipping an order.
Some businesses choose to handle last-mile delivery themselves to save on shipping costs.
For example, if you own a bakery, you can deliver customer orders yourself. You can also offer in-store pickup at your physical storefront.
If you choose to handle delivery yourself, consider using routing software like Circuit for Teams to optimize your delivery schedule for multiple drivers.
Our tool can help you map out the most efficient routes and save time and money by helping you avoid traffic and get your delivery drivers where they need to go faster.
Manage your own deliveries with Circuit for Teams
If you decide to manage your click-and-mortar business deliveries, you'll benefit from Circuit for Teams.
Reduce your delivery costs by 20 percent by giving your delivery drivers the best route possible.
Get real-time ETA updates so you can give your customers accurate information about when their orders will arrive.
With Circuit for Teams, you can easily create and distribute routes for your drivers, collect proof of delivery, and even save time on payroll.
Grow your business with click and mortar
Now that we've explored the many benefits of the click-and-mortar approach and how to implement it in your business, let's sum it all up.
We know customers crave convenience and love online shopping (especially on their phones).
We've seen how the click-and-mortar approach has helped retail giants like Target grow their businesses.
And it can do the same for you.
By following the steps in this post, you can give your customers a better buying experience, save on shipping costs, and enjoy more sales and profit.
Give the people what they want and grow your business with a click-and-mortar approach that offers customers the best of both worlds.