8 minute read
How to Understand and Improve CSA Scores
Find out what makes up your team's CSA score and how you can avoid CSA violations with a few safety and compliance tips.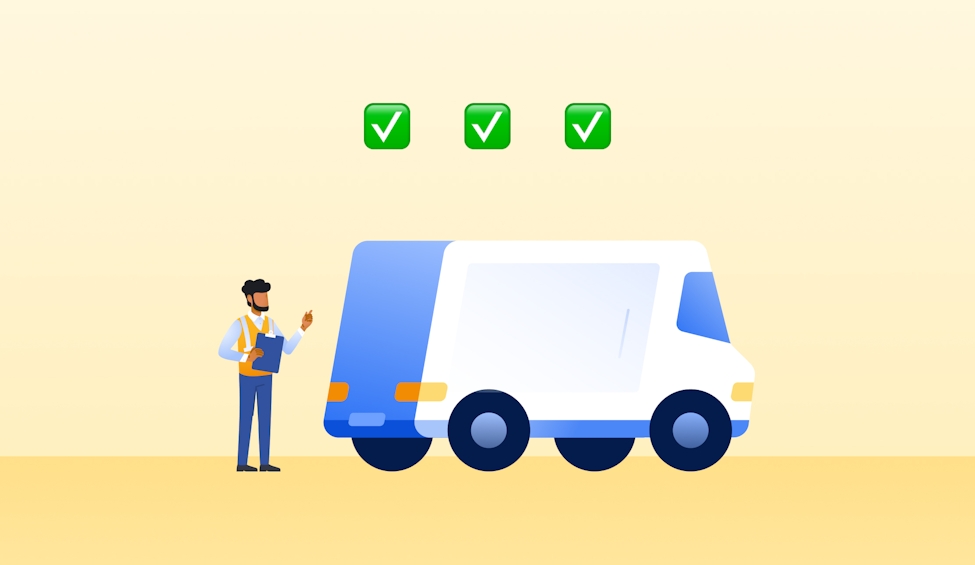 If you have a delivery business, you know how important road safety is — for your drivers and for other people on the road. 
So, to help make sure drivers of commercial vehicles and their owners are doing what they're supposed to, the Federal Motor Carrier Safety Administration (FMCSA) assigns a score. 
This is known as the Compliance, Safety, Accountability (CSA) program. 
Basically, your CSA score shows how compliant your team is on the road based on safety data.
Your CSA score isn't everything, but it sure is important.
A great CSA score lets your delivery business prove its safety standards and stay profitable by avoiding the legal consequences of CSA violations. 
I'll explain how CSA scores work and give tips for improving your score.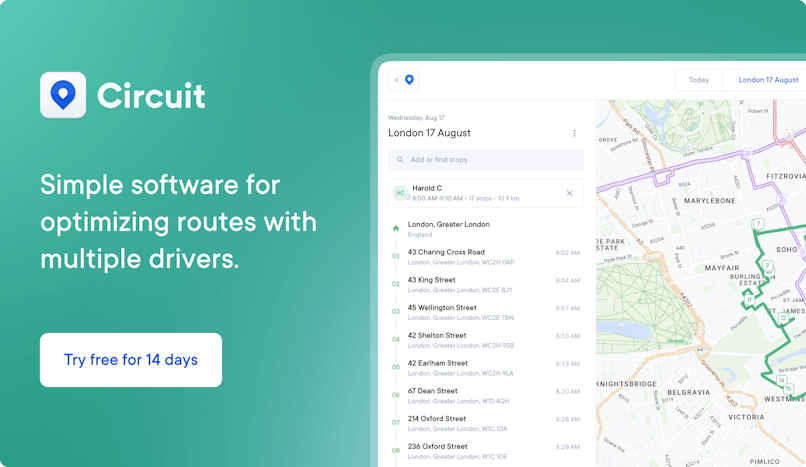 What are CSA scores?
Your CSA score is a safety and compliance rating freely given to you as a commercial motor carrier by the FMCSA. 
All owner-operators of large trucks and buses must register for a USDOT number (a unique identifier for collecting and reviewing safety info). 
Under that registration number, the CSA program assigns each company an updated CSA score monthly.
Drivers themselves don't have CSA scores. 
When a driver receives a CSA violation, the violation appears on the motor carrier's record under your DOT number.
If your business is hit with a violation, your CSA score will likely worsen. 
A bad CSA score can lead to warning letters from the FMCSA, an official investigation, out-of-service orders, fines, and other consequences that can hurt your profits and even force you out of business.
You definitely don't want that!
On the upside, a good CSA score shows your commitment to safety and compliance.
The FMCSA uses CSA scores to identify high-risk carriers and take action through intervention.
You can check your CSA to keep tabs on your status through the FMCSA and take steps to avoid safety violations.
The better your CSA scores, the less attention you'll get from the government. 
Other benefits of a good CSA score include:
Having lower insurance premiums
Avoiding DOT audits
Reducing the number of roadside inspections
Proving to customers that you're a reliable company 
All of this can lead to stable business and better earnings.
If you end up with a bad CSA score? 
You might risk: 
Understanding how CSA scores are generated and how to improve your scores for maximum benefits is essential.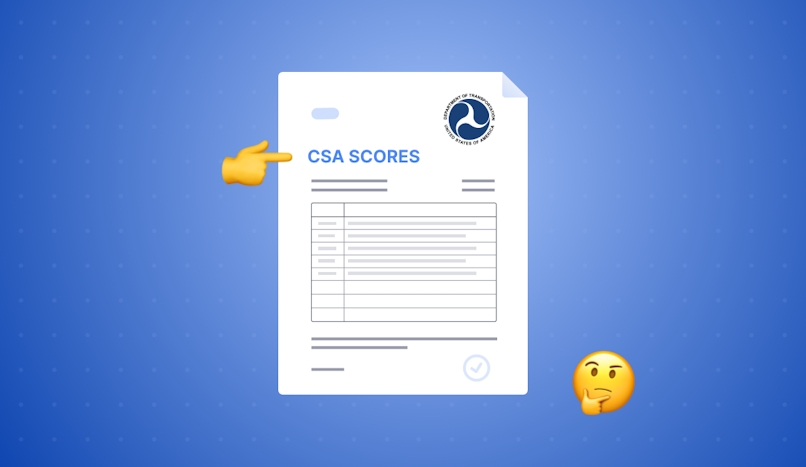 What determines a CSA score?
Your CSA score is based on seven metrics, called BASIC (Behavior Analysis and Safety Improvement Categories). 
These are the seven BASIC categories:
Unsafe driving: History of speeding, no seat belt use, reckless driving, unsafe lane changes, tailgating, and other poor driving habits
Crash indicator: Record of involvement in vehicle crashes
Hours-of-service (HOS) compliance: Driving while sick, fatigued, or beyond allowed HOS numbers, or not maintaining records of duty status for six months
Vehicle maintenance: Faulty brakes, broken lights, and other mechanical defects; failure to make repairs; improperly secured load
Controlled substances/alcohol: Driver use or possession of any alcohol or illegal drugs, or misuse of prescription drugs
Hazardous materials compliance: Unsafe or improper handling of hazardous cargo, including leaking containers, incorrect containers, or missing hazardous material labels 
Driver fitness: Inadequate driver training, physical incapabilities or medical conditions, non-English speaking, no valid commercial driver's license (CDL), or missing medical certificate
Your company receives a BASIC score for each BASIC category. 
If one of your drivers receives a BASIC violation, those violation points raise your score in that specific BASIC category.
Even one violation can impact your overall CSA score.
But it can be hard to predict just how much a violation will impact your CSA score. 
This is because CSAs are percentiles that compare you to similar carriers.
Not only do your own violation points impact your CSA score, but other carriers' points can impact your score, too.
They're like the percentiles doctors use to show how children are growing compared to their peers. 
BASIC violation points are like the kiddo's exact weight and height measurements, while the CSA score is like the growth percentile.
To help keep things fair when figuring out CSA percentiles, the CSA program groups carriers by size and number of inspections.
Yeah, it's complex. And with CSA scores being updated monthly based on all violations — not just your own — the best you can do to manage your percentile is to check it regularly and try to perform better than your competitors.
You'll do that by avoiding BASIC violation points.
Qualified roadside inspectors report on the seven BASIC metrics and submit roadside inspection reports to the FMCSA's data system. 
FMCSA records also include crash reports. 
Your CSA score only includes violations officially submitted by one of these reports.
Any qualified inspector meeting Commercial Vehicle Safety Alliance (CVSA) requirements can submit roadside inspection reports.
Law enforcement officers are also qualified roadside inspectors if they stop a commercial vehicle driver.
Inspections are a normal part of life for commercial drivers. 
Whether a driver pulls into a weigh station and gets flagged down for an inspection or a highway patrol officer pulls a truck driver over for a dirty windshield, roadside inspections are a part of the job.
When you receive a CSA violation, that violation comes with a number of CSA points. 
Some examples of CSA violation points include:
10 points: Texting while driving, speeding by 15+ mph, working on an out-of-service order
8 points: Using a commercial vehicle without a CDL or with a flat tire or tire air leak
7 points: Lack of seat belt use, speeding by 11 to 14 mph, failure to meet hours-of-service compliance
6 points: Broken lights, smoking while loading or unloading
5 points: Improper lane change, tailgating, incomplete log books
4 points: Inadequate brakes, non-English speaking driver, speeding by 6 to 10 mph
3 points: Broken horn, insecure cargo, broken speedometer
2 points: Driver physically unfit, illegal parking, obstructed windshield
1 point: Driver missing medical card, driving with a suspended CDL
You can find a list of violations and their points in the SMS Methodology guide starting on page 49.
Points are weighted based on how much time has passed since the incident. 
For example, points from violations within the last six months are multiplied by three.
So, if your driver gets a violation for texting while driving, for instance, you'll get ten base points multiplied by three for a total of 30 points in the Unsafe Driving BASIC category.
Violations in the Crash Indicator BASIC category are also weighted based on
severity. 
If an injury or fatality is involved, the points are multiplied by two for severity and multiplied again for how much time has passed.
All violations older than 24 months are dropped from your record and removed from your score.
You can find your score in each BASIC category (except for the more complex Crash Indicator) using this equation:
BASIC Percentile Score (%) = Total Weighted Violation Points (X) / Total Time Weight of All Relevant Inspections (Y)
As you get violation points, those points add up to greater BASIC scores, which will probably lead to a greater total CSA score percentile. 
We probably don't have to tell you that's not good.
What is a good CSA score?
Because CSA scores are given as a percentile, your score will range from 0% to 100%. 
The lower your score, the better — so a perfect CSA score is 0%. 
A high CSA score is bad news.
If your overall CSA score — or any of your individual BASIC scores — is close to 50%, it's time to perk up and really work on making improvements … or the FMCSA will start forcing you to make improvements.
How to check your CSA score
CSA scores are private from the public, but you can check your own score online. 
The United States Department of Transportation (USDOT) makes it easy to look up your CSA score and other safety data by logging into the Safety Measurement System (SMS). 
While the public can't access your exact CSA score, the FMCSA's online Safety and Fitness Electronic Records (SAFER) System has a public Company Snapshot with details on inspection records. 
Details include everything from your five BASIC scores (crash indicator and HazMat scores aren't public) to a line item record of each violation from the past 24 months.
Anyone with your DOT number, motor carrier number (MC/MX), or even the company name can look up your SAFER Company Snapshot.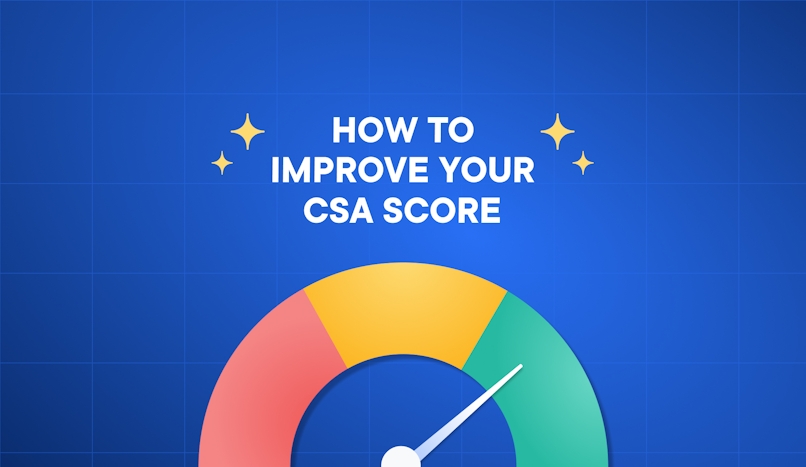 How to improve your CSA score
Whether you have a bad CSA score and want to drop your violation points or you're looking for ways to help drivers avoid violations in the first place, follow the tips below.
Inspect vehicles thoroughly and often 
Doing pre-trip vehicle inspections every time you prepare a vehicle to go out on the road can help prevent vehicle maintenance violations. 
Post-trip inspections are a great backup, too.
One measly broken tail light may not seem like a big deal, but your driver is in for a violation if you don't catch it before a police officer or weigh station inspector does. 
In fact, broken lights are one of the top CSA violations. 
Avoid CSA points by catching maintenance issues early and repairing them before sending vehicles out on the road. 
Promote a culture of driver safety 
Your company should prioritize fleet safety, including road safety and vehicle maintenance. 
While hiring experienced, qualified drivers is important to make sure you run a safe business, don't just rest on your drivers' laurels. 
Support your drivers by involving them in ongoing driver training and performance reviews — especially for drivers who display reckless behavior.
For example, you could hold a meeting that reviews BASIC violations with drivers so they understand CSA scores the way you do.
Telematics solutions that track driver habits can also help you identify drivers who need extra coaching.
You can also give your drivers safety supplies, like reflective vests for night drivers.
For more information on driver safety, check out our ultimate guide to driver team safety.
Manage driver hours of service carefully 
Staying on top of your drivers' hours-of-service compliance can help you avoid CSA point violations in this BASIC category.
One method for staying HOS compliant is using an electronic logging device (ELD) in each commercial vehicle. 
Many commercial vehicles must have an ELD installed under the ELD mandate. 
But even if you're ELD exempt, you should consider installing an ELD anyway.
According to the FMCSA, the ELD mandate has resulted in 1,844 fewer crashes annually and $570 million saved by motor carriers annually.
But an ELD isn't your only option for tracking HOS compliance.
You can use routing software to get similar results. 
For example, Circuit for Teams makes it easy to set driver shift times so they're never assigned deliveries outside their set working hours.
The CSA program also recommends emphasizing the importance of keeping their official records of duty status (RODS) "current, accurate, and complete." 
Finally, drivers should prioritize getting enough sleep before heading out on the road to avoid the 10-point HOS violation for driving a commercial motor vehicle while ill or fatigued.
Challenge incorrect CSA score violations 
As a motor carrier, you can challenge CSA score violations for up to two years after the incident. 
The FMCSA accepts appeals through its DataQs system. 
You can ask for a review for an entire violation — or just its severity.
Generally, you need to show that the violation was incorrect. 
Just saying that you disagree won't help much. 
You need proof.
Easily manage drivers and routes with Circuit for Teams
Let's face reality — you can take all the preventative measures possible. But when it comes down to it, your drivers are responsible for using their commercial vehicles correctly and getting through roadside inspections as they come up.
What you can do to help with CSAs is to encourage your drivers to stay sharp, organized, and focused on safety and compliance.
It's easy to do that when you use routing software like Circuit for Teams.