6 minute read
How to Optimize Routing Automatically with a Route Organizer
We'll show you how delivery teams can use Circuit's route organizer to save time and money, improve delivery performance, and boost customer satisfaction.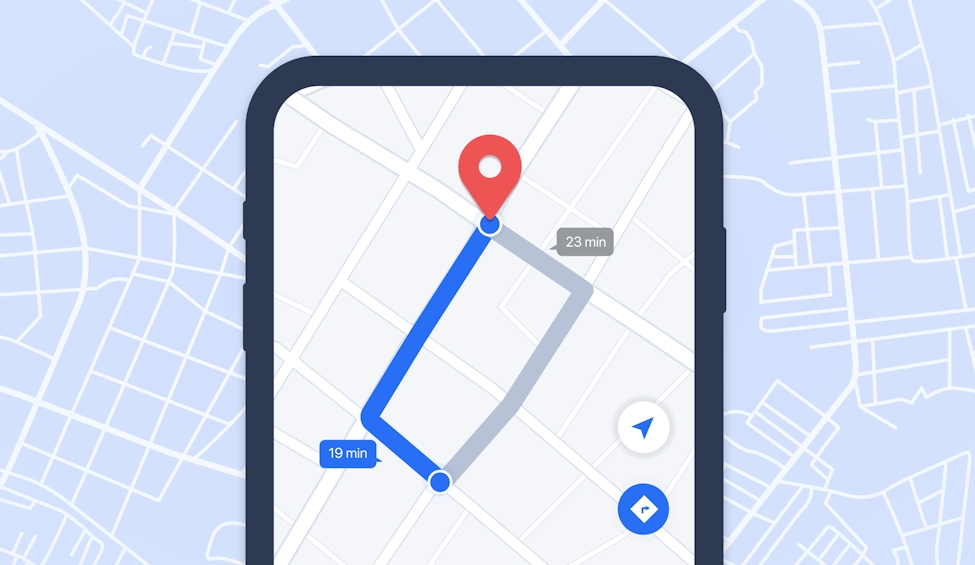 Route planning is now part-and-parcel of running a reliable and efficient delivery operation. And recently, various route organizer websites and apps have entered the market, helping drivers and dispatchers optimize their routing at the tap of a thumb or the click of a mouse. 
But these route planning tools aren't all created equal — nor do they all serve the unique needs of a modern delivery service. So, in this post, we'll show you how delivery teams can use Circuit's route organizer to save time and money, improve delivery performance, and boost customer satisfaction. We'll cover a range of topics, including:
How route organization is traditionally done, and why that way doesn't work.
How a route optimization tool (like Circuit) makes managing deliveries easy.
What are alternative route organizers, and who do they suit best?
How route organization has traditionally been done
Originally, there was very little advance route planning in delivery teams. Quite simply, a list of addresses was given to a driver who knew the local area. 
Back in the days when delivery services were rarer, efficiency was less important, and technology wasn't so advanced, this seemed like a satisfactory way of doing things. But that's not the case anymore.
And even when route planning started to become a key part of delivery operations, the methods haven't exactly been seamless — and nor did they guarantee optimal routes. Here are three ways route planning has conventionally been done, and why they don't really help: 
Manual route planning: If you have a list of addresses, you could look at a map and figure out roughly what the best order of stops would be. But this takes a lot of time, and no human can ever calculate it 100% accurately. Plus, you'd then need to print out the list in order, and have your driver manually enter the addresses into their navigation system.
Web tools (and printouts): There are a lot of route organizer websites out there, such as MapQuest and Michelin, which allow you to calculate routes from a list of addresses. But their user interfaces are clunky, especially on mobile, and they don't integrate with your driver's chosen navigation app. This means you need to use printouts.
When you're working from printouts of predefined routes, you're vulnerable to the chaos caused by last minute changes, traffic events, and unforeseen situations.
Google Maps and alternatives: For the everyday consumer, mapping apps like Google Maps and Apple Maps are perfectly fine. But if you're a professional driver, they're not so useful. Google Maps puts a limit on the number of stops you can enter, and you can't auto-optimize multi-stop routes.
Put simply: you need to enter your stops in an efficient order, or manually reorder your stops until you get the shortest route time possible. 
The more advanced route planning tools used to be reserved for larger delivery companies, who could afford expensive enterprise software. Fortunately, as we'll explain, smaller delivery firms and independent businesses offering delivery (e.g. florists, pharmacies, restaurants) can now access the very same route optimization features that the big brands benefit from. 
Introducing Circuit's route organizer for individuals and teams
Circuit provides individual drivers and delivery teams with route planning and route optimization rivalling any custom tools the big companies use. You can save hours every week by uploading your list into the Circuit platform and allowing our algorithm to calculate the best route for your deliveries. 
We offer two solutions, which we explain in detail below: 
1. The Circuit Route Planner app for Android and iOS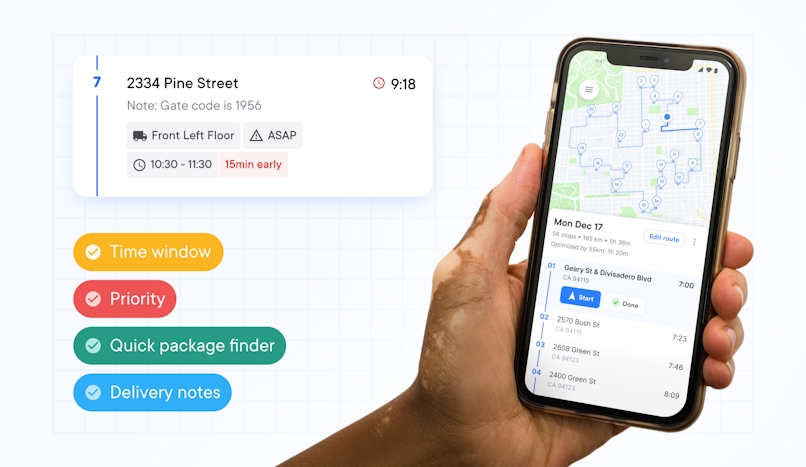 The Circuit Route Planner is our mobile application for individual drivers. It is a route optimization app that can be downloaded for Android and iOS devices, working seamlessly with the most popular mapping apps such as Google Maps, Apple Maps, Waze, and others. 
The free version of the Circuit Route Planner offers route optimization for routes of up to 10 stops. And with a paid subscription to the Pro version, you get:
Unlimited routes, so you can run as many in a day as you need.
Up to 500 stops per route, meaning you can run large delivery routes.
Spreadsheet import, so you don't need to manually enter addresses.
Priority stops, so you can optimize routes around an important stop.
Time constraints, so you can make sure deliveries happen at a certain time.
Circuit's Route Planner app has been downloaded more than 1.5 million times (and counting), and our app's route optimization algorithms save drivers up to 25% on fuel and time. 
2. Circuit for Teams: Our delivery management platform for teams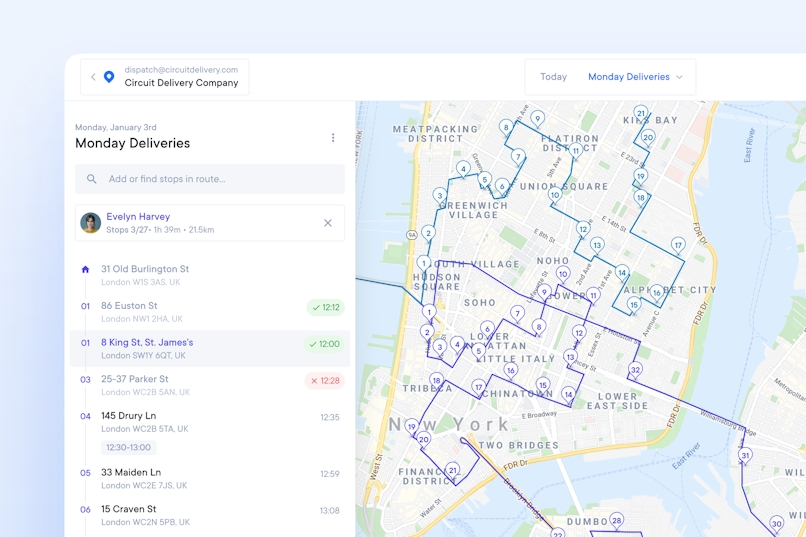 If you need to organize and optimize routes for a team of delivery drivers, Circuit for Teams is the solution for you. This means you get all the route optimization functionality of Circuit's route planning app, but you also get additional features on a manager-side web app, such as:
Spreadsheet import: You save time by uploading your list of addresses into the web app, and Circuit will optimize each route automatically. And the manager or dispatcher simply sends an optimized route to each driver's mobile app for them to follow.
Route monitoring and driver tracking: On your dashboard, you can see where drivers are in the context of their route, meaning you can field any customer questions without calling them — and you get a big-picture view of how your operations are running.
Real-time updates and changes: You can change a driver's route while it's in progress, while keeping them on the most efficient route possible. This means if a new priority pops up, you can meet customer or client demands without disrupting your operations.
Proof of delivery capture: Your drivers can collect e-signatures and/or photo capture proof of delivery using their smartphone, and upload it into the cloud using Circuit. This means they can leave a package in a safe place if necessary, and the customer will know exactly where it is. And this also cuts down on disputes and costly misunderstandings.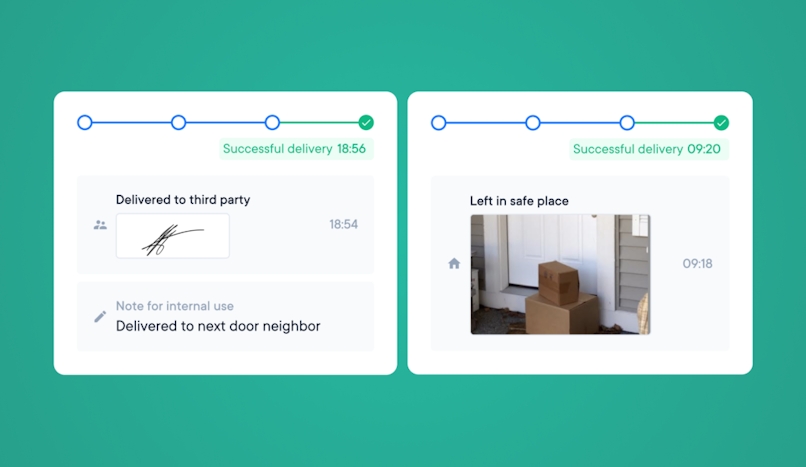 Recipient notifications: Our platform alerts recipients when their package leaves your depot or store, and gives them an SMS and/or email notification when your driver is nearby. This means there's more chance they'll be home, making the delivery process smoother and cutting down on redeliveries. And it improves customer satisfaction.
Multi-vehicle capacities: Soon, you'll be able to specify the capacity of each individual vehicle in your fleet, and customize the number of stops for each. This means you can optimize on a fleet level, because you can plan larger routes for bigger delivery trucks. 
Organizing the fastest route for one driver is hard enough, but when you have multiple drivers running various routes across town — with different loads, trucks, and working hours, things get very tricky. Circuit for Teams is designed to make things easier for delivery managers as a whole, meaning your organization is more efficient and scalable — and drivers are happier.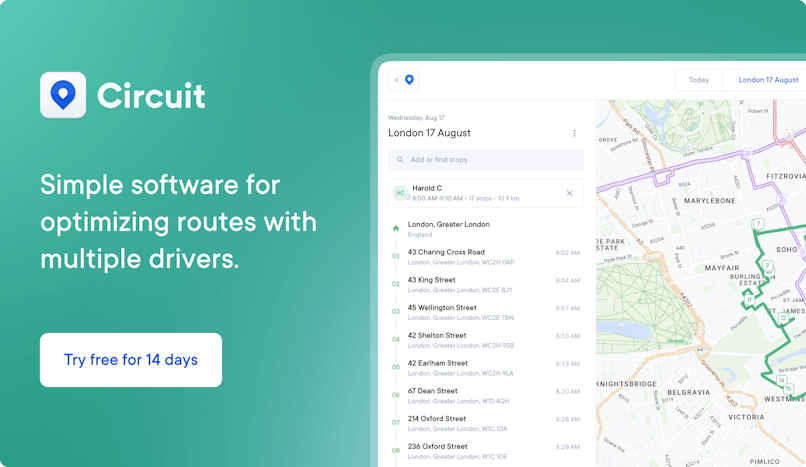 Circuit alternatives: 5 other route organizers to consider
We recently compared various route planning softwares in another post, looking at pros and cons, the costs of subscription packages, and who each software suits best. 
Below is a brief summary, but for a deep dive into the different route planners available, go over to our post: The Best Route Planning Software: 5 Different Route Planners Compared
Why Circuit's route organizer works for delivery teams
Route organizers come in all shapes and sizes. But we feel that delivery teams need software that can help them with multiple aspects of managing a delivery operation. This is why we've built on our driver-focused Route Planner app to create Circuit for Teams — making route optimization possible when you have multiple drivers, while helping them do their jobs faster.
An efficient route organizer will help your team deliver more packages quicker, and when route planning is also supported (in a single platform) by real-time driver tracking, proof of delivery, recipient notifications, and other core delivery management features, you'll be running a smoother organization that can scale more easily.