7 minute read
55 Essential HVAC Tools for Service Techs in 2023
Having the right HVAC tools can help service techs perform their jobs better and more safely. Learn about some essential tools for your HVAC toolkit.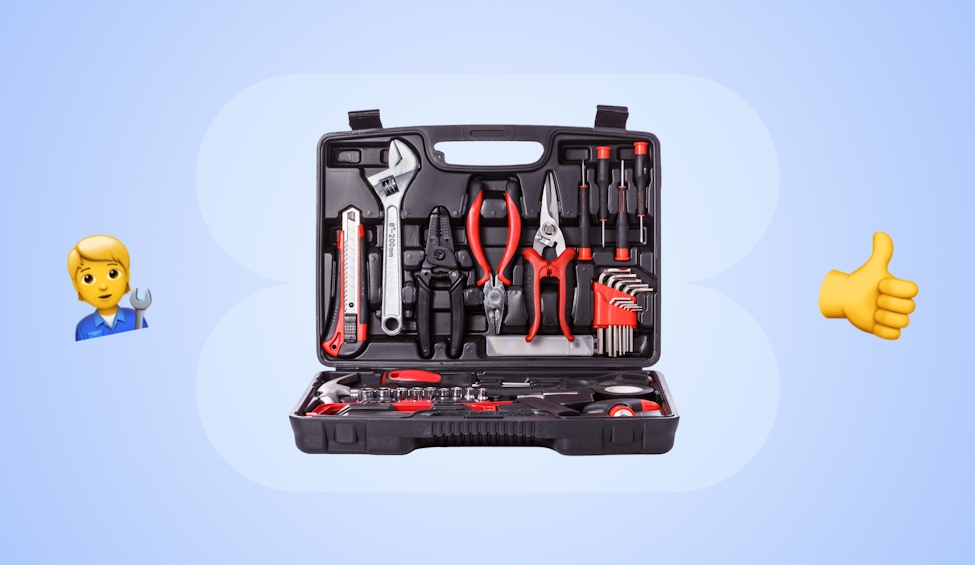 Want to manage your service tech team easily? Use Circuit for Teams to optimize routes for your drivers.
Whether you've just started an HVAC technician business or have years of experience under your belt, having the right tools can help your team work faster, safer, and smarter.
Given the MASSIVE variety and number of tools in the market, it might be challenging to narrow down the right one for your needs. 
This makes it all the more important to understand which tools you really need — so you're not lugging around extra pounds each time you leave for a job. 
We're sure you could do with investing that extra effort elsewhere. 😉
Check out our HVAC tools list to help you handle your service techs better.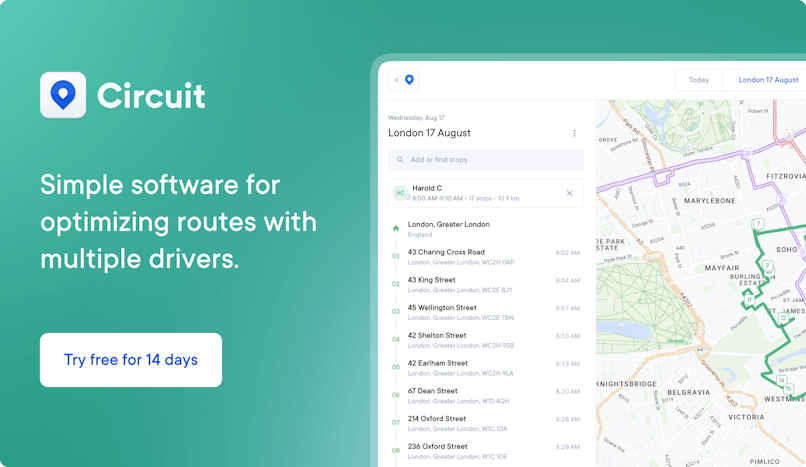 HVAC safety tools
Repairing HVAC units can be dangerous. Chemical exposure, electrical hazards, and unsuitable tools can all cause accidents.
Here are some of the best tools to help protect your team while fixing HVAC units. 
(By the way, consider buying them from Malco — it has built a name for its high-quality products.)
Gloves: Gloves are a simple yet effective tool that can help safeguard hands from sharp objects or toxic chemicals. Buy a tough-yet-flexible pair that doesn't restrict movement.
Shatter-proof goggles: Safety goggles protect eyes from sparks, debris, and dust. You can also buy advanced goggles that come with magnification options to help improve accuracy.
Durable footwear: Apart from preventing foot pain, sturdy HVAC boots also help keep you safe. Look for boots that are water resistant to help handle damp conditions. The soles should have good grip and thickness to prevent slipping and protect feet from punctures. The boot should also have insulating rubber that can withstand electric shocks. 
Hard hat: HVAC repair technicians should wear hard hats or helmets to protect themselves from falling or flying objects or electrical burns at the job site.
Ear protection: The US Occupational Safety and Health Administration (OSHA) requires workers to use protection when sound levels are above 90 decibels in a day. Using ear plugs and earmuffs can keep your team comfortable during loud noises and prevent hearing loss while working on tough jobs. 
Comfortable overalls: Overalls (or, if you're feeling funky, yellow jackets) are a practical option for HVAC service techs. Besides offering comfort, they also protect the skin from chemical or electrical burns.
Multimeter: Invest in a reliable multimeter to accurately check the volt output and the presence of electrical currents. 
HVAC software tools
The right software tools can make managing your HVAC business simpler. Here's a run-through of some effective software worth considering.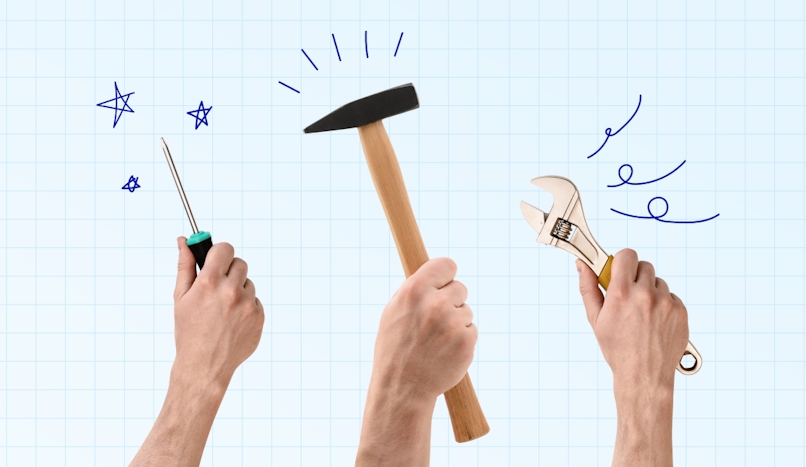 HVAC hand tools
It's impossible to picture an HVAC service tech without their hand tools. A variety of hand tools are available for different purposes. 
Here are some your employees should have in their toolboxes.
Screwdrivers: There are six commonly used types of screwdrivers. It's probably worth getting a multi-purpose one that works with a variety of screw sizes. The Phillips head bit and flathead bit are also helpful.
Pliers: A sturdy pair of pliers is essential for your team. Use needle-nose pliers to grab wires while working on thermostats. Make sure the pliers you hand out have insulated handles.
Wrenches: A complete set of different-sized wrenches can equip your team to complete many tasks quickly. Pipe wrenches and crescent wrenches are important for repairing HVAC systems.
Crowbar: Use a crowbar to pull two objects apart without too much energy.
Flashlight: Invest in a quality flashlight to help your team work under dim lighting conditions. You can also get a headlamp to free up their hands.
Battery-powered drill: A cordless, battery-powered drill can be a convenient power tool for your workers. It's a tool they'll use regularly, so make sure you get a durable one.
Hammer: Keep a lightweight hammer with a good grip in each tool bag for removing nails or installing new components in a system.
Utility knife: Use this small tool to open boxes, cut insulation, and do other everyday tasks. Replace the blades once they start to get dull.
Pipe calibers: Use these to measure pipe sizes accurately.
Sheet metal shears: Use these to cut holes in metal ductwork. If you don't know which size to get, go for 12-inch shears with a 3-inch bite.
Pipe and tube cutters: Your team members may need to cut through copper and PVC tubes and pipes while repairing HVAC units. Get a small cutter for pipes under 1.25 inches and a large tubing cutter for pipes up to 1.75 inches.
Fuse puller: This is the correct tool to safely remove a fuse from its holder.
Inspection mirror: HVAC service techs often need to read information or inspect joints at the back of a pipe that can't be seen with the naked eye. Your team members can tilt an inspection mirror to a suitable angle to see behind pipes and look into crevices.
Long-neck net driver set: A set of long-neck nut drivers can help your workers get into tight spaces while fixing HVAC units. You should get a variety of sizes, including one-quarter inch, five-sixteenths of an inch, three-eighths of an inch, and one-half inch.
Staple gun: A heavy-duty staple gun is ideal for fastening many materials. HVAC service techs can use outward clinch staples for securing insulation around duct pipes.
Crimping tool: You can use a crimper to attach two wires or reduce the diameter of thin pipes and ducting.
HVAC utilities
Apart from the hand tools, HVAC service techs also require some basic utilities. Check their tool kits regularly to make sure they haven't run out.
Magnetic level: Checking the leveling of equipment before installing it can save your team the time and effort of straightening it out later. A magnetic level is ideal for installing thermostats.
Tape measure: A tape measure is a basic but essential part of a complete HVAC toolkit. You should get one that measures 25 feet and have team members learn how to use it properly.
Extension cord: Use heavy-duty extension cords when equipment wiring can't reach the nearest power outlet.
Duct tape: Use tape to fix just about anything. Aluminum foil tape is the right choice for repairing HVAC units since it's flame and humidity resistant and can withstand extreme temperatures.
Screws: Keep a set of different-sized screws in stock when heading to a repair job.
Caulk and a dripless caulking gun: Use a dripless caulking gun for filling holes and sealing ducts.
Step ladder: While most customers have a ladder at home for your team to use, it's better to be prepared and keep one in your van in case they don't.
Markers: You can use black permanent markers to make a record of your service or maintenance or to mark measurements on pipes.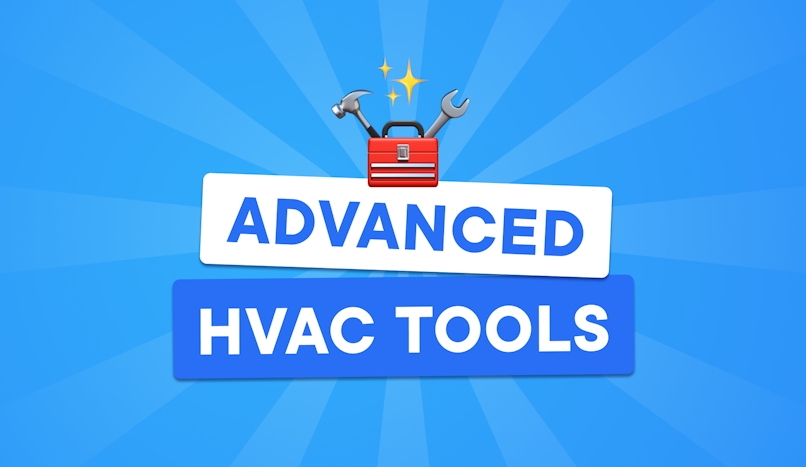 Advanced HVAC tools
Now that you have your basics in place, consider investing in a few advanced HVAC tools.
While you don't need to own all of these, getting the ones suitable for your team's needs can make them more efficient. 
Here are some of the best HVAC tools for specialized purposes.
Carbon monoxide detector: This will alert your workers if the level of carbon monoxide gets dangerously high during a service call.
Thermal image camera: Thermal imaging can help technicians quickly diagnose potential problems with HVAC units, locate air and water leaks, and identify electric issues.
Psychrometer: You can use this tool to measure relative humidity and airflow.
Temperature sensor or gauge: Temperature sensors measure the temperature of the unit being serviced.
Refrigeration or manifold gauge: Use this gauge to check the pressure of gasses and liquids inside an HVAC unit. 
Flushing solvent: Use this to clear contaminants and impurities from the refrigeration line.
Vacuum pump: A vacuum pump is a useful tool to help remove vapors from the unit before working on it.
Refrigerant storage tanks: These are available in many sizes and are used to correctly store refrigerants recovered from cooling systems.
Nitrogen regulator: Use this to control the pressure released from an HVAC unit.
Core removal tool: This tool makes removing and replacing damaged cores from HVAC units easy.
Recovery unit: Use a recovery unit to safely remove refrigerants from cooling units without any leaking.
Coil fin straightener: You can use a coil fin straightener to clear dirt and debris from air conditioner coils and straighten out twisted coils. This helps improve airflow and heat exchange in HVAC systems.
Thermometer: Buy a digital thermometer that's portable and easy to read. This will help your team follow regulations and service HVAC units properly.
Reciprocating saw: A Sawzall or reciprocating saw is the easiest way to cut through wood, pipes, metal, and drywall.
Megohmmeter: This handy tool checks if the compressor in an air conditioning unit is working correctly.
Phase tester: Identify and test a unit's current during electrical installations with a phase tester.
Refrigerant scale: Putting the correct amount of refrigerant in a cooling unit is key to making it work effectively. A refrigerant scale can help you measure the quantity accurately.
Filter puller: Some HVAC units have filters that are hard to access. A filter puller has a telescoping handle to help your team members reach the filter and pull it toward them.
Get the tools you need to grow your HVAC business
The right combination of software and reliable hand, safety, and advanced tools can help set your HVAC business up for success.
However, it's important to remember that not all HVAC service techs require all the tools listed. You should spend some time understanding your business needs and investing in HVAC equipment that'll help you and your team work better.
One such tool is Circuit for Teams, which can optimize route planning for multiple drivers and keep customers updated on arrival times. 
This can help you increase the number of jobs your HVAC business can take in a day and reduce time wasted commuting.  Start your free trial now.