11 minute read
How to Start and Run a Ghost Kitchen
A ghost kitchen is a food service provider that only offers delivery, with no front-of-house dining or staff. Here's how to start one.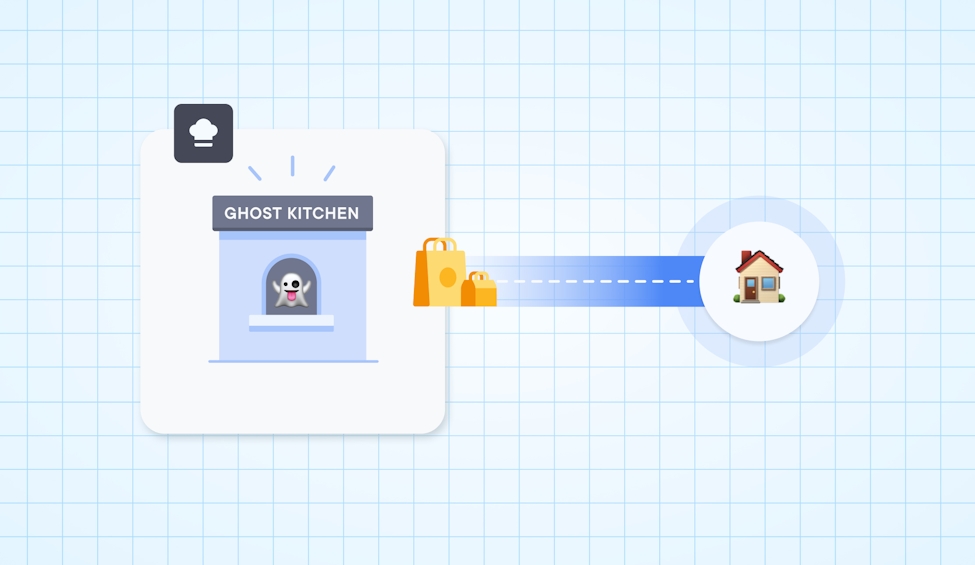 The right tools can make running your ghost kitchen a breeze. Make sure meals get delivered fast with Circuit for Teams.
If you dream of owning your own restaurant but lack the capital to get started, a ghost kitchen might be the answer.
All you need is a great idea, the right kitchen, and the drive to see it through. 
Since you're already researching ways to start a ghost kitchen, I'm sure you already have an idea and the drive. What you need to know is how to get started with building your fast-food empire.
In this article, I'm going to discuss how ghost kitchens work and why they're a worthy business venture — plus, seven tips on how to start one.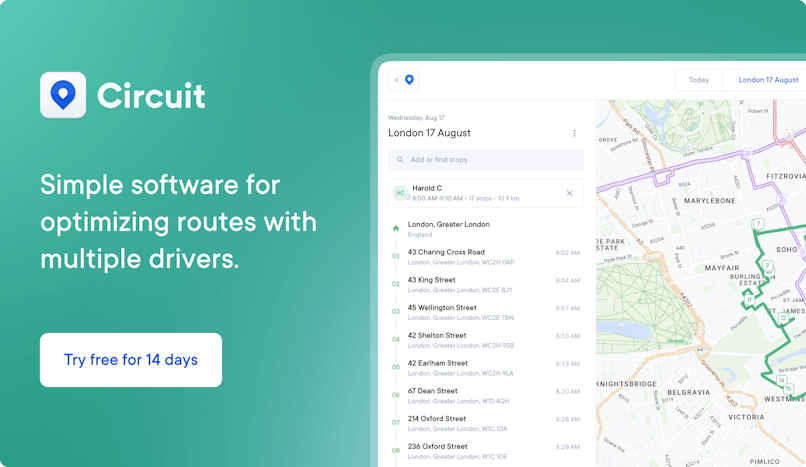 What is a ghost kitchen?
I'm going to give you more detailed information on each step in the process below. But first, I want to give you a quick rundown of what a ghost kitchen is.
Also known as a delivery-only restaurant, dark kitchen, or shadow kitchen, a ghost kitchen offers professional food preparation for restaurant-worthy meals — except there's no dine-in option. 
People can only get the food delivered.
This trend has been disrupting the restaurant industry for over a decade, but really became popular during the COVID-19 pandemic. 
Funding of ghost kitchen concepts took off throughout 2020 ($9 million to Zuul, $20 million to Virtual Kitchen, $120 million to Ordermark, and a whopping $700 million to Reef Technology).
Now, even big restaurant brands are ditching storefront restaurants and getting into the ghost kitchen game.
For example, celebrity chef Guy Fieri has launched his "Flavortown Kitchen" string of ghost restaurants across the country. By partnering with local restaurateurs and running out of their existing kitchens, Fieri promotes his own brand while also supporting their businesses.
How do ghost kitchens typically work?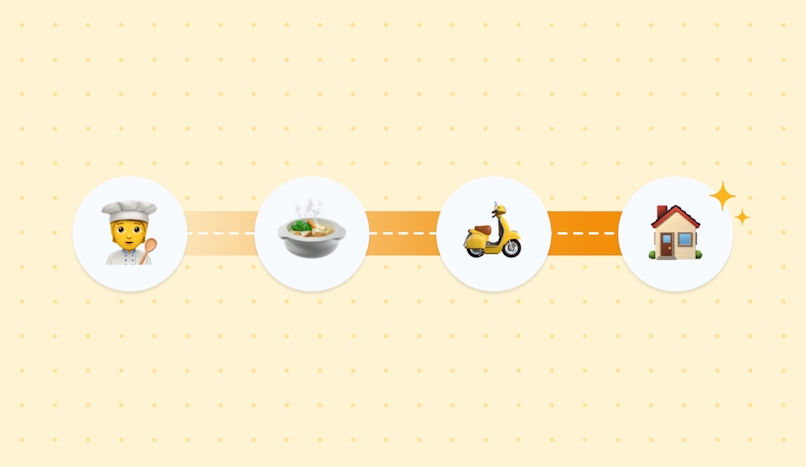 A ghost kitchen prepares food for customers in a space that doesn't offer any public dining access. 
It's basically a virtual restaurant.
Ghost kitchens may have their own brick-and-mortar restaurant kitchens to prepare food. Since you don't have to be centrally located to attract diners, you can set up your kitchen where the real estate is cheaper, like industrial warehouses on city outskirts. 
They can even share such a space with other ghost kitchen owners, further cutting costs.
Alternatively, you could even rent your ghost kitchens temporarily. 
For example, companies like Ikcon, Karma Kitchen, CloudKitchen, and WeCook help ghost kitchens secure shared kitchens, cutting startup costs while getting them a spot for food prep. 
It's also possible to sublease space in an existing restaurant kitchen.
But just who is delivering?
Enter delivery apps.
Ghost kitchens are often found on delivery platforms like Uber Eats, GrubHub, and DoorDash. Other ghost kitchen models rely on their own delivery services, with an in-house team of drivers fulfilling last-mile delivery.
For example, Guy Fieri's ghost kitchen concept allows you to order through popular food delivery apps like Grubhub, Bite Squad, Waitr, Postmates, Uber Eats, and DoorDash.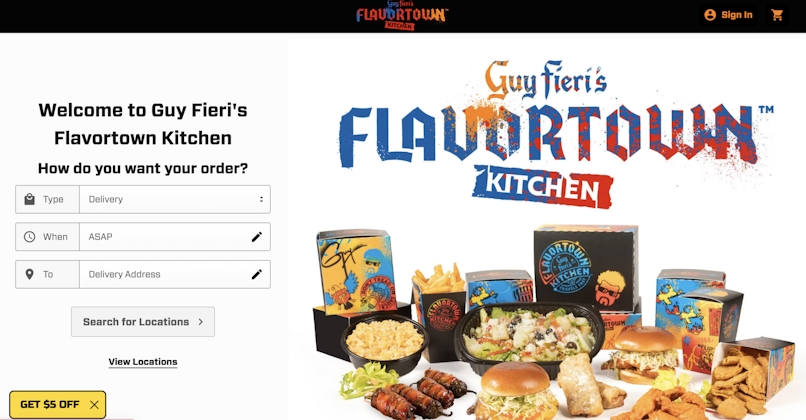 Ghost kitchens have a few key benefits, including:
Save money on staffing. Since there's no need to pay service staff or run a dining room, a ghost kitchen can be more affordable than a traditional restaurant model.
Cut real estate costs. With a traditional restaurant, location matters. You want to be in a place with plenty of foot traffic, which often means being in a city center — where commercial real estate prices tend to be high. With a ghost kitchen, location doesn't matter, cutting real estate costs.
Focus on the food. When you don't have to stress about issues like dining room decor and managing front-of-house staff, you can devote more time and energy to the best part — the food! After all, isn't that why you got into restaurants in the first place?
Cater to a larger audience. When you run a dining room, you have a set cap on how many people you can serve in a night. When you're delivery-only, you can cater to more people.
That said, ghost kitchens also have some drawbacks. Disadvantages include: 
Customer retention can be tough. When you're delivery-only, you can't impress customers with atmosphere or great service. You rely solely on your food to win them over and keep them loyal. In a market flooded with delivery options, customer retention can be a challenge.
Delivery errors can leave your customers dissatisfied. For example, if a delivery driver can't find the address fast enough, the food might be cold when it arrives. You can minimize delivery errors using software like Circuit for Teams.
Online reputation is king. When you're an online-only business, you have to manage your internet presence vigorously. Online branding and reviews can make or break your market presence. You have to devote extra time and energy to this process, for example, by replying to customer reviews, good and bad, in a constructive manner.
Quality maintenance can be tough. Sometimes, ghost kitchens open multiple locations. For example, in a huge city like New York, a restauranteur might open one kitchen location in Brooklyn and another in Queens, making it easier to serve both burroughs. However, it's important to maintain consistency and quality across all locations.
How to start a ghost kitchen in 7 steps
Think starting a ghost kitchen might be for you? Here's what you'll have to do to get started.
Step 1: Choose a ghost kitchen concept 
As of 2021, Uber Eats had more than 900,000 restaurants on its platform. DoorDash had 390,000. 
And that's only two of the many food delivery apps out there! 
The point is: If you want to make it in the competitive food delivery marketplace, the first step is to have a unique concept that stands out from the competition.
To develop a winning, stand-out concept, start by figuring out what food will be on your menu — and how it will be different. 
For example, if you're starting a pizza restaurant, you might be flooded with competition. 
How can you stand out? You might make it a pizza restaurant that only uses organic, farm-to-table ingredients. 
The demand for organic food is on the rise worldwide, and so is the demand for locally sourced, farm-to-table goods. In keeping with these trends, an organic, farm-to-table pizza restaurant is unique and caters to a clear market demand.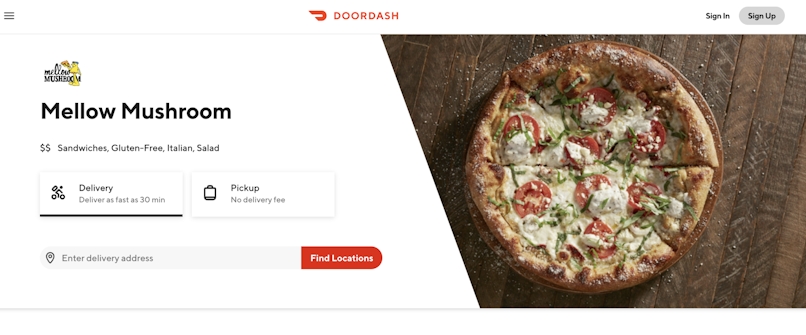 To develop your concept, take these steps:
Do market research. Find out what restaurants are already delivering food in your category in your area by browsing food apps. This will allow you to identify a gap in the market. Learn more about doing market research.
Draft your menu. Once you've got your niche, start cooking to test out menu concepts. Keep in mind that you want menu items that will travel well. Sending a three-layer cake by bike courier? Not such a great idea. Sending a tray of cupcakes? Much easier.
Establish a ghost kitchen brand. Once you have your kitchen concept and menu, pick a restaurant name (this business name generator can help) that reflects your brand. For example, you don't want to name your restaurant Pizza King if you're primarily selling salads. Make it accurate and easy to remember.
Step 2: Legally form your ghost kitchen business 
It's the last thing you want to think about, but consider this: Someone eats your food and gets sick — so sick that they end up in the hospital. 
Soon after, you've been named in a personal injury lawsuit, demanding you recoup them for their medical bills and more.
YIKES!
Hopefully, this kind of scenario never happens. But being prepared can bring you peace of mind. 
To help protect your personal assets in this kind of situation, it's important to establish your ghost kitchen as a formal business entity.
The U.S. Small Business Administration (SBA) has a guide to the different types of business models and their pros and cons. Common options include:
Sole proprietorship 
Partnership
Limited liability company (LLC)
Corporation
Many food businesses opt for an LLC since it's more straightforward and simple than other options but still protects your personal liability. 
You'll have to register your business with the state where your ghost kitchen operates. This is usually done through the relevant Secretary of State's office.
Step 3: Find a kitchen location 
Now for the big question: Where will you prepare your food? You have a few options.
Establish your own kitchen. Creating your own free-standing kitchen lets you customize details like the appliances, equipment, and layout. Plus, you won't have to share storage and other spaces. However, it's the priciest option, requiring a large investment.
undefined
Use a shared commercial kitchen. You can rent a spot in a shared commercial-grade kitchen, saving money. Plus, since this kitchen space will already be licensed, you won't have to worry about taking steps to make sure it's up to code (fire, health, safety). As a drawback, though, you can't control the location, and you may need to buy some extra equipment, depending on your restaurant's needs. Plus, shared kitchen spots tend to fill up fast.
undefined
Sublease an existing restaurant kitchen space. Some restaurants partially sublease their existing kitchen spaces to ghost kitchens. Again, this saves money and time, as you don't have to worry about making sure the space is up to code. Plus, sublease options tend to be more plentiful than shared kitchen spaces. However, subleased restaurant kitchens can present problems like limited hours of operation, restrictive storage spaces, and a lack of accessibility for delivery drivers.
undefined
Step 4: Secure relevant business permits, licensing, and insurance 
To make sure your ghost kitchen is legal and doesn't get into any issues, there are a few licenses and permits you'll need. While requirements will vary based on your location, here's a quick roundup of some basics.
Note that if you decide to set up your own kitchen, you'll need additional licenses and permits. For example, you'll have to make sure that the kitchen is set up according to fire and safety codes, and your state's health department will have to certify safety.
Finally, don't forget to get insurance for your ghost restaurant! 
Common types of insurance you need will likely include general liability, workers' comp, and commercial auto insurance if you have your own delivery team. Learn more here.
Step 5: Get established on food delivery apps 
Once you have the logistics above set up, it's time to sign up with delivery vendors. Third-party platforms like Caviar, Uber Eats, Grubhub, Postmates, and DoorDash can list you on their platforms — boosting visibility — and take care of delivery.
The precise sign-up process for each one differs, but you'll likely have to give some basic information to get started, such as:
Your location address
Contact information
Business bank account details
Web link or PDF of your menu
EIN
Working with an existing food delivery app has some pros and cons.
First, the good: You'll have a wide online reach, thanks to the strong presence of an existing app. These apps are also convenient for customers, which can help with client acquisition and retention. 
Finally, with the apps, you don't have to worry about hiring and managing drivers.
However, apps can also have major drawbacks. 
When you're in an app, you're placed in direct competition with many other food providers. 
You also don't have access to customer data, which limits your marketing opportunities — for example, people who order by app may not visit your website or sign up to your newsletter. 
Finally, apps take hefty commissions — up to 30% per order in some cases.
Step 6: Create a delivery strategy 
If you don't want to make use of third-party delivery services, you can also deliver the food yourself. 
This gives you complete control over the process and can be reassuring, as you'll know that your own team is handling the food and getting it from your kitchen to the customer safely and securely.
Plus, you won't have to compete with other food providers on the app. 
For example, if the number of delivery people working on a given day is limited — or demand is high due to bad weather — getting a driver can take time, which leaves your customers waiting. 
Hangry, impatient customers? No thanks!
If you decide to handle deliveries in-house, routing software like Circuit for Teams can help you manage the process. You can assign routes to drivers and track their progress in real time. Plus, you can send delivery notes and updates to customers directly, so they know exactly when their food will arrive.
Circuit for Teams can also help your drivers get their delivery orders done faster. The software maps out the fastest route for drivers to follow, taking into consideration everything from traffic patterns to construction sites. 
Faster food delivery means happier customers — and more seamless ghost restaurant operations.
Circuit for Teams has already helped plenty of providers get a grasp on their delivery operations. 
Roll This Way is one great example. The custom sushi catering company set up their own team of drivers to deliver sushi kits throughout the Greater Toronto Area. 
Planning a single driver's route could take 45 minutes to 1.5 hours. With a team of five drivers, this could mean six-plus hours of planning on a heavy delivery day. 
With Circuit for Teams to take care of route planning, the Roll This Way team saved valuable hours — and got added peace of mind with features like proof of delivery.
Learn more about starting a good delivery business.
Step 7: Market your ghost kitchen business 
The first step in marketing is establishing a strong brand. We discussed this in step one — it starts with your restaurant name. 
You also want a visually compelling logo and a color scheme, which you'll use on all your branding materials, including your website, menus, and business cards. Learn more about branding.
You can further boost your brand and get people excited about your food with visuals. Yummy food photos are a great way to stand out from the crowd. 
Take a hamburger, for example. A juicy burger on a crisp toasted bun can be a great visual. But if the bun is soggy, the lettuce is wilted, and the burger meat is burned? 
Not so attractive. Photos can make or break the sale.
While you can hire a professional food photographer, you can also create your own culinary images. Here are some tips to get it right.
Set food against a plain background like a white plate.
Avoid distractions like cutlery and glasses and focus the images on the food.
Make the food look great with the right lighting. Natural light is easiest and looks best. Alternatively, you can use indoor lighting and diffuse it with parchment paper.
With your marketing materials ready to go, it's time to spread the word. Most third-party delivery platforms offer marketing tools to help. 
For example, you might be able to offer temporary deals and get your restaurant a highlighted listing. However, note that the platform will likely charge a higher commission as a result.
You can also do your own marketing using your website, search engine optimization (SEO), and social media. Partnering with local food bloggers or influencers is another option.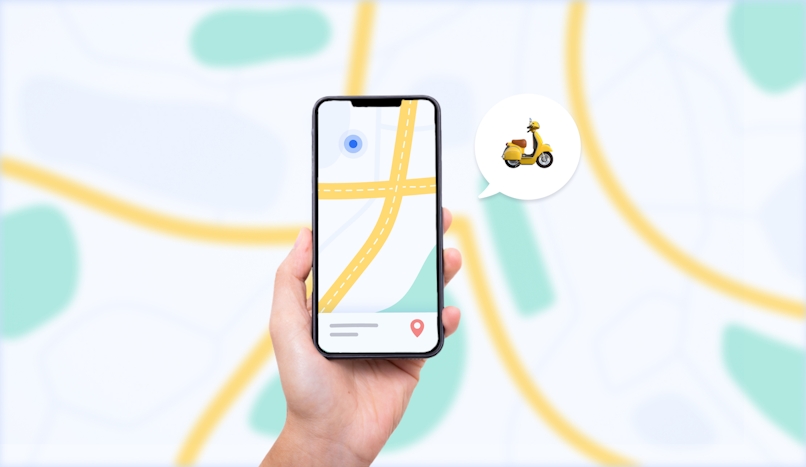 Discover how Circuit for Teams can optimize your ghost kitchen delivery process
Get your ghost kitchen restaurant business off to a strong start with Circuit for Teams. You won't have to worry about delivery drivers getting lost or taking too long. This routing software tells them the fastest way to get from point A to point B, and you can track their progress live.