13 minute read
How to Get Delivery Contracts (+ How Software Helps You Scale Your Business)
In this post, we look at three ways to get new delivery contracts. Plus, we also show you how delivery teams use software to keep scaling their operations.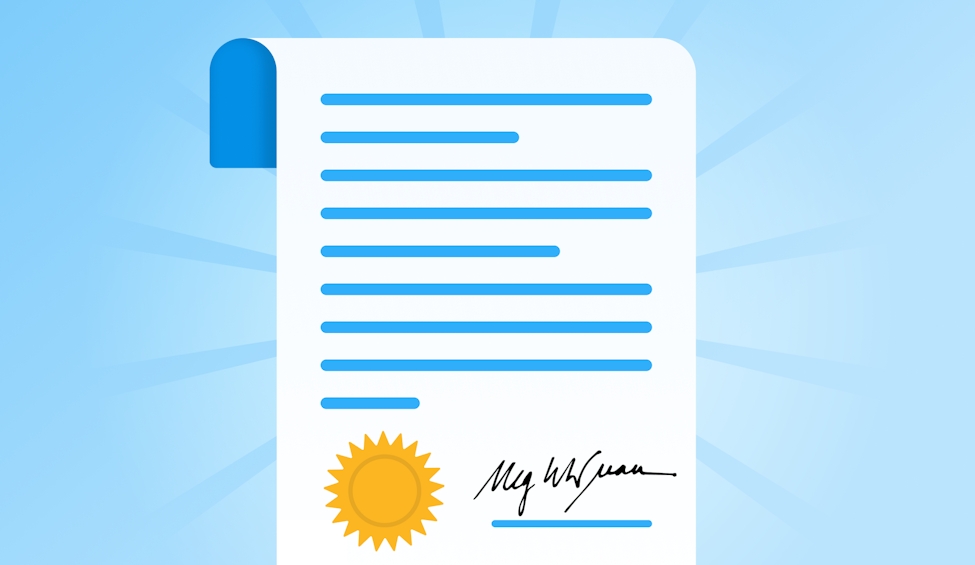 Ever wonder how to get delivery contracts? As the owner of a delivery service, it can be challenging to grow your client list. This is in part because major delivery services (such as FedEx, USPS, and DHL) have a wide reach in various industries.
So, your best bet is often just subcontracting your services to those larger couriers, but that limits your company's ability to grow.
Instead of relying on the surplus orders of large courier companies during the busy seasons, you can get more delivery jobs by servicing businesses that are often overlooked by larger delivery services.
With this in mind, there are several ways to increase your client list, including:
Optimizing your business website
If you have a website already, that's a great start, but now it's time to make sure it's built to help you get new business.
Contacting local businesses
By focusing on the zip codes where you want to deliver, you can scout out potential clients and approach them about delivering their goods to their customers.
Bidding on courier jobs via listing sites
There are third-party sites that can help you find contractor jobs. While this seems like the easiest way of finding work, these sites are often a mixed bag and you may need to undercut your usual prices just to stay competitive.
But getting new delivery contracts is only the first step of growing your delivery business — you also want to retain your existing clients and cut down on expenses and inefficiencies.
When you deliver your client's orders quickly and efficiently, two things happen.
Firstly, you're less likely to lose a new contract.
The transportation industry is a competitive space. You can't afford to manage a business that delivers packages late or damaged.
Secondly, you're making more money per delivery.
The faster your deliveries are made, the less it costs you to make per delivery (because you're saving on labor and fuel costs).
So, in this post, we look at three ways to get new delivery contracts (from cold calling to using courier networking sites). Plus, we also show you how delivery teams of all sizes use Circuit, our delivery management app, to save time and money.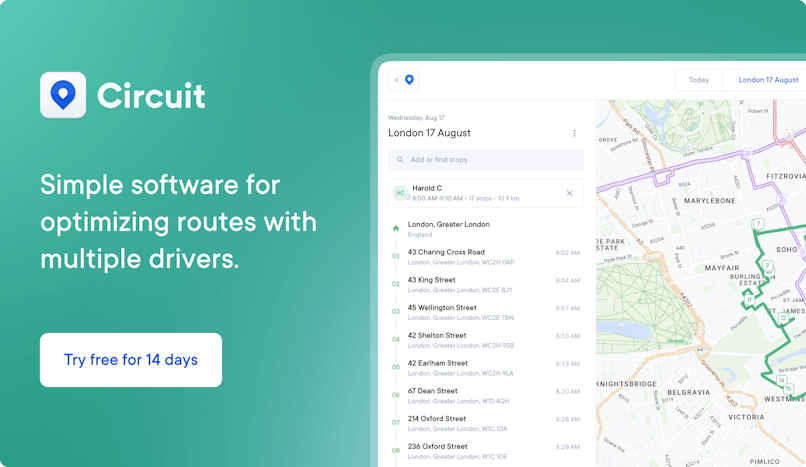 Introduction: 3 ways to get new delivery contracts
More businesses need delivery services than ever before. During the peak of COVID-19 lockdowns, plenty of small to midsize businesses closed their doors but continued to sell their goods by offering local delivery.
Note: Our delivery management software, Circuit, was used by dozens of such businesses, and you can read their success stories.
But it can sometimes feel daunting to know where to start to find new delivery contracts.
Below, we look at three ways to secure more delivery contracts from your community.
1. Start a website (and optimize it for your target audience)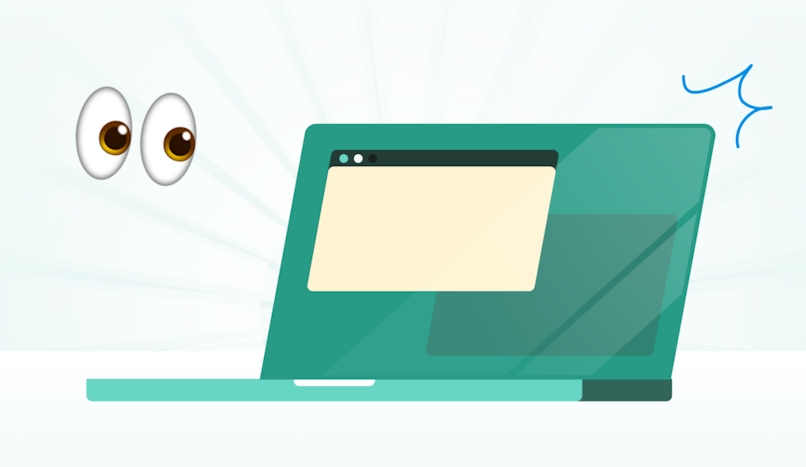 You may already have a website, or you may have been relying mostly on in-person networking and referrals. But there's a significant difference between having a business website and having a website that's optimized to get you the customer who will benefit most from your delivery service.
For example, if you were to open a new browser and Google your city's name plus "delivery service," would your business pop up?
Normally, what's going to show up in Google (and other search engines) are sites that are optimized towards the specific keyword(s) a user typed in.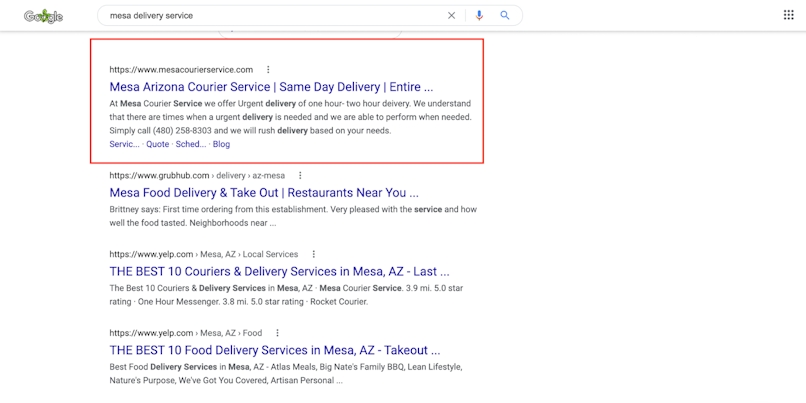 This means if you can start a website and optimize it for keywords related to the ones the people in your city use to find delivery services, then you can potentially get significant traffic to your website.
And on your website, you'd have a contact form where potential customers can fill out their information which then gets sent to your inbox for review. The example below is taken from a courier service in Mesa, Arizona.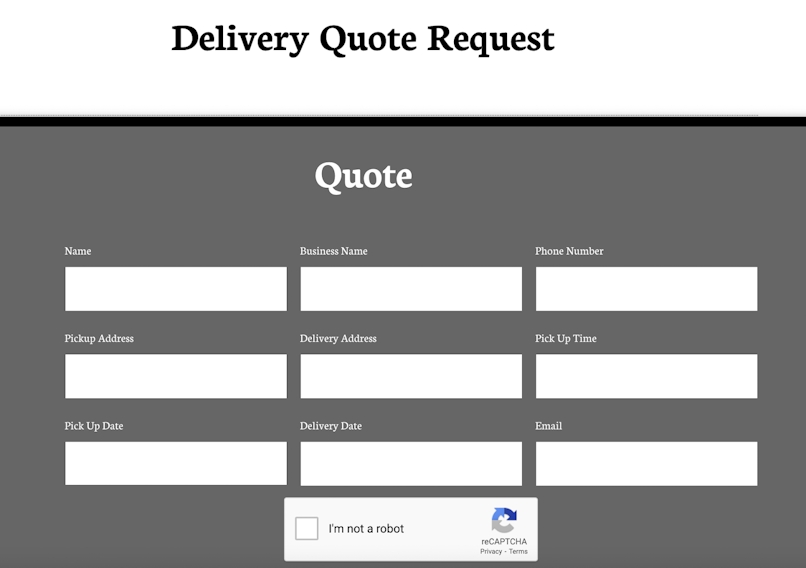 When you're setting up your website, make sure it's built to reflect the specific services you offer.
For example, if you're a courier business that helps restaurants and pharmacies deliver orders to their customers or offers same-day delivery, then you're going to want those services reflected on your site. This helps tell Google — and your prospects — about which services you offer.
If you haven't built a website for your business yet, it's thankfully simple and cost-effective to do. Thanks to easy-to-manage site builders (from WordPress to Squarespace to Wix) most small businesses can set up a site without having to break their budget. If you have anyone tech-savvy on your team, you may be able to do it all in-house.
And if you're comfortable building a site but are new to the idea of making sure it's optimized to bring in traffic, you can get pretty far on your own (depending on how big of an audience you want to attract) by reading free online guides.
To help you get started, here are three links that go over the basics of search engine optimization (SEO) for small businesses.
But there are other ways to show up in Google's search results that don't involve learning SEO. One of them is getting customer reviews (on both Google and Yelp) and the other is running ads. In the image below, you can see that there are listings for third-party review sites such as Yelp.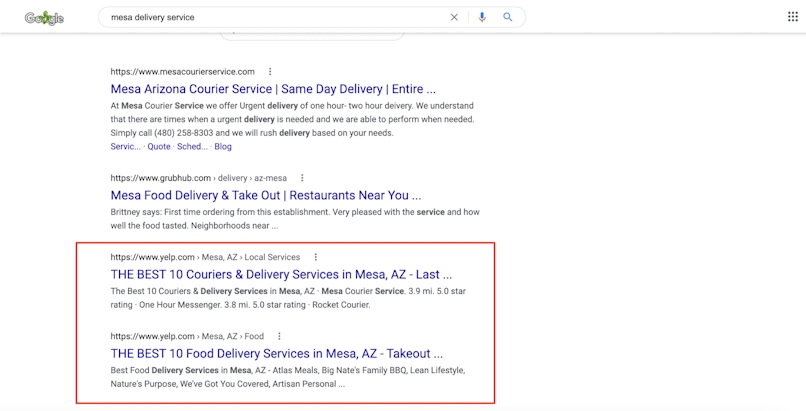 If you create a Yelp account (which can be free, or at least very inexpensive if you go for their most basic plan), you can set up your business and then ask your existing customers to leave you a review on your Yelp account. As your Yelp presence grows, you're more likely to be recommended by the review site to prospective customers.
Finally, you can also run Google Ads to get your business to show up when potential customers search specific keywords.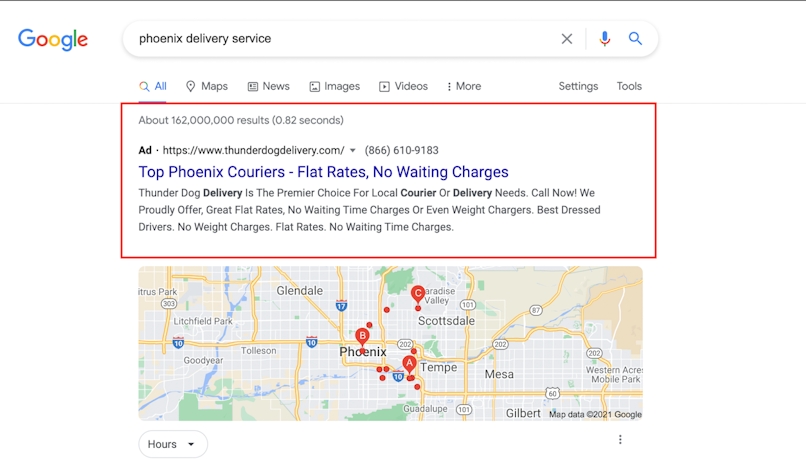 Ads generally show up before any other result, which could give your delivery business really useful exposure. Plus, as you can see above, ads have more features, such as listing your business's phone number.
Ads do cost money to run, but you're only charged every time someone clicks — and you can set a maximum daily budget so you don't get any surprises. The exact pricing of the ad is based on several factors, such as how much of your competition is bidding for that same keyword, and whether you want to run the ad during a holiday or peak hours.
We did some research for you to give you an idea of how much it'd cost to run ads for delivery services in major US cities. These numbers will change, but this gives you an idea of how much you might expect to spend every time someone clicks on one of your ads.
This means if you're running ads for a Chicago Delivery Service and you get 1,000 clicks, then you just spend (roughly) $3,390 on advertising. To make sure that spending money on ads is worth it, you'll want to figure out how much revenue you get (on average) from the ads.
2. Contacting and pitching local businesses
As we mentioned above, businesses need a delivery service more than ever. This is especially true of local businesses, who are competing against large brands and retailers like Wal-Mart and Amazon, who have perfected the art of easy shopping and quick delivery.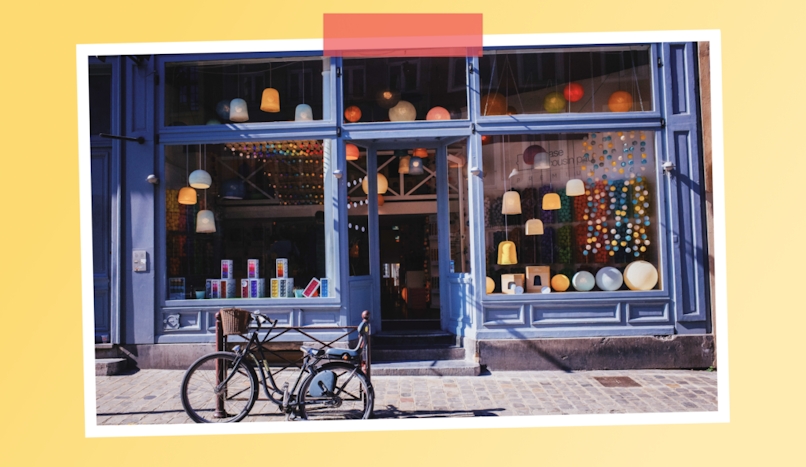 By offering local delivery, small businesses can level the playing field and provide a better customer experience to their clientele.
We have written before about breweries, bakeries, restaurants, and florist shops that have all started their own delivery service. These business owners had a need for a local courier, but instead, they had to create their own.
This is good news for you because that means there is possibly an untapped market in your area — businesses who need help offering their customers local delivery.
By scouting out local businesses you can fill that need and increase your client list.
You can go online (or just go out on the road) and look at the local businesses that are within the zip code where you want to deliver. This can be everything from a furniture store to the local pharmacies in your area. But you also want to make sure that you're going after businesses that are a good fit for your service.
For example, will you need special vehicles (such as cargo vans, pick up trucks, or larger moving trucks) to deliver a customer's order? If you're looking at delivering for restaurants how quickly can your driver pick up the food order and take it to a customer's residence?
By matching your delivery company's strengths to local businesses you can find ideal contractor opportunities that turn into long-term relationships.
Advice for approaching potential delivery service clients
When it comes to approaching these businesses, there are some standard best practices, such as always dressing professionally and trying to get face time with the decision-maker.
(You don't want to pitch your delivery service to the front clerk, but to the person who decides how the business operates.)
But there are also lesser-known tactics that are perfect for delivery companies trying to get a new client.
Get a rough idea of how much revenue a delivery service would bring the company you're pitching
By doing research on what the business sales (and industry averages in terms of profit and margins) you can chart out how much the company stands to make by hiring you as a delivery team.
While these numbers are never going to be 100% accurate, they work to illustrate the big idea — by investing in your delivery service, the small business owner is actually investing in their own company.
Be ready to talk about your current and past wins as a business
Do you have any clients who have experienced growth after using your delivery business? If so, make sure you have that data ready to go, as it helps build credibility.
Offer to take the business owner on a ride-along
When you're delivering a company's product to their customers, you're the last point of contact between the customer and that business. That's why it's critical that your drivers are professional, clean, and friendly.
To show your potential client how your delivery team handles themselves, offer to take them out on a route. This creates a bond and helps them see your delivery team in action.
Cold calling gets a bad reputation amongst sales teams and small businesses because you are (just mathematically speaking) likely to get a lot of rejection. But rejection isn't always bad!
Rejection helps you learn what works and what doesn't. And it's important not to take it too seriously or personally.
If you're presenting your delivery business fairly and accurately, then the word of mouth will get out and you will find a customer who will benefit from your services.
3. Courier sites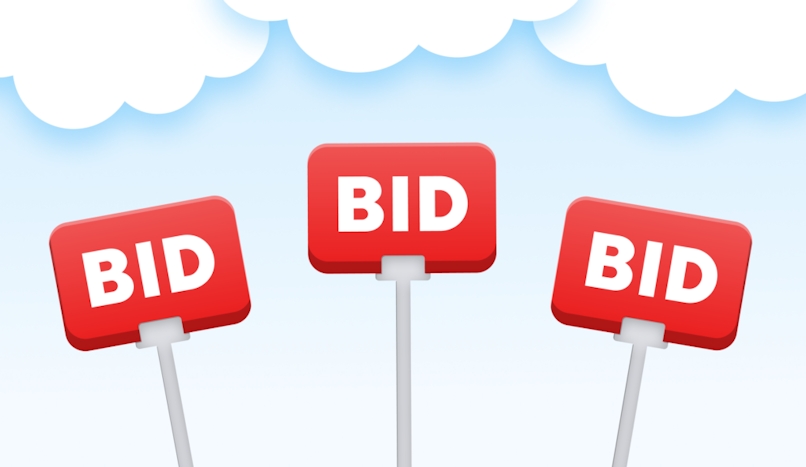 You can also find work through websites that work as a middle man between customers who need delivery services and delivery companies.
While there are several options online, we are going to focus on three (two specific to North America, and one for the United Kingdom).
First, there's FindRFP (North America)
FindRFP lets delivery teams find courier service jobs and contracts. Uniquely, FindRFP lists government contracts, letting your business try to get contracts from federal, state, and local governments.
On FindRFP, you will find jobs for pharmacy services, mail services, larger shipments, and everything in between.
But to get access to these listings, you need to subscribe to one of FindRFP's plans.
There is the regional plan which is $19.95 a month and lets you get notifications from up to 4 states. Then there is the national plan which is $29.95 a month and covers all of North America (including Canada).
Finally, you can get a discount if you pay annual vs. monthly.
Second, there's Shiply (North America)
Shiply is an online courier listing site that connects delivery businesses with various industries who are looking for a freight delivery service, from tuck lombard boards to full trailers. It's a great resource for courier companies who have extra room in their trailer and want to maximize profits by filling it up with goods before they make their trip.
Unlike FindRFP, there is no subscription fee to join Shiply, but they do tack on a referral fee when you finalize a quote with a company. This fee is for organizing the communication between you, so make sure you factor it in when you're building out your quotes.
Overall, these types of sites can be valuable but it's going to be competitive because you're going to several different delivery teams vying for the same contract.
Finally, there's Courier Exchange (United Kingdom)
Courier Exchange helps individual couriers and delivery teams in the UK get more delivery work. Our first two examples were similar to job boards, but Courier Exchange is more sophisticated than that. While you can bid on jobs, you can also just flat out buy work. And whereas the other two sites were hit and miss in terms of opportunity, there are hundreds of couriers who rely on Courier Exchange as their only means of having a business.
Courier Exchange has four different pricing tiers and is the most expensive option on our list, which makes sense as it's most likely to lead to you getting delivery contracts.
The plans range from nearly 60 a month to 190 a month. What changes on the plans is how many users you can have on your account and how many vehicles and drivers you can have on an account.
When you log onto Courier Exchange, you're taken to an interactive map of the UK and Europe. This map is updated in real-time and shows you what loads (contracts) are available to be bid on or to purchase. You can see where the load starts and where it needs to end up, as well as parcel information (so you know whether your vehicle is the right kind for the job).
You can also buy work that takes you from the UK to Europe. If you do bid on those accounts, make sure to factor in the ferry or Eurostar cost of getting your vehicle over.
Save money and time: Maximizing the profits from your new delivery Contracts
Getting new delivery contracts is a great first step of running a successful and profitable delivery business — but you also want to retain clients, and even grow the number of deliveries your existing client base needs from you.
To do this, you need an optimized last-mile delivery process that lets you quickly, efficiently, and securely deliver your contract's packages to their customers.
That's where our delivery management app, Circuit, comes in.
Customer Success Story: One of our customers is an independent contractor who was able to double the number of packages he could deliver in a day by optimizing his routes with Circuit.
Introducing Circuit: Delivery Management Software for Delivery Teams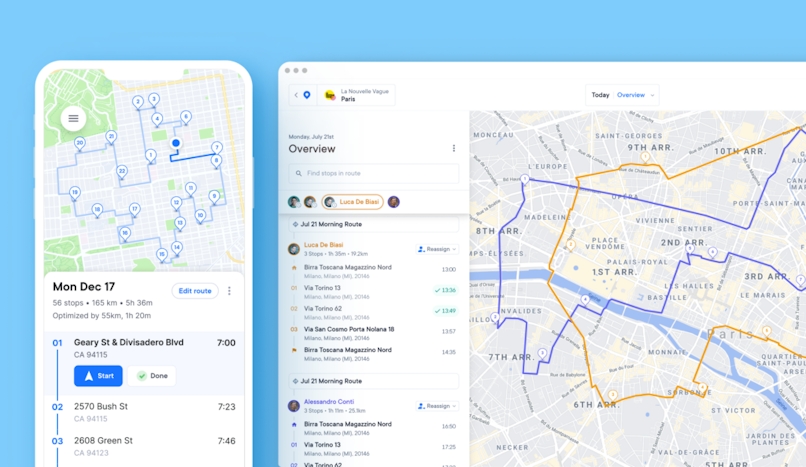 We developed Circuit to be an easy-to-use delivery management platform for delivery drivers and teams who are trying to improve and perfect their last-mile delivery process, from route planning to task execution.
Specifically, by using Circuit you get: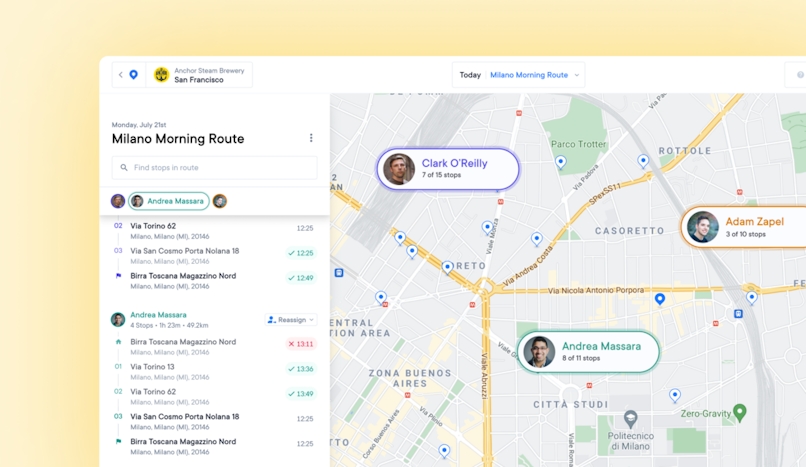 The fastest and most efficient routes possible
We use an advanced route optimization algorithm that can be customized towards your delivery needs (such as setting a priority stop or specific time windows).
These features will help you get new clients because you can now offer more customized delivery options.
Plus, by calculating the fastest route possible, you can deliver more packages in less time — freeing up your team to take on more orders.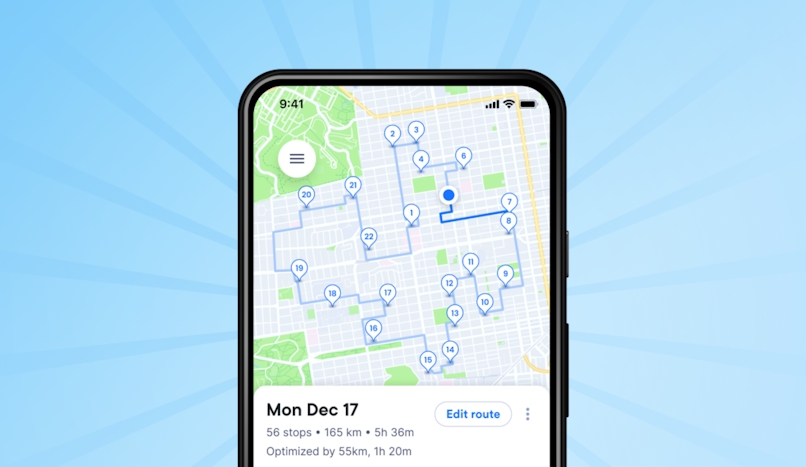 A mobile app for your delivery drivers
Your delivery team can access their optimized routes from their smartphone. Our Circuit mobile app works alongside any major GPS navigational tool (like Google Maps or Waze).
The driver simply starts the route and then marks stops as complete when they're finished delivering a package.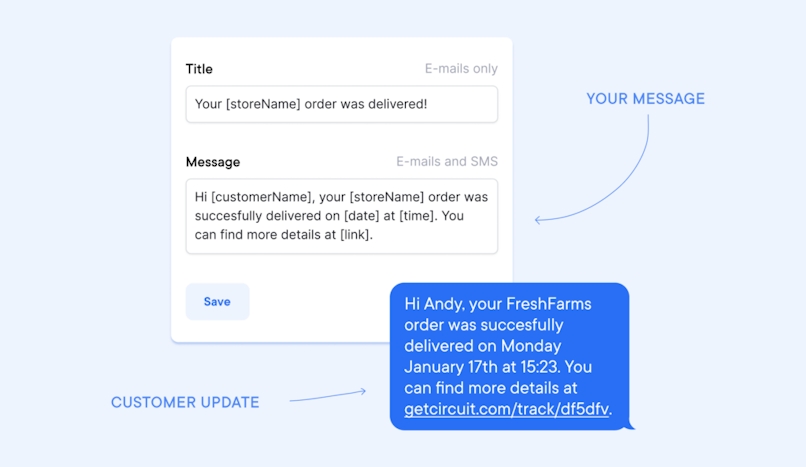 Driver Tracking and Customer Updates
With Circuit, you can monitor routes in progress from our web app. This lets you see where drivers are, what stops they just completed, and where they're going next.
Plus, real-time delivery information can be shared with your client's customers so they know when to expect their delivery.
This is a win for businesses working with your delivery team because they won't have to field calls from their customers who are wondering about the status of their order.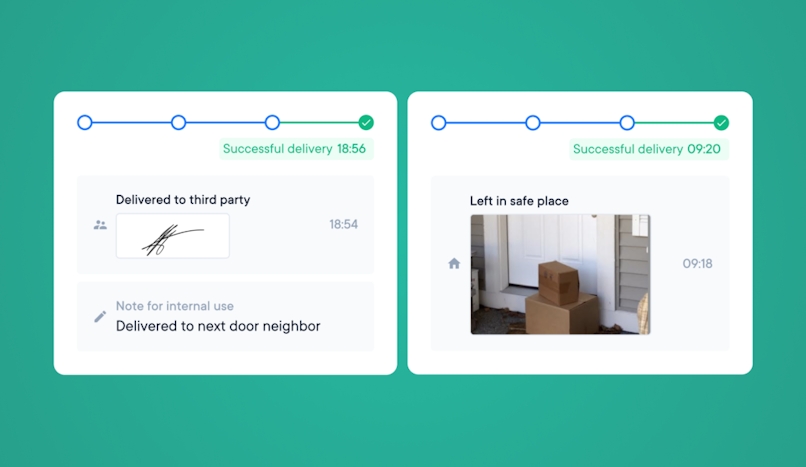 Proof of Delivery (POD)
Your delivery drivers can capture proof of delivery when they use their Circuit mobile app. They can either take a photo of where they left the package, or collect a signature on their smartphone from the recipient.
This gives your delivery business, your client, and their customers peace of mind, improving overall customer satisfaction while solving any delivery disputes.
Combined, these four features help you optimize your last-mile delivery process. This means your customers (and their customers) will be happy because deliveries will be made on time, accurately, and securely.
Final Thoughts on Growing Your Delivery Business
Running a delivery business is a full-time job. This is true whether you're an owner-operator planning routes and managing drivers, or you're running your own delivery business out of your own vehicle. The more time you need to spend on the recurring, daily tasks of your job (route planning, driver tracking, etc.) the less time you have to grow your client list.
Three useful tactics delivery business owners use to get new customers are:
Optimizing their company website towards their target audience.
Contacting local businesses to offer your delivery services.
Using third-party courier sites to get new contracts.
Plus, don't forget about Circuit, our delivery management platform, which helps your route planners and delivery drivers save time, maintain a great customer experience, and manage their daily delivery tasks efficiently.