8 minute read
Delivery Performance KPI Ideas: 6 Things to Track Right Now
From order accuracy to average time to complete each stop, here are the Key Performance Indicators (KPIs) to track for your delivery team.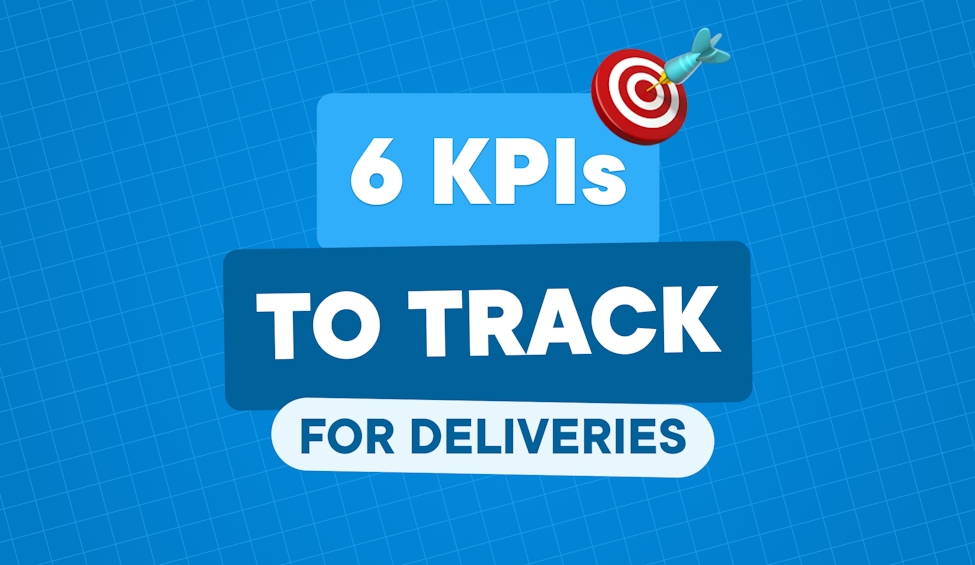 Want to improve your delivery team's performance?
One way is to figure out each delivery performance KPI (Key Performance Indicator) for your delivery business.
You can use these KPIs to gauge whether or not your delivery operations are running smoothly or not.
And if your process is not working, then your KPIs will give you an idea of what needs fixing.
But it can be challenging to know which delivery metrics to monitor and track. It's important to be fair to your driver (by which we mean you don't want to hold them accountable for things outside of their control), and to also give your drivers the tools that'll help them succeed.
To help you nail down which KPIs are essential, we look at what customers want from their delivery experience.
These factors aren't just our best guesses — we use real data from surveys to better understand what customers are looking for.
Then we look at how you can put processes in place that help your drivers improve their KPIs.
What Customers Want from their Delivery Experience
We recently ran a survey with 1,000 customers to figure out what people most want out of their delivery experience — and what they don't want to experience at all.
The majority of respondents (40.8%) agreed that the most important thing to them was that their package was on time.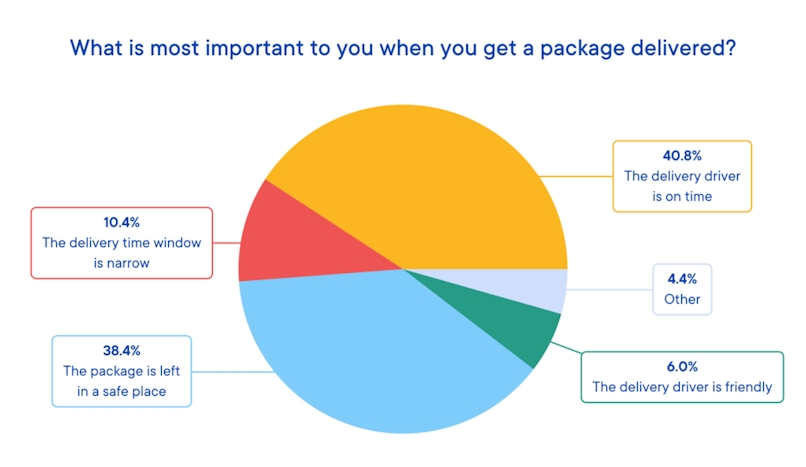 Next up, at 38.4%, was that their package was left in a safe place.
Given these responses, it makes sense that when we asked customers what tanked customer satisfaction, they voted:
Late deliveries
Damaged packages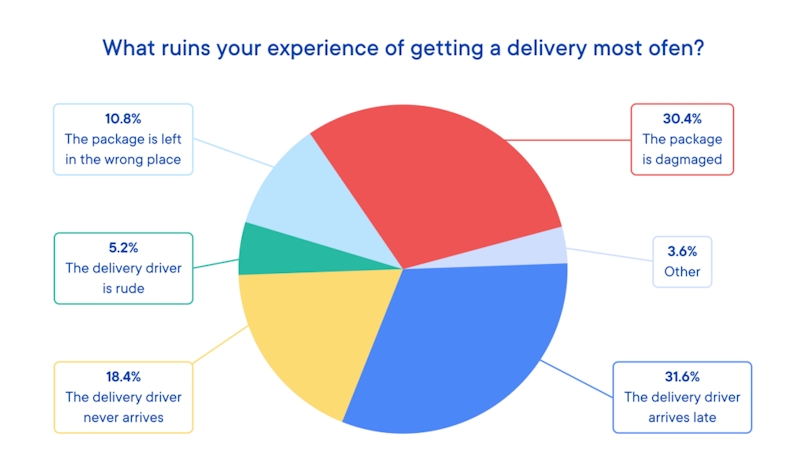 For more information on the importance of customer satisfaction, read our post on how poor delivery performance hurts your bottom line.
6 Delivery Performance KPI ideas to Track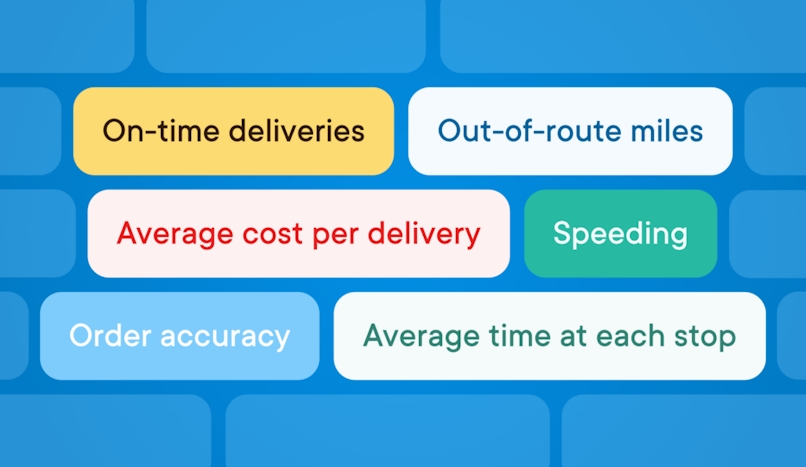 Given the data we mention above, we recommend creating delivery KPIs that track how often your drivers are on time, and KPIs that make sure they're delivering their packages securely.
There are several different KPIs that help you do that.
1. Out-of-route miles. Are your drivers deviating from the optimized route? If so, they're likely adding unnecessary miles between them and their stop.
2. Average time at each stop. The longer your driver spends at each stop, the longer it'll take them to complete their route. You don't want your driver to have to run to the customer's door and run back, but you do want to set an expectation with how long each stop should take to complete.

Keep in mind this will depend on the type of deliveries they're making. If they're delivering more sensitive items — like say, you run a marijuana delivery service — then it's important to give your drivers enough time to log the stop, collect a customer's signature, and make sure everything is in order before going onto the next stop.
3. Speeding. Speeding to finish a route faster is never a good thing to do. Speeding isn't safe for your driver (with faster speeds associated with a higher risk of getting a ticket or, worse, getting into an accident). A better strategy is to give your drivers an optimized route that factors in local speed limits (like Circuit for Teams does). This will get your drivers to their destination as quickly and safely as possible.
4. Order accuracy. Delivering the wrong item to a customer is a major pain. If this happens to your company, you have two options:

Go out and re-collect the wrongly delivered item. This is time-consuming and expensive. Plus, it further delays your customer's order.

Don't bother with re-collecting the wrongfully delivered item. Instead, just send out the right item to the customer's address. This gets the right item to the customer quicker, but now you're reporting a loss on inventory.

None of those options are good for business.

Instead, as we cover below, we recommend using a proof of delivery app to make sure your driver is dropping the right package off at the right stop.
5. On-time deliveries. Are your drivers making their deliveries on time? Some drivers will always be late, even if you've done everything you can to set them up for success.
There are drivers who idle for too long in their car in between stops; don't pay attention to where they're driving so they get turned around; or don't keep their cargo organized resulting in spending way too long at each stop looking for the right parcel. If you have a driver that keeps reporting late deliveries, they're costing you more than you can afford, and it's time to revisit their training.
6. Average cost per delivery. One of the most important KPIs for you to track is your average cost per delivery. To figure it out, you'll want to figure out several costs:

The cost of maintaining the vehicle (if you're using company vehicles). This includes fuel and maintenance costs, annual depreciation, registration, or any fee that comes from operating the vehicle (such as toll fees and parking fees).

The costs of labor. This is how much you pay your delivery drivers. Make sure you factor in all payments to your driver, including bonuses or any mileage reimbursements.
After you have those two numbers, add them together and then divide that total by how many deliveries your company makes a year. That'll give you the average cost of making one delivery.
Those are just 6 delivery KPIs that you can use to track your company performance. But it can be challenging for delivery teams to implement and track these KPIs. Below, we look at how your delivery team can use Circuit for Teams to help create a delivery process that naturally helps your drivers perform better and helps you reach your delivery goals.
How to Use Circuit for Teams to Improve Delivery Performance KPIs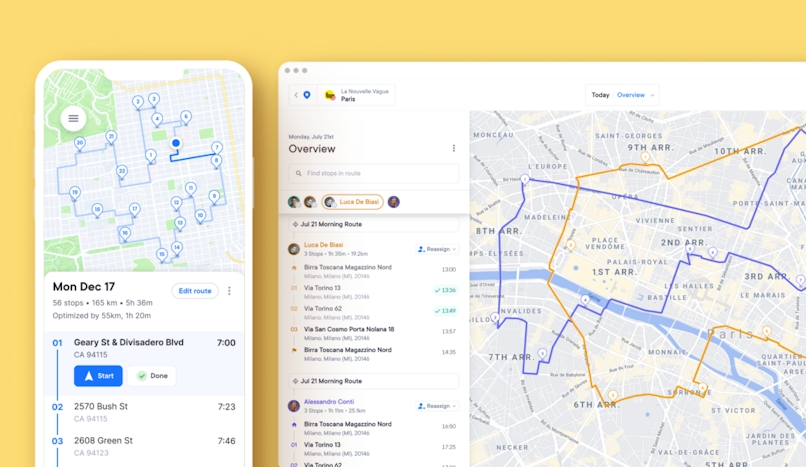 Circuit for Teams is delivery management software powerful enough for a fleet but simple enough to use from a smartphone.
You can use Circuit for Teams to:
Optimize your delivery routes (for speed and efficiency).
Monitor all routes in progress (so you always know where your drivers are).
Send out delivery updates to your customers (so they know when to expect their package).
Collect proof of delivery (giving you, your driver, and your customer peace of mind).
Help Your Drivers Make their Stops On-Time with Efficient Delivery Routes
With Circuit for Teams, you can create fast and optimized routes. This means your drivers can make more stops in less time, helping your customers get their orders faster. (And with an optimized route, your drivers won't be tempted to speed or try their own "shortcuts").
Our optimized and efficient routes are also reliable. When you create an optimized route with Circuit for Teams, you get an accurate ETA. And that's the ETA you share with your customer.
Keep Your Customer's ETA Accurate and Updated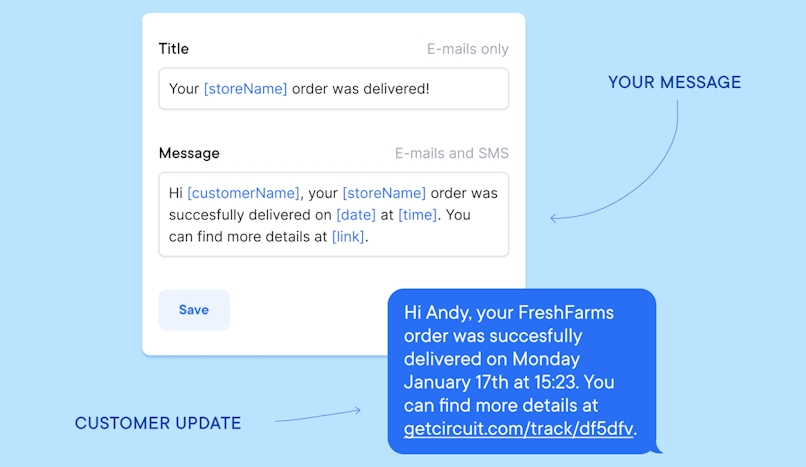 Our route optimization software does everything it can to create highly efficient routes with very accurate ETAs. But sometimes things happen — such as unplanned traffic accidents, detours, adverse weather conditions, and other stuff.
Circuit for Teams will always recalculate the route to give you the fastest driving directions whatever happens, but it also does more: it sends out delivery updates to your customer.
The first update goes out when your driver starts their route. In this update, which can go out by text, email, or both, the customer gets an ETA and a link to a route monitoring dashboard.
Your customer can see a near real-time update of where their order is and how long until it arrives in this dashboard. And they get another update when their driver is about 10 minutes away. By keeping people informed about delivery status, you're managing expectations.
This means if a package gets delayed by 15-20 minutes, it won't come as a shock. In fact, they may not even register it as "late" because they'll know hours in advance about the ETA change.
Pro Tip: Load Your Vehicle Strategically to Make Your Deliveries Even Faster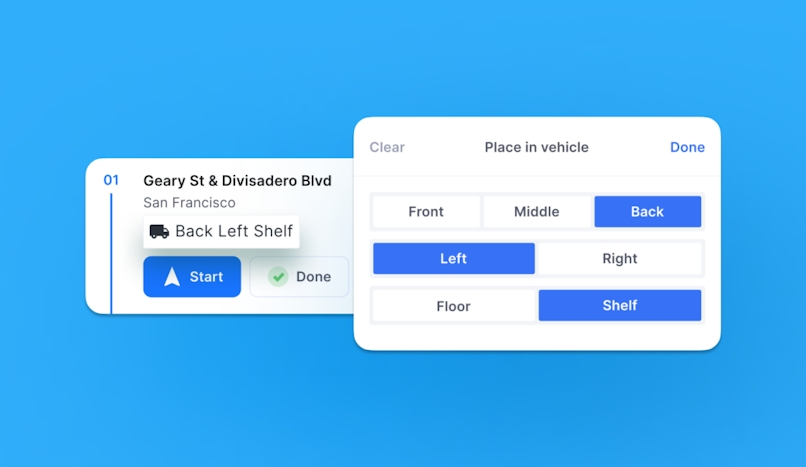 Every minute counts when you're a delivery team trying to improve overall performance. When one of our customers started using Circuit for Teams, they reduced the average time they spent completing a stop from 7 minutes down to 2 minutes per stop.
That 5-minute savings equated to roughly 12.5 hrs of labor saved per week.
Another way to shave time off your deliveries is to load your vehicles strategically.
When you use Circuit for Teams, your driver will have an optimized route. That is, they'll be able to see which stops they're making in their specific order. Your driver can use that list to load their vehicle in a smart way. This means when they make their stops, the packages at the top of the pile are the ones that go out at first.
Your drivers can also use Circuit to mark where a customer's package is located in the vehicle. When your drivers load their vehicle, they can mark where they placed the package in the vehicle. So when they get to a stop, they see a quick guide telling them where to find the order.
Help Keep Your Customer's Package Secure with Proof of Delivery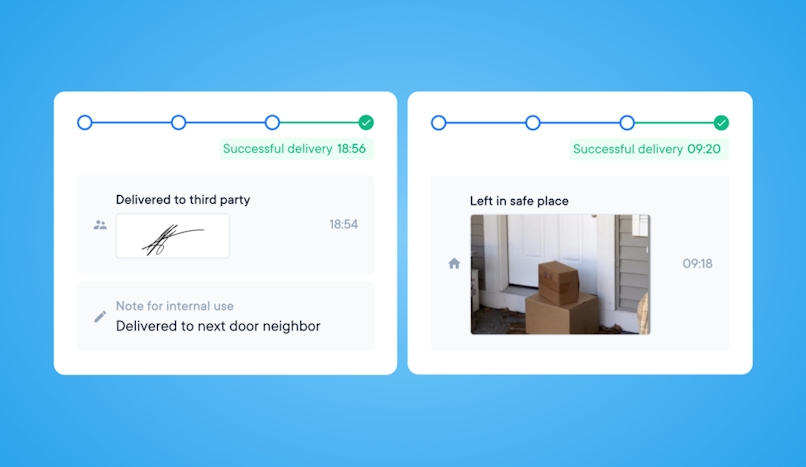 After getting their delivery on time, the second-most important thing to customers we surveyed was getting their package safely and securely delivered to their front door.
Thankfully, there's an easy way to encourage professional behavior from your drivers — by allowing them to collect proof of delivery with the Circuit for Teams mobile app.
When you use Circuit, your drivers have two ways of collecting proof of delivery.
Photo capture. Your drivers can take a photo with their phone and upload it into the Circuit mobile app.
Signature capture. Your drivers can collect a signature directly on their smartphones.
No matter which option your team chooses, your customers get a notification of when the delivery is complete, along with a copy of proof of delivery.
Next Steps: Start Your Free Circuit for Teams Trial
Your delivery team can start a free Circuit for Teams trial today.
When you use Circuit for Teams, you get several features that will help you improve key performance metrics, plus other tools that help improve overall operational efficiency.
These include:
Route optimization and customization. Get your customer's orders to them as quickly as possible, setting priority stops and delivery windows as needed.
Route monitoring. Always know where your driver is with GPS tracking.
Order tracking. Automatically send out updates (through SMS, email, or both) to your customers letting them know when their package will arrive.
Proof of delivery. Let your drivers take a photo of where they left the customer's package or get a signature on their smartphone to give all parties peace of mind.
Click here to start your free trial today.
Enjoy this delivery performance KPI post? You may also like: