6 minute read
Courier Services vs. Postal Services: What's the Difference?
Courier services and postal services are two distinct types of delivery services. Find out how they differ and when to use each one.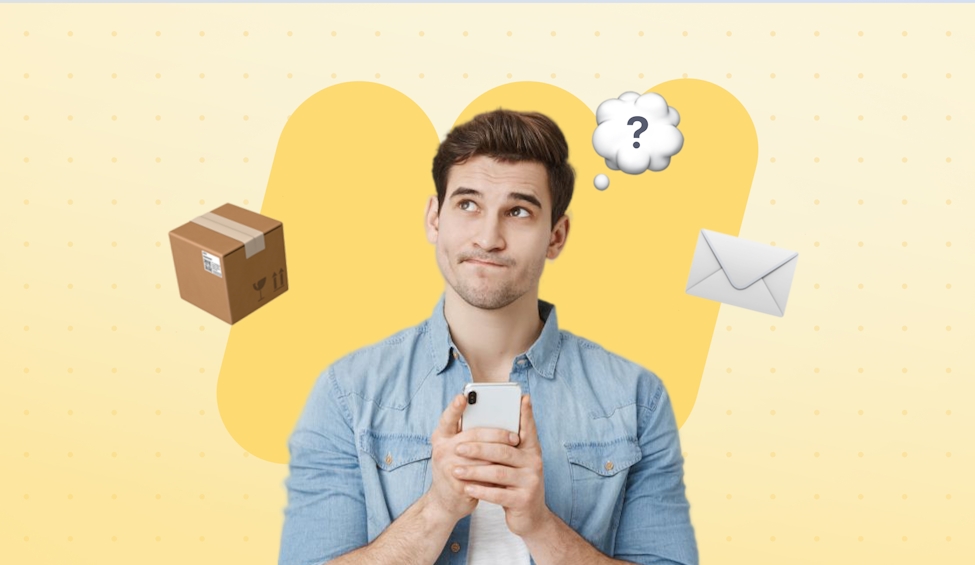 Whether your delivery business model is like a postal service or a courier service, deliveries must be made quickly and easily. Circuit for Teams can help.
Courier services and postal services both deliver goods to people's homes or businesses. However, there are some pretty significant differences between them.
What is a courier? The biggest difference from postal services is that courier services are dedicated to making deliveries in short time frames. 
While it's possible to use a postal service to send goods relatively quickly (for example, within 24 to 48 hours, depending on the distance), a courier service offers rapid delivery — usually same-day or next-day delivery!
But speed is just one thing that differentiates courier companies from postal services. This article explains those differences, including services and pricing.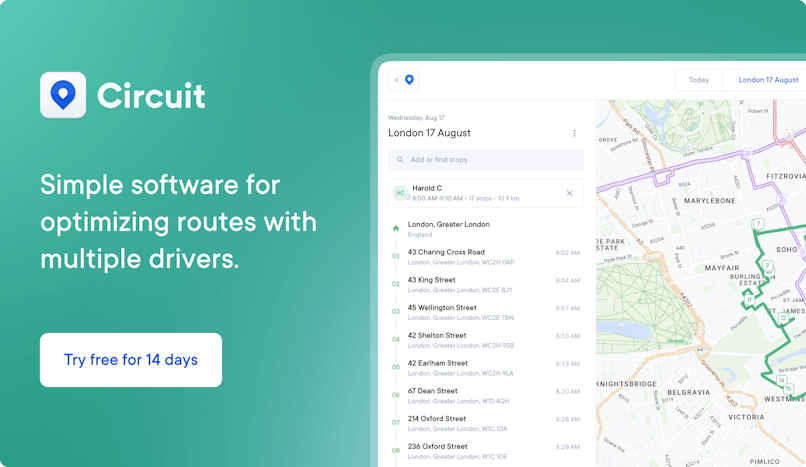 What is a courier service?
A courier service is a delivery service that prioritizes speed — usually offering delivery within the same day or by the next day. 
Couriers may transport packages, products, and documents.
Specialty couriers may offer special handling, hauling potentially dangerous or delicate goods.
For example, a medical courier delivery service could transport medical samples, like blood samples or COVID-19 swabs, from health care providers' offices to medical labs. 
This needs health and safety measures to avoid contaminating samples, such as using refrigerated trucks and completing deliveries within a set time frame. 
Specialty couriers also tend to offer more customized services than a general logistics service like FedEx, DHL, or UPS — or a postal service like USPS. 
For instance, courier companies often ship items on a per-item basis rather than based on size or weight.
What is a courier?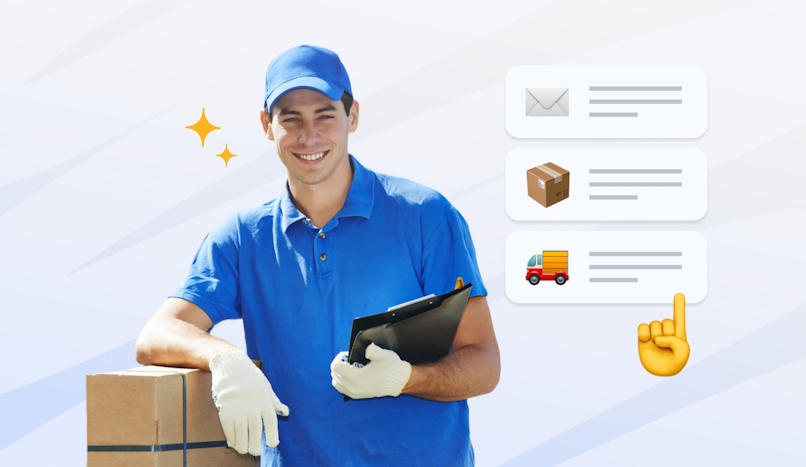 Courier services employ couriers, which are delivery specialists with the training, skills, and credentials to transport packages, goods, and documents from one place to another.
Let's use the medical courier company as an example. 
You shouldn't hire just anyone to drive samples. Ideally, you need a person with a current HIPAA certification to protect patient privacy.
Another example would be a courier who works for a law firm: These professionals must transport sensitive legal documents — often under deadline pressure. 
If an important document needs to be filed with the courts by a certain time, they're responsible for getting it promptly.
Even in non-specialty fields, couriers are generally distinguished from postal services by their speed and discretion. 
Depending on their service area, they may use delivery vehicles, bikes, or walk to complete their deliveries.
What's the difference between a delivery driver and a courier? 
Couriers and delivery drivers share one key trait: They bring packages, products, or documents from point A to point B. 
However, couriers often work with specialty goods and under strict time constraints.
The general work structure of a delivery driver versus a courier is also different. 
Delivery drivers are assigned a route with multiple delivery stops for each shift. They check off the stops as they complete their route.
Couriers may be assigned routes, but their workdays tend to be more flexible. 
They may pick up and drop off individuals' orders, often on a last-minute basis. They must be able to fit these last-minute stops (which are often time-sensitive orders requiring same-day delivery) into their routes.
In general, couriers tend to deliver smaller items, like packages or documents. Heavier or bulkier deliveries usually need a postal shipping service since they need more preparation.
A bike courier is a type of courier who delivers by bicycle, allowing them to bypass traffic jams quickly. Since they're always on their bikes, these pros can't deliver large goods.
Functions of postal services
Postal services are generally government agencies. They sort and deliver letters and packages both within their home countries and, sometimes, internationally.
America's postal service is called the United States Postal Service (USPS), an independent federal agency. 
The United Kingdom has the Royal Mail service, Australia has the Australia Post, and Canada has the Canada Post.
The function of postal services is to improve connectivity within a country, making it easy for people and businesses to ship goods. 
Since this is a longstanding need, postal services often have long histories within their home countries.
For example, the USPS traces its roots back to 1775, when Benjamin Franklin was appointed the first Postmaster General.
Courier services vs. postal services: Key differences
We've touched on a few ways express courier and postal services differ. To keep things simple, here's a quick overview.
Pricing 
In general, postal services are cheaper than courier services. When you pay for a courier delivery, you're paying extra for the enhanced speed, reliability, and quality of service (more on that below).
Postal services are cheaper because they generally have longer delivery times. They may also have limited tracking options. 
For example, you usually have to pay extra for tracking packages.
Courier services also may charge extra fees for specialty deliveries, like those involving delicate goods or those delivering to remote areas.
Although it means spending more money, a courier service can be well worth the price tag depending on your business. A courier is a safer bet for goods requiring delicate handling or urgency.
You can rest easy with perks like overnight delivery and package tracking — confident that your goods will reach their final destination intact and on time.
The service you get 
Courier services focus primarily on rush shipping. They usually offer next-day or 48-hour delivery as the standard service. 
Some types of courier services even offer same-day delivery.
In comparison, postal services may not prioritize urgency. You can pay extra for faster mail, like 48-hour delivery, depending on the target destination. 
However, a standard mail shipment can take anywhere from five to 10 days or longer.
Since they're all about speed, courier services tend to be local businesses. They usually operate within one defined city or greater metropolitan area.
In contrast, postal services operate nationwide and even internationally — this is considered a standard coverage area.
Some international courier services fulfill long-distance orders but the time frames aren't as tight. 
Logistically, it's very challenging to ship a package from the United States to Germany in a single day, for example.
Whether local or international, courier services tend to offer a higher standard of service. They are good at handling fragile or hazardous packages. 
Some specialty providers may even focus on things like artwork transportation, for example.
Again, this sets couriers apart from postal service providers. 
Postal services don't have any obligation or commitment to transport hazardous or dangerous goods. In fact, it's illegal to send certain items through the regular mail.
Courier services may be relied on for specialty shipments that the postal service can't or won't fulfill. 
They help fill gaps in the supply chain, addressing last-mile delivery needs quickly.
Self-delivery as an option for businesses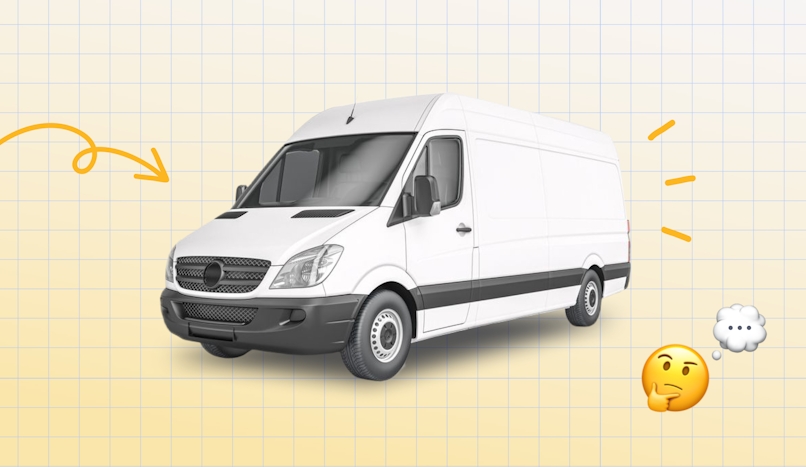 If you have a business that needs delivering goods, you might think of using a courier or the postal service to get the job done. 
But you might also set up your own delivery team depending on the size of your business (and how frequently you need to ship goods).
From juiceries to farmers and e-commerce retailers, many businesses are establishing direct-to-consumer delivery using their own teams. 
This may be a good option for you if you ship frequently and your business is concentrated in the immediate local area.
Routing software like Circuit for Teams can help you establish your own delivery operations. The software takes your customer delivery addresses and maps out routes for your delivery team, giving them the fastest and easiest order of stops.
Circuit also offers valuable oversight of your delivery operations, providing real-time driver tracking. Plus, you can use it to improve your connection with customers, for example, by providing delivery time windows and ETAs.
How Circuit for Teams makes business deliveries fast and easy
Circuit for Teams can get your local delivery business off the ground by helping you create and manage delivery routes. 
The routing software maps delivery stops in the most logical order, helping drivers get from point A to point B fast and with minimum hassle.
Circuit also has features to address other package delivery needs, like a package finder for drivers. 
Meanwhile, the tool can help dispatchers maintain oversight of their teams by offering real-time tracking.