6 minute read
Copilot GPS vs Circuit for Teams: Best route optimization software for couriers
CoPilot GPS and Circuit for Teams are two popular route optimization tools for couriers, but which one is right for your business?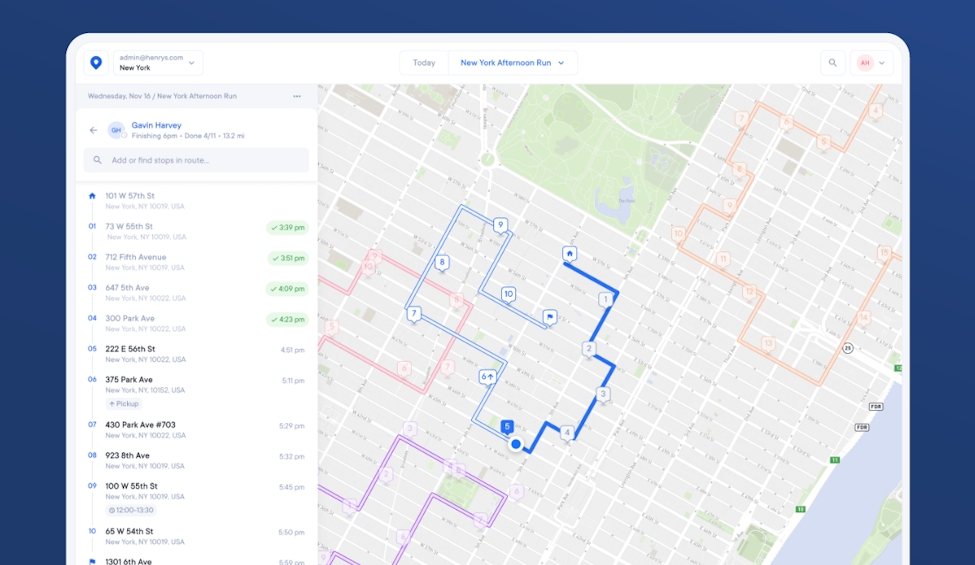 Delivery drivers and those managing a team of drivers know that planning the right route is key to saving time and money, and making customers happy.
If you drive for a living, or manage a fleet of drivers, then the right route can help you meet those goals and more. That's where route optimization comes in. Using an algorithm, a software program determines the best routes for delivery vehicles, taking into account factors such as traffic congestion and distance.
Not all route optimization platforms are created equal, so we compared two of the more popular route planning software being used by courier and trucking businesses. CoPilot GPS or Circuit for Teams: which fits your business best? Let's simplify the choice by exploring their standout features. 
CoPilot GPS vs Circuit for Teams: A snapshot
Drivers, courier companies and trucking outfits all know that route optimization can increase efficiency by determining the best route for a driver—or a fleet of drivers. A complex algorithm Good route optimization software considers traffic, road maintenance, construction, each of the necessary stops, priority stops, fuel consumption and other factors, then tells each driver the best route for a given trip.
That can save time and therefore money for a company, but the benefits go beyond cost benefits. There's also improved quality of service and a reduction in total vehicle miles traveled, which can add years to vehicles, reduce fuel consumption, and minimize emissions—which in turn can reduce the environmental impact of your business. That's likely important to your customers too.
Effective route optimization can also allow a business to increase capacity, since drivers can take on more deliveries if they have efficient routes. Don't forget, an on-time delivery also means happy customers! This can also allow operations managers to potentially reduce their driver fleet to save even more.
For one driver making a few stops, a basic route planner works. But for couriers with multiple stops or fleets managers with many drivers, a robust optimization tool becomes essential. When one driver is navigating alone to one or two stops, a simple route planner may be sufficient. But a driver who has to make many stops in a day, many drivers delivering different items, or someone who manages those drivers needs more. That's when a productive optimization tool can really reap benefits. 
planning tool will also provide analytics that allow you to make improvements, as well as reduce errors and in fact be a competitive advantage over others.
The Circuit route planner and CoPilot GPS navigation tool are two of the more popular route optimization tools.
Here's a brief snapshot comparing the key features of Copilot GPS vs Circuit for Teams, and then we'll get into more detail on the specifics of each system.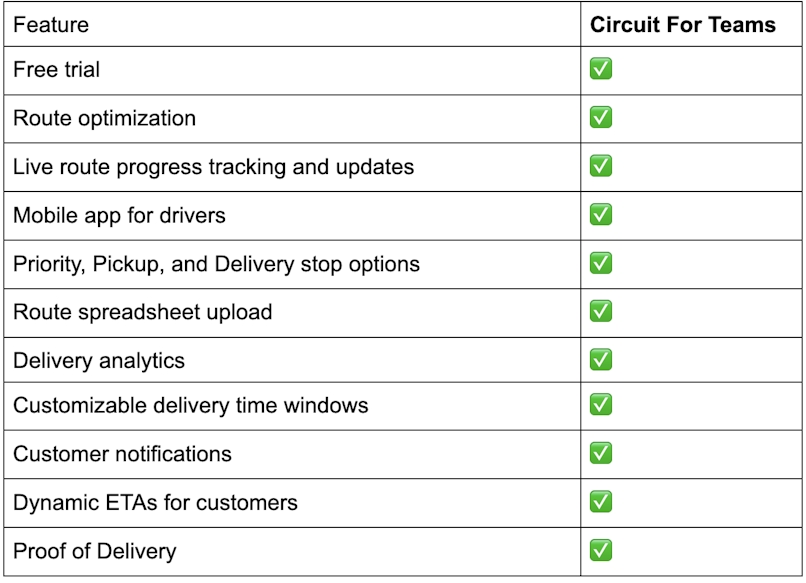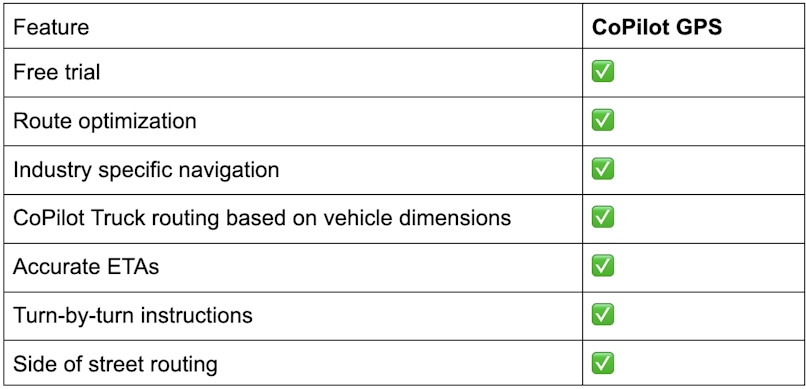 This overview of features makes it look like a comparison of CoPilot GPS vs Circuit for Teams will deem them to be equal. Not so fast. We will dig deeper to see the differences, such as the scalability of Circuit for Teams, the ease of use for drivers and managers, and the continued product enhancements that Circuit for Teams makes in part based on customer feedback. 
Circuit for Teams and Circuit Route Planner
Circuit is a route optimization tool with different solutions for different needs.
The Circuit Route Planner is an app designed for individual drivers who can import their stops and get the best route for the day. Drivers can save up to an hour a day by having a route planned and being directed to addresses quickly and efficiently.
Drivers can:
add, delete or re-organize addresses on the fly
use their favorite GPS platform if they want
set priority deliveries and time windows for stops that have to be made at specific times
That means less backtracking and getting the trip done on time or early.
Circuit for Teams adds to the power of the route planner by enabling dispatchers, couriers and trucking companies to optimize the routes of multiple drivers while keeping customers updated. Other features include the ability to import delivery data, customize stop details, live tracking and route management, and getting and sharing proof of delivery.
Such delivery management software can help save your business time and money.
What's the bottom line?
Circuit Route Planner is ideal for drivers, while Circuit for Teams helps operations managers, warehouse managers, dispatchers, courier or trucking companies efficiently run their fleet of drivers. 
Circuit for Teams features
Circuit for Teams has a multitude of features to help those who manage drivers make the most of their time, while also ensuring drivers get where they need to be in the most efficient way.
There are continual product updates to the platform, adding more power to those who use it.
Here's an in-depth look at the features included in Circuit for Teams:
Route optimization
The route optimization that can make one driver more efficient is also ideal for many drivers in a fleet along with those who manage those operations. The route optimization for multiple drivers includes functionality such as:
unlimited routes and stops
interactive map and timeline route views
live route progress tracking and updates
route spreadsheet upload for managers
multiple depots
driver tracking
Circuit's priority feature even lets you organize the most efficient delivery route around certain stops that need to be completed first—or stops that need to be done at a particular time of the day.
Live tracking and editing of routes
Fleet managers can easily import delivery data into Circuit for teams, and can later add stops, create routes and send new routes to drivers. That means live routes can be changed, and then instant updates can be sent to drivers and customers. Dispatchers can also track deliveries in real time.
Integration (using the CfT API - ask me for more details)
Circuit for Teams easily integrates with application programming interfaces, or APIs, allowing you to link Circuit with your existing software to create a joined-up delivery system. You can create routes automatically by integrating with your existing services. For instance, import stops and build routes straight from Shopify orders, or automate customer notifications and more with Zapier triggers.
As for your drivers, they simply download the Circuit for Teams Android or iOS mobile app from the app store, and they can use it with whichever GPS navigation app they prefer.
Analytics
Detailed delivery reports allow for analysis of delivery costs and performance metrics. That means you can dig into the most common reason for failed deliveries, monitor the percentage of late stops, and track the average cost per delivery over time.
Reports can also be filtered by depot, team, or driver for a more granular view of activity. And, a new product update allows monthly reports of delivery data to be easily exported to allow for greater analysis. 
Zoning
Proof of delivery
The Circuit for Teams app allows drivers to capture photographic or signature proof-of-delivery. This is automatically uploaded into the system, so you know exactly where goods have been left, also known as "safe place" Proof of Delivery.
Support
Circuit for Teams has a robust online Help and FAQ library, allowing you to find answers to your questions, as well as how-to guides for drivers and managers. Get guidance for everything from preparing your spreadsheet for import to making changes to a live route.  
Flexible Plans
We'll get more into pricing in the next section, but Circuit allows your business to easily scale up if you add drivers to your fleet. Each plan includes a base number of drivers, and you can add additional drivers at a set cost per additional driver/per month. Circuit for Teams also gives you the flexibility to add and remove drivers from your team at any time.
Plus it can be used in over 120 countries worldwide, using global address data to map the perfect route for any region.
Circuit for Teams pricing
Circuit for Teams has a simple pricing model that lets businesses scale up with the size of the fleet. Here's how it breaks down:
Circuit for Teams reviews
Feedback from customers about Circuit for Teams helps understand the benefits of the platform. 
For instance, a bicycle courier company used Circuit to scale to 400+ deliveries a day:
"We tried Circuit because of its free trial, and everything just worked for us," one of the founders said. "There was no reason to check any other route optimization tool."
Circuit for Teams is for more than courier companies, however. Other Circuit route planner reviews are generally positive. Here's a snapshot of what those who manage drivers have to say:
"I had tried a few other delivery planning tools before I found Circuit for Teams," said Jair Sian, Operations Manager of Alphabet Brewing Co. "We immediately fell in love with the simple interface and how it helped us save time."