10 minute read
How Much Do Uber Eats Drivers Make Per Delivery?
A gig as an Uber Eats driver can be a great way to make extra money. Find out how much you can earn here.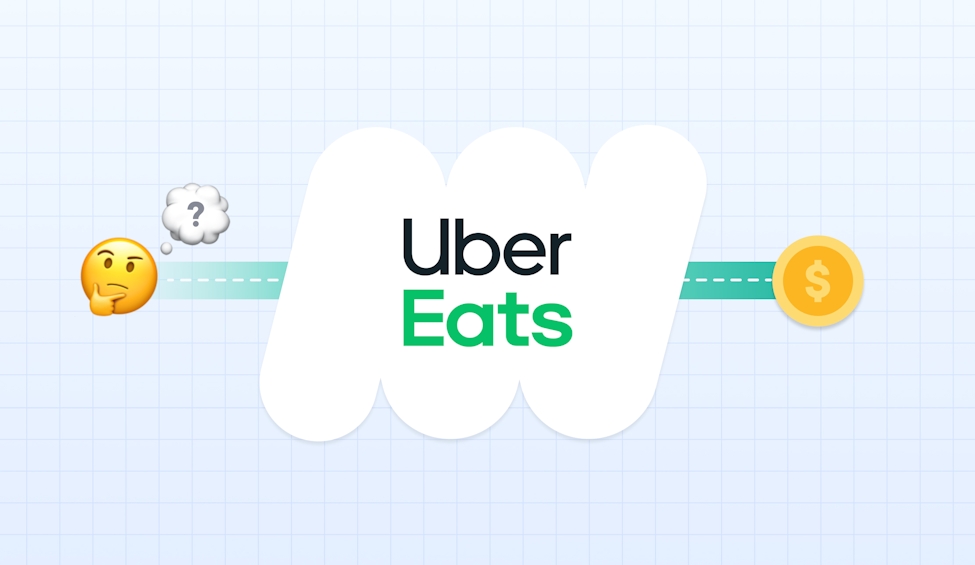 Planning to pick up a side gig as an Uber Eats delivery driver? CircuitRoute Planner can help you get your deliveries done faster to earn more.
Uber Eats has some 81 million users worldwide, making it the most popular food delivery service. 
In 2021, the food delivery service app generated $8.3 billion revenue — a 72% year-on-year increase. 
That's a lot of dollars! Want your piece of that pie? Of course you do.
Delivery driving for Uber Eats can be a solid side gig if you're looking to make some extra cash (and, let's face it, who isn't?). 
Plus, it can be fun. There's no need to sit at a boring desk job — instead, you can cruise around town in your vehicle, blasting tunes while you deliver meals.
But just how much can you make as an Uber Eats driver? If you're going to pick up a side hustle as a food delivery driver (or even consider driving for Uber Eats full time), you want to make sure it's worth it.
Here, you'll find out exactly how much you can make as an Uber Eats independent contractor for each delivery. Plus, I will give you tips for making the most of every order.
What is Uber Eats and how does it work?
You've likely found your way to this article because you've heard driving for Uber Eats could be lucrative. But, just in case, let's first cover the basics. 
Uber Eats is a food delivery app. Local restaurants can partner with the app, putting their menus online, and hungry customers order through it. 
Uber Eats drivers in the area then get a delivery request through the Uber driver app.
If you accept the request, you're responsible for picking up the food order from the restaurant and delivering it to the customer — the app gives you all the info you need, like the pick-up location, food order number, and the customer's name and address.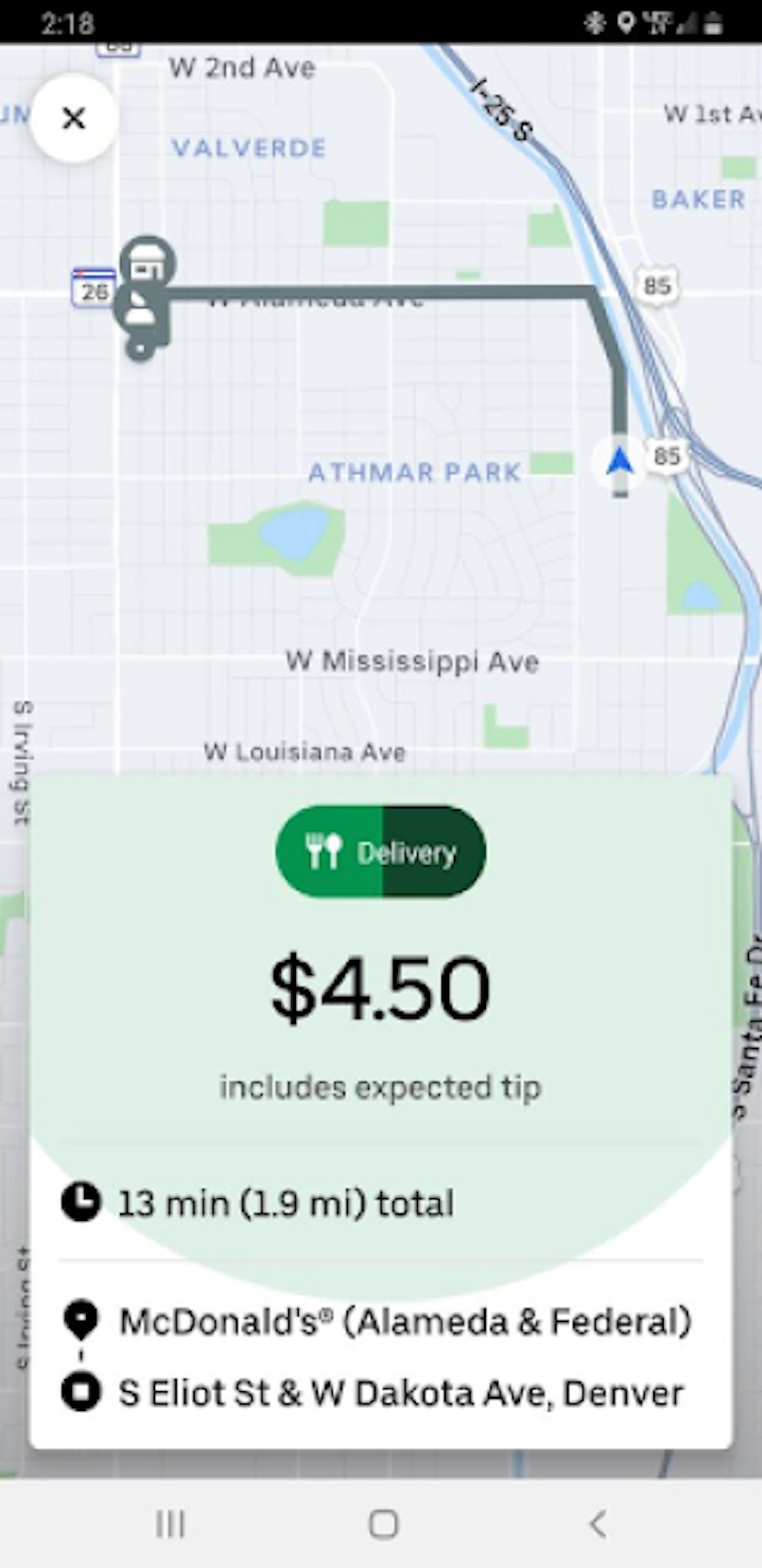 Drivers are paid through the app (I summarize how you can calculate your pay below). You can use Instant Pay to get your earnings.
You only need a debit card to use it, making it convenient to set up. It's fast and easy, allowing for immediate payment — and you can cash out up to five times every day, getting your hands on your fresh earnings right away.
You'll be charged $0.50 per cashout for personal debit cards, but you can get around this with a GoBank Uber Debit Card.
That means if you cash out five times per day, you can save up to $2.50 per day. If you cash out five times per day four times per week, that's saving up to $10 per week. 
The point is: You get more money to keep.
How much do Uber Eats drivers make?
Sadly, there is no "one size fits all," when it comes to Uber Eats and the money you could make. Your Uber Eats earnings depend on many factors, like the city you deliver in and the distance traveled to make a delivery. 
That said, according to Circuit research, in the United States, Uber Eats drivers earn $19 per hour. In the United Kingdom, they make £2 to £9 per hour. In Australia, it's $21 per hour on average. 
Learn more about these numbers.
How much can you make in a week with Uber Eats? 
As you'd expect, your weekly earnings for Uber Eats will depend largely on how much you work.
Say if you work in the United States, where the average pay is $19 per hour, and you work a standard 40-hour week, that will add up to $760 per week — or about $3,040 per month. 
Of course, gig workers who work part time will earn less. 
It's up to you to weigh the benefits. Keep in mind that you'll use your own vehicle, subjecting it to more wear and tear than normal (Hint: See what cars are great for delivery).
Racking up your car's mileage will also decrease its value. 
Some experts estimate that a car's value depreciates about $0.08 per mile. So, if you drive 120 miles per week doing Uber Eats, that's $9.60. 
It might not seem like much, but that will add up to almost $500 a year. If you're hoping to resell your car five years from now, that can put a real dent in the value.
Uber Eats pay breakdown
Many factors can affect Uber driver pay. 
For example, delivery driver salaries vary between states. You'll earn less in Mississippi than you would in Alaska or Massachusetts. For a roundup of delivery driver salary averages by state, check out our list.
Here's a quick breakdown of how the Uber Eats food delivery service calculates pay for drivers.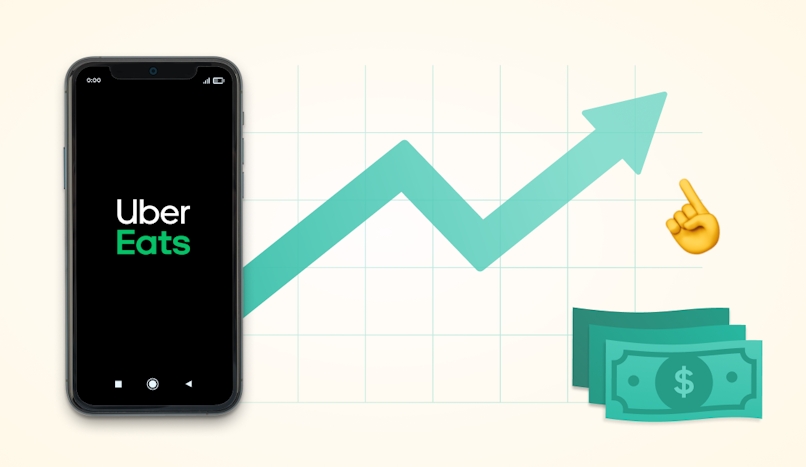 Base fare per delivery 
As an Uber Eats delivery driver, you are paid per order. 
For every delivery you complete, you'll be paid a flat rate. Uber Eats determine this base pay using a set pick-up and drop-off fee, which can vary according to your location.
In the UK, for London, Birmingham, and Manchester, the pick-up fee is £1.10, while in the rest of England, it's £1.50. Meanwhile, the drop-off fee pay rate is £0.80 in London, Birmingham, and Manchester and £0.50 for the rest of England.
In the US, earnings structures differ between cities. You'll have to visit your city-specific page to learn more. For example, here's the NYC page.
The base rate makes up your main pay, so you have to consider this when deciding if Uber Eats is for you. While there are other ways to earn more, such as with trip supplements or surge pricing, these aren't always guaranteed. 
Base pay matters.
Trip supplement 
On top of the base delivery fee, you'll be paid a per-mile rate depending on how far you travel to pick up and deliver the order. Known as the trip supplement, this gives you an incentive to take deliveries that are farther away. Find out more.
The trip supplement depends not only on the mileage but also on your type of vehicle.
Drivers can use promotions to earn more money 
As an Uber Eats driver, you can maximize your earnings by participating in promotions.
With Uber Boost promotions, you're guaranteed higher rates in defined times and places. 
Uber determines these places based on the demand. So, if a lot of people in Brooklyn are ordering in on a snowy winter night, then Brooklyn might be subject to a Boost promotion around dinner time.
With Boost, the amount you earn for each trip is boosted by a set multiplier. For example, if you normally earn $5 per trip and get a 2X boost, you'll earn $10 instead.
Whereas Uber Surge pricing gives you an additional dollar amount for every delivery you complete. This is done at high demand times and in the busiest areas. 
You can find surge areas on the Uber Eats app. They're red and show the additional dollar amount you can earn for each order.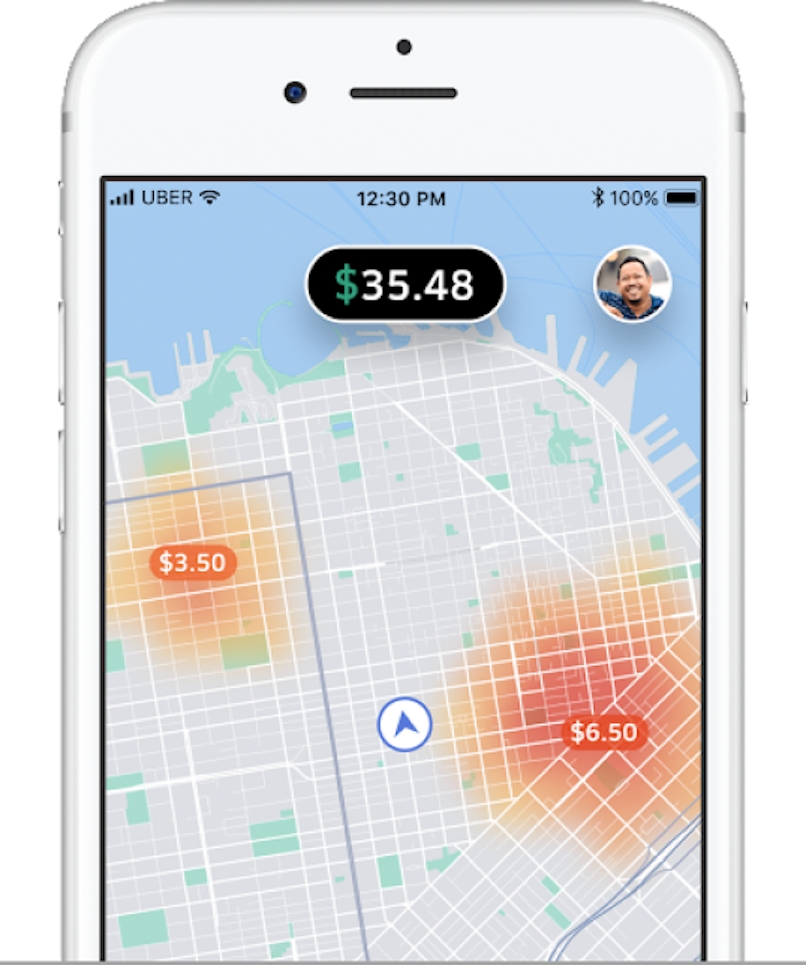 Boost and Surge are both ideal for drivers with a lot of flexibility. If you can choose when and where you work, you can get to a Boost or Surge area when it's announced and start racking up the cash. 
Note that, according to Uber, if an area is subject to both Boost and Surge pricing simultaneously and you take a delivery, you'll get the higher money-value of the two.
Finally, with Uber Quest, you get the chance to earn extra money by achieving trip goals within a set time frame. 
For example, you might earn an extra $40 by completing at least 10 trips from 3 am Monday to 3 am Thursday.
If you don't have a lot of flexibility in your driving schedule, this can be a great option. 
For example, say you always carve out Wednesday nights for delivery driving. If you notice Boost and Surge promotions on Friday nights,  you can't just change your plans and take advantage of them. 
But you can still leverage Uber Quest by meeting your trip goals within one of the given time frames.
Tips 
Customers may give these as cash upon delivery or pay tips through the app. As the driver, you get to keep 100% of the tips. 
This can be a great incentive to up your customer service — for example, by grabbing extra ketchup packets for that order of fries!
Service level, including timeliness, make a big difference. For example, our research shows that 66% of Americans will stop ordering from a delivery app following a late delivery.
Is driving for Uber Eats worth it?
Not sure if driving for Uber Eats is for you? It's worth doing your research. 
After all, there are many other delivery companies you could drive for, from Postmates to Grubhub and DoorDash (not to mention rideshare apps like Lyft).
Here's a quick roundup of pros and cons to help you decide if Uber Eats is the right job in the current gig economy.
Advantages of driving for Uber Eats include:
Transportation flexibility. You can decide how you deliver, whether by car, motorbike, or bicycle. This lets you work with whatever transportation resources you already have. If you don't have a car, you don't have to spend money buying one. You can still deliver through other methods.
Scheduling flexibility. Let's face it, sitting at a desk from 9 to 5 is a drag. With an Uber Eats gig, you can decide when and where you work. Oh, and time off whenever you want. No vacation requests needed. You make your own schedule.
Immediate payout. Uber Eats drivers get their earnings fast — they're immediately visible on the app and transferred by direct deposit to your bank account weekly. You can also use Instant Pay to cash out up to five times per day.
Disadvantages of driving for Uber Eats include:
Unreliable pay. Uber Eats doesn't pay great. On top of that, the gig isn't regular. On some days or during certain times of day, there may not be a lot of demand. This can result in inconsistent earnings.
Wear and tear. Uber Eats delivery driving can take a toll on your transportation, whether you're using a bike, car, or scooter. It can also be physically demanding, especially if you deliver by bike or scooter. Bad weather can make it worse!
App inconsistencies. As an Uber Eats driver, you'll need to rely on the app to get delivery jobs. If the app is buggy or your phone runs out of power, you can't get a gig (or get paid)!
As you can see, Uber Eats has pros and cons. It's up to you to consider how much money you can make as a driver for the app (and if that amount of cash is worth it). 
For example, the scheduling flexibility may make negatives (like wear and tear to your vehicle) worth it for you.
If you take advantage of app promotions and give good customer service (meaning good tips), you can earn more. This can also make vehicle wear and tear less of an issue. 
Many people like gig economy work because it fits their flexible lifestyle. Only you can know if it's for you.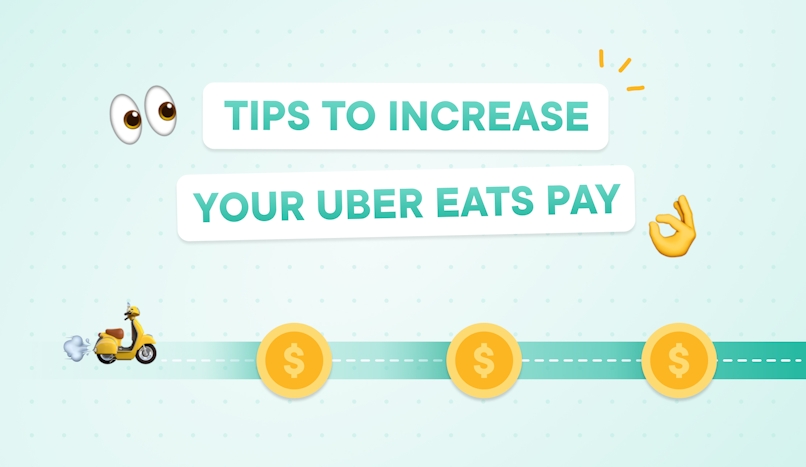 Tips that can help increase your Uber Eats pay
Decided that Uber Eats is the gig for you? Great! 
Now, let's get you earning as much money as possible. These hacks can help you maximize your profits.
Keep your focus on short, quick trips 
When your pay is on a per-delivery basis, you want to get in as many jobs as possible in as short a time as possible. To make this happen, prioritize short, quick trips within a predefined geographic area.
You can also use apps like Circuit Route Planner to plan the shortest route between stops. This is just one of the many apps that can help you. 
However, Circuit is great for multi-stop orders — and Uber allows you to pick up multiple orders in a single trip to maximize your earnings.
For example, GasBuddy can help you keep fuel costs low.
Decline low-paying deliveries when it's busy 
One of the perks of driving for Uber Eats is flexibility. You don't have to say yes to every delivery job you're offered. 
You can say no to some deliveries that aren't worth your time, especially if you have other higher-paying deliveries available. 
Plus, you won't be punished for saying no. The delivery request will simply go to another nearby available driver. 
However, note that some delivery partners require a minimum delivery acceptance rate.
Hang out where the action is 
Uber Eats earnings depend largely on location. Focus on delivering in busier areas, like those that are densely populated. 
Larger cities that have more people tend to offer greater earning potential. You'll get more delivery requests in areas with more Uber Eats delivery partners. 
Since big cities have more restaurants, that means more business.
Timing is also a factor. According to Uber Eats, people are more likely to order food around lunch and dinner.  
In the U.S., the company defines those time frames as  11 am to 2 pm (lunch)and 5 pm to 9:30 pm (dinner). That said, you may also have to deal with more drivers competing for slots around this time!
You might also see increased demand depending on the weather. For example, delivery requests increase when it's raining! 
Combine promotions when you can 
Take advantage of promotions when you can to drive up your earnings. If you can, combine promotions. 
If an area is subject to both Boost and Surge pricing simultaneously and you take a delivery, you'll get the higher money-value of the two. 
However, you could still combine Quest with Boost or Surge pricing.
For example, say your Quest goal is 50 orders made between Friday to Saturday, 12 am to 12 am. You complete the goal and get +$50 on top of your base pay. You also pick up 10 surge pricing orders during that time, earning $5 per delivery base pay instead of $2.50. That's another extra $50.
Use a route planner to save time 
A route optimization app like Circuit can help you save time on deliveries, making it easier to get more done quickly. 
Circuit Route Planner allows you to plan multiple stops, which is ideal if you're picking up more than one Uber Eats delivery at a time (which is possible and a great way to earn more).
You can add delivery addresses on your phone, updating your routes in real-time. The app is free to download — or you can get the premium package for unlimited routes, unlimited stops per route, and the ability to import spreadsheets (Android only).
Circuit Route Planner makes delivering easy
Uber Eats isn't for everybody. However, driving for the app offers plenty of perks — from scheduling flexibility to being able to use your own vehicle. 
Of course, there are drawbacks too, like the added wear and tear on your car.
You also want to consider if the earnings are worth it. If you have a flexible schedule, for instance, it's easier to take advantage of offers like Surge, which helps you earn more.