6 minute read
Best Times to Drive in Houston for 6 Delivery Services
Houston offers space travel, big oil, BBQ — and bad traffic. Find out the best times to deliver in Houston to avoid rush hour.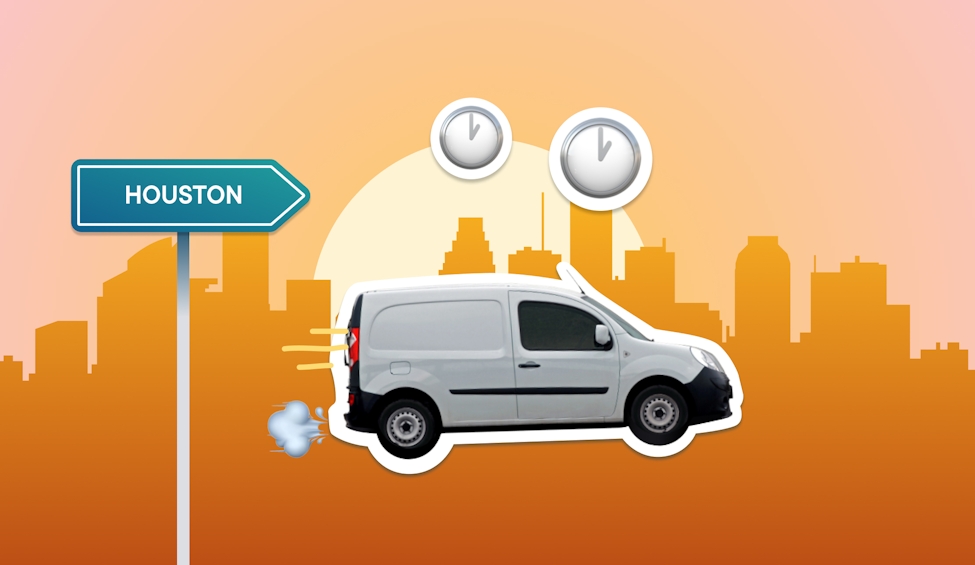 Want to beat the Houston traffic and find the fastest routes to finish your deliveries quickly? Download Circuit Route Planner.
Houston, Texas, is known for a lot of things. 
Oil, for one. The city is home to 4,600 energy firms and even dubs itself the Energy Capital of the World. 
Then, there's the Johnson Space Center right outside the city, which has served as a hub for human space travel for over half a century. 
Did you ever wonder where the phrase "Houston, we have a problem" started? Now you know.
One thing the city is less well known for?
Its horrible traffic. 
In fact, Houston ranks eighth when it comes to cities with the worst traffic congestion in the United States.
If you're a delivery driver in Houston, just reading that might give you a headache! 
Fair enough.
As a delivery driver, understanding Houston traffic patterns can help you get through your routes faster. By avoiding peak traffic hours and the most complicated, crowded routes, you can finish your deliveries faster.
I give some basic insights into the best times to deliver in Houston depending on the type of deliveries you do. 
This article will answer when the best times are to deliver for Amazon, FedEx, and UPS, and teach you everything you need to know about food delivery services like Uber Eats, DoorDash, and Grubhub.
However, first, let's begin with the basics.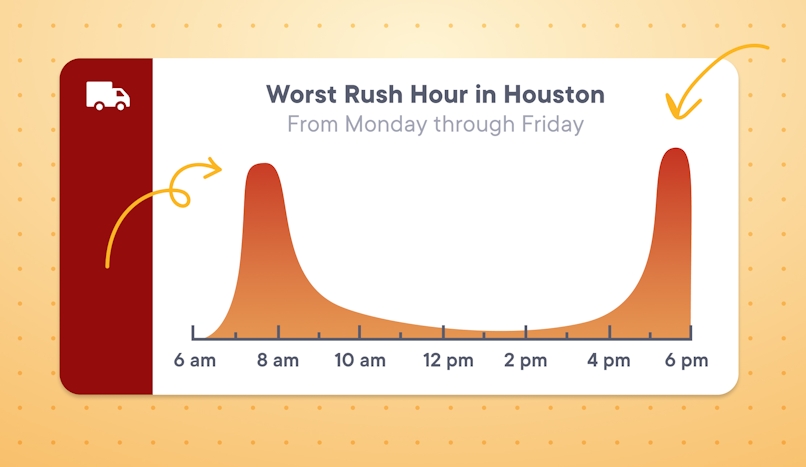 When is traffic the busiest in Houston?
When it comes to Houston traffic, some times are busier than others. 
Houston is a major business hub, thanks to the strong energy and aeronautics industries, so you've got plenty of people driving to and from work Monday to Friday.
Houston TranStar collects data on Houston rush hour and reports that traffic is the worst during weekdays from 7 am to 8 am and 5 pm to 6 pm. 
The evening period tends to have three times the delay of the morning period (making getting home at the end of a long day even harder — argh)!
Houston TranStar also has data on which roadways are the most congested. 
The worst morning route is the IH-45 North Inbound from Beltway 8 to Downtown, which is congested 39 percent of the time from 5 am to noon. 
In the evening, it's the US-59 Southwest Inbound from IH-610 West Loop to Downtown, which is congested 100 percent of the time from noon to 8 pm.
Which days have the busiest traffic in Houston? 
Weekdays are the busiest times for traffic in Houston. 
Traffic isn't as bad on weekends. Why? 
You don't have to compete with all the people rushing to and from work.
That said, you'll still want to steer clear of some areas. 
For example, the stretch of road around the Galleria Mall — Texas's largest mall — between US-59 and IH-10 is a hotspot to avoid when possible. 
People still shop on the weekends, so this applies seven days a week.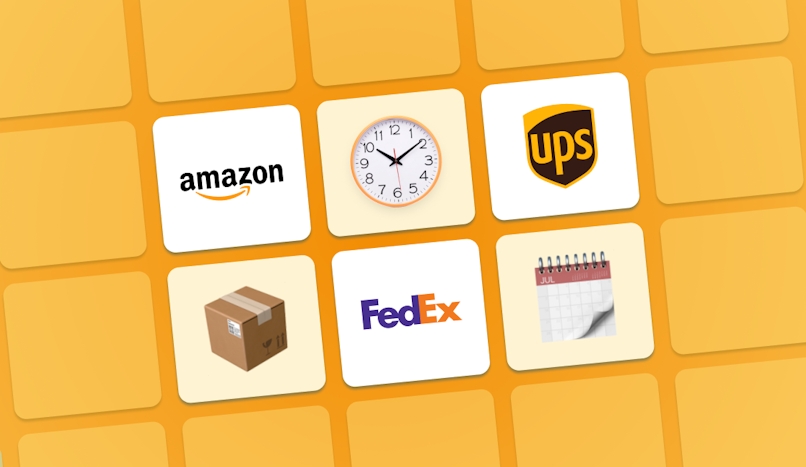 Best times of day for couriers to drive in Houston
The best time of day to work as a driver depends on what kind of delivery hustle you've got going. 
Peak times for food delivery services are different from those for package delivery services, for example. 
Here's how to structure your workdays if you're a package delivery driver in Houston.
Best times for Amazon drivers in Houston 
Amazon is famous for its fast package delivery, offered seven days a week. 
Amazon delivery drivers in Houston handle things like clothing, furniture, sporting goods, and more. 
Amazon drivers in Houston should avoid the busiest hours for traffic, from 7 am to 8 am and 5 pm to 6 pm. 
Pro tip: Pick up a gig job like Amazon Flex to make extra cash and test the waters.
Best times for FedEx drivers in Houston 
FedEx has both Department of Transportation (DOT) and non-DOT drivers in Houston, giving you plenty of delivery job options. 
This means you have your pick of both part- and full-time work. 
Ideally, you'll be able to pick your shifts to avoid peak rush hours and drive between 8 am and 5 pm. 
However, FedEx has some shifts with busy hours (for example, Thursday to Friday, from 12.50 pm to 4.50 pm).
Best times for UPS drivers in Houston 
UPS offers residential delivery seven days per week and business services Monday through Saturday. 
This means that shifts might be slower on Sundays.
If possible, do all your driving between 8 am and 5 pm when the Houston traffic isn't that bad. 
Some UPS shifts include peak hours (for example, from 9 am to 6 pm). 
Also, UPS trucks are large and tricky to maneuver in traffic.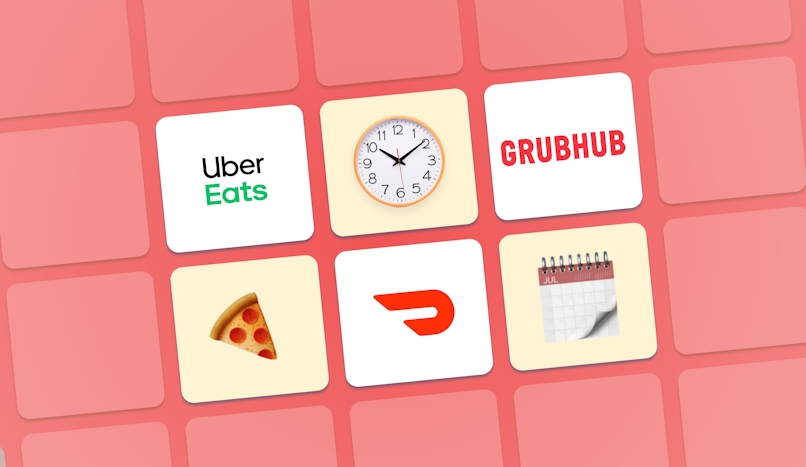 Best times of day for food delivery drivers to work in Houston
Houston restaurants offer something for everyone — Greek gyros, Vietnamese noodles, Cajun fast food, and (of course) delicious Texas BBQ. 
If you're delivering for local food services, read on to learn more about ideal work hours.
Best times for Uber Eats drivers in Houston 
If you're going to drive for Uber Eats in Houston, try to avoid the busiest times of day. 
Cater to the lunch crowd by driving during the middle of the day, skipping the 7 am to 8 am and 5 pm to 6 pm rush hours. 
You can also deliver dinners and still miss peak traffic hours. 
When possible, try to take advantage of incentives like Uber Surge to earn more money.
Best times for DoorDash drivers in Houston 
When driving for DoorDash, avoid Houston rush hours by driving from 8 am to 5 pm or from 6 pm and later. 
Make more money by taking advantage of DoorDash driver incentives. 
With Guaranteed Earnings Incentives, you get a bonus if you complete a set number of deliveries within a specific time frame. 
You can also use Peak Pay incentives, signing up to dash during high-volume dates and times and in busy areas.
Best times for Grubhub drivers in Houston 
Grubhub is a smart bet if you want to up your money as a delivery driver in Houston. 
The platform partners with more than 10,000 restaurants in the city. Compare that to about 770 DoorDash restaurants, for example. 
More restaurants mean more customers (people have a huge range of options to order food, from tacos to deli subs). 
That means more demand for takeout and delivery (and more money for you!).
Try to avoid rush hour (7 am to 8 am and 5 pm to 6 pm).
What's the fastest way to make deliveries in Houston?
No matter what company you're driving for, follow a few best practices to make your Houston deliveries faster. 
Educate yourself about the traffic. Houston TranStar has a great traffic map that's updated regularly with traffic patterns and congestion updates.
Keep up with the city. Events like sports games and festivals can affect traffic patterns. Check a local news station to make sure you know what's happening in Houston.
Get the right gear. Nothing can slow you down like a pair of uncomfortable shoes or having to squint into the sun because you forgot your hat and sunglasses. Invest in comfy driving clothes for your routes.
Try a package finder. You don't want to waste valuable minutes digging through your van or truck to find a package once you've reached a stop. A package finder makes it easy to track packages by scanning them.
Use a route planner. Routing software like Circuit Route Planner links to GPS tools like Google Maps to chart the fastest sequence of delivery stops for you. It considers details like construction zones and traffic jams, so you don't have to worry about planning fast routes that avoid these hurdles.
Why the best drivers use Circuit Route Planner
Working as a delivery driver in Houston can be tough, given that the city has some of the worst traffic in the US. 
However, with the information above, you can try to avoid the worst times of day for driving — and focus on the most productive and lucrative deliveries.
Circuit Route Planner can help you succeed by giving you the fastest routes from point A to point B. The handy app connects to tools like Google Maps to plan delivery routes that consider real-time data (like traffic jams). 
Make your stops faster and less stressful.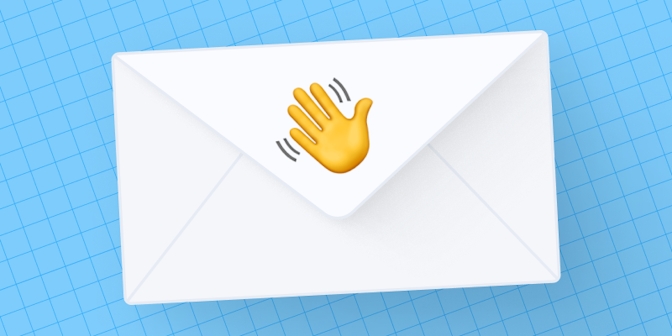 You made it this far!
Chances are you'll love our other stuff too. Get our newsletter for the latest on all things delivery.