6 minute read
7 Ways Automation Improves Last-Mile Delivery
Discover how automation optimizes last-mile delivery for a seamless customer experience, faster delivery times, and cost-effective operations.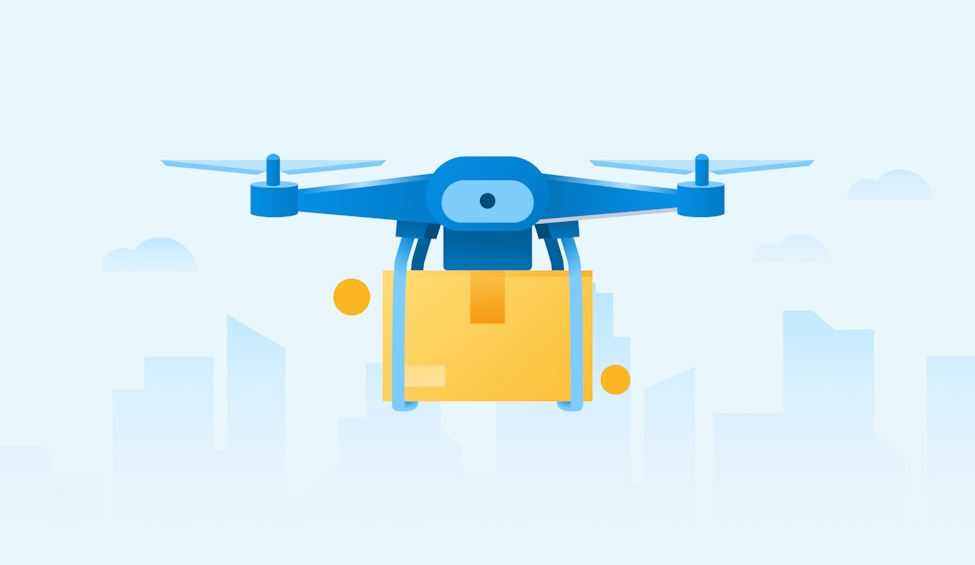 Technology can make our lives easier and free up our time for more important (or more fun) tasks. 
But none of it is possible if you don't know how to use it right. As great as an iPhone is, it's only a really expensive paperweight if you don't know how to make its awesome features work. 
The same is true for automation in last-mile delivery. It can only make a difference for your business if you understand how to leverage it!
Key takeaways
Last-mile delivery is the final stage of the transportation process when a package moves from a transportation hub to its final destination. 
Automation in last-mile delivery helps you meet and exceed customer expectations thanks to real-time delivery updates and package tracking.
Route optimization can lessen your carbon footprint and environmental impact by cutting down the time delivery vehicles spend on the road.
Autonomous delivery and automatic sorting and loading are on the rise, and both can enhance your delivery efficiency and accuracy.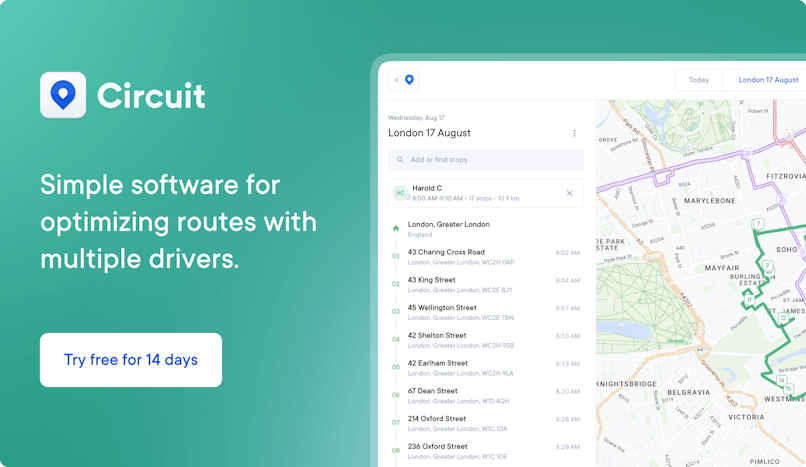 What is last-mile delivery?
Last-mile delivery (or final-mile delivery) is the final step of the supply chain process. It's when a package travels from the nearest transportation hub to its final destination. 
In most cases, last-mile delivery can account for half of the total shipping costs. There are greater customer expectations and more complicated logistics to take into account as well. 
Because nobody likes burning money, companies are often looking for ways to cut their final-mile delivery costs. 
Thankfully, automation makes this possible in several different ways. Let's dig into this next.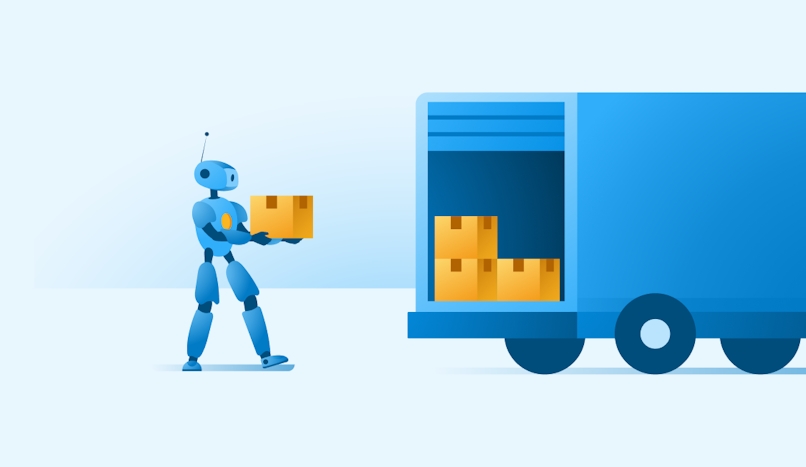 7 last-mile automation technologies and their benefits
We've hyped up automation big time, and you're probably ready to see what we're specifically talking about. 
Let's not waste any more time. Here are seven popular last-mile automation technologies with a brief description of how each one can serve you. 
1. Automated sorting and loading processes 
As shorter parcel delivery times continue to come into higher demand, automated sorting and loading are likely to become even more popular than they already are. 
Automated loading systems let you quickly load and unload packages at your storage facility. Suddenly, delivery operations and workflows become much less time-consuming than before, thanks to this new technology. 
Sometimes, this involves the use of automated guided vehicles. Other times, you'll use conveyor belts or robotic arms to get the job done. Each method streamlines delivery options, helping you process orders faster and limit human errors and package misplacements.  
This increased accuracy can cut down on failed deliveries and keep you from having to work backward later on.
Another benefit of this warehouse automation is that you'll eliminate mundane and repetitive jobs for your workers, freeing them up to work on other jobs and cutting down on manual labor.
Picture a large eCommerce company that processes and ships many orders on a daily basis. 
If they implement automated sorting and loading, they can quickly load packages onto delivery vehicles while properly sorting everything. They can meet customer demands without rushing through the loading process and making stupid errors because they are trying to move too fast. 
As you can see, there's a ton of potential here. You'll definitely want to consider automating your sorting and loading processes.
2. Last-mile visibility 
Last-mile visibility is part of your overall inventory visibility, which lets you know things like when you need to purchase more supplies. But this particular aspect also gives greater transparency to customers and stakeholders throughout the delivery process. 
It refers to the overall visibility and transparency of your whole last-mile delivery process. That includes monitoring and tracking the movement of packages from a distribution center to their final destinations, and related activities such as sorting, dispatching, routing, and delivery confirmation.
Automating your visibility data to update in real time makes the last-mile visibility process easier and less prone to human error, and also improves your inventory management. You'll know when items are still in your possession, when ownership changes hands, and the moment your customers get their items delivered.
3. Real-time parcel tracking 
While last-mile visibility means having a complete, overarching view of the entire last-mile delivery process and its various stages and activities, real-time parcel tracking is specifically about monitoring a package's movement and estimated time of arrival (ETA).
Imagine being able to see where your packages are throughout transit. No more guessing where packages are or when they might arrive. 
Automation technology gives you this advantage. With barcode scanning, GPS tracking, and electronic notifications, automation enables real-time visibility, allowing both you and your customers to track delivery progress in real time.
In the past, a customer who ordered a new pair of shoes to be delivered would get a tracking number that you could enter online. If they were lucky, they might also see when their order left the warehouse and when it arrived at their local distribution center, but that's it.
For any additional information, they might have to reach out to customer support through their delivery app. But real-time parcel tracking is changing the entire game, letting them see where those shoes are throughout their entire journey and even getting automatic updates and ETAs. 
With 88% of consumers feeling that real-time tracking is crucial, you'd better be using it.
4. Real-time delivery updates and ETAs 
Because of the Amazon effect, many customers expect a same-day delivery option and fast order fulfillment. That's probably why the average consumer is obsessed with order tracking.
Even if you're not in a position where you can deliver that quickly, you can keep customers in the loop about when to expect their items. Real-time delivery updates improve the delivery experience and help customers feel valued. 
If any issues come up along the way or if the status of their delivery changes, you can let them know right away rather than leaving them in the dark. 
5. On-demand delivery 
Customers want on-demand delivery so they can choose when their packages are delivered. 
Customers might choose the shortest possible delivery time, or they may have a certain time in mind that's most convenient for them. For example, they may want their delivery to arrive after they're home from work so it doesn't get stolen by a porch pirate. 
At the same time, they can still access real-time notifications and status updates to make sure everything is going according to plan. 
Offering on-demand delivery can help you increase customer satisfaction and loyalty while also gathering valuable insights about customer desires and preferences. 
6. Autonomous delivery 
You might have heard about self-driving, autonomous vehicles and drones delivering packages. This technology is important in the last-mile logistics world because of its efficiency, accuracy, and speed.
These are great to implement if you want more sustainable last-mile delivery logistics because they have a smaller carbon footprint than human-driven delivery vehicles and may even eliminate the need for fuel consumption altogether.
You'll also boost customer satisfaction by consistently meeting or exceeding their expectations with fast, on-time delivery. 
As time goes on, autonomous delivery options should become more cost-effective and, thus, accessible for more delivery services and fulfillment centers (like yours!)
7. Automated route optimization  
Like autonomous delivery, automated route optimization can also limit carbon emissions and support green initiatives. 
The right software can optimize your routes, helping your drivers work more efficiently. When they are driving fewer miles and spending less time on the road, they won't use as much fuel, they'll have less of an environmental impact, and they'll also cost you less labor and resources.
Route optimization software also improves your team's productivity. If your drivers are taking more time to do the same amount of work, that's another way to waste valuable resources.
But armed with the best possible routes (which update in real time), they can get more done with less effort, making you more money in the process.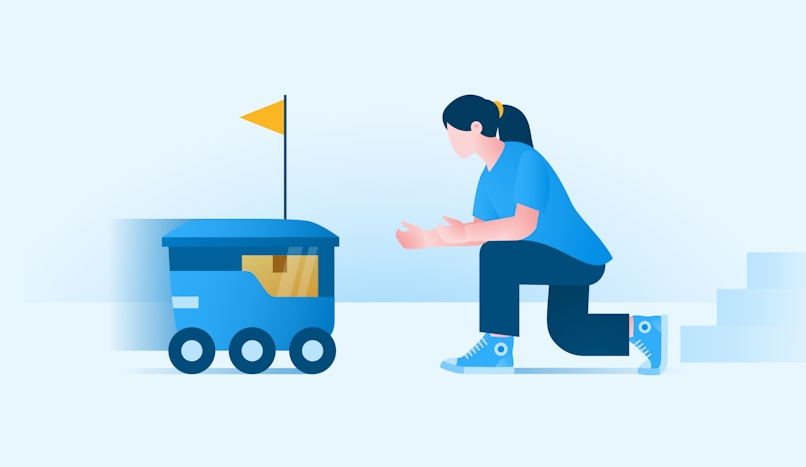 Improve your last-mile delivery with Circuit for Teams' automation features
As you can see, improving your last-mile delivery game by using automation technology offers a ton of business value that shouldn't be overlooked. But in most cases, you'll need the right software to reap those benefits. 
That's where our route optimization software, Circuit for Teams, comes in. It gives you and your customers real-time delivery updates and lets your drivers capture proof of delivery in a snap.
It also automatically optimizes your drivers' delivery routes, reducing wasted time on the road. You can even track your drivers on the road in case you need to see their progress or check in.
On average, Circuit for Teams has saved businesses 20% on their delivery costs. Want to reduce your costs, too, and improve your profitability while you're at it? Try Circuit for Teams today!