9 minute read
How to Start a Courier Business: Advice on Starting up and Managing Deliveries
This post is written to help individuals who want to start working as courier drivers, and those who want to start their own courier business with multiple drivers.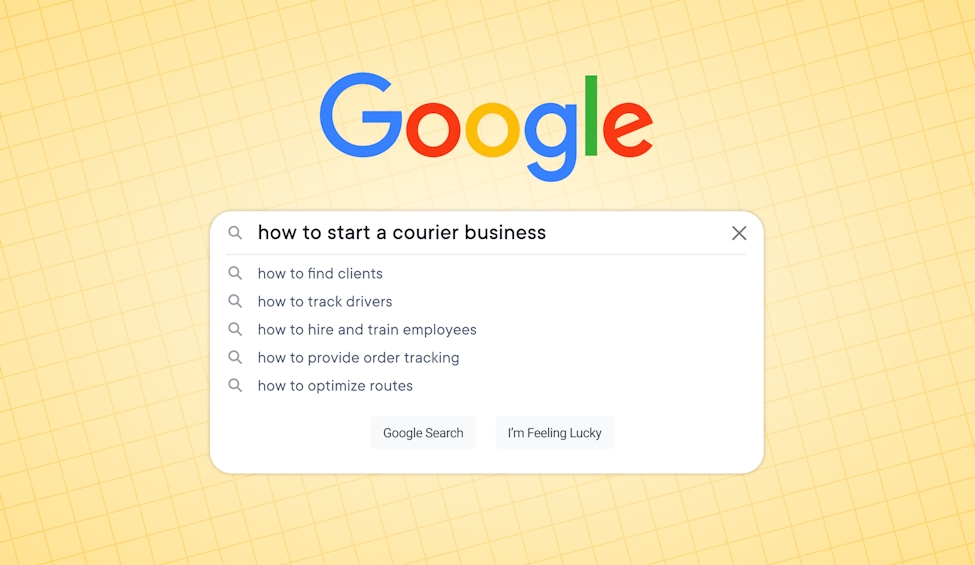 A courier business can be a lucrative venture with relatively low overhead — your biggest expense is often your delivery driver's time (which could be your own), and fees associated with your vehicle, from liability insurance to mileage, to maintenance. Plus, if you're working for yourself, you get to be your own boss.
But knowing where to start — and how to make sure your courier service is profitable — can be tricky. Most of us know of the big names in the courier industry (FedEx, USPS, Amazon, and DHL), but there's a vast market for contractors who want to work as couriers and business owners looking to manage their team of couriers.
Below, we cover:
The basics of starting a courier business, from finding your clients to picking your niche and training your drivers.
Optimizing your last-mile delivery operations, which is how you can set yourself apart from the competition by making sure every delivery you make is on-time and profitable.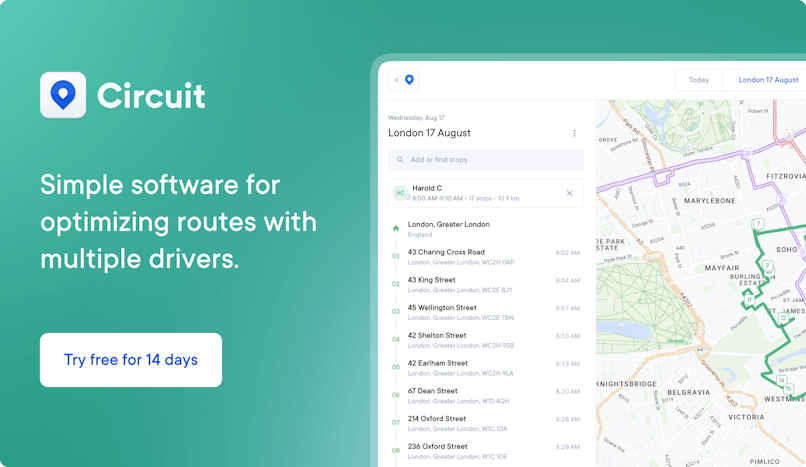 The basics of starting a courier business
Like any new business, starting a courier service business is a significant endeavor, and it'd be difficult (if not impossible) to capture all the nuances of the process (from writing a business plan, to securing a business license, to starting a social media presence) in one post.
But there are several different aspects to starting your new courier business that should be at the forefront of your mind, specifically:
Are you an independent contractor, or are you managing a team of couriers? If you're an independent contractor, are you planning on hiring extra help during the busier holiday seasons? If you're managing a team of drivers and need company vehicles, and have other start-up costs, you might consider applying for a small business loan to help.
What's your niche going to be? Why would someone want to use your services? Another way of wording this is: What makes you a unique option in the market?
How are you going to train your drivers? Even if you're just a contractor of one, it's good to outline a delivery process that you can optimize, so you're constantly improving your delivery time and cutting down on costs and inefficiencies.
Finally, a larger question looms over those three questions: how are you supposed to find clients for your new courier business?
So let's start there.
Growing your courier business's client list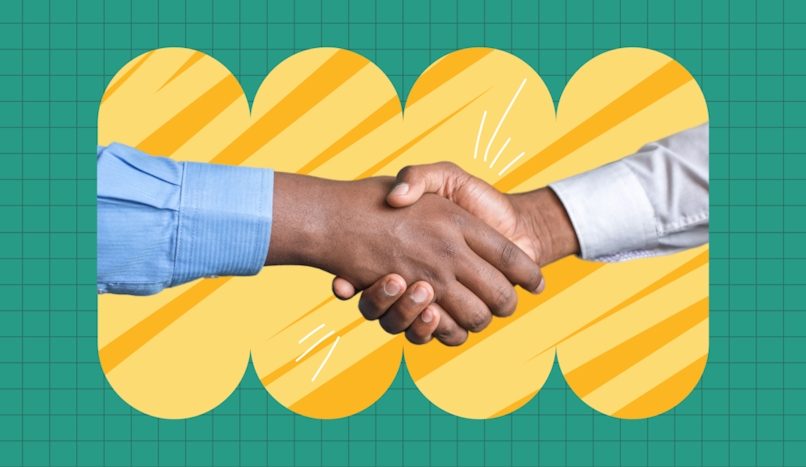 Growing your client list is essential to capturing recurring business, creating a sustainable business model, and making a living as a courier.
If you have a particular niche (which we cover in more detail below), then where you find potential customers will be dictated by your industry.
For example, one of our customers runs a bicycle courier company delivering prescription medication in a major metropolitan city. This means growing their client list involved reaching out to their target market — local pharmacies who wanted to offer delivery services to their customers.
But if you're looking for a more "general" courier business — where you'll deliver various types of packages — then simply think of a product or service that people get delivered.
A good approach is contacting local businesses that already offer delivery services to see if you could offer them a better (or more affordable) solution. This might include:
Restaurants
Breweries
Grocery stores
Pharmacies
Florists
The good news is that the nature of your business — making deliveries from one business to another or to a customer's home — means you will have a limited area to scout (unless the niche you decide on is becoming a courier who goes on long hauls).
There are also online forums and networks that couriers can join. For example:
However, these are going to be very competitive forums because hundreds (if not more) of other couriers are going to bid on the same services.
Independent contractor vs. managing a team of drivers
Are you just a solo independent contractor growing your own courier business, or do you plan on managing one or more drivers?
What changes is the volume of your deliveries, the amount of money you need to charge per delivery to pay your salary and your drivers' salaries, and how much paperwork is required. (If you're hiring out independent contractors, then you need to make sure they're paid in a way that benefits your business during tax season.)
In the U.S., this is often as simple as having them register as an independent contractor and having your accountant send them a 1099 tax form at the end of the year, but there are always new laws in place on what an independent contractor can or cannot do.
Note: If you're in the U.K, you might want to check out "off-payroll working" rules (called IR35).
Finally, if you're managing a team of drivers, the software you need to run your courier business will change. At Circuit, we offer delivery software for both individual drivers and delivery teams.
With Circuit for Teams, we offer the standard features of route planning plus more advanced features such as GPS tracking (so you can monitor your drivers during their routes) and proof of delivery (so you can confirm the package was delivered at the right time and the right place).
Figuring out your niche
Your courier business may have more success if you work at fulfilling one industry's needs. This can help narrow down your business ideas, help you tailor your delivery processes to your client, and make it easier to find new couriers if you one day need to expand operations.
For example, if you want to find work for yourself as a courier, you can start looking at major retailers who may need extra help during their busier days.
Or if you want to deliver medical supplies, then you'll need to have (or get) some level of experience in handling and setting up medical equipment.
Hiring and training your couriers
A quick note: While we're talking about hiring and training drivers, this section will also be helpful for individual couriers who want to run their own one-driver business. We're looking at the best practices as outlined by a seasoned professional delivery driver.
When you're looking for couriers, you can post ads on job boards like Indeed.com, LinkedIn, and Glassdoor. In fact, there are many more out there on the web.
By understanding your niche and planning what kind of delivery service you are, you should be able to write a job ad that brings you in ideal candidates. But here are some general questions to make sure you answer in the job ad:
Does the candidate need to have their own reliable vehicle or will you provide one?
Does the candidate need any special driver's license?
Does the candidate need any non-route driving experience to do the job? (Such as experience setting up medical supply equipment.)
What are the hours?
Does the candidate have to work nights, weekends, and holidays?
What is the average dollar per hour the candidate to expect to make?
If you're just starting out, you may not have concrete answers for each question — but by giving as much detail as possible, your job ad is more likely to bring in the right candidates.
Once you hire your drivers (or once you start your own route) it's time to make sure they become the best driver possible.
In a previous blog post, we spoke to Lisa Davis-Isaacs, a delivery trainer who works with hundreds of couriers, training them to her employer's standards.
She shared her view that rather than technological capability, she's looking for the right mindset. Drivers need to treat their route like it's their own small business. This means doing the basics right — things like dressing appropriately, keeping their vehicle clean, treating the customer's package like it was their own package.
Read this interview for all of Lisa's tips on how to handle new driver training.
How to optimize your delivery operations with Circuit
Circuit started out as a route optimization app, which was used by delivery drivers to create the fastest route possible. Because our routes were quick, and our ETAs accurate, drivers could save money and grow their business by making more deliveries in less time.
After talking with our customers, we saw the need for a fully-featured delivery management platform, which is when we developed Circuit for Teams. Circuit for Teams is ideal for managing multiple drivers, offering more advanced features such as order tracking and proof-of-delivery.
All of our features are aimed at making your courier business more efficient: they cut down on the manual work you'd otherwise need to spend on planning routes and following up with drivers and customers. Let's look at our complete feature list below.
Route optimization
Without route optimization, you will spend a significant amount of time each day planning your routes. And there's no way to know if the route you come up with is actually optimized for speed and efficiency.
When you start using Circuit, you get optimal routes made in seconds, not hours. One of our customers, between planning his routes and driving poorly optimized routes, ended up saving 30+ hours a week in payroll when switching to Circuit.
With Circuit, you can upload in bulk (or manually enter) addresses into our web and mobile app. Uploading a spreadsheet is the quickest way to get your addresses into Circuit.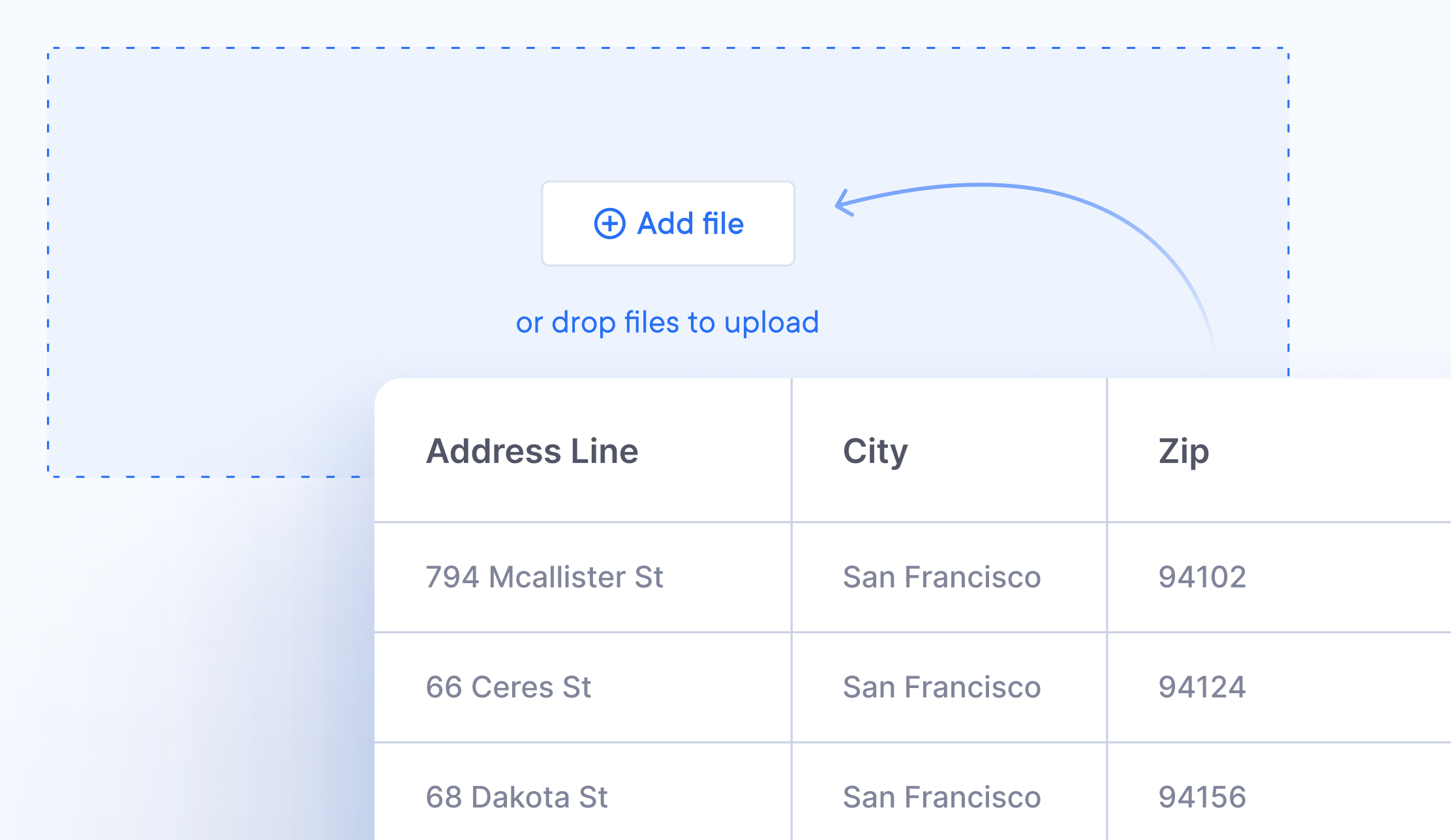 Once your stops are loaded into Circuit, you can also set parameters that let you customize your route towards your needs. This includes:
Setting a priority stop, making one-stop the priority of your route and Circuit will make sure you get there first.
Setting time windows, meaning you set time windows for each stop, in case you need to make certain stops in the morning or later in the evening.
When your routes are created, your couriers can use the free Circuit mobile app to access their route. Circuit works with all major GPS navigational systems, like Google Maps and Waze, which means your drivers can use their favorite app for street-by-street navigation while using Circuit to follow their optimized route.
Route monitoring (driver tracking)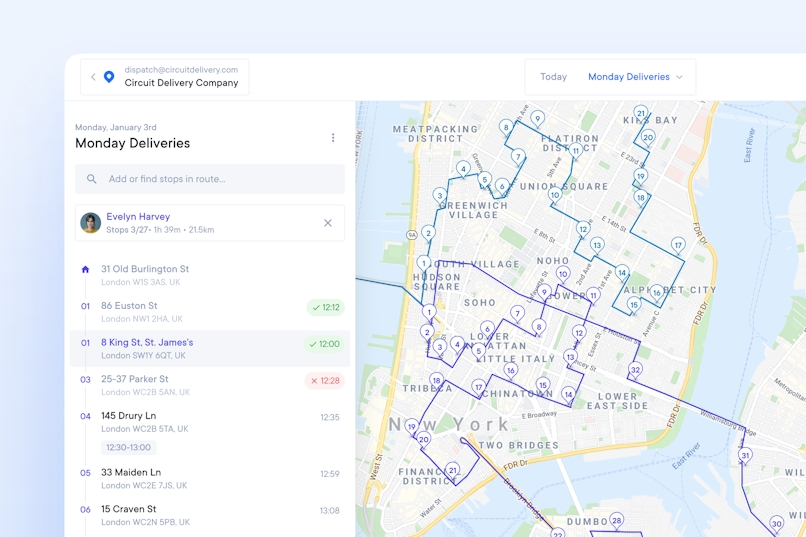 Route monitoring is a must-have for any courier business that is made up of more than one driver. It allows you to watch in real-time as your drivers make progress throughout the day.
And this way, if you need to add a stop to the day's route, you can cross-reference which driver should get the new stop.
Plus, this creates transparency between your drivers and your courier business. This can be incredibly important, depending on the industry. For example, if you're delivering prescription medication, you'll have more peace of mind by being able to see where your drivers are from the moment they left the pharmacy to the moment they made their delivery.
You can also use our route monitoring feature to update customers who ask about their delivery status. But there's an even easier way to update your customers, which we discuss next.
Order tracking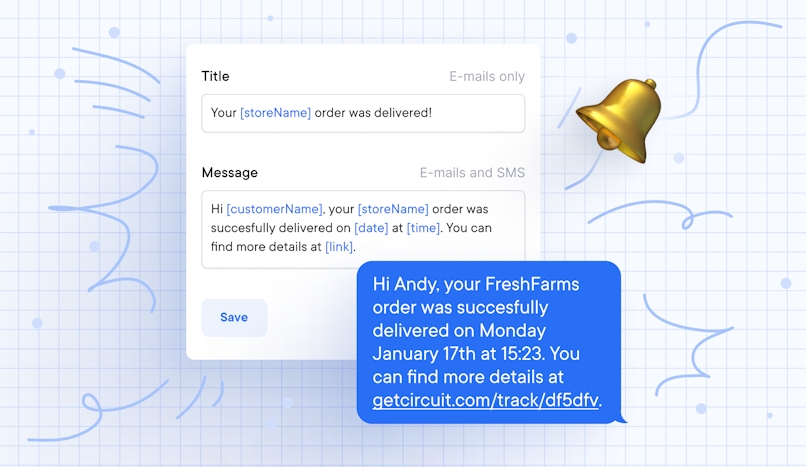 Circuit lets you automatically send tracking updates to your customers throughout the day.
Your customers get their first update when the driver starts the route. Circuit sends out an ETA (based on the optimized route Circuit made) and a link to a route-in-progress dashboard where the customer can look throughout the day for any new updates.
Then your customers get another notification as their driver is closer to making their stop.
By giving your customers this information, they won't have to call your delivery business for an update, which would take time out of your day and wouldn't be the best customer experience.
Proof of delivery (POD)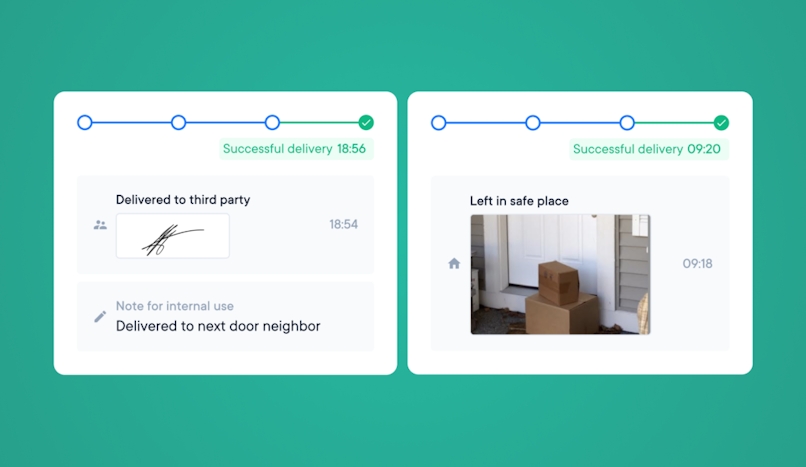 The last part of your last-mile delivery operations is dropping the package off safely and securely at the right location.
With Circuit, your drivers can capture proof of delivery through either a picture of where they left the package or the signature they collect on their mobile phones.
Proof of delivery gives your customers peace of mind, too. Let's say your driver dropped off a package at a customer's house and used our proof of delivery photo capture feature. The customer will get an email notification letting them know their delivery was successfully completed, along with a photo that shows exactly where the driver left their package.
To recap, there are four key parts of optimizing your last-mile delivery processes:
Optimizing your routes
Monitoring routes in progress
Sending order updates to your customer
Capturing proof of delivery
To experience how Circuit can help you easily implement those four key parts into your new courier business, start your free trial today.
Next steps: Getting your courier business up and running
There are a lot of items you need to check off your list when starting your courier business, e.g. figuring out a business name, printing business cards, and getting business insurance. But when it comes to making sure your courier service is profitable and sustainable, you need to focus on optimizing your last-mile delivery operations.
No matter what you're delivering, a successful courier business is defined by getting packages to their final destination quickly and safely, while making enough money to pay everyone involved.
And by using Circuit, courier companies can significantly cut down on the costs of running a delivery business, while making sure their clients (and package recipients) are happy with the service.
To experience how Circuit can help you from the moment you start your courier company, start your free trial of Circuit for Teams today.