10 minute read
How to Make More Money With Uber: Guide to Picking Locations
Get tips on how to make extra money being an Uber driver. Discover how Uber pay and surge pricing work and learn how to up your ride-sharing side hustle.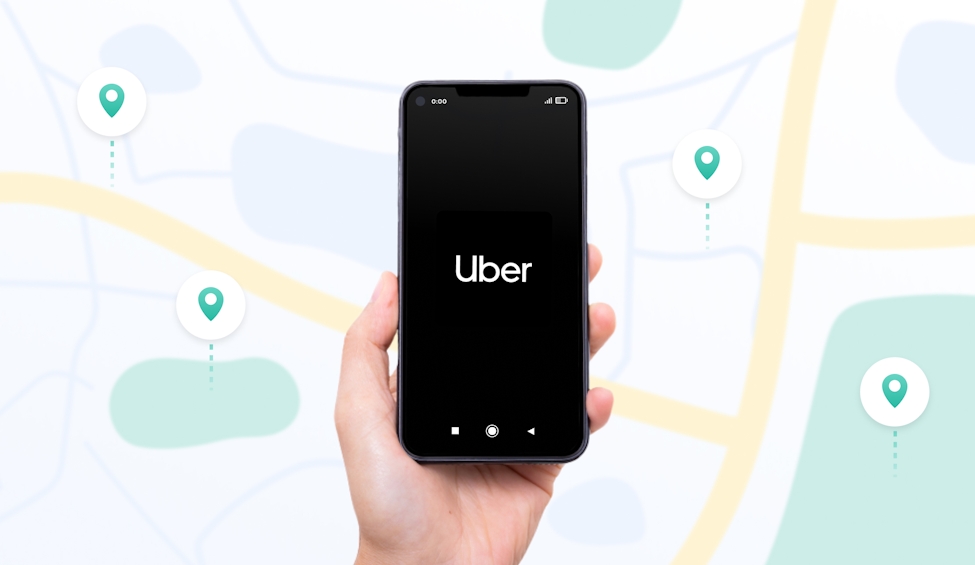 Over 90 million people use the Uber platform, and over 3 million drivers work to serve them.
If you're one of these drivers, you know Uber can be a great way to earn extra money.
As an Uber driver, you're an independent contractor — meaning you can choose your own hours and work as much or as little as you want (nice!).
Basically, you decide if you want to work part time or make it your full-time job. You can be a ride-share driver as a side hustle or go all in and make it your primary source of income.
Independent contractors also have the freedom to take other work opportunities. That means you could supplement your income by being a Lyft driver or a food delivery driver with Uber Eats, DoorDash, or Grubhub.
Ride-share drivers make more than food delivery drivers, on average. And ride-share drivers get to meet a lot of different (sometimes eccentric) people and get to see the best parts of town. 
Uber still takes up the majority of the ride-share market compared to Lyft. This is a good sign for drivers because more passengers mean more rides and more cash.
If ride-share driving is more your jam, you probably want to know how to make more money with Uber.
And that's what I'm here for. 
Whether you're a new driver or an Uber veteran, I go over things that can affect how much you earn as an Uber driver, what you can do to take advantage of busy times and areas, and tips for earning more money.
Let's start with the essentials.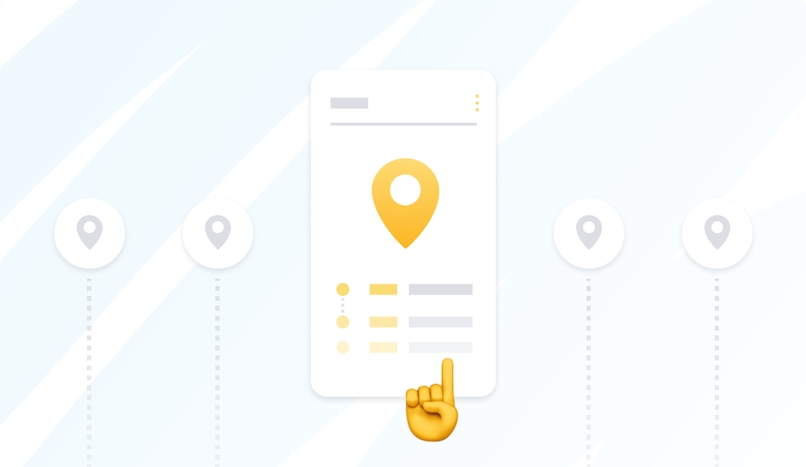 How to pick locations as an Uber driver to earn the most money
Location, location, location.
When and where you work are two important things that can affect how much you make as an Uber driver. (More on the other influencing factors later in this article!)
If you're in the right place at the right time, you can get more dolla dolla bills.
It's time to dive deeper and get into the nitty-gritty, actionable tips that can help give your bank account a boost.
Here's how to pick the right locations and start earning extra cash as an Uber driver.
Use the heat map on the Uber driver app 
You can use the Uber Driver app to see where there's high demand for rides. 
This is especially helpful if you're looking to make more money driving during peak hours.
You can use the heat map in your Uber Driver app to decide where to drive to make the most.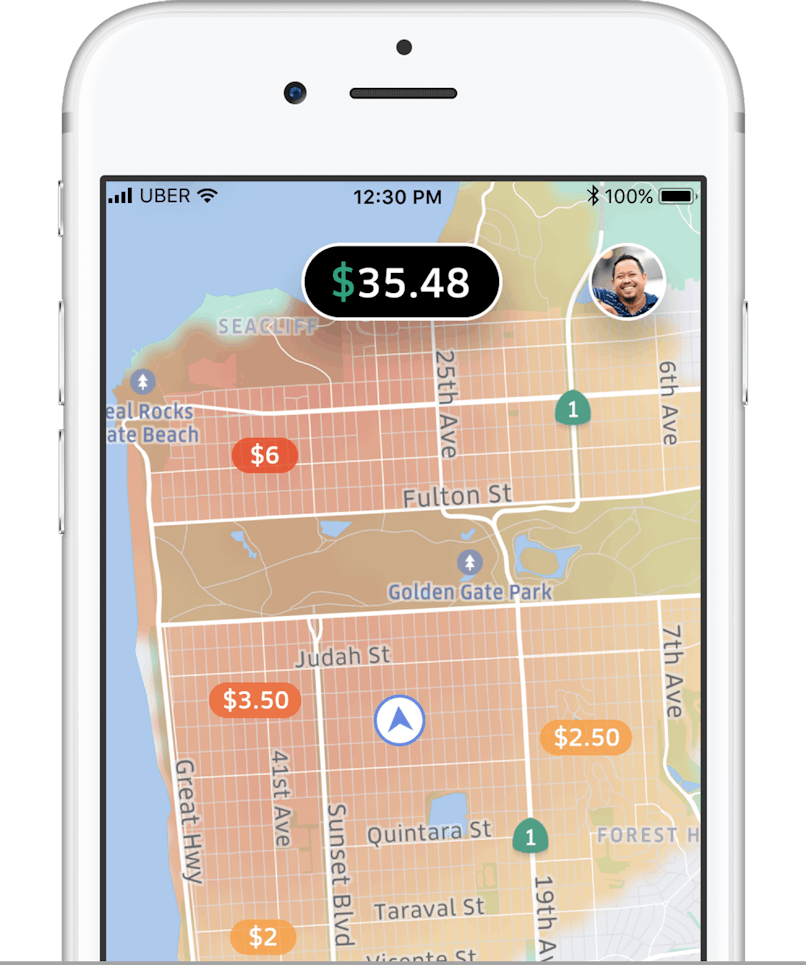 Source: https://www.uber.com/blog/courier-surge-intro/ 
The heat map lets you compare how many people have requested rides in different areas of the city. The warmer the color, the more requests. Here's some basic tips:
Focus on the "hot" areas of the map.
Zoom in and out of the map for surge pricing estimates
Keep in mind the heat map just gives you an idea of where to work and what the surge fare estimates might be.
Check the amount shown at the bottom of your screen for the most accurate and current price surge info.
Be aware of local events 
A good way to make extra income with Uber is to be aware of local events and drive during those times.
There will always be a demand for rides to and from popular events.
People don't want to fight for a parking spot, wait to get out of a crowded parking lot, or pay for parking — and we don't blame them!
They would much rather do a pickup and drop-off with Uber to save time.
Some events that usually have high demand are:
Concerts
Sporting events
Festivals
Shopping sales
Conventions
Be ready near bars or alcohol venues
Bars and nightclubs are always popular locations for Uber drivers. 
People will be looking for rides to and from these places all night long.
If you want to make more money with Uber, it's a good idea to be ready near these venues to give Uber passengers a safe ride home.
Some things to keep in mind when driving near bars or alcohol venues:
People might be rowdy or intoxicated. Keep your cool and don't engage with riders who are being disruptive.
Be prepared to deal with vomit in your car (yuck). It's always a good idea to keep some vomit bags in your car and cleaning supplies in your trunk just in case. Better safe than sorry, I always say.
Park near high foot-traffic areas
Uber driving is all about being in the right place at the right time.
One way to increase your chances of getting a request is to park near high foot-traffic areas.
Some examples of high foot-traffic areas are:
Shopping malls
Airports
Train stations
Convention centers
Hotels
Restaurants
These are just a few ideas to get you started. The key is to think about where people will likely need an Uber ride. 
They may prefer to ride with Uber as opposed to walking, especially when it's hot or rainy.
Consider the time of day
We've talked about how where you work can impact your earnings as an Uber driver, but the time of day can also make a big difference.
As a general rule, ride requests are common during the weekends, evenings, and rush hours in most cities.
Check Uber's Hourly Trends feature in the Driver app to see a chart of when your city will likely be the busiest.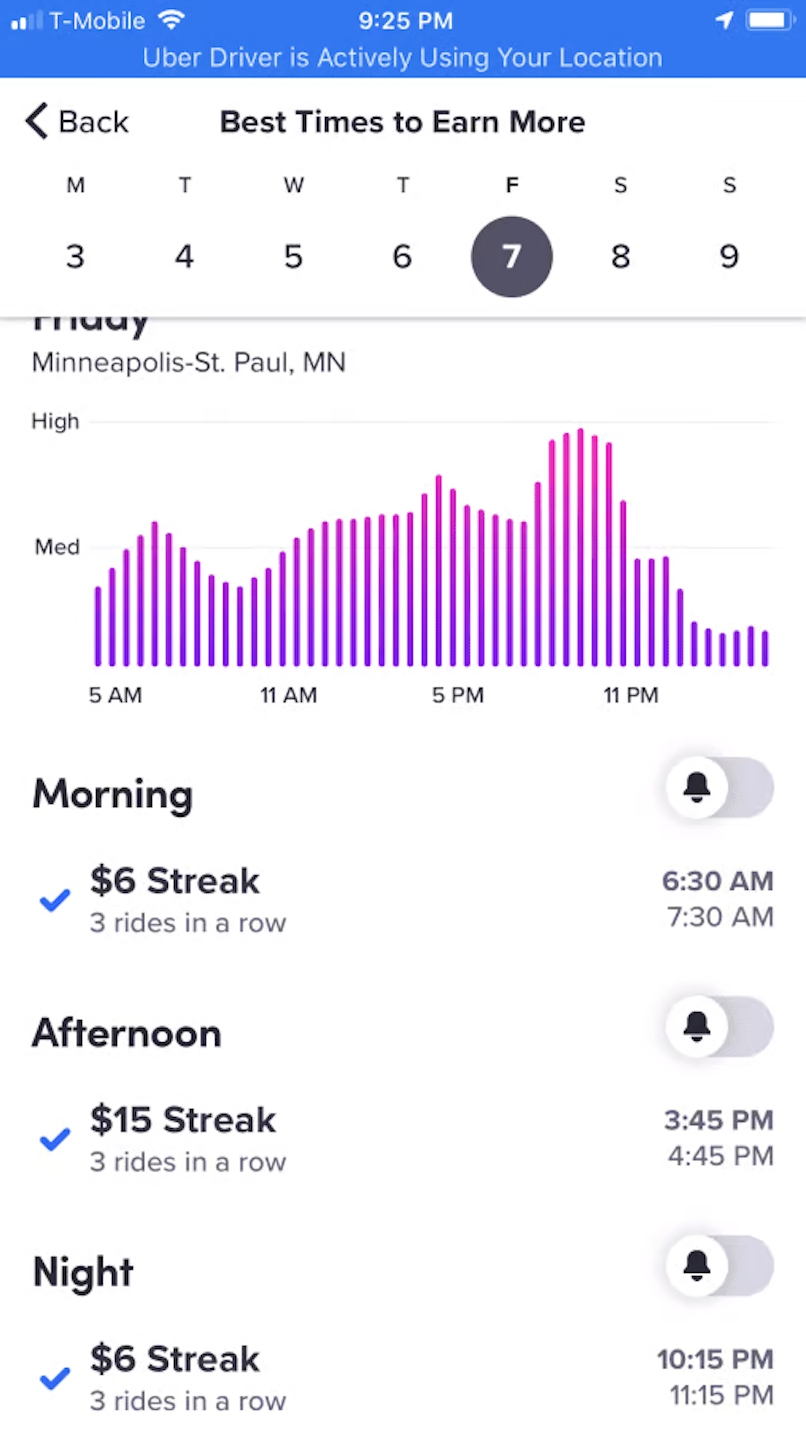 Source: https://www.uberpeople.net/threads/uber-hourly-trends.332188/ 
Tap the arrow icon in the lower-left corner of the app and select "See hourly trends." 
Next, just type in the city name.
You can also set reminders to drive at certain times by tapping "Add to my day" under the chart. Super convenient. 
Factors that can influence your income as an Uber driver
Being a ride-share driver isn't like a normal 9-to-5. 
Which is probably what attracted you to it in the first place!
Remember, you don't get paid a set hourly wage. Instead, you're paid based on the number of rides you give and the fares you earn.
That means a number of factors affect how much Uber drivers make. Here are some of the most important ones.
Trip distance and duration
You're paid based on the distance and duration of each trip. The longer the trip, the more you'll earn. 
And if you're driving in a city with heavy traffic, you may earn more for a shorter trip than a driver in a small town.
The type of Uber you're driving
You'll also earn different amounts depending on the type of Uber you're driving.
For example, UberX is the basic ride-share service. It has a lower fare than Uber Black, which is the luxury service.
But Uber Black drivers make more per mile, per fare, and per minute than UberX drivers.
Keep in mind that driving for a "premier" tier doesn't mean you'll always make more cash. 
If there are fewer Uber passengers, you'll obviously have fewer customers. You may still need economy-level ride-share customers to round out your earnings.
You can also consider driving for food delivery service Uber Eats. 
As an Uber Eats driver, you'll earn money for each delivery you make. And you can do multiple deliveries in one trip to boost your earnings. 
Learn more about becoming a food delivery driver with our helpful guide.
Surge pricing
You should know about surge pricing to make more money with Uber. 
Surge pricing is when Uber raises fares to meet demand.
For example, if it's Saturday night and everyone's going out, there may not be enough drivers to meet the demand. 
Uber will raise fares to incentivize more drivers to get on the road.
As an Uber driver, the app will notify you of surge pricing.
You can use the heat map we talked about above to get an idea of where the surge pricing is and how much it is.
As a driver, you'll earn more money when fares are higher. So, checking the app for surge pricing before you start driving is always a good idea.
Referral rewards
Referral awards allow Uber drivers to earn extra money by referring new drivers to the app. 
If you refer a new driver and they complete a certain number of trips, you'll earn a sign-up bonus — everyone wins!
You can also earn money by referring new riders to the app. 
If a rider uses your referral code when signing up on the passenger app, they'll get a discount on their first ride and you'll earn a bonus when they take their first trip (sweet).
Cancellation fees
Uber charges Uber passengers a cancellation fee if they cancel a ride. This fee goes to the driver.
So, if you do get a cancellation, don't worry. You'll still earn money for your time.
Where you're working
Where you drive will have a big impact on how much you make. 
In general, you'll make more money in large cities like San Francisco, Las Vegas, Los Angeles, and Miami than in small towns.
Check out this Business Insider list showing which cities have the highest average pay for Uber and Lyft drivers.
On average, ride-share drivers in the US made about $17.21 per hour in 2019, but this differed by location.
For example, the San Francisco Bay Area took first place, with drivers earning $23.28 per hour on average. Meanwhile, Tampa came in at an average of $12.71.
That's a big difference and definitely something to consider when trying to figure out how to make more money with Uber.
The hours you work
The idea here is simple: The more you work, the more you earn.
Yes, you can use surge pricing and the tips in this article to help boost your driver pay. 
But the amount of time you work does make a difference.
You can work smarter and not harder by picking the right hours and locations to maximize your take-home pay. But at the end of the day, you need to put in the hours if you want to make extra income.
Promotions and price boosts
Uber often runs promotions to help drivers make more money. 
They may offer a "Boost," which is a guarantee that you'll earn a certain amount of money per hour. These incentives can help you make more while helping Uber meet high demand.
They also run other promotions like Uber Pro. With Uber Pro, you can earn rewards like cash back and higher Uber Pro status by meeting certain requirements. 
Check out the benefits of being an Uber Pro driver.
Tips
As an Uber driver, you'll have the opportunity to earn tips from Uber passengers. 
Riders don't have to tip, but many do. And drivers keep 100% of the tips they earn.
To increase your chances of earning a tip, be on your best behavior — more on this to come!
You can keep track of your tips in the "Earnings" section of the Uber app.
Uber quests and boosts
Uber quests and boosts are features that allow you to make extra money by completing certain tasks.
Uber Boost is an earnings multiplier within certain areas of the map. When you view ride requests in that area, you'll see the boost payout automatically added to your base fare in your upfront payout estimate before accepting the ride.
Uber also has a Boost+ promotion that pays a bonus for each completed trip in a specific area during a certain time frame.
For example, a Boost+ promotion may say, "Earn $2.50 on every trip from 5-7 pm July 4th in San Francisco."
To be eligible for Boost+ promotions, you need to sign up for the Boost+ option in the Uber Driver app. This incentive is offered directly to Uber drivers.
You can see these offers on the homepage of the Uber driver app under "Opportunities."
Uber Quests are another incentive available to boost driver earnings. A quest is a bonus for completing a set number of rides.
For example, "Earn $5 for completing seven rides from 5-7 pm."
You can see available Quests in the "Promotions" area of the app.
Business expenses
As an independent contractor, you're self-employed. This means you're pretty much running your own small business.
Cool, right?
To be successful, you need to treat driving for Uber like a business. This means being efficient, maximizing your Uber pay, and offering great customer service.
It's not just about your net income.
You need to consider your business expenses and the challenges you may face.
For example, car maintenance, gas, car insurance, and other costs can eat into your profits.
(The good news is that we have a few tricks up our sleeve to help you reduce your fuel costs and choose the best driver insurance in 2022.)
You also need to save for your income taxes! 
When you're self-employed, you're responsible for paying your own taxes.
This includes both federal and state taxes.
But don't worry — we won't leave you hanging. Check out our post for more information on filing tax returns in 2022.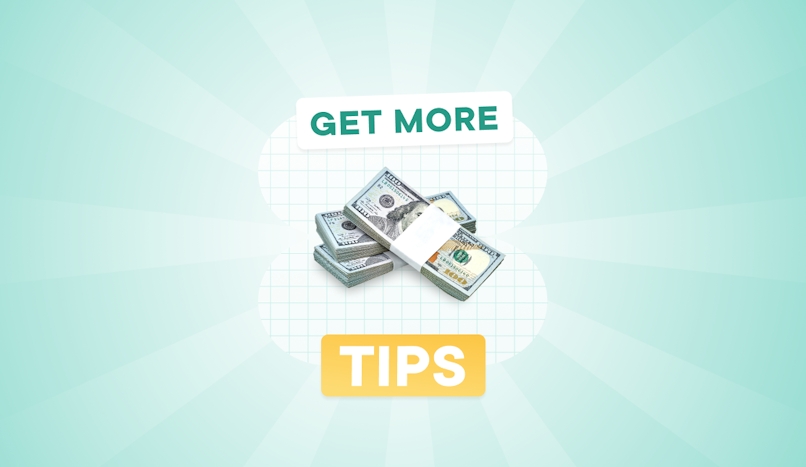 How to maximize tips as an Uber driver
Tips can play a big role in determining how much Uber drivers make.
You can do a few things to increase your chances of getting a tip from an Uber passenger and help them have a positive experience.
Start with a friendly greeting, such as "Good afternoon!" or "Welcome aboard!"
Be professional and courteous throughout the ride.
Make sure your car is clean and presentable. Vehicle maintenance is part of the gig. This includes vacuuming the floors and wiping down all surfaces. Oh, and make sure your car doesn't stink!
If you have a phone charger, make sure it's easily accessible for passengers to use.
Don't blast your music. Play it at a reasonable volume or ask your passengers if they mind if you turn it up. Not everyone wants to jam out to your favorite songs with you. Maybe consider asking them what they'd like to listen to instead.
Consider adding some bottled water and snacks for passengers.
At the end of the ride, thank your passenger for choosing Uber and wish them a great day.
Earn more with Uber today!
Overall, being an Uber driver can be a great way to make extra money. It's flexible, you're your own boss, and there's always demand for rides.
Just remember that it's a business. So, to be successful, you need to treat it like one!
And following the tips in this article is a good start.