18 minute read
How to Buy on eBay for Beginners: The Ultimate Guide
Discover the secrets of how to buy on eBay successfully with our ultimate guide, including tips for winning eBay bids and avoiding scams.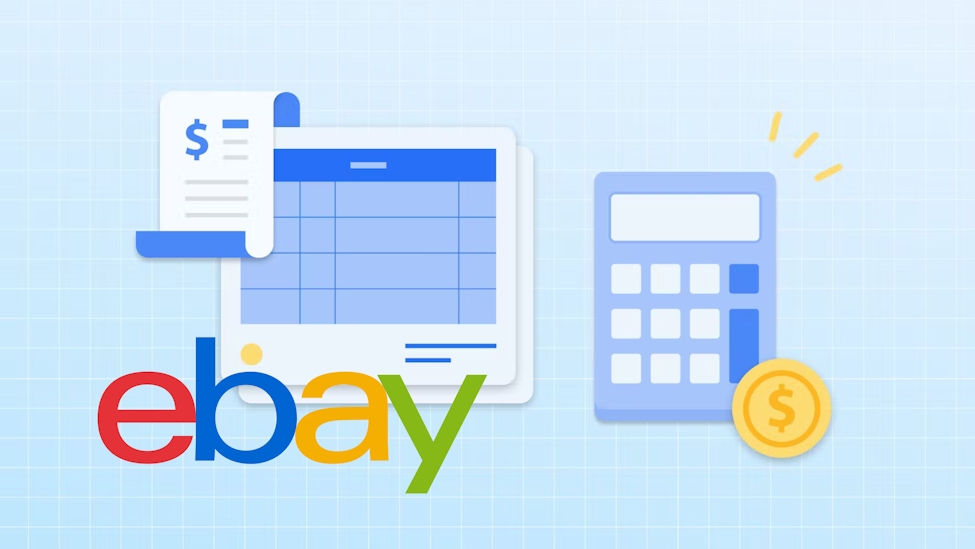 With the boom in online shopping, you may have forgotten about the auction website eBay.
After all, it began way back in 1995 as an online auction and shopping website, and continues to be a great source for online shoppers.
It has expanded from its original auction format, and how to buy on eBay now includes direct purchasing as well as bidding on auction items. 
With big savings available, and increasing popularity, what to buy on eBay includes a wide range of items at a low cost. It's a one-stop shop for almost anything.
But it's not always easy to figure out how to buy on eBay. We're here to help. Let's dig in with this comprehensive guide, geared for every user who wants to shop on eBay.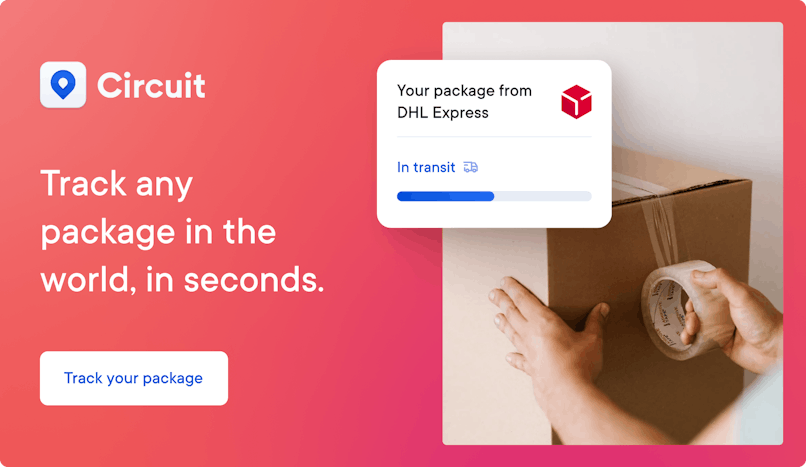 How to buy on eBay
Online shopping is fast and easy, but auctions are a bit different, so learning how to buy on ebay may be somewhat confusing. First, let's understand the difference between eBay and where you may be more used to shopping online.
The wide selection on eBay is one thing that may impress shoppers. With an approximate active number of live listings of more than 1.5 billion, you really can find what you need!
You can shop on the ebay.com marketplace and its localized counterparts, as well as mobile apps. Here's the main way how eBay is different from other online stores—you can choose from several ways to buy:
Bid on an item, the original way how to shop on eBay, where you try to win it for a lower price. Or, you can make an offer of the price you'd like to pay.
Use Buy It Now and pay a fixed price to buy the item immediately.
If you're used to shopping online, you're likely accustomed to buying from a traditional store, and you may be wondering how to shop on eBay.
On eBay, sellers create listings for their items, including the item description, photos, and payment and shipping options.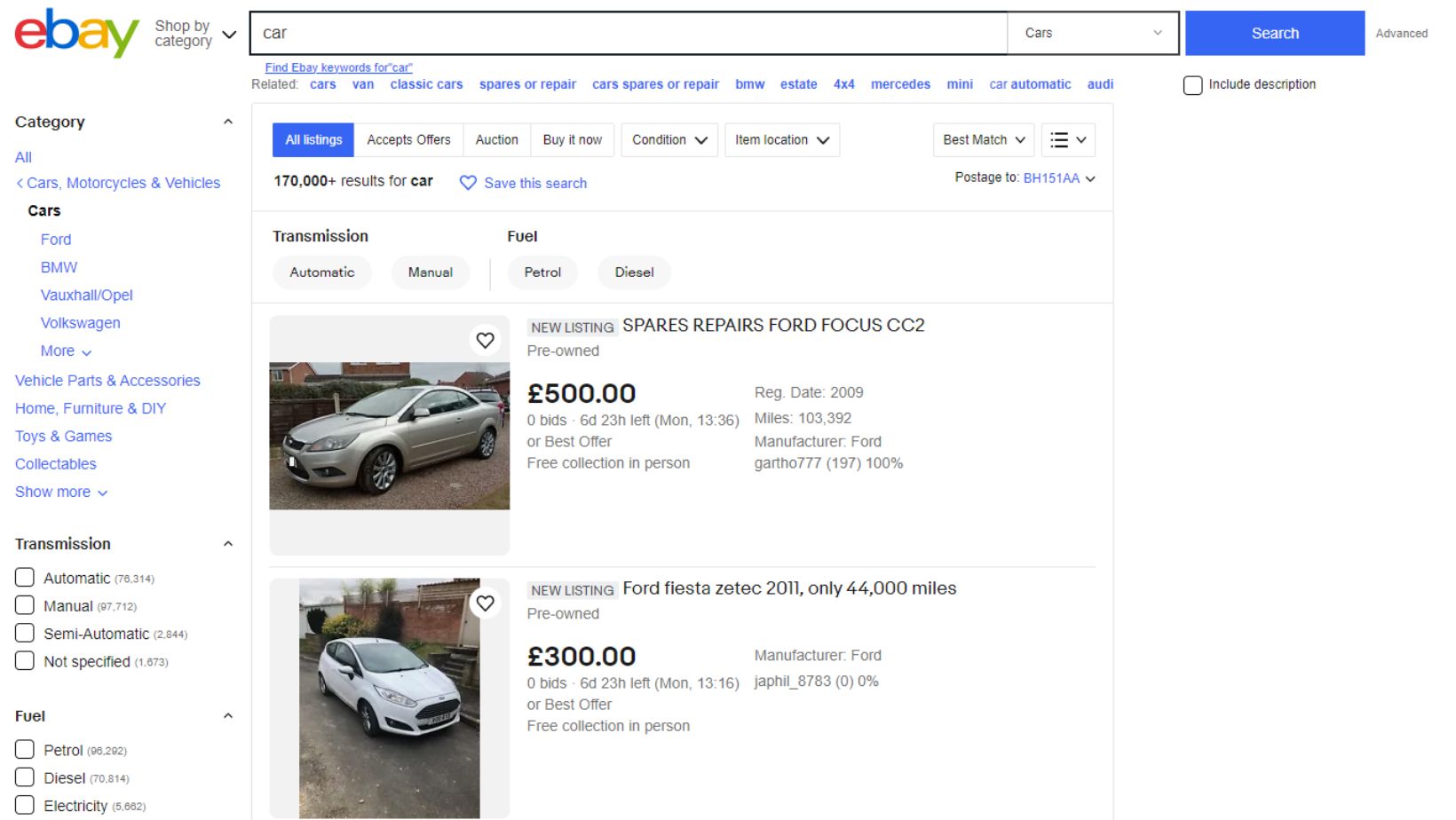 Some listings are auctions where the highest bidder wins the item. Many sellers offer the Buy It Now option which lets you buy the item at the listed price, pay for the item immediately, and get it shipped to your home.
If you choose to bid on an item being sold by auction, you name a starting price and then you bid against other buyers. The Bids/Offers section of your account is where you track your bidding.
The listing has an end date and time, and when the listing ends, the highest bidder wins the auction, wins the item, and pays for it.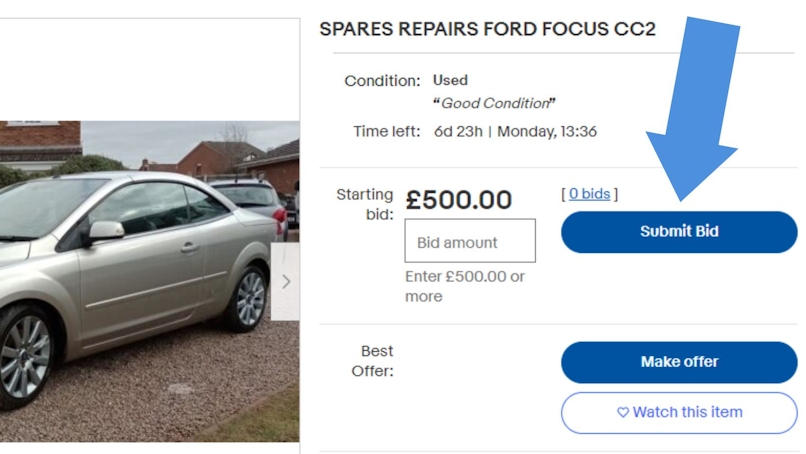 The auction and bidding format is the biggest difference between eBay and a traditional online store. We'll get into the ins and outs of bidding throughout this guide.
Note: If you plan to buy on eBay on a regular basis, the first step is to set up an eBay account—read on for details later in this guide if you would rather shop as a guest.
How to buy on eBay: creating an eBay account
You'll need an email address to set up an eBay account, since part of the process includes receiving a verification email to establish your account. You can also sign up for an eBay account through Facebook, Google, and Apple.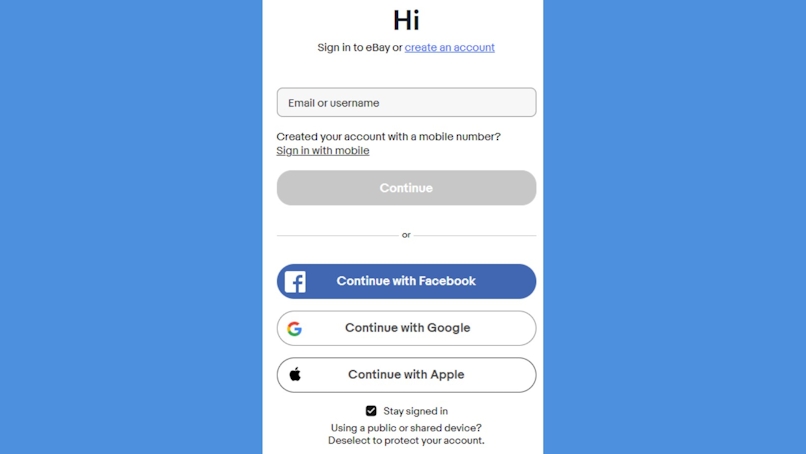 Once your account is set up, you can buy and sell, and eBay give you these other benefits as a member:
access order details, so you can track your buying and selling activity
bid on auction-style listings
watch up to 300 items you're thinking about buying
save your favorite searches and sellers
leave feedback
send messages to other eBay members
use My eBay to manage and track orders
access eBay community resources, such as discussion boards
Once you get an eBay account, be careful of those scam emails we all seem to get. Don't respond to any emails that claim to be from eBay and are asking for password information or other personal data. 
If you plan to sell on eBay, you'll have to register as an individual or a business seller. A business that's selling will need to create a business account on the registration page. 
Once you have an account, you can start buying. When you find an item you want, you can click Buy it Now, you can add it to your cart, or if it's an auction item, you will have to bid on it.
We'll get into more details like how to find a shop on ebay, searching for items on eBay, and winning an auction on eBay, later in this guide.
eBay Auction Rules: dos and don'ts
Bidding on eBay sounds easy but that doesn't mean there aren't rules to follow.
Buyers on eBay must follow the site's rules and policies, many of which were established to provide a fair marketplace as well as follow laws and regulations.
Here are dos:
pay for any item you commit to buying.
bid only if you really intend to buy the item.
Here are don'ts:
have false contact information on your  account. 
bid on your own item.
buy or sell prohibited and restricted items.
offer to buy outside of eBay.
You can also end an auction early—if the seller accepts—by making a best offer. You'll need to find a listing that includes a Make Offer button.
Choose that, then enter your offer and a message to the seller if you want. Select Review offer, then confirm payment and shipping details. Send the offer, and the seller will accept, reject or counter your offer. If it's accepted, you have to buy it.
How to buy on eBay as a guest
You probably think the first step how to buy on eBay is to set up an eBay account. That's true for those who want to have an account—but it's not absolutely necessary.
eBay will expound on the benefits of being a member, but you can shop for most things on eBay without needing an eBay account.
Why would you want to buy as a guest?
You may be one of those shoppers who prefers not to set up an account to buy one item on eBay. Or maybe you have enough accounts and passwords to remember. So instead you want to know how to buy as a guest on eBay.
Here's what you don't get if you choose to buy on eBay as a guest, instead of setting up an account:
You won't be able to use My eBay to keep track of your activity.
You can't message other members.
You can't sell your unwanted items.
You can't bid on an auction item or send a Best Offer to a seller. 
When you buy as a guest on eBay, you can still track your purchases and return items you've bought. To buy as a guest however, the item must cost less than $5000, and it has to be paid using PayPal, credit card, debit card, Apple Pay, or Google Pay.
Remember, you have to buy an item using Buy It Now.
Remember, you have to buy an item using Buy It Now. If you find an item that's up for sale as an auction, you won't be able to bid. You will have to set up an eBay account to bid on an auction or send a Best Offer to a seller.
Start by finding an item you want to buy, either at eBay.com or on the mobile app. Then go to the checkout to finish buying the item. Here are the steps:
Select Buy It Now on the item's sale listing.
Select Check out as Guest.
Fill in your shipping address, email address, and payment information.
Select Confirm and pay.
Check your email, as you get a guest order confirmation email. The subject line will be "Order Confirmed." Since we all get scam emails from time to time, watch for that subject, along with information on your order details within the email. 
It's important that you save this email, as it allows you to view your order details, contact the seller, track your order, or start a return if you need to send your item back. We'll explain how to track your purchase in the section on eBay Tracking.
To return a purchase you made as a guest, you open a return request using that order confirmation email you received.
Here are the steps:
Select View Order Details.
Choose Return Item.
Select your reason for returning the item.
Select Next.
If you like, you can add a message for the seller and add up to 10 photos.
Select Confirm Return.
Once you've purchased something as a guest, you can still register as an eBay member and set up an account. You simply select View Order Details in your guest order confirmation email, and then select Register at the top of the page.
The purchases you made as a guest will be managed separately, but all your future purchases will be kept in your "My eBay" account. However, it is possible to make your purchases easily and safely as a guest, if you choose.
Searching for eBay items: 4 tips
There are a number of ways to search for something specific on eBay. Most pages include a search bar at the top, where you simply type in what you're looking for and hit enter or press the Search button.
Let's say you're searching for new clothes. You could type in "clothes," or refine it by "women's clothes." eBay will bring up the items that best match your search.
Here are 4 other tips for searching for eBay items.
1. Use Filters
Filters are found on the left-hand side of the search results page. 
Here are some examples of how you can search:
By item specifics such as brand, color and size.
By item condition such as new, used, etc.
By buying format, such as auction, Buy It Now, accepts offers, whether the seller accepts returns, and more.
By delivery choices, using the Shipping options filter to select Free Shipping.
By Item Location to find those by US Only, for instance.
2. Use Advanced Search 
Next to the search bar is Advanced Search, and if you select that option, you can be more specific by item, category, or eBay Store. It provides more filters and an option for keywords. Advanced search is helpful for making last-minute offers, using an item number to search, find items near your home address, or search by seller if you've bought from them before. 
3. Use Saved Searches
If you're looking for women's clothes on a regular basis, create saved searches to save time. You simply select Save This Search at the top of the search results page, and then go to saved searches when you want to look back on those you have kept.
4. Use a Watchlist
The Watchlist lets you keep track of hundreds of items that you're interested in, so you can track them without buying them. You don't have to buy them in the future, either, but others can buy them or bid on them.
You simply select Add to Watchlist beneath the buying options on the listing, and then look back by clicking on Watching to see all your items. If you want to get rid of an item, tick the box beside it and select Delete. 
How eBay bidding works
Let's walk through how to buy on eBay by bidding on an item. The seller will name a starting price, and you list a price and bid against other buyers.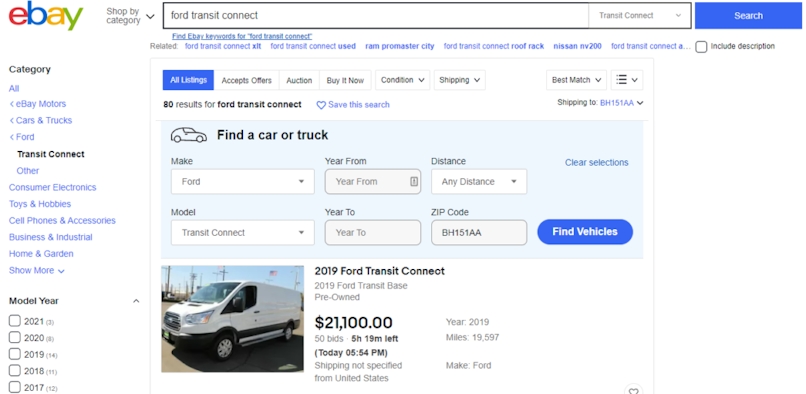 Then you follow this process:
keep track of your bidding from the Bids/Offers section
use automatic bidding to keep ahead of other buyers
retract a bid if you make a mistake
When the listing ends, the highest bidder wins the auction and pays for the item.
If you aren't the winning bidder, you may get a chance to buy the item if the seller provides a Second Chance Offer. Then you can buy the item at the amount you offered in your last bid. The seller may have more of the item in stock, for instance. You can choose to accept the offer and pay for the item, or don't respond and the offer will automatically expire.
6 tips for winning an eBay auction
Since an eBay auction involves multiple bidders competing for an item you want, developing a good bidding strategy will help you win more bids and make the purchase you want. 
First, eBay suggests you research the item you want before making a bid, looking for the one with the lowest price.
First, eBay suggests you research the item you want before making a bid, looking for the one with the lowest price.
If you search using different terms, for instance, you will understand the current market price. You can even search using a misspelled word in your description, since fewer people will find that listing.
Once you find what you want, make a note when the auction ends, and whether you can bid at the last minute. Other people will be looking to make late bids too. Then set a maximum price you're willing to pay, so you can make a quick decision as the auction winds down.
When it comes to bidding, here are 6 tips for winning an auction:
For those items with a Buy It Now option, avoid the stress of an auction and the disappointment of losing by purchasing the item immediately.
Be patient. eBay says there's a better chance you will win the item if you place your highest bid as the auction ends.
Look for a reserve price on the listing. If it's available, then bid up to that amount as early as possible. That discourages other bidders who may be drawn by a low starting price.
Another idea is to bid an uneven amount—instead of a round number like $15.50, use a number like $15.72. According to eBay, "those extra few cents can make all the difference."
Use Automatic Bidding (see below).
Use third-party "sniping" software (see below).
How to buy on eBay: Automatic bidding
Automatic bidding is an option given by eBay.
You enter the highest price you're willing to pay for an item, and eBay looks after your bids, entering bids in increments on your behalf. If someone else bids on the item, eBay places a slightly higher bid on your behalf to keep you in the lead.
In this way, you will stay ahead of other bidders until your maximum amount is reached—but remember that you are obligated to pay for the item when you win it.
eBay will also notify you if someone outbids your maximum price, and you can increase your limit if you want.
You can also keep track of auctions wherever you are by using the eBay app. It will send notifications about auctions and you can even place bids straight from your phone.
Then there's the chance to use a sniping site to increase your chances of winning.
What's sniping?
It's a strategic way how to buy on eBay, in which you wait until the last few seconds of an auction to make a winning bid.
This prevents other bidders from placing a higher bid before the auction ends. While eBay suggests setting up automatic bidding instead, using software to place bids is one way to win by "sniping."
Some of these sites even try to synchronize with eBay servers to increase the chances of winning the item. Remember to make sure that any third-party service is trustworthy before sharing any personal data, like your eBay password.
How to cancel an eBay bid
In your excitement to bid on eBay, you might make a mistake and bid on the wrong item, or enter the wrong amount for a bid. There are certain situations where you can cancel an eBay bid: 
The seller has significantly changed the item's description
You accidentally bid the wrong amount—entering $300 instead of $30, for instance—so you retract the wrong number and enter the correct one.
Timing is also important, as you can retract all your bids if there are 12 hours or more left before the listing ends. If it's less than 12 hours until it ends, you can retract your most recent bid, but only if it's been less than an hour since you placed it.
Here's how to cancel an eBay bid:
Head to the eBay customer service site and search for "retract a bid."
In the article called "Retracting a Bid" there is a blue button that says "Retract a bid."
Click on that blue button. If you haven't signed in to your account, you will be asked to do so on this step.
A page will open with all the items on which you have an active bid.
Click on the bid you want to cancel.
A new page will open.
Select a reason for canceling the bid.
Once your bid is canceled, you should receive a confirmation email. 
If you can't retract your bid, you can contact the seller and ask if they will cancel your bid for you—which is completely at their discretion.
How to buy on eBay: Buying items instantly
If the idea of an auction sounds stressful, then eBay's Buy It Now might be a better option.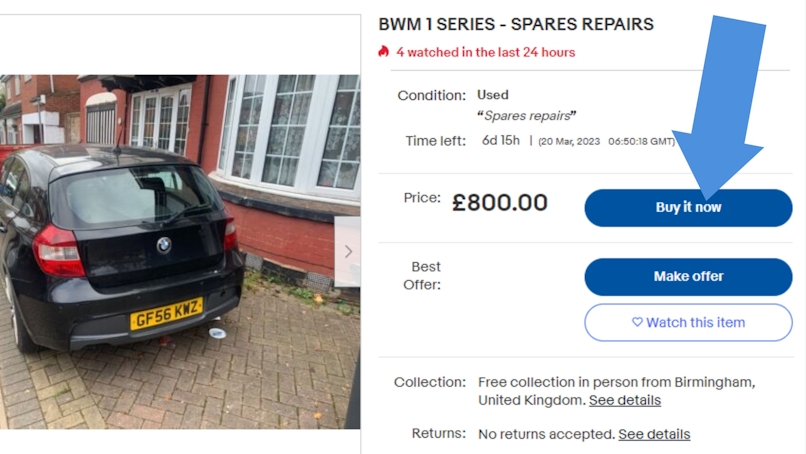 If you're comfortable with the Buy It Now price, then add it to your cart and pay for it. That's because the item goes to the first person to pay, not just the first person to select Buy It Now. If you wait, the item may be gone before you know it.
Pros of Buy It Now:
You don't have to keep updating your bids.
You don't have to use sniping software or eBay's automatic bidding. 
You don't have to track your bids to the last minute. 
Cons of Buy It Now:
The better the deal, the faster it goes.
The seller may give the item to the first person who pays for it.
Some sellers continue to accept bids, so the Buy It Now price may disappear if a bid comes in. 
Buy It Now items may be overpriced.
How to buy from eBay safely
If you're worried about how to buy from eBay safely, the website itself gives a lot of guidance on keeping safe. You can read about that in detail, but here are some helpful tips for avoiding fraud:
Check the reputation of the seller by reading their Feedback Profile prior to making a purchase. Stars in the detailed seller ratings will provide information on the level of service you can expect. Be cautious if they have recently received negative feedback, and look for any feedback on an item like the one you want to buy.
If a deal seems too good to be true, it likely is, so be cautious about under-priced items or expensive items with free delivery.
Be extra cautious with Presale items like event tickets. 
Don't make payments on a method not permitted by eBay; don't agree if a seller requests payment by instant cash transfer via Western Union or MoneyGram, or bank transfer to an eBay bank account.
Always complete your transaction on the eBay site.
Don't conduct business with a seller outside of eBay, as you will have none of the purchase protections eBay offers.
Avoid sellers who approach you via email after a sale or auction offering a "deal."
How to find a shop on eBay
Sometimes you know the name of a seller and want to find the shop, or you have a specific item you want to buy and you want to find a shop on eBay that sells those types of items.
The eBay main page includes a Search function across the top of the screen.
On the right of that is an Advanced button. Once on the advanced search page, there's a Find Stores section that lets you search by store name. You can also search for items in stores.

You can refine your search using these filters:
By item
By seller
By item number
Here's an example of how to use the advanced search function to find a shop to buy a car:
On Advanced Search, click Find Stores.
Enter Cars in the search bar.
You will get a list of stores that includes "cars" in the name.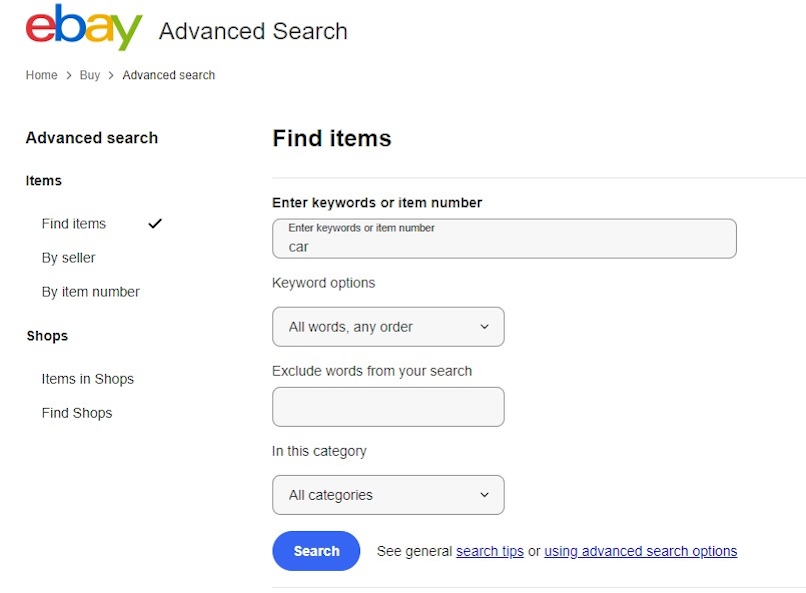 You can also use the advanced search to find a specific car dealer. For instance, click Find Stores, then type the name of the car dealership in the search bar to find the car dealer you're looking for. If you only know the name includes "car dealer," then use that as a search term. 
How to buy on eBay: completing an eBay sale
Once you've won a bid or decided to get an item with Buy It Now, you go to Checkout to complete the purchase. If there are items in your cart, you simply Go To Checkout. From there, you can pay for some or all of your items. 
If you've won an auction, then you select Pay Now in your Purchase History, or go to your confirmation email and select Complete Purchase.
Here's how to pay for an item and complete your order:
Make sure the item shown is the correct one.
Pick the payment method and then enter the information that's requested.
A shipping address is associated with your account, but you can choose Change and send it somewhere else if you want. Select Add a New Address, or eBay will show addresses you have used in the past.
Choose a shipping option.
Use any coupons or discount offers here by entering the redemption code and selecting Apply.
Select Confirm and Pay.
Making the payment 
When it comes to making payment on eBay, you can choose to use a credit or debit card, Apple Pay, Google Pay, or PayPal. Sometimes the payment option varies depending on the item category. 
Typically you will have seen the payment methods within the original item listing. You may also see a choice of payment currency options at checkout, such as USD or GBP.
If you choose to pay in your local currency and it's different from the listing, you will also see an exchange rate as well as the order total. 
If you choose to pay in your local currency and it's different from the listing, you will also see an exchange rate as well as the order total. 
Not everyone likes to use PayPal, so it's helpful to know how to buy on eBay without PayPal.
It's simple, you just choose a different method, such as a credit card, or follow the steps on how to buy on eBay with a debit card. The only issue that could arise is if the card is new and has not been activated.  
Paying with a card does raise some concerns for buyers, such as do eBay sellers see your credit card number?
The answer is no.  When you choose to use a credit or debit card on the checkout page, and you enter your card details, eBay assures buyers that they secure your card and won't share your card details with the seller.
You can also use an eBay gift card, in which you use the redemption code on the gift card to pay for the item.
The code is found on the digital card that arrives by email, or under the security coating on the back of the physical card.
Then you enter the code in the Add Coupons field at the bottom of the checkout page. If there isn't enough credit on the gift card to cover the total cost of an item, you can pay the remaining cost using another payment method.
eBay tracking
When the seller updates tracking information for your item, then once it's shipped, you can follow it all the way to its destination.
If the seller uses a tracked shipping service, you can see the order's current location as well as any relevant carrier information. If there isn't tracking information, you see an expected delivery date for the item.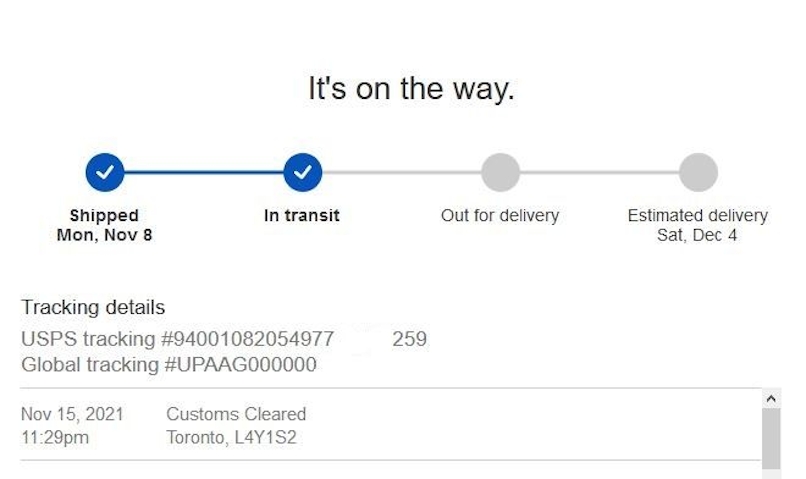 To track the purchase, the customer service page once again has a button on its Track Your Item page. Once you click on it, you will have to sign in to your account. 
Another option is to sign in to your account and click on purchase history.
With a tracked package, you will see the item's tracking number as a link next to the item. If there isn't a tracking number, you will need to contact the seller and ask them to  upload the tracking information.
If you bought your item as a guest, and your seller used a tracked delivery service, you can still track your item until it reaches you.
You'll need that important eBay guest order confirmation email, the one we warned you to save. The subject line is "Order Confirmed." 
In the email, you select View Order Details, and then Show Shipping Details. That will bring up a delivery status bar with the name of the delivery company, a tracking number, and the item's current location.
If that tracking information is not shown, you need to contact the seller on the Order Details page. Select Contact Seller to request them to upload the tracking number so you can follow your package. 
eBay also gives you the assurance that you can contact eBay directly if you can't find your eBay guest order confirmation email, and they will help by providing you with the information you need.
How to buy on eBay FAQs
Here are some frequently asked questions (FAQs) that will help you navigate the buying process and make your eBay experience a success.
Is Amazon or eBay better for buying?
There's no clear answer to this question. Amazon offers a lot of selection—you can buy almost anything—and of course its branding has made it an international powerhouse.
You can also pay extra for Amazon Prime to save on shipping costs and get other benefits like its streaming service.
But eBay will often win over customers with lower fees, the ability to get items at a lower cost if you win an auction, and of course it doesn't raise the questions and concerns that Amazon's ethics sometimes create.  
Is there anything better than eBay? 
When you think about buying and selling items online, eBay will often come to mind, but there are other options for online auction sites. Here are a few others to consider:
eBid.net: It boasts almost 2 million listings in a wide variety of categories, and eBid is fast growing in popularity and as a competitor to eBay. 
iOffer.com: A smaller offering but provides some interesting features like the ability to transfer listings and feedback from eBay. There's also a "wanted" section where you can post what you're looking for.
Etsy.com: This one is dedicated to handmade or hand designed items, so it's a little more specific, but still popular. Part of its appeal is the ability to search with a lot of different filters, like by color or proximity. 
How to buy on eBay conclusion
eBay is a fantastic online marketplace for those looking to save money on their purchases. With its wide range of products and competitive prices, it's a great place to shop.
By following our beginner's guide on how to buy on eBay, you'll be able to navigate the platform with ease and find the products you're looking for. Don't be intimidated by the site's many options; with a little bit of practice, you'll be an eBay pro in no time. Happy shopping!