8 minute read
How to Do Your Route Management Smarter Right Now
Successful route management is the aim for any business with a team of drivers out delivering goods. Here, we tell you how you can manage your routes smarter.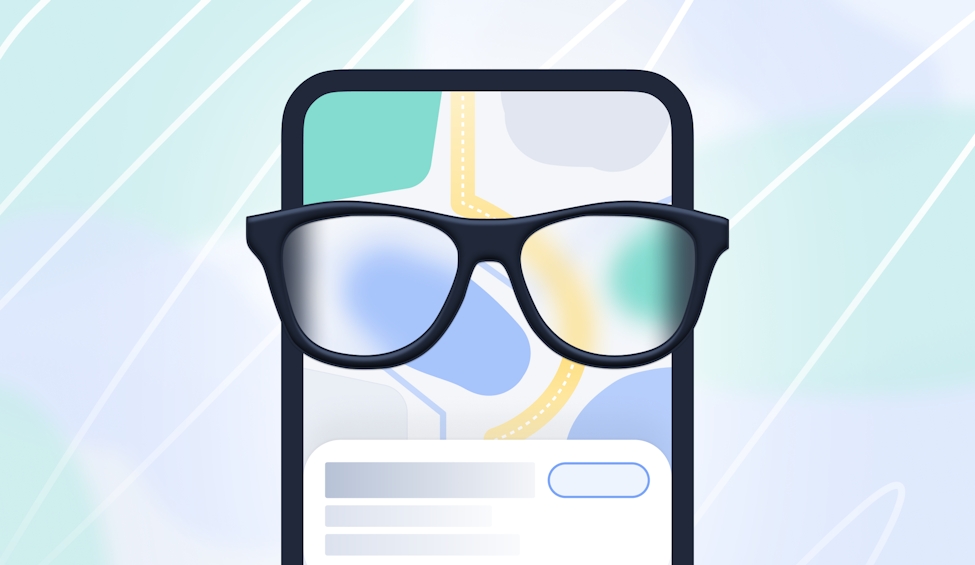 Successful route management is the aim for any business with a team of drivers out delivering goods, or giving field services various locations.
If you manage your driver teams' routes as effectively as possible, you'll save time, reduce fuel costs, increase efficiency, and ultimately improve your delivery service's bottom line.
At first glance, route management might seem to be exclusively focused on covering routes with multiple stops in the shortest mileage and time (route optimization) but it actually includes planning ahead with a number of other variables in mind, including:
Cross-fleet efficiency (optimizing multi-vehicle routes)
Driver availability and geographical requirements
Vehicle capacity and loading
Delays and delivery windows
Preventing re-deliveries and mis-deliveries
Smooth customer communication
In this post, we'll look at how each of these factors affects your driver team's efficiency. And we'll explain how to improve your day-to-day processes to make route management more effective and maintain profitability. We'll also focus on how route management software, and specifically Circuit for Teams, can help you get your route management right.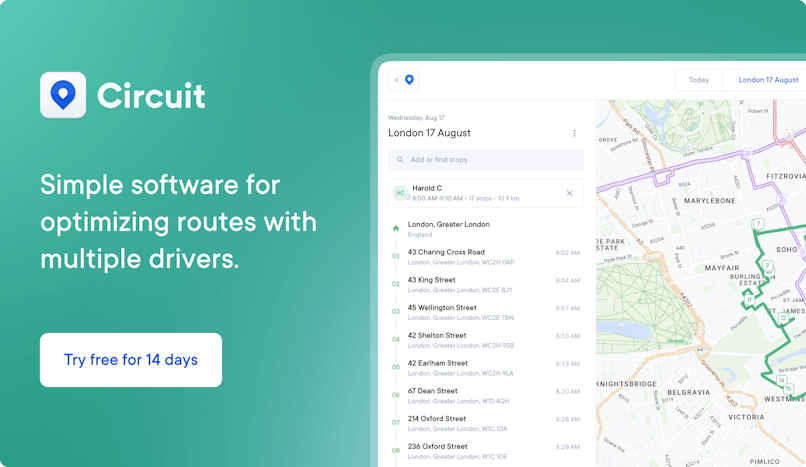 1. Guaranteeing Cross-fleet Efficiency
Route optimization for a single driver can be relatively simple, but trying to calculate multi-stop routes for an entire team of drivers is far more complex. To design the most efficient routes for your team, you need to consider at least the following factors:
The number of vehicles you're using on a given day
The drop-off locations for your packages
Potential changes in traffic at different times of day
Priority deliveries and time windows
If you try to do this manually, it quickly gets complicated and time-consuming. You lose all of the potential time and stress benefits of doing route optimization at the route planning stage.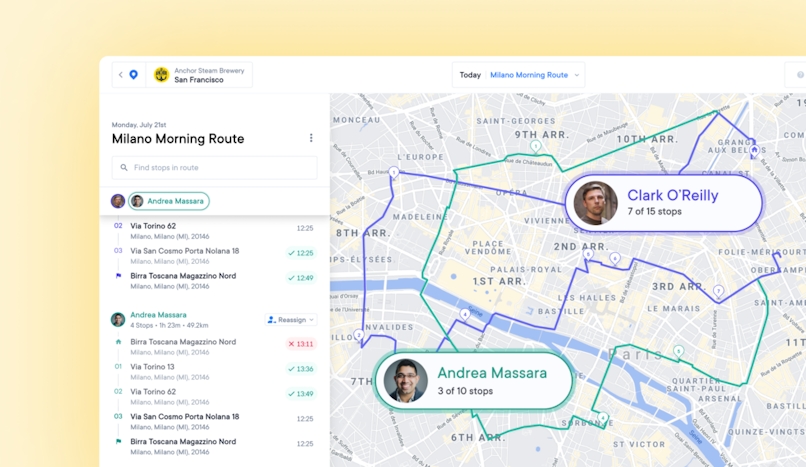 This is where route optimization software comes in, because it automatically calculates the most efficient routes for a whole team of drivers, and the best route management tools also ensure that routes are efficient across your entire fleet.
Circuit for Teams automatically calculates the most efficient delivery routes, with your entire fleet in mind, by allowing you to set how many drivers and vehicles you have available for deliveries to the addresses you are inputting. The software then optimizes routes that make sense for your entire fleet operation taking into account all the variables we mentioned above.
For more info on how you can improve your fleet management by using our software solution to create multi-stop routes for drivers, see: How to Solve Your Vehicle Routing Problem (Without a Degree in Applied Mathematics)

2. Managing Driver Availability and Geographical Requirements
Taking into account when your drivers are available — which shifts they are working, when they have days off, what time they clock off — is a key part of efficient route management.
If you have multiple pick-up locations (more than one warehouse, for example) where routes can begin, or need drivers to end their route at a specific location (at headquarters, or their own home address) these are also additional considerations for getting route planning right.
When you use Circuit, you can assign each calculated route to a specific driver and then make changes to that route according to the driver's availability. As you can see in the image below, you can set their start or end time, along with specifying their start and end location.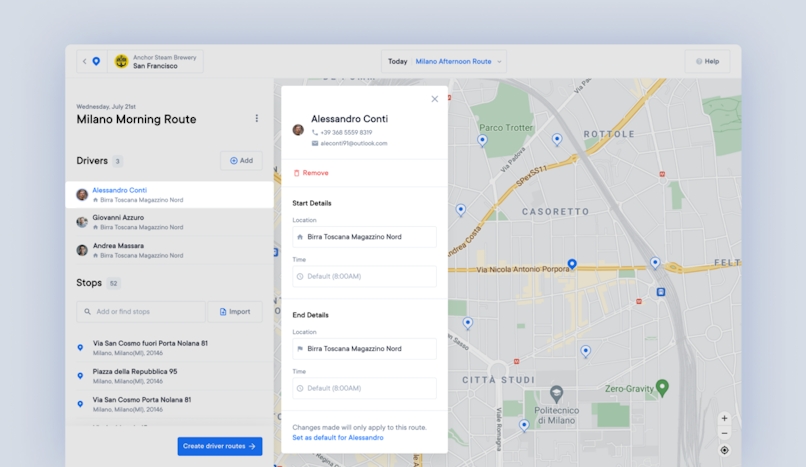 The route can also be changed throughout the day depending on any additional customer orders that come in. If a driver needs to end their day early but still has unfinished deliveries, Circuit for Teams also lets you assign those stops to another driver.
All of these route changes are automatically updated in the driver's mobile app, so drivers have all the real-time information they need about their route at their fingertips. The route's driving instructions are also updated to include new stops and drivers just continue to follow the route shown on their favorite maps app (Google Maps, Waze, Apple Maps, and more…).
3. Optimizing Vehicle Capacity, Vehicle Utilization, and Loading
Route planning software, along with creating the most efficient delivery routes possible, also provides estimates about total drive times. This gives drivers the chance to add extra stops to their route if they have enough vehicle capacity and/or time left over in their shift.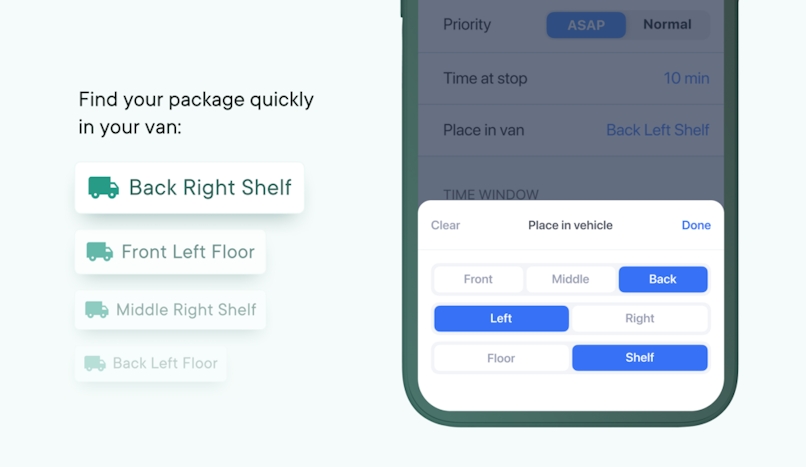 This improves operational efficiency, and will increase revenues over time by making the most effective use of the resources you have available — the drivers and their vehicles.
Circuit for Teams calculates the total route times as soon as it generates a new route. As well as giving you the knowledge in advance of when they're likely to finish their route, it also means couriers are able to load their vehicles in the smartest order. This further reduces the time they spend at each stop because they spend fewer minutes hunting for the right package.
How One Courier Uses Circuit to Load His Truck (and Deliver More Packages)
Since he started using Circuit for route management, courier Sagar Khatri has saved enough time to double the number of deliveries he makes in a day.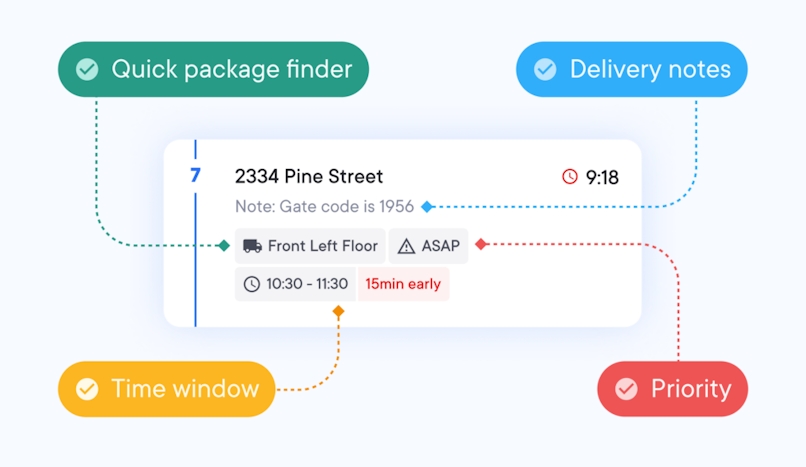 Before he started using Circuit, the biggest drain on Sagar's time was looking through his vehicle to find the right package. Now, he loads his truck based on his advance route planning and the order of the stops that Circuit calculates. He can also note in the app's Pack Finder field exactly where a package is located in the truck, as shown in the image above.
When loading a parcel address into Circuit Sagar also adds a note about what the package looks like, so he can refer to it to make the package even easier to find when he arrives at that stop.
Circuit also tells Sagar how long the whole route will take, and before he sets out, he can add more parcels to his vehicle. He estimates that he can now make around 50 deliveries in 4 hours, compared to the same number of deliveries taking closer to 8 hours before he used Circuit.
Note: Sagar is using the Circuit Route Planner app, which is designed for individual drivers. If you have multiple drivers in your team, you can experience the same benefits (and much more, including customer notifications and proof of delivery) with Circuit for Teams.
4. Juggling Delays and Delivery Windows
Knowing how to avoid potential delays (due to traffic or other incidents) and making alternative plans for when these problems occur is a vital part of good route management. Put simply: efficient route planning doesn't stop when your drivers leave HQ.
But it's difficult to factor in unforeseen events that slow deliveries down. And if you design your routes manually, recalculating routes on the fly is a logistical nightmare. In fact, it's impossible. When you have specific delivery windows in the mix for certain packages (for example, when you're delivering some express orders) things get even more messy.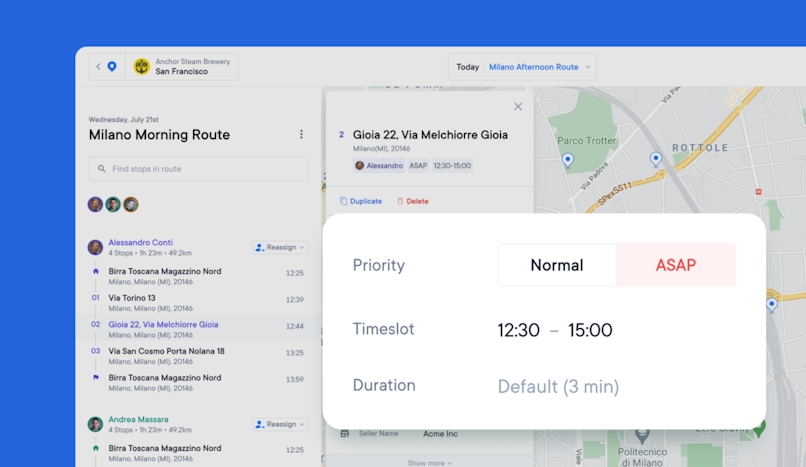 The Circuit algorithm recalculates routes in real-time as traffic conditions change. And it automatically updates driving instructions in the drivers' mobile app. Drivers can concentrate on completing their deliveries without having to figure out the best route to avoid traffic jams.
The delivery time window feature in Circuit for Teams prioritizes specific deliveries and includes them in each delivery route based on the time window you set. You can even add a priority delivery after the route has already started, and Circuit will automatically recalculate delivery times and update all the ETAs for the rest of the route.
5. Preventing Re-deliveries and Mis-deliveries
Anything you can do to avoid redelivering packages, delivering to the wrong location, or having items go missing, will improve the efficiency of your delivery operations.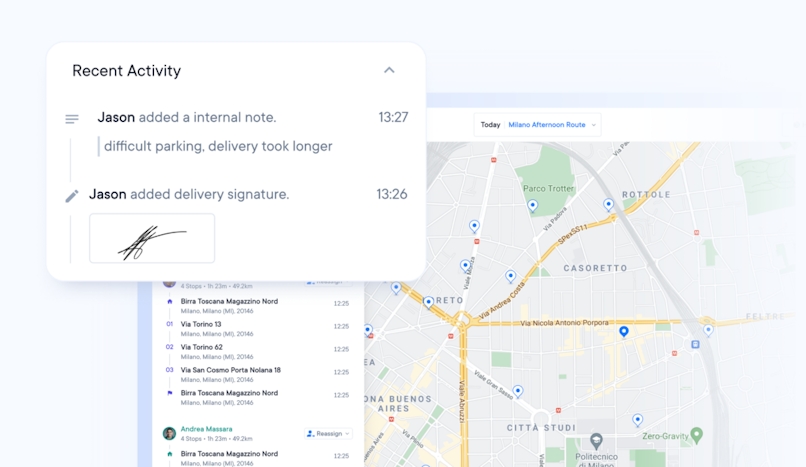 Re-deliveries lead to more time and money being spent on the same delivery, for no extra income. And mis-deliveries mean you have to track down the package, replace it if it's gone missing, and deliver the new item again. It's all costly and time-consuming, eating into profits.
You can avoid this when you use Circuit for Teams, because:
Once you've calculated optimized routes, drivers receive accurate driving instructions for every stop, along with estimated ETAs for each of them. This alone prevents drivers from arriving at the wrong destination or leaving packages at the wrong address.
Customers get accurate ETA notifications for their delivery, which means they're more likely to be home to receive the package when your driver arrives.
Drivers are equipped with electronic proof of delivery tools, including e-signature and photo capture, which provide a record of successful deliveries. These give couriers the option of leaving the package in a safe place, taking a photo of where it's been left, and notifying the recipient with the photo attached. Customers can then easily track down their package once they return home.
6. Smooth Customer Communication
An efficient route management system will also keep your customers in the loop. If you can let recipients know where their package is, you'll spend less time fielding calls and fixing complaints. You can focus on keeping the delivery operation running smoothly.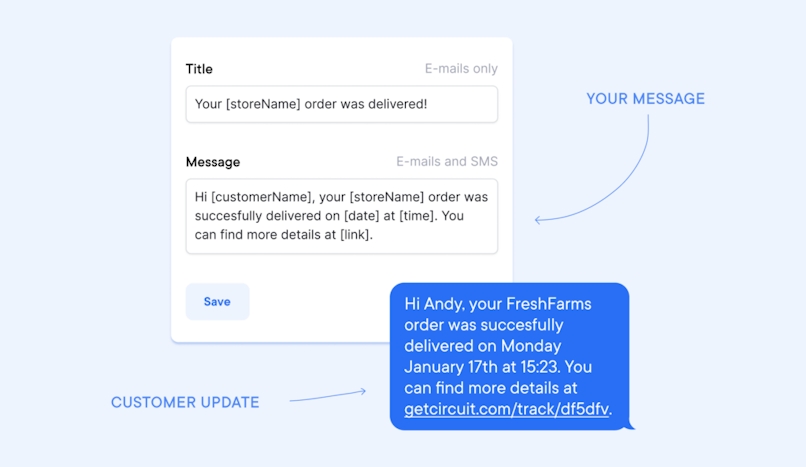 Circuit for Teams frees you up by sending out automated customer notifications. When a delivery gets delayed, for example, Circuit for Teams sends the customer a new ETA notification. Because customers know when their package is due to arrive, they can be at home to receive it.
Recipient notifications are sent out by SMS and/or email, giving customers accurate status updates on their deliveries. These automated notifications boost customer satisfaction, and reduce the number of testing interactions you have over the phone.
Next Steps: Master Your Route Management with Circuit for Teams
Circuit for Teams gives you the tools you need to master your route management, and you can feel the benefits immediately by starting your free trial. You'll soon see how you can:
Improve your fleet operations and make more deliveries
Avoid calculating the complex variables in route management
Manage multiple drivers quickly, easily, and cost-effectively
Increase your profit margins and reduce your overheads
Boost your customer satisfaction levels