5 minute read
Searching for Route Dispatch Software? Before You Buy, Here's What to Consider
Looking for delivery dispatch software? We'll explore in-demand features like route-progress monitoring, data integration, and recipient parcel tracking.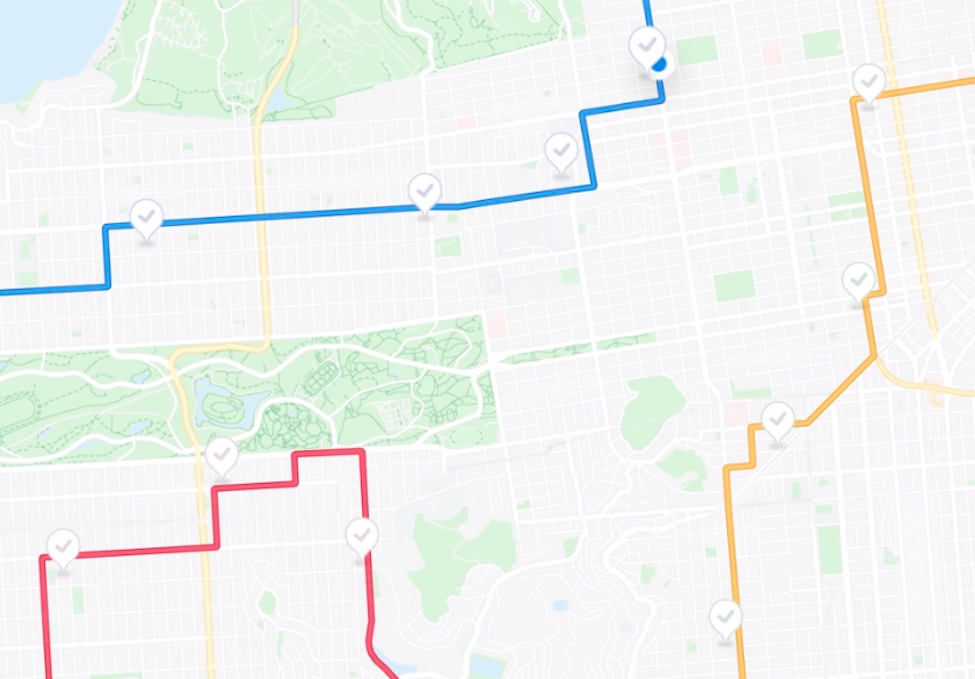 Your courier company likely has a variety of back-office tools at your disposal. If you don't have it already, route dispatch software is worth adding to your stack. The right choice can prevent minor hiccups from turning into major hassles.
In this piece, we'll explain why route-progress monitoring, data integration, and recipient parcel tracking are must-have features. We'll also share why user experience, trial offers, testimonials, and time saved are deciding factors for most courier companies.
Want a robust delivery dispatch tool with the best route planning around? Try a free trial of Circuit for Teams.
Must-have features in route dispatch software
When purchasing route dispatch software, there are needs, and there are wants. The difference between the two can often be blurry. Below, we've distinguished three features that are must-haves:
Route-progress monitoring 👀
A small courier company can get by with little structure. But as it grows, fleet tracking by phone calls and texts becomes unwieldy. Most businesses need a systematic approach to delivery operations by the time they staff five or more drivers.
The best route dispatch software needs to expand your capacity to monitor drivers' progress while they're on the road. Consider software that includes a dashboard that's simple to navigate. Pick a solution that lets you drill down with ease where your drivers are, where they've been, and where they're going.
How Circuit delivers: with Circuit, you can follow driver performance in real-time. Dispatchers have a user-friendly dashboard at their disposal that's accessible on desktop. The map it includes uses GPS tracking data that tells you where your drivers are in the context of their delivery routes.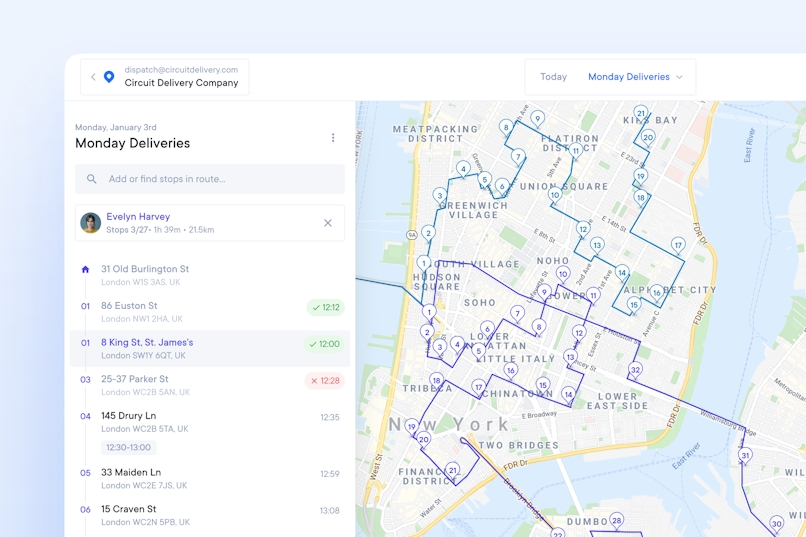 Circuit users also have the peace of mind of reliable arrival estimates. Up-to-the-minute information powers Circuit's delivery ETAs. Calculations take into account average stop time as well as current traffic conditions. ETA's also update based on whether the driver is behind or ahead of schedule.
Seamless data integration 🔄
As a business owner, the route dispatch software you choose needs to be compatible with the data you have. Importing your delivery manifests in any format should be a cinch. Your route dispatch software also needs the capability to sync your data in bulk.
How Circuit delivers: we know that many courier companies tend to store delivery manifests as spreadsheets. That's why we made CSV, TSV, XLS, and XLSX files easy to import. It takes only a few clicks to upload and let Circuit do the hard work of planning optimized routes.
We have plans to expand this feature by providing API access to users. This would allow them to sync other software with Circuit. With API access, users won't need to upload new delivery manifests each new business day. The process would become automated, giving dispatchers more time to tackle other responsibilities.
Parcel tracking for delivery recipients 📦
For any size courier company, customer satisfaction is the number one priority. The easiest way to ensure this is by providing minute-by-minute insights on deliveries. Consider choosing route dispatch software that affords you the capacity to provide a great customer experience.
How Circuit delivers: recipients receive a text message or email that lets them see their delivery's status. With this, recipients can track package ETAs as well as delivery confirmations and time windows. From the sent link, they can see the current best estimate for arrival. It gets more accurate as the driver gets closer.
Deciding factors most courier companies consider before they buy
For most companies, deciding what to do next comes down to four main factors we discuss below:
User experience 🤝
Many companies make their decisions based on what's easiest to use. In the hunt for a solution, the simplest interface often wins out. When route planning software is too difficult to navigate, it's worth turning your attention elsewhere.
How Circuit answers the call: there are some solutions that cater more to the needs of drivers. Meanwhile, there are other options that provide more benefits to dispatchers. With Circuit, we've created an experience that's valuable for both parties.
As detailed earlier, dispatchers appreciate how easy it is to import addresses with Circuit. We're also hard at work on adding API access to a future version of the software. Drivers, though, enjoy Circuit's capacity to recalculate routes when facing last-minute changes. They also like that Circuit's route planner is compatible with their favorite mobile apps, from Google Maps to Waze.
Trial offers 🏷
The options you've found could have all the features you need. It could even claim to have a great user experience. But the best way to confirm whether they can deliver or not is by giving each one a test drive first.
How Circuit answers the call: we don't have anything to hide. In fact, we like to let the product speak for itself. That's why you can try Circuit for Teams for seven days free of charge. If you don't love it, you can cancel anytime.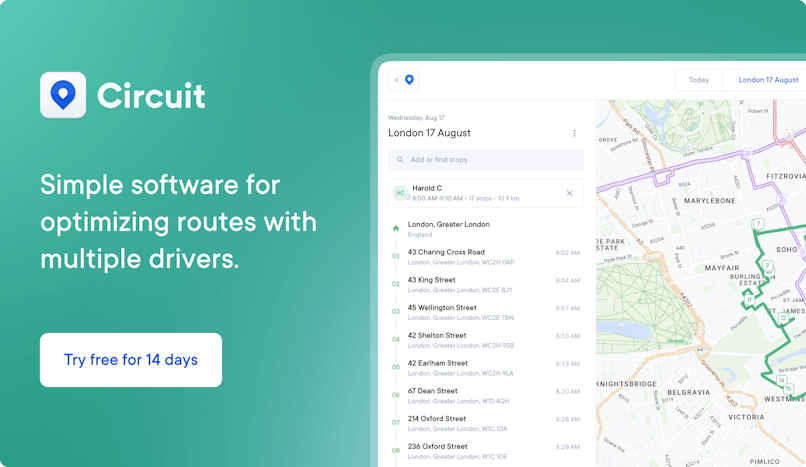 Testimonials 💭
What you hear about a product can have a profound influence on your search. Reviews are often the difference between whether most companies buy or not.
Owners and dispatchers want software that serves their needs. But they also know the option they choose must please their drivers, too. That's why most companies turn to their fleets to provide them with valuable feedback.
Drivers can tell you if the routes a software generates are actually better than what they've been doing. They can also share whether they're having to backtrack much on their routes. This is the kind of information you can't find out without the help of testimonials.
How Circuit answers the call: drivers all over the world are often the strongest advocates for Circuit. They enjoy their experience so much that they urge dispatchers to try it for themselves. We have many companies using Circuit for Teams on account of their drivers who recommended it.

Saving time ⏱
No matter what size your courier company is, saving time on fleet management matters. Your business stands to gain from spending less time on tasks you can automate instead. Choosing the right dispatch software can be the solution.
There are two particular ways you can gauge if your choices save you time. First, find out their capacity for importing and exporting your daily delivery manifests. As we discussed earlier, data integration is a critical feature and part of the reason is that it saves time.
Second, judge them based on the quality of routes they produce. The software you choose needs to generate directions that are both fast and accurate. During a trial run, verify quality with feedback from your drivers.
How Circuit answers the call: companies appreciate how efficient route planning is with Circuit. Fleets that use our route optimization software often save about 15 to 20% of their route length each day.
Improving operational efficiency with routing software for dispatch
Circuit started as a solution for drivers. But it didn't take us long to learn that we could be an answer for entire fleets, too.
We thought we would win companies over with our approach to route optimization. And while many companies like the improved efficiency that comes with better routes, what they love even more is the operational structure that Circuit provides. Route dispatch software like ours brings order to the hectic nature of dispatching.
So keep that idea of structure in mind when you're searching for software solutions. An ordered approach to fleet operations is crucial toward increasing the bottom line of your growing courier business. What you decide will impact whether your customers see you as a partner they can trust.
Want a robust delivery dispatch tool with the best route planning around? Try a free trial of Circuit for Teams.