18 minute read
10 Best GPS Tracking Software and Solutions for 2023
Looking for the best GPS tracking software for 2023? Look no further! Our top picks offer reliable solutions for businesses of all sizes.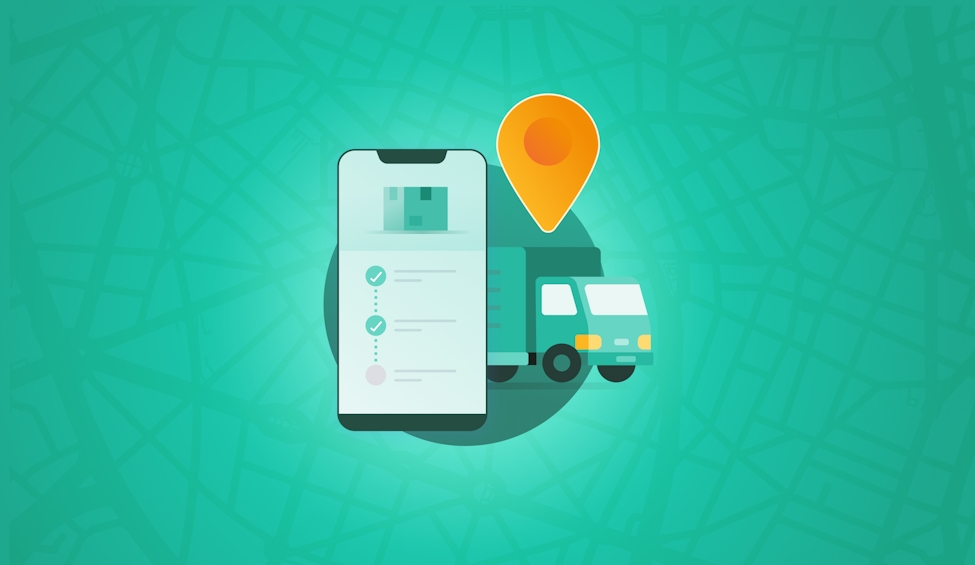 Quickly and easily track delivery drivers and stops with Circuit for Teams.
If your business delivers, you need a great GPS tracking software tool, but which tool is the best? 
We know our choice. Circuit for Teams makes planning the best driver routes and managing delivery records simple.
But we're a bit biased. 
That's why we're showing you the top GPS tracking solutions available in 2023. We'll talk about each one so you can see which is the best fit for your business. 
How to choose the best GPS tracking software for your needs
Finding the best software solution to streamline your deliveries is about understanding your needs. 
Here are a few things you should think about:
What features do you need? Do you need route optimization, vehicle tracking, or other features? If not, don't buy a GPS tracking device. Save money and buy a map.
Is the software easy to use? You don't want a tool that hurts your brain to learn — you want a tool you can use immediately.
Is pricing an issue? Some GPS systems charge by vehicle and have extra charges for things like monitoring equipment.
What software does your GPS need to be compatible with? Do you need a system that works with iOS, Android, Windows, or another operating system (or your mobile devices)?
What are your customer support needs? Some GPS tools have better customer support than others.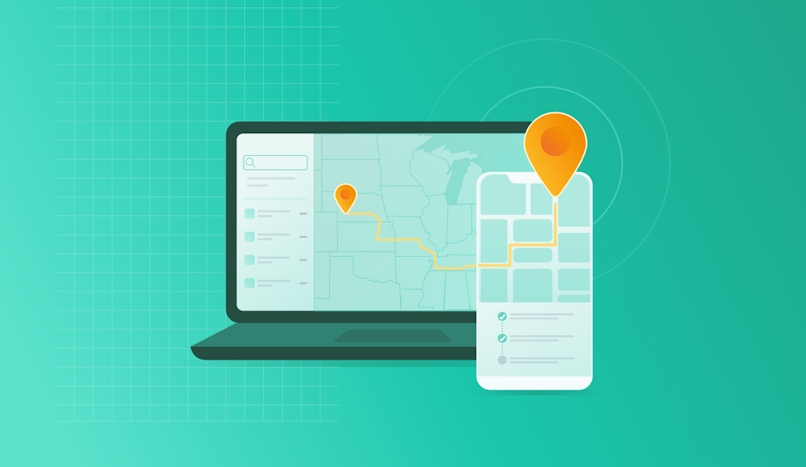 Top 10 GPS tracking software in 2023
You need a solid tracking tool if you want real-time location tracking, in-depth analytics, and helpful customer service tools.
Here are some of the top GPS tracking software you can get in 2023. 
Top GPS tracking software:
Circuit for Teams
Jobber
ClearPathGPS
NexTraq
ClockShark
GPS-server
CalAmp
Motive 
Connecteam
GroundCloud
1. Circuit for Teams — route optimization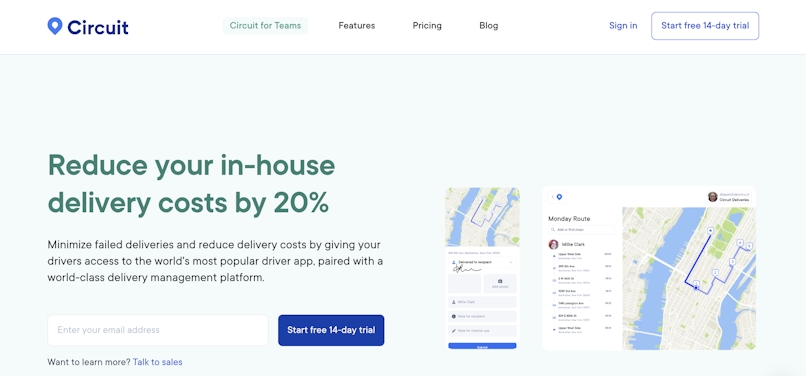 We all know how difficult it can be to keep track of large delivery teams.
Circuit for Teams, is a great tool for route optimization that works with your favorite GPS tool.
Our tool helps you keep track of drivers, automate route optimization, make smoother deliveries, and delight customers while saving your company money and reducing errors.
Never wonder where your deliveries are or if they arrived on time.
With Circuit for Teams, you can delight in real-time delivery driver tracking and be the first to know if your drivers are ever behind or ahead of schedule.
Better yet, with the ease of Circuit's route optimization software, you can help dispatchers and delivery managers to stay right on time.
Here's what Circuit for Teams was able to do for Bobcaygeon Brewing, a craft beer brewery in Canada. 
Like many businesses, the brewery faced some financial hardships during the pandemic. Richard, the owner, decided the solution was to start delivering beer directly to consumers.
Before that, they'd only delivered to commercial businesses. 
Delivering to people's homes meant there would be a lot more stops and the delivery schedule would be a lot more complicated. 
After spending over an hour a day just planning driver routes, Richard thought there had to be a better way.
It was Circuit for Teams to the rescue! 
Now Richard uses our simple interface to upload his order list from Shopify into the software, and Circuit for Teams automatically sets up the most efficient driver schedule possible based on customer addresses. 
Not only that, but Circuit for Teams also sends notifications letting Richard's customers know when drivers are running late and prioritizes urgent orders like bars about to run out of beer. 
Here are some key features: 
Route optimization. Companies don't have time to waste time with inefficient routes.
Vehicle and driver management. Managers can make sure drivers are being safe and vehicles are being well-maintained.
Driver dispatching. Companies don't have to manually record all the information drivers need. 
Proof of delivery. Proof of a delivery can put to rest any debates or customer complaints about whether items were delivered. 
Scheduling. Scheduling teams manually can be really complicated. 
Customizable digital forms. Online forms are easy for customers to interact with, and you don't have to worry about them getting lost. 
Automated customer notifications and feedback. Sending notifications manually to customers while in route can be dangerous to drivers. 
Integration with Excel and other software. Reformatting an entire spreadsheet can take ages. With Circuit for Teams, you can import an Excel spreadsheet as is.  
Automatically saves delivery data. No important customer information or delivery information gets lost.
Mobile app. Managers can manage their teams even when they're outside the office. 
Pros of Circuit for Teams: 
Easy-to-use interface and API 
Fast, reactive route optimization
Lowers delivery times and costs
Manages customer touchpoints
Affordable pricing
Con of Circuit for Teams: 
Designed to be simple to use so it doesn't offer some services, like billing or invoicing
Pricing: 
Circuit for Teams has three pricing plans for delivery businesses of different sizes. The Essential plan is $100 per month, the Standard plan is $200 per month, and the Pro plan is $500 per month. There's a fee for additional drivers. There's also a free trial. 
Customer support: 
Circuit for Teams has a great customer support team you can contact by email or live chat. Read success stories to learn why our customers love us. 
Best for: 
Circuit for Teams makes things like package operations management, analytics, and customer communication easier for delivery businesses.
2. Jobber — automate accounting tasks
Jobber can help delivery businesses manage their accounting processes. In addition to GPS tracking, Jobber has tools for invoicing, scheduling, budgeting, and payment processing. 
Beyond being a great system for scheduling and payment processing, Jobber has tools with custom fields tailored to different service industries, like plumbing, lawn care, and roofing. 
For example, Ann Lane of Parklane Plumbing uses Jobber to monitor all the company's equipment serial numbers and other data. 
She can even use the system to see where all her equipment is at any given moment.  
Key features of Jobber: 
GPS tracking. Delivery drivers need to know where they're going. 
Driver dispatching and scheduling. Without software, dispatching and scheduling can be really complicated and time-consuming. 
Route optimization. Driver's need to find the most direct routes possible to save time. 
Reporting and time tracking. When companies track time manually, there's often a chance it won't be done accurately. 
Quoting, invoicing, and payment processing. Accounting processes are faster, and there's less chance of error. 
Booking. Businesses have a record of which vehicles are available without having to manually track them. 
Safety and maintenance management. Car maintenance issues can be expensive and risky for businesses if not tracked and handled promptly.
Customer management. The software captures customer information to make it easier to maintain customer relationships.
Mobile app. Managers can use the software from anywhere without extra equipment. 
Pros of Jobber: 
Invoicing, quoting, budgeting, and payment processing capabilities
Integrations with accounting software, like QuickBooks
Cons of Jobber: 
Limited vehicle location capabilities
Interface can seem complex to some users
Pricing: 
Jobber has four pricing plans from the Core plan, starting at $9 per month, to the Grow plan, which costs $187 per month. 
Customer support: 
You can contact Jobber through chat, email, or by phone. Jobber also has several guides and videos explaining its services and answering questions. 
Best for:
All sorts of teams with mobile workforces can use Jobber. Dedicated delivery teams and service companies can manage their financial processes.
3. ClearPathGPS — vehicle monitoring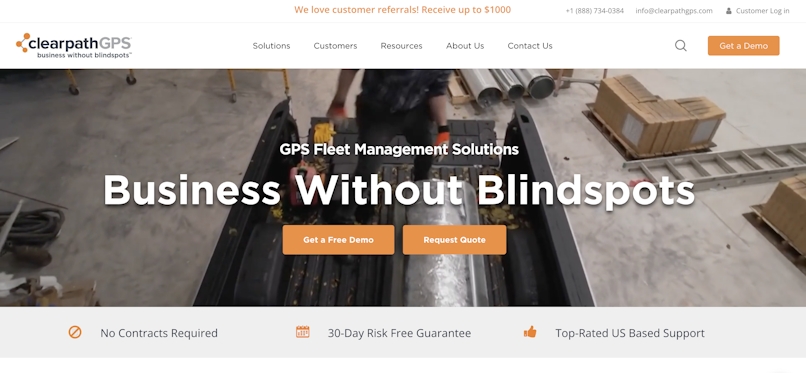 ClearPathGPS helps companies save money on fuel, labor, and unsafe driving. It has an intuitive web and mobile app and dashcams to offer real-time alerts and automatically send workflow reports.
Consumers in industries like landscaping, construction, and pest control can use ClearPathGPS to track all their equipment. 
Adam Graham of Arroyo Seco Construction uses the software to get a full view of all the company's construction plots at the same time, so he knows precisely where all his equipment is and who's using it.
Key features of ClearPathGPS:
GPS tracking. Drivers need directions to get to job sites. 
Delivery tracking. Managers can see what deliveries have been made and how much progress their teams have made.  
Routing. Companies don't have to take the time to organize their drivers' routes.
Incident reporting. Managers need to know right away when drivers are involved in accidents or collisions so they can react appropriately. 
Geofencing. Management can see when drivers leave a predetermined delivery area so they can find out why.
Order management. Automated order management saves time and reduces potential errors. 
Vehicle, tire, and fuel consumption monitoring. Monitoring keeps vehicles running smoothly and keeps accurate records for auditing purposes.
Smart alerts and notifications. When there are issues, management can find out about them immediately. 
Driving behavior management. Drivers need to be held accountable to make safe driving choices.
Mobile app. Management and drivers can use the software on their smartphones from anywhere. 
Pros of ClearPathGPS: 
Full tracking of delivery metrics
Huge reporting abilities
Great customer support
Integrates with other business tools, like Salesforce
Cons of ClearPathGPS:
Not made for dispatching or scheduling
Not designed for small businesses
Pricing:
ClearPathGPS offers a standard pricing plan that starts at $20 per month and a pro plan that starts at $25 per month. There's an extra charge for dashcams. A free trial is available. 
Customer support:
ClearPathGPS has reliable and fast support staff you can access by phone, email, or live chat. There are also helpful knowledge bases and guides on the website. 
Best for:
ClearPathGPS is a great solution for companies needing to manage logistics. It's aimed at helping companies identify where they're losing money, like fuel costs or unsafe driving. 
4. NexTraq — behavior monitoring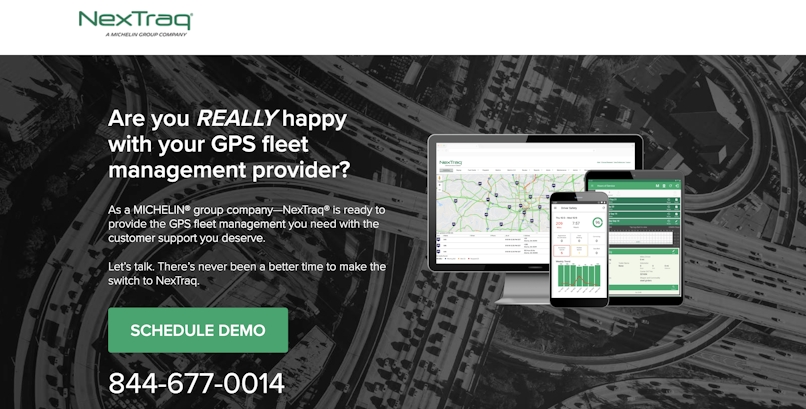 NexTraq offers cloud-based, real-time asset tracking, routing, monitoring, reporting, and scheduling for team management. It lets businesses get more from their vehicles, drivers, and teams. 
Steve Antonio of Bags Incorporated — a company that handles people's luggage while they travel — uses NexTraq to make sure all his workers are driving safely. 
NexTraq automatically sends alerts whenever drivers do things like rapidly accelerate, speed, or break hard. It even gives drivers regular performance score cards. 
Key features of NexTraq:
Real-time GPS tracking. Drivers get accurate directions to their stops that take into account traffic.  
Behavior monitoring. Management needs to know how employees drive to promote safe habits.
Order management. Without an organization system for multiple orders, it's easy to make mistakes or lose information. 
Digital forms. Online forms are more efficient for drivers and customers and much easier to store. 
Advanced reporting. In-depth analytics help managers run teams as efficiently as possible. 
Maintenance management. Vehicles need to be well maintained and safe to operate.
Geofencing alerts. When drivers operate outside their delivery areas, management needs to know about it. 
Mobile app. Anyone can use the software as long as they have a smartphone. 
Pros of NexTraq:
Asset tracking with smart alerts
Driver safety reporting
Maintenance tracking
Cons of NexTraq:
Minor bugs reported, like inaccurate speed limits
Customer support can be slow at times
Pricing: 
NexTraq doesn't list prices, but you can schedule a demo with the team. 
 
Customer support:
NexTraq has a customer support team you can reach by phone, email, or live chat. However, some reviews claim NexTraq's support team can be slow to respond. 
Best for:
A variety of service and delivery businesses can use NexTraq to schedule drivers, maintain vehicles, track mobile assets, and manage driver behavior.
5. ClockShark — time tracking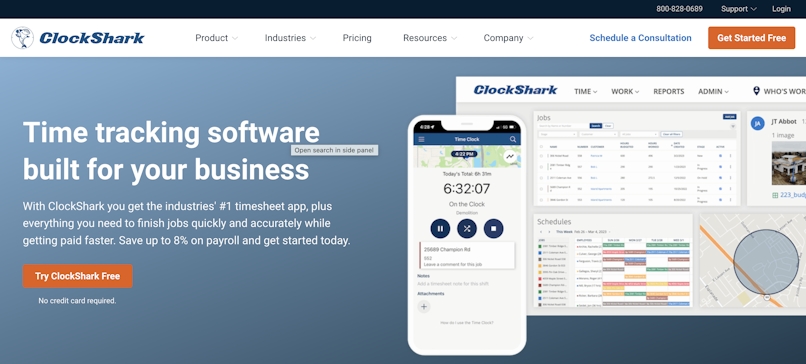 ClockShark shows businesses a breadcrumb trail of where their employees have been throughout the day or week. It helps businesses create perfect time sheets and save time and money on payroll. 
Abel Casanga of Extreme Janitorial uses ClockShark to keep the company's cleaners accountable. 
It lets him track where employees are and when they clock in and out. 
ClockShark even lets the cleaners upload pictures of their work as proof they left a job site clean. 
At the end of a pay period, Casanga can upload all the information from ClockShark into QuickBooks with the click of a button. 
Key features of ClockShark: 
GPS tracking. Drivers know exactly where they need to go. 
Time tracking. Management needs a way to keep drivers accountable and settle payment disputes. 
Biometric recognition. Technology lets workers use facial scanning to clock in or out for accurate employee reporting. 
Digital punch card. Employees can quickly and easily punch in or out online. 
Comprehensive payroll management. Automated payroll management saves companies time and makes payment processes more accurate.
Sick leave and vacation tracking. Management needs a way to keep employees accountable when it comes to paid time off.
Mobile app. Teams can use the software on their smartphones. 
Pros of ClockShark:
Shows where employees are at all times
Helps create unquestionable payroll
Easy to use
Cons of ClockShark:
Can be complicated to schedule employee sick days
Limited maintenance tracking abilities
Pricing: 
ClockShark has two plans. The Standard plan is $16 per month, while the Pro plan is $30 per month. You can purchase additional admin seats for each plan.   
Customer Support: 
ClockShark's support team is available 24/7 by email, phone, or live chat. There's also a knowledge base and FAQ to help answer user questions. 
Best for:
ClockShark works well for companies wanting to make accurate payroll reports and track their employees' whereabouts. 
6. GPS-server — remote control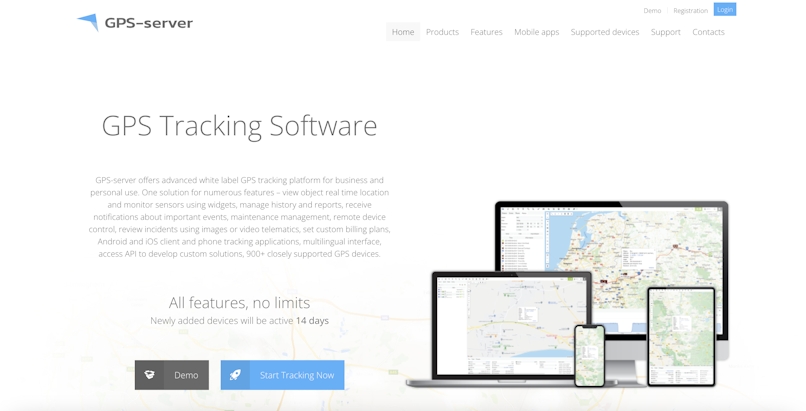 The GPS tracking system by GPS-server is coded using PHP and JavaScript so you can modify it, develop new functions, and program new protocols. It comes on the cloud, or you can host it on a private server.
Although GPS-server doesn't have any specific testimonials listed on its website, the software has several potential use cases. 
For example, the system can be used by taxi and rental car companies to monitor vehicles. 
Managers can use it to see metrics, like fuel consumption and idle time, for every car. They can even control their vehicles remotely to unlock a vehicle when a driver leaves their car keys inside or shut off the engine if a car gets stolen. 
Key features of GPS-server:
GPS tracking. Drivers need accurate, real-time directions to get to their stops. 
Route optimization. Managers can find the fastest routes for their team to make all their deliveries. 
Mileage and fuel reporting. Managers need to track mileage and gas for auditing and tax purposes. 
Inspection management. Companies need to make sure all their cars can pass inspection. 
Employee tracking. Managers know exactly where their employees are at all times.
Maintenance management. Cars need to be well maintained for safety. 
Geofencing. Managers know when employees leave a specific delivery area.
Mobile app. The software can be used from anywhere with an online or cellular connection.
Pros of GPS-server:
Easy to customize functionality
Robust reporting capabilities
Scalable for small and large businesses
Cons of GPS-server:
Can be complex to set up
Customizations may require coding knowledge
Pricing:
GPS-server tracking software starts at $20 per year and offers a free trial.
Customer support:
The best way to reach GPS-server.net is through its email address. GPS-server also has a FAQ page and knowledge base full of helpful information. 
Best for:
GPS-server's tracking and monitoring solutions work well for small and large businesses, whether they deliver products or offer services. 
7. CalAmp — driver and vehicle performance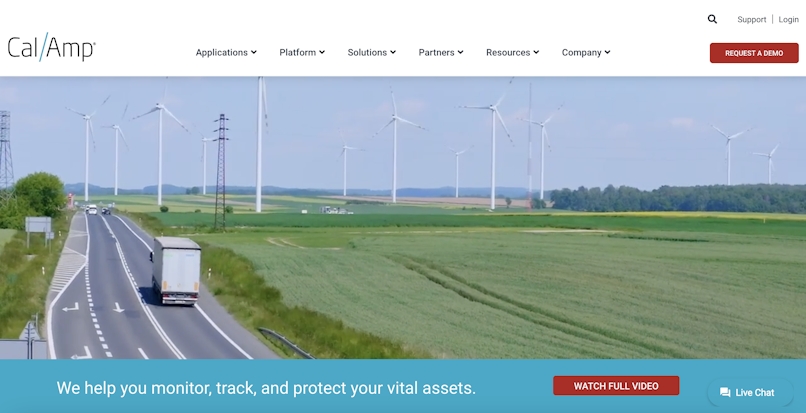 CalAmp uses telematics to help companies track and access information about their teams. It can track speeds, driver behavior, fuel efficiency, and all sorts of useful data to improve safety and efficiency. 
Frank Cheatham, of the Virginia Office of Emergency Medical Services (OEMS), uses CalAmp to track vehicle usage for all his inspectors. 
The software tracks everywhere an inspector goes and records every time they need to stop or go through tollways. 
Before, the team had to do everything manually. CalAmp even sends error codes to Frank when vehicles need repair.
Key features of CalAmp:
Route optimization. Drivers get the most efficient routes and save companies time and money.
Smart app. Teams can get the software on their Apple or Android phones. 
Driver behavior and vehicle performance monitoring. Managers can make sure their vehicles are safe to drive and their people operate them safely.
Geofencing and alerts. If drivers go outside their delivery areas, managers need to know why. 
GPS tracking. Managers know where each vehicle is, and drivers know where to go. 
Maintenance and inspection scheduling. When software handles repair and inspection scheduling, there's no excuse for not keeping vehicles well-maintained.
Pros of CalAmp:
Prompt customer service
Ability to batch updates
Efficient vehicle tracking and monitoring
Cons of CalAmp:
Devices like ELDs can be pricey
Can sometimes lag when creating geofences
Pricing:
CalAmp doesn't list its prices. It offers different pricing plans to custom-fit various company needs. Reach out to CalAmp for a quote.
Customer support: 
You can reach CalAmp's support team through email or by phone, or you can search through its FAQ and knowledge bases to find answers to common problems.
Best for:
CalAmp can help companies that manage mobile assets and teams with supply chain management and logistics. 
8. Motive — compliance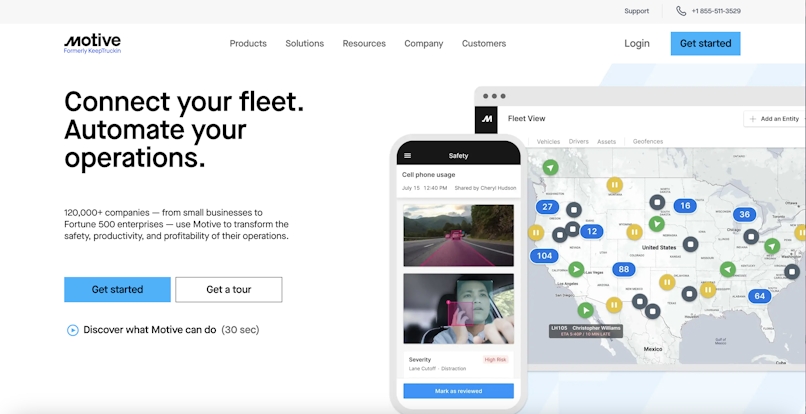 Motive is an all-in-one, cloud-based tracking and analytics platform that uses AI detection software to track vehicles and driver behavior in real time.
Page Trucking uses Motive to stay in compliance with the ELD mandate and keep their truckers from getting Hours of Service (HOS) violations. 
They found that ELD mandates only caused their drivers to drive less safely because they were in a rush to get more done in less time. 
Motive helps Page Trucking track vehicles and maintain driver safety while avoiding HOS violations. 
Key features of Motive:
GPS tracking. Drivers have an easier time following their routes.
Vehicle and employee tracking. Managers are aware where their people and equipment are throughout the day. 
Fuel, inspection, and maintenance management. Companies can make sure their vehicles are safe to drive and use fuel efficiently. 
Incident reporting. Accidents happen. Managers need to be alerted when their drivers are involved in car accidents or have other vehicle issues.  
Compliance help. Companies need to stay in legal compliance to avoid costly fines and maintain safety.
Routing. Without routing functionality, managers have to manually plan all their driver routes. 
Dispatch management. Drivers often need someone to turn to for guidance when they run into delivery issues or have vehicle malfunctions.  
Mobile app. Teams can access the software using only their smartphones. 
Pros of Motive:
Helps with compliance
User-friendly and working app
Integrations with other applications
Prompt customer service
Cons of Motive:
Strict contracts 
Online customer service can be difficult to communicate with
Pricing:
Motive doesn't share its pricing. You can call to get a quote based on the number of vehicles you manage. 
Customer support:
Motive offers support 24/7 through phone, email, and chat. You can also find answers to common problems using Motive's FAQ and knowledge bases.
Best for: 
Motive can help any sized business with team management, delivery, and logistics. 
9. Connecteam — training teams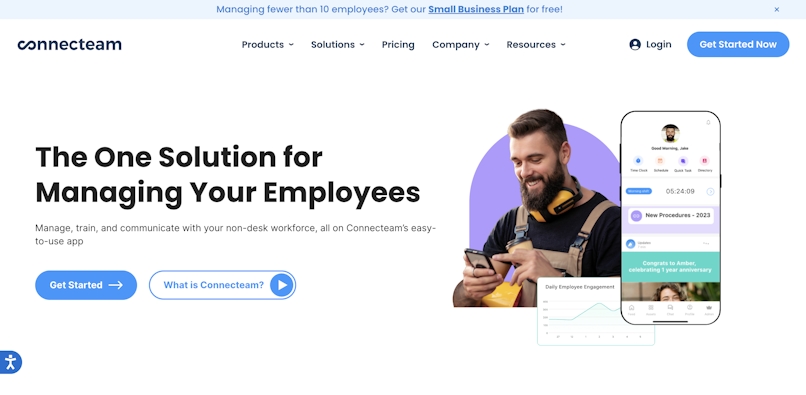 Connecteam is an employee communication, onboarding, and tracking system that can schedule and dispatch employees, track their hours, and create custom training material. 
Bobby Greenwalt, of B&B Beverage Management, says the company uses Connecteam to give new staff access to company guidelines, product information, and other training documents. 
It helps them train new employees who are dedicated to customer service and ready to handle the rigorous demands of the food and beverage industry.  
Key features of Connecteam:
Full project management. A full project management strategy helps teams collaborate and optimize their efficiency. 
Employee training. Managers need an easy way to give new employees access to training documents.  
Knowledge base management. An effective knowledge base helps users find solutions to common problems and  saves customer service teams time.
Digital forms. Online forms are much easier to manage than paper forms. 
Time tracking. Managers need accurate time tracking for payroll and to make sure employees are being efficient. 
Mobile app. Managers and drivers can easily access the software on the go. 
Employee communication. Managers and drivers need an interactive platform to give each other updates during the day. 
Pros of Connecteam:
Reliable push notification system
Seamless communication among work teams
Trustworthy customer support
Constant development of new tools and features
Cons of Connecteam: 
At times, SMS functionality may suffer due to local regulations
The app can be difficult to use even with the company's training videos 
Managers can't list themselves as unavailable in the system
Pricing:
Connecteam has a free trial and free plan. Beyond that, there's a Basic plan starting at $29 per month, an Advanced plan starting at $49 per month, and an Expert plan starting at $99 per month. 
Customer support: 
You can reach Connecteam's support staff through email, phone, or chat. There's also a FAQ, forums, and a knowledge base to help you find answers. 
Best for:
Connecteam is best for companies needing project management tools to improve their communication and develop their employees. 
10. GroundCloud — track error codes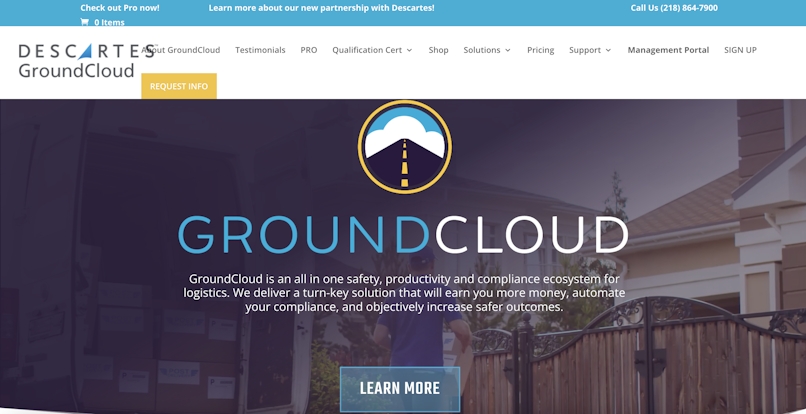 GroundCloud is a comprehensive tool that helps companies with almost every aspect of last-mile delivery, like safety, productivity, compliance, and route optimization.
Jason Witt, of Up and Ready Logistics, uses GroundCloud for everything from safety to compliance to training. 
It even lets him see an operational overview of where all his people are at any given time. He can also upload everyone's information and documents, like IDs, into the software. 
Key features of GroundCloud: 
GPS. Drivers need to find their way to a delivery or job site in any situation. 
Diagnostics management. When a vehicle malfunctions, knowing the fault code (what's wrong) can help managers decide if a vehicle is safe to drive.
Mileage tracking. Managers need to know how much mileage they're putting on certain vehicles to maintain them as long as possible. 
Inspection and compliance management. Compliance management helps teams make sure teams are operating smoothly and meet legal standards.
Dispatch management. Dispatchers help drivers deal with unexpected issues on the road.  
Route optimization. Drivers can't afford to waste time taking inefficient routes.
Employee tracking. Good managers know where their staff are at all times. 
Work orders. Drafting work orders manually wastes time and energy. 
Incident reporting. When things don't go as planned on the road, managers need to know about it. 
VIN lookup. Managers can look up the entire history of each of their vehicles to see things like manufacturer recalls. 
Tire management. Teams need to make sure tires on all vehicles are in good shape for safety. 
Pros of GroundCloud: 
Reliable tracking
Time-saving digital forms
Consistent updates 
Ability to upload driver information and work orders into the system
Reliable reminders and notifications
Cons of GroundCloud:
Occasional bugs in GPS software
Difficult to get started
Pricing:
GroundCloud has four pricing plans that charge per vehicle. GroundCloud CSP starts at $30 per month, GroundCloud CSP Pro is $250 per month, GroundCloud VEDR is $30 per month, and GroundCloud CSP + VEDR is $50 per month. 
Customer support:
GroundCloud offers email and phone support and has resources like FAQ and a knowledge base to help solve common issues.
Best for: 
GroundCloud is for any delivery business specializing in last-mile delivery. 
The future of GPS tracking software and solutions
So, what does the future of GPS tracking look like? 
Consumers want fast delivery. Around 90 percent said the products they order online should arrive within two to three days at most. 
In fact, 30 percent thought items should arrive the same day they order them. 
As the online shopping industry continues to grow, how can companies keep up? 
One thing seems clear: Delivery businesses won't want to take chances with their delivery routes. That's why they'll have to rely a lot more on GPS tools with route optimization to make sure they're taking the best routes possible. 
In one of our consumer surveys, we found that 90 percent of delivery drivers believe that the rise of artificial intelligence (AI) technology will also benefit the last-mile delivery industry. 
About the same percentage (90 percent) of shoppers said they'd order products to be delivered by AI-controlled drones or driverless cars. 
Can you imagine having a drone drop you off a pizza while you're sitting at a park with your friends? They could, and 80 percent of shoppers liked the idea. 
But that's not the only thing AI can offer. 
Companies could even use AI to create efficient delivery routes. 
Almost 90 percent of the drivers we surveyed said they would welcome the idea of AI-created routes. 
Another future trend we'll likely see is more companies using urban consolidation centers. 
Urban consolidation centers are owned by larger companies, like Amazon, but they're located in a specific city. 
Their purpose is to store high-demand products locally to be delivered faster. 
As more businesses try to offer same-day delivery, many will look to consolidation centers as a solution.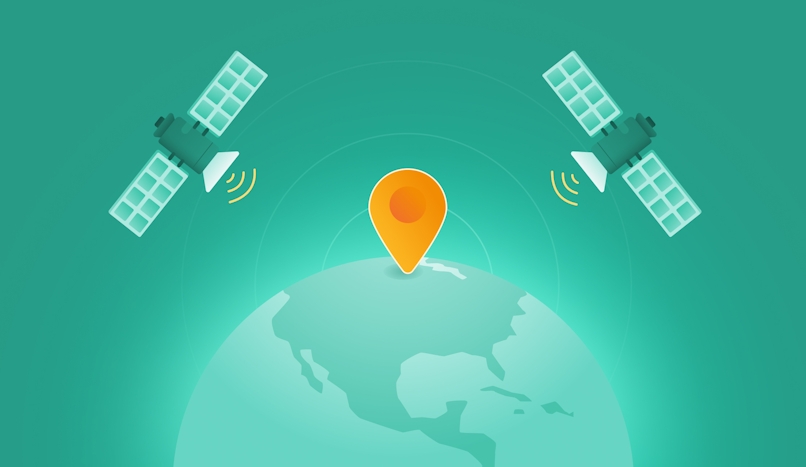 Why Circuit for Teams is your best bet for real-time delivery tracking
There are a lot of great delivery management software and GPS tracking platforms out there. Why go with Circuit for Teams?
The bottom line is we keep it simple. With Circuit, there's no idling. 
Our easy-to-use interface has all the features you need to manage your delivery team and continually improve your processes. 
Route optimization makes sure your drivers can hit the most stops in the least amount of time. 
Driver tracking tells you exactly where your people are so you can see their progress, and route monitoring helps you respond to traffic issues so your drivers can avoid unexpected delays and slowdowns.  
With Circuit for Teams, business owners and dispatchers start saving time and money and reducing errors on day one, and we make saving and getting customer and driver data a piece of cake by quickly adding a list of drivers and deliveries to get the fastest routes.
Start your free trial of  Circuit for Teams today and discover why it's the delivery team management solution you need.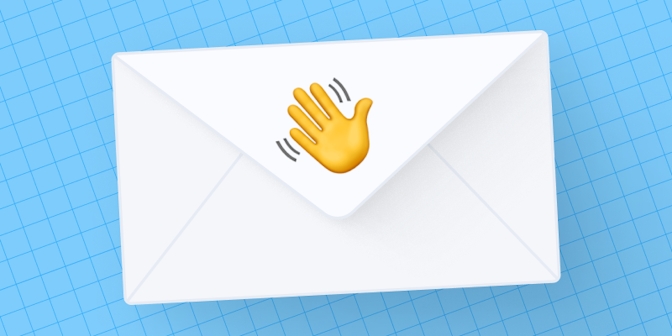 You made it this far!
Chances are you'll love our other stuff too. Get our newsletter for the latest on all things delivery.