8 minute read
Best Flashlight for Delivery Drivers in 2023
Discover the best flashlights for delivery drivers in 2023, considering brightness, durability, and battery life.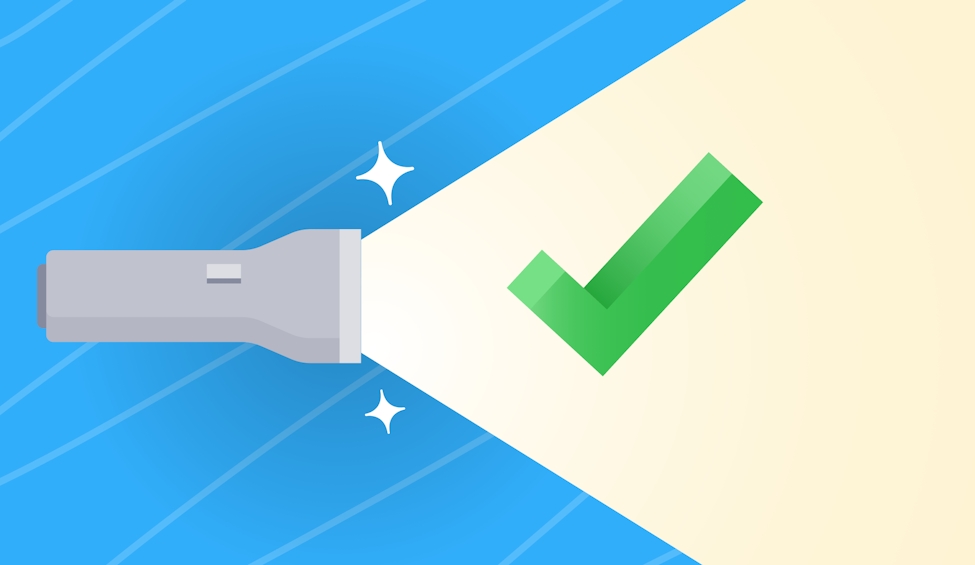 A flashlight is one of the many handy tools every delivery driver should have in their arsenal. Another must-have trick of the trade? The Circuit Route Planner.
As a delivery driver, you're expected to complete your route day or night, whatever the weather.
It would be cool if every shift on the job was full of sunshine, warmth, and chirping birds. But as you probably already know, you're just as likely to face rain, chilly temperatures, and barking dogs.
A flashlight is an everyday carry (EDC) essential when working nights or on dark and dreary days. It can guide you along poorly lit paths and help you identify house or apartment numbers as you make your deliveries.
Even when the sun is out, a flashlight can prove handy. For example, you can use it to find packages in your overcrowded delivery vehicle (P.S. the Circuit Route Planner package-finder feature can also help you there).
That said, not all flashlights are created equal. You want something sturdy and durable that gives sufficient light but doesn't weigh you down or take up a ton of room in your delivery vehicle.
This article gives you pointers on what to look for in a delivery driver flashlight and highlights some top products worth checking out.
Key things to consider when choosing a flashlight for deliveries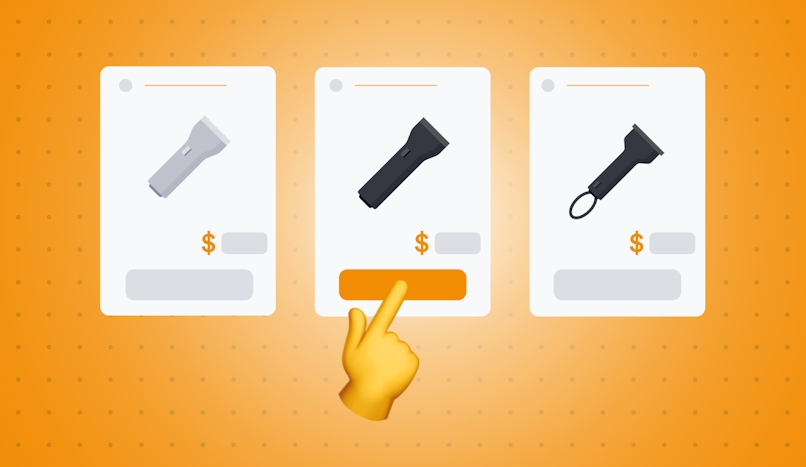 A flashlight is pretty straightforward: You hold it in your hand, press the "on" button, and — ta-da! — you've got your magic beam of light to guide you.
Given how simple the concept is, you'd think that really any flashlight can get the job done. Think again.
If you're going to invest your hard-earned delivery driving dollars, you want to get a quality device that's uniquely suited to your work's needs.
Here's what to look for when shopping for a flashlight for delivery drivers:
Lumens: Light power is measured in lumens, which tells you how much light the bulb gives. The more lumens a flashlight has, the brighter it will be. A flashlight with fewer lumens will be dimmer. Don't confuse lumens with watts, which simply tell you how much energy a bulb uses.
Light type: LED lights offer a stronger and brighter beam than traditional incandescent lights. That said, they often don't have as much range, limiting how far away you can see something. This can be tedious if you're using a flashlight for spotting house or apartment numbers from your vehicle.
Durability: As a delivery driver, you've got to be resilient and carry on even when the weather is bad. The same goes for your flashlight. Look for lights made of sturdy materials, like heavy-duty, water-resistant plastic. Aluminum alloy is another lightweight and lasting material.
Size and weight: You've already got enough to carry as a delivery driver. When your hands are full of packages, you don't want to try to lug an oversized flashlight on top of it all. Look for small, lightweight flashlights. Many smaller models still pack a powerful punch in terms of lighting ability.
Carrying options: When you're juggling packages, you can't be worrying about your flashlight falling. Look for models that are easy to maneuver thanks to molded grips. A strap that you can wear around your wrist is also a handy addition, allowing you to keep your hands free and your light easily accessible.
Light modes: Many modern models have different settings for brightness (like a regular versus super-bright mode), size of beam (like a wide versus narrow beam), and even the color of the light. For example, an adjustable focus beam that goes from wide to narrow is useful if you want to zone in on house numbers without shining a light into someone's window.
Power source: The last thing you want is for your flashlight to give out on you in the middle of a night shift. Consider what kind of power source you prefer, traditional versus rechargeable battery. If you opt for AA or AAA batteries, it's wise to keep some extras in your delivery vehicle's glove compartment. If you choose a rechargeable flashlight, make sure to plug it into its charger regularly. For rechargeable models, you also want a long battery life.
The best flashlights for delivery drivers
Now you know what to look for in a delivery driver flashlight — but that doesn't really narrow down your options much! Don't worry, we've got you covered.
Read on for a roundup of some of the top flashlights for delivery drivers.
GearLight High-Powered Led Flashlight S2000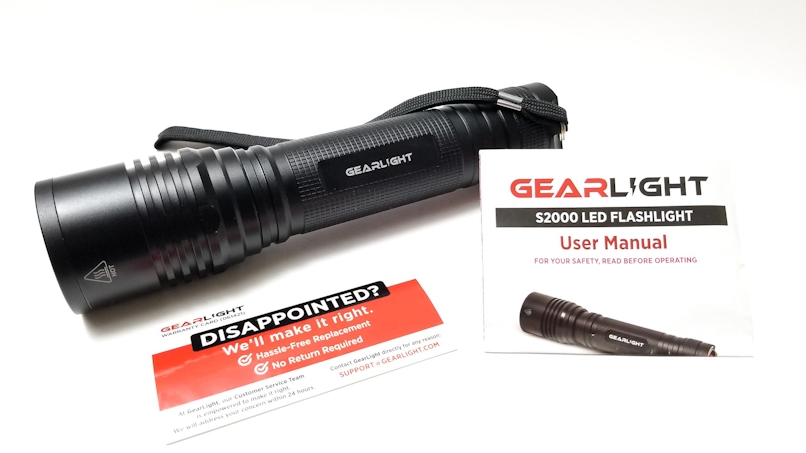 The GearLight S2000 is an LED flashlight with 1200 lumens, making it about 20 times brighter than an old-school incandescent flashlight. It's a traditional battery-powered light (four AA batteries needed).
Slim and compact, the flashlight will fit easily in your hand or glove compartment. It's designed to survive drops of up to 10 feet and can even be immersed in water without quitting.
Delivery drivers can also benefit from the zoom feature. The zoomable beam is great for giving you a close-up view of far-away objects (like building numbers).
Best flashlight for: Brightness
Where to buy: $19.99 on GearLight
ThruNite Catapult V6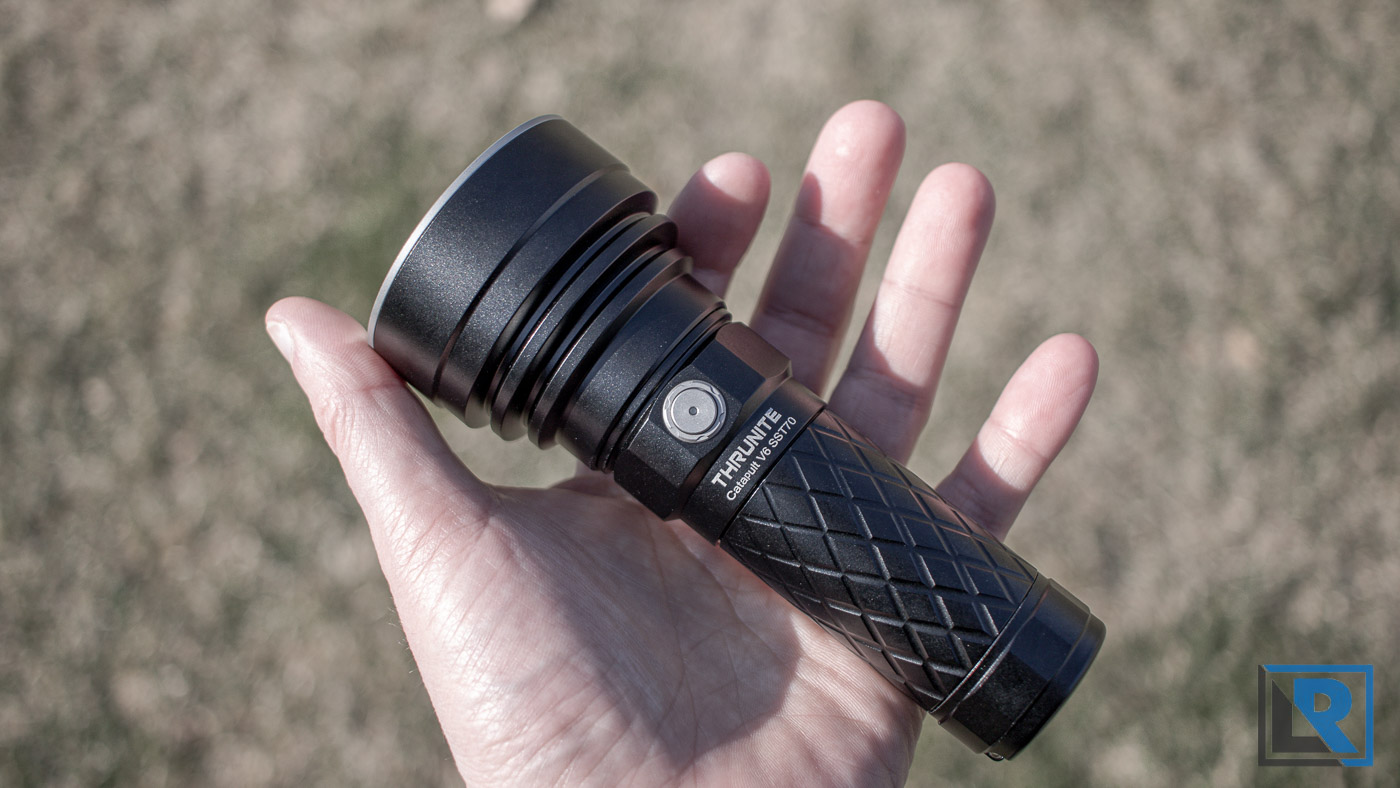 The ThruNite Catapult V6 is notable for its long range, giving a maximum lumen output of 2,836 that's capable of stretching up to 692 meters (about 756 yards). Despite the long range, it's noteworthy for its concentrated tight beam.
You won't have to worry about stocking up on batteries, either, as this high-lumen flashlight is USB rechargeable. With an aerospace-grade aluminum body, it's durable and long-lasting.
Delivery drivers will also appreciate the six degrees of lighting levels. This makes it versatile for all kinds of scenarios, from navigating pathways to finding packages.
Best flashlight for: Long range
Where to buy: $74.95 on ThruNite
Anker Bolder LC130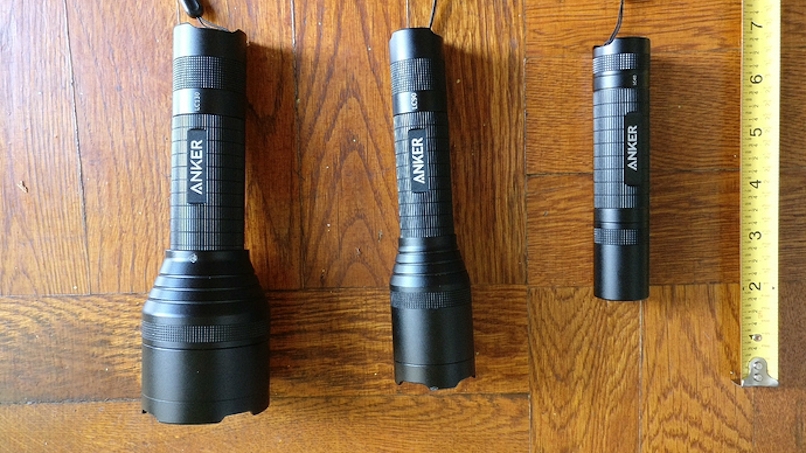 The Anker Bolder LC130 is an ultra-bright flashlight boasting 1,300 lumens and covering distances of up to 300 meters (about 328 yards). It comes with five different lighting modes, so you can adjust it to your needs.
The flashlight's body offers a non-slip finish. Plus, it has a handy carrying strap so you can easily slip it over your wrist while wrangling packages.
The flashlight comes with the rechargeable battery included, plus a micro-USB cable for charging. A full charge will give you eight hours of run time, covering a full day or night on the job.
Best flashlight for: Multiple lighting modes
Where to buy: $59.98 on Amazon
Soonfire NS17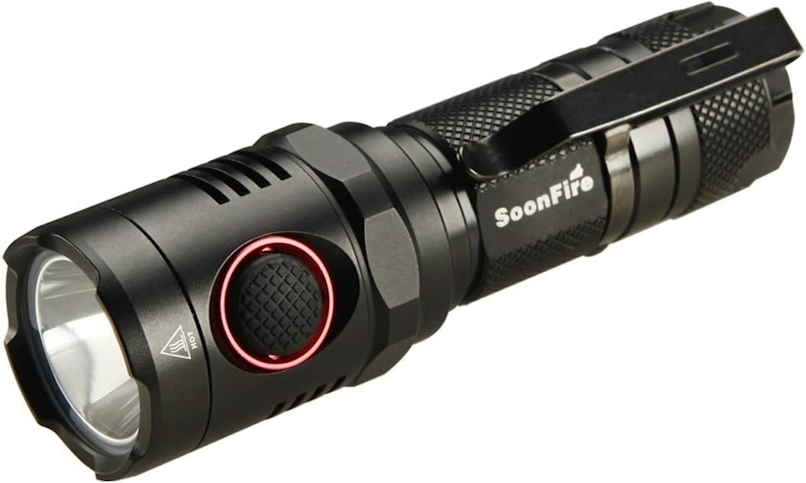 If you want something super compact but with good power, the Soonfire NS17 is for you. This flashlight fits in the palm of your hand and can easily be slipped into the pocket of your delivery driver uniform.
Despite its small size, the flashlight offers 1,000 lumens of power. It has five different light intensity settings and features a durable aluminum frame.
The Soonfire NS17 relies on a rechargeable battery and will alert you when the battery is running low, with the blue charge light turning red when it dips below 30%. It also goes into automatic economy lighting mode below 20%.
Best flashlight for: Battery life
Where to buy: $90.85 on Soonfire
PeakPlus LED Tactical Flashlight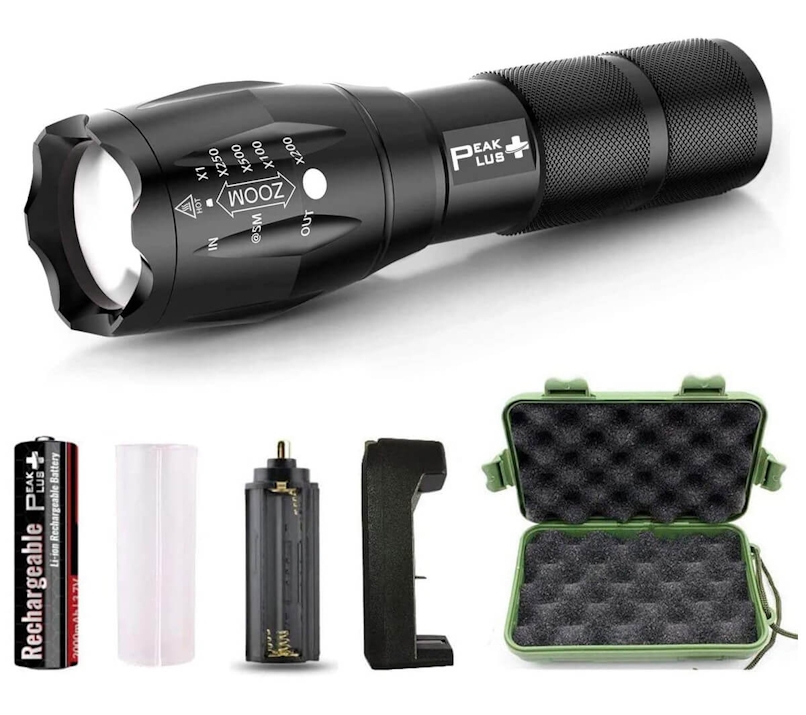 The PeakPlus LED Tactical Flashlight gives you the best of both worlds in terms of power source, operating on either three AAA batteries or a rechargeable battery. This versatility can be great if you work a lot of back-to-back shifts and don't always have time to recharge.
The high-lumen flashlight features five light modes: low, medium, full, SOS, and strobe. It also has a zoom function.
Durable and water-resistant, this flashlight has a strong anti-shock body and should sustain even if you're having a clumsy day and drop it.
Best flashlight for: Price
Where to buy: $10.99 on PeakPlus
BioLite HeadLamp 750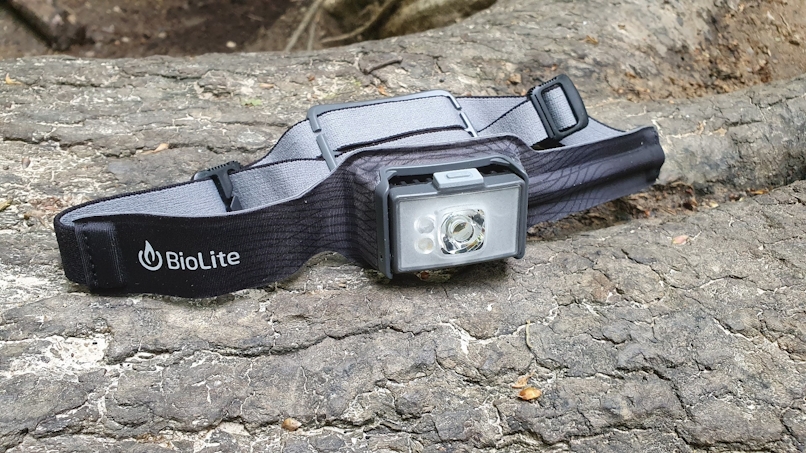 If you really want to have an easy-access light that doesn't need any fuss, a headlamp might be the answer. The BioLite HeadLamp 750 is lightweight, durable, and easy to operate, with a single button controlling multiple settings.
The standard high setting offers 500 lumens, although you can also get 750 lumens in 30-second bursts. That's plenty of time to find a package or light your path to someone's door.
The headlamp also offers different light modes, including spot, strobe, and white floodlights. While you probably don't need a headlamp if you work during the day, it can be handy for night-time drivers.
Best flashlight for: Headwear
Where to buy: $99.95 on BioLite
How much should you spend on a quality flashlight?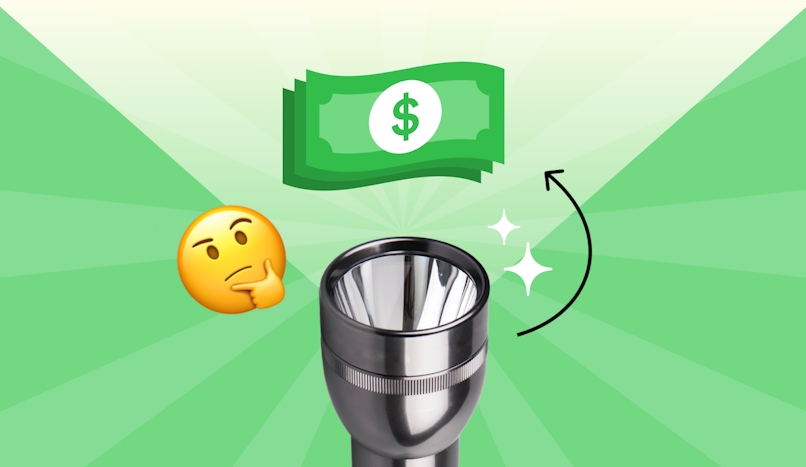 OK, the merits of a good flashlight are clear — and the above roundup covers a few quality products you can confidently put your trust in. But what is this going to cost you?
Real talk: A high-quality flashlight isn't going to be the cheapest one you find. Expect to pay at least $35 if you want a product that meets the criteria talked about above. Some flashlights even cost as much as $70 or $100.
No, it's not cheap. Yes, you can find a dinky little flashlight with a weak beam for less than $10. But what good will that little light actually do you?
Look at your flashlight as an investment. If you get a quality product, it will serve you well — and it will last.
Look at your flashlight as an investment. If you get a quality product, it will serve you well — and it will last.
Spending about $50 once in the entire span of your delivery driving career is well worth it when you consider the benefits. Plus, a quality product will come with a decent warranty, minimizing your investment risk.
Make your delivery route easier with Circuit Route Planner
Delivery driving isn't always easy. Whether you're lugging Amazon packages by day or bringing hungry customers their DoorDash, GrubHub, or Uber Eats at night, you're constantly on the go — whatever the conditions outside might be.
A high-quality flashlight can simplify your job, making it easier to identify house or apartment numbers, navigate dark walkways, and find packages in your delivery vehicle. The above guide gives you a roundup of trusty work lights to help.
You can make your workdays even easier with the Circuit Route Planner — another tool savvy delivery drivers use to get their routes done faster. This multi-drop route planner schedules your stops for you, making your days less stressful and ensuring you can finish fast.
The end result? Less time navigating traffic and lugging packages and more time picking up shifts or relaxing at home. Try Circuit Route Planner free now.