12 minute read
What are the Best Route Creator Apps on Android?
A look at reviews for a many route creator apps to help you make the best choice to finish work faster.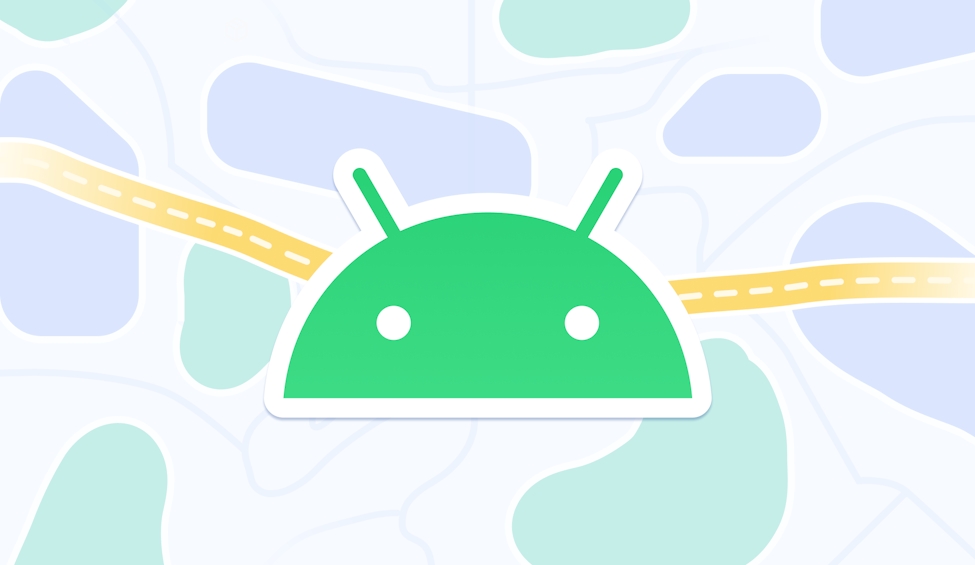 Delivery drivers and couriers often rely on smartphone apps to find their drop-off locations. So your route creator app needs to be accurate and reliable to be effective.
Not everybody uses an iPhone, so if you're searching for the best Android route planner, we're here to help. We've looked at reviews for a number of products that handle navigation and route making.
Our look at the Best Route Creator Apps on Android will cover:
5 Best navigation apps for Android
How to create a route with Google Maps app on Android
6 Best route creator apps for Android
5 best navigation apps for Android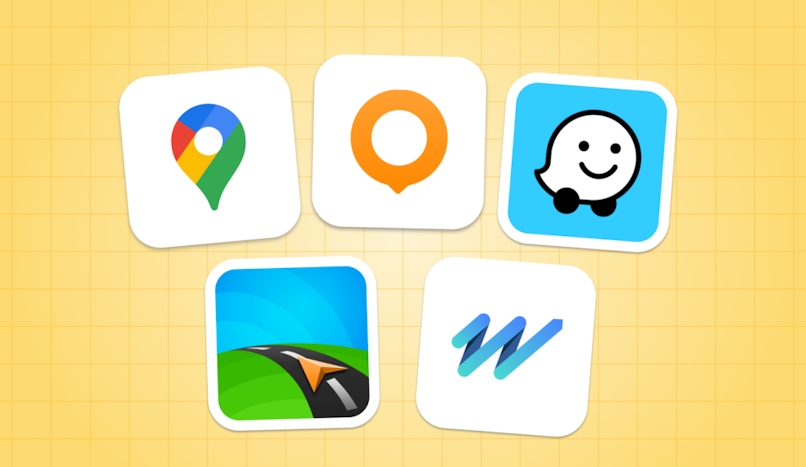 Obviously, a courier needs to know where to go to make deliveries. That means navigating in traffic, finding new addresses, and getting drop-offs done in time. A navigation app for your smartphone will make life easier.
It's important to recognize that a navigation app is not necessarily a route making app. A navigation app may be able to provide directions for you, if you're leaving home and looking for a restaurant, for instance.
But the best route creator app goes beyond that to build the best course to take to get from your home to the restaurant. It will also let you add a stop at the bank, or maybe at your friend's house so she can join you for lunch at the restaurant.
And for couriers and delivery drivers, a route planner needs to guide you through multiple stops in a day, sometimes in the hundreds.
A route planner or route creator app uses a specialized search engine to determine the best route between two or more locations. You get directions where to go, but more than that, you get the best route planned for you, taking into consideration all your stops.
With route optimization, the directions given to you will take into account issues like traffic congestion or construction delays, as well as the number of stops you have to make, and the location of all the stops on your route.
Those optimized routes will in turn let you save time while also lowering fuel and vehicle maintenance costs. You'll get clear instructions where to go and avoid costly delays like backtracking. Some route planning apps work in conjunction with navigation apps, meaning you need both, but you can then use the navigation app you want.
Navigation apps are also generally free, making them somewhat more attractive than a route creator app. So let's start with a look at the 5 best navigation apps for Android:
Google Maps route creator app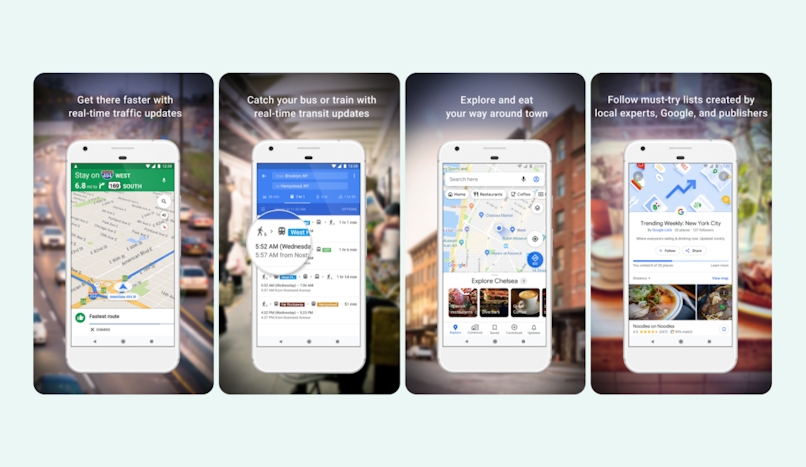 This web mapping platform has over 220 countries and territories mapped along with millions of businesses and locations.
It givs you real-time GPS navigation, traffic and public transport information. It also gives real-time updates on traffic conditions, ETAs, and automatic rerouting based on live traffic and road closures. It has satellite imagery, aerial photography, street maps and more.
Overall ratings are 4.2 out of 5. Here's a sample:
5 stars: Great app. Helps me get to places faster, accurately and safely.
2 stars: Horrible, keeps crashing, keeps sending me to closed roads and dead ends.
1 star: Decent maps, worst navigation.
Waze route creator app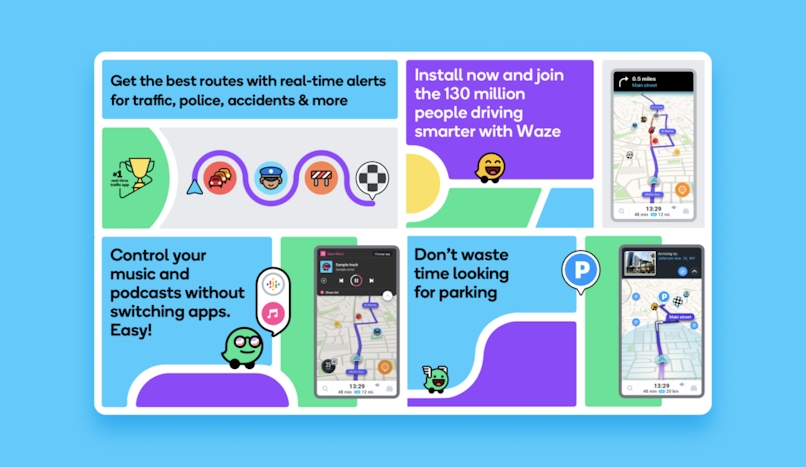 This navigation app provides real-time alerts to traffic, construction, police, accidents and more. Waze changes your route if traffic is heavy, and gives you an ETA based on live traffic data. You'll also get information on the cheapest fuel on your route, and lets you change the voices that guide you. With Android Auto, you can use Waze on your car screen.
Ratings for Waze are 4.5/5 overall. Here's what a few users have to say:
4 stars: I think Waze should provide 'avoid small or narrow streets', not all drivers have the same skill to handle small streets.
2 stars: Unreliable, often directs me to a place nowhere near where I want to go, even though the address is correct.
1 star: It won't work indoors so I can't plan my trip beforehand.
HERE WeGo route creator app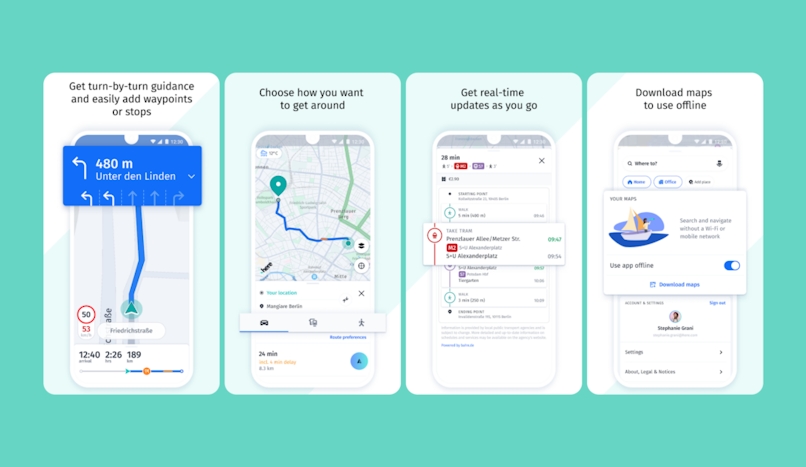 This free navigation app lets you save common stops in a collection, or use shortcuts to get directions to them in one click. It lets you add waypoints to your routes if you need to make an extra stop or want to take a specific route. You can also download a map to follow your route offline, without using data.
Overall, users give it a 4.2 rating out of five. Many of the ratings complain about a recent update that seems to have introduced glitches. Here's a sample:
5 stars: I have been using this app for a year and this is better than gmaps, it has more places in current time.
3 stars: The app is great…The only downside is that it lacks Android Auto integration to be used in the car screen.
2 stars: Keeps crashing.
OsmAnd route creator app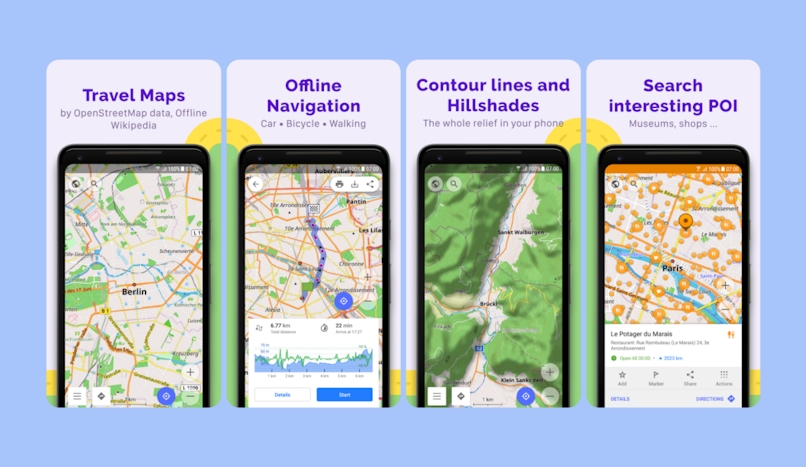 This offline application is based on OpenStreetMap (OSM), and allows you to navigate and plan routes without an Internet connection. Take into account your preferred roads and vehicle dimensions and use the offline world map to build a route.
Overall reviews are 4.7 out of five. Here's what some of them say:
5 stars: Crazy amount of features, functionality based on crowdsourced OpenStreetMap, great for contributing map info.
4 stars: Very good functionality, but the interface is a little odd and the free version doesn't let you download as many maps as I'd like.
2 stars: I want to like this app but I could not even find my own address or the address of a friend when I searched for it as a preliminary test.
Sygic GPS route creator apps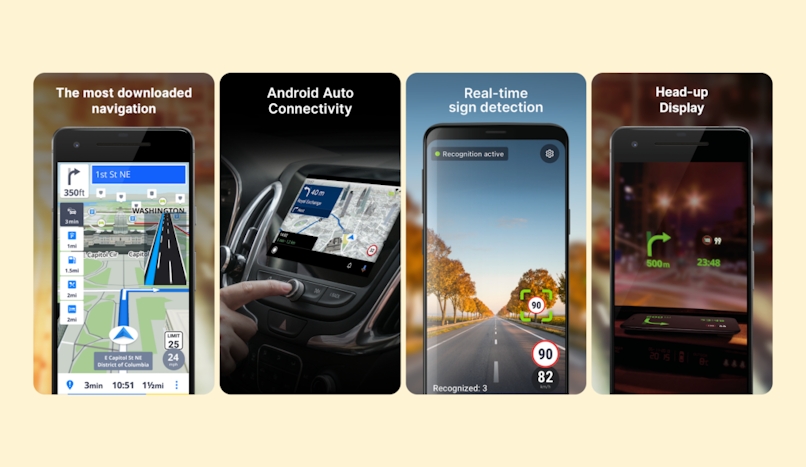 This is another offline navigation app that claims it is the world's most downloaded, used by more than 200 million drivers. Use it to store offline 3D maps on your phone to use without an internet connection. The maps are updated regularly for free. For Android, it features auto connectivity, allowing you to connect your phone to your car's screen and use your car's touchscreen, knobs, or buttons to control the app. There's a basic version or you can pay for the Premium+ license.
Reviews are 4.6 out of 5. Here's a look at a few:
4 stars: Not the best, not the worst.
3 stars: Graphics are good but overall experience is average when using Android auto.
2 stars: Shortest route is chosen, not fastest.
How to Create a Route with Google Maps App on Android
If you're comfortable with Google Maps and want to use it to plan your routes, you're likely wondering how to build a route that has more than one stop. After all, Google Maps is great for getting from point A to point B, but what about couriers who need to make many stops in a day?
You can create a route with Google Maps on Android. Here's a brief outline how to do it: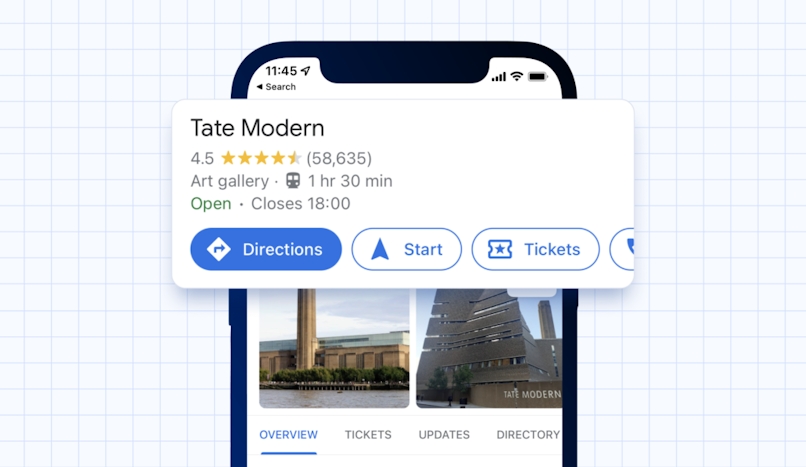 Start by entering your first stop into the search bar.
Press the "Directions" button to get directions to the location you chose.
Type in the address for your starting position and first nine stops. To input the other stops, you have to press the three dots at the top right of the screen. Then choose "Add stop."
Press "Done" and then "Start" to start getting directions from Google for your trip.
Google Maps has its pros:
you've likely used it already
it's readily available
it's free
But it also has its cons:
limits to how many stops you can add
no optimization tools to plan the best route
often gives inaccurate driving directions
you can only input 10 addresses at a time, which includes your starting address
For longer routes, you can use Google's My Maps to make a master list and decide which stops are nearest to each other. But it isn't an easy process.
As an alternative to Google Maps or other navigation tools, you might be better off choosing among our top picks of route creator apps, listed below.
6 best route creator apps for Android
With the number of choices among delivery route planners, let's take a look specifically at a route creator app for Android.
RoadWarrior route creator app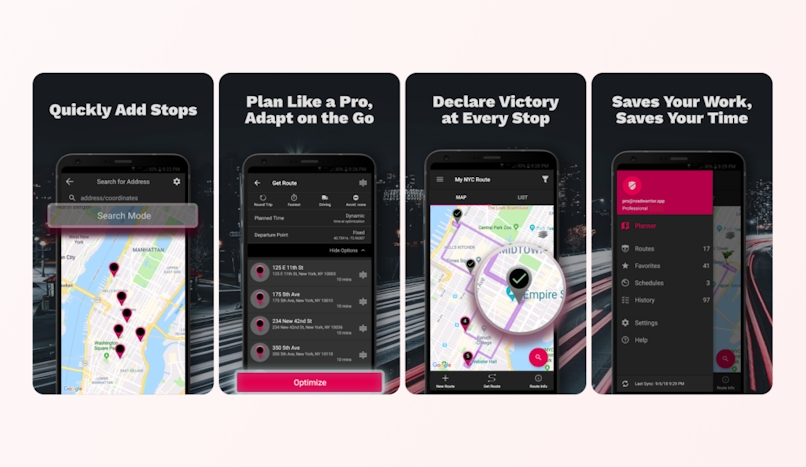 Available for teams or individual drivers, this delivery route creator app lets you input your stops using the app or by uploading a spreadsheet. Then add your own preferences to customize the trip, with settings like avoiding highways or planning a one-way trip.
RoadWarrior will also take into consideration things like drop-off priority, traffic, school zones, and business availability. A "Check In" serves like a proof of delivery, marking your stop as complete and storing a record of your arrival times at each stop.
Pricing:
Free - Maximum route size of 8 stops
$10/month - Maximum route size of 120 stops
$10/month plus $10 per driver - Maximum route size of 200 stops
Overall reviews are 4.2 out of 5.
5 stars: I use this for my job everyday and I can have about 30 stops in a day.
4 stars: Pretty good app for optimizing routes.
1 star: Seems to do an okay job.
Zeo route creator app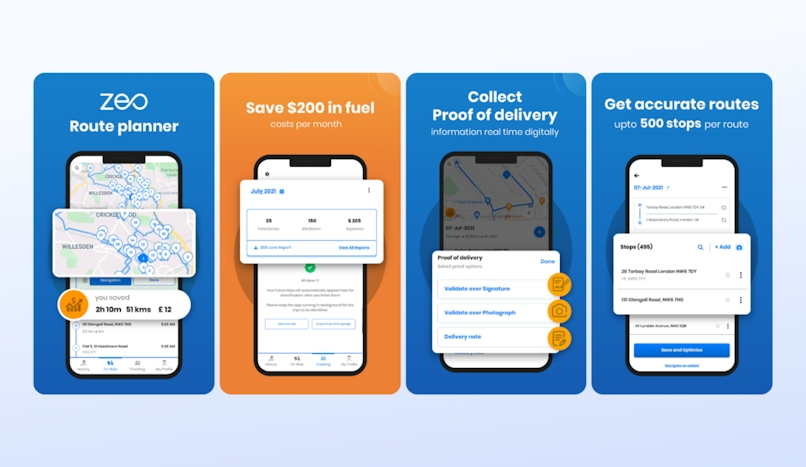 This mobile route planner adds a unique feature in that you can scan printed delivery manifests instead of using manual entry.
You can provide customers information about the status of the delivery by sending them a message or calling them directly from the app. It also has proof of delivery by allowing you to take a photo at the drop-off site, as well as a customer signature and any delivery notes.
Pricing:
Free - Optimize 15 stops per route
$15/month - Optimize 500 stops per route
Save at $150/year - Optimize 500 stops per route
Overall reviews are 4.8 out of 5.
5 stars: I rarely write reviews, but I'm in love with Zeo.
3 stars: Used a couple of times, seems good but a bit limited.
2 stars: ​​Takes a little getting used to when perfecting a run & doesn't always work the way you'd expect.
Multi-stop route creator app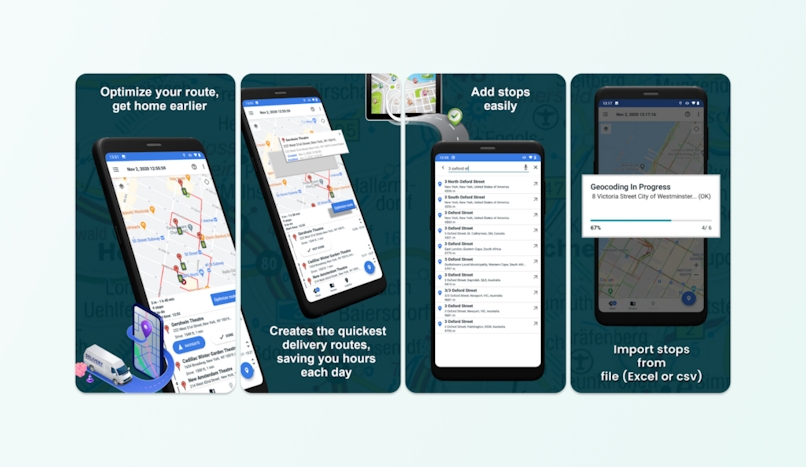 Using what they call a Maposcope Route planner, this app automates delivery planning and delivery routes and creates the fastest routes in seconds including driving directions.
The SalesMasterMap technology lets you create a map once and use it everywhere and on every device. Import stops from an Excel spreadsheet or CSV file. The driving route finder is free for up to 10 stops.
Pricing:
Free trial - 7 days
Individual plan - $4.99/user/month
Business plan - $119/user/year
Overall reviews are 4.5 out of 5.
5 stars: Very easy to use. This saves me so much time!
3 stars: Free option allows up to 10 stops, however when I was trying to add a route I was only able to add 5 stops.
1 star: App has its issues. Re-optimizing your routes midway through delivering is pretty sloppy.
Route4Me route creator app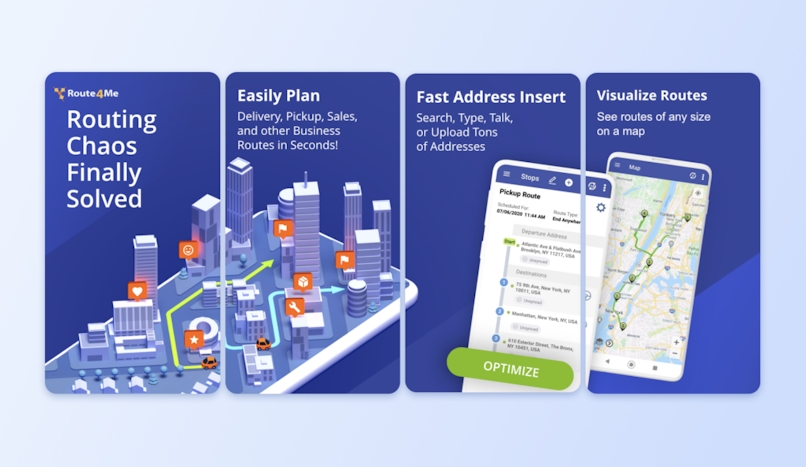 This app provides different options with different subscription plans.
The Dynamic Routing is useful when driving routes change daily or a few times a week. The Scheduled & Recurring Routing is used when customers are visited using a repeating schedule.
Enter thousands of stops and the route organizer app will provide an optimized route listing, a map with route lines, and turn-by-turn driving or walking directions.
You can save a route to your Route4Me account for later reference, and you can edit it later too. Provides built in route optimization and built-in GPS navigation.
Pricing (for either option and each covers a team of 10 drivers):
$149/month - Route management only
$199/month - Route optimization
$299/month- Route optimization for multi-person routes
Overall ratings are 4.2 out of 5.
5 stars: Very good app and very easy to use.
4 stars: Overall a good experience.
1 star: Clunky interface, doesn't integrate well into 3rd party GPS mainly Google maps and worst of all gives you either the wrong address or a batch of addresses.
Routin route creator app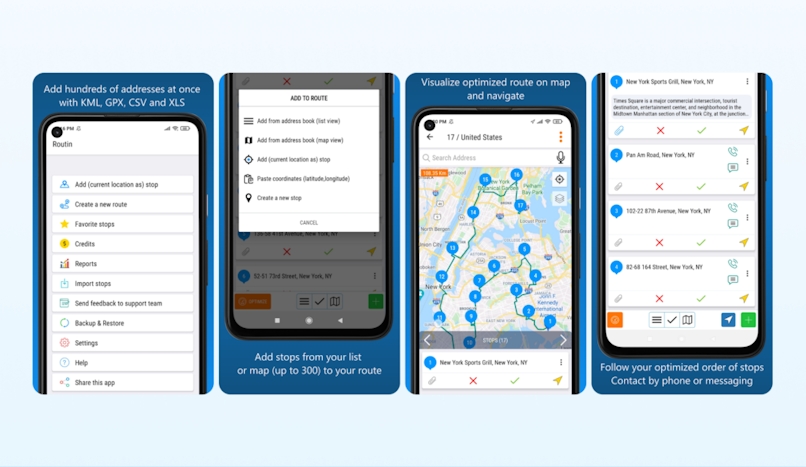 Select your starting and ending points, or simply input your starting point and the algorithm creates an optimized route with the ending point. The optimized order can be seen in a list or on a map.
Then you follow your optimized route using your favorite navigation app, including Google Maps, Waze, and more. Use notifications to confirm the delivery and start navigating to your next stop without leaving the navigation app.
Pricing:
No charge, but with a catch. You can add 300 stops per route and optimize for free. If you don't have enough credits, you can continue using it by watching video advertisements.
Overall ratings are 4.8 out of 5 but only 6,532 reviews to date.
4 stars: Gave it 4 stars b/c on several occasions it sent me to the nearest location and not the requested address.
3 stars: Great app, it's helping me plan all my stops, works really well with Google maps, the only really annoying thing is the credits for optimizing the route, why can't I have a monthly or yearly subscription?? Guess I'll have to delete the app when I run out of credits.
Circuit Route Planner route creator app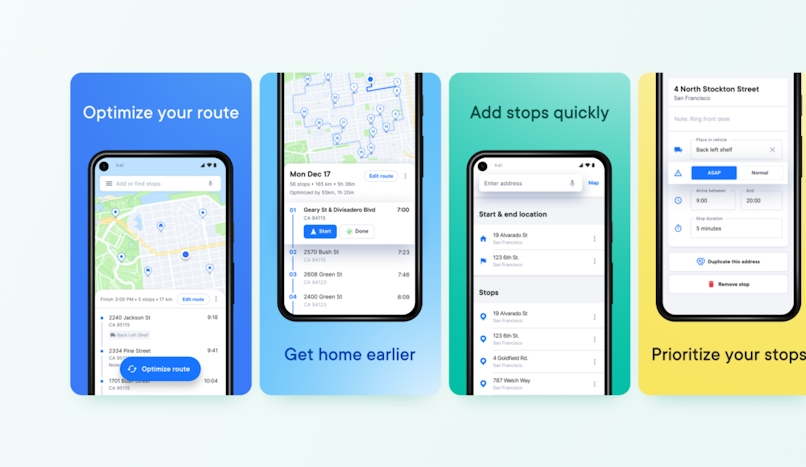 Add addresses and Circuit's Route Planner will optimize up to 500 stops and find every address on your route, letting you use your favorite GPS to navigate. It's also possible to edit on the fly, by adding, deleting or re-optimizing multiple stops, or use the hands-free voice entry to make changes.
Android users can also import spreadsheets. Set priority deliveries and time windows for stops you have to do at specific times. Circuit also offers the time-saving "Fast Package Finder," making it easy to locate packages in your vehicle. Circuit is free up to 10 stops and offers a free trial.
Pricing:
The price is free for up to ten stops, or $20 a month for an unlimited number of stops, and offers a free trial in order to road test it before paying for your subscription
Overall rating on the Google Play store is 4.7 out of 5:
5 stars: I love this. I use it every day for work. If you deliver a ton of packages then the description and item location features are the handiest things in the world. Also if you are in a neighborhood then you can just use the route map in the app rather than switching to a navigation app.
4 stars: really good app, fantastic actually. As a courier driver it is well worth the money. would like to see a feature to 'click and drag' destinations to make minor adjustments to routes.
2 stars: In general, very good.
The Best Route Creator App on Android: Driving It Home
Delivery drivers deal every day with navigating to multiple stops while contending with traffic and uncertain locations. A quality route creator app can make the difference between stress and long days and an easy, fast route that gets you home quicker.
Whether you drive full-time or part-time, and whether you're a new driver or an experienced courier, our guide to the best route creator apps on Android will help you find the right solution for your smartphone.
The Circuit Route Planner app makes it easy to try for free and provides a reasonable subscription plan to make your driving day one to enjoy. Get your free trial now.