12 minute read
Master Your eBay Account Like a Pro: Quickstart Guide
Learn how to create an eBay account, use it effectively, and manage it like a pro. Find tips and tricks to maximize your buying potential on eBay.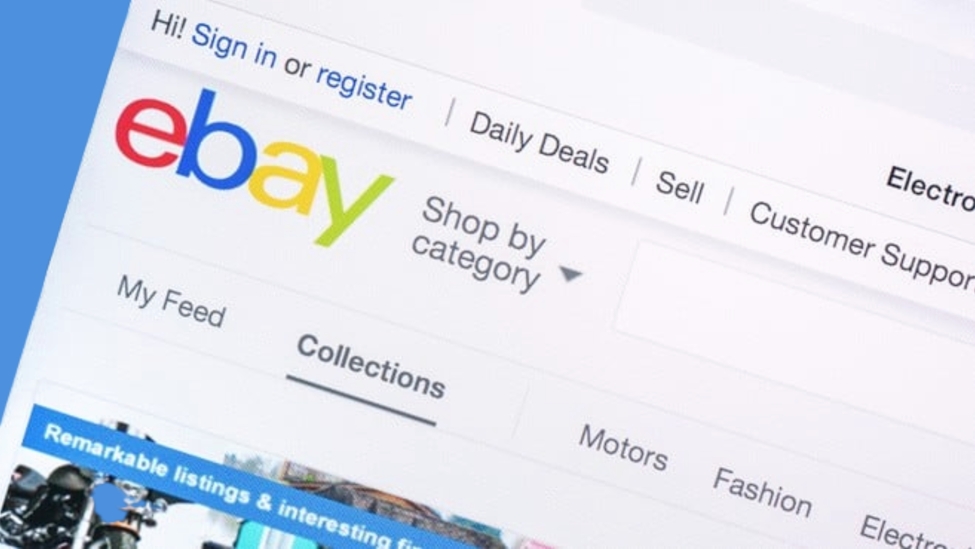 Are you an eBay enthusiast looking to take your buying and selling game to the next level?
If you love online shopping and are searching for a wide selection at great prices, then it's time to set up an eBay account.
Starting as AuctionWeb in 1995, eBay is an ideal place to find what you want, connecting buyers and sellers in more than 190 markets worldwide. 
eBay ranks as the second most visited online marketplace in 2022, only surpassed by long-time rival Amazon.
For instance, in July 2022, Amazon averaged about 5.3 billion visits, while eBay was second with roughly three billion visits that month.
Your eBay account is the key to unlocking endless possibilities on the platform, and mastering it is the first step to success
In this quickstart guide, I'll walk you through everything you need to know to become an eBay account pro.
From setting up your account to managing orders, understanding account settings, and even deleting or closing your account, we've got you covered.
With step-by-step instructions, troubleshooting tips, and best practices for security, this guide will help you solve any problem you may have.
Get ready to transform your eBay experience and start achieving your goals. Let's dive in!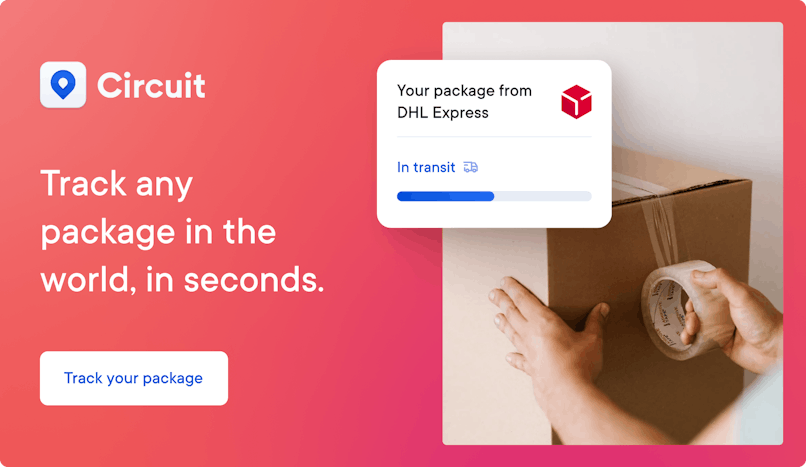 eBay account: 4 things to consider first
Are you ready to start exploring eBay and all it has to offer?
Setting up an eBay account is easy; you only need an email address to get started. But before you dive in, there are a few things to consider:
You must be at least 18 to set up an eBay account.
Ensure you're using an email address you have access to and regularly check to get important updates and notifications about your account.
Think about the username you want to use. It should be unique and not include any offensive or trademarked words, email or web addresses, or the word 'eBay.'
Choose a strong password to protect your account.
With these considerations in mind, you're ready to set up your eBay account and begin your buying and selling journey.
How to set up an eBay account
Are you ready to become an eBay pro? Here are seven easy steps to help you master your eBay account:
Go to the Registration page
Enter your name and email address.
Choose a password.
Select 'Create Account.'
Enter your contact address and telephone number.
eBay will send you an email with instructions on verifying your account.
You'll also get a welcome email from eBay with tips on getting the most out of your account.
On the registration page, you can sign up using other methods by clicking 'Continue with' either Facebook, Google, or Apple.
Then your account will be ready, and you'll enjoy all these benefits of having an eBay account:
Bid on auction-style listings (buying as a guest means you can't bid).
Access all your order details.
Keep track of your buying and selling activity.
Leave feedback.
Save your favorite searches and sellers.
Create a Watchlist to track hundreds of items you're thinking about buying.
Send messages to other eBay members.
Use 'My eBay' to manage and track orders.
Access eBay community resources, such as discussion boards.
To pay for any items you want to buy, the 'Shipping and Payments' section of each listing includes payment methods.
When you are ready to pay, go to the 'Checkout,' where you choose your payment method, and review the order details and delivery address.
Most categories allow you to pay by credit card, debit card, Apple Pay, Google Pay, or PayPal.
Go to 'My eBay' and choose the 'Payment Options' tab. Under 'Payment', you can store a credit or debit card or a PayPal account at checkout to save the information for each time you want to buy an item. 
Can't find your eBay account?
To find your eBay account, go to the Sign in page and log in by entering your email address or username followed by your password.
Logging in to your eBay account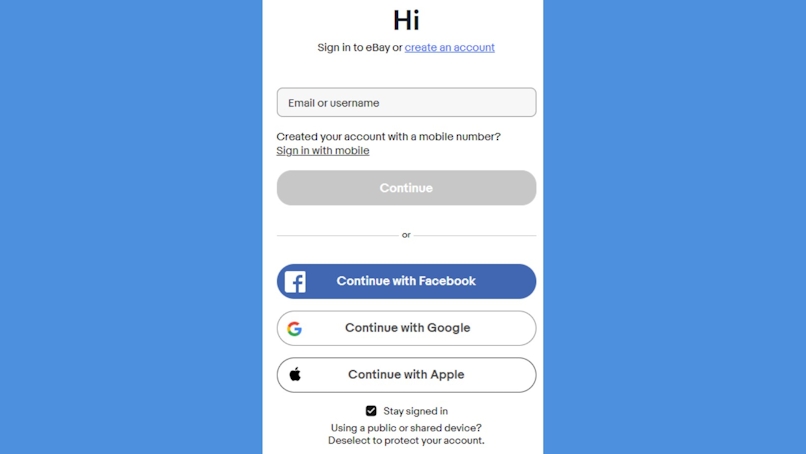 To fully access all the platform has to offer, you'll need to have an eBay account.
This will allow you to use My eBay to track your buying and selling activities, find your watch list, favorite sellers, and searches, and exchange messages with other members.
Whether you're a buyer or a seller, signing in to your eBay account is essential for making the most of the platform.
So if you're asking: "How do I log in to my eBay account?" Follow these steps:
Go to the Sign-in page.
Enter your email address or username.
Select "Continue."
Enter your password.
Select "Sign in."
You can sign in using Facebook, Google, or Apple if you have linked your accounts.
Need help signing in to your eBay account?
Don't worry; I've got you covered. Here are a few things to check if you're experiencing problems:
Check that you haven't made any spelling errors on your login.
Double-check that you use the correct email address, username, and password.
Make sure you don't have the Caps Lock key on, as your password is case-sensitive.
Clear your browser's cookies and cache, then try signing in again.
Try using a different browser or device to sign in.
Reset your password if you're still having problems logging in.
How to keep your eBay account secure
Your eBay account security is important to you, and it's important to eBay too!
That's why they take measures to protect your personal data and account. But there are some things you can do to help keep your eBay account secure as well.
Use a strong password and change it often.
Add another layer of security by allowing 2-step verification, which makes sure only you can access your account, even if someone else obtains your password.

That's because each time you log in, you must confirm your identity by an eBay app push notification or by entering a code sent by SMS.
Add a trusted device by clicking "Remember this device" when you sign in using 2-step verification.

Next time you sign in using the trusted device, you may not be prompted for a 2-step verification, but your account will remain secure.
Keep contact information like your email address up to date in your account so eBay can reach you.
By taking these simple steps, you can take control and help keep your eBay account protected.
Managing your eBay orders
Part of the draw of eBay—for some people at least—is the thrill of bidding on and winning an item.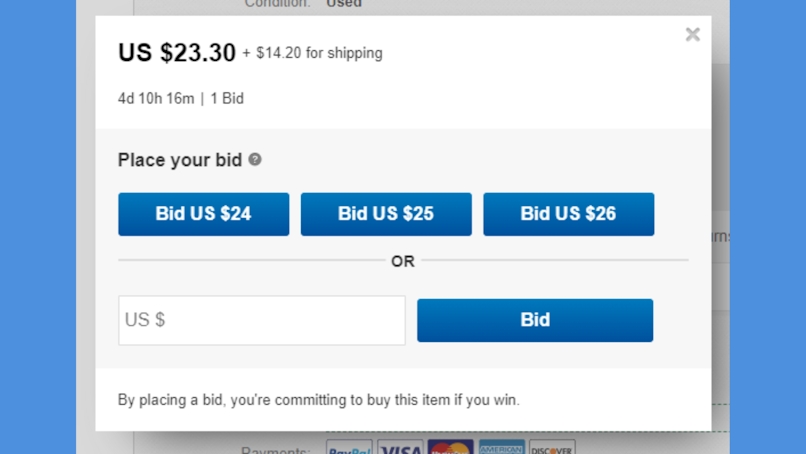 Or maybe you'd prefer the 'Buy It Now' option for a comfortable shopping experience without the fear of losing an auction.
Either way, tracking your purchases, managing your orders, and checking your buying history are essential. And luckily, it's easy to do with 'My eBay' orders.
Tracking your purchases, managing your orders, and checking your buying history are essential.
To manage your eBay orders, sign in to your eBay account and navigate to the drop-down menu under 'My eBay' to track multiple orders and check your purchase history (more on that later).
Here are just a few things you'll find in that menu for your eBay account:
Items you've recently viewed: A list of the items you've clicked on to view in the recent past.
Bids and offers you've placed: A record of the items you've bid on or made offers for, along with the current status of those bids/offers.
Your Watchlist: A place where you can save items you're interested in and want to keep an eye on. You'll receive alerts when these items are about to end or if there are any changes in their status.
Your buying history: A record of all the items you've bought on eBay, including the price, date, and seller information.
Saved searches: A list of your saved search criteria allows you to access and repeat previous searches easily.
Saved sellers: A list of your favorite sellers on eBay, which makes it easy to find their items and see their new listings.
… and more!
With so many tools at your disposal, it's easy to stay organized and keep track of all your eBay activity
How do I find my eBay orders?
In the Purchase History section of your eBay account. It shows everything you have bought recently, including items you haven't paid for yet.
Remember: when you win an auction or buy an item on Buy It Now, you must pay the seller within four days. The sooner you pay the seller, the sooner they'll send your item.
Purchase History is also where you will go to track an item, checking on its delivery status.
Package tracking
If the seller uses a package tracking service, you'll find the item's tracking number as a link next to the article.
If there is no tracking number, contact the seller to ask them for it. 
Order issues
As for issues with any orders, remember that when you buy from eBay, you're not really buying from eBay.
That is to say, eBay is actually what's known as a "multi-sided platform" for sales — connecting buyers and sellers without controlling or owning the items sold.
Instead, eBay charges account fees to sellers when they create a listing and when the item sells. 
That being said, there are ways to check on sellers before you buy by looking at their seller rating, feedback score, and the number of items they've sold.
When you've bought an item, eBay promises a money-back guarantee that promises a refund on your payment plus delivery costs on eligible order issues.
If you have issues with an order, you can contact eBay directly to get help from their customer service team.
Understanding eBay account settings
Creating an eBay account is just the first step in mastering the platform.
To truly make the most of your eBay experience, it's essential to maintain and update your account regularly.
For example, if you move or change your primary email address or other personal details, you'll need to update your eBay account settings.
But don't worry, it's easy to do! Just follow these steps:
log in to your account to access My eBay.
Go to the Account tab to find all your account settings.
Use the eBay help guide and use each change for easy-to-follow instructions; complete with use now" tab to complete steps like changing your username or password.
Personalize your account
Another tip for using your eBay account is to customize your settings. For instance, you can customize notifications to track your eBay orders by email or SMS.
Are you an eBay user on the go?
Whether you're using an iOS or Android device, accessing your eBay account and staying up-to-date with your buying and selling activities is easy.
Here are the basic steps to follow:
Go to 'Settings.'
Tap 'Notifications and tap 'eBay.'
Turn 'Allow notifications' to 'On.'
Open the eBay app.
Tap 'My eBay Settings' and go to 'Notifications.'
Choose which notifications you'd like to get 
Choose whether you want to get them by the eBay app, email, or SMS messages.
While there may be some differences between iOS and Android devices, the process is simple and user-friendly. So don't let being on the go stop you from enjoying all that eBay has to offer.  
Customizable notification options
Want to stay up-to-date with all the latest eBay news and activity?
Customizing your notifications is a great way to do just that. Here are some of the notifications you can personalize to your preferences:
Outbid alerts: Get notified when you've been outbid on an item you're interested in.
Watchlist reminders: Get reminders when items on your Watchlist are about to end.
Seller updates: Stay informed of updates from your favorite sellers, including new listings and promotions.
Account updates: Get alerts when there are changes to your account, such as successful bids or purchases.
Promotions and discounts: Be the first to know about special promotions and discounts on eBay.
Finding your eBay account
Once you have an eBay account, logging in anytime you want to search, buy items, or find a seller is best.
Here's how to find your account:
Go to the eBay Sign-in page.
Enter your email address or username, or use 'Continue' with Google or Facebook if you prefer other sign-ins.
If you're using Apple, enter your Apple ID, the password for your Apple account, and the 6-digit verification code sent to your Apple device.

Pro tip! Be sure to choose 'Trust This Browser' if you want to use the device again. 
Select 'Continue.'
Enter your password.
Select 'Sign in.'
If you are trying to find an old eBay account, try logging in with the user ID or the email address you used to set up the account and ask for a password reset.
However, if you have closed your eBay account (more on that later), there's no way to re-open it, and you will have to register for a new one.
eBay login history
As with any online platform, keeping a watchful eye on your eBay account is essential to keep it secure. One way to do this is by regularly checking your eBay login history.
This feature shows you what devices have been used to access your account, so you can make sure you know and trust those devices.
By monitoring your login history, you can quickly identify any unauthorized access and take steps to secure your account.
Securing your eBay account is crucial for protecting your personal and financial information.
One way to do this is by regularly monitoring your eBay login history. 
How do I find my eBay login history?
Log in to your eBay account
Click on your name in the top left corner of the page
Select "Account Settings"
Navigate to the "Sign In and Security" section
Check the "Devices You Trust" section to make sure you recognize all devices that have accessed your account
Review your "Sign In Activity" to see a detailed list of all recent logins
If you notice any unauthorized access, contact eBay immediately and change your password
In addition to monitoring your login history, checking your account regularly for any unusual activity is essential.
Keep an eye on your active bids and listings, and report any changes you need to recognize.
eBay may temporarily hold your account if they suspect unauthorized access, but they can also help you remove any unauthorized bids or listings.
If your account has been compromised, change your password and security questions as soon as possible. By staying vigilant and proactive, you can help protect your eBay account and keep your information safe.
How to close an eBay account
If you've decided you no longer need your eBay account, you may wonder how to close it for good.
Closing your eBay account permanently is a straightforward process, but following the steps is essential so your account is fully deactivated.
A word of warning before you start: Deleting an eBay account means you will no longer lose your feedback, purchase, and sales history.
Determined to close your account? First, make sure:
All fees and other selling costs are paid
Any available funds are at zero
You don't have any open bids 
You don't have any pending transactions, which include pending payments, returns, payment disputes, or outstanding payouts, to be processed to your bank account.
You have canceled all your subscriptions.
Then, you have two options. The first is to contact eBay and ask for closure.
To do that, you can go to the customer service section of the eBay website and search for 'Closing Your Account.'
Use the 'Contact Us' button at the bottom of the page to ask eBay to close your account.
Or you can follow these steps:
Log in to your eBay account
Click on 'Account Settings' in the top left corner
Click on 'Close Account'
Click on the button and follow the steps
What happens if I delete my eBay account?
If you're considering deleting your eBay account, it's important to understand the process and its consequences.
Once you request to delete your account, eBay will give you a chance to change your mind. If you decide to go ahead, eBay will close your account permanently.
eBay typically takes 14 days to close an account, but it can take up to 60 days if there are any outstanding payments or claims.
eBay will delete your personal data unless they need to keep some information for legal or financial reasons.
As a seller, the process for deleting your account is the same as a buyer's, but there are alternatives to consider, such as removing your preferred payment method and canceling any tool subscriptions.
Also, remember to clear your computer's cache, cookies, and history, and delete the eBay app from your mobile devices to make sure you fully delete your account.
eBay account: common questions
What are the requirements for setting up an eBay account?
There are only a few requirements to create an eBay account, including an email address.
You must also give details like your contact address and phone number. You must also be 18 years old to have an eBay account.
If you're setting up a business account, you must give your business name and type of business.
How long does it take to set up an eBay account?
You should only take minutes to set up an eBay account if you have the relevant information, such as your email address, mailing or contact address, and phone number.
Then you just have to wait for the confirmation email from eBay to complete the process. 
What types of payment methods are accepted on eBay?
When you find an item you want to buy, check the Shipping and Payments section of the listing for payment methods. Most categories allow you to pay by:
credit card
debit card
Apple Pay
Google Pay
PayPal
When you're ready to pay, go to 'checkout' and choose the payment method.
How do I verify my eBay account?
You need eBay account verification for a few reasons.
One is when you have enabled 2-step verification, only you can access your account. Each time you login, you must confirm your identity by an eBay app push notification or by entering a code sent by SMS.
You may be asked to verify your identity if you list an item to sell.
If you create a seller account, a one-time process asks you to prove your identity and set up a payment option. That may include sharing information such as personal identification, a bank account, and your Social Security Number.
What happens if my eBay account is suspended?
eBay account suspension happens occasionally, and payouts may be placed on hold if you're a seller.
An account may have a temporary restriction if eBay thinks your account has been accessed by a third party, for instance.
Getting your account reinstated may be as simple as waiting for a temporary suspension to end, changing your listings, or sending eBay any required information.
If your account is restricted or suspended, eBay sends an email to your email address and to your eBay messages explaining why and letting you know what you must do to reinstate your account.
How to master your eBay account: wrapping up
eBay is a fantastic platform for buying and selling items online, offering a wide range of products and secure payment options.
With our guide on mastering your eBay account like a pro, you can easily set up an account, navigate its features, and stay secure while shopping.
Whether you're a seasoned eBay user or a newcomer, our guide can help you get the most out of your experience and enjoy all eBay offers.
Our real-time package tracker is the perfect tool if you're waiting for eBay items to arrive. Search 1000+ couriers for the latest delivery updates. Enter your tracking number now.