7 minute read
Amazon Lockers: Everything You Need to Know to Start Using Them Today
Amazon Lockers are an easy and safe way to have items delivered to pickup locations near you. Simply grab them whenever it's convenient.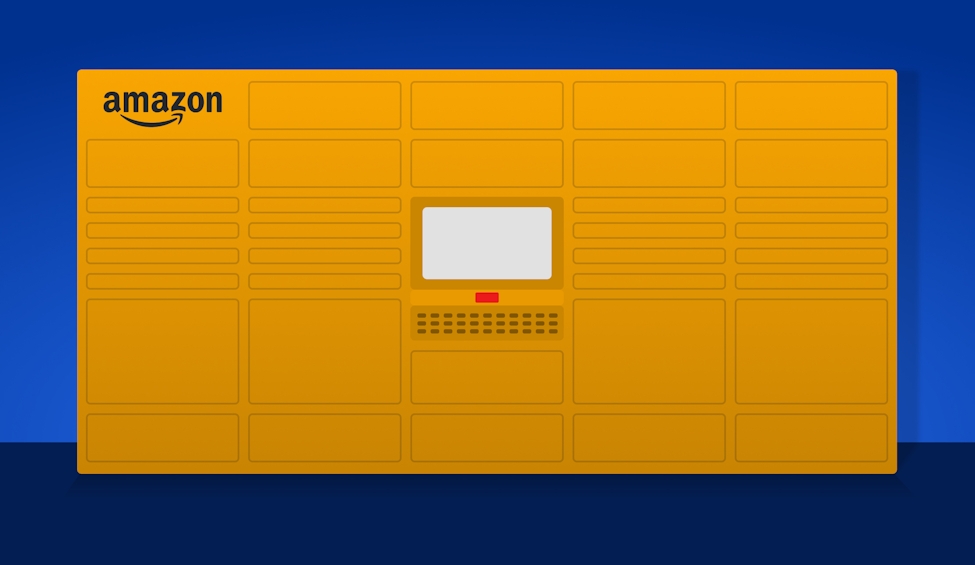 When's the last time you missed an Amazon delivery? I'd venture to guess it was pretty recently. It's disappointing and frustrating.
But Amazon has more than 310 million customers worldwide. 
And with an almost 40 percent share of the US retail eCommerce market, Amazon's total revenue in 2021 was nearly $470 billion.
Wowza! 
This reflects just how much we use Amazon in our daily lives. 
While Amazon's home delivery service is super convenient, there are some gaps in the process that you might find annoying. 
For instance, if you're a working professional, you can't exactly be available to receive packages throughout the day. 
Similarly, leaving packages on the porch can be unsafe, given the menace of "porch piracy." As of 2021, 23 million American customers reported packages stolen from their homes. 
Amazon started its Lockers program to deal with issues like this. 
In this post, I'll cover how Amazon Lockers work and how you can use them to never miss a package again.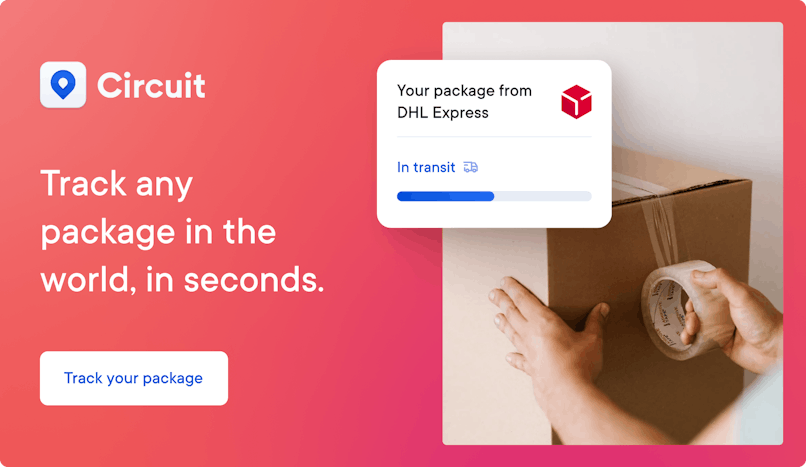 What is Amazon Locker?
Amazon Lockers are self-service kiosks where you can have your packages delivered for pickup whenever convenient. 
You can find lockers at convenience stores, supermarkets, grocery stores, banks, gas stations, and pharmacies — and pick up your items within three days. 
They're safe delivery locations where your packages can be delivered and stored until you're ready to pick them up later. 
With more than 2,800 lockers in 70+ major American cities, you can easily find them at Whole Foods, 7-Elevens, Rite Aids, and other popular locations. 
Amazon emails unique six-digit codes once a delivery arrives at a locker. You can pick up your package within three days.
You can also make returns by dropping off packages at a locker. Amazon then collects your returned items. 
This way, you don't have to wait for a delivery driver to collect the package from your home and send it back to Amazon. 
There are three pickup options:
Amazon Hub Locker: These are standard Amazon lockers available at convenient locations like grocery stores, postal centers, convenience stores, gas stations, and more.
Amazon Hub Apartment Locker: These lockers are available in apartment complexes. You can register for an Apartment Hub locker by contacting the property manager of your apartment building. 
Amazon Hub Locker+: In addition to self-service kiosks, Hub Locker+ locations also have an Amazon associate available to help customers.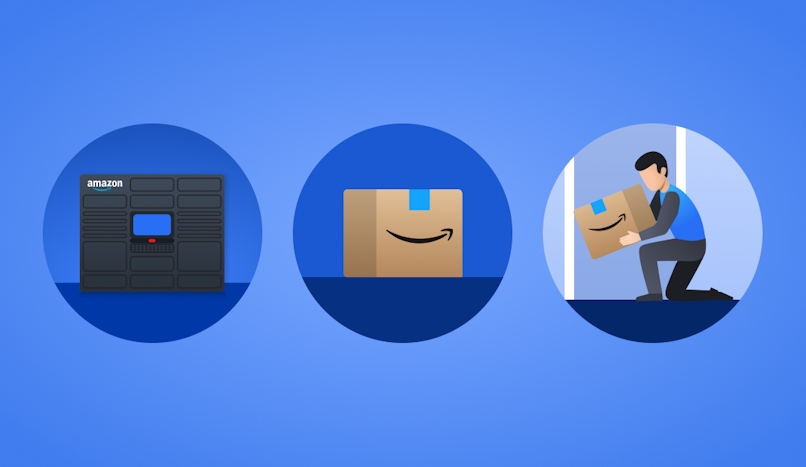 How does Amazon Locker work?
Amazon Lockers can be a big convenience for working professionals and people who don't have time to wait around to receive deliveries. 
You can opt to send your items to a locker location, where they'll be delivered and stowed away for three days. Pick them up at a time of your convenience.
If you're tired of waiting or losing packages to petty theft, read on to find out how to have your next order delivered to a secure Amazon Locker location.
1. Place an order at Amazon.com 
Use your Amazon account on the Amazon website or app to pick a product and add it to your cart. 

Click on the checkout button. 
Keep in mind that there are some restrictions on Amazon Lockers and the kind of products they can hold. 
The following products are ineligible for locker service: 
International shipments 
Packages weighing more than 10 pounds
Items with dimensions bigger than 16 x 12 x 14 inches 
Items fulfilled by third-party sellers 
Items valued at more than $5,000 
Packages containing hazardous materials 
"Subscribe and Save" items 
Make sure the item you're planning to have delivered to a locker doesn't fit into any of the above categories.
2. Select an Amazon Locker as your delivery address 
Your previous delivery address will pop up on the checkout page. 
Under "Shipping address," you'll see 'Or pick up near this address — See nearby pickup locations."

Choose the pickup option that's nearest or most convenient for you. Once selected, the locker's address will show as the shipping address.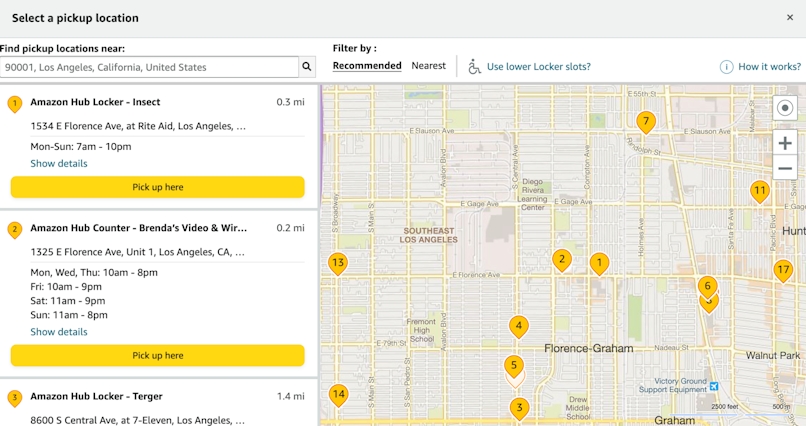 Hit "Place your order" to complete the checkout process. 
Alternatively, you can search for locker delivery locations through your "Address Book." 
Go to "Your Account." Then, under "Ordering and shopping preferences," go to "Your addresses."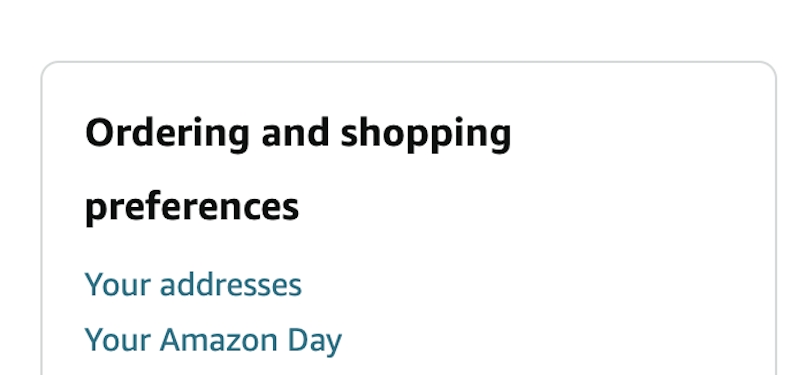 Here, you'll find the option "Or find an Amazon pickup location near you."

You can look for a locker location using your city, address, ZIP code, a landmark, or a locker name.
Amazon will save the locker's location in your address book, so you can easily use it in the future.
3. Pick up your order from the Amazon Locker 
Next, pay for your order with a payment method of your choice. You'll receive a confirmation email for your purchase. 
You'll notice an additional paragraph that goes something like this: 
"Your order will be delivered to the Amazon Locker location you selected. When it arrives, you'll be sent an email with a unique pickup code and instructions on how to collect your package." 
You can easily track your package while it's in transit. 
Once the package is delivered to the locker, you'll receive another email with the pickup code and a barcode. 
The email will also inform you of the last date you need to pick up your delivery. Typically, you'll have three calendar days to pick up your locker order. 
Have the email with the pickup code handy when you go to the locker location. 
Lockers are usually pretty large and painted bright yellow.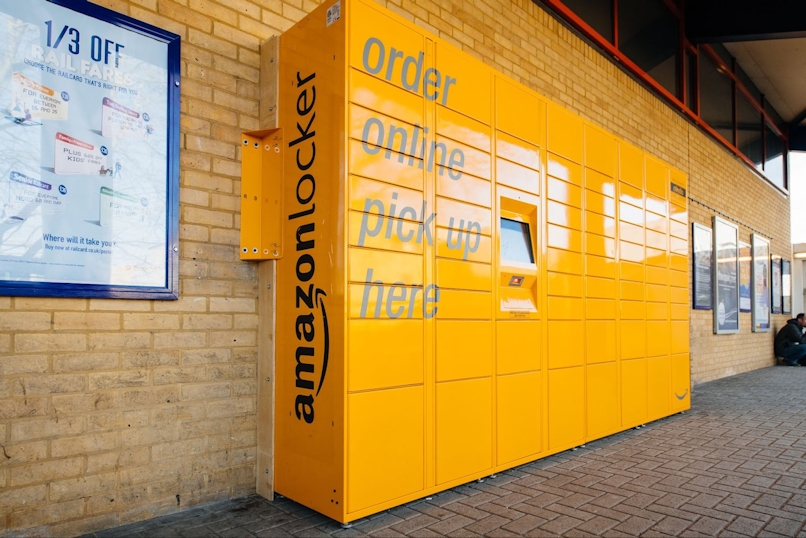 A touch screen located in the center of the kiosk will ask you for your code. 
Enter it, and your locker door will pop open. Retrieve your package and go on your way!
Alternatively, you can scan your barcode on the locker's barcode scanner. 
The locker door will swing open. Grab your package and close the locker door. 
Et voila! You're done!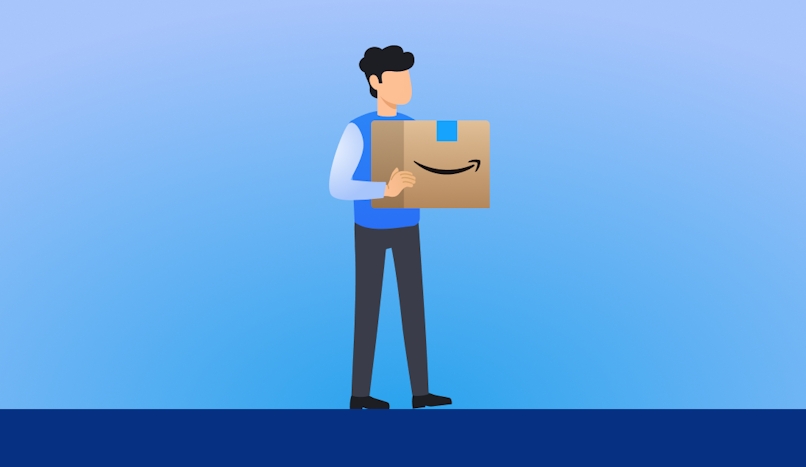 Amazon Locker FAQs
Since Amazon Locker is a relatively new service, you might be confused about how it works. 
For example, you might wonder when and at what hours you can access Amazon Lockers. 
There's no clear answer to this because it depends on the store hours of each establishment. 
For example, if your order is in a locker within a 7-Eleven store, you can only access it between 7-Eleven's opening and closing hours. 
These timings might be different for a locker located at a Whole Foods.
Another question is whether someone else can get your order from the locker. 
Technically yes, anyone with the six-digit code Amazon sent you by email or text can technically access the locker. 
However, many Amazon hubs ask for photo identification of the registered customer and may not allow anyone else to collect the order. 
If you have more questions like these, read on.
Is Amazon Locker safe? 
Yes. Only you can access the locker because you're the only one with its unique pickup code. 
Lockers also have security features like CCTV, touch screens, and heavy steel doors. 
Theoretically, someone could steal your package from an Amazon package locker. But the chances of that happening are very low.
Additionally, Amazon's A-Z Guarantee protects you if items are defective or unreasonably delayed. 
If your package is stolen, you can file a complaint through your Amazon account.
How long can items stay in an Amazon Locker? 
Amazon allows you to collect your items from the locker within three calendar days. 
If you fail to pick up your items within three days, Amazon will ship them back and refund your money. 
If you cannot retrieve your items from the locker within three days, try calling Amazon Logistics or Customer Support to ask for an extension. 
There's no guarantee they'll allow your package to remain in the locker, but it's worth a shot.
Does it cost money to use an Amazon Locker? 
There's no added cost for having your orders delivered to a locker. 
Amazon doesn't charge any rent or additional fees for its customers to use these lockers.
However, shipping charges differ for Prime subscribers and regular Amazon users. 
Locker services are free for Amazon Prime subscribers. 
For other Amazon members, standard shipping rates apply. 
You must pay to have your items delivered to a locker location based on the shipping options available. 
Amazon Lockers conclusion
Now that you know how Amazon Lockers work, it might be time to start using them.
They're easy to use and convenient. If you work from the office, the biggest benefit is that you can still continue to receive your packages and just need to visit the closest locker to pick them up. 
Truth be told, I learned it the hard way. I ordered a Halloween costume but wasn't home when it arrived, so I wasn't able to dress up this year.