9 minute read
Guide to Demand Management
Learn what demand management is, what it involves, and how to use it to improve your business performance and customer satisfaction.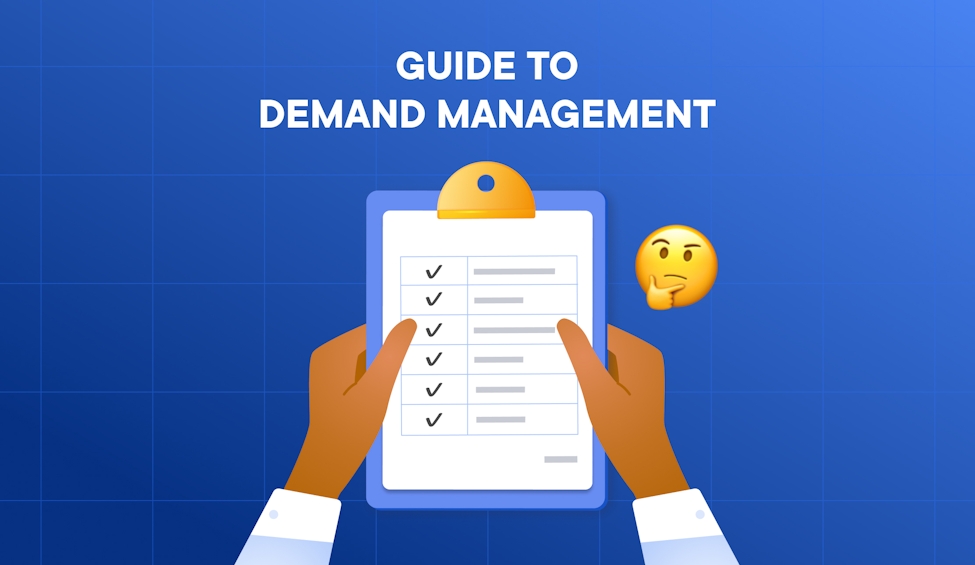 Struggling with high demand for deliveries? Manage multiple drivers and routes with Circuit for Teams.
As a business owner, you understand how important it is to track customer demand. 
After all, this demand tells you how many products you should have on your shelves and in your warehouses at any given time. 
But the volatility of customer demand makes this type of tracking complex. 
Customers who wanted cheap and convenient services yesterday might demand better, eco-conscious products today. 
Global economic and cultural trends keep changing, and so do people's preferences. 
This is why it's so important to accurately predict and manage consumer demand. 
Demand management helps companies like yours accurately predict demand and match your supply more closely with expected demand. 
I'll explain what demand management is and teach you how to improve it.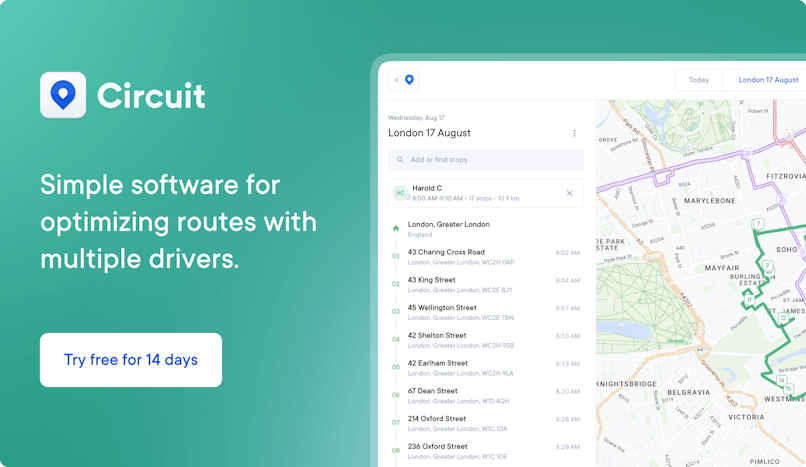 What is demand management?
Demand management is a technique businesses use to forecast demand for particular goods or services and plan how to satisfy that demand. 
The goal is to make the experience better for both customers and businesses by finding gaps in demand and filling them.
Demand management includes multiple business activities, from marketing and supply chain management to inventory planning and even customer service. 
For example, a manufacturing company might use demand management to determine the quantity of raw materials it needs over the next quarter. 
You might need to make slight changes to accommodate the change in demand. 
Here's an example to help. 
Let's say you run a gifting delivery company, and your supplier tells you they can't supply many Mother's Day cards this year. 
That's a BIG problem because Mother's Day weekend is coming up, and now you're stuck with less inventory. 
Fortunately, you can tackle this problem by making slight changes across several activities: 
Inventory planning: Put out fewer cards related to Mother's Day for now and save them for the Mother's Day weekend rush. 
Marketing: Display ads and flyers promoting the idea of gifting flowers this Mother's Day. This can help increase demand for a product you have in stock. 
Supply chain management: Contact different suppliers for gift cards and flowers — the two things you expect to sell the most this weekend.
The impact of good demand management 
Good demand management strategies can help you save money, reduce workloads, offer better customer experiences, and improve workflows. 
Here's how: 
Cost efficiency: Products cost money. When you over-order, you overpay. Products that aren't sold on time might get damaged or rot away sitting in your warehouse. All of this can lead to money loss. 
Storage efficiency: When it comes to retail, space is money. Storing more items can mean more warehouse space, which naturally costs more. But storing fewer products can waste valuable space. 
Better customer service: When you give your customers what they want when they want it, they're more likely to keep coming back. This can help you build brand loyalty and gain new customers.
Better supply chain efficiency: No one wants their delivery drivers scrambling to deliver supplier orders at the last minute. Demand forecasting helps you place orders and receive needed stock well ahead of time.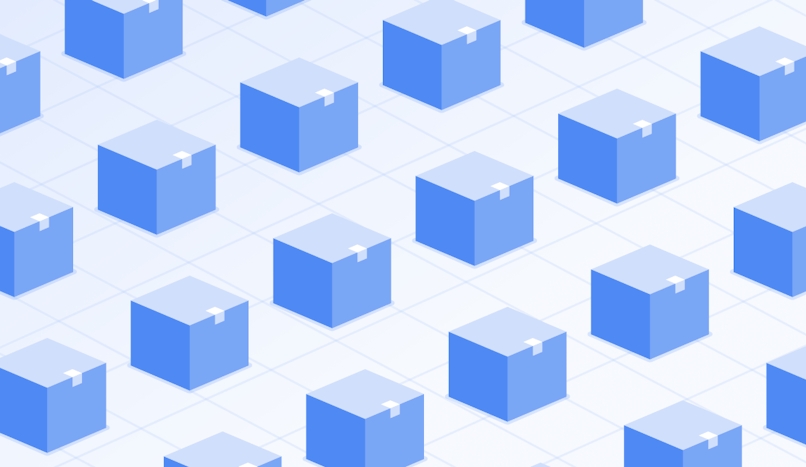 The demand management process
The demand management process involves putting together ideas and strategies to make the best of existing stock, buying or selling as much stock as possible in time, and influencing customers to change their buying patterns through marketing. 
If you have too much of something, encourage customers to buy more of it. If you have too little of something, discount other products to promote their sale instead. 
The demand management process includes:
1. Forecasting 
Forecasting is the process of analyzing, interpreting, and understanding past data to anticipate future demand.
It's based on predictive analysis techniques. 
Its purpose is to help companies design effective business strategies and use resources efficiently. 
There are three main stages of forecasting:
Setting objectives: For instance, let's say you want to understand the expected demand for your products ahead of the holiday season. Forecasting can answer relevant questions, like what customers are most likely to buy. 
Data collection: This includes getting data from sources like customer preferences, current market trends, historical sales trends, and seasonal fluctuations. Basing the process on the most reliable data available can lead to a high level of accuracy. 
Data analysis: This is the process of analyzing raw data to find trends, answer questions, and draw conclusions. It gives managers a set of likely scenarios on which to base their stock orders and marketing strategies. For example, if data suggests a rise in the popularity of sneakers, your shoe store can have a special display just for sneakers and reduce the display space for dress shoes.
2. Demand planning 
Demand planning is the process of planning production, marketing, distribution, and sales processes in line with forecasted demand. 
The overall goal of supply planning is to balance supply with projected demand. 
It's what companies rely on to make money at the right time. 
There are several components to the demand planning process. 
Let's understand them better in the context of a manufacturing company. 
Sales and operation planning: This is all about matching supply with market demand. Sales and operations planning might involve various departments within the company — such as procurement, manufacturing, marketing, and sales — coming together to make a production plan. That plan relies on demand forecast figures and takes factors like resource constraints and labor availability into account. 
Material planning: This involves taking inventory of available raw materials and components, identifying others that are needed, and making plans to get them. Material planning is a key part of supply chain planning. It determines your sales and other things like distribution and sales. 
Production planning: This part is about the finer details of the manufacturing process (for instance, the number and types of products to manufacture and the plants and machinery to use). This is a key step in supply planning and order fulfillment.
3. Demand analysis 
Demand analysis is a research process that companies use to understand customer demand for a certain product or service. 
Companies typically use demand analysis before launching a new product or entering a new market. 
It gives business managers an idea of whether they can enter a target market and deliver the profits they're expecting. 
For instance, let's say a successful power tools company based in Europe is thinking of entering the North American market. 
Managers might use demand analysis to figure out the main business areas with the highest demand. 
They'll also use it to understand if their products are compatible with the new market and whether existing competitors offer better alternatives. 
They'll then use that analysis to make decisions related to resource optimization, production, pricing, and advertising. 
There are four main parts of the demand analysis process:
Understanding customer response: Finding out how satisfied customers are with a product or service and if there's room for improvement 
Coming up with a pricing strategy: Understanding customer preferences and demand trends to increase or decrease the price of a particular product or service 
Sales forecasting: Estimating future sales and adjusting resource and workforce allocations to maximize revenue
Setting production policies: Understanding gaps in demand and supply, using it to rework procurement plans, and making sure there's a steady supply of raw materials 
Types of demand forecasting
You can carry out demand forecasting in several ways. 
And your demand forecast may change depending on the type you choose. 
So, it's a good idea to use multiple types of demand forecasting to get a more accurate and well-rounded prediction of your future sales.
Here are four common types of demand forecasting:
Short-term demand forecasting: Short-term forecasting is used to predict demand in the next three to 12 months. It uses real-time sales data to help plan your inventory and adjust projections for a specific time frame, like Black Friday sales.
Long-term demand forecasting: Long-term demand forecasting is used to shape your business growth model for the future. It's based on sales data, market research, and business goals. How much revenue do you expect to make per quarter four years from now? What do you want your profit margins to look like? You can look at long-term forecasting as a roadmap to prepare you for future demand.
Macro-level external demand forecasting: It's important to consider external market forces when creating sales projections. Market trends, such as the variability in exchange rates or the invention of new technology, can affect your goals. A macro-level external demand forecast can help you figure out how to meet your goals while keeping these factors in mind.
Micro-level forecasting: This type of forecasting looks at a specific industry or a small segment of customer behavior to predict future demand. For example, if your company sells down jackets, you might decide to bump up inventory levels during particularly cold weather.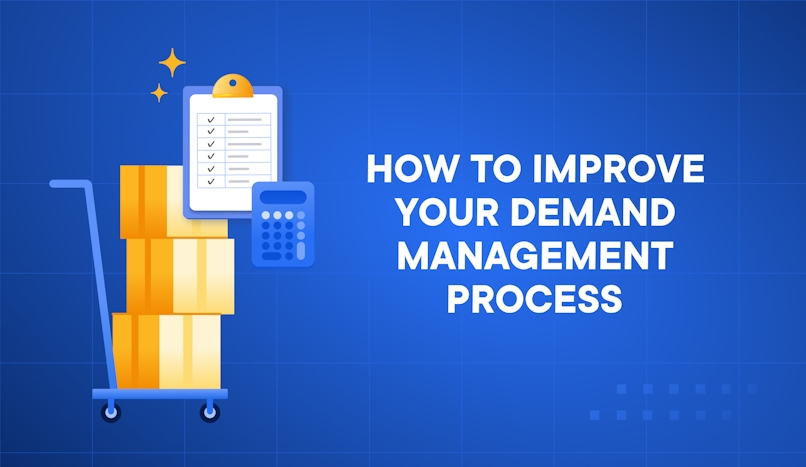 How can you improve your demand management process?
Effective demand management is central to your supply chain processes. 
For example, decisions based on demand management can determine how much raw material your supplier has to get for you. 
A high demand forecast for the coming months can also determine product quantities. 
So, it's important that your demand management systems are accurate and gather input from different stakeholders within the supply chain. 
This includes service providers, the sales team, the marketing team, and your delivery team. 
Let's explore a few ways to improve your demand management process.
Gather data from new sources for forecasts 
Expanding your data sources can help you estimate demand better and gain a competitive advantage.
Historical data is just one component. Although it's key, you'll want to supplement it with new data sources. 
Each step of the supply chain has unique challenges and distinctive solutions. This important data can streamline forecasting. 
Primary data for demand management typically includes: 
Sales data
Order details
Competitor information
Shipment data
Procurement information
Supplier data
Distribution network data
New data sources can include contextual data. A few examples of contextual data are:
Special events or holidays that cause fluctuations in market conditions 
Seasonal changes in market behavior linked to weather patterns, festivals, sporting calendars, and others
Other cyclical events like political events and elections that can influence market dynamics 
Competitor product specifications
Current business plans of competitors
Data without established history (for instance, data linked to market changes caused by the COVID-19 pandemic)
Using new data sources can help you forecast more intelligently. 
Let stakeholders review forecasts 
Demand management isn't an exact science. 
That's why it's important to have key stakeholders review demand management forecasts. 
This can help build internal trust in the forecasts. 
Collaborating with other stakeholders in your supply chain can help you refine your forecasts. 
The sales team, for example, might not have access to the same data as the manufacturer. And this data could have an impact on your forecasts. 
Allowing stakeholders to review and refine forecasts can make your demand management process more accurate. 
Suggestions, objections, and other input can also help make forecasting a little more precise and error-free. 
Use the review process to verify if the demand forecast is in line with your short-term and long-term goals and strategic objectives. 
Check supply against projected forecasts 
Forecasts generated by demand management teams are crucial to the supply side of things, as well. 
You can use demand forecasting to determine how much inventory is necessary to meet projected demand. 
Use this information to identify vendors and schedule deliveries convenient to customers' timelines. 
You can also use demand forecasts to avoid stockouts and arrange buffer stocks by arranging procurement orders in time. 
This way, you can make sure you don't have too much or too little inventory. 
Get accurate performance data to analyze demand 
Performance data looks at the performance of a particular product. 
Essentially, it tells you how a product is performing in the market. 
This can help you make important changes to the product or its functionality. 
Data can also help you redefine your sales or marketing strategy to increase sales or improve customer satisfaction and retention across a product lifecycle. 
For example, a product manager involved in developing a particular product can use performance data to figure out why it's not selling well. 
They can make changes to its design or sales strategy to make sure customers find the product attractive. 
Accurate performance metrics can help you determine if decisions based on demand forecasts are actually working. 
Performance analytics can also help you adjust strategies on the fly if you fail to see desired results.
Managing product deliveries yourself? Circuit for Teams can help
Having solid data about your future demand can help you plan business growth while reducing the risk of backorders and poor customer service. 
With consumer expectations changing constantly, you need accurate forecasts to help you make informed decisions for your business.
While one side of demand management is concerned with production, transportation is another key aspect. 
How are you going to deliver your goods to customers? How will you keep up with a high demand for deliveries? 
Fortunately, Circuit for Teams can make your delivery and overall business processes more efficient. 
Our routing software allows you to create and distribute routes for multiple drivers. 
It also plans delivery stops with the shortest possible routes.
This reduces the time drivers spend on the road and allows them to make more deliveries in a day. 
Circuit for Teams also lets you collect proof of delivery and send automatic delivery updates to customers.